Learn how to effectively inform your guests about your special day with these simple tips.
Picture this: you and your partner have finally decided to tie the knot in a breathtaking outdoor venue surrounded by nature's beauty. The sun is shining, birds are chirping, and everything seems perfect until you realize that informing your guests about the outdoor wedding may not be as easy as you thought.
You don't want them to show up in high heels or dress shoes that will sink into the grass or mud, do you? Fear not, my fellow outdoor wedding enthusiasts! In this blog post, I'll be sharing some tips on how to inform your guests about an outdoor wedding so they can come prepared and comfortable for your big day.
So grab a cup of coffee or tea and let's dive right in!
Key takeaways:
Include outdoor wedding details in invitation wording and separate cards.
Send save-the-date cards with venue and dress code information.
Create a wedding website for all necessary details and photos.
Use social media for updates and behind-the-scenes glimpses.
Provide dress code guidance and weather preparations information.
Invitation Wording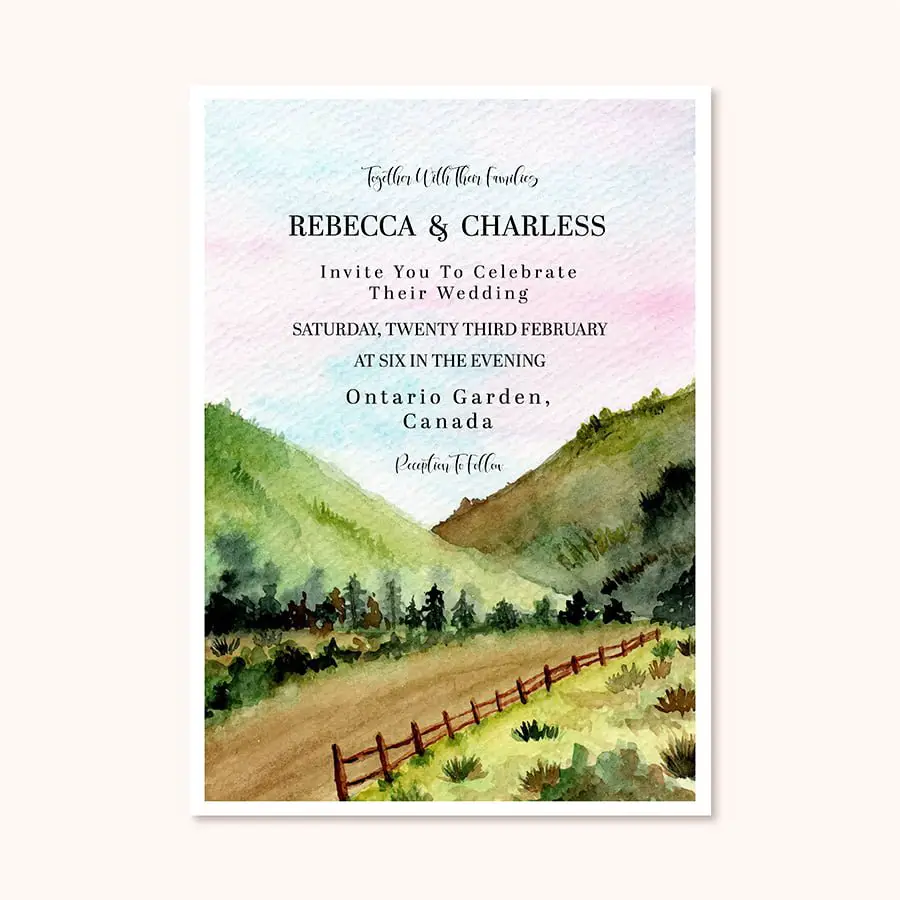 You want to make sure that you clearly state that the wedding will be held outdoors so your guests can come prepared. Consider adding a line or two on the invitation such as "Please join us for an outdoor ceremony and reception" or "We're getting married in nature's beauty, please dress accordingly." This way, your guests will know what to expect and can plan their attire accordingly.
Another option is to include a separate card with additional information about the venue and any special instructions for attending an outdoor event. This could include details like whether there will be seating provided or if they should bring their own chairs/blankets.
Save-the-Date Cards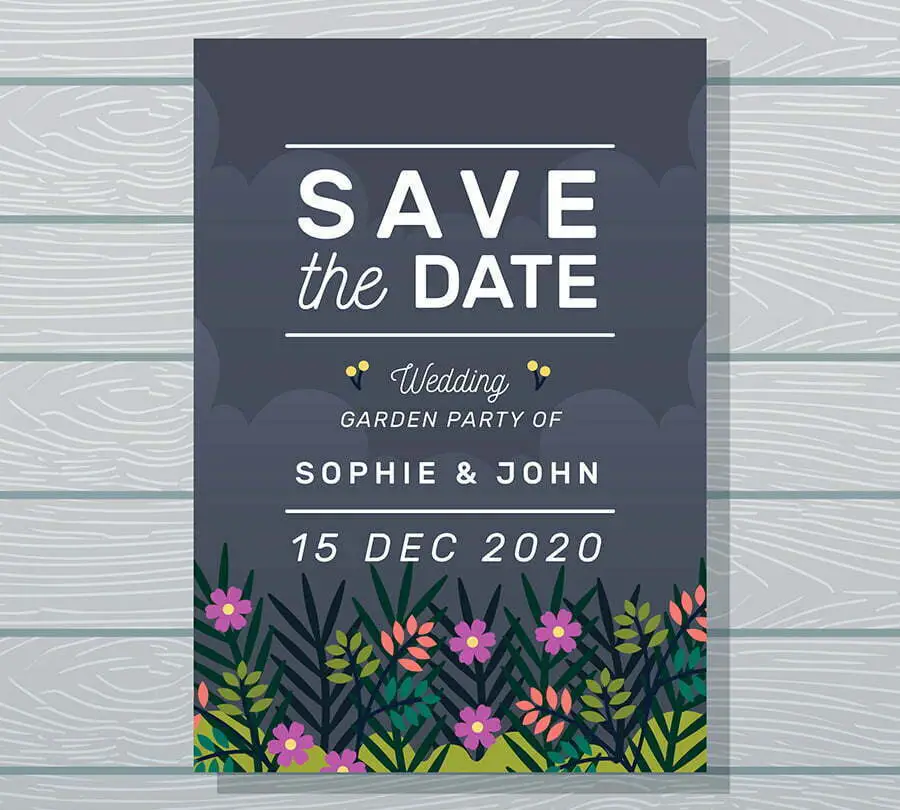 One of the best ways to inform your guests about an outdoor wedding is by sending out save-the-date cards. These cards are usually sent six to eight months before the wedding day and give your guests a heads up on what they can expect.
When designing your save-the-date card, make sure you include information about the venue's location, dress code suggestions, and any other important details that will help them prepare for an outdoor event.
You can also use this opportunity to get creative with your design! Consider incorporating elements of nature or using colors that match the theme of your wedding. Your guests will appreciate receiving something unique in their mailbox that sets the tone for what's to come.
Remember: Save-the-date cards are not invitations; they're simply a way to let people know when and where you'll be getting married so they can plan accordingly.
Wedding Website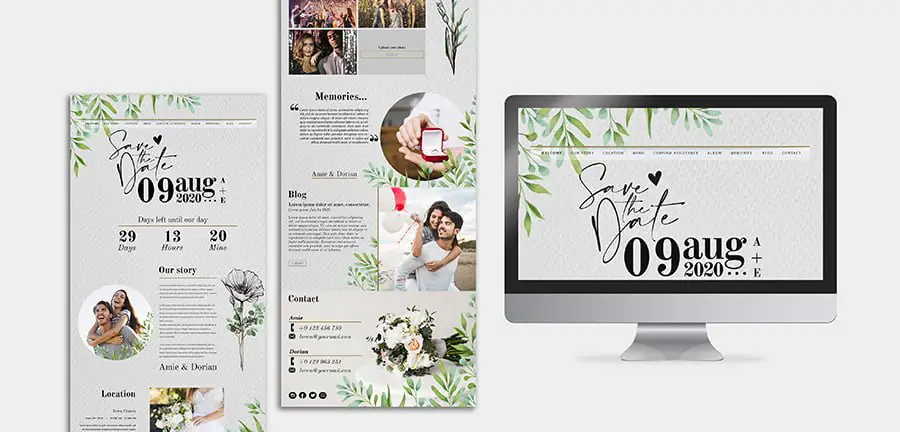 A website dedicated to your big day can provide all the necessary information, including venue details, dress code guidance, and weather preparations.
You can also include photos of the location so that guests know what to expect and how best to prepare for it.
A wedding website is not only convenient but also eco-friendly as you won't have to print out multiple copies of directions or other important information. Plus, it's a great way for guests who may not be familiar with each other beforehand (such as those from different sides of the family) to get acquainted before meeting in person on your special day.
Make sure you include clear instructions on how they can access this site via email or save-the-date cards so that everyone has easy access.
Social Media Updates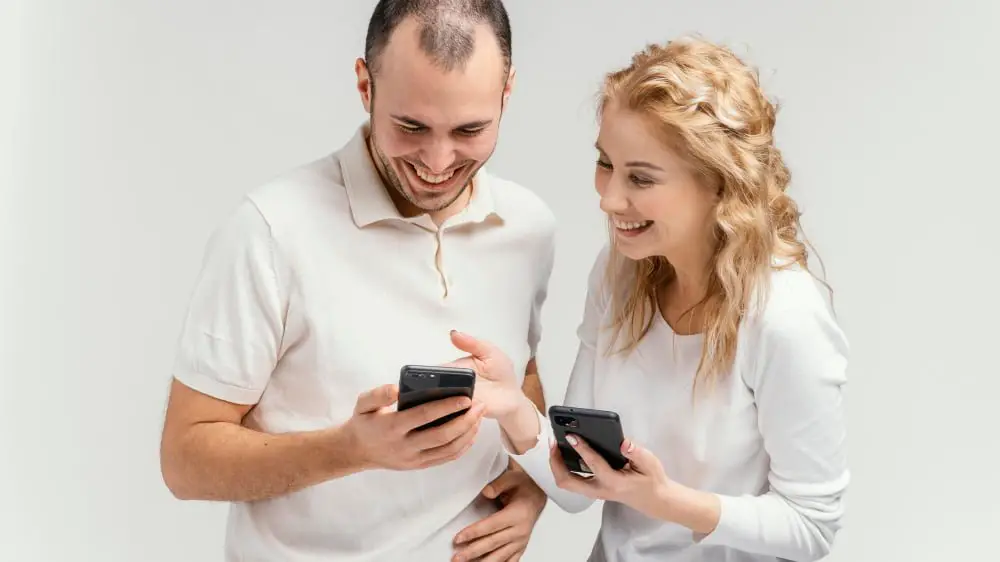 In today's digital age, social media has become an essential tool for communication. It's a great way to keep your guests informed about any updates or changes regarding your outdoor wedding.
You can create a private Facebook group or event page where you can post regular updates and reminders about the dress code, weather conditions, parking arrangements, and other important details.
You could also use Instagram stories to share behind-the-scenes glimpses of the wedding preparations with your guests. This will not only keep them excited but also give them an idea of what to expect on the big day.
However, it is crucial that you do not rely solely on social media as some guests may not be active users or may miss out on important information due to algorithm changes. Therefore it is always best practice to send formal invitations with all necessary details included in writing via email or snail mail as well.
Dress Code Guidance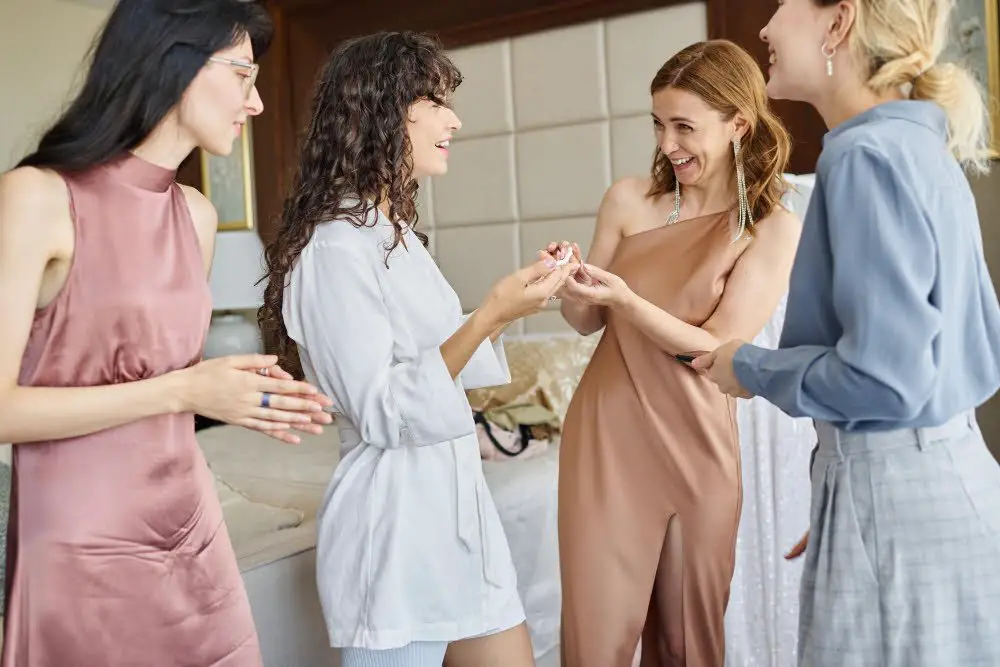 As an outdoor wedding enthusiast, you want your guests to feel comfortable and confident in their attire. That's why it's essential to provide them with dress code guidance when informing them about your outdoor wedding.
You don't want anyone showing up in high heels or dress shoes that will sink into the grass or mud, do you?
When providing dress code guidance for an outdoor wedding, consider the weather conditions and terrain of your venue. If it's going to be hot outside, suggest lightweight fabrics such as cotton or linen for both men and women.
For footwear options, recommend flats or wedges instead of stilettos.
On the other hand, if there is a chance of rain on your big day (which can happen even during summer months), advise guests to bring umbrellas and wear waterproof shoes like boots.
Weather Preparations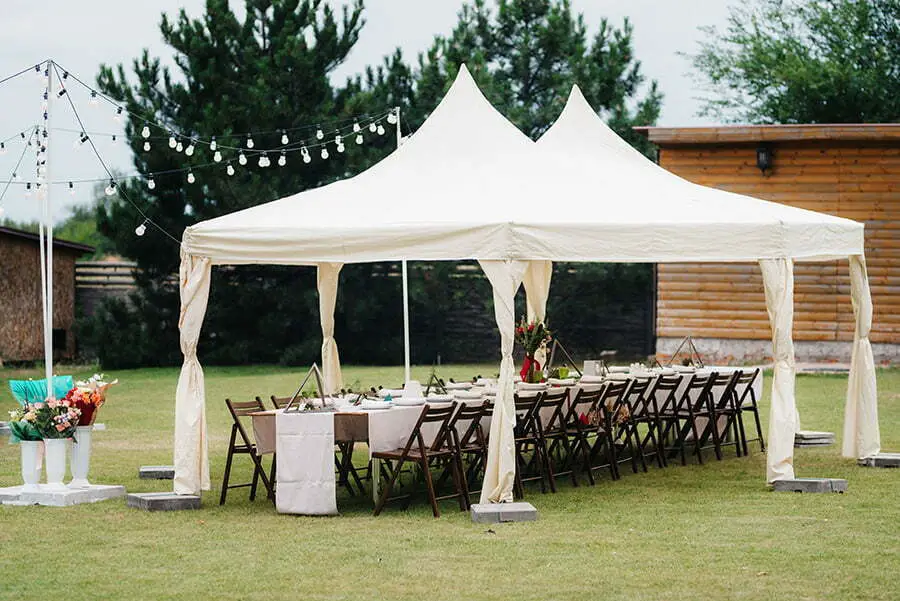 As much as we would like to control the weather, it's not always possible. Therefore, it's important to prepare for any type of weather that may occur on your wedding day.
If you're having an outdoor wedding during the summer months, make sure to provide shade and plenty of water for your guests. You can also consider providing fans or misting stations if temperatures are expected to be high.
On the other hand, if you're getting married in a location where rain is common during certain seasons or times of day, make sure you have a backup plan in case of inclement weather. This could mean renting tents or indoor spaces at your venue just in case.
It's also important to communicate with your guests about potential changes due to bad weather conditions so they can come prepared with appropriate attire and footwear.
Venue Directions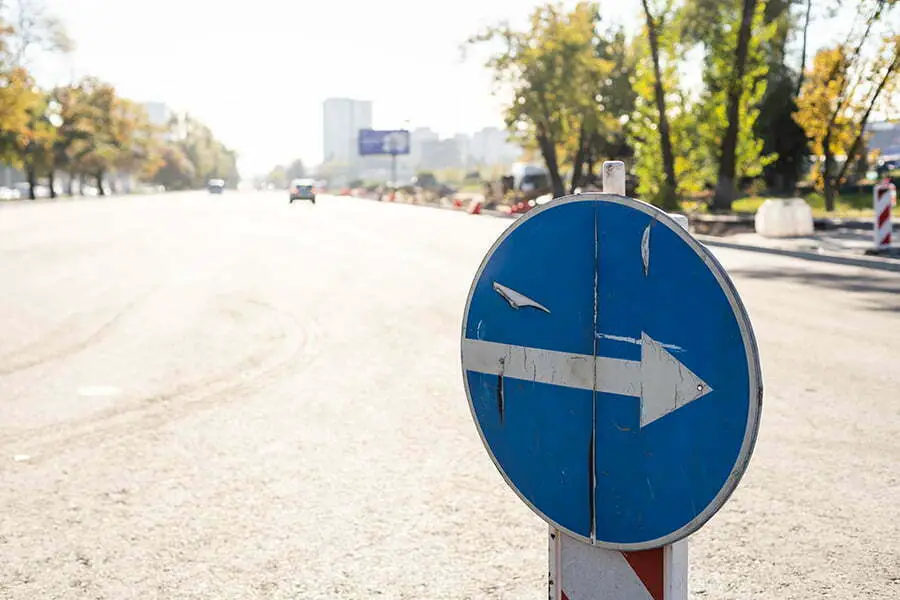 As an outdoor wedding blogger, I've seen it all when it comes to guests getting lost on their way to the venue. That's why providing clear and concise directions is crucial for ensuring that your guests arrive at the right place and on time.
When sending out invitations or save-the-date cards, make sure to include a map with detailed instructions on how to get there. You can also consider adding landmarks or notable features along the way so that your guests have an easier time finding their way.
If you're using a wedding website, be sure to include driving directions as well as public transportation options if applicable. It's also helpful if you provide information about parking arrangements since some outdoor venues may not have designated parking areas.
Lastly, don't forget about signage! If possible, put up signs along the road leading up to your venue so that even those who miss a turn won't end up too far off course.
By taking these steps in advance of your big day, you'll ensure that everyone arrives safely and stress-free – ready for what promises to be one of life's most beautiful moments!
Providing Detailed Accommodation Information
When planning an outdoor wedding, it is essential to provide your guests with detailed accommodation information. This will help them make informed decisions about where to stay and how to plan their travel arrangements.
Include a list of nearby hotels, bed and breakfasts, or vacation rentals along with contact information and any special rates or discounts that may be available for your wedding guests. Consider providing directions from each accommodation option to the wedding venue so that guests can easily navigate their way on the big day.
By offering this level of detail in your invitation or on a dedicated wedding website, you will ensure that all attendees have a seamless experience leading up to the celebration.
Information About Potential Outdoor Allergens
Some people may have allergies to pollen, grass, or certain types of flowers. To ensure everyone is comfortable and can fully enjoy the celebration, it's a good idea to provide information about potential outdoor allergens in advance.
This can be done by including a note on your wedding website or sending out an email with details about the location and any known allergens present in the area. You might want to suggest that guests bring allergy medication if needed.
By being proactive and providing this information ahead of time, you'll help your guests prepare accordingly and minimize any discomfort they may experience during the event.
Suggesting Prep-for-Nature Checklist
This list can include items such as sunscreen, insect repellent, hats or umbrellas for shade, and even portable fans or misters to keep cool in hot weather. By providing this checklist ahead of time, you'll help your guests anticipate the needs specific to an outdoor setting and ensure their comfort throughout the celebration.
Guidance for Footwear Choices
Uneven terrain, grassy areas, or sandy beaches may require different types of shoes compared to a traditional indoor venue. To help your guests navigate these challenges comfortably and stylishly, provide guidance on suitable footwear options.
Consider suggesting flat sandals or wedges for women and dress shoes with rubber soles for men. Encourage guests to avoid stilettos or delicate heels that could sink into soft ground.
By offering clear suggestions on footwear choices in advance, you can ensure that everyone is prepared and comfortable throughout the celebration.
Unique Themes for Outdoor Weddings
Here are some ideas for unique themes that work particularly well in an outdoor setting:
1. Rustic Elegance: Embrace the natural beauty of your surroundings with a rustic elegance theme.
Think wooden accents, burlap table runners, and wildflower bouquets.
2. Bohemian Chic: Create a whimsical atmosphere with a bohemian chic theme.
Incorporate dreamcatchers, macrame details, and vibrant colors for a free-spirited vibe.
3. Garden Romance: Take advantage of lush gardens or blooming flowers by opting for a garden romance theme.
Use soft pastel hues, delicate floral arrangements, and vintage-inspired decor to create an enchanting ambiance.
4. Tropical Paradise: If you're tying the knot on the beach or in any tropical location, embrace the setting with a tropical paradise theme! Incorporate vibrant colors like coral and turquoise along with palm leaves and exotic flowers for that island feel.
5. Vintage Glamour: For those who love all things vintage-inspired; consider having an outdoor wedding filled with old-world glamour! Opt for antique furniture pieces as seating options; use ornate chandeliers as lighting fixtures; incorporate lace details into your attire or decorations – these elements will transport guests back in time!
6. Woodland Enchantment: Celebrating amidst nature's wonders is made even more magical when you choose woodland enchantment as your wedding's central motif! Decorations such as fairy lights hanging from trees, moss-covered centerpieces, and earthy tones will help bring this ethereal vision to life.
7. Seaside Serenity: If you're exchanging vows near the ocean waves, why not go all out on seaside serenity? Nautical touches like anchor motifs; blue-and-white color schemes; seashell decorations can transform any coastal venue into a tranquil paradise.
Remember, the theme you choose should reflect your personal style and preferences as a couple. Let your creativity shine through and create an unforgettable outdoor wedding experience for both you and your guests.
FAQ
How do you say outside wedding invitation?
An outdoor wedding invitation could be phrased as "Outdoor ceremony to be held at [Address of the venue]".
How do I inform my neighbors of my backyard wedding?
Inform your neighbors about your backyard wedding by hand-delivering a polite letter or card coupled with a small gift such as a fruit basket, a snack basket, a bottle of wine or a local restaurant gift card, even add earplugs for a touch of humor.
How do you say your wedding is on grass?
The wedding ceremony and reception will take place on the grass, so select suitable footwear.
What weather considerations should be made when planning an outdoor wedding?
When planning an outdoor wedding, considerations should include the season, average temperature, precipitation chances, wind conditions, and potential for extreme weather events like storms, heatwaves, or cold snaps.
How can you add personal touches to a park wedding ceremony?
To add personal touches to a park wedding ceremony, consider incorporating tailored signage, bespoke ceremony programs, or unique floral arrangements that reflect the couple's personal tastes and love story.
What are effective strategies for pest control at a backyard wedding?
Effective strategies for pest control at a backyard wedding include scheduling professional pest control services ahead of time, using citronella candles or torches, offering guests bug spray, and incorporating pest-repelling plants in the décor.
Keep reading: