Popular food and drink options for an outdoor wedding include barbecue, grilled vegetables, salads, sangria or other fruity cocktails, beer, and wine.
Outdoor weddings are becoming increasingly popular, as they offer a unique and memorable experience for both the bride and groom and their guests. However, when planning an outdoor wedding, it's essential to consider all of the details that go into making it a success – including food and drink options.
With so many delicious choices, deciding what to serve on your special day can be challenging. To help you out, here are some of the most popular food and drink options for an outdoor wedding.
Barbecue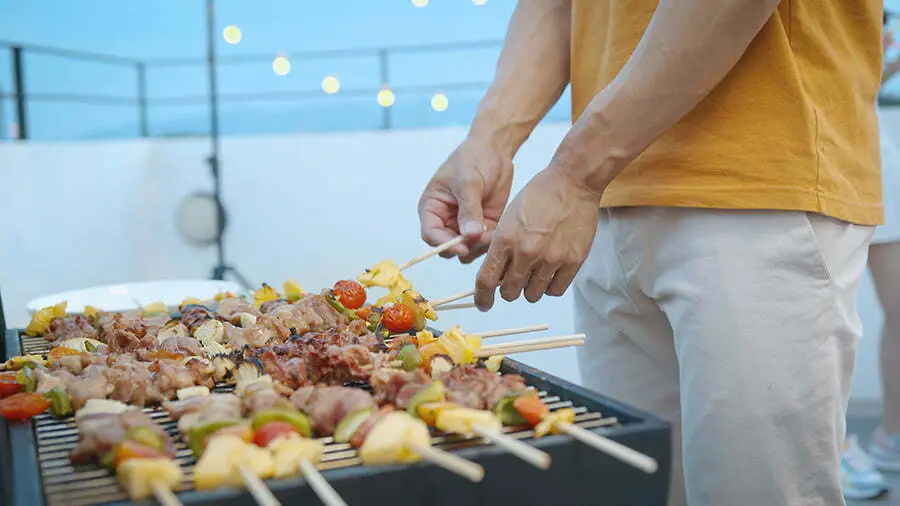 It involves grilling meat, poultry, and vegetables over an open flame or hot coals. Barbecue can be served as a main course or as a buffet-style meal.
Popular meats to barbecue include beef brisket, pork ribs, chicken wings, and sausages. Vegetables such as corn on the cob and bell peppers are also great options for barbecuing.
Guests can enjoy sides like coleslaw, potato salad, macaroni salad, baked beans, and cornbread to accompany the barbecue meal. Drinks that pair well with barbecue include beer (especially craft beers), iced tea, or lemonade for non-alcoholic options.
Sliders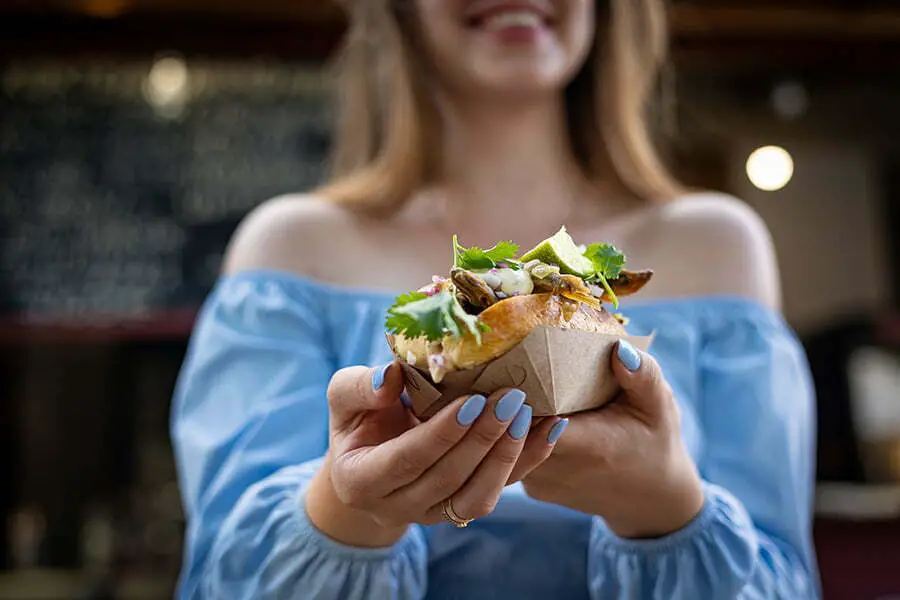 Sliders are small sandwiches, usually served on mini buns or rolls, that can be filled with various ingredients. They are easy to eat and offer guests various flavors in one bite.
Popular slider fillings include beef, chicken, pork, fish, vegetables, and cheese. Sliders can be served as appetizers or as part of the main course for an outdoor wedding reception.
They can also be customized to fit any theme or dietary restrictions using different bread types and fillings. Sliders offer guests a convenient way to enjoy delicious food without worrying about utensils or plates!
Tacos
They are easy to serve, can be customized to suit any dietary needs and provide a delicious meal that guests will enjoy. Tacos can be served as an appetizer or main course, depending on the wedding size and the couple's preferences.
For an outdoor wedding, tacos can be served in traditional hard shells or soft tortillas with various fillings such as beef, chicken, pork, fish, or vegetables. Toppings such as cheese, lettuce, tomatoes, and salsa can also be added for extra flavor.
Guests may also choose from different sauces like guacamole or sour cream to customize their tacos according to their taste preferences.
Salads
Salads can be served as a side dish or as the main course. They can also be customized to fit the guests' dietary restrictions or preferences.
Popular salad options include green salads with fresh vegetables such as lettuce, tomatoes, cucumbers, carrots, and peppers; fruit salads with seasonal fruits like strawberries and blueberries; pasta salads with cooked noodles mixed with vegetables; potato salads made from boiled potatoes mixed with mayonnaise or vinaigrette dressing; and bean salads made from canned beans combined with other ingredients like onions and celery. For an extra special touch, add grilled chicken or shrimp to your salad for added protein.
Fruit Platters
They provide a colorful and healthy snack for guests of all ages. Fruit platters typically include seasonal fruits like apples, oranges, grapes, strawberries, melons, and kiwis.
Depending on the season and location of the wedding, other fruits may also be included in the platter. For example, tropical fruits like pineapple or mango could be added during summer in warmer climates.
The fruit can be served whole or cut into bite-sized pieces for easy snacking. Add some edible flowers to decorate the platter to make it even more special for your guests!
Lemonade
It can be served in various ways, from pre-made pitchers to individual glasses with slices of lemon or lime. Lemonade can also be made with raspberry, strawberry, or peach for added sweetness and color.
Add some edible flowers or herbs like mint or basil to the mix for an extra special touch! It looks beautiful and adds an extra layer of flavor that your guests will love.
Iced Tea
It's light and refreshing and can be served in various flavors to suit any taste. Iced tea is also an economical option since it can be made in large batches ahead of time and stored until the wedding day.
For those who prefer something more unique, there are many options for customizing iced tea with different fruits or herbs to give it a unique flavor. Iced tea can easily be made into alcoholic beverages such as spiked teas or cocktails for guests who want something more substantial than plain iced tea.
Sangria
It is a refreshing and fruity beverage that can be served both alcoholic or non-alcoholic, depending on the couple's preference. Sangria typically consists of red or white wine mixed with fruit, such as orange juice, lemonade, and pineapple juice.
The mixture is then topped off with fresh fruits like oranges, lemons, limes, apples, and berries to boost its flavor. Some people also add simple syrup or honey for added sweetness and color.
Sangria can be made beforehand to be ready to serve when guests arrive at the wedding reception.
Beer and Wine Coolers
These drinks provide a refreshing way to keep guests hydrated during the festivities. Beer and wine coolers come in various flavors, from light lagers to fruity sangrias, so there is something for everyone.
They are also less expensive than other alcoholic beverages, making them an economical option for significant events like weddings. Beer and wine coolers can be served in cans or bottles that are easy to transport and store outdoors without worrying about breakage or spills.
Sparkling Cider
It is a non-alcoholic beverage that can be served to guests of all ages, making it an ideal option for any wedding. Sparkling cider is made from apples and has a light, bubbly taste that pairs well with many different types of food.
It also comes in various flavors, such as apple-cranberry or raspberry-apple, so plenty of options exist. Sparkling cider can be served chilled or at room temperature, depending on the season and preference.
For an outdoor wedding, sparkling cider provides guests with a refreshing drink that keeps them hydrated throughout the day while being festive and enjoyable.
Keep reading: