The best month for an outdoor wedding depends on the location and climate, but generally, late spring to early fall months such as May, June, July, August, and September are popular choices.
As I sat on the porch of my childhood home, watching the leaves change colors and feeling the crisp autumn air, I couldn't help but think about how perfect this setting would be for an outdoor wedding. The thought of exchanging vows under a canopy of vibrant fall foliage was enough to make me swoon.
But as a seasoned outdoor wedding blogger, I know that the month you choose for your big day can make all the difference. From unpredictable weather to peak tourist season, there are many factors to consider when planning an outdoor wedding.
So let's dive in and explore which month is truly best for saying "I do" under the open sky.
Key takeaways:
May: Mild weather, blooming flowers, and discounts on vendors.
June: Warm weather, long days, and nature in full bloom.
July: Long days, warm temperatures, and idyllic setting, but beware of heat and peak tourist season.
August: Warm summer breeze, lush greenery, and challenges with high temperatures and humidity.
September: Changing colors, cooler temperatures, discounted rates, and a magical autumnal ambiance.
A Magical May Affair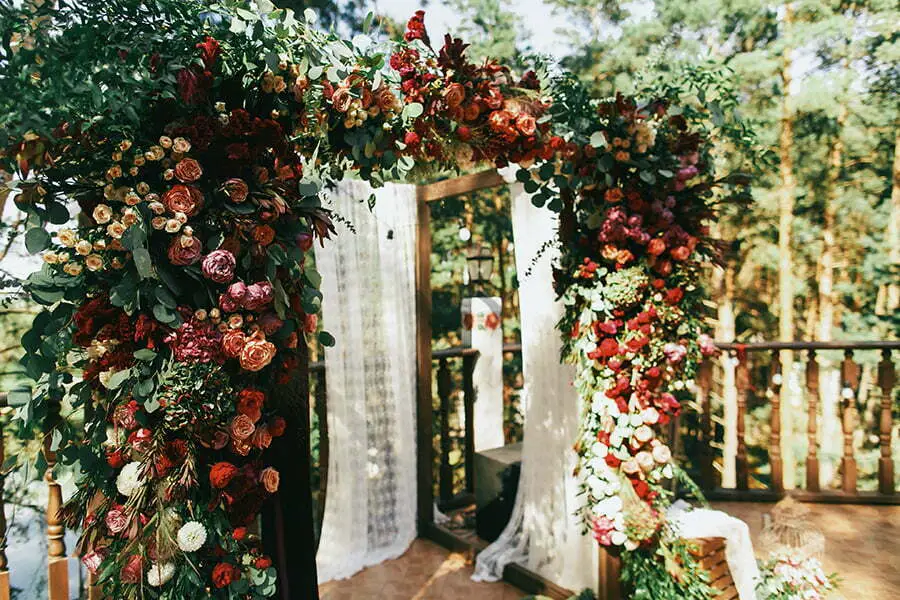 May is a month of new beginnings, and what better way to start your journey as a married couple than with an outdoor wedding? The weather in May is usually mild and pleasant, making it the perfect time for an alfresco celebration. Imagine exchanging vows surrounded by blooming flowers and lush greenery.
The natural beauty of this month will add charm to your special day.
But that's not all; May also offers some practical advantages for outdoor weddings. It falls just before peak tourist season, which means you can avoid crowds at popular venues while still enjoying favorable weather conditions.
Plus, many vendors offer discounts during this shoulder season.
However, keep in mind that May can be unpredictable when it comes to rain showers or sudden temperature drops at nightfall – so make sure you have backup plans in place! Overall though if you're looking for a magical springtime affair under the open sky then May could be the perfect choice for your big day!
June's Enchanting Escapade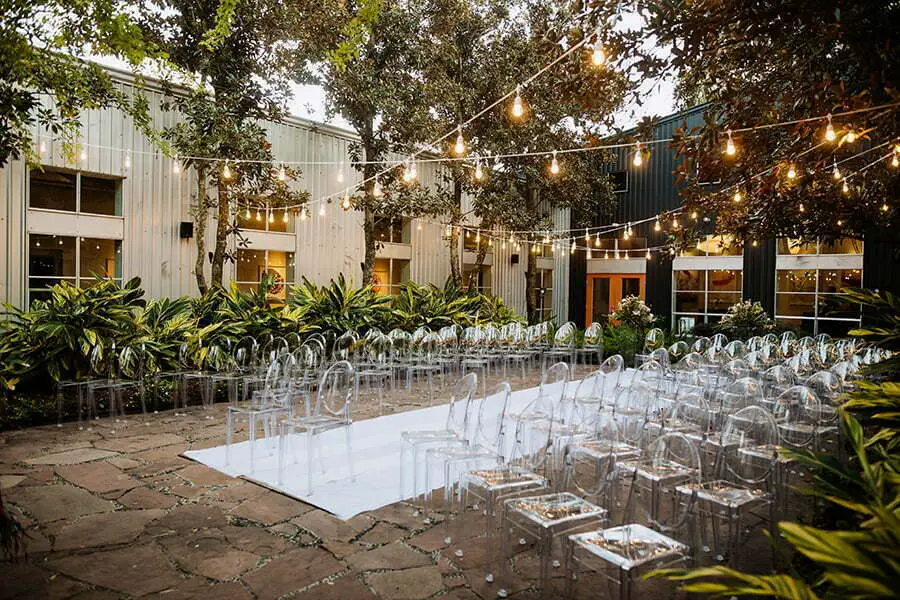 June's Enchanting Escapade is a popular choice for outdoor weddings, and it's not hard to see why. The weather is warm but not too hot, the days are long, and nature is in full bloom.
I remember attending my cousin's wedding in June a few years ago – it was held on a sprawling estate with rolling hills as far as the eye could see. The ceremony took place under an archway of blooming roses while guests sat on white chairs arranged neatly on either side of the aisle.
As they exchanged vows, birds chirped sweetly in nearby trees adding to the enchantment of this beautiful setting. Afterward, we enjoyed cocktails outside while watching fireflies dance around us before heading into an elegantly decorated tent for dinner and dancing under twinkling lights strung from tree branches above our heads.
June may be one of the most popular months for outdoor weddings but there are other factors that you should consider before making your final decision.
The July Jubilation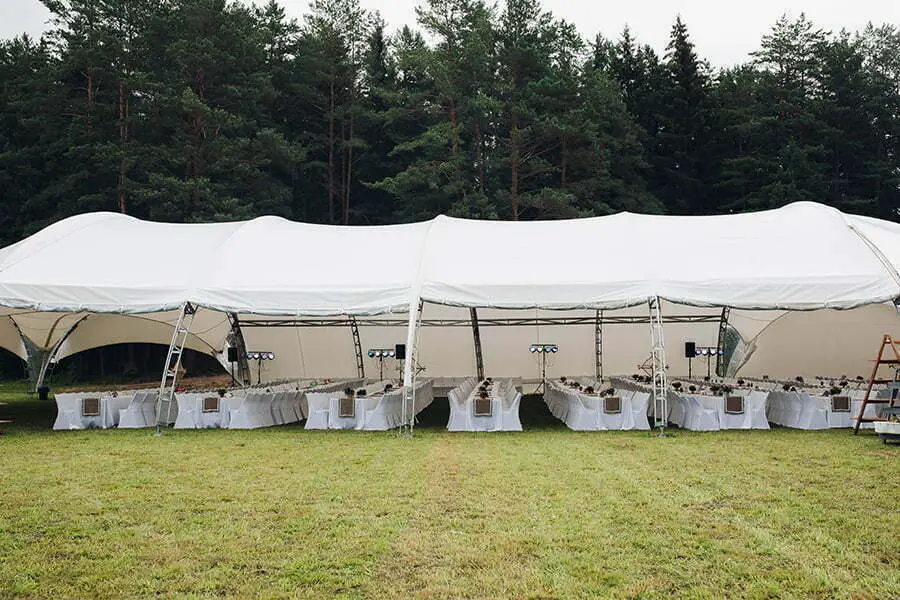 As a blogger who has attended and written about numerous outdoor weddings, I can confidently say that July is one of the most popular months for tying the knot under the sun. And it's no surprise why – with its long days, warm temperatures, and beautiful blooms in full display, July offers an idyllic setting for any outdoor wedding.
But as much as we love this month of jubilation and celebration, there are some things to keep in mind when planning a summer wedding. First off: heat! While sunny skies may be ideal for photoshoots and ceremonies alike, high temperatures can quickly become uncomfortable or even dangerous if you're not prepared.
Make sure to provide plenty of shade options (think tents or umbrellas) along with refreshing drinks like lemonade stations or fruit-infused water dispensers.
Another thing to consider is peak tourist season – especially if your chosen venue happens to be near popular vacation spots. This could mean higher prices on everything from accommodations to catering services so make sure you plan ahead accordingly.
Overall though? If you're looking for a lively atmosphere filled with joyous energy (and maybe even some fireworks!), then July might just be your perfect match!
August's Amorous Adventure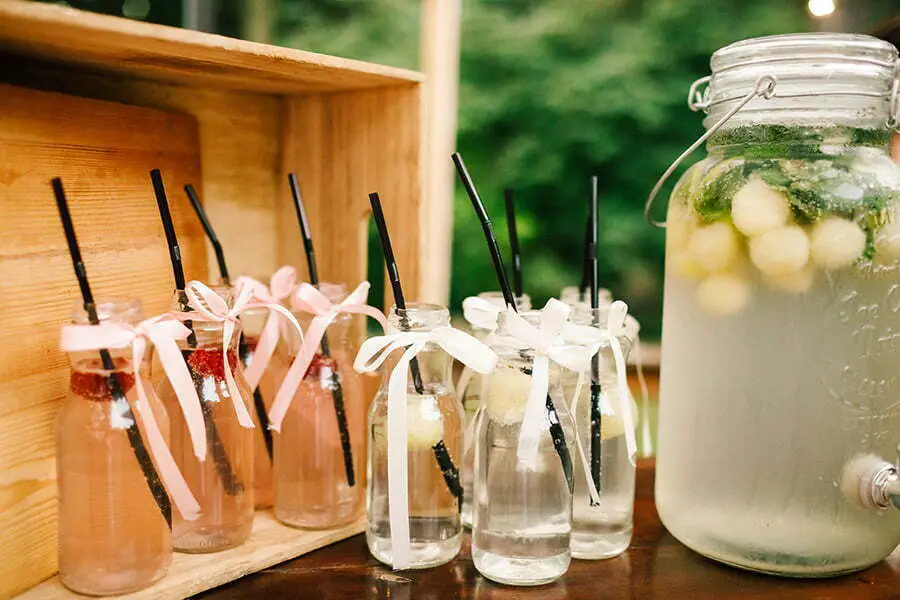 As I continued to ponder the best month for an outdoor wedding, my mind wandered to August's amorous adventure. The warm summer breeze, the lush greenery, and the long days filled with sunshine make August a popular choice for outdoor weddings.
But as much as we love August's romantic allure, it does come with its own set of challenges. With temperatures soaring and humidity levels high in many parts of the world during this time of year, you'll want to ensure that your guests are comfortable throughout your special day.
One way to beat the heat is by choosing a venue that offers plenty of shade or indoor spaces where guests can cool off. You could also provide fans or misting stations so everyone stays refreshed and hydrated.
Another consideration when planning an August wedding is peak tourist season in many destinations around the world. This means higher prices on everything from accommodations to transportation and even food costs at local restaurants.
Despite these potential obstacles though, there's no denying that an outdoor wedding in August can be absolutely magical if planned correctly!
September Serenade: A Love Story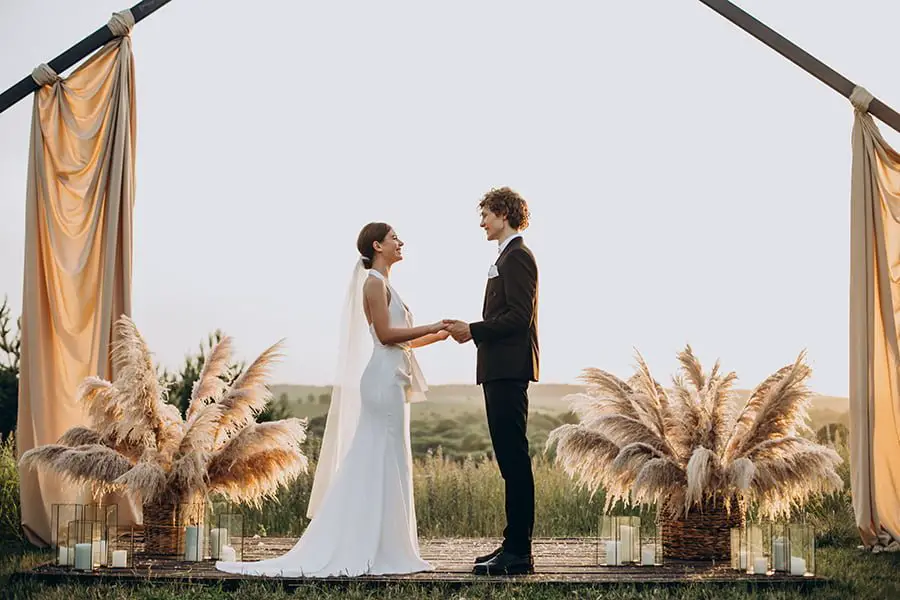 As I continued to ponder the best month for an outdoor wedding, my mind wandered back to a beautiful September day when I attended a friend's nuptials. The sun was shining, and there was just enough of a breeze to keep everyone comfortable in their formal attire.
As the ceremony began, it felt like time stood still as we all watched the happy couple exchange vows under an arch adorned with wildflowers.
The reception that followed was equally enchanting – guests danced under twinkling lights strung between trees while sipping on crisp glasses of champagne. It truly felt like something out of a fairytale.
Reflecting on that magical day made me realize why September is such a popular choice for outdoor weddings – it's not too hot or too cold, and nature puts on quite the show with its changing colors and cooler temperatures. Plus, many venues offer discounted rates during this shoulder season before peak fall foliage hits.
Of course, every location has its own unique climate patterns and seasonal quirks that should be taken into consideration when planning your big day outdoors. But if you're looking for romance amidst autumnal splendor without breaking the bank or risking extreme weather conditions? Consider saying "I do" in September!
Advantages of Choosing Off-Peak Wedding Seasons
Choosing an off-peak wedding season for your outdoor celebration can offer several advantages. Firstly, you are more likely to secure your preferred venue and vendors since they tend to have greater availability during non-peak months.
This means less competition and potentially lower prices for their services. Off-peak seasons often coincide with milder weather conditions, making it more comfortable for both you and your guests throughout the day.
With fewer weddings taking place during these times, you may also find that accommodations and travel arrangements are more affordable for out-of-town guests who need to attend your special day. Lastly, opting for an off-peak season allows you the opportunity to stand out from the crowd by choosing a unique date that holds personal significance or aligns with a specific theme or style of wedding décor that is meaningful to you as a couple.
Understanding Your Location's Weather Patterns for Outdoor Weddings
Different regions experience varying climates throughout the year, and being aware of these patterns will help you make an informed decision about which month is best for your special day.
Start by researching historical weather data for your desired wedding location. Look at average temperatures, rainfall levels, and any extreme weather events that may occur during certain months.
This information will give you a general idea of what to expect in terms of climate.
Consider consulting with local experts or experienced event planners who are familiar with the area's specific microclimate. They can provide valuable insights into how different seasons might affect your outdoor celebration.
Keep in mind that even if a particular month typically has favorable weather conditions in a given region, there can still be variations from year to year due to climate change or other factors beyond our control. It's essential to have backup plans and contingency options ready just in case unexpected changes occur on your big day.
How to Cope With Unexpected Weather Changes
Even if you choose a month with typically favorable weather, Mother Nature can still surprise you. Here are some tips on how to cope with these unpredictable conditions:
1. Have a backup plan: Always have a backup plan in case the weather takes a turn for the worse.
This could include renting tents or marquees to provide shelter from rain or extreme heat.
2. Communicate with your guests: Keep your guests informed about any potential changes due to inclement weather.
Send out updates via email or create a dedicated webpage where they can find all necessary information.
3. Provide comfort items: If there is rain in the forecast, consider providing umbrellas or ponchos for your guests so they can stay dry during outdoor ceremonies and receptions.
4. Adjust seating arrangements: In case of extreme heat or cold temperatures, make sure there are shaded areas available and heaters provided if needed.
5.Prepare alternative photo locations: Scout nearby indoor locations that would serve as beautiful backdrops for wedding photos in case outdoor shots become impossible due to bad weather.
Ensuring Comfort for Guests: Seasonal Considerations
Depending on the season, there are specific considerations you should keep in mind to ensure everyone stays comfortable throughout the celebration.
In warmer months, provide shade options such as umbrellas or canopies to shield guests from direct sunlight. Consider renting portable fans or misting stations for added relief.
It's also a good idea to have plenty of water stations available and offer refreshing beverages like lemonade or iced tea.
For cooler seasons, think about providing blankets or shawls for guests who may feel chilly during outdoor ceremonies or receptions. You could even set up fire pits with cozy seating areas where people can warm up and enjoy some s'mores.
Regardless of the season, having access to clean restroom facilities is essential for guest comfort at any outdoor wedding venue. If necessary, consider renting luxury portable restrooms that offer amenities like air conditioning and running water.
Incorporating Seasonal Elements Into Your Wedding Theme
Whether you're tying the knot in spring, summer, fall, or winter, there are countless ways to infuse the spirit of the season into your special day.
For a springtime celebration, embrace blooming flowers and pastel colors. Consider using fresh tulips or daffodils as centerpieces and incorporating soft shades of pink or lavender throughout your decor.
You could even incorporate floral patterns into invitations and table linens for an extra touch.
If you've chosen to have a summer wedding outdoors, take advantage of the warm weather by embracing vibrant hues and tropical motifs. Incorporate bright pops of color through bold flower arrangements featuring sunflowers or hibiscus blooms.
Consider adding beach-inspired elements like seashells as part of your table settings or opting for refreshing signature cocktails that reflect summertime flavors.
Fall weddings offer opportunities to showcase rich earth tones such as deep reds, oranges,and yellows inspired by changing leaves. Decorate with pumpkins,squashes,and gourds for rustic charm.Adding cozy blankets,fairy lights,and candles will create warmth during cooler autumn evenings.You may also consider serving comfort foods like apple pie,caramel apples ,or hot cider drinks at cocktail hour.
Winter weddings can be magical with touches like sparkling lights,winter greenery ,and snowflake accents .Incorporate silver,gold ,or icy blue hues throughout decorations.Choose elegant white flowers such as roses,lilies ,or orchids.Use faux fur wraps on bridesmaids' dresses  to keep them warm while adding glamour.Incorporating seasonal treats such as hot chocolate bars,warm soups  and festive desserts will delight guests during this time. By thoughtfully integrating these seasonal elements,you'll not only enhance the ambiance but also create lasting memories that perfectly capture the essenceof each season.
FAQ
Is October too cold for an outdoor wedding?
No, October is not too cold for an outdoor wedding, considering the cooler weather and falling leaves in several regions.
What is the cheapest month to get married?
The cheapest months to get married are usually January, February, and November.
What is the most popular wedding month?
The most popular wedding month in 2022 was October.
What is the perfect temperature for an outdoor wedding?
The perfect temperature for an outdoor wedding ranges from 65 to 80 degrees Fahrenheit.
How does one plan for weather uncertainties during an outdoor wedding?
To plan for weather uncertainties during an outdoor wedding, consider insightful options such as hiring a professional wedding planner experienced in outdoor events, installing weather-resistant marquees, creating an indoor backup plan, monitoring weather forecasts, and strategically scheduling the wedding during a season with predictable weather conditions.
What are the best color schemes for summer outdoor weddings?
The best color schemes for summer outdoor weddings are light and bright shades, such as pastels, vibrant blues, fresh citrus hues, or classy white and green combinations.
What are the essential considerations to keep in mind when choosing a location for an outdoor wedding?
When choosing a location for an outdoor wedding, it is essential to consider factors such as the weather, lighting, noise control, accessibility for guests, restroom facilities, potential for a backup indoor option, and the natural beauty of the setting.
Keep reading: