Discover enchanting Christmas outdoor wedding decor ideas to transform your special day into a magical winter wonderland celebration.
As the holiday season approaches, there's nothing quite as magical as an outdoor winter wedding. The crisp air, the twinkling lights, and the cozy blankets all come together to create a truly enchanting atmosphere.
But when it comes to decorating for a Christmas outdoor wedding, where do you even begin? Fear not! I've rounded up 20 of the most stunning and unique ideas for outdoor winter wedding decor that will leave your guests in awe. From rustic centerpieces to whimsical lighting, these ideas are sure to add some festive cheer to your special day.
So grab a cup of cocoa and get ready to be inspired!
String Lights Canopy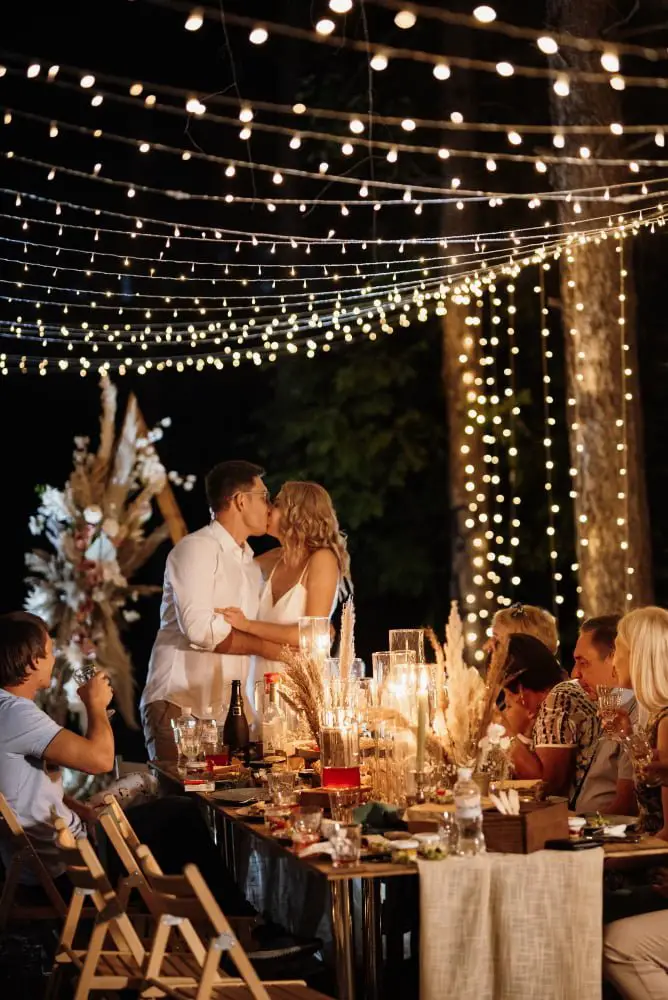 One of the most popular outdoor wedding decor ideas is to create a canopy with string lights. This idea works especially well for winter weddings, as it adds warmth and coziness to the atmosphere.
You can hang string lights from trees or poles, creating a twinkling ceiling above your guests' heads. For an extra festive touch, consider using colored bulbs in shades of red and green or warm white LED lights that resemble snowflakes.
The result will be magical and unforgettable!
Pinecone Aisle Markers
Gather pinecones of various sizes and tie them with twine or ribbon, then place them along the sides of the aisle leading up to the altar. For an extra festive touch, you can spray paint some pinecones in gold or silver hues and sprinkle glitter on top for added sparkle.
These rustic decorations will complement any outdoor setting and create a cozy atmosphere for your guests as they make their way down the aisle.
Wreath-adorned Chairs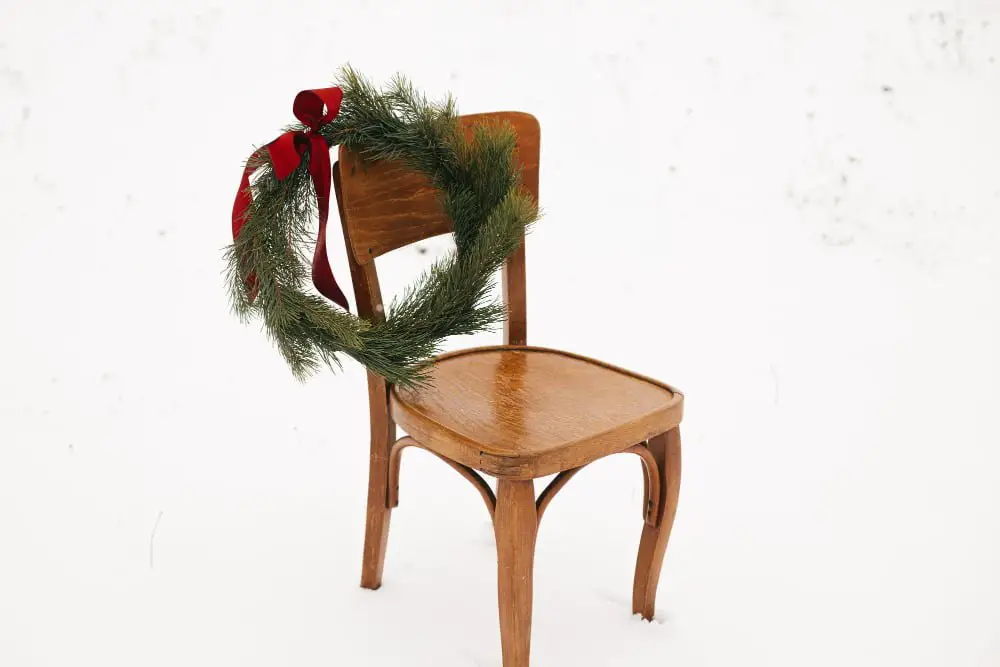 You can use fresh or faux wreaths, depending on your preference and budget. For a rustic look, you can opt for wreaths made of pine branches or holly leaves with berries.
If you want something more glamorous, consider using metallic-colored wreaths with glitter accents.
To decorate the chairs, simply tie the wreath onto the backrest using ribbon or twine in colors that match your wedding theme. You can also add some extra touches by attaching small ornaments or bells to the bottom of each chair.
Festive Archway Entrance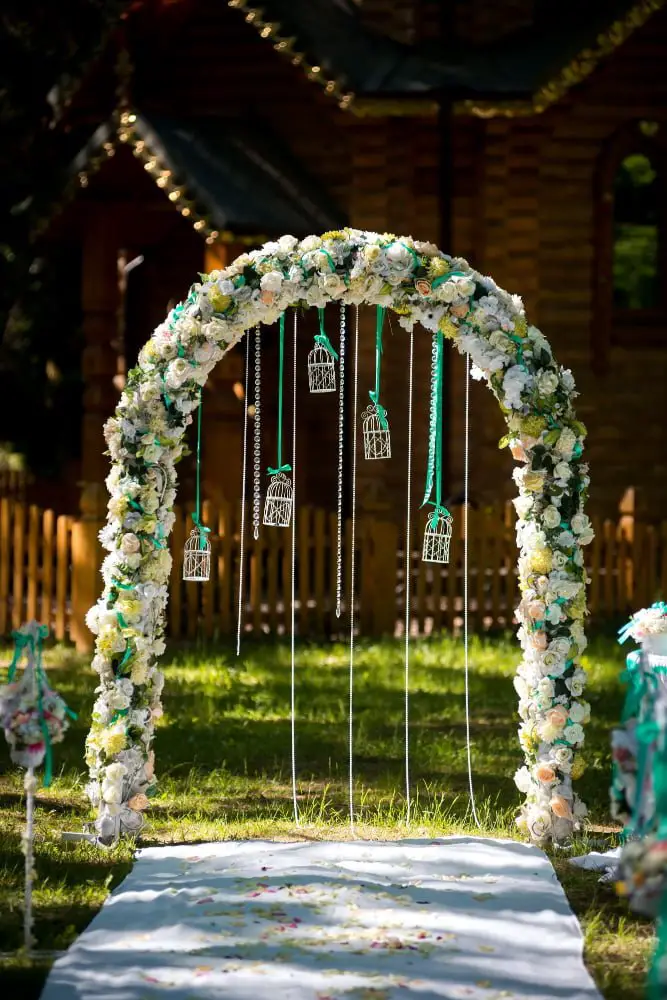 You can decorate the arch with greenery, pinecones, and ornaments for a classic holiday look. For a more rustic feel, you could use birch branches or twigs intertwined with string lights.
If you want something more whimsical, consider using oversized candy canes or giant snowflakes as part of the decor. Whatever style you choose for your festive archway entrance will set the tone for your entire wedding celebration and make it clear that this is no ordinary event!
Hot Cocoa Bar Station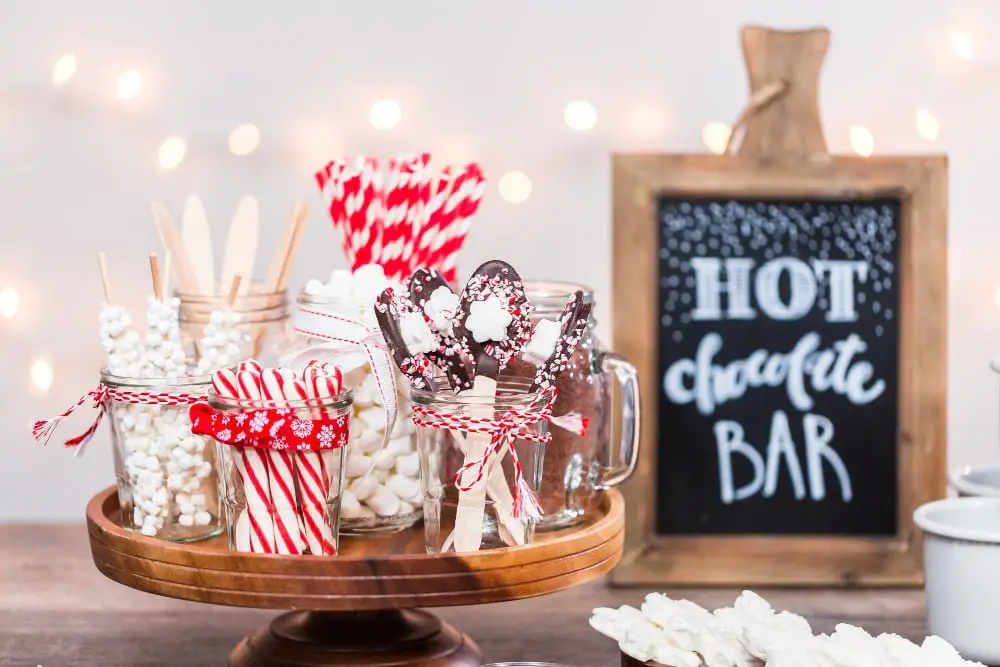 You could even add some adult-friendly options like Bailey's or Kahlua for those who want to spike their drink. This is not only an adorable addition to your decor but also serves as an interactive activity for guests during cocktail hour or after dinner.
Plus, it will keep everyone cozy and in the holiday spirit throughout the night!
Snowflake Table Confetti
These delicate snowflakes can be made of paper, glitter or even edible sugar and come in various sizes and colors. Scatter them on the table around centerpieces or use them as place settings for an extra touch of charm.
You can also mix different types of snowflakes with other elements such as pinecones, candles, or greenery for a more textured look that will make your guests feel like they are dining in a winter wonderland. Snowflake table confetti is an affordable option that adds just the right amount of sparkle to any holiday-themed wedding celebration!
Mistletoe Kissing Booth
Set up a cozy little nook with some greenery, fairy lights, and of course, mistletoe! Encourage your guests to steal kisses under the mistletoe by placing the booth in a prominent location at your reception venue. You can even add some playful signage or props like Santa hats or reindeer antlers for added holiday cheer.
This is sure to be one of the most popular spots at your wedding and will create memories that last long after the event has ended!
Christmas Tree Centerpieces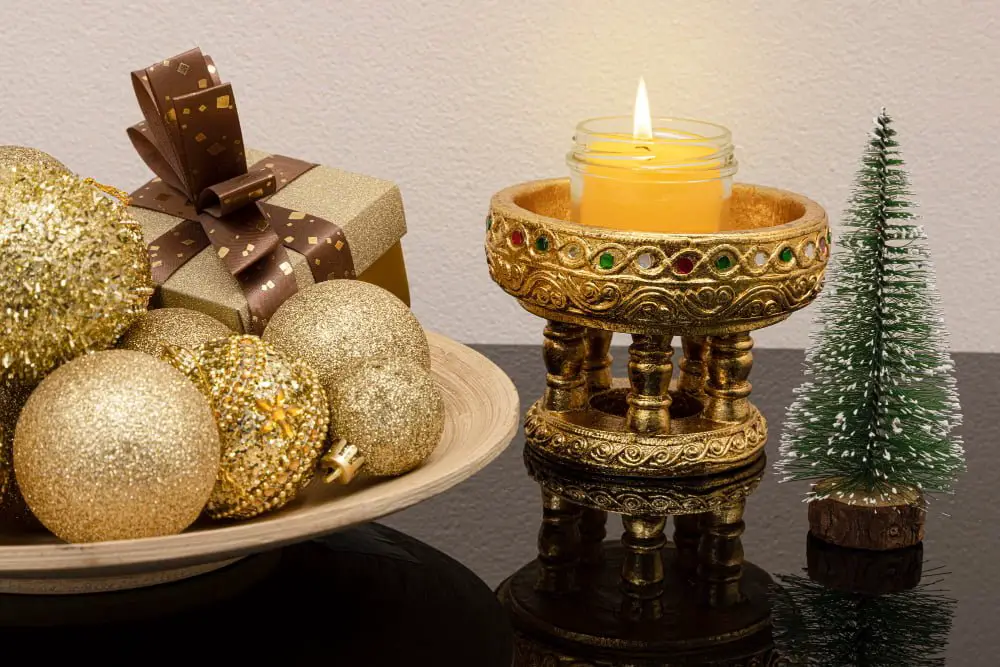 You can choose from different sizes and styles of trees, depending on your preference. For example, you could opt for a small tabletop tree or go all out with a full-sized one.
To make it even more festive, decorate the tree with ornaments that match your wedding colors or theme. You could also add some lights for an extra touch of sparkle.
If you're looking for something unique, consider using mini trees as individual centerpieces at each table instead of one large centerpiece in the middle. This will create an intimate and cozy atmosphere while still incorporating the holiday theme into every aspect of your special day.
Ornament Place Cards
Simply choose ornaments that match your wedding colors or theme, and attach a small tag with each guest's name. Hang the ornaments on a tree or display them on a table for guests to find their seats.
Not only do they serve as unique place cards, but they also double as favors for guests to take home after the celebration is over. This simple yet creative idea will surely impress your guests and make them feel extra special at your winter wonderland wedding!
Faux Fur Blankets for Guests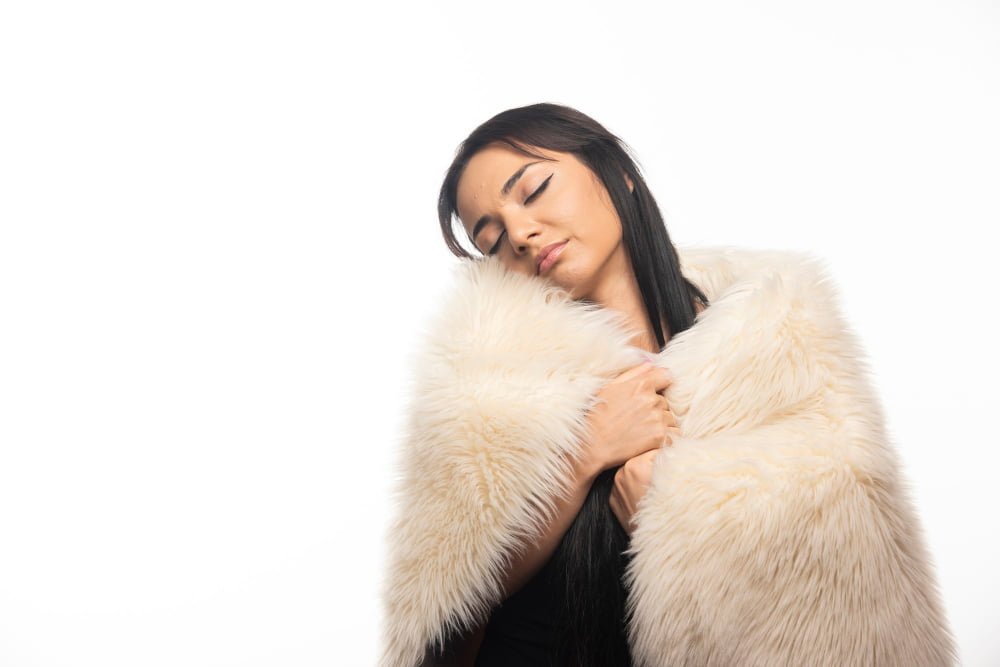 Not only do they serve a practical purpose, but they also add a touch of luxury and elegance to your outdoor wedding decor. You can drape them over chairs or benches for guests to grab as needed or even offer them as favors at the end of the night.
Plus, they make for great photo props too! Choose neutral colors like white or beige for a classic look or go bold with jewel tones like emerald green or sapphire blue. Your guests will thank you for this thoughtful addition to your winter wonderland wedding ambiance!
Candlelit Lanterns Pathway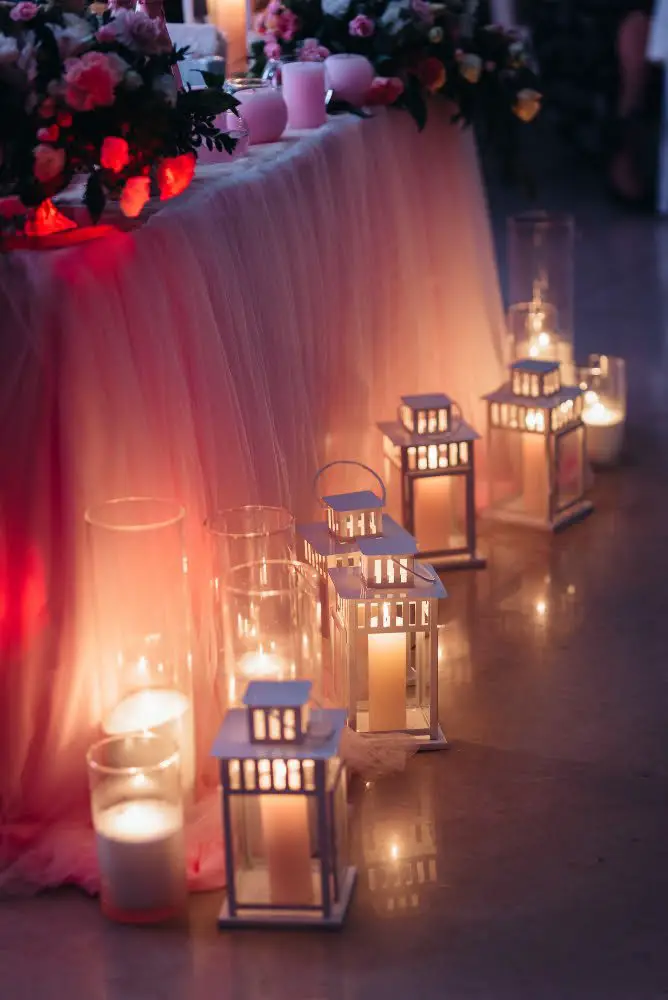 The soft glow of the candles will create an enchanting atmosphere that will guide your guests down the aisle or towards the reception area. You can use different types of lanterns, such as vintage metal ones or rustic wooden ones, depending on your wedding theme.
To make it even more festive, you can decorate them with pinecones, holly berries or ribbons in Christmas colors. This simple yet elegant decor idea is sure to impress your guests and make for some stunning photos!
Rustic Wooden Signposts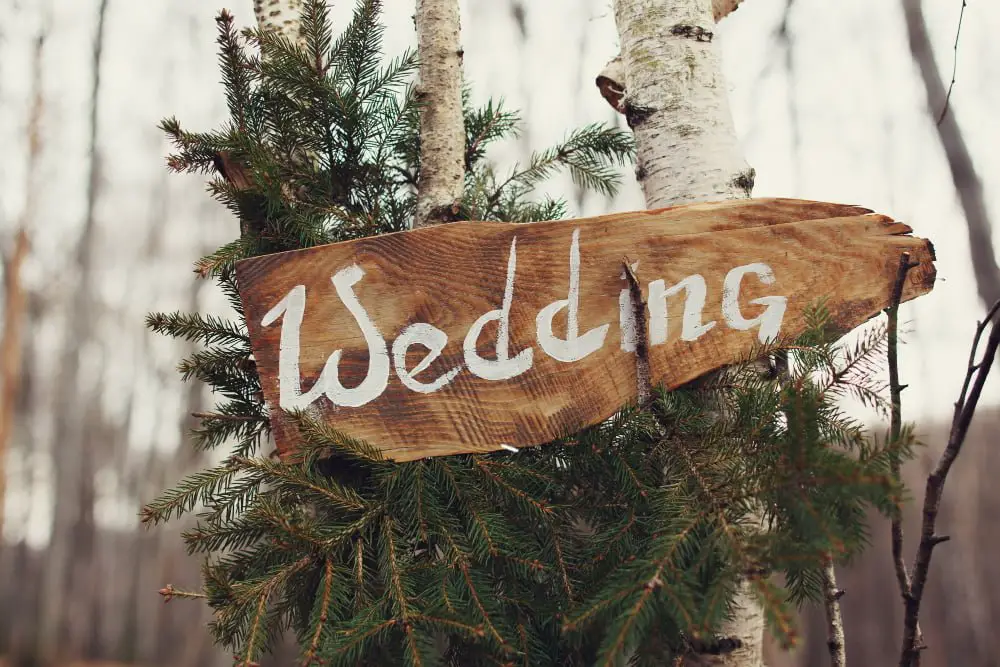 These signs can be used to direct guests towards different areas of the venue or simply as decorative elements. You can customize them with your own messages and designs, such as "Warm up by the fire pit" or "Sip on some hot cocoa".
To make them even more festive, consider adding some greenery or pinecones around their base. The natural look of these signposts will complement any winter wonderland theme and add a touch of warmth to your special day.
Red and Green Floral Arrangements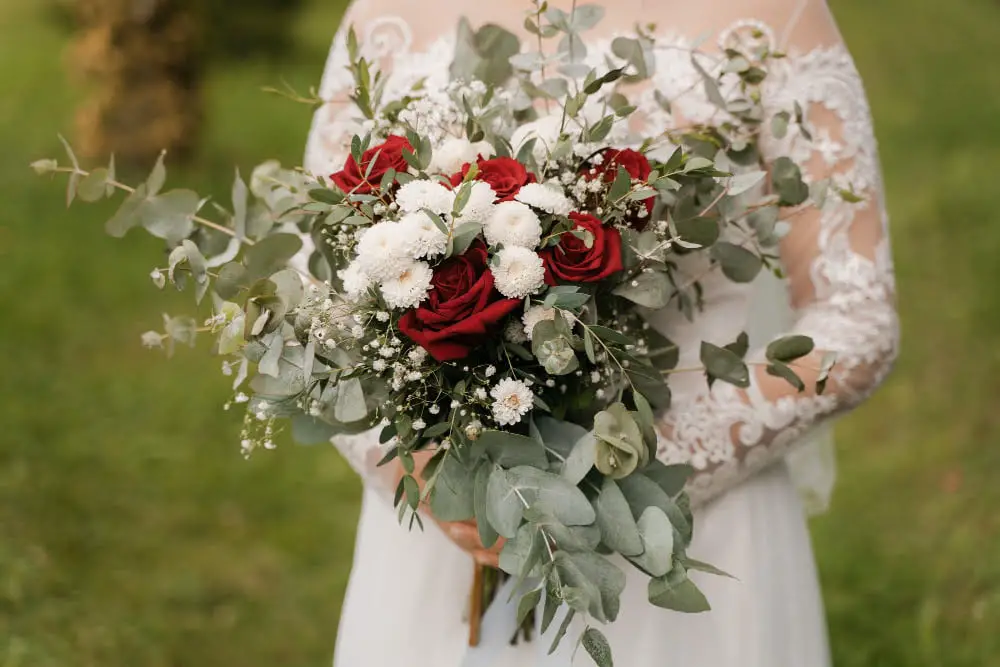 These colors evoke the traditional holiday spirit and can be incorporated into various aspects of your decor, including centerpieces, bouquets, boutonnieres, and even ceremony backdrops. Consider using red roses or poinsettias paired with evergreen branches or holly leaves to create stunning arrangements that will add warmth to your outdoor celebration.
You can also mix in other seasonal blooms like white amaryllis or tulips for an elegant touch. Don't forget to tie everything together by adding some festive ribbon accents in complementary shades of red and green!
Miniature Sleigh Card Holder
These can be placed on each table and used to hold place cards or even small favors for guests. You could also use them as part of your centerpieces by filling them with flowers or greenery.
To make the sleighs stand out, choose ones that are painted in festive colors like red and gold or silver and blue. This is an easy DIY project that you can do yourself with some mini wooden sleds from a craft store, paint, glue gun and some creativity!
Ice Sculpture Display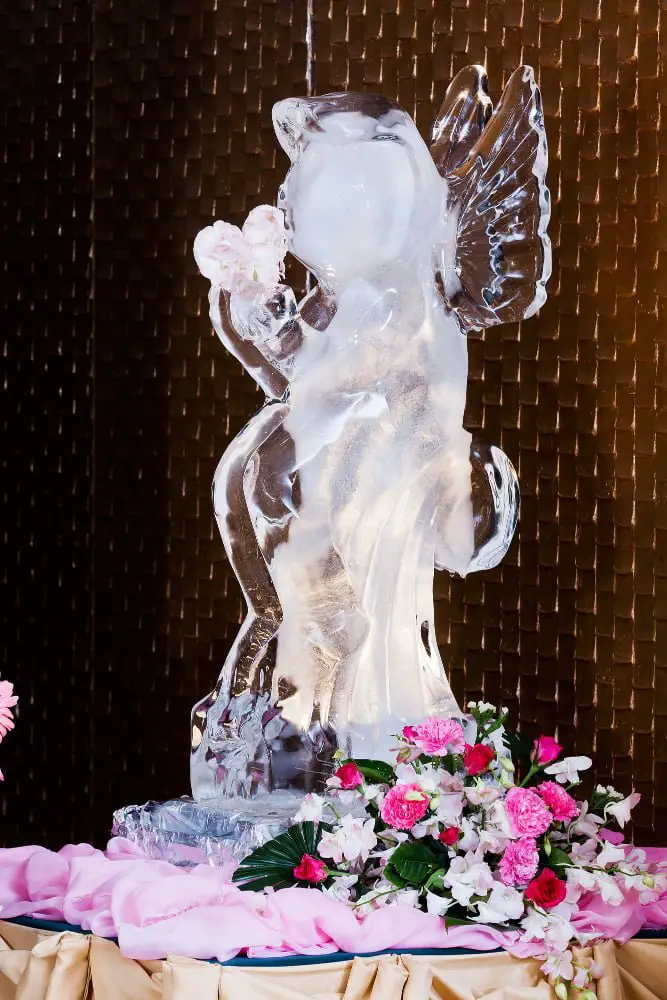 The intricate designs and sparkling beauty of the ice will leave your guests in awe. You can choose from a variety of designs, such as snowflakes, hearts or even an elegant swan.
An ice sculpture display can be placed at the entrance to your reception area or as a centerpiece on each table for added elegance. Keep in mind that this type of decor requires careful planning and coordination with an experienced vendor who specializes in creating these beautiful works of art.
Winter Wonderland Photo Backdrop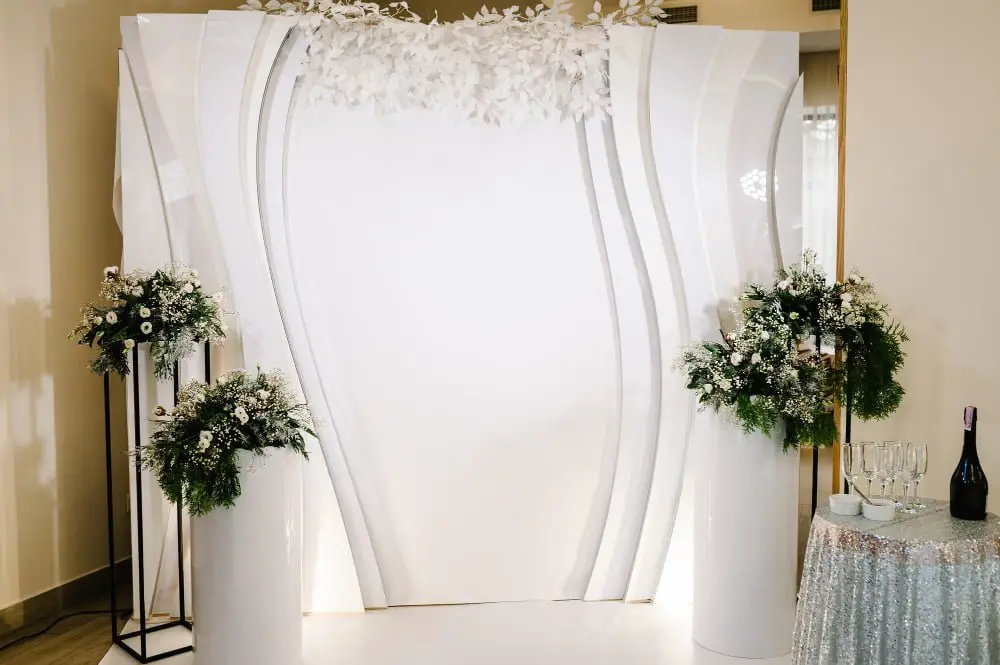 It creates a magical atmosphere and provides an opportunity for guests to take memorable photos. You can create the backdrop using white or silver tinsel, snowflakes, and fairy lights.
Alternatively, you could use natural elements such as pine branches or birch trees with twinkling lights woven through them. A fun idea would be to add some props like oversized snowflakes or reindeer antlers for guests to pose with in front of the backdrop!
Fire Pit With Marshmallow Roasting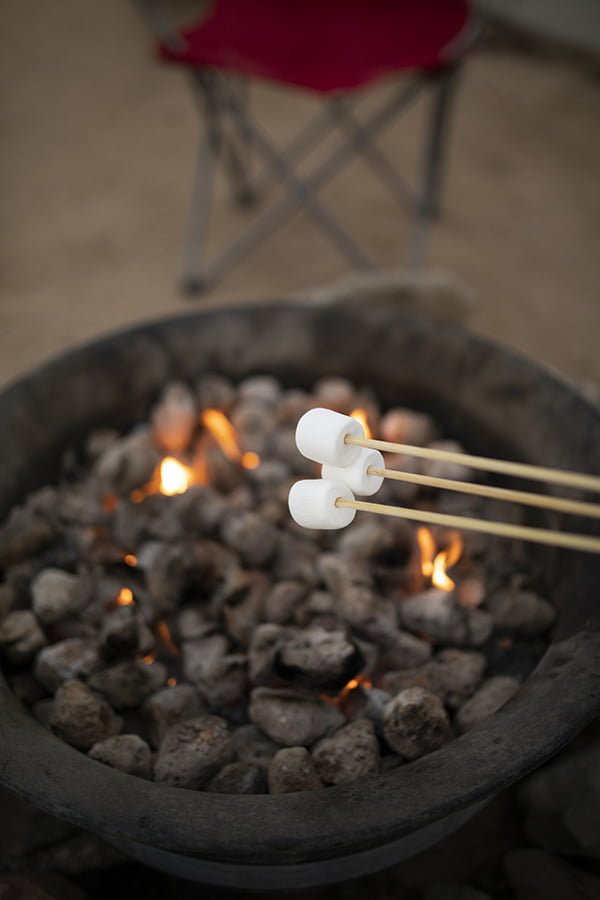 Not only does it provide warmth and coziness, but it also adds an element of fun for guests of all ages. Set up a designated area with comfortable seating around the fire pit and provide skewers for guests to roast their own marshmallows.
You can even offer different types of chocolate or graham crackers to make s'mores! This activity will surely be a hit among your guests, creating unforgettable memories that they'll cherish forever.
Holiday-themed Dessert Table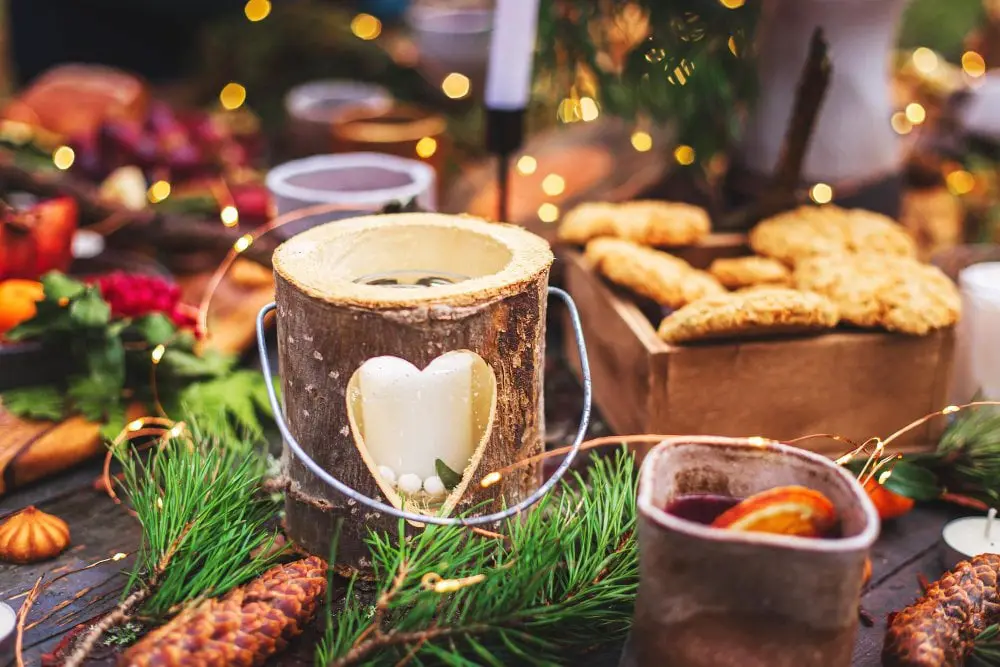 You can incorporate traditional desserts such as gingerbread cookies, fruitcake, and Yule log cake. But don't be afraid to get creative with your treats! Consider serving hot cocoa with marshmallows or candy cane stirrers, eggnog cupcakes topped with whipped cream and cinnamon sticks, or even mini apple pies decorated like Christmas trees.
Display the desserts on a rustic wooden table adorned with greenery garlands and twinkling lights for an extra festive touch that will have your guests feeling merry and bright all night long!
Carolers During Cocktail Hour
Imagine guests sipping on their drinks while listening to beautiful harmonies of classic holiday songs. It's a unique and memorable touch that will make your wedding stand out from others.
You can hire professional carolers or even ask friends and family members who love singing to perform for you. Either way, it's sure to be an enjoyable experience for everyone involved!
Reindeer Topiary Greeters
These adorable decorations can be placed at the entrance of your venue or along the aisle for an extra festive touch. You can even add some holiday lights or ornaments to make them stand out even more.
Reindeer topiaries come in different sizes, so you can choose ones that fit perfectly with your overall decor theme. They're sure to put a smile on everyone's face as they arrive and set the tone for a magical winter wonderland celebration!
Keep reading: