Decorate your outdoor wedding with string lights, paper lanterns, hanging plants, floral arrangements, candles, and fabric draping. Here are more ideas!
Are you planning an outdoor wedding and looking for ideas on decorating it? With the right decorations, you can create a beautiful and memorable event that your guests will love. In this blog post, we'll provide some tips and ideas on how to decorate an outdoor wedding.
From choosing the perfect color palette to adding special touches like personalized signs, we'll help you make your special day more magical.
Setting Up a Canopy or Tent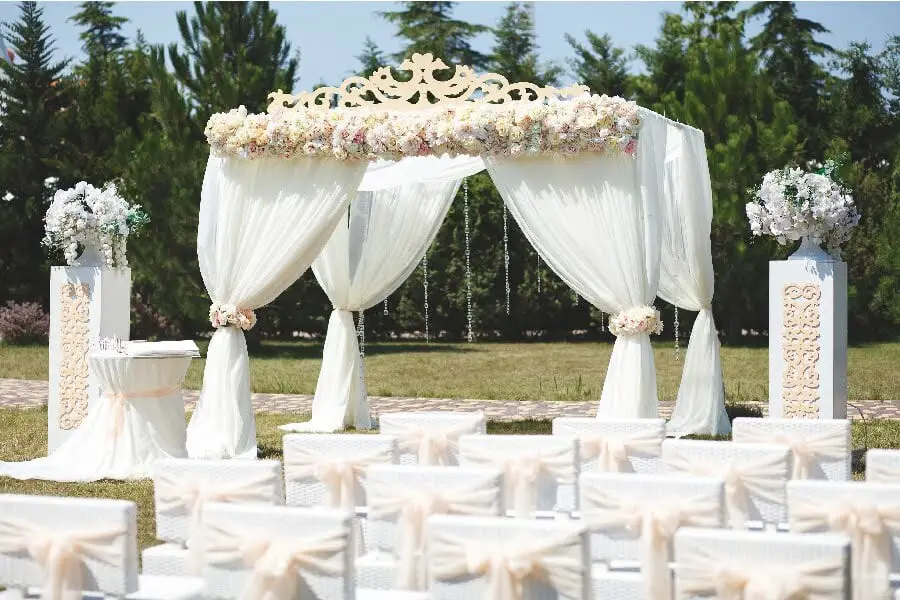 Setting up a canopy or tent for an outdoor wedding is a great way to provide shelter from the elements and create a beautiful atmosphere. Canopies and tents come in many sizes, shapes, and colors, so you can choose one that fits your style and budget.
When setting up the canopy or tent, ensure it is securely anchored to the ground with stakes or weights. You may also want to consider adding some decorations such as lights, flowers, fabric drapes, or other decorative items to give it more of a festive look.
If you are having an outdoor ceremony under the canopy or tent, be sure to have seating available for guests who may need it during the ceremony.
Using Potted Plants and Flowers for Decoration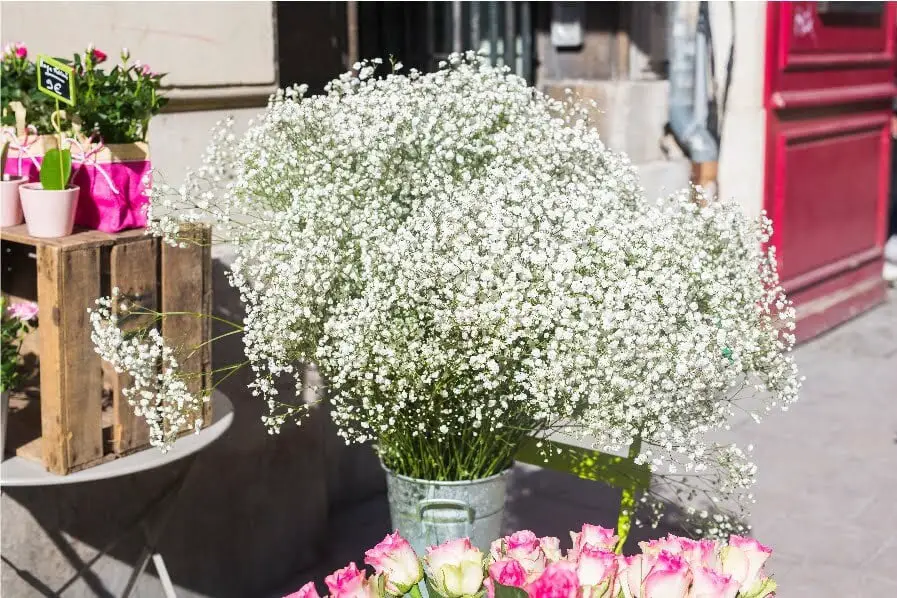 Using potted plants and flowers for decoration is a great way to add color and life to an outdoor wedding. Potted plants can be used in many different ways, from lining the aisle or walkway leading up to the ceremony to creating a backdrop behind the altar or stage.
Flowers can also be used as centerpieces on tables, hung from arches or trees, or even placed in hanging baskets around the venue. With careful planning and creative ideas, potted plants and flowers can help create a beautiful atmosphere for your special day.
Renting Outdoor Furniture Such As Chairs and Tables
Renting outdoor furniture, such as chairs and tables, is a great way to decorate an outdoor wedding. This type of furniture can be rented from many companies, and it can come in various styles, colors, and sizes.
Depending on the size of the wedding, you may need to rent several sets of chairs and tables for guests to sit at during the ceremony or reception. It's essential to ensure that all pieces are sturdy enough for outdoor use so they don't blow away in windy conditions.
If you're having an evening event outdoors, consider renting lighting fixtures such as string lights or lanterns to create a romantic atmosphere.
Creating a Dance Floor Area With an Outdoor Rug or Carpeting
Creating a dance floor area with an outdoor rug or carpeting is a great way to add extra style and comfort to your outdoor wedding. An outdoor rug or carpet can provide a soft, comfortable surface for guests to dance on while adding color and texture to the space.
You can choose from various colors and patterns that will match the overall theme of your wedding. When selecting an outdoor rug or carpet, make sure it is made from durable materials designed for outdoor use so it won't fade in the sun or become damaged by rain.
You may want to consider purchasing an underlayment material, such as foam padding, which will help protect the rug from wear and tear during dancing.
Hanging Paper Lanterns or Other Decorations From Trees
Hanging paper lanterns or other decorations from trees is a great way to add a unique touch to an outdoor wedding. Paper lanterns come in many colors, sizes, and shapes so that you can find the perfect ones for your special day.
You can hang them from branches or string them up between two trees. This will create a beautiful canopy of light that will make your outdoor wedding look magical.
Other decorations, such as ribbons, flowers, and lights, can also be hung from the branches of trees to add extra color and texture to your decor. Hanging these items from the trees will help create a romantic and whimsical atmosphere at the same time!
Using Fabric to Create a Backdrop for the Ceremony Site
Using fabric to create a backdrop for an outdoor wedding ceremony is a great way to add color and texture to the event. Fabric can be hung from trees, poles, or other structures to create a beautiful and unique setting.
It can also be used as a wall behind the altar or as curtains around the perimeter of the ceremony site. Depending on your style and budget, you could choose fabrics such as tulle, organza, lace, burlap, velvet, or even sheer fabric with lights woven through it for added sparkle.
For an extra special touch, you could also use colorful ribbons or streamers attached to poles. Creativity and imagination can quickly transform any outdoor space into something truly magical!
Placing Candles in Mason Jars Around the Venue Space
Placing candles in mason jars is a great way to decorate an outdoor wedding. Mason jars are easy to find and come in various sizes, making them perfect for creating a romantic atmosphere.
You can place the mason jars around the venue space on tables or hang them from trees or other structures. Fill each jar with water and add floating candles for an elegant look.
The flickering light will create a beautiful ambiance that your guests will love!
Arranging Hay Bales for Seating Options
Arranging hay bales for seating options is a great way to add a rustic, country feel to an outdoor wedding. Hay bales can be arranged in rows or circles and covered with blankets or pillows for added comfort.
They can also be decorated with flowers, ribbons, and other decorations to match the theme of the wedding. If you have a large number of guests, it may be necessary to rent additional hay bales from a local farm or supplier.
When arranging the hay bales, ensure they are spaced out evenly so that all guests have enough room to sit comfortably. It's essential to ensure adequate space between each row so people can move freely without feeling cramped.
Keep reading: