Popular themes for outdoor weddings include rustic, vintage, country, bohemian, garden-inspired, and beach-themed.
Outdoor weddings are becoming increasingly popular due to the beauty of nature and the unique atmosphere they create. With so many options for outdoor venues, it can be difficult to decide on a theme that will make your wedding special and memorable.
To help you get started, here are some of the most popular themes for outdoor weddings. From rustic chic to elegant garden parties, these ideas will help you create an unforgettable day!
Beach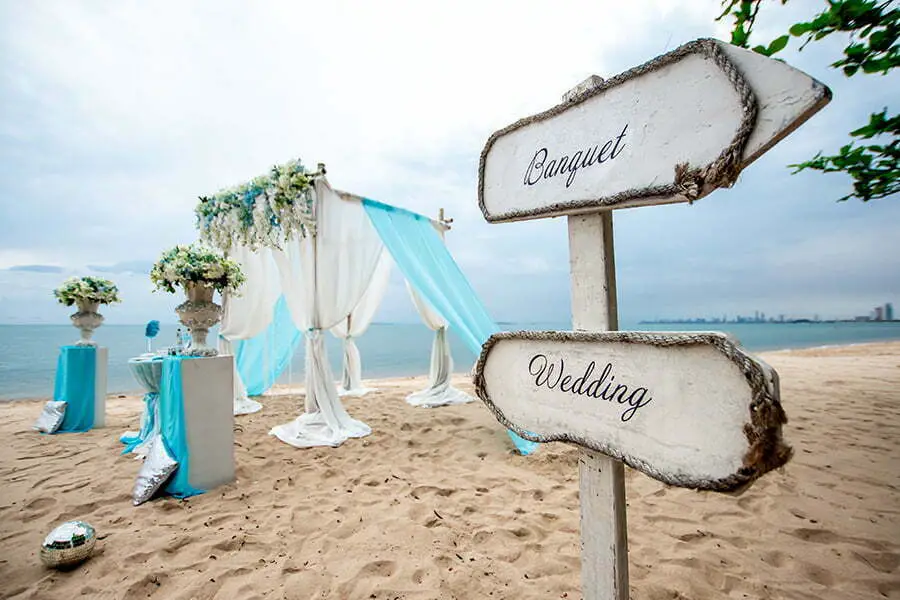 Beach weddings are a popular theme for outdoor weddings. They offer a beautiful backdrop of sand, sea, and sky that can create an unforgettable atmosphere for your special day.
Beach weddings also provide the opportunity to have a more relaxed and casual feel than other types of outdoor weddings. You can choose from many different decorations such as beach chairs, umbrellas, tiki torches, or even seashells to give your wedding a unique look and feel.
You can incorporate elements of the ocean into your ceremony with activities like sandcastle building or shell collecting. With its natural beauty and laid-back atmosphere, beach weddings are sure to be memorable for everyone involved!
Garden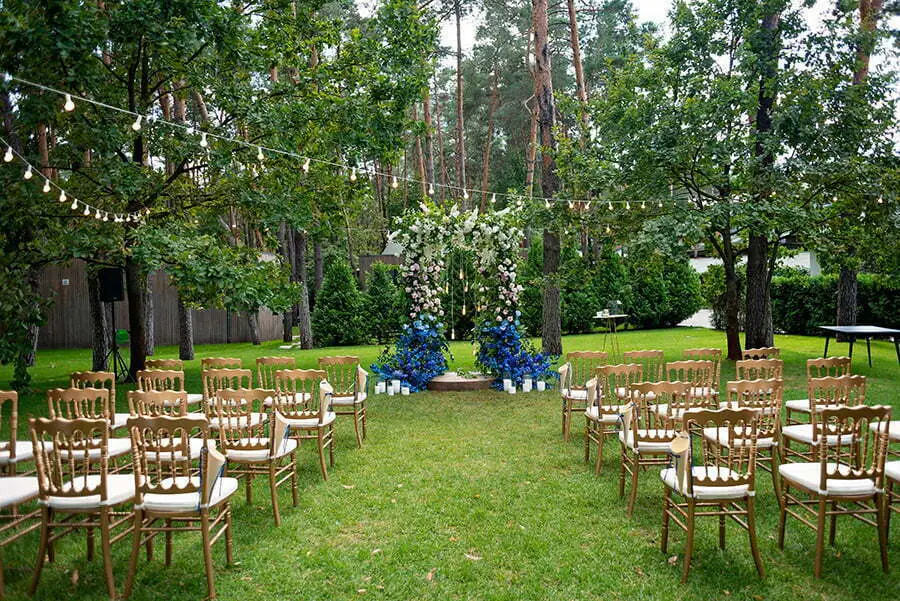 A garden wedding is a popular theme for outdoor weddings. This type of wedding takes place in a garden setting, usually with lush greenery and colorful flowers as the backdrop.
The ceremony can be held outdoors or indoors depending on the size of the venue and weather conditions. Decorations often include floral arrangements, string lights, candles, and other romantic touches to create an intimate atmosphere.
Couples may also choose to incorporate elements from nature such as trees, rocks, or water features into their decorations for added beauty and ambiance. Garden weddings are perfect for couples who want to celebrate their special day surrounded by natural beauty and romance.
Woodland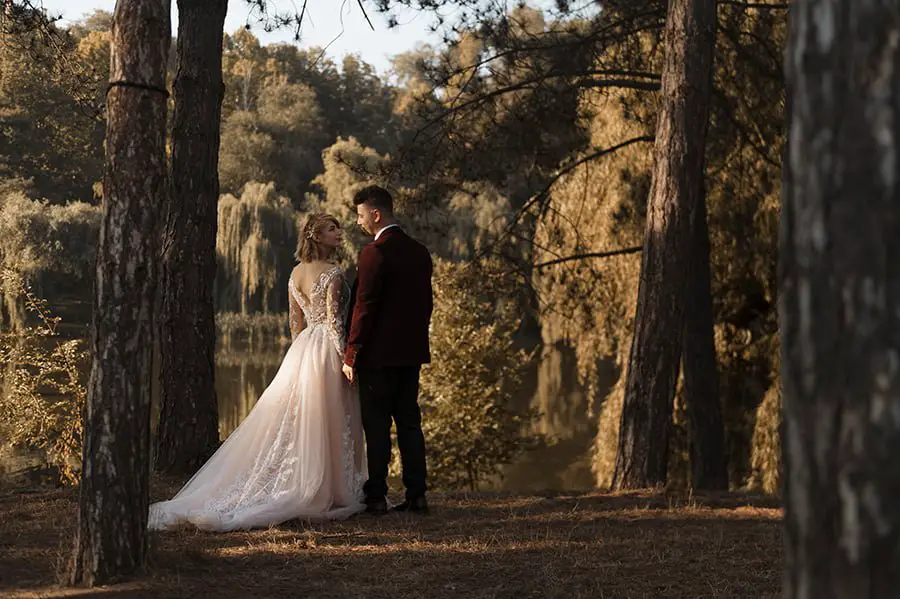 Woodland weddings are a popular theme for outdoor weddings. This type of wedding is inspired by nature and the beauty of the outdoors.
The decorations often include natural elements such as trees, branches, moss, and wildflowers. The colors used in this type of wedding are usually earthy tones like browns, greens, and blues to create a rustic feel.
For an added touch of romance, string lights or lanterns can be hung from trees or draped around the venue to create a magical atmosphere. To complete the look you could also add wooden signs with quotes about love or your favorite song lyrics to give it that extra special touch!
Bohemian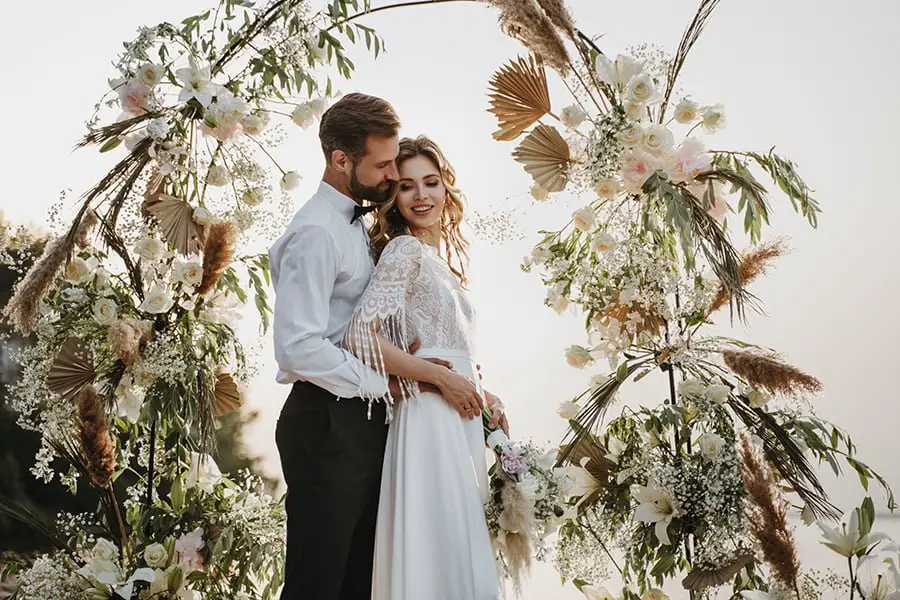 Bohemian weddings are a popular theme for outdoor weddings. This style of wedding is characterized by its relaxed, free-spirited atmosphere and eclectic decor.
Bohemian weddings often feature natural elements such as wood, greenery, and flowers to create an organic feel. The color palette typically includes earthy tones like browns, greens, and blues with pops of bright colors like pinks or oranges.
For the attire, brides often opt for flowy dresses in light fabrics while grooms may choose linen suits or even shorts paired with suspenders. As far as decorations go, bohemian weddings usually include lots of macramé pieces along with dream catchers and other handmade items that add a unique touch to the event.
Vintage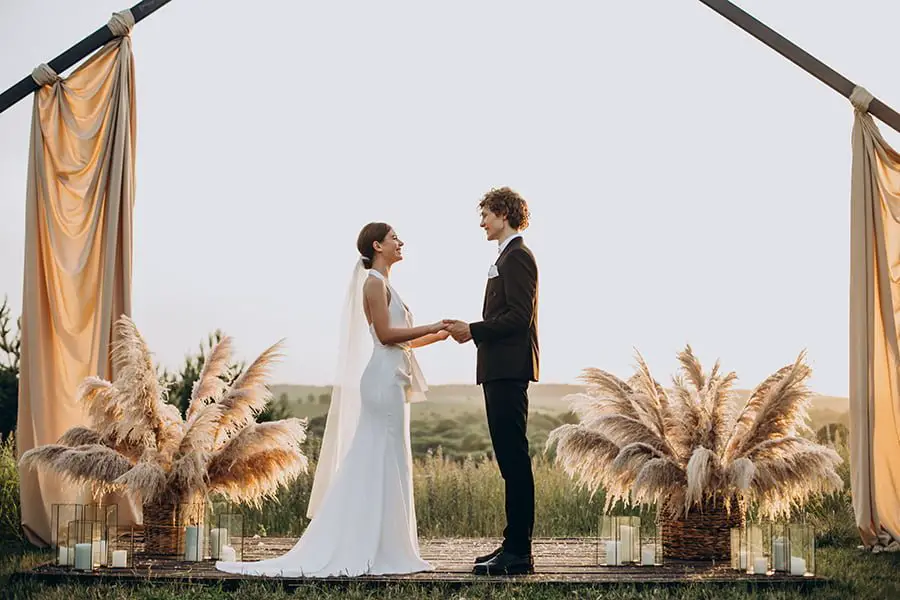 Vintage weddings are a popular theme for outdoor weddings. This style of wedding is inspired by the past and typically features elements from different eras, such as antique furniture, vintage decorations, and classic music.
The overall look of a vintage wedding is one that has been carefully curated to create an atmosphere of nostalgia and romance. Couples can choose to focus on one particular era or mix multiple eras together for a unique look.
Popular colors for this type of wedding include muted tones like blush pink, ivory, sage green, and lavender. Floral arrangements should also be kept simple with lots of greenery and white blooms like roses or peonies.
To complete the look, couples can add touches like lace tablecloths or mason jars filled with candles to give their outdoor space an old-fashioned feel.
Country Chic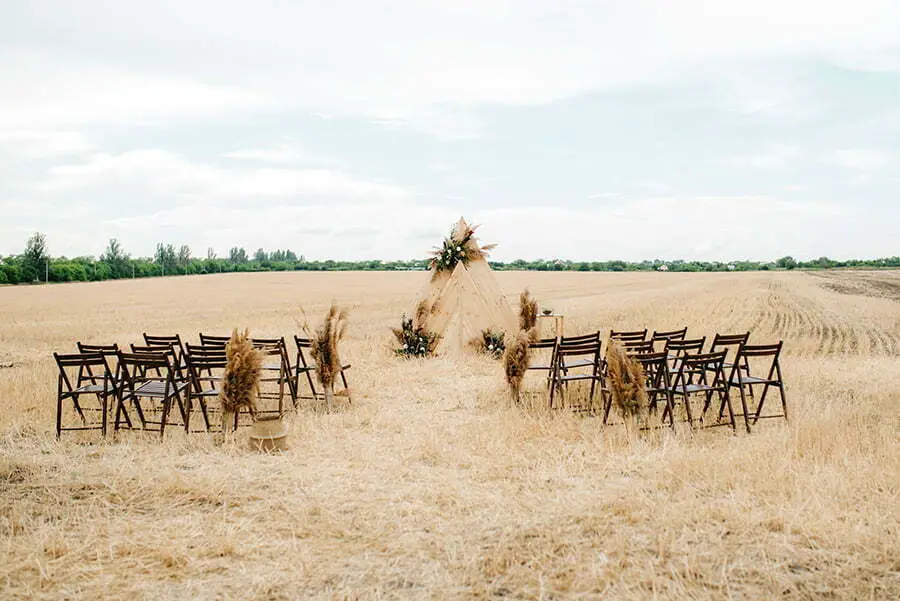 Country chic is a popular theme for outdoor weddings. This style combines the rustic charm of the countryside with modern elegance and sophistication.
It often features natural elements such as wood, stone, and greenery to create an inviting atmosphere that celebrates nature. The decor can include burlap accents, mason jars filled with wildflowers, hay bales for seating, and twinkle lights strung from trees or tents.
For a more formal look, white linens and china can be used to dress up tables while still keeping the overall feel relaxed and comfortable. Country chic is a great way to bring together family and friends in an intimate setting that reflects your unique style!
Fairytale-inspired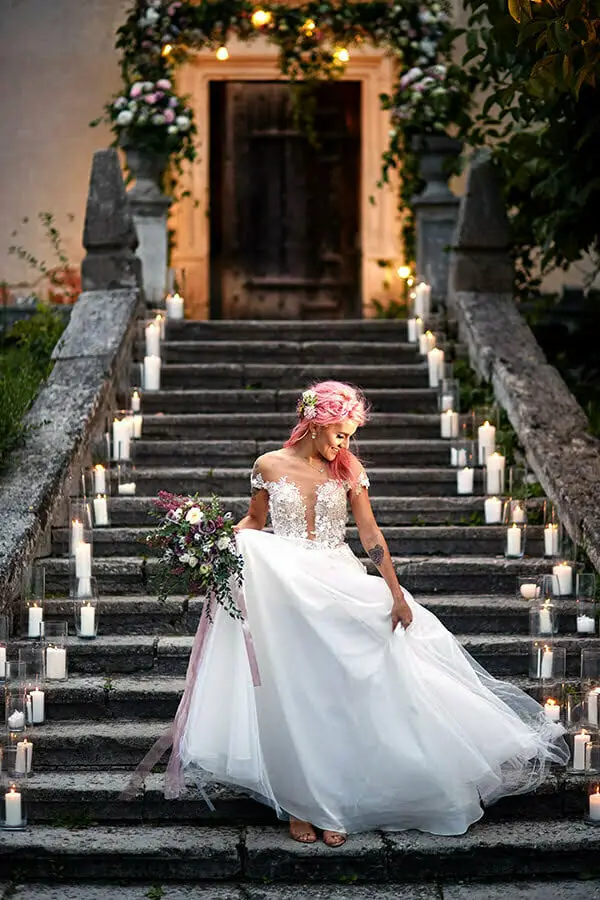 Fairytale-inspired outdoor weddings are a popular theme for couples looking to create an enchanting and romantic atmosphere. This type of wedding typically features elements such as lush greenery, twinkling lights, and whimsical decorations that evoke the feeling of a fairytale.
Couples can also incorporate traditional fairytale elements into their ceremony or reception, such as having guests dress up in costumes or having a horse-drawn carriage arrive with the bride and groom. Other ideas include incorporating fairy tale stories into readings during the ceremony or creating an enchanted forest setting with trees draped in lights and fabric.
Carnival-themed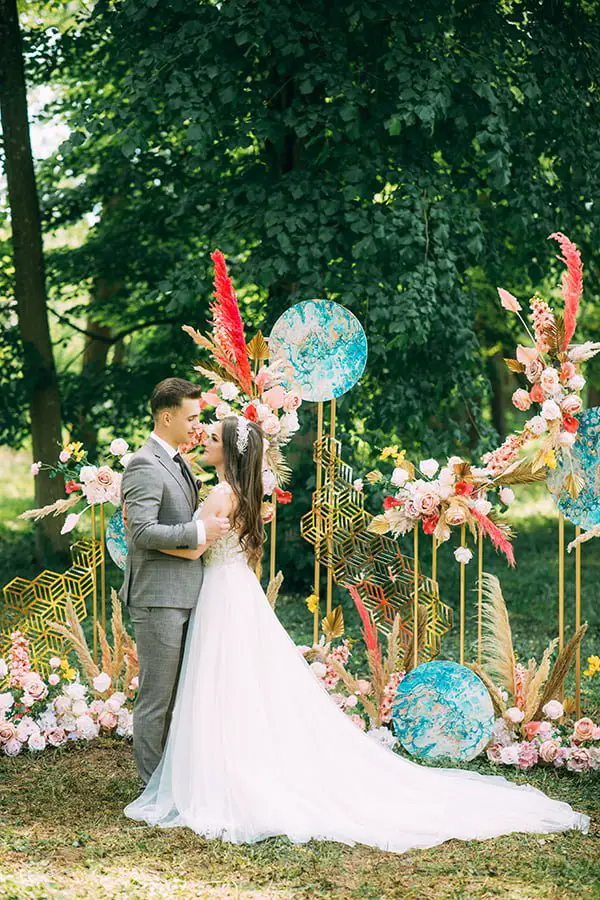 A carnival-themed outdoor wedding is a fun and festive way to celebrate your special day. This type of theme can be tailored to fit any couple's style, from classic circus vibes to more modern takes on the traditional carnival atmosphere.
Decorations could include bright colors, balloons, streamers, and lights. You could also incorporate games like ring toss or mini golf into the festivities for an extra dose of fun.
Food options could range from popcorn and cotton candy to more traditional fare like burgers and hot dogs. Music should be upbeat and lively; think calliope tunes or even a live band playing popular songs with a carnival twist!
Nautical/marine-themed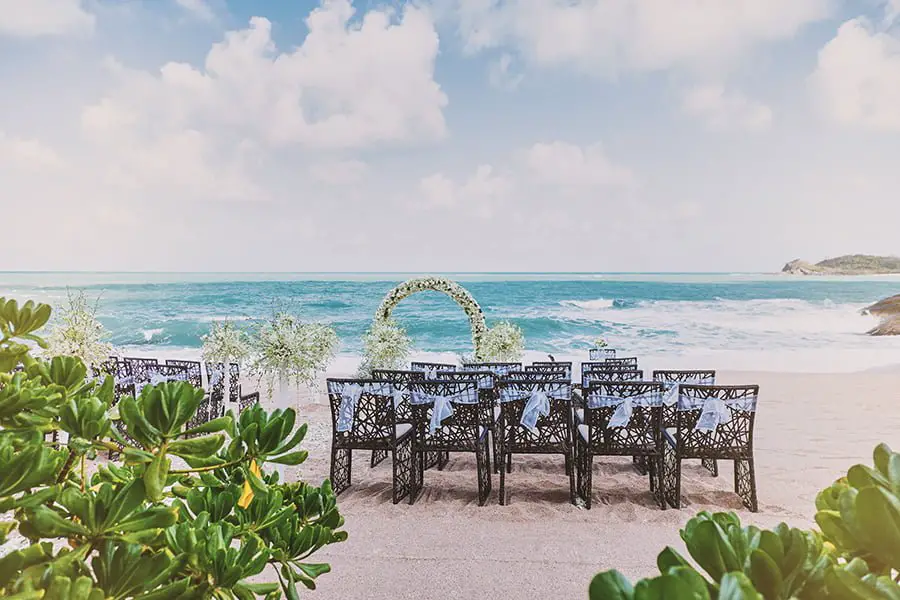 A nautical/marine-themed outdoor wedding is a popular choice for couples who want to bring the beauty of the ocean to their special day. This type of theme can be achieved by incorporating elements such as navy and white stripes, anchors, sailboats, lighthouses, and other maritime symbols into the decorations.
Couples can also choose to have a beach or dock setting for their ceremony and reception. The bride and groom may even opt for nautical-inspired attire such as sailor suits or dresses with ruffles reminiscent of waves.
To complete the look, guests can be given items like seashells or starfish as favors. With this type of theme, couples will create an unforgettable experience that celebrates both love and nature!
Keep reading: