Planning and coordinating outdoor wedding vendors, such as catering, florists, and musicians, can be achieved by researching potential vendors in the area to find the best fit for the event.
Once a vendor has been chosen, create a timeline of when services must be provided and communicate it to each vendor. Ensure all contracts are signed, and any necessary deposits have been made before the event.
Planning and coordinating outdoor wedding vendors can be daunting, especially if you don't have much experience in the wedding industry. However, with careful planning and research, finding the perfect vendors for your special day is possible.
In this blog post, we'll discuss how to plan and coordinate outdoor wedding vendors such as catering, florists, and musicians. We'll also provide tips on ensuring everything runs smoothly on your big day!
Research Vendors
It involves researching different companies and individuals who offer services related to the event, such as catering, florists, and musicians. This research should include looking at reviews of each vendor online, asking friends or family for recommendations, and contacting vendors directly to ask questions about their services.
It's important to compare prices between different vendors to find the best deal for your budget. Once you have narrowed down your list of potential vendors based on price and quality of service, it's time to contact them directly to discuss further details, such as availability on your desired date and any special requests you may have.
Compare Quotes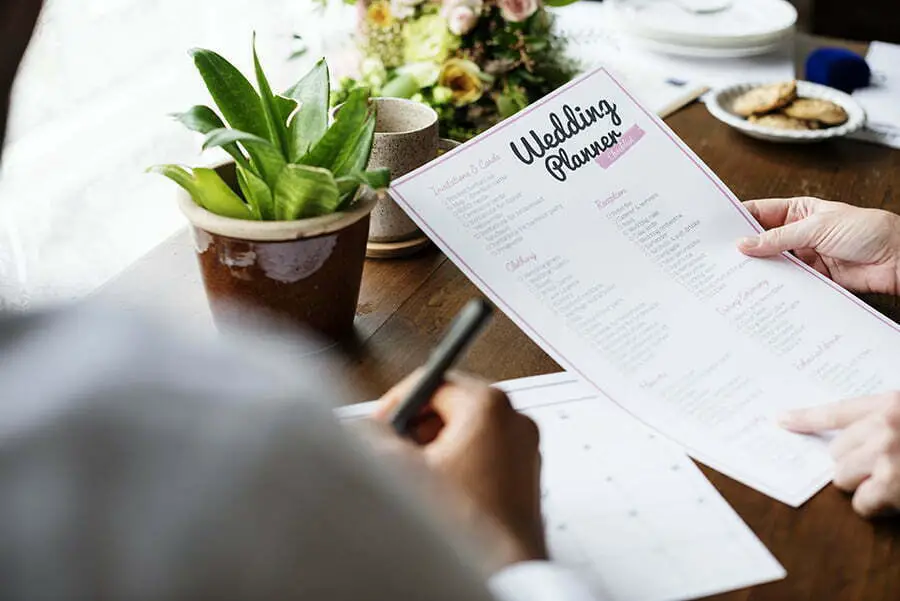 It involves gathering information from multiple vendors, such as catering companies, florists, and musicians, to determine which offers the best services for the lowest price. This process requires researching each vendor's offerings and comparing them to ensure you are getting the most value for your money.
When comparing quotes, it is essential to consider not only cost but also the quality of service and reputation of each vendor. It is helpful to ask questions about any additional fees or services that may be included in a quote so that you can make an informed decision when selecting a vendor for your outdoor wedding.
Set a Budget
It helps to ensure that all of the necessary services are provided within the couple's financial constraints. Before beginning to plan, couples should determine how much they can realistically afford to spend on their wedding vendors.
This will help them narrow down their options and make sure they don't overspend on any one vendor or service. Couples should also consider any additional costs associated with having an outdoor wedding, such as renting tents or chairs, hiring security personnel, or purchasing extra decorations for the venue.
Once a budget has been set, couples can begin researching different vendors and comparing prices to find the best deal for their needs.
Create a Timeline
It helps to ensure that all the necessary tasks are completed promptly, allowing for a successful event. A timeline should include critical dates such as when contracts must be signed, deposits made, and final payments due.
It should also include deadlines for ordering supplies, setting up decorations, and confirming details with vendors. Planning out when each vendor will arrive on the wedding day is essential so that everything runs smoothly.
By creating a timeline and sticking to it throughout the process, couples can rest assured that their outdoor wedding will go off without a hitch!
Choose a Venue
Selecting a location that meets all your needs, such as size, budget, and amenities, is essential. When selecting a venue, consider factors like the number of guests you plan to invite, whether there are any decorations or noise levels restrictions, and if there is enough space for all of your vendors.
Ensure the venue has access to electricity and running water so caterers can prepare food safely and florists can easily arrange bouquets. Be sure to check with local authorities about any permits to host an outdoor event at the chosen location.
With careful consideration of these factors when choosing a venue for your outdoor wedding, you will be well on your way to successfully planning and coordinating vendors!
Select Catering Options
It is essential to consider the size of your guest list and any dietary restrictions that may need to be accommodated. Once you have determined these factors, you can begin researching caterers in your area who offer services that meet your needs.
When looking for a caterer, reading reviews and asking for references from past clients is essential. Make sure to discuss pricing and payment terms with each potential vendor before making a decision.
Once you have chosen a caterer, clearly communicate your expectations so they can provide the best possible service on your special day.
Discuss Floral Arrangements and Decorations
It is essential to coordinate with a florist who can provide beautiful flowers that will complement the natural environment of your chosen venue. Consider what type of flowers you would like to use in your bouquets, centerpieces, and other decorations.
You should also discuss any special requests or ideas with your florist so they can create something unique for your big day. It is essential to consider how much time and money you want to invest in floral arrangements and decorations; this will help determine which types of flowers are best suited to your budget and timeline.
Ensure that all flower arrangements are delivered on time so that everything looks perfect when guests arrive at the ceremony!
Book Musicians or DJs
It is essential to consider the type of music that will be played, as well as the size and location of the event. When selecting a musician or DJ, it is essential to research their experience and reputation to ensure they can provide quality entertainment for your special day.
It is essential to discuss pricing and payment terms with them before booking, so there are no surprises on the day of. Once you have found a suitable musician or DJ, ensure you provide them with all necessary information about your events, such as date, time, location, duration of the performance, and any other relevant details.
Confirm their availability before signing a contract with them so that everything runs smoothly on your big day!
Finalize Contracts With Vendors
It involves reviewing the details of each vendor's services, agreeing on a price, and signing a contract that outlines the terms of the agreement. Before signing any contracts, it is essential to ensure all parties understand what services will be provided and at what cost.
It is essential to ensure that all necessary permits have been obtained for outdoor activities. Once both parties are satisfied with the terms of the agreement, they can sign off on the contract and move forward with their plans for the wedding day.
Keep reading: