I embarked on a journey to uncover the true cost of having a whimsical outdoor wedding (hint: expect to pay around $30k on average in the US.)
Picture this: you and your significant other standing under a beautiful archway, surrounded by lush greenery and the soft glow of string lights. The gentle breeze carries the sweet scent of flowers as you exchange vows in front of your closest friends and family.
Outdoor weddings are a dream come true for many couples, but they can also come with a hefty price tag. In this blog post, we'll explore the cost of outdoor weddings and offer some tips on how to make your dream wedding a reality without breaking the bank.
So grab a cup of coffee or tea, sit back, and let's dive into the world of outdoor weddings!
Key takeaways:
Outdoor weddings cost around k on average in the US.
Venue costs range from free to ,000.
Catering expenses range from ,800 to ,000.
Decorations and lighting cost between 0 and ,000.
Photography and videography cost between 0 and ,000.
Venue Costs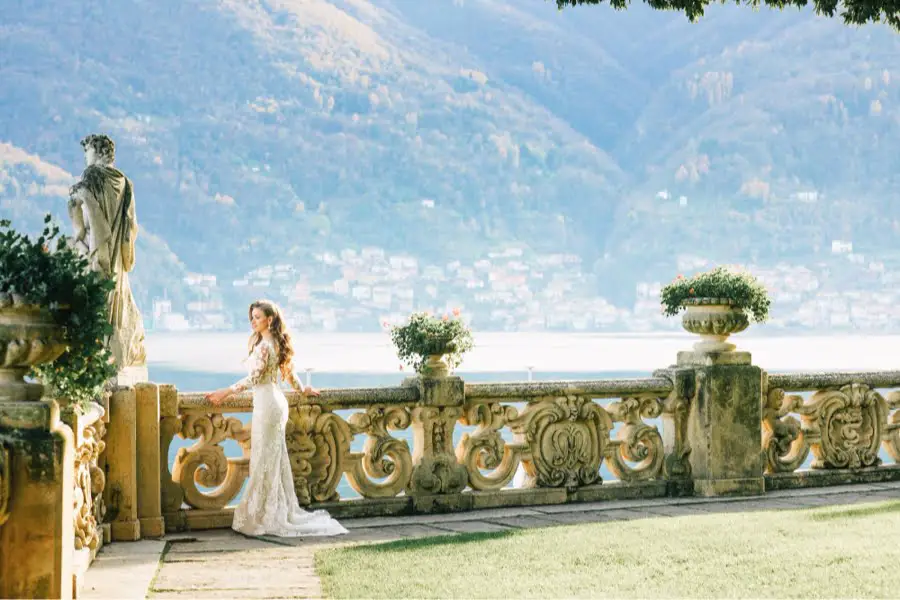 Cost: Free to $20,000.
The venue is one of the most significant expenses for an outdoor wedding. The cost can vary depending on the location, time of year, and amenities offered by the venue.
Some venues may require a minimum spend or have additional fees for things like parking or security.
To save money on your venue costs, consider having your wedding during off-peak seasons when prices are lower. You could also opt for a public park or beach that doesn't charge a fee to use their space.
Another option is to choose an all-inclusive package that includes catering and other services in addition to the rental fee. This can often be more cost-effective than paying separately for each service.
When choosing your outdoor wedding venue, make sure you ask about any hidden fees upfront so you can budget accordingly.
Catering Expenses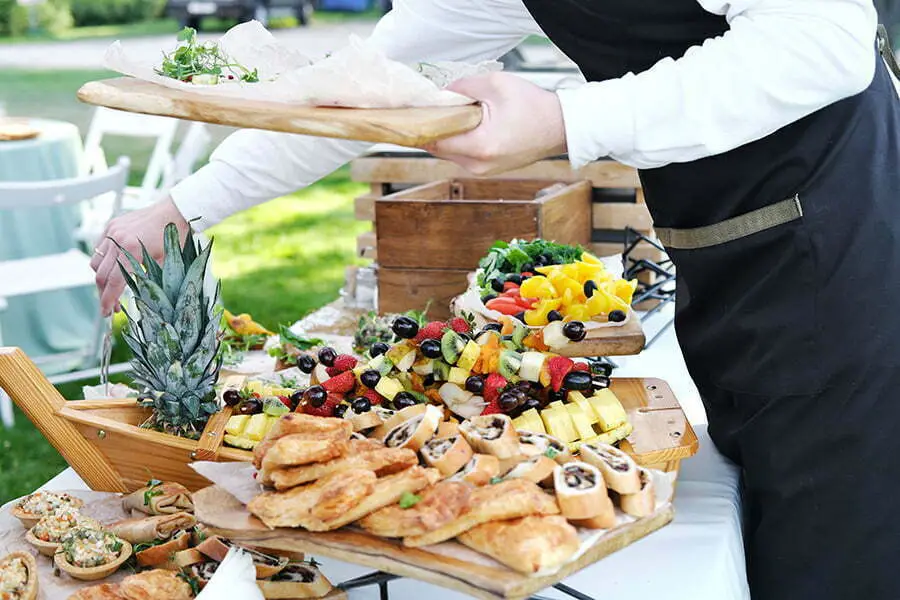 Cost: $1,800 to $7,000 (source)
The catering is one of the most important aspects of any wedding, and outdoor weddings are no exception. When it comes to catering expenses for an outdoor wedding, there are a few things to keep in mind.
Firstly, consider your guest list carefully when choosing your menu. A smaller guest list means you can splurge on more expensive dishes or opt for a plated dinner service instead of a buffet-style meal.
Secondly, think about what type of cuisine you want to serve and how that will affect costs. For example, if you're planning on having a BBQ-themed reception with grilled meats and sides like macaroni salad or coleslaw – this could be less expensive than serving up fancy hors d'oeuvres or sushi platters.
Lastly but not least important: don't forget about drinks! Outdoor weddings often require additional beverage options such as water stations throughout the venue area which can add up quickly depending on how many guests attend your event.
Decorations & Lighting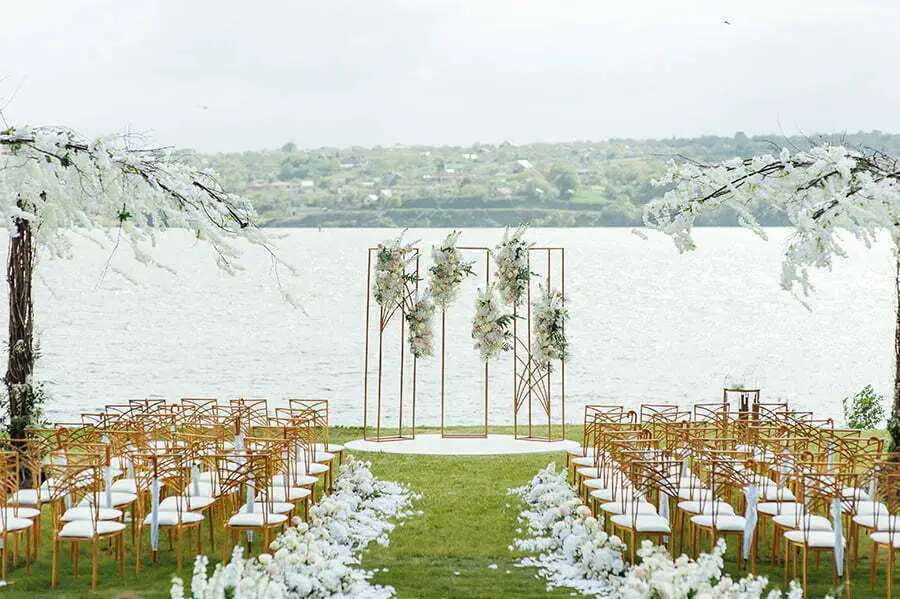 Cost: $700 to $1,000 (source)
However, it's important to keep in mind that these elements can also add up quickly when planning an outdoor wedding. From floral arrangements to table settings, the cost of decor can vary greatly depending on your vision and style preferences.
One way to save money on decorations is by utilizing natural elements such as greenery or wildflowers instead of expensive blooms. You could also consider DIY projects like creating your own centerpieces or repurposing items you already have at home.
When it comes to lighting, string lights are a popular choice for adding ambiance and warmth to an outdoor wedding reception. They're relatively inexpensive compared with other types of lighting fixtures but still create a beautiful effect when strung throughout trees or draped across the ceiling.
Photography & Videography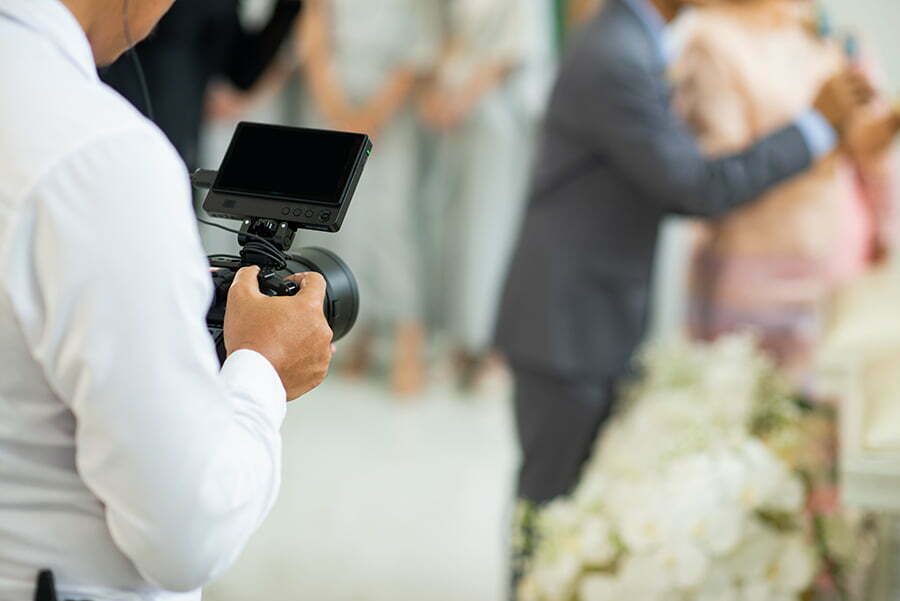 Cost: $500-$6,000
When it comes to outdoor weddings, there's an added layer of complexity that photographers and videographers need to consider. The lighting can be tricky, especially during sunset or in low-light conditions.
However, with the right equipment and expertise, you can have stunning photos that capture every moment.
When choosing a photographer or videographer for your outdoor wedding, make sure they have experience shooting in natural light settings. Ask to see their portfolio so you can get a sense of their style and whether it aligns with what you're looking for.
It's also important to discuss logistics ahead of time – where will they set up? Will they need additional lighting equipment? What happens if it rains?
Keep in mind that photography/videography costs vary widely depending on location as well as the level of experience/quality offered by each vendor; however expect this category alone could cost anywhere from $2k-$6k+.
Wedding Attire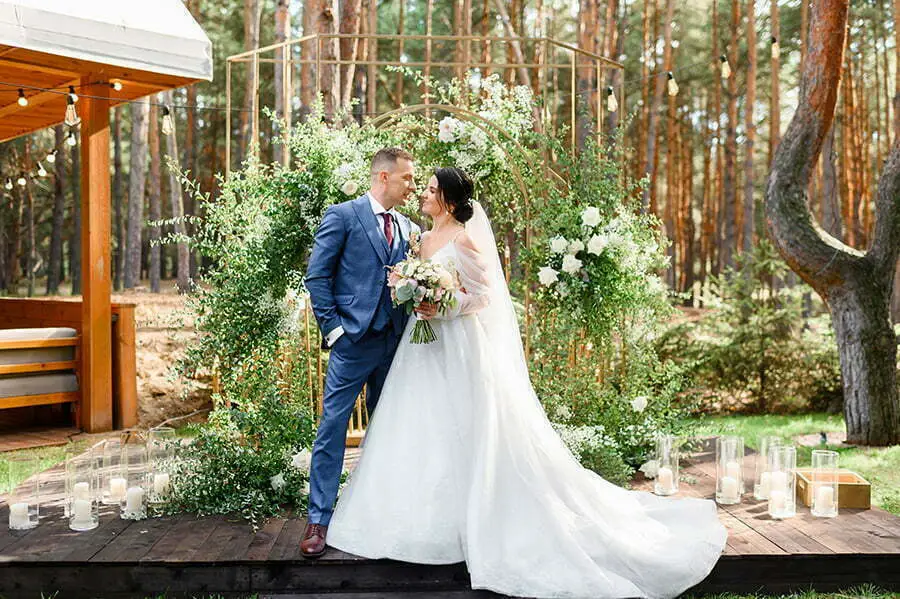 Cost:
However, that doesn't mean you should skimp on style! For brides, lightweight fabrics like chiffon or organza are perfect for keeping cool in the summer heat while still looking elegant. Consider ditching heels and opting for comfortable yet stylish sandals or flats instead.
Grooms can also opt for lighter fabrics like linen suits or even dress shorts paired with a blazer. Don't forget about your wedding party either – consider choosing dresses and suits that fit within your overall theme but are also practical for an outdoor setting.
While you may not need to spend as much on formal attire as you would at an indoor venue, it's important to remember that quality still matters.
Entertainment Options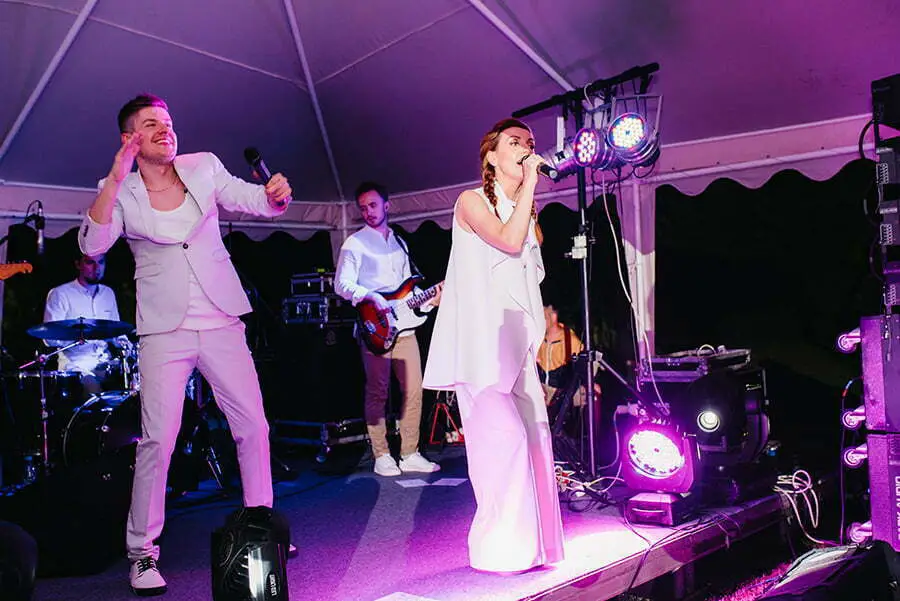 Cost: $1,200 to $5,200
From lawn games like cornhole and giant Jenga to live music or even fireworks, there are endless possibilities for keeping your guests entertained.
One popular option is hiring a DJ or band to provide music throughout the night. This can range from $500-$3,000 depending on their experience and equipment needs.
If you're looking for something more low-key, consider creating your own playlist and renting speakers instead.
For those who want to add some extra fun into the mix, photo booths have become increasingly popular at weddings in recent years. These can cost anywhere from $500-$1,000 but provide hours of entertainment as guests take silly photos with props.
Rentals & Equipment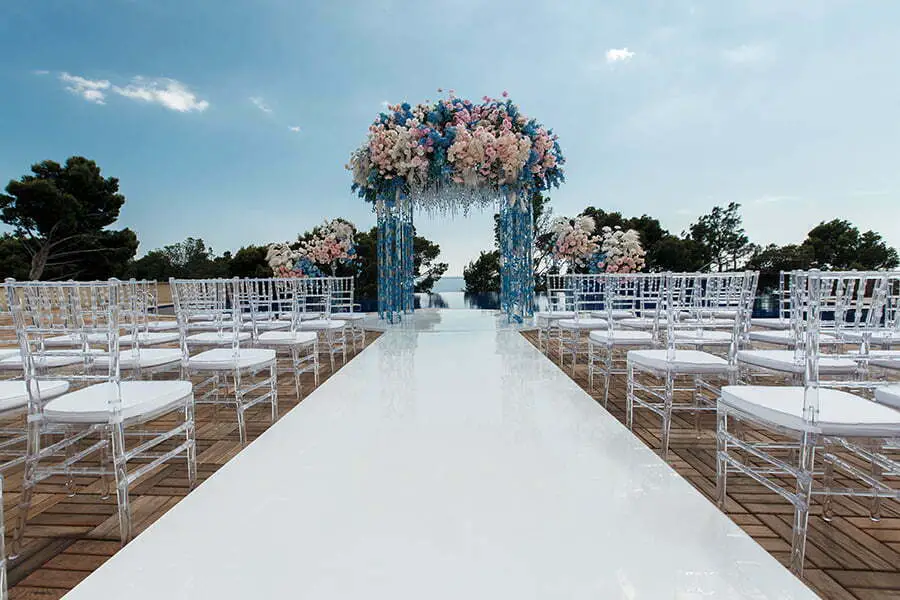 Cost: $500 to $2,000
This includes everything from tables and chairs to tents, dance floors, sound systems, and more. Depending on your venue location and the time of year you're getting married in, some items may be necessary for a successful event.
For example, if your wedding is taking place during the summer months when temperatures are high or there's a chance of rain showers; renting tents can provide shade or shelter for guests while they enjoy their meals or watch speeches without worrying about weather conditions.
Additionally renting lighting equipment such as string lights can add ambiance to any outdoor space making it look magical at nightfall.
While these rentals may seem like additional expenses that could quickly add up; many rental companies offer package deals that include multiple items at discounted rates which will help keep costs down while still providing all necessary equipment needed for an unforgettable day!.
Insurance Considerations for Outdoor Weddings
When planning an outdoor wedding, it's important to consider insurance coverage. While no one wants to think about potential mishaps on their special day, having the right insurance can provide peace of mind and protect against unforeseen circumstances.
One key aspect is liability insurance, which covers any accidents or injuries that may occur during the event. This type of coverage can help safeguard both you and your guests from financial liabilities in case someone gets hurt or property is damaged.
Some venues may require proof of liability insurance before allowing you to host your wedding on their premises. It's advisable to consult with a reputable insurance provider who specializes in event coverage for outdoor weddings so that you have adequate protection throughout your celebration.
Unexpected Weather: Backup Plans for Outdoor Weddings
Mother Nature can be unpredictable, and rain or extreme heat can put a damper on your special day. One option is to rent a tent or marquee that can provide shelter for you and your guests.
This will ensure that everyone stays dry and comfortable even if it starts pouring outside. Another alternative is to choose a venue with indoor spaces available as backup options.
Many outdoor venues offer both indoor and outdoor areas, allowing you the flexibility to move the celebration indoors if needed. It's also wise to communicate your contingency plans with all vendors involved so they are prepared for any last-minute changes due to inclement weather conditions.
Transportation & Parking Solutions for Outdoor Weddings
Depending on the location of your venue, you may need to make arrangements to ensure that everyone can easily access the site.
One option is to provide shuttle services from a designated meeting point or nearby parking area. This can help alleviate any concerns about limited parking space at the venue itself.
Renting shuttles or hiring a transportation company will allow guests to arrive comfortably and in a timely manner.
If shuttle services are not feasible, consider providing detailed directions and maps for guests so they can navigate their way smoothly. Make sure these instructions are included in your invitations or wedding website.
If there is limited on-site parking available at the outdoor venue, you might want to explore off-site options such as renting nearby lots or securing permits for street parking (if allowed). Be sure to communicate this information clearly with your guests beforehand so they know what arrangements have been made.
Choosing the Right Time of Year for an Outdoor Wedding
The season can greatly impact not only the overall ambiance but also your budget and logistical considerations.
Spring and fall are popular choices for outdoor weddings due to their mild temperatures and beautiful natural scenery. However, keep in mind that these seasons can be unpredictable when it comes to weather.
It's essential to have a backup plan in case of rain or extreme temperature changes.
Summer is another favored season for outdoor weddings because it offers longer daylight hours and more predictable weather conditions. However, summer weekends tend to be peak wedding dates, which may result in higher venue costs or limited availability.
Winter weddings can provide a unique charm with snow-covered landscapes or cozy indoor settings. While winter venues may offer discounted rates during off-peak months, you'll need to consider potential challenges such as colder temperatures and limited daylight hours.
Ultimately, selecting the right time of year for your outdoor wedding depends on your personal preferences as well as practical considerations like budget constraints and guest comfort levels.
Making Outdoor Wedding Venues Accessible for All Guests
Here are some tips for making your outdoor wedding venue accessible for everyone:
1. Wheelchair Accessibility: Ensure that there are ramps or smooth pathways leading to different areas of the venue, including ceremony and reception spaces.
This will allow guests using wheelchairs or mobility aids to move around comfortably.
2. Adequate Seating: Provide enough seating options throughout the venue, especially in areas where guests may need a break from standing or walking for long periods of time.
3. Clear Signage: Use clear signage with large fonts and contrasting colors to guide guests towards various facilities such as restrooms, parking lots, and designated accessible entrances.
4. Restroom Facilities: Make sure there are accessible restroom facilities available on-site that meet ADA (Americans with Disabilities Act) requirements.
5. Lighting Considerations: Ensure proper lighting throughout the entire event space so that all paths and walkways remain well-lit during evening celebrations when visibility might be reduced.
6. Transportation Assistance: If your outdoor wedding is held in a large area where transportation may be required between different sections of the venue (e.g., parking lot to ceremony site), consider providing golf carts or other means of transportation assistance for elderly or disabled individuals who may have difficulty walking longer distances. By taking these accessibility measures into consideration when planning your outdoor wedding, you can create an inclusive environment where all guests feel comfortable celebrating your special day together.
FAQ
Is $5000 enough for a wedding?
Yes, $5000 can be sufficient for a small, DIY-intensive wedding if expenses are carefully managed and prioritized.
What time of year is best for outdoor wedding?
The best time of year for an outdoor wedding in the U.S. is during the early summer and early fall months, including May, June, September, and October, due to the mild weather and lower risk of disruptive weather conditions.
How much does the average wedding cost in Ohio?
The average cost of a wedding in Ohio is currently around $30,000.
What are the most cost-effective venues for outdoor weddings?
Public parks, beaches, family residences, or university campuses often serve as the most cost-effective venues for outdoor weddings.
What factors should be considered when planning an outdoor wedding in Ohio?
When planning an outdoor wedding in Ohio, considerations should include the seasonal weather patterns, local permit requirements, potential wildlife or insect disruptions, the availability of backup indoor options in case of inclement weather, and the convenience of guests' access to facilities like restrooms and parking.
How can you ensure a smooth ceremony for an outdoor fall wedding?
To ensure a smooth ceremony for an outdoor fall wedding, it is crucial to have contingency plans for unpredictable weather, use rustic fall décor, and choose a location that has colorful foliage and indoor facilities.
Keep reading: