Discover budget-friendly outdoor wedding decoration ideas to create the perfect ambiance for your special day without breaking the bank.
Picture this: the sun is shining, birds are chirping, and the gentle breeze carries the sweet scent of flowers. It's your wedding day, and you're surrounded by nature's beauty.
Outdoor weddings are a dream come true for many couples, but they can also come with a hefty price tag. However, don't let budget constraints dampen your spirits! With some creativity and resourcefulness, you can have a stunning outdoor wedding without breaking the bank.
In this blog post, I'll share 20 ideas for outdoor wedding decorations on a budget that will make your special day unforgettable. So grab a cup of coffee or tea and let's dive in!
Key takeaways:
DIY Paper Lanterns: Add color and personality to your wedding.
Mason Jar Centerpieces: Versatile and easy to make yourself.
Burlap Table Runners: Affordable and provide a neutral base for other decorations.
String Lights Ambiance: Create an enchanting atmosphere with different types of string lights.
Handmade Wooden Signs: Add rustic charm and serve as directional signs or table numbers.
DIY Paper Lanterns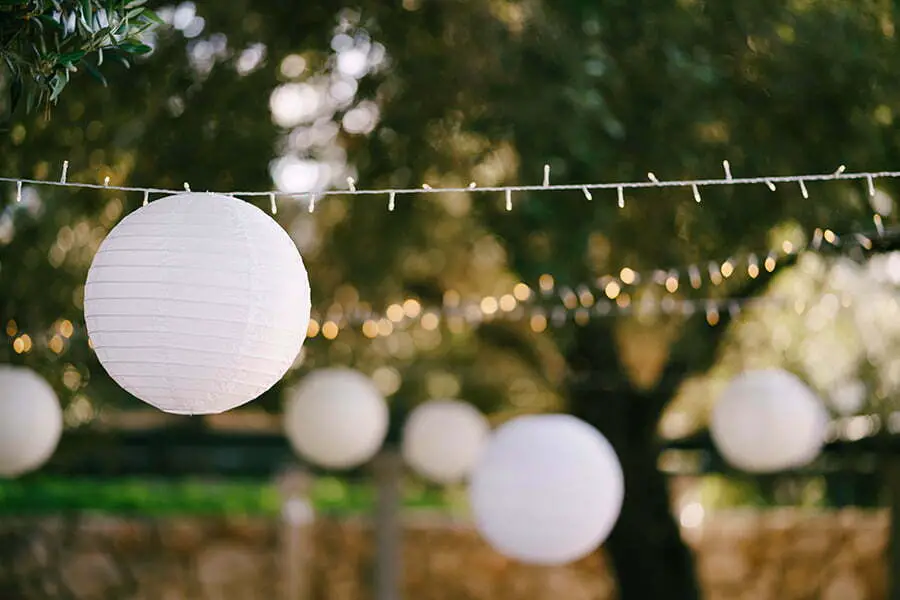 Paper lanterns are a beautiful and affordable way to add some color and personality to your outdoor wedding. They can be hung from trees, strung up on twine or ribbon, or even used as table centerpieces.
Making your own paper lanterns is easy and fun! All you need is some colorful tissue paper, scissors, glue sticks, and wire.
To make the lanterns:.
Cut several sheets of tissue paper into rectangles (around 8×12 inches).
Stack them together neatly.
Fold the stack accordion-style in one-inch folds.
Tie a piece of wire around the middle of the folded stack.
Trim both ends with scissors into rounded shapes for a softer look
Unfold each layer carefully until it forms an orb shape
Glue two opposite edges together using hot glue gun
Tie string at top for hanging
You can experiment with different colors combinations that match your wedding theme. You could also use patterned scrapbook papers instead of plain colored tissues if you want something more unique-looking.
Mason Jar Centerpieces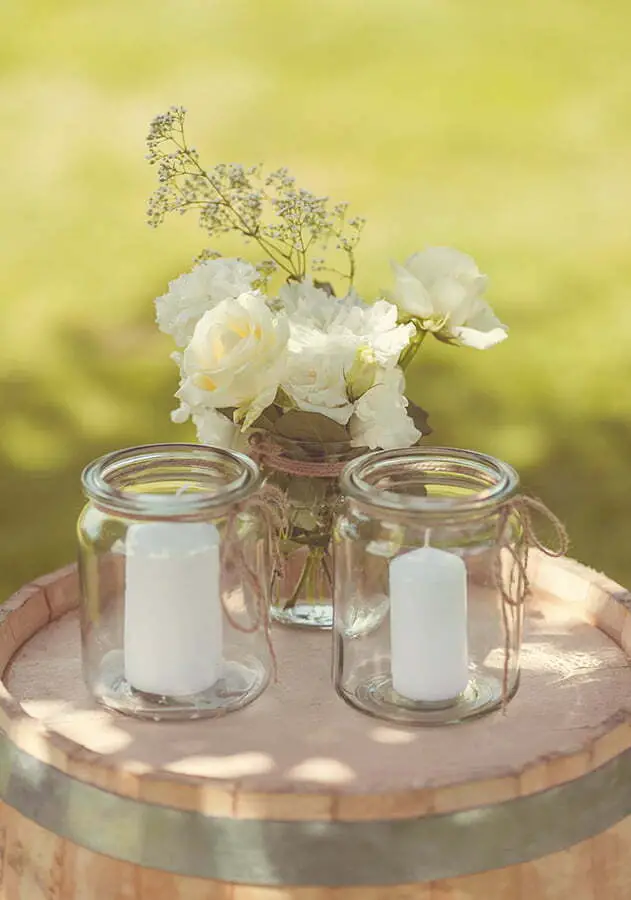 You can use mason jars in many ways to create beautiful centerpieces that match your wedding theme. Fill them with flowers, candles or even sand and seashells if you're having a beach wedding.
You can paint the jars in different colors or wrap them with twine to add some rustic charm. Mason jar centerpieces are versatile and easy to make yourself, which makes them an excellent option for DIY brides who want to save money without sacrificing style on their big day!
Burlap Table Runners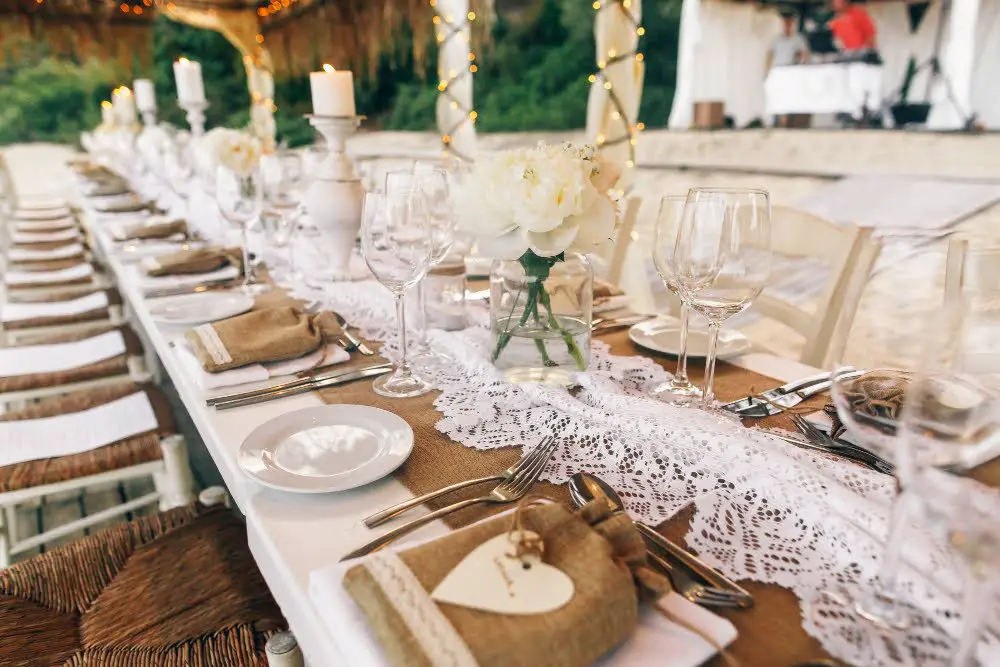 Not only are they affordable, but they also provide a neutral base for other decorations such as flowers and candles. You can easily make burlap table runners yourself by purchasing burlap fabric from your local craft store and cutting it into the desired length and width.
To add some extra flair, consider adding lace or ribbon trim along the edges of the runner or stenciling on personalized designs with fabric paint. Burlap table runners work well with wooden tables, but can also be used on white linens for contrast in color and texture.
String Lights Ambiance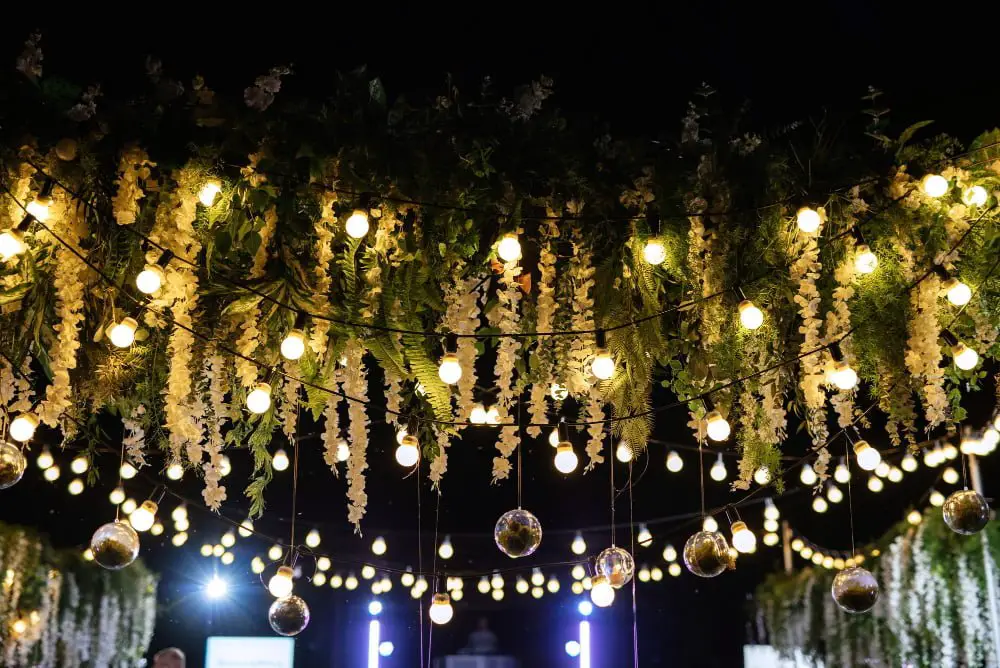 They can be hung from trees, wrapped around poles or draped across the ceiling of your reception tent. You can choose between different types of string lights such as fairy lights, globe bulbs or Edison bulbs depending on the style you want to achieve.
One idea is to hang string lights above the dance floor and let them twinkle throughout the night. This will not only add an enchanting touch but also provide enough light for guests to dance safely.
Another option is wrapping string lights around tree trunks and branches creating an intimate atmosphere perfect for dinner receptions under nature's canopy.
Handmade Wooden Signs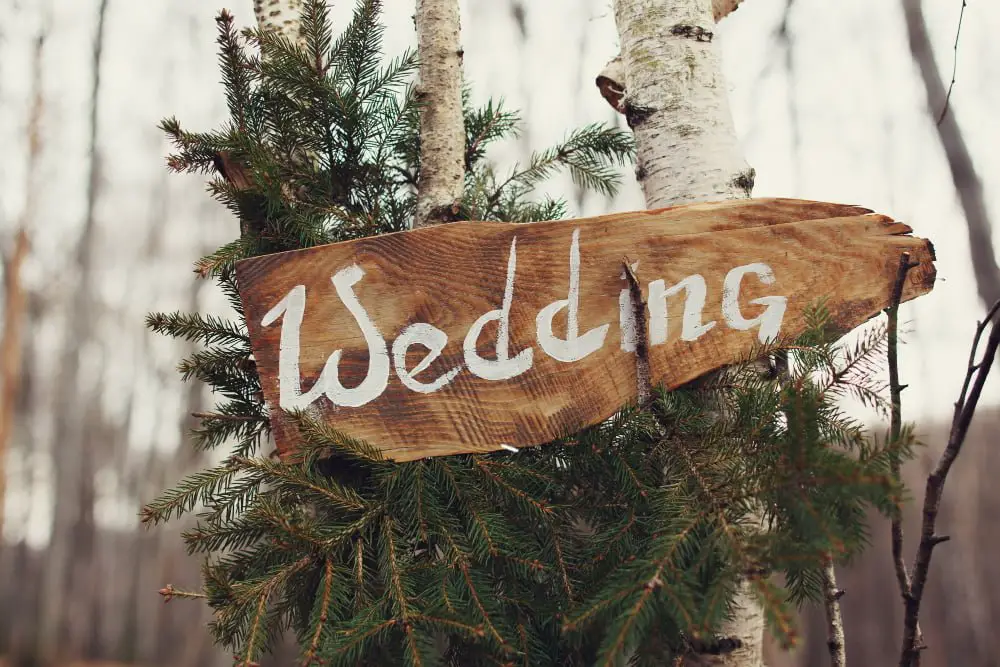 You can use them as directional signs, welcome signs, or even as table numbers. All you need is some wood and paint! You can either buy pre-cut wooden boards from the craft store or cut them yourself if you have access to tools.
Then, choose your favorite font and paint color and get creative with the wording of your sign. If you're not confident in your handwriting skills, consider using stencils for a more polished look.
These handmade wooden signs will add rustic charm to any outdoor wedding without breaking the bank!
Flower Petal Aisle Runner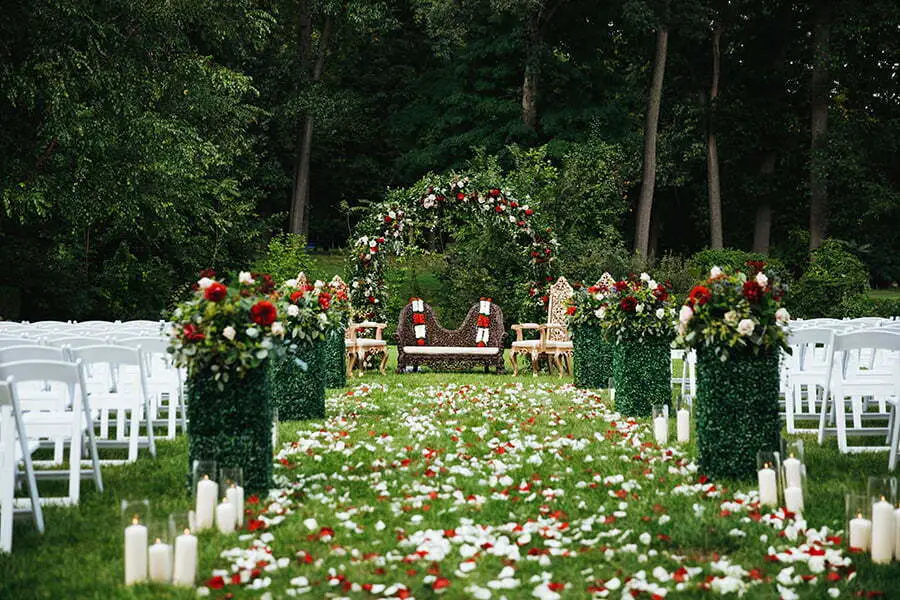 You can use fresh or dried petals, depending on the season and availability. Choose colors that match your wedding theme or go for a mix of hues for a whimsical effect.
To create an aisle runner with flower petals, you'll need to start by measuring the length of your aisle and determining how many petals you'll need. You can buy bulk bags of rose petals online or at craft stores, but make sure they are pesticide-free if you plan on using them indoors.
On the day of the wedding, have someone scatter the flower petals along each side of the aisle before guests arrive. Alternatively, you could create patterns with different colored flowers in between white ones for added interest.
Upcycled Wine Bottle Vases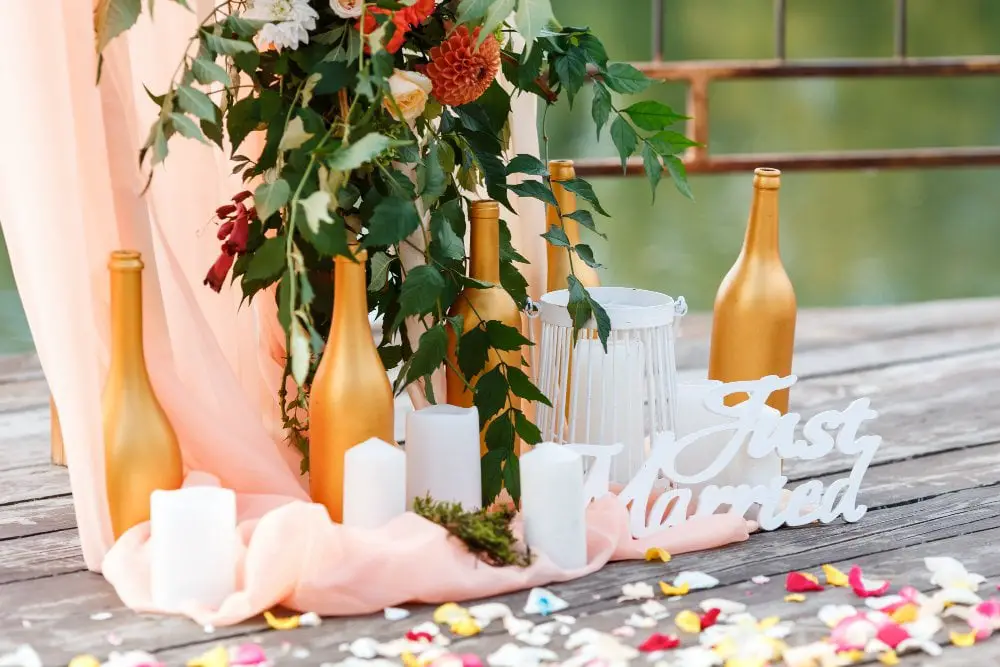 Instead of throwing away empty wine bottles, you can turn them into beautiful vases for your centerpieces. To create these vases, simply clean the bottle and remove any labels or glue residue.
Then, paint the bottle with spray paint or acrylic paint in colors that match your wedding theme. You can also wrap twine around the neck of the bottle for a rustic look or tie ribbon bows around it for a more elegant touch.
Fill each vase with fresh flowers such as roses, daisies or sunflowers and place them on each table at your reception area to add some charm and personality without breaking the bank!
Ribbon Chair Decorations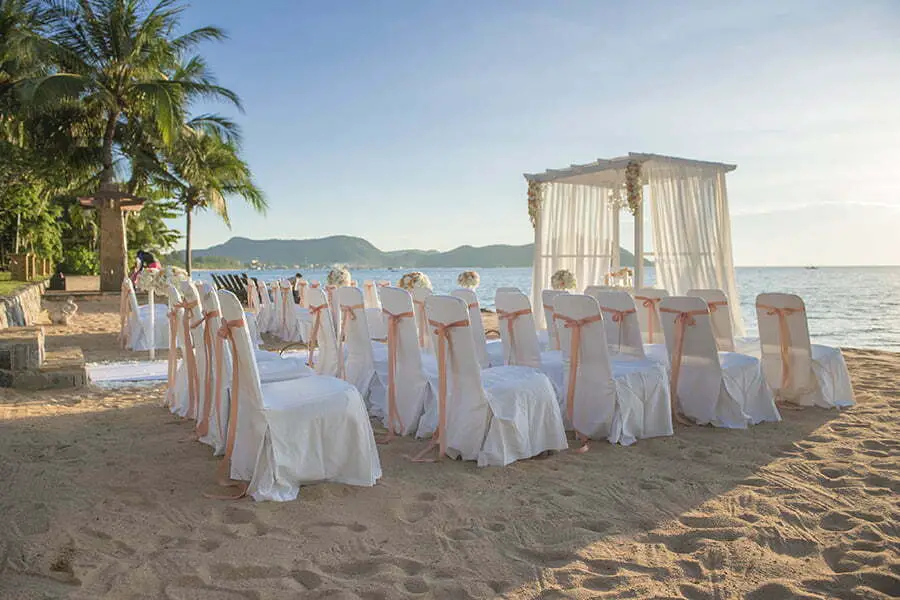 All you need is some ribbon in your chosen colors, scissors, and tape or glue. Cut the ribbon into strips of varying lengths (around 2-3 feet long) and tie them onto the back of each chair at different heights.
You can mix up colors or stick with a specific palette for a cohesive look. This DIY decoration idea is perfect for adding an extra touch of charm without breaking the bank!
Balloon Arches and Garlands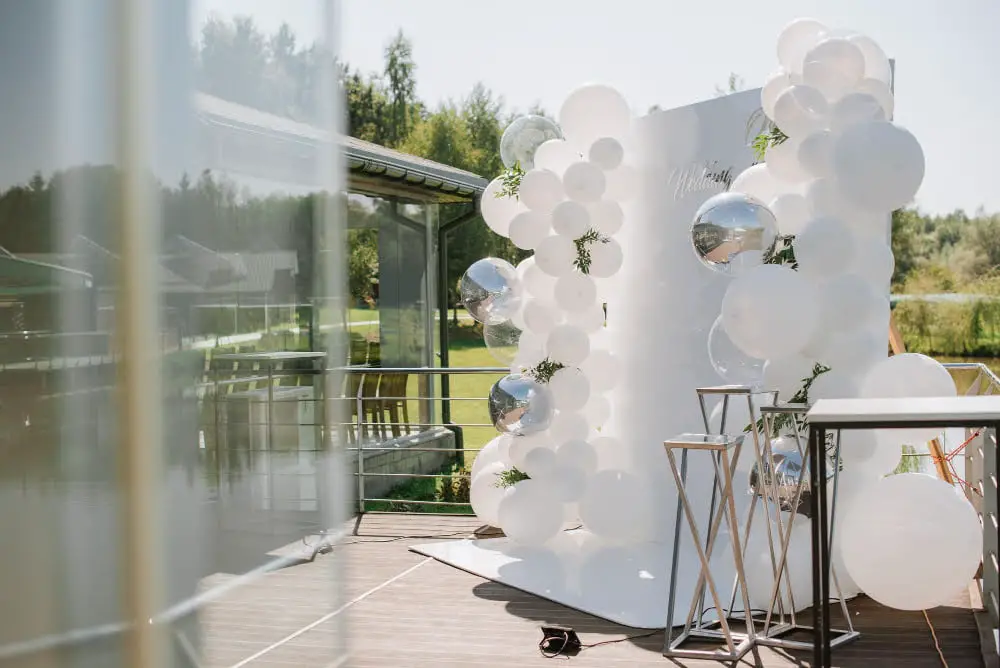 You can create an arch or garland using balloons in your wedding colors, or mix it up with different shades for a more playful look. Balloon arches make great backdrops for photo booths, ceremony altars, or dessert tables.
To create one yourself, you'll need fishing line (or string), balloons of various sizes and colors, balloon tape (or glue dots), scissors, and an electric pump if you're blowing up lots of balloons. Start by inflating the larger balloons first then fill in gaps with smaller ones until you have the desired shape/length of your garland/archway before attaching them together using fishing line/string/tape/glue dots as needed!
Tulle Draped Ceremony Backdrop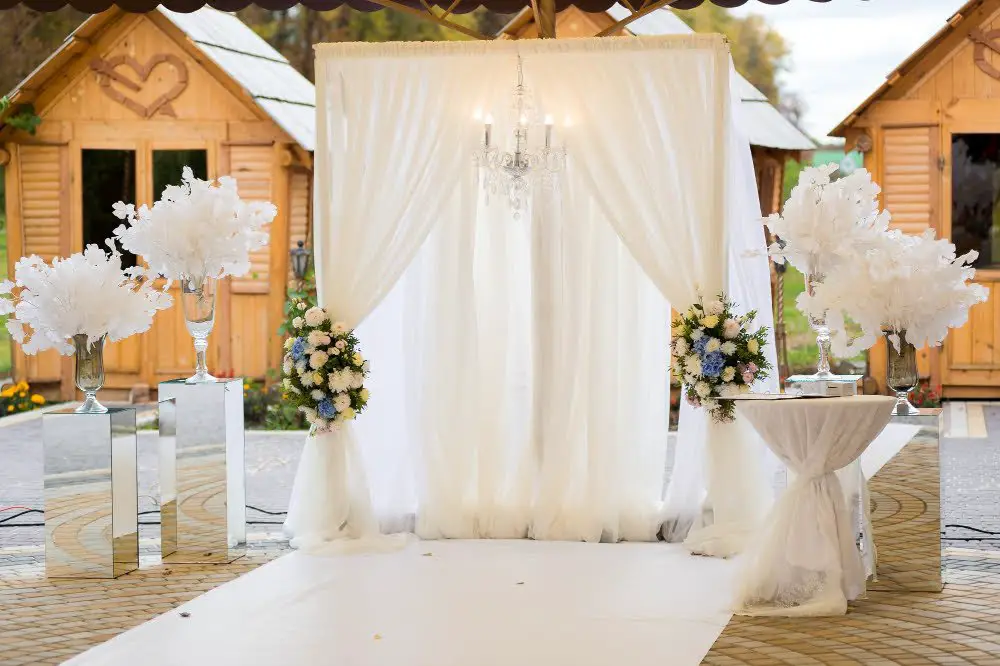 You can use tulle in various colors, depending on the theme of your wedding. The best part is that it's easy to set up and doesn't require any special skills or tools.
All you need is a few wooden poles or arches, some tulle fabric, and zip ties or string for securing the fabric onto the poles/arches.
To create this look, start by setting up two wooden poles (or arches) at either end of where you want your backdrop to be placed. Then drape long pieces of tulle over each pole so that they meet in the middle creating an elegant swag effect.
Potted Plant Favors/decorations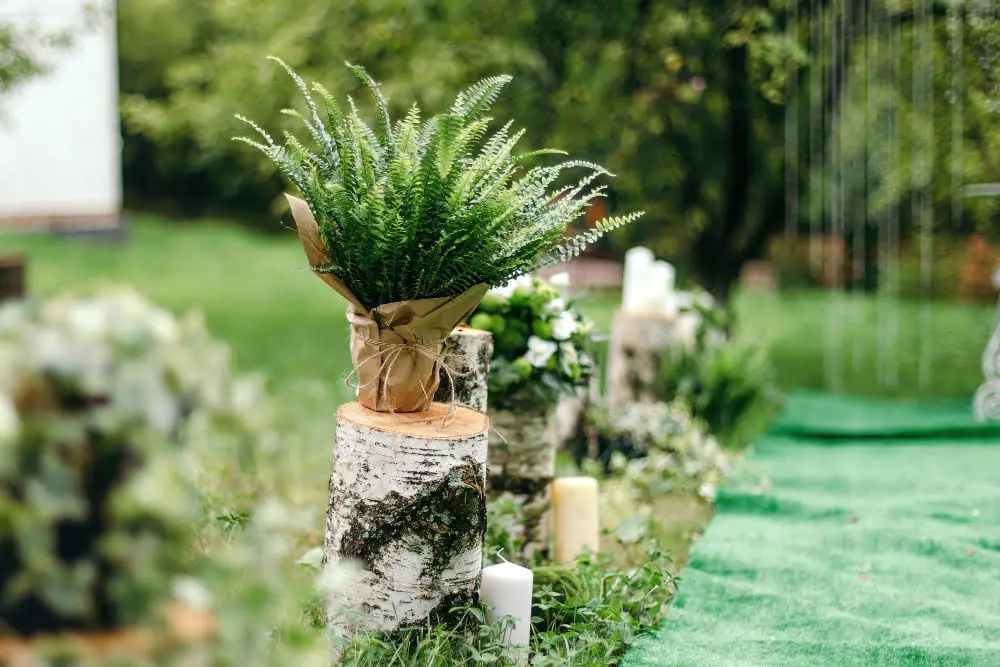 You can choose small succulents, herbs or even wildflowers that match the theme of your wedding. Place them in decorative pots or wrap them in burlap for an added rustic touch.
These potted plants can be used as centerpieces on tables during the reception and then given away at the end of the night as favors for guests to take home and enjoy long after your special day has ended. Not only will they serve as beautiful decorations, but they'll also remind guests of all the wonderful memories made at your outdoor wedding!
Homemade Fabric Bunting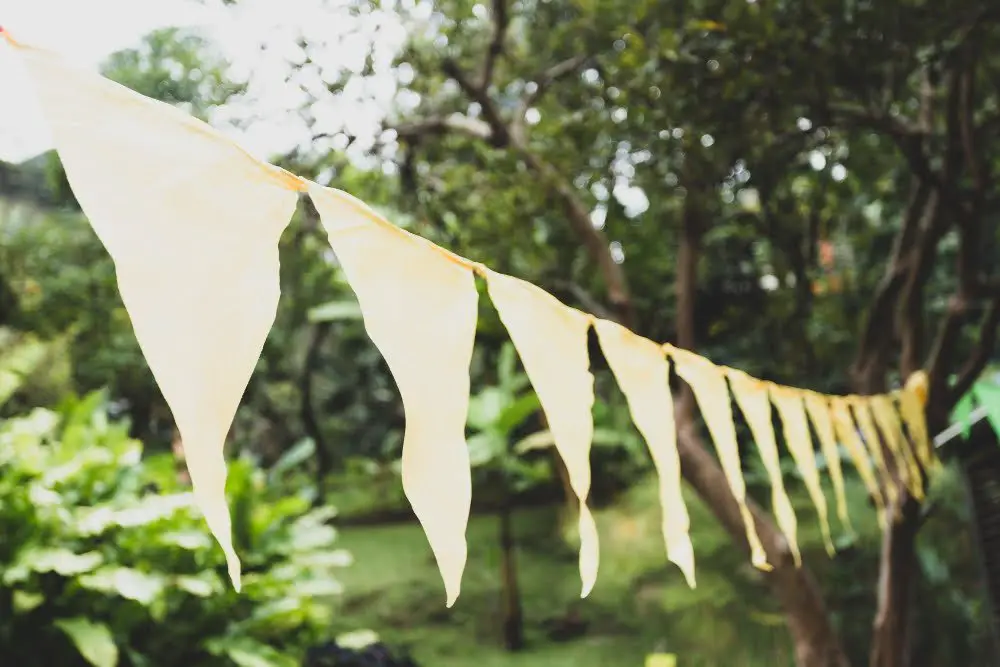 All you need is some fabric in your chosen colors or patterns, scissors, string or twine, and a sewing machine (or needle and thread if you prefer hand-sewing). Cut the fabric into triangles of equal size – these can be as big or small as you like depending on the look you're going for.
Then sew each triangle onto the string/twine leaving enough space between them so they don't bunch up when hung. You can mix and match fabrics to create a fun eclectic look that will add charm to any outdoor wedding setting!
Candlelit Mason Jars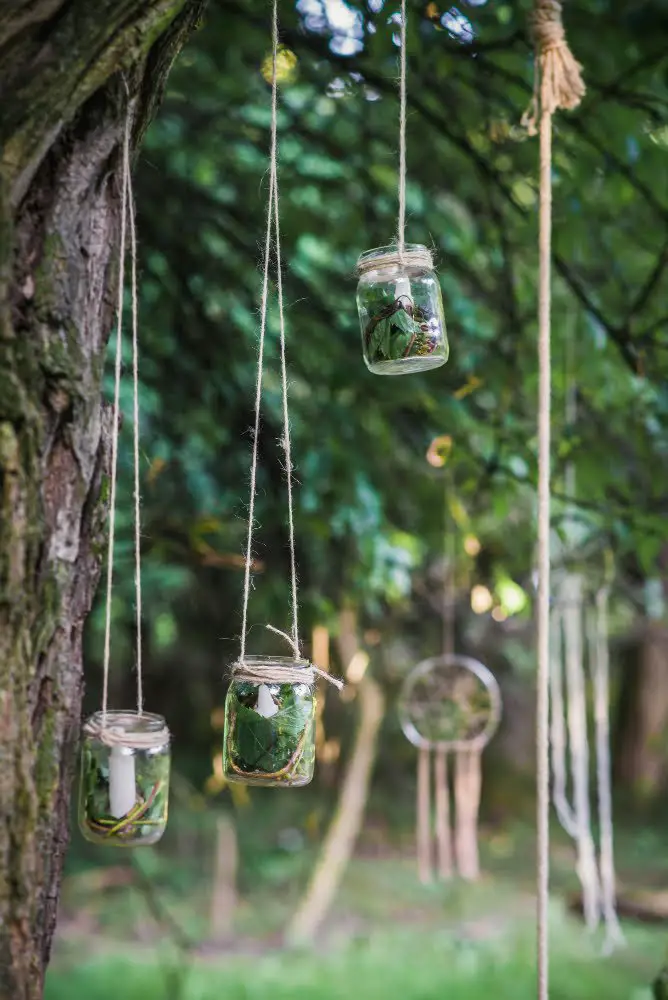 To create this look, all you need are some mason jars, tea light candles, and sand or pebbles. Fill the bottom of each jar with sand or pebbles for stability and then place a tea light candle on top.
You can also decorate the outside of the jar with ribbon or lace for an added touch of charm. These candlelit mason jars can be used as centerpieces on tables or hung from tree branches throughout your venue space to create a warm ambiance that will make your guests feel cozy and comfortable all night long!
Borrowed Antique Furniture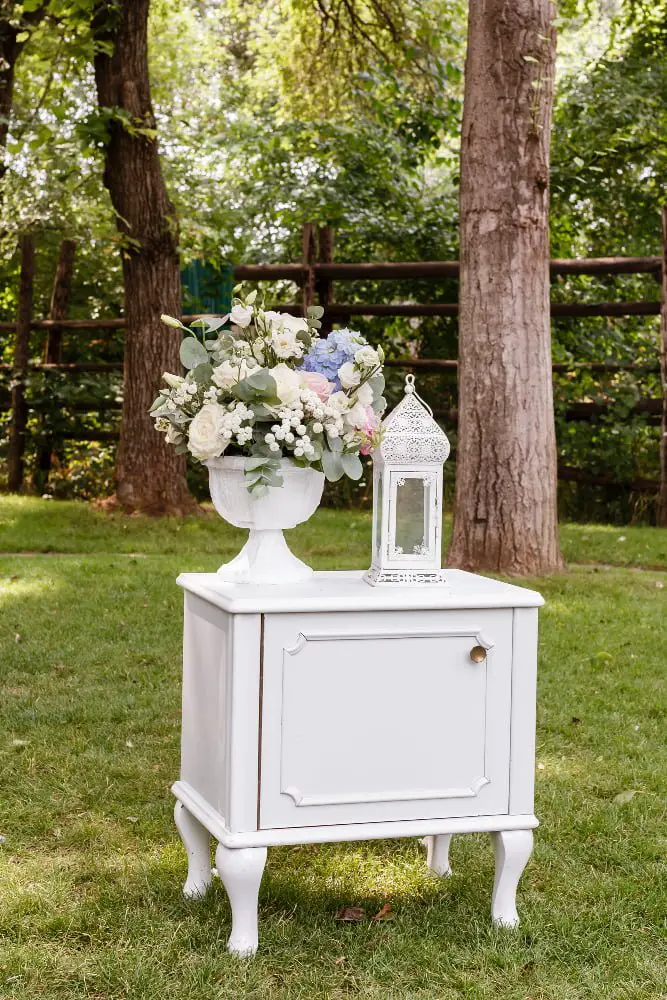 Ask friends or family members if they have any vintage pieces that you could borrow for the day, such as an old wooden dresser or a rustic bench. These items can be used as unique decor pieces, photo backdrops, or even seating areas for guests to relax in during cocktail hour.
Not only will this save you money on rentals but it also adds sentimental value to your special day by incorporating meaningful items from loved ones into your celebration.
Wildflower Bouquets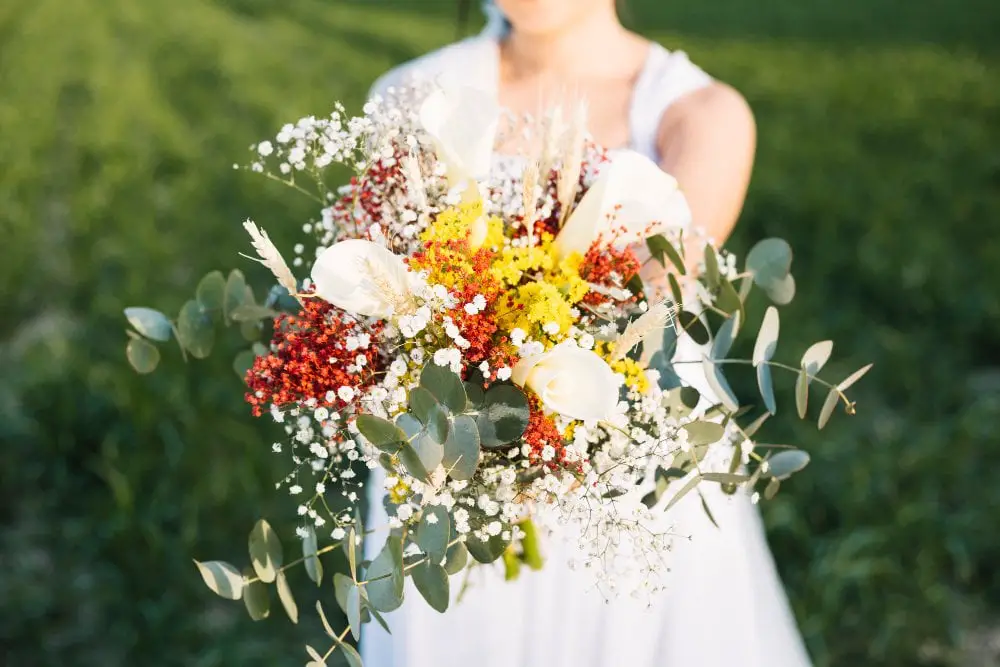 Wildflowers are naturally occurring flowers that grow in fields, meadows, and along roadsides. They come in a variety of colors and sizes, making them perfect for creating unique bouquets.
To create a wildflower bouquet for your outdoor wedding, start by gathering different types of wildflowers from around your area. You can also purchase seeds or plants from local nurseries if you want specific varieties.
Once you have gathered your flowers, arrange them into a loose bouquet with some greenery or filler flowers like baby's breath or ferns. Tie the stems together with twine or ribbon to complete the look.
Wildflower bouquets are not only affordable but also eco-friendly as they do not require any special care like traditional flower arrangements would need.
Rustic Twig Wreaths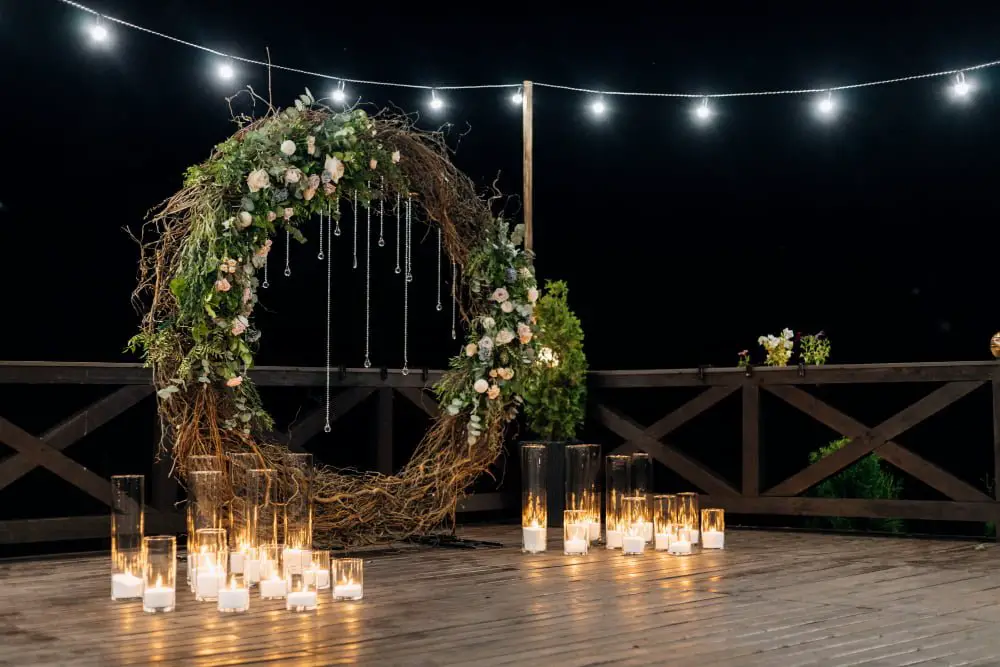 These wreaths can be made using twigs, branches, or even driftwood found in nature. They can be decorated with flowers, ribbons, or other embellishments that match the theme of your wedding.
To make a rustic twig wreath on a budget, gather some twigs from outside and use floral wire to bind them together into a circular shape. You can then decorate the wreath with flowers or ribbon for an added touch of beauty.
These simple yet stunning decorations will give your outdoor wedding venue an earthy feel while keeping costs low.
Chalkboard Menu/signage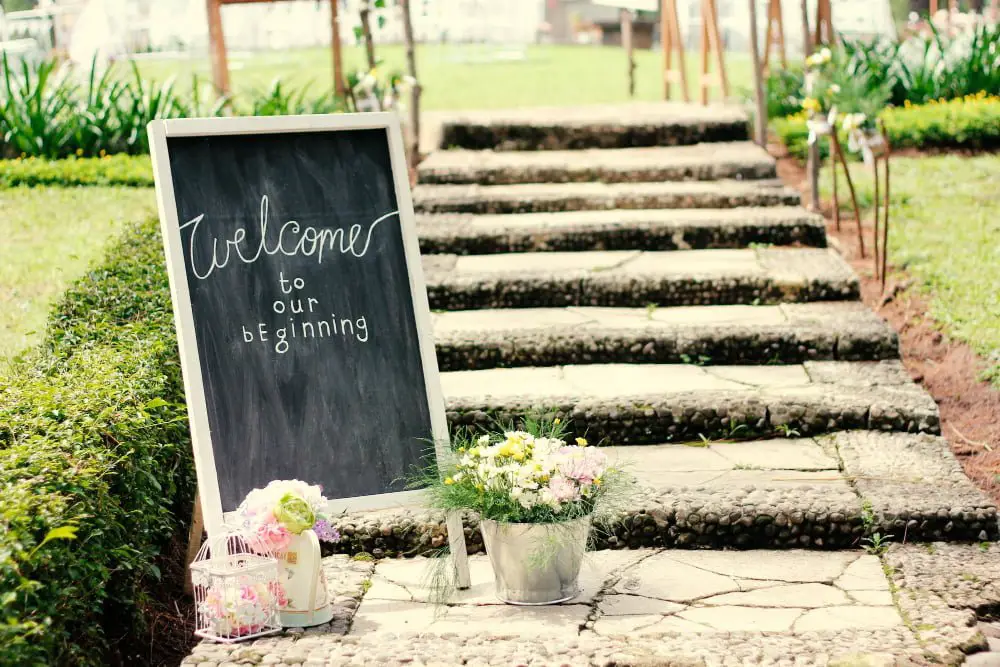 You can use chalkboards in various ways, such as displaying the menu for the reception or writing sweet messages for your guests. Chalkboards are versatile and easy to customize, making them perfect for any theme or style of wedding.
Plus, they're affordable and reusable! You can purchase pre-made chalkboard signs or make your own by painting wood with chalkboard paint. Don't forget to include some colorful chalk markers so that you can create beautiful designs that will impress all of your guests!
Lace Doily Table Accents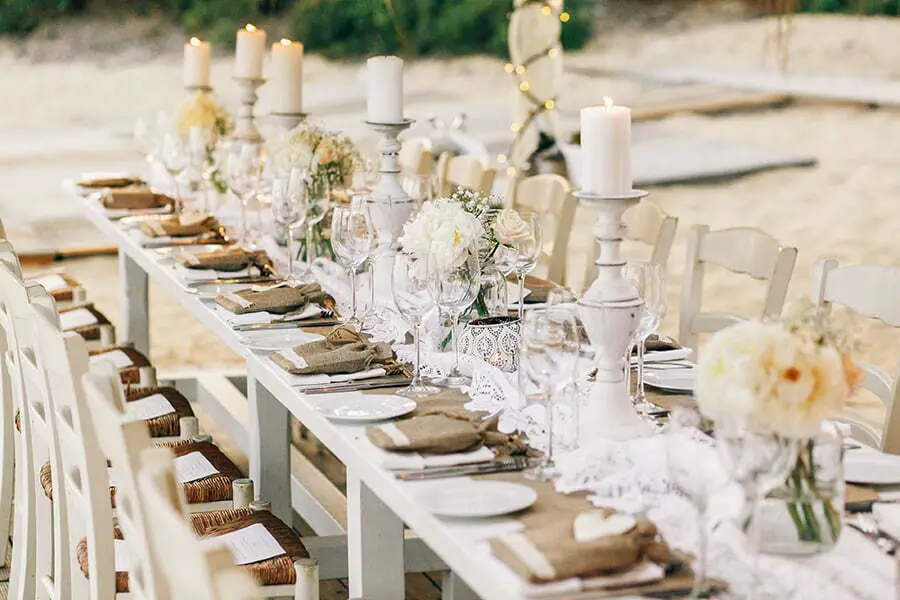 You can find lace doilies at thrift stores, garage sales, or even in your grandmother's attic. Simply place them on top of plain white tablecloths for an instant upgrade.
For added interest, you can layer different sizes and shapes of doilies or use them as placemats under each plate setting. This simple addition will create a romantic atmosphere that is perfect for any outdoor wedding celebration!
DIY Photo Booth With Props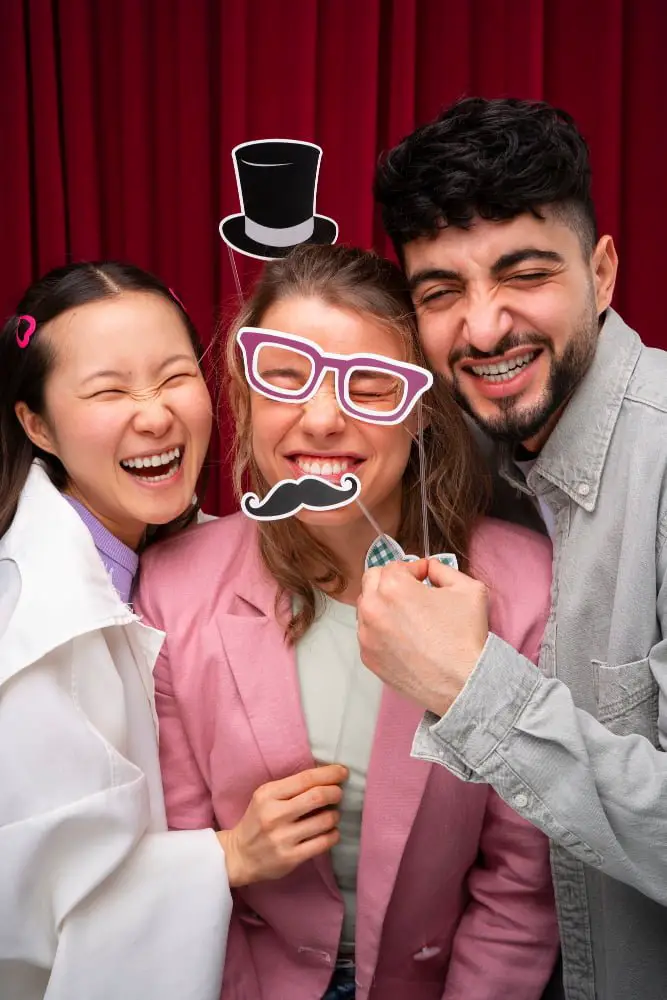 You can easily create one on a budget by using simple materials such as PVC pipes, fabric, and props. Start by building the frame of the photo booth using PVC pipes and drape it with colorful fabric or curtains that match your wedding theme.
Next, gather some fun props like hats, glasses, mustaches on sticks or even cardboard cutouts of famous celebrities! These will add an extra element of entertainment for guests while they take their photos.
Set up a camera (or use someone's smartphone) on a tripod facing towards the backdrop you've created.
Tin Can Flower Holders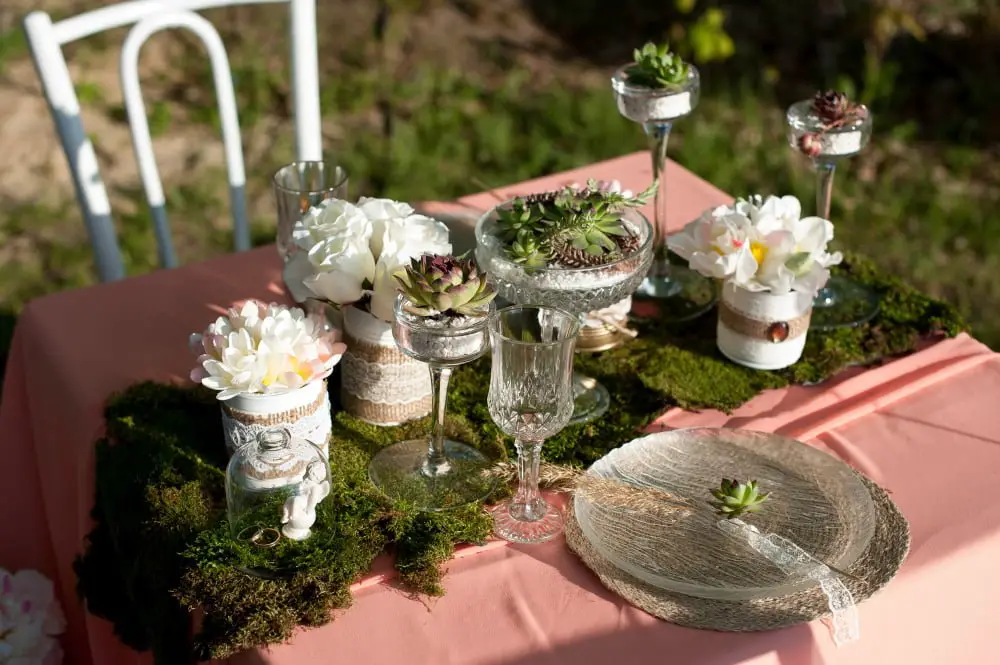 They're also incredibly easy and affordable to make! Simply collect empty tin cans, remove the labels and clean them thoroughly. Then, wrap twine or burlap around each can for added texture and tie it in place with a knot or bow.
Fill the cans with water and arrange your favorite flowers inside – you could even mix-and-match different types of blooms for an eclectic look! These DIY flower holders work well as centerpieces on reception tables or as accents along ceremony aisles. Plus, they're eco-friendly since you're repurposing something that would otherwise be thrown away!
Crating a Chill Lounge Area With Mismatched Chairs
One budget-friendly way to add charm and comfort to your outdoor wedding is by creating a chill lounge area using mismatched chairs. Instead of renting expensive matching seating, you can scour thrift stores, flea markets, or even ask friends and family if they have any spare chairs you could borrow.
The beauty of this idea lies in the eclectic mix of styles and colors that can be achieved. By arranging these mismatched chairs in a cozy corner or under some shade trees, you'll create an inviting space where guests can relax and mingle during the reception.
To tie everything together visually, consider adding some throw pillows or blankets that complement your wedding color scheme. This simple yet stylish touch will not only provide extra comfort but also enhance the overall aesthetic appeal of your outdoor venue without breaking the bank.
Using Wooden Crates for a Cake Display
These versatile containers add a rustic touch to your outdoor wedding decor while also providing a practical solution for showcasing your sweet centerpiece. You can find wooden crates at craft stores, flea markets, or even repurpose old ones you may have lying around.
Simply stack the crates in various sizes and heights to create an eye-catching display that complements the overall theme of your wedding. To enhance the look further, consider adorning the crates with flowers or greenery that match your color scheme.
This budget-friendly idea not only adds visual interest but also creates a unique focal point for guests as they admire and indulge in delicious slices of cake on this special day.
Taking Advantage of Bonfires and Moonlight for Evening Reception
Setting up a cozy bonfire area with comfortable seating allows guests to gather around the fire, roast marshmallows, and enjoy the flickering flames. The soft glow from the fire adds an enchanting ambiance as darkness falls.
Strategically placing fairy lights or lanterns around the venue enhances the romantic mood under moonlit skies. This combination of natural elements creates an unforgettable setting for couples who want their outdoor wedding reception to have a touch of rustic charm and ethereal beauty.
Incorporating Fun Lawn Games Into the Reception
These games can be enjoyed by people of all ages, from children to adults. Plus, they are an excellent icebreaker for guests who may not know each other well.
Consider setting up classics like cornhole or horseshoes for some friendly competition. You could also opt for giant versions of popular games like Jenga or Connect Four, which add a unique twist and make them even more enjoyable.
Another idea is to have a croquet set available for those who prefer something more relaxed but still engaging. This classic game adds elegance and charm while allowing guests to socialize as they play.
Don't forget about activities that encourage teamwork! Set up sack races or three-legged races that will surely bring out the laughter in everyone involved.
When incorporating lawn games into your reception, it's essential to provide clear instructions on how each game is played so that everyone can participate without confusion. Consider having someone designated as the "game master" who can oversee the activities and ensure fair play throughout the event.
Having a Plan B in Case of Inclement Weather
While we all hope for clear skies and sunshine on our special day, Mother Nature can be unpredictable. To ensure that your wedding goes smoothly regardless of the weather conditions, consider renting a tent or marquee as a Plan B option.
This will provide shelter for you and your guests if rain or strong winds occur. Make sure to communicate the backup plan with your vendors and guests ahead of time so everyone is aware of any changes that may need to be made.
Having a Plan B in place will give you peace of mind knowing that no matter what happens with the weather, your outdoor wedding can still proceed flawlessly indoors or under cover.
FAQ
Is it cheaper to DIY wedding decorations?
Yes, it is typically more cost-effective to DIY wedding decorations.
What is a good wedding decor budget?
A good wedding decor budget typically ranges from $2,000 to $10,000, depending on the location of the wedding and desired level of opulence.
What are some unique ideas for outdoor wedding themes?
Some unique ideas for outdoor wedding themes include garden party elegance, tropical beach simplicity, rustic barn charm, whimsical woodland setting, vineyard sophistication, and vintage picnic romance.
How can weather conditions factor into outdoor wedding planning?
Weather conditions are a crucial factor in outdoor wedding planning as they can impact the choice of venue, date, decoration, wardrobe, and contingency plans.
What are the noteworthy considerations for selecting flowers for outdoor weddings?
The noteworthy considerations for selecting flowers for outdoor weddings include considering the wedding's color scheme, season, location's natural scenery, durability of the flowers under outdoor conditions, and their availability at the wedding's date.
Keep reading: