Incorporating seasonal elements into an outdoor wedding can be done by using colors and decorations that reflect the season, such as floral arrangements with seasonal flowers, foliage, or fruits; incorporating seasonal produce into the menu; adding seasonal scents to the venue; and utilizing natural features of the environment specific to that time of year.
Outdoor weddings are a beautiful way to celebrate your special day and create lasting memories. But if you're planning an outdoor wedding, it's essential to consider the seasons and how they can be incorporated into your event.
From choosing the right flowers and decorations to selecting the perfect venue, there are several ways you can ensure your outdoor wedding reflects the season in which it takes place. Here are some tips for incorporating seasonal elements into an outdoor wedding.
Decorations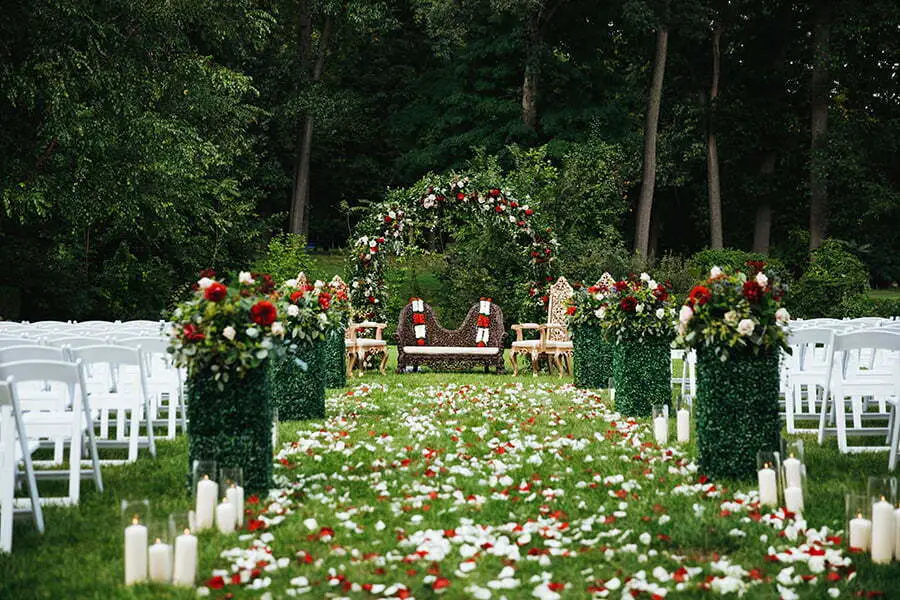 Seasonal decorations can create a unique atmosphere that reflects the time of year and adds a personal touch. For example, in the springtime, colorful flowers and greenery can be used to decorate tables or hang from trees.
In summer, bright colors like yellow or orange can be used for tablecloths or centerpieces. In autumn, warm colors such as reds and oranges create a cozy atmosphere with pumpkins and hay bales.
Winter weddings often feature white decorations such as snowflakes or icicles hung from branches to give an icy feel. Using seasonal elements in your outdoor wedding decorations will create a memorable experience for all your guests!
Flowers
Depending on the season, many different types of flowers can be used to create stunning arrangements. For example, in springtime, tulips, daffodils, and daisies are famous for bouquets and centerpieces.
Summer weddings often feature bright sunflowers or roses, while autumn brings vibrant mums and chrysanthemums. Winter weddings may include poinsettias or evergreens for a festive touch.
No matter what time of year it is, there are plenty of options for choosing seasonal flowers for an outdoor wedding!
Color Scheme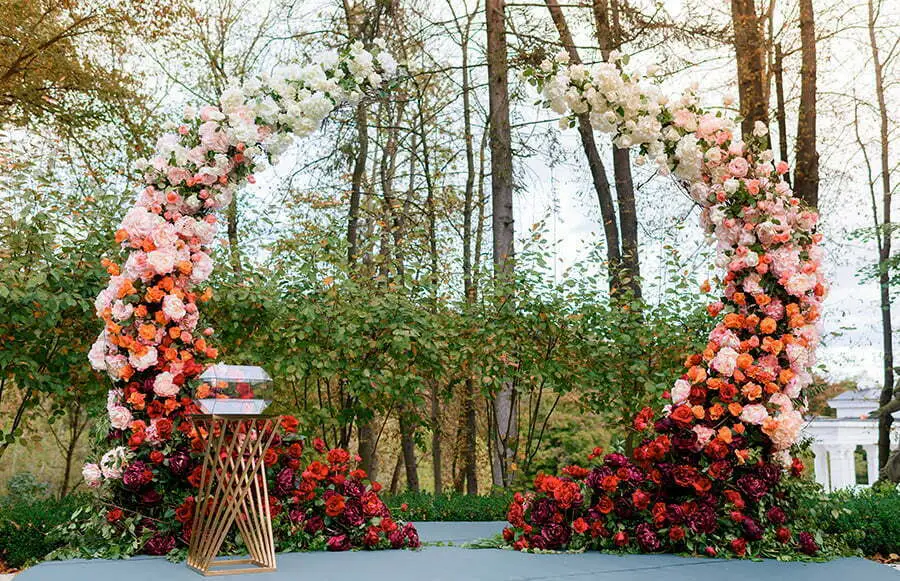 The colors chosen should reflect the season and create a cohesive look throughout the event. For example, pastel colors such as light pink, lavender, and mint green can create a peaceful and romantic atmosphere in spring.
In summer, bright colors like yellow, orange, and coral can bring out the season's warmth. For fall weddings, warm tones such as burgundy or burnt orange create a cozy atmosphere.
Winter weddings often feature cool tones like navy blue or silver to evoke feelings of a winter wonderland. By choosing colors that reflect the season you are celebrating in your outdoor wedding, you will be able to create a beautiful and memorable atmosphere!
Food and Drink Menu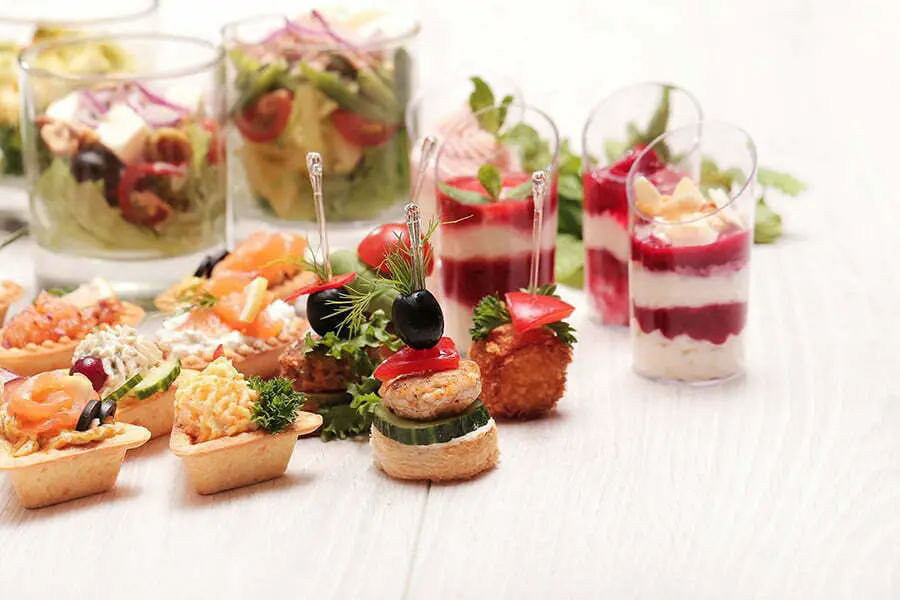 The menu should be tailored to the season, considering the availability of local ingredients and produce. For example, light salads with fresh fruits and vegetables are popular in the summer months.
Heartier dishes such as roasted root vegetables or squash soup can be served in the fall. Drinks should also reflect the season; sangria or margaritas are great options for a summer wedding, while mulled cider or hot chocolate would be perfect for a winter celebration.
It's essential to consider guests' dietary restrictions when creating your menu so everyone can enjoy their meal!
Music Selection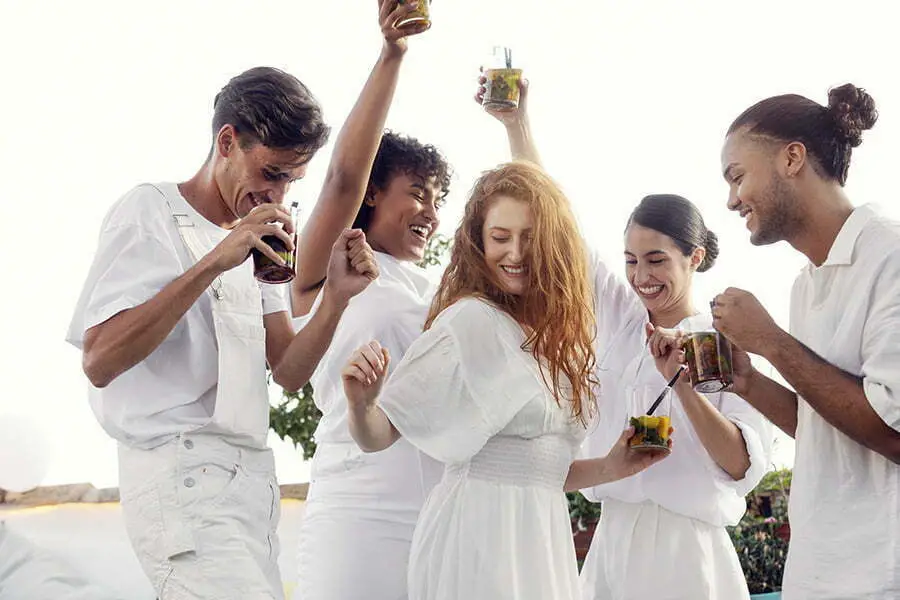 When selecting music for an outdoor wedding, consider the time of year and the atmosphere you want to create. For example, upbeat songs with a tropical jungle or beachy vibe may be appropriate if you are having a summer wedding.
If your outdoor wedding is in the fall or winter, slower-tempo songs that evoke warmth and coziness could be great choices. Look for songs that have lyrics related to nature or the season itself; this will help bring out the natural beauty of your surroundings while also creating a unique atmosphere for your guests to enjoy.
Clothing Choices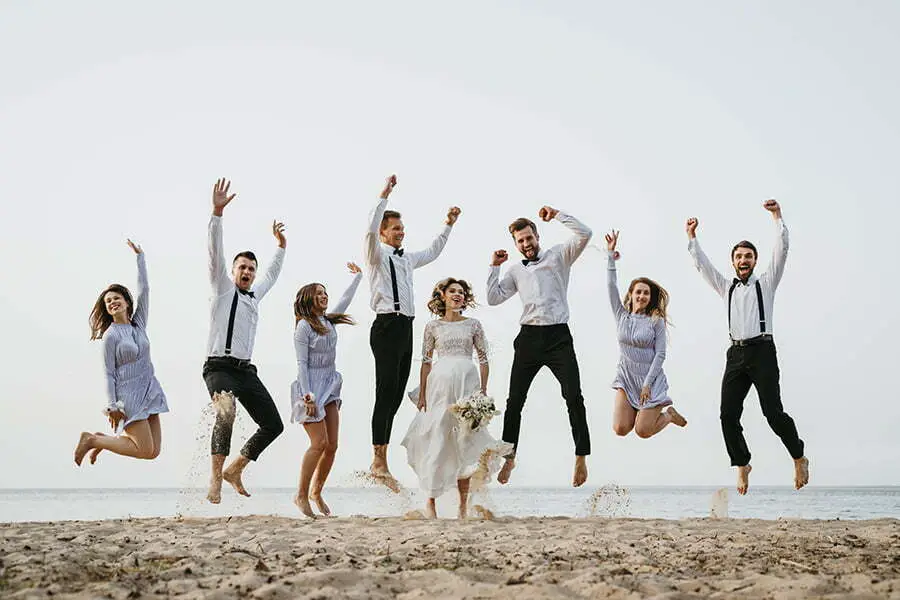 Seasonal clothing choices should be tailored to the time of year, climate, and wedding location. For example, in the summertime in a warm climate, lightweight fabrics such as linen or cotton may be appropriate for both men and women.
In wintertime, heavier fabrics such as wool or velvet may be more suitable in a cold climate. Colors should also reflect the season; bright colors like yellow or pink may work well for spring weddings, while darker shades like navy blue or burgundy might fit better with fall weddings.
Accessories such as hats or scarves can add to the seasonal look without being too over-the-top.
Lighting Design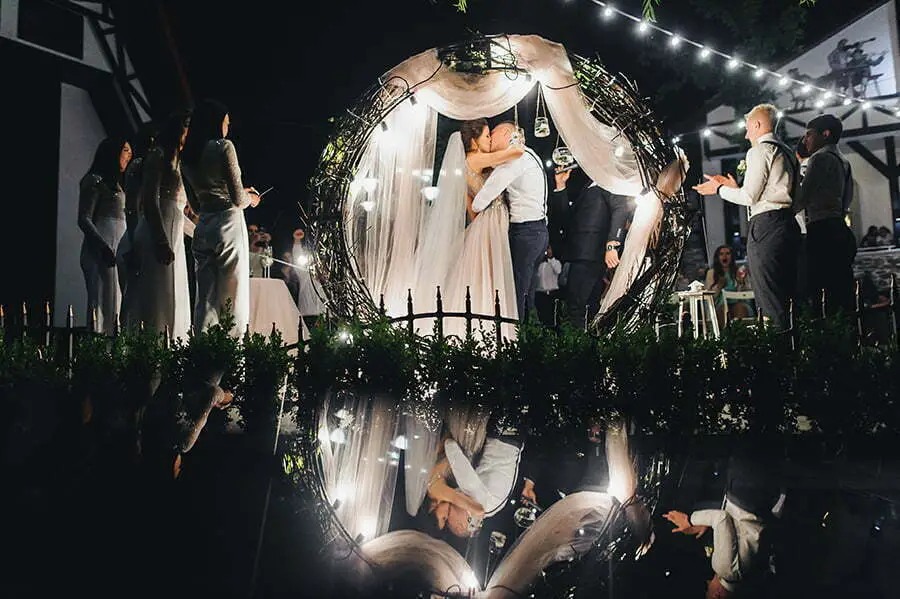 Seasonal lighting can highlight the environment's natural beauty and create a festive mood for guests. For example, warm-toned string lights or lanterns can be hung from trees in autumn to create a cozy ambiance.
White twinkle or icicle lights draped over branches in winter will give off a magical feel. During springtime, colorful paper lanterns or floral garlands around the venue will bring life and vibrancy to the event.
Summer weddings are perfect for using bright LED bulbs in various shapes and sizes to light up pathways or decorate tablescapes with vibrant colors. No matter what season it is, creative lighting designs can make any outdoor wedding truly special!
Keep reading: