Discover stunning winter outdoor wedding decoration ideas that will transform your special day into a magical, frosty wonderland.
As the snowflakes fall and the temperatures drop, many couples may shy away from the idea of an outdoor wedding. But let me tell you, winter weddings can be absolutely magical! With a little creativity and some thoughtful planning, you can transform any outdoor space into a winter wonderland fit for your dream wedding.
In this article, I've gathered 20 stunning ideas for winter outdoor wedding decorations that will leave your guests in awe and create unforgettable memories for you and your partner. So grab a cup of hot cocoa, cozy up by the fire, and get ready to be inspired!
Snowflake Garlands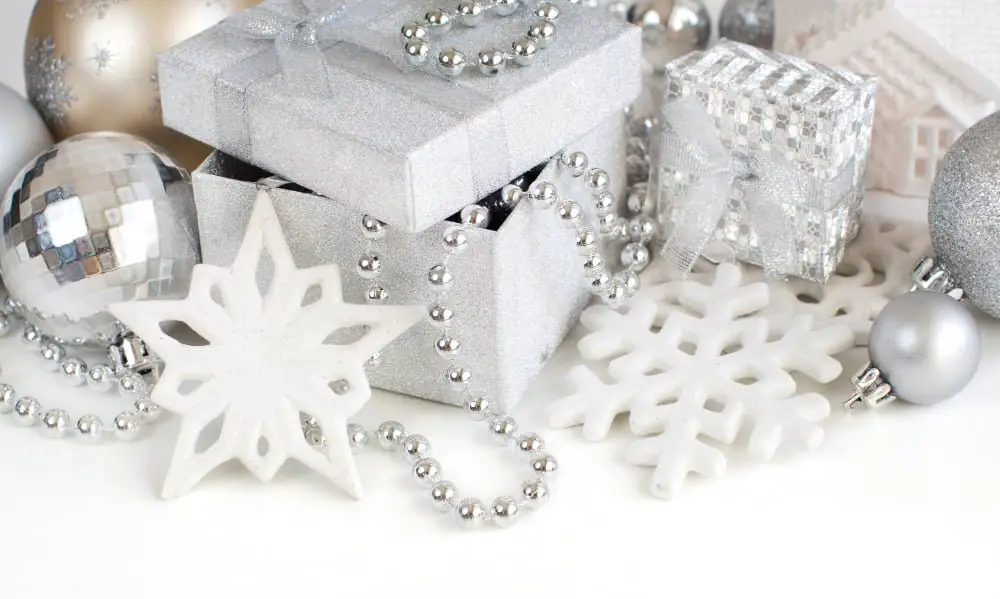 Snowflake garlands are a beautiful and simple way to add some winter charm to your outdoor wedding. These delicate decorations can be made from paper, string, or even real snowflakes! Hang them above the ceremony arch or along the reception tables for a subtle touch of winter wonderland.
You can also mix in some fairy lights with your snowflake garlands for an extra magical effect as they twinkle in the night sky. Whether you opt for classic white snowflakes or colorful ones that match your wedding theme, these garlands will surely make any outdoor space feel cozy and festive during wintertime.
Ice Sculptures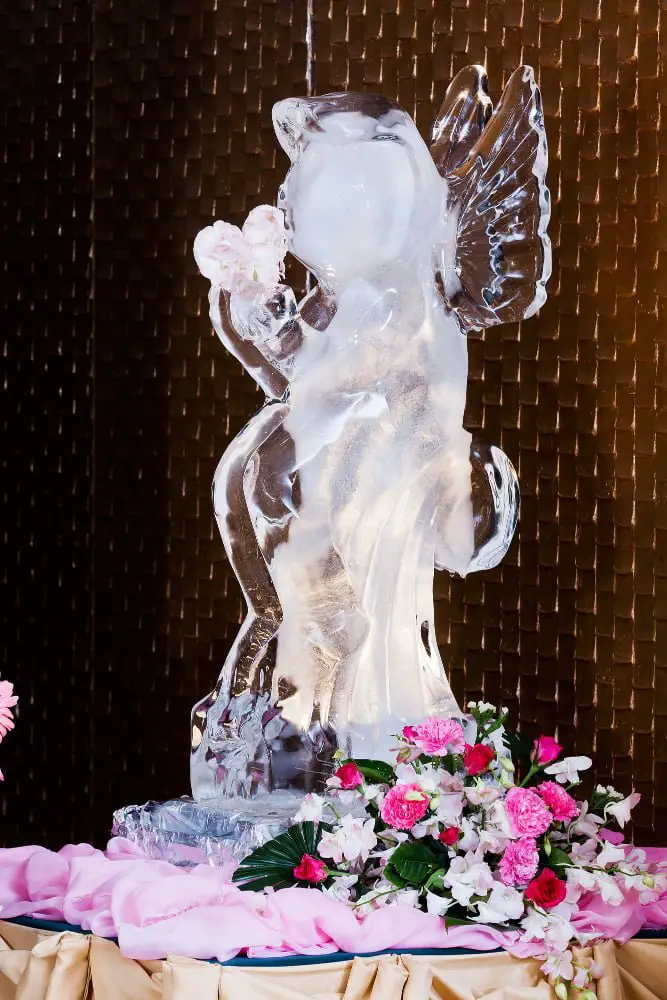 These beautiful works of art can be customized to fit the theme and style of your wedding, whether it's a classic snowflake or an intricate design that represents you and your partner. Ice sculptures can also serve as functional pieces, such as ice bars for drinks or even ice benches for guests to sit on during the ceremony.
They add an element of elegance and sophistication while also embracing the beauty of winter in a unique way that will leave your guests in awe. Just make sure they're placed somewhere where they won't melt too quickly!
Faux Fur Chair Covers
These covers not only look luxurious but also provide warmth and comfort for your guests during the chilly weather. You can choose from different colors such as white, beige, or brown that will complement your overall wedding theme.
Faux fur chair covers are perfect for rustic weddings or those with a bohemian vibe. They are easy to install and remove, making them an ideal choice for outdoor events where you need quick setup and teardown times.
Your guests will appreciate this thoughtful addition that adds both style and function to their seating arrangements!
Pinecone Centerpieces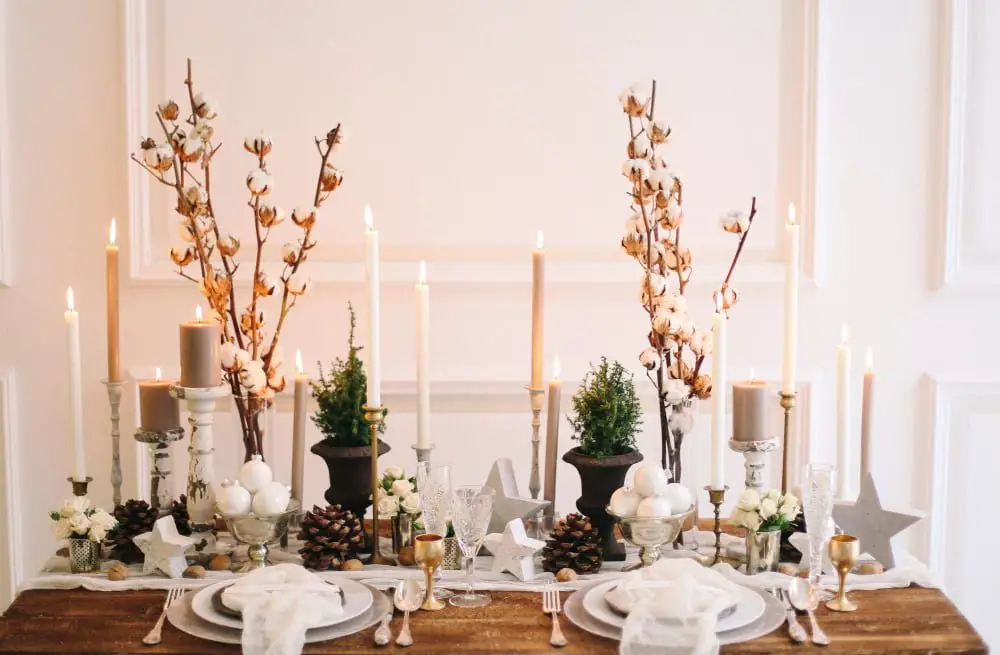 They add a natural and rustic touch to the decor while also being budget-friendly. Pinecones can be used in various ways, such as filling up glass vases or jars, creating wreaths or garlands, and even painted in metallic colors for an elegant look.
You can also mix pinecones with other elements like berries, greenery or candles to create unique centerpieces that will impress your guests. The best part is that you can easily collect pinecones from nature walks with your partner or friends before the big day!
Winter Lanterns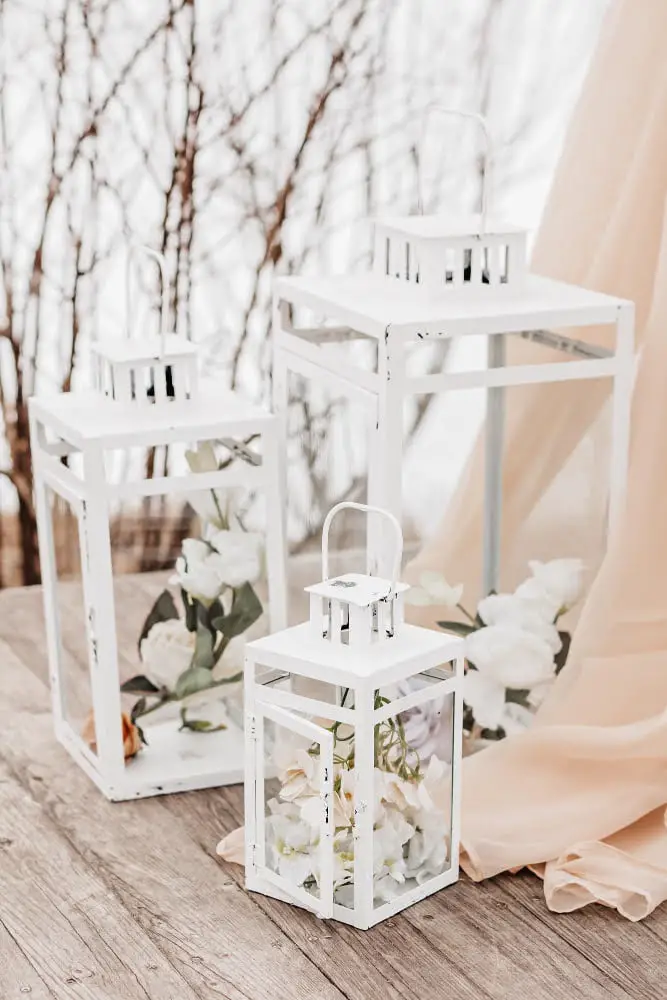 They add warmth and coziness to the atmosphere while also providing soft lighting. You can use lanterns as centerpieces on tables or hang them from trees or shepherd's hooks along the aisle.
For a rustic look, choose lanterns made of wood or metal with glass panels. If you prefer something more delicate, opt for paper lanterns in white or silver tones that will give off an ethereal glow when lit up at night.
Fill your lantern with candles, pinecones, greenery sprigs to create a beautiful winter wonderland ambiance!
Frosted Branches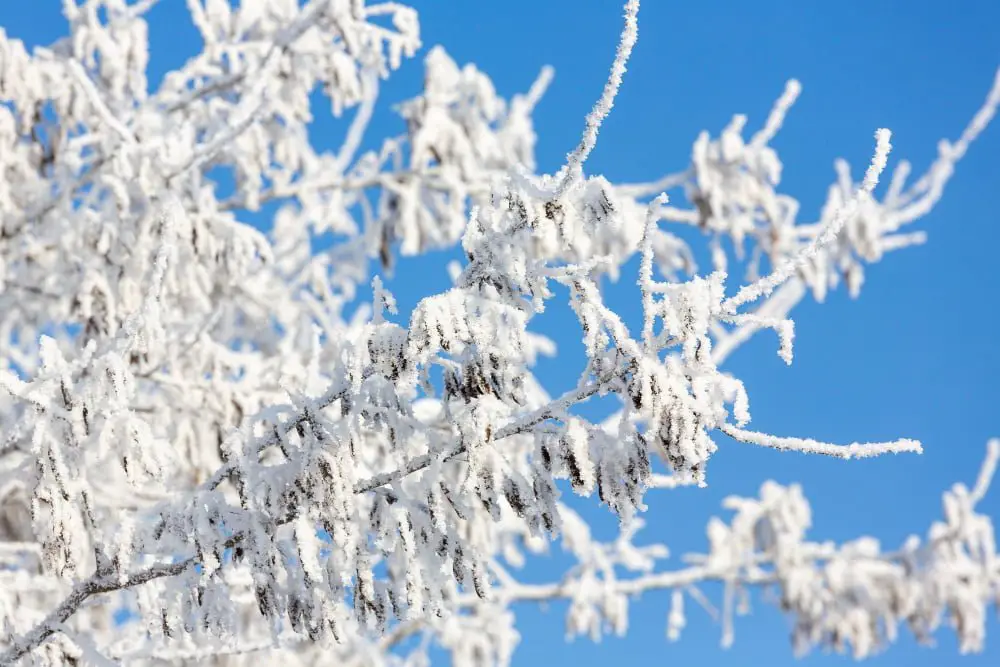 These delicate branches can be used in various ways, such as centerpieces or aisle decorations. You can create the frosted effect by spraying them with white paint or using artificial snow spray.
For an extra sparkle, you can also add some glitter or small LED lights to the branches. Frosted branches work well with any color scheme and theme, making them a versatile option for your winter outdoor wedding decoration needs!
Candlelit Walkways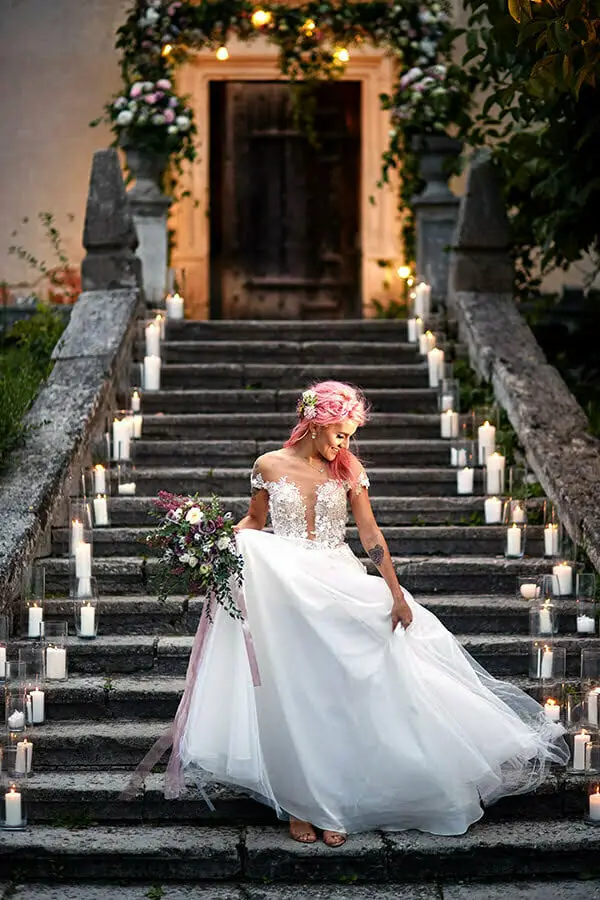 The soft glow of the candles creates a warm and cozy atmosphere, especially on chilly evenings. You can use various types of candles such as tea lights, pillar candles, or lanterns placed along the path leading up to your venue.
Consider adding some greenery like pine branches or holly leaves for an extra touch of winter charm. Your guests will love walking down this magical pathway that sets the tone for an unforgettable celebration under the stars!
Evergreen Arches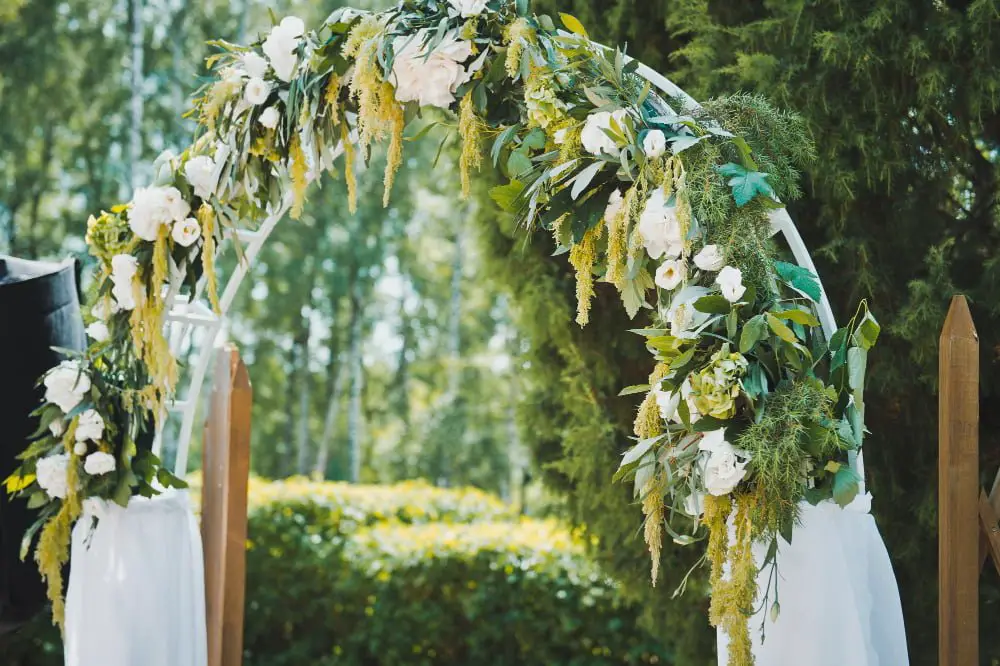 These arches can be made from various types of evergreens, such as pine, cedar or spruce. They can be decorated with lights, ribbons or flowers to match the wedding theme and colors.
Evergreen arches create a stunning entrance for the bride and groom while also providing a cozy atmosphere for guests during the ceremony. The best part is that they look just as beautiful covered in snow!
Mistletoe Accents
Incorporating mistletoe accents into your decor can be as simple as hanging sprigs from tree branches or creating kissing balls to hang in strategic locations. You could also use mistletoe wreaths on doors or incorporate it into floral arrangements for an unexpected pop of greenery.
Not only will these accents look beautiful, but they'll also provide plenty of opportunities for sweet moments between the newlyweds and their guests!
White String Lights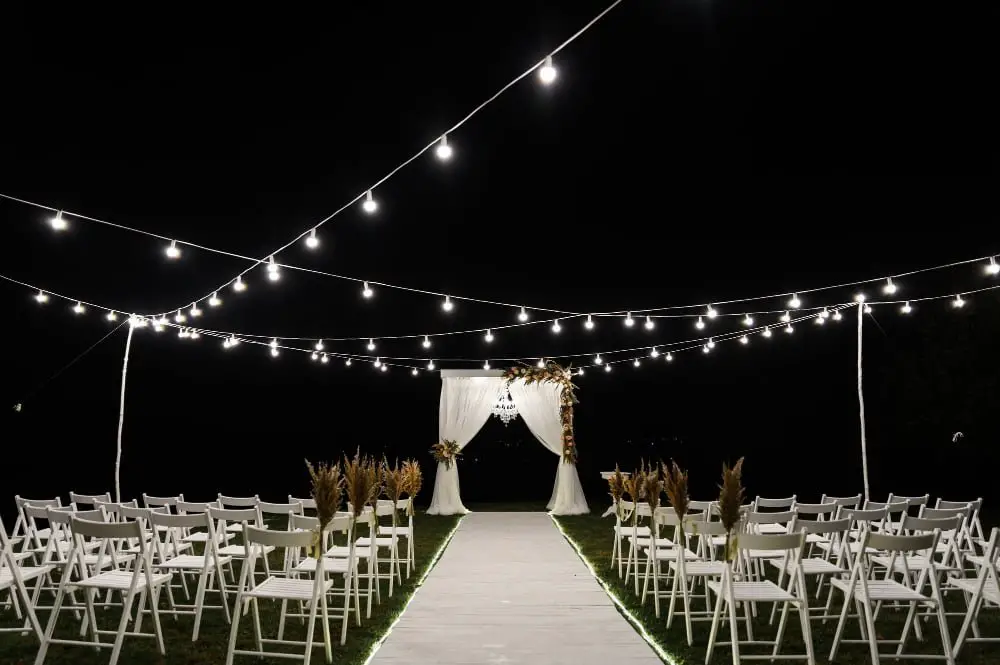 They can be used in various ways, such as draping them over trees or bushes, hanging them from the ceiling of tents or pergolas, or wrapping them around pillars and columns. White string lights create an enchanting atmosphere that is perfect for romantic weddings.
They also provide additional lighting during the evening hours when it gets dark earlier in winter months. Whether you choose to use white string lights as your primary source of illumination or simply as an accent piece, they will undoubtedly enhance the beauty and charm of your outdoor wedding venue during this magical season!
Winter Wreaths
They come in various sizes, shapes, and materials to match any theme or color scheme. You can hang them on the doors of your venue or use them as centerpieces for your tables.
For a rustic look, consider using wreaths made of pinecones or birch bark with some greenery accents like holly leaves and berries. If you prefer something more elegant, go for white floral wreaths with silver ornaments or crystals added to them.
Winter wreaths are not only beautiful but also practical since they add warmth to the chilly atmosphere while creating a cozy ambiance that will make your guests feel welcome from the moment they arrive at your wedding venue!
Fire Pit Stations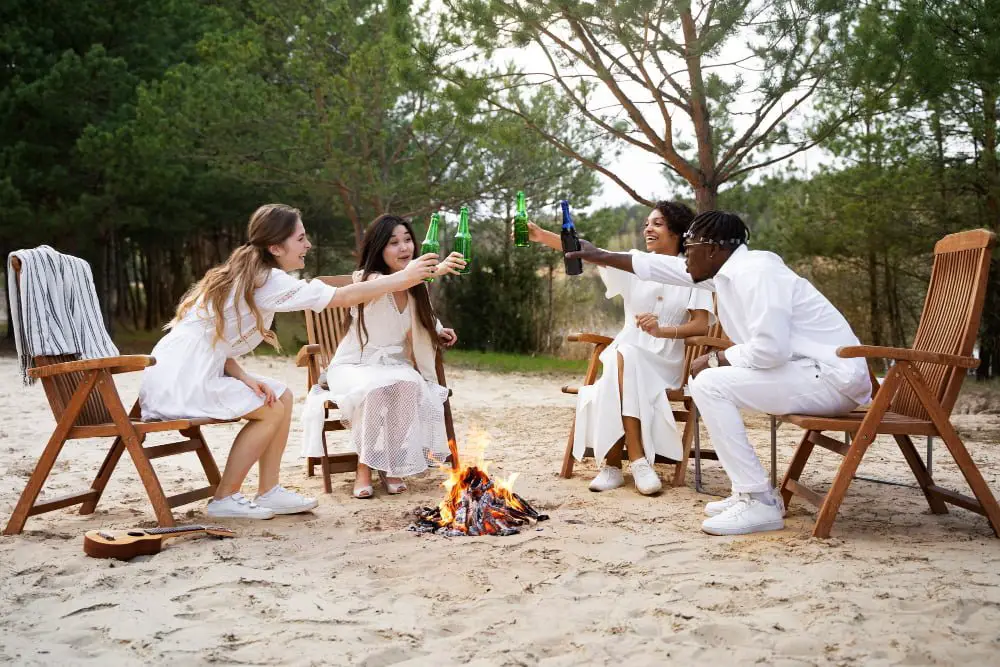 You can set up multiple fire pits throughout the venue, each with its own seating area for guests to gather around. Decorate the fire pit areas with blankets, pillows, and rustic wooden signs that say things like "Warm Up Here" or "S'mores Station".
Guests will love roasting marshmallows over the open flame while enjoying the beautiful winter scenery around them. Just make sure you have plenty of wood on hand to keep those fires burning all night long!
Hot Cocoa Bar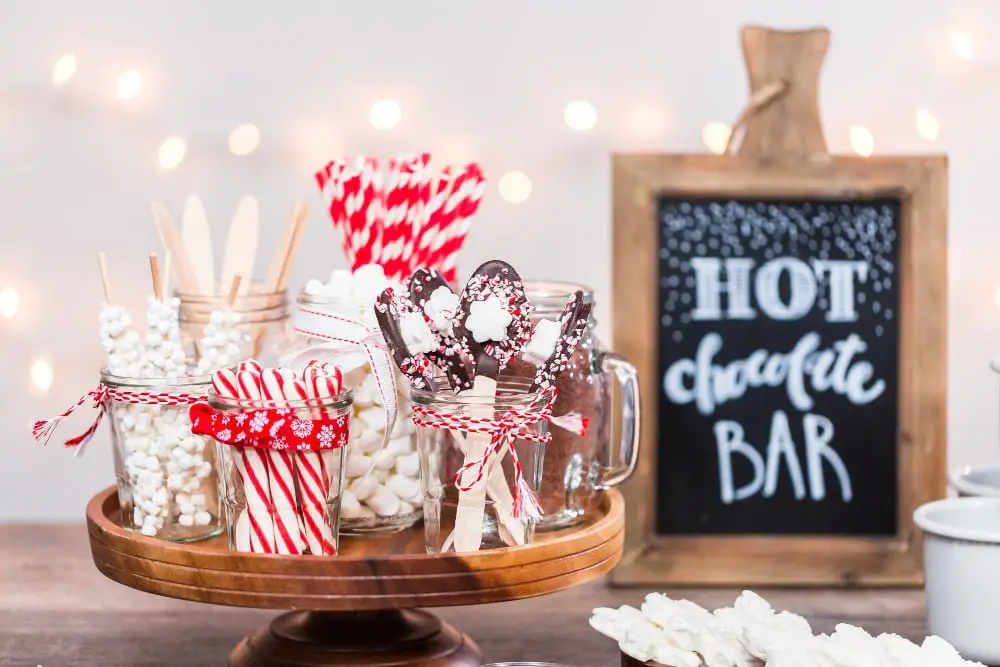 It's a great way to warm up your guests and add some cozy vibes to the celebration. Set up a table with different types of hot chocolate, such as classic milk chocolate, dark chocolate, or white chocolate.
You can also offer toppings like whipped cream, marshmallows, candy canes or cinnamon sticks for guests to customize their drinks.
Cozy Blankets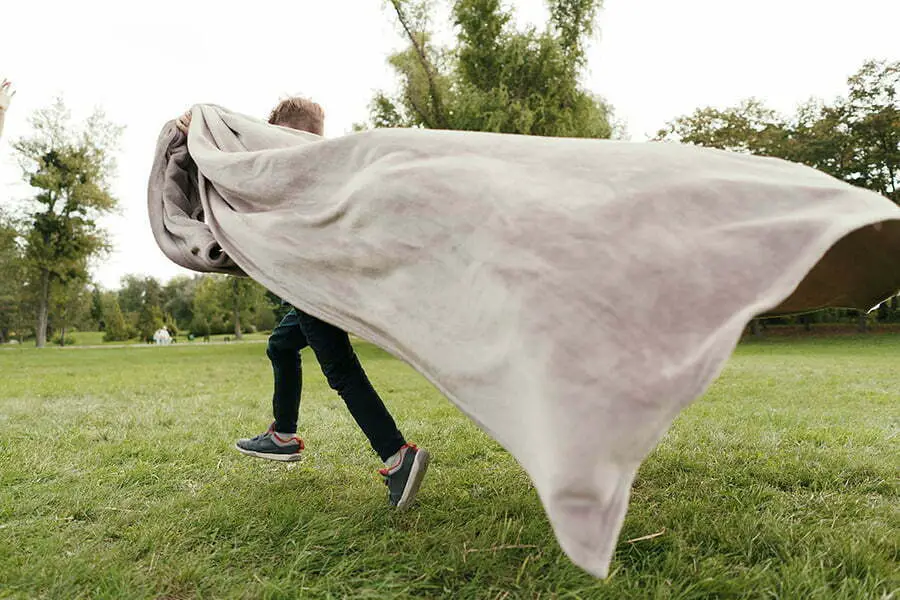 Cozy blankets are a great way to keep your guests warm and add a touch of coziness to your outdoor wedding decor. You can drape them over chairs or benches, place them in baskets around the venue, or even offer them as favors for guests to take home with them.
Choose blankets in neutral colors like cream or gray that will complement any color scheme and make sure they're soft and comfortable so your guests will want to snuggle up with them all night long!
Snowy Photo Booth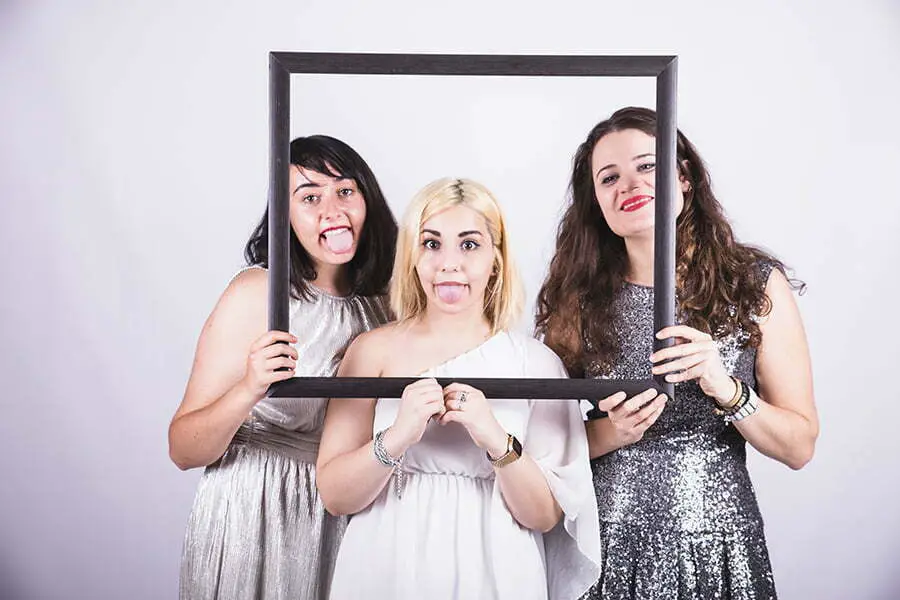 Set up a backdrop of snow-covered trees or hang some white string lights for an ethereal effect. Provide props like scarves, hats, and mittens for guests to wear in their photos.
You could even include fake snow or confetti as an extra touch! This will create the perfect opportunity for guests to take memorable pictures with friends and family while enjoying the beautiful winter scenery around them.
Rustic Wooden Signs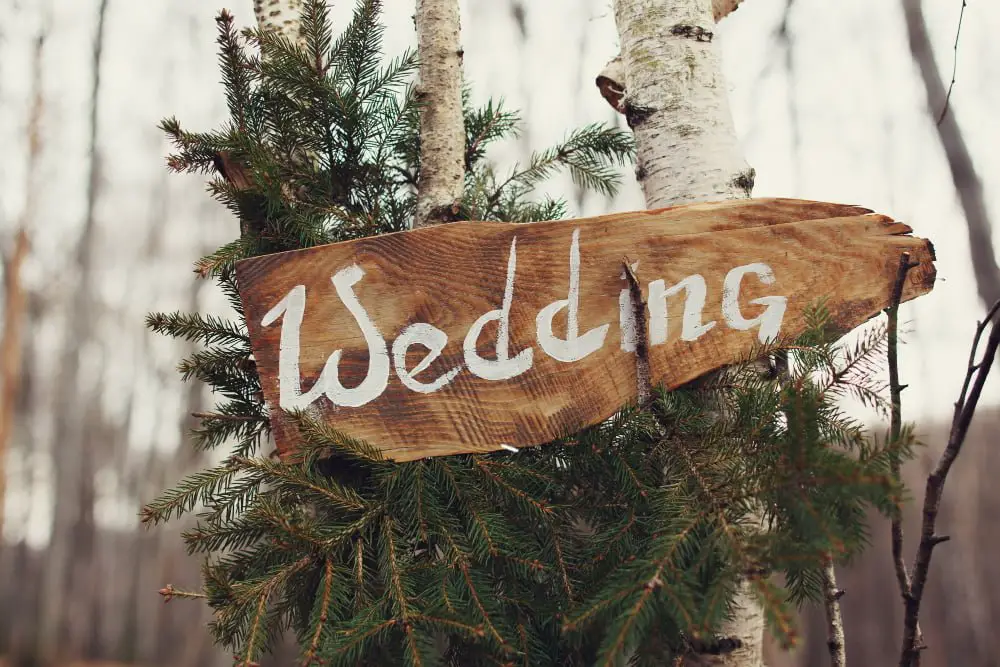 These signs can be used in various ways, such as directing guests towards the ceremony or reception area, displaying quotes or messages that resonate with you and your partner, or even just adding some fun elements like "S'mores Bar This Way" sign leading guests towards the fire pit station.
You can create these rustic wooden signs yourself by using reclaimed wood planks and painting them with white paint for a snowy effect. You could also use stencils to write out words in calligraphy style lettering for an elegant look.
Alternatively, you could hire someone who specializes in creating custom-made rustic wooden signage for weddings. They will work closely with you to design something unique that fits perfectly into your overall wedding theme.
Crystal Icicle Ornaments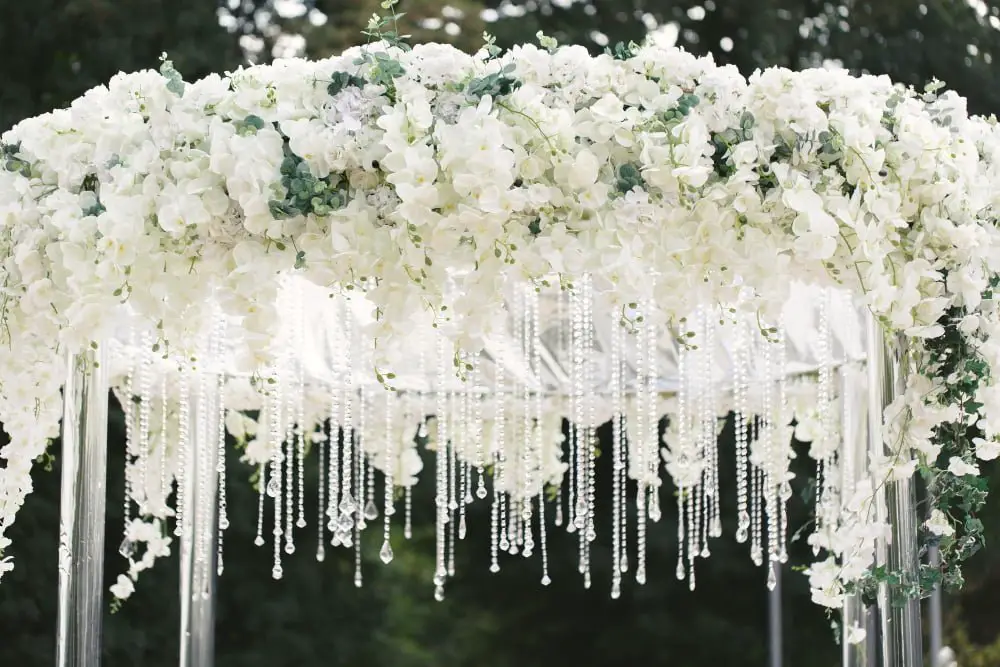 These delicate and sparkling decorations can be hung from trees, arches or even used as part of the table centerpieces. They add an elegant touch to the overall decor and create a magical atmosphere for guests.
Crystal icicle ornaments come in various sizes, shapes, and colors so you can choose ones that match your wedding theme perfectly. You could also consider using them as favors for your guests by attaching name tags or small thank-you notes to each one before hanging them up around the venue!
Poinsettia Arrangements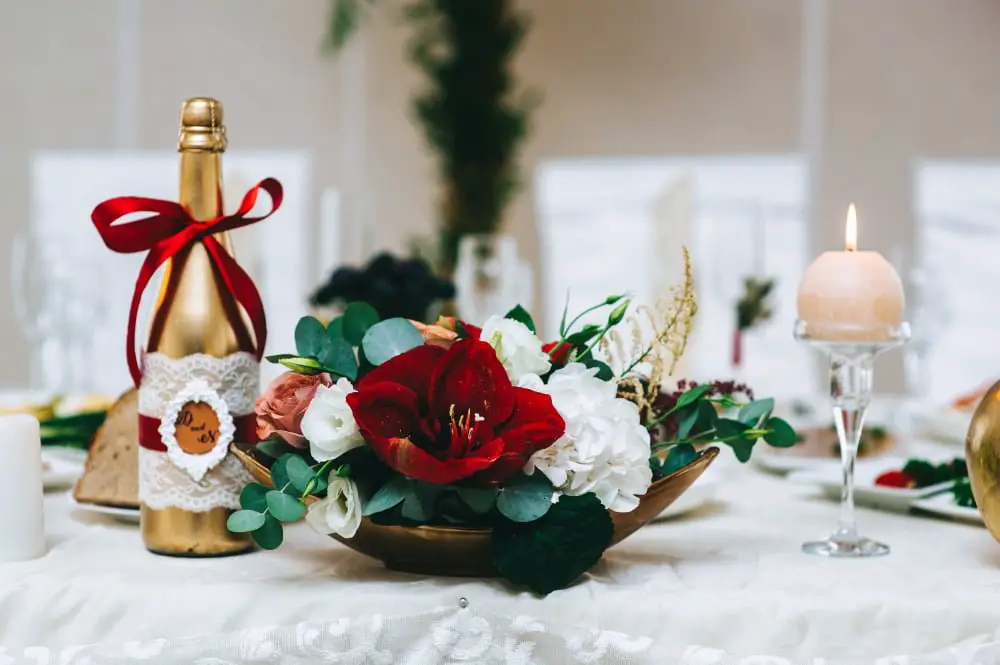 These vibrant red and green plants can be used in various ways, such as creating beautiful centerpieces or lining the aisle. For an elegant touch, consider placing poinsettias in gold or silver vases to match the winter theme.
You could also mix them with other flowers like white roses for a more romantic look. Poinsettia arrangements are not only visually appealing but also affordable and easy to find during the holiday season, making them an excellent choice for any budget-conscious bride who wants her outdoor wedding decorations to stand out from others'.
Birch Tree Candle Holders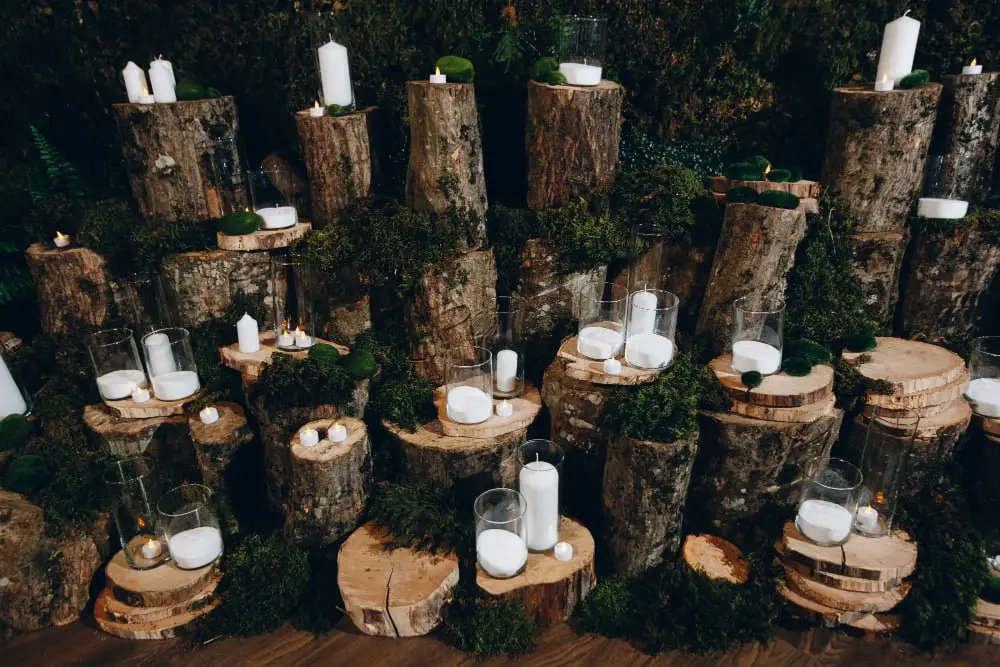 These candle holders add a rustic and natural touch to the decor, creating an enchanting atmosphere for guests. Birch trees have white bark that contrasts beautifully with the warm glow of candles, making them an ideal choice for centerpieces or accent pieces on tables throughout your venue.
To create birch tree candle holders, you can either purchase pre-made ones or make them yourself by cutting birch logs into different sizes and drilling holes in the top to hold tea lights or votive candles. You can also wrap twine around each log for added texture and tie it off with a bow.
These unique decorations will not only look beautiful but will also give off a cozy ambiance as they flicker in the night air.
Marshmallow Roasting Station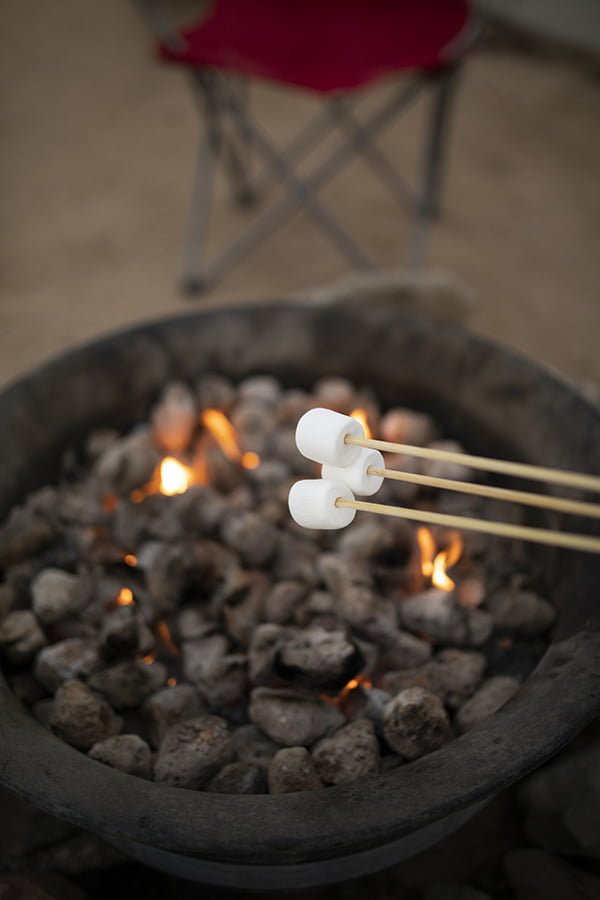 It's an excellent way to keep your guests warm and entertained while they enjoy the beautiful scenery around them. You can set up a fire pit with comfortable seating arrangements, where guests can roast their marshmallows and make s'mores.
To add more fun to it, you can provide different flavors of marshmallows like peppermint or caramel along with various toppings such as chocolate chips, graham crackers, and sprinkles. This will not only be a delicious treat but also create unforgettable memories for your guests at your winter outdoor wedding!
Keep reading: