Discover stunning outdoor wedding decoration ideas for fall that will make your special day truly enchanting and unforgettable in this ultimate guide.
As the leaves begin to change color and the air starts to cool, it's clear that fall is just around the corner. And for many couples, this means planning their dream outdoor wedding surrounded by all of autumn's beauty.
But with so many decor options out there, how do you choose what will make your wedding truly stand out? Don't worry – we've got you covered! In this blog post, we'll be sharing 20 creative and unique outdoor wedding decoration ideas that are perfect for fall. From cozy blankets to rustic centerpieces, get ready to be inspired and start planning your perfect autumnal celebration.
So grab a pumpkin spice latte (or whatever fall beverage you prefer), get comfortable, and let's dive in!
Rustic Wooden Arch
A rustic wooden arch is a perfect addition to any outdoor fall wedding. It adds a natural and earthy element to the ceremony space, while also providing an elegant backdrop for the couple's vows.
The arch can be decorated with autumnal flowers, such as sunflowers or dahlias, and draped with warm-toned fabric or garlands of leaves. For a more personalized touch, couples can add their initials or wedding date in calligraphy on the side of the arch.
A rustic wooden arch not only creates beautiful photo opportunities but also sets an intimate atmosphere for exchanging vows amidst nature's beauty during this season of change and new beginnings.
Autumn Leaf Garlands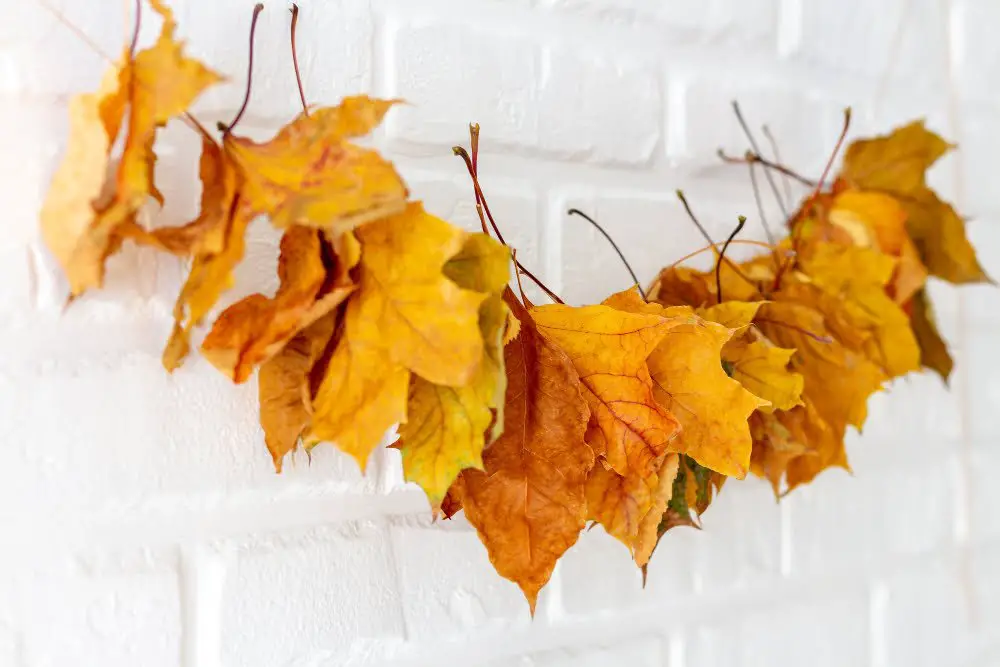 These garlands can be made from real or artificial leaves in a variety of colors, shapes, and sizes. They can be hung along the ceremony aisle, draped over arches or arbors, used as table runners or even wrapped around chairs.
For a more rustic look, consider using burlap ribbon to tie the leaves together. You could also add some pinecones or acorns to give it an extra touch of nature.
If you're feeling crafty and want to make your own leaf garland, simply collect fallen leaves from your backyard (or buy fake ones at a craft store) and string them together with twine or fishing line.
Pumpkin Centerpieces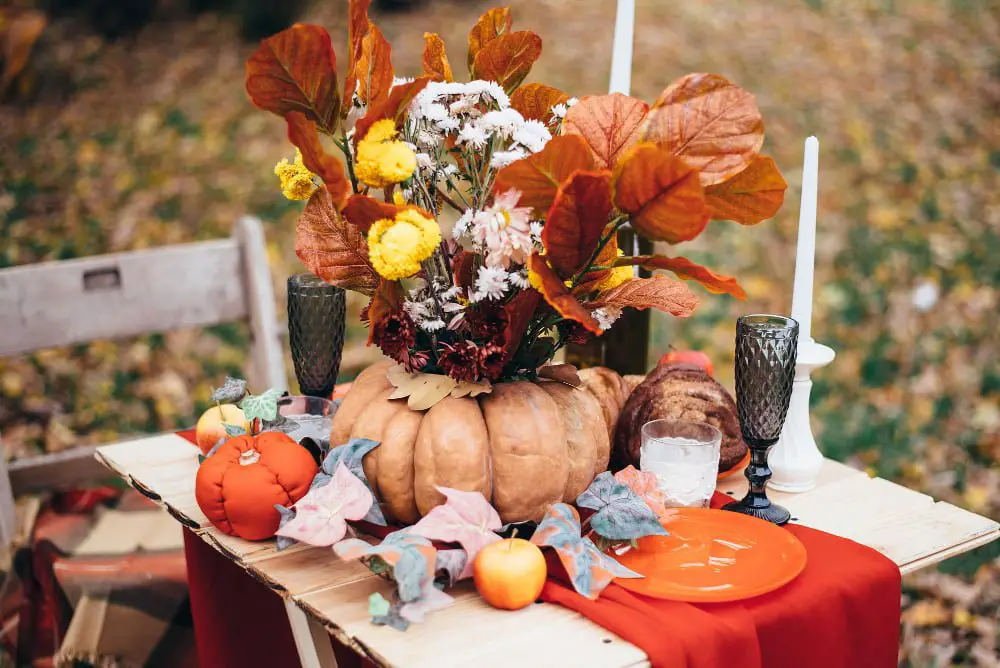 Pumpkins come in various sizes and colors, making them versatile for centerpieces. You can use small pumpkins as individual table settings or carve out larger ones to hold floral arrangements.
For a rustic look, you could paint the pumpkin with chalk paint and write table numbers on it using calligraphy. Alternatively, you could hollow out mini-pumpkins and fill them with succulents or wildflowers for an earthy vibe.
If you want something more elegant yet still fall-inspired, consider spray painting white pumpkins gold or silver before adding flowers like roses or dahlias in rich autumnal hues such as burgundy or burnt orange.
Hay Bale Seating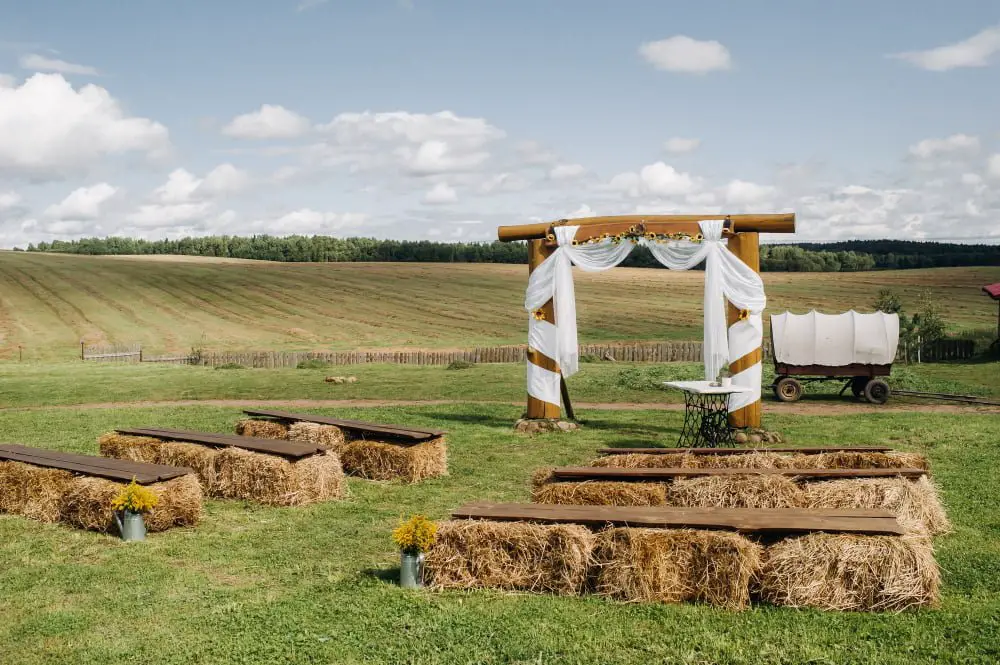 Not only does it add to the rustic charm of the event, but it's also an affordable and eco-friendly option. You can easily create a cozy atmosphere by covering hay bales with blankets or plaid fabric that matches your wedding color scheme.
To make sure guests are comfortable, consider adding cushions on top of the hay bales or providing chairs for elderly guests who may have difficulty sitting on them. Hay bale seating is perfect for creating an intimate and relaxed vibe at your outdoor fall wedding while keeping things budget-friendly!
Warm-toned Fairy Lights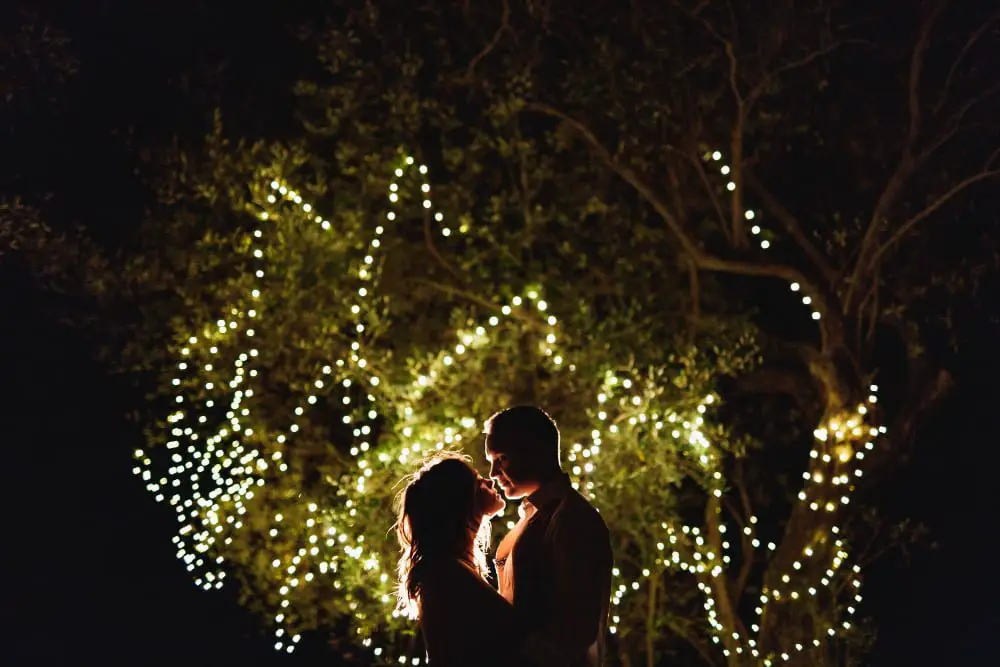 These twinkling lights create an enchanting atmosphere that will make your guests feel like they're in a fairytale. You can hang them from trees, drape them over the tables or use them as part of your ceremony backdrop.
The warm tones of these fairy lights complement the fall season perfectly and create an inviting ambiance for everyone attending the event. Whether you choose to have small clusters or go all out with hundreds of bulbs, warm-toned fairy lights are sure to be one of the highlights at your fall outdoor wedding!
Burlap Table Runners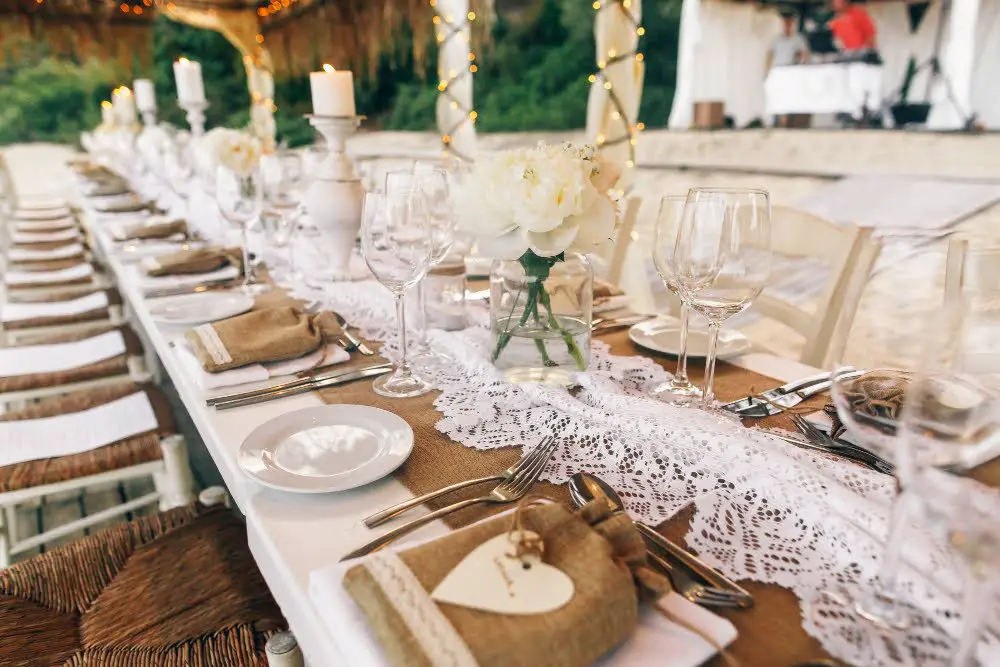 They add a rustic touch to the decor and complement the natural surroundings. You can pair them with white or ivory tablecloths, wooden chargers, and simple centerpieces made of candles or wildflowers in mason jars.
Burlap is also an affordable material that you can easily find at craft stores or online retailers. If you want to personalize your burlap runners, consider stenciling your initials or wedding date on them using fabric paint in gold, silver, or copper tones.
Another idea is to embellish the edges with lace trim for a delicate contrast between rough and soft textures. Whatever style you choose for your burlap table runners, make sure they fit well with the overall theme of your wedding and create an inviting atmosphere for guests to enjoy their meal together under the open sky!
Plaid Blankets for Guests
Not only do they add warmth for guests during the ceremony or reception, but they also make for great photo opportunities. You can choose blankets in colors that match your wedding theme or opt for classic red and black plaid patterns.
Display them in baskets near seating areas or drape them over chairs to create a welcoming atmosphere that will keep your guests comfortable throughout the celebration. Plus, these blankets can double as favors so guests can take home a piece of your special day with them!
Chalkboard Signs With Fall Quotes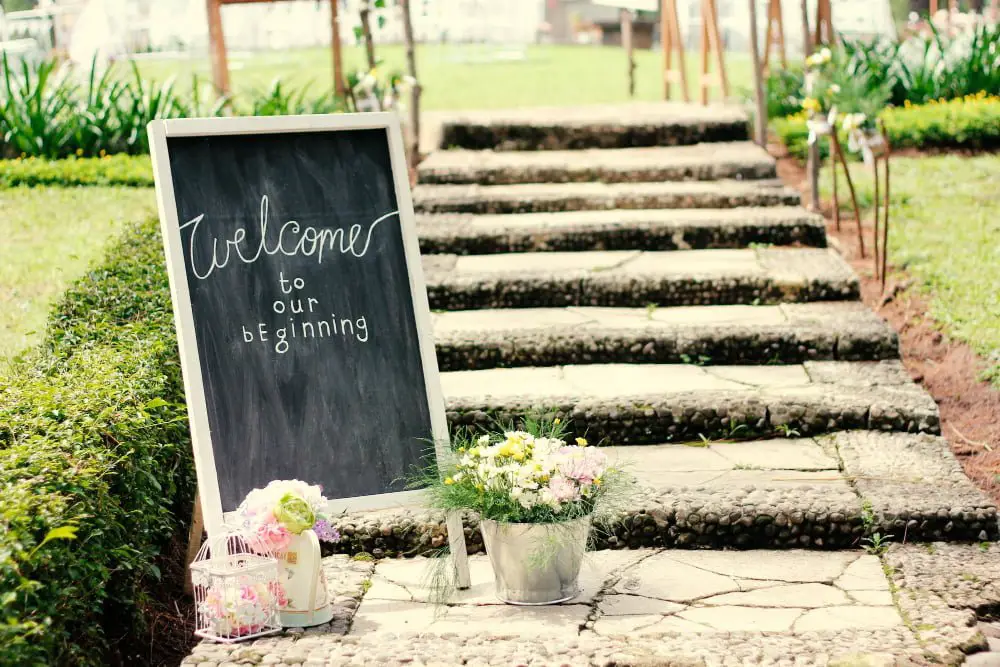 You can use them as welcome signs, directional signage or simply as decorative elements throughout the venue. Some popular fall quotes include "Autumn leaves and pumpkins please", "Fall in love" and "Thankful & blessed".
You can also get creative by adding illustrations of autumnal motifs such as acorns, apples or leaves. Chalkboard signs are easy to DIY if you have good handwriting skills, but you can also hire a calligrapher for an extra special touch.
Place them strategically around the venue so that guests will see them when they arrive and throughout the event for maximum impact!
Apple Cider Bar Station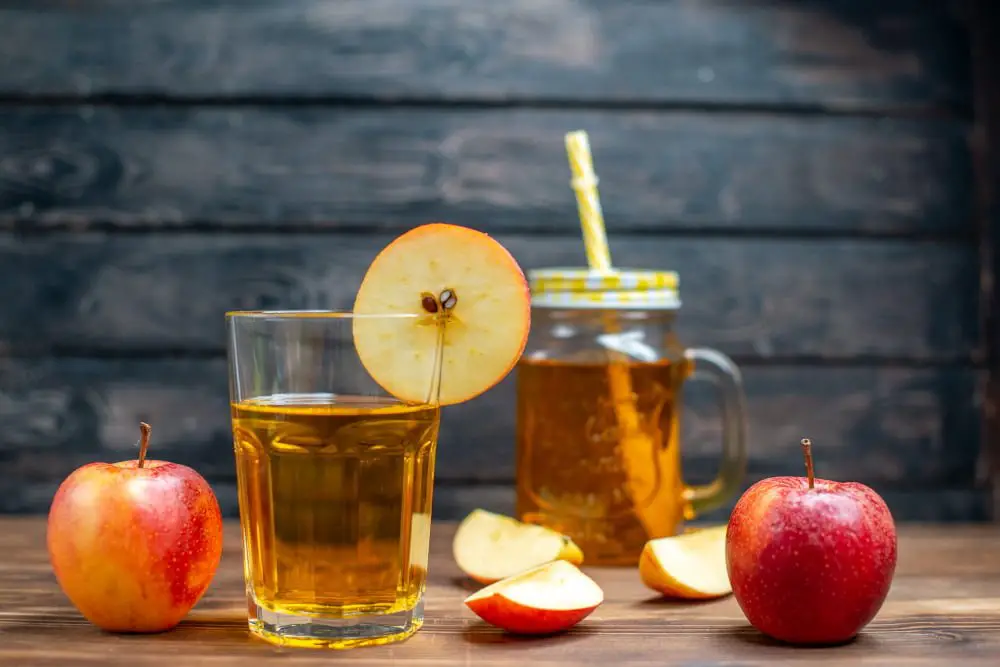 This cozy drink will not only keep everyone warm but also add a touch of autumnal charm to your celebration. You can serve hot or cold apple cider, depending on the weather and preference, along with various toppings such as cinnamon sticks, whipped cream, caramel sauce or even some bourbon for those who want to spike their drinks.
To make it more visually appealing you can decorate the table with fall foliage garlands and rustic wooden signs that say "Warm Up With Some Cider". Your guests will surely appreciate this thoughtful addition!
Cornstalks and Sunflower Arrangements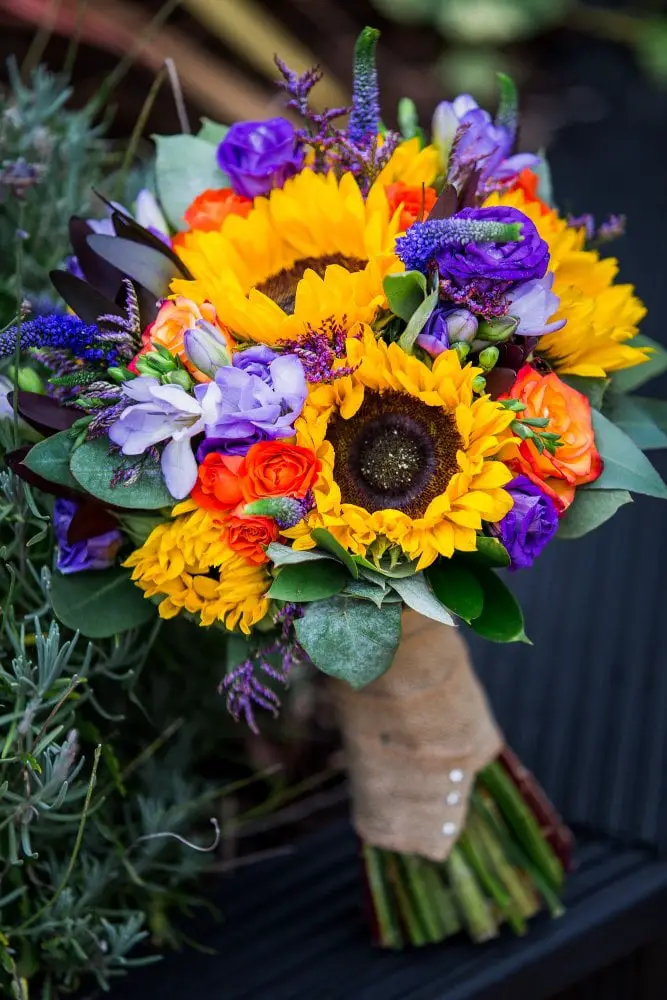 These two elements complement each other beautifully, creating an eye-catching display that will leave your guests in awe. You can use cornstalks as backdrops for the ceremony or reception area, while sunflowers can be used as centerpieces on tables or hung from chairs along the aisle.
The bright yellow color of sunflowers adds warmth and happiness to any setting, making them an ideal choice for fall weddings. Cornstalks also bring texture and height to any decoration arrangement without being too overpowering or distracting from other decor elements you may have chosen for your big day!
Wicker Lanterns With Candles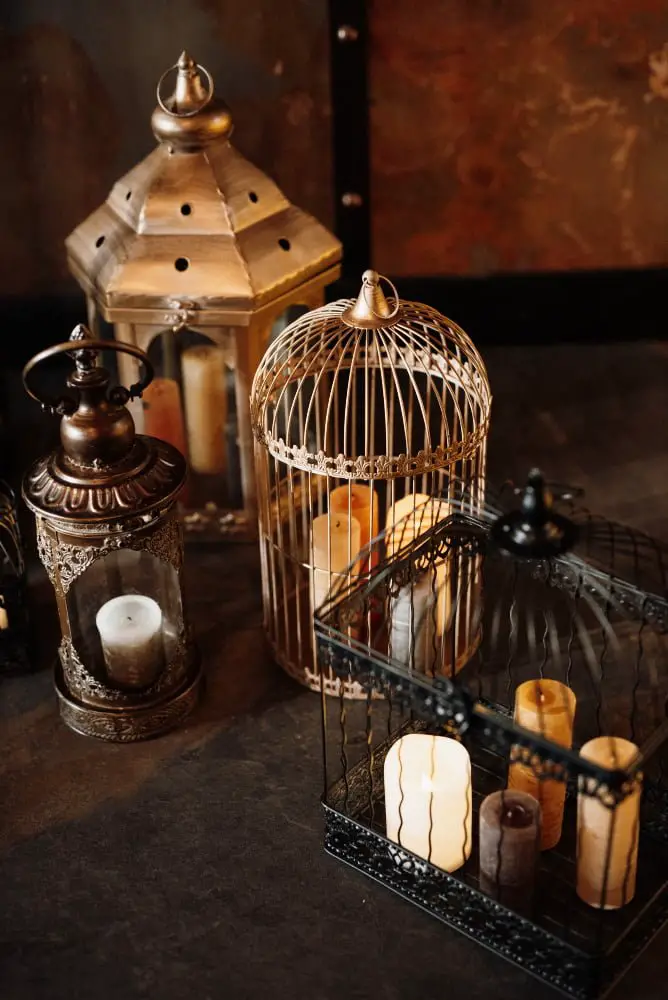 These lanterns can be hung from trees or placed on tables to create a warm and inviting atmosphere for guests. The natural texture of the wicker adds an organic element that complements the autumnal surroundings, while the soft glow of candlelight creates a romantic ambiance as day turns into night.
For an extra touch, consider filling each lantern with seasonal elements such as pinecones or acorns to tie in with your overall decor theme. Wicker lanterns are versatile enough to fit into any style of wedding, whether it's rustic chic or bohemian-inspired.
Fall Foliage Aisle Markers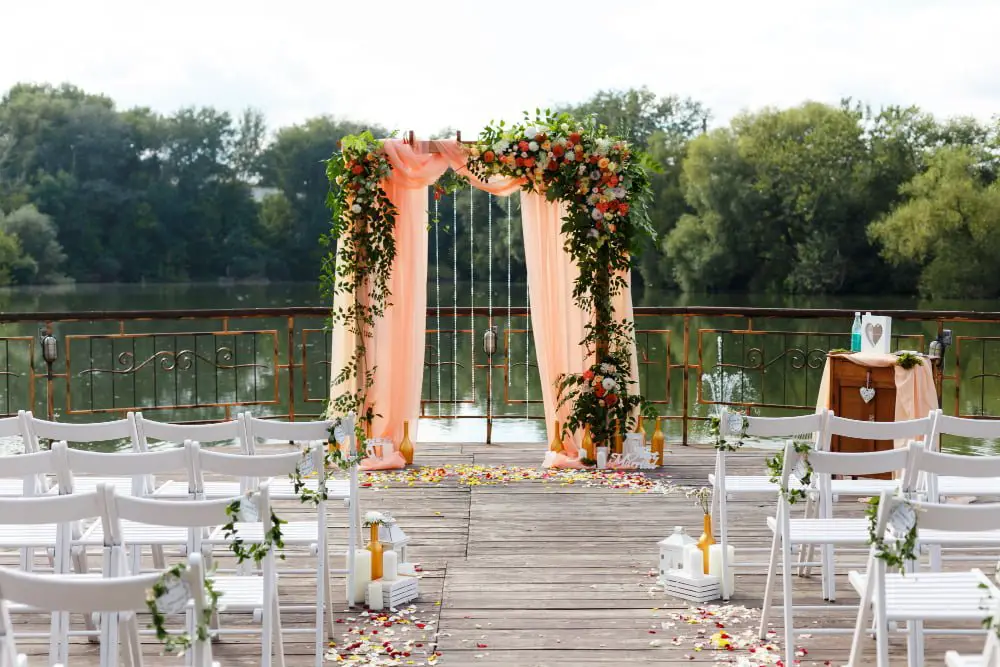 You can use colorful leaves, branches, and flowers that match the autumn season's warm hues. These markers can be placed along the aisle or hung from chairs with ribbons or twine.
They create a stunning visual effect and bring an organic feel to your ceremony space. You could also mix in some pumpkins, gourds, or lanterns for added texture and depth of color.
Fall foliage aisle markers are easy DIY projects that you can make yourself by gathering materials from nature walks around your area!
Pinecone Place Card Holders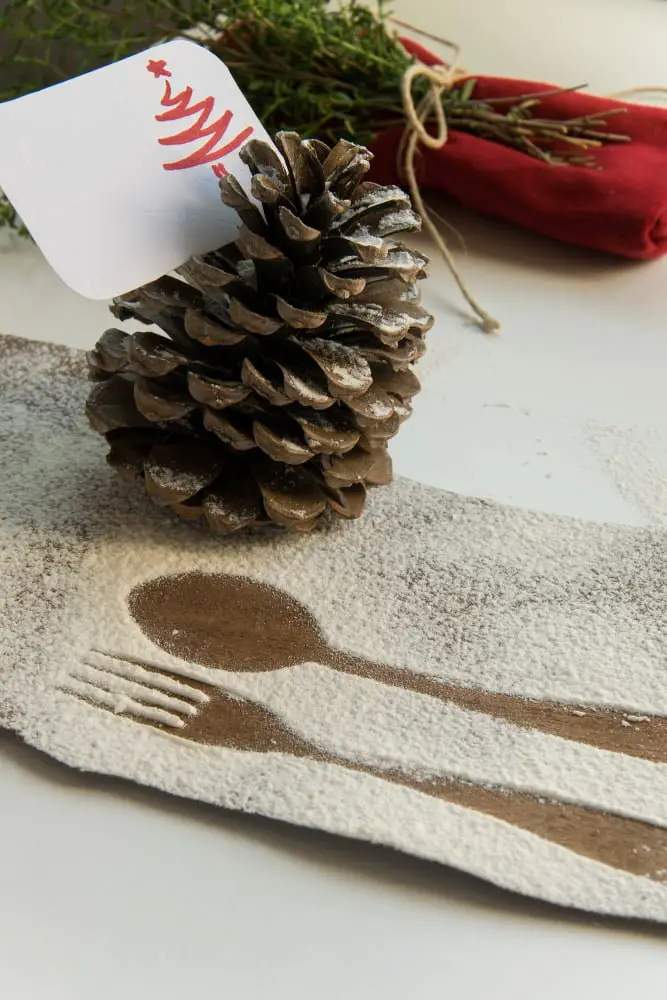 To create these, gather pinecones of various sizes and shapes, then use hot glue or wire to attach them securely onto small wooden bases. You can also paint the tips of the pinecones with gold or silver for an added touch of glamor.
Once they're ready, insert your guests' names into each holder and place them on top of each plate setting for a charming rustic look that will make everyone feel welcome at your special event!
Caramel Apple Favors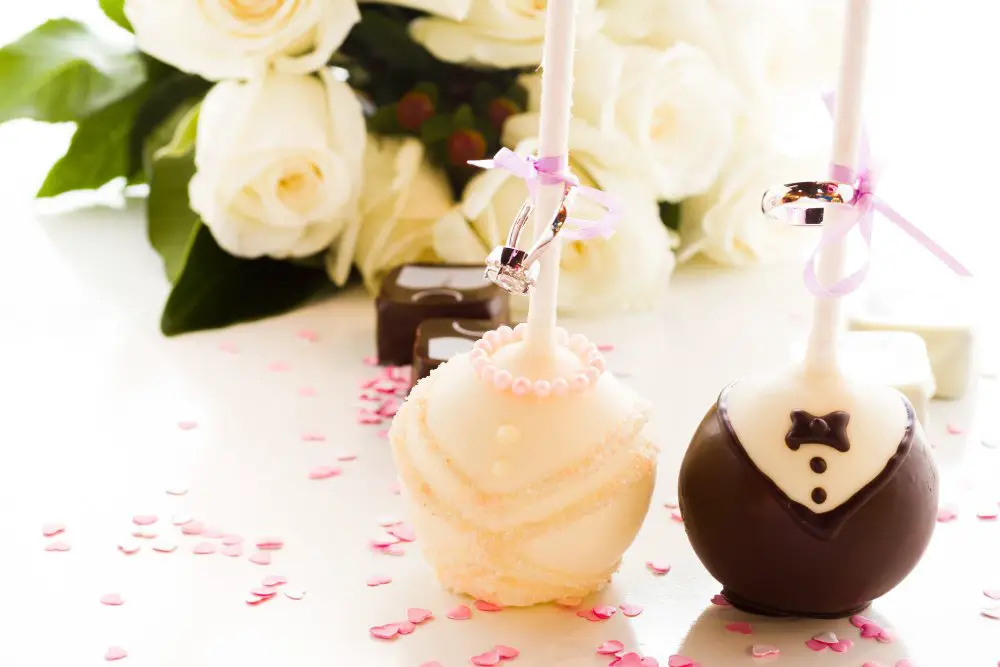 These tasty treats can be customized with different toppings such as chopped nuts, sprinkles, or chocolate chips. You can also add a personalized tag or ribbon to make them even more special.
Caramel apples are not only delicious but they also fit perfectly with the autumn theme of your wedding day. Your guests will surely appreciate this thoughtful gesture and enjoy taking home a little piece of the celebration with them!
Outdoor Fire Pit Area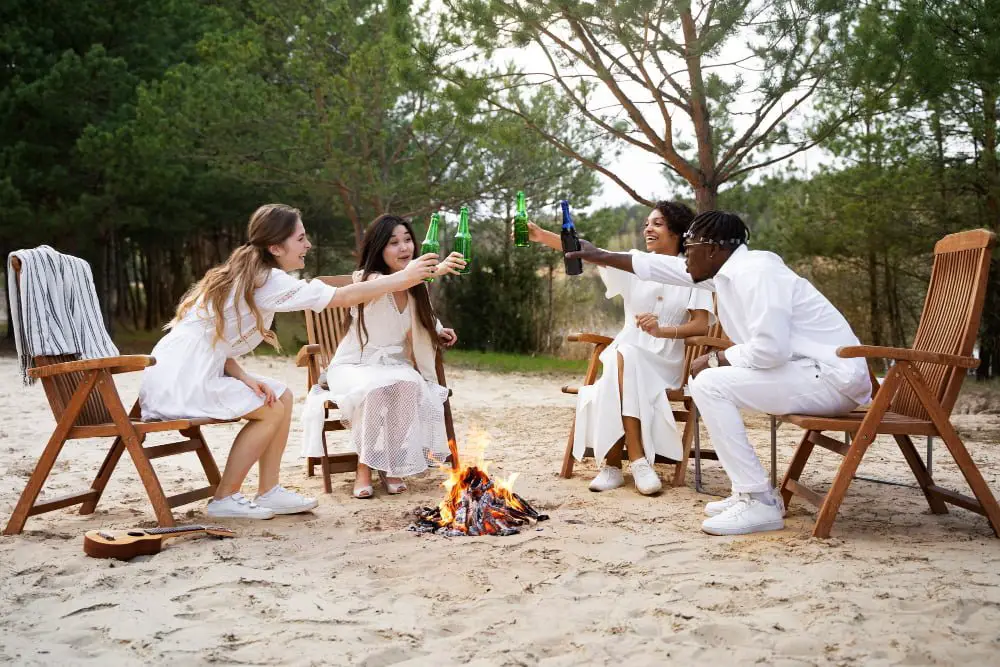 They provide warmth and create an intimate atmosphere for guests to gather around. You can decorate the area with cozy blankets, pillows, and rustic seating options such as wooden benches or Adirondack chairs.
To add some extra charm, consider hanging string lights above the fire pit area or placing lanterns on nearby tables. Don't forget to have s'mores supplies on hand for guests to enjoy!
Mason Jar Flower Vases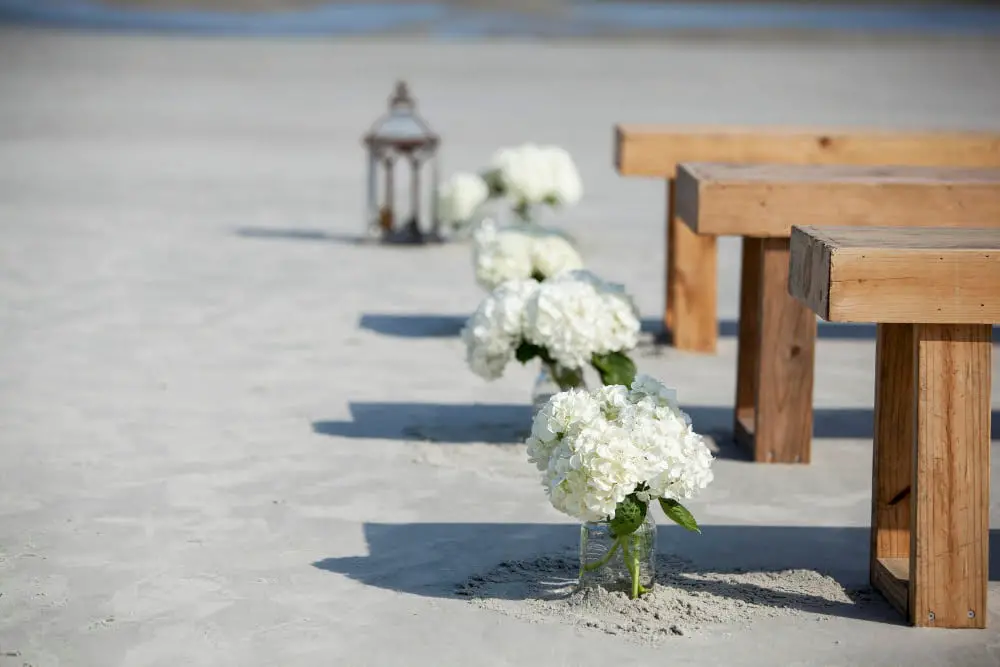 These charming jars can be filled with seasonal blooms such as dahlias, sunflowers, and chrysanthemums to create beautiful centerpieces or aisle markers. They can also be hung from tree branches or placed on shepherd hooks to add a rustic touch to the wedding decor.
Mason jars come in various sizes and colors, allowing you to mix and match them according to your preference. You can even paint them in warm autumn hues like orange, yellow or brown for an extra pop of color that complements the season's palette perfectly!
Antique Wheelbarrow Display
Fill the wheelbarrow with pumpkins, gourds, and other autumnal decorations for a beautiful centerpiece or photo backdrop. You can also use it as a creative way to serve drinks or snacks by filling it with ice and placing beverages or appetizers on top.
An antique wheelbarrow display will surely impress your guests while adding an extra touch of personality to your special day!
Harvest-themed Dessert Table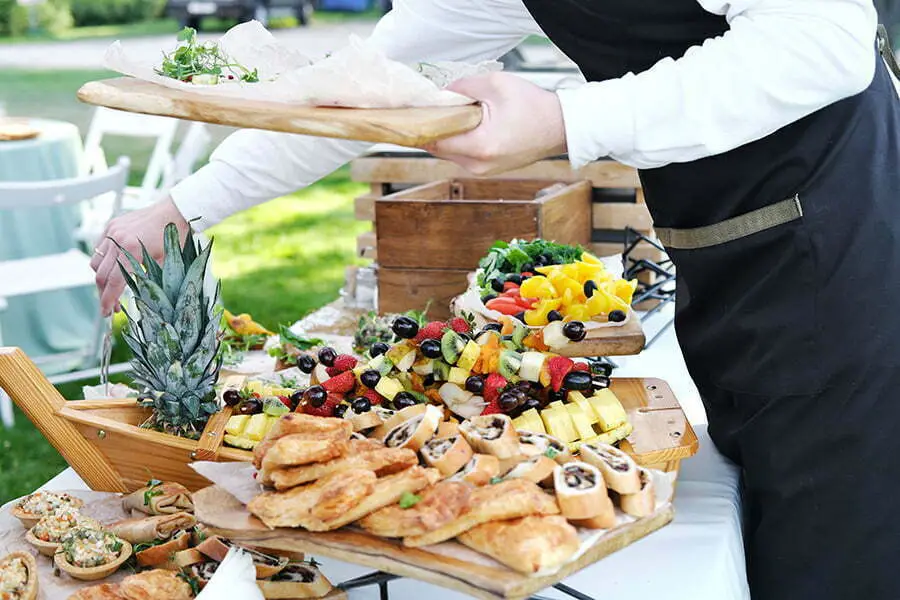 You can incorporate seasonal flavors like pumpkin, apple, and cinnamon into your desserts. Consider serving mini pies in different flavors or a caramel apple bar where guests can dip their own apples into various toppings such as nuts or sprinkles.
Decorate the table with autumnal accents like leaves, acorns, and pumpkins to create an inviting display that will have everyone reaching for seconds (and thirds!). Don't forget to include warm drinks like hot cocoa or spiced cider for guests who want something cozy after indulging in all those sweets!
Golden Painted Pumpkins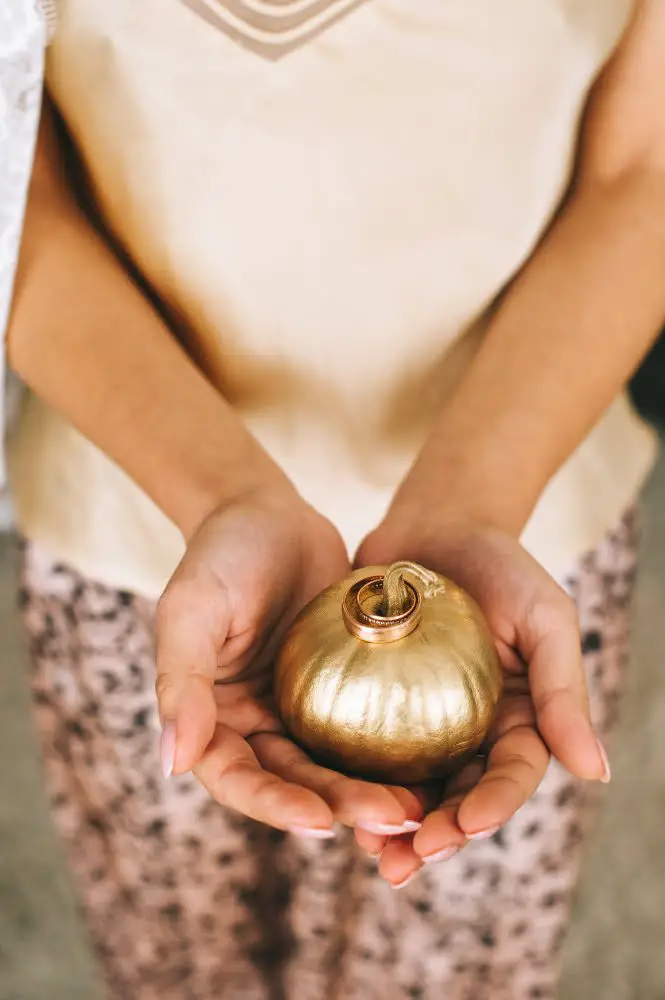 These pumpkins can be used as centerpieces, aisle markers or even as part of the backdrop for your ceremony. To create this look, simply paint the pumpkin with gold spray paint or acrylic paint and let it dry completely before placing it on display.
You can also add some extra sparkle by using glitter spray or adding rhinestones to the design. Golden painted pumpkins will not only bring a touch of elegance but also complement other fall decorations such as autumn leaves, hay bales and warm-toned fairy lights perfectly!
Cozy Flannel Chair Covers
One way to do this is by adding cozy flannel chair covers to your seating arrangements. These covers not only add a touch of warmth but also create a rustic and charming atmosphere that perfectly complements the fall season.
You can choose from different colors and patterns of flannel fabric that match with other decorations such as table runners or napkins. You can even customize them with monograms or embroidery for an extra personal touch.
Flannel chair covers are perfect for outdoor weddings held in barns, farms, or any venue where you want to create a cozy ambiance while keeping everyone warm on chilly autumn days.
Keep reading: