Discover the magical charm of chandelier outdoor weddings, where elegance meets nature to create an unforgettable backdrop for your special day.
Dangling chandeliers from the open sky can be a game-changer for an outdoor wedding, transforming the venue from simple to magical with their sparkling elegance.
This article will guide you on how to incorporate chandeliers into your outdoor wedding, from selecting the right style and size to installing them safely and effectively.
With the right tips and tricks, you can create a mesmerizing ambiance that will leave your guests in awe.
So, whether you're planning a rustic, vintage, or modern wedding, stay tuned to learn how chandeliers can add that extra sparkle to your big day.
Choosing the Perfect Outdoor Wedding Chandelier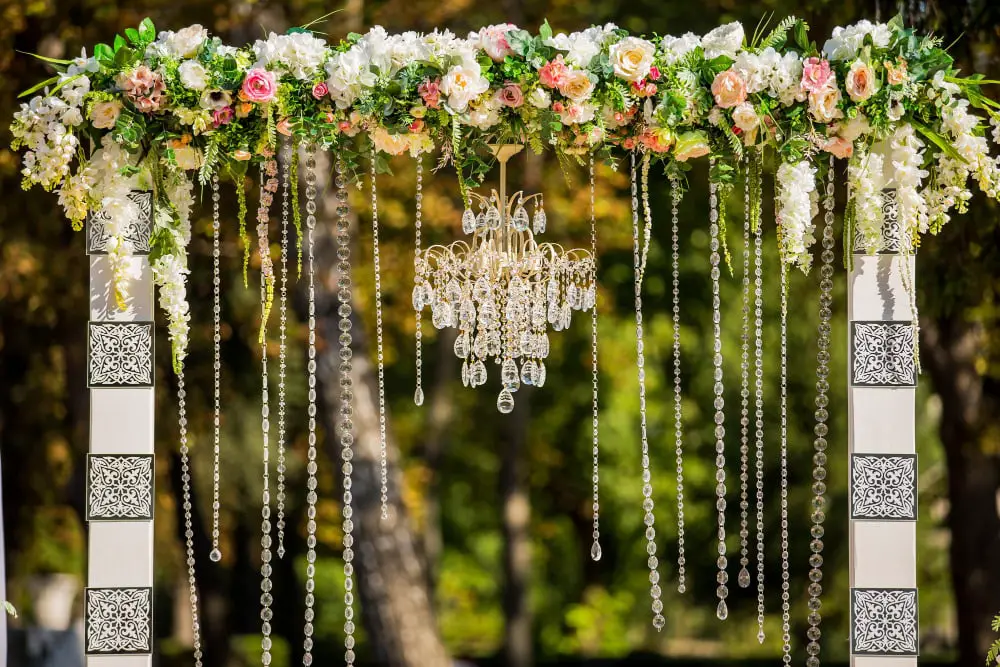 In choosing your outdoor wedding chandelier, consider the theme and color scheme of your big day.
For a rustic ambience, opt for a chandelier with wood and iron elements.
For a more romantic touch, chandeliers with crystal drops are a great fit.
Keep in mind the size of your venue and the ceilings of your tent or canopy.
To avoid overshadowing other decor, choose a chandelier that complements rather than dominates your space.
Remember, this illuminated centerpiece can set the tone for your entire decor, so select one that truly represents your personal style and dream wedding vision.
Selecting Outdoor Chandeliers for Weddings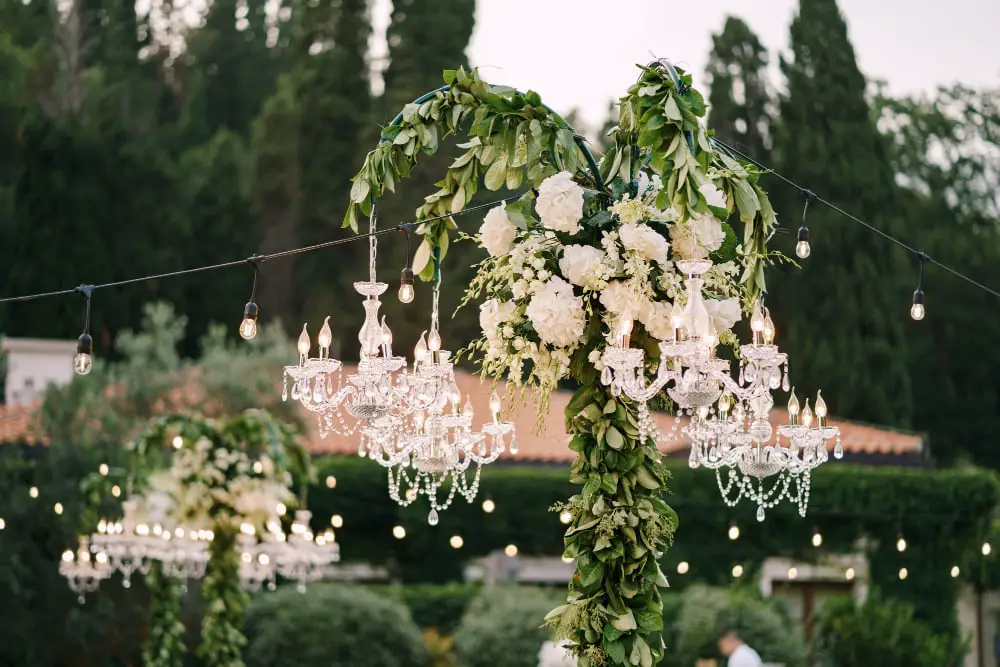 When you're on the hunt for the right chandelier, start by considering the general style of your event.
A vintage crystal chandelier could perfectly accentuate a traditional ceremony, whereas a rustic wooden or modern geometric design might better suit a less conventional setting.
Also, ponder on the size which will depend on the space you have.
A vast garden can accommodate a grand chandelier, while an intimate backyard requires something smaller and more subtle.
Ensure that the chosen chandelier complements other decor elements and does not look out of place.
Remember, outdoor elements like wind can affect the chandelier's movement, so opt for one that is sturdy and not too fragile.
Ultimately, the chandelier should enhance the atmosphere, not overpower it.
How to Install an Outdoor Chandelier for Your Wedding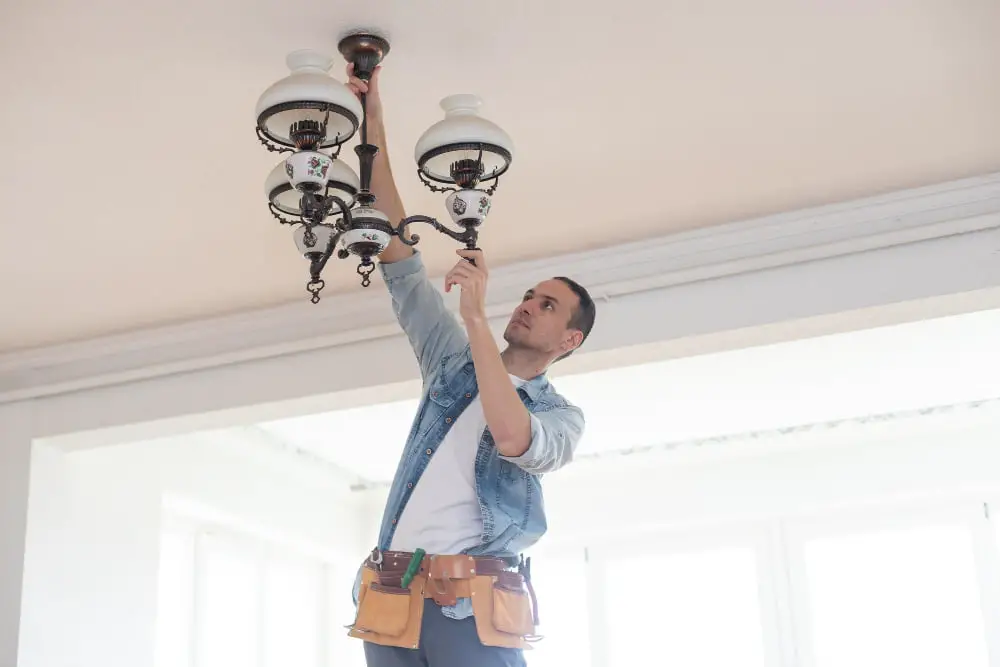 To ensure a safe and secure setting, it's vital to engage professionals in the assembly and installation of the chandelier.
A sturdy tree branch or a gazebo are excellent options for hanging the piece, but they must be checked for stability.
The chandelier should be hung low enough so it's captivating, but high enough that it doesn't obstruct views or interfere with festivities.
Weather conditions must also be considered, as strong winds or rain may influence placement and installation techniques.
For evening events, test the lighting in advance to ensure adequate illumination.
Ultimately, precise positioning will optimize the chandelier's illumination and impact, contributing to a splendid setting for festivities.
Creative DIY Outdoor Wedding Chandeliers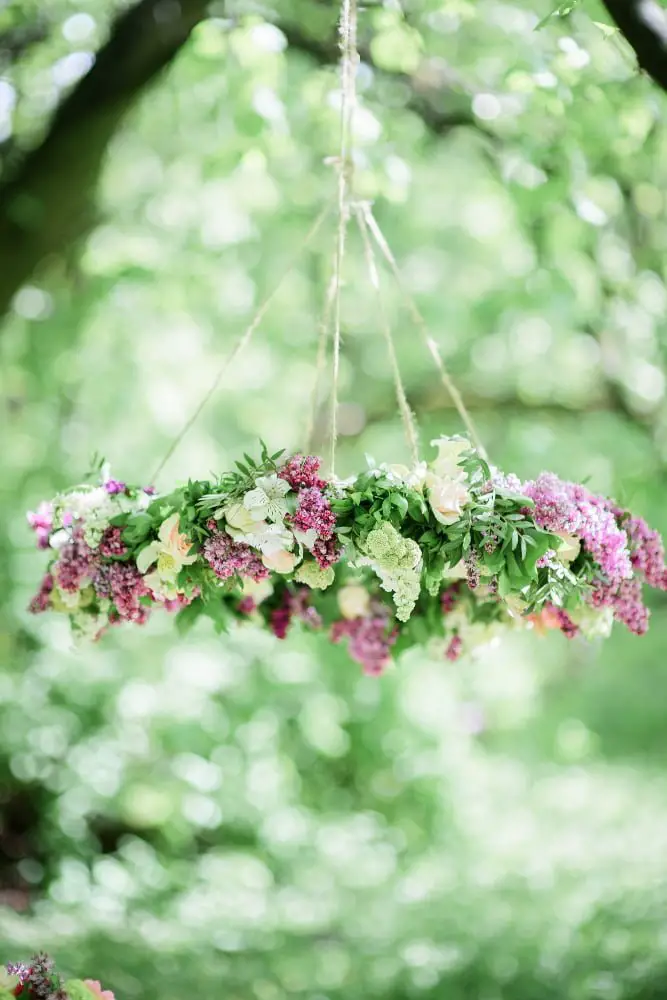 Kick-starting a DIY project can be both cost-effective and gratifying.
Use your creativity to make a chandelier that reflects your style and personality.
Consider making use of unconventional materials like old wine bottles or mason jars and string lights to create a rustic atmosphere.
Alternatively, you could opt for artificial flowers and fairy lights for a more whimsical and enchanted theme.
Keep in mind to match the design with the overall theme of the wedding.
With a bit of thought and effort, your handmade chandelier could turn out to be a statement piece at the wedding.
Outdoor Wedding Lighting Safety Tips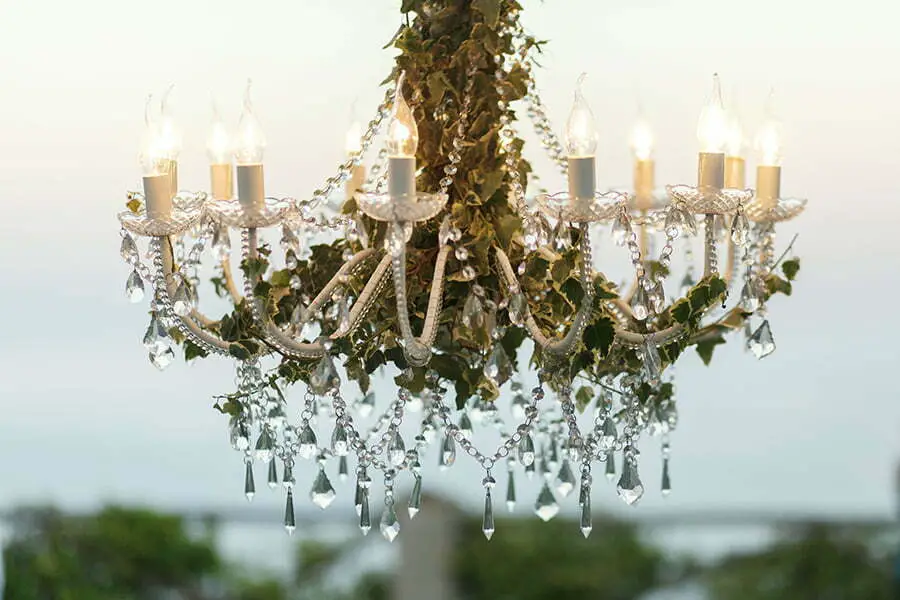 Ensuring the safety of your outdoor lighting setup is a top priority, especially with hanging décor like chandeliers. Always attach chandeliers to sturdy structures such as pergolas or robust tree branches that can handle the weight. Use secure fixtures and chains, double-checking every attachment point.
Plan for weather conditions, too. Chandeliers must never be left swinging in the wind. Always secure them to prevent accidental detachment. If electrical chandeliers are used, ensure they're specifically designed for outdoor use to avoid any potential electrical hazards. Always have a professional electrician handle the set-up. Solar-powered options can also be considered for an eco-friendly and safer alternative.
Lastly, remember to position your chandeliers high enough to prevent accidental collisions, yet low enough so they can be admired. Lighting should adorn your wedding, not impede it. Safety measures will help to ensure the magical ambiance is maintained throughout the event without any hiccups.
Incorporating Solar Light Chandeliers in Your Wedding Decor
Harnessing the power of the sun for lighting the venue not only offers a sustainable solution but also exudes a warm, romantic glow as the evening unfolds.
Opting for solar chandeliers is a fantastic way to blend innovation with tradition.
To ensure optimum illumination, hang them in a sun-exposed spot during the day, keep the solar panels clean, and double-check that they're fully charged prior to the event.
You can also add a personal touch to these eco-friendly light fixtures through whimsical or classic decorations that align with your wedding theme.
Eco-conscious, economical, and elegant, they certainly offer the best of all worlds.
Unique Chandelier Decorations for Unforgettable Wedding Events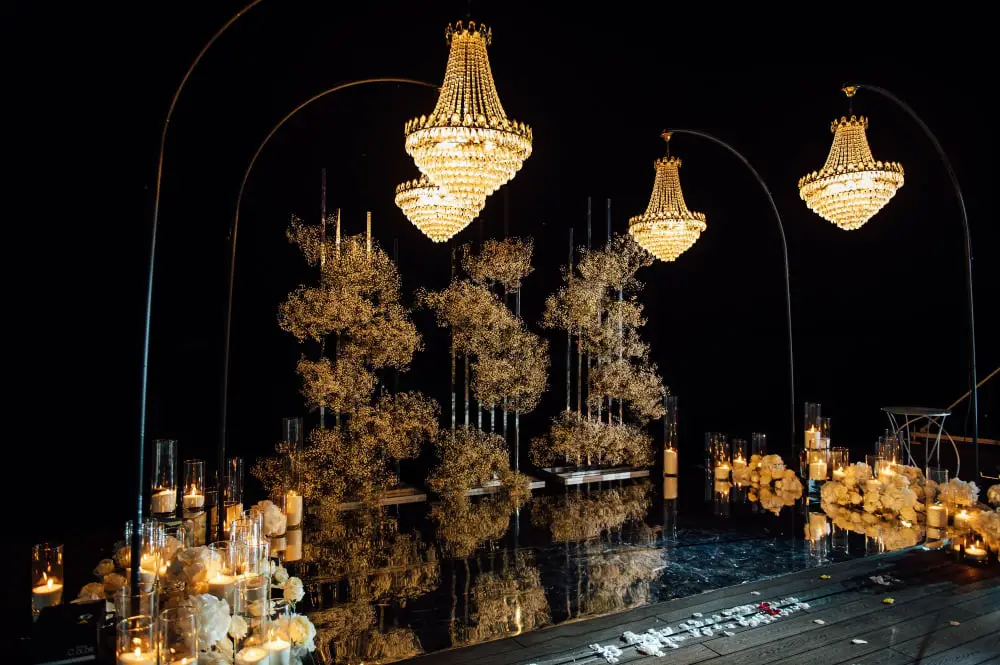 Adorning your chandeliers with additional decorative elements can significantly enhance their visual impact. For a fairytale-like feel, consider draping ivy or lush garlands around the chandelier's frame – perfect for woodland or garden weddings.
Flowers can also be a beautiful addition, creating a whimsical and romantic flair. Opt for blooms that match your wedding colors for a harmonious effect.
For a more rustic approach, think about stringing elegant crystals or adding lace detailing. These touches can really catch the light and add sparkle.
For a truly unique touch, consider hanging smaller chandeliers from the main fixture for a cascading effect. This idea gives an instant wow-factor and can be particularly stunning for evening receptions.
Last but not least, always remember to be mindful of balance and the weight your chandelier can carry. A tastefully decorated chandelier can be a fresh substitute for the classic flower arch or make a unique addition alongside it.
FAQ
Can you hang a chandelier outside?
Yes, you can hang a chandelier outside given favorable, dry weather conditions, so long as it is installed with the assistance and recommendation of a licensed electrician.
What factors should one consider when choosing an outdoor chandelier for a wedding?
When choosing an outdoor chandelier for a wedding, one should consider factors such as the durability to withstand diverse weather conditions, the light intensity produced, its design and style in coherence with the wedding theme, and its size relative to the outdoor space.
How can an outdoor chandelier impact the overall atmosphere of a wedding?
An outdoor chandelier can dramatically enhance the overall atmosphere of a wedding by adding a touch of elegance and glamour, also aiding in creating a focal point that draws attention and sets the mood for a romantic and unforgettable celebration.
What safety measures are necessary when hanging chandeliers for an outside wedding?
Ensure all chandeliers are secured with appropriate fixtures, tested for stability, and hung high enough to prevent accidents, while taking into account weather conditions like wind and rain.
Keep reading: