Exploring the ideal choices for a mother of the groom dress at an outdoor rustic wedding, this article delves into styles, colors, and fabrics that harmonize with nature's beauty.
Choosing the perfect mother of the groom dress for an outdoor rustic wedding can be a delightful journey. This article is your guide to finding a dress that complements the rustic theme and the great outdoors.
We'll explore styles that blend elegance with a touch of country charm, materials that offer comfort yet look stunning, and colors that harmonize with a rustic palette.
Whether you're looking for a dress that's flowy and romantic or something more structured and sophisticated, we've got you covered.
We'll also provide tips on suitable accessories for a complete look.
So, let's embark on this fashion adventure and find that perfect dress that makes you feel as special as the occasion.
Understanding the Wedding Theme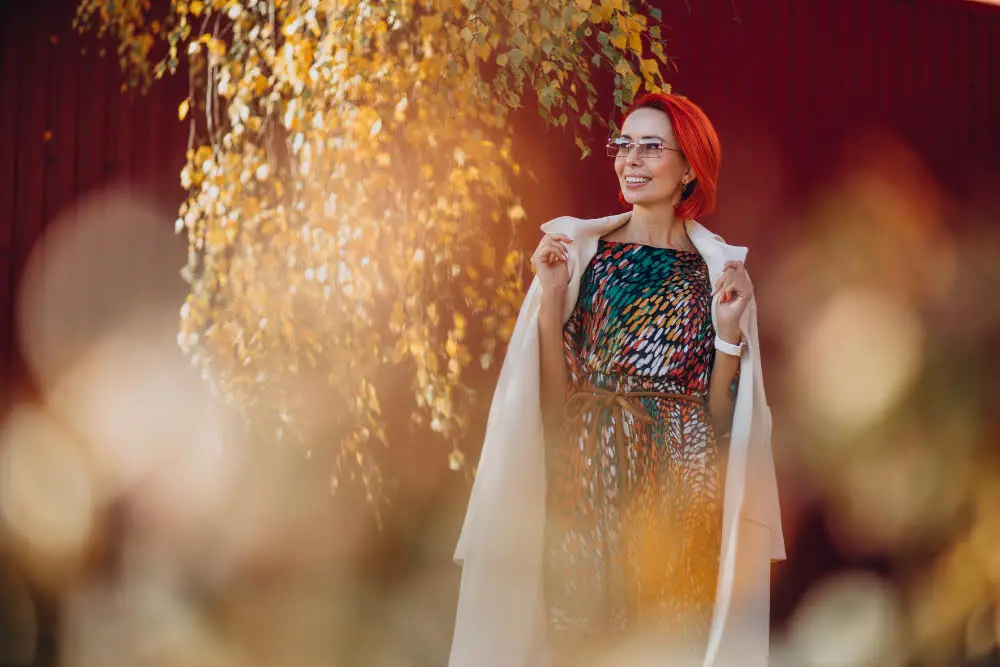 The chosen aesthetic for a marriage ceremony dictates a significant part of the wardrobe selections. A rustic theme commonly encapsulates a love for the outdoors and prefers elements that resonate with nature, often favoring unpretentious simplicity over ostentatious showiness.
The goal is to craft an elegant appeal with a humble, relaxed touch. Therefore, your dress should echo this theme, blending sophistication with the casual charm that rustic weddings are known for.
Consider gowns made from organic fabrics like lace or chiffon, and styles that give a nod to countryside chic – think A-line dresses, flowy skirts, or even short dresses if the occasion allows for it.
Remember, the aim is to seamlessly fit in with the beautiful, natural, and relaxed environment of the ceremony.
Traditions and Wedding Etiquette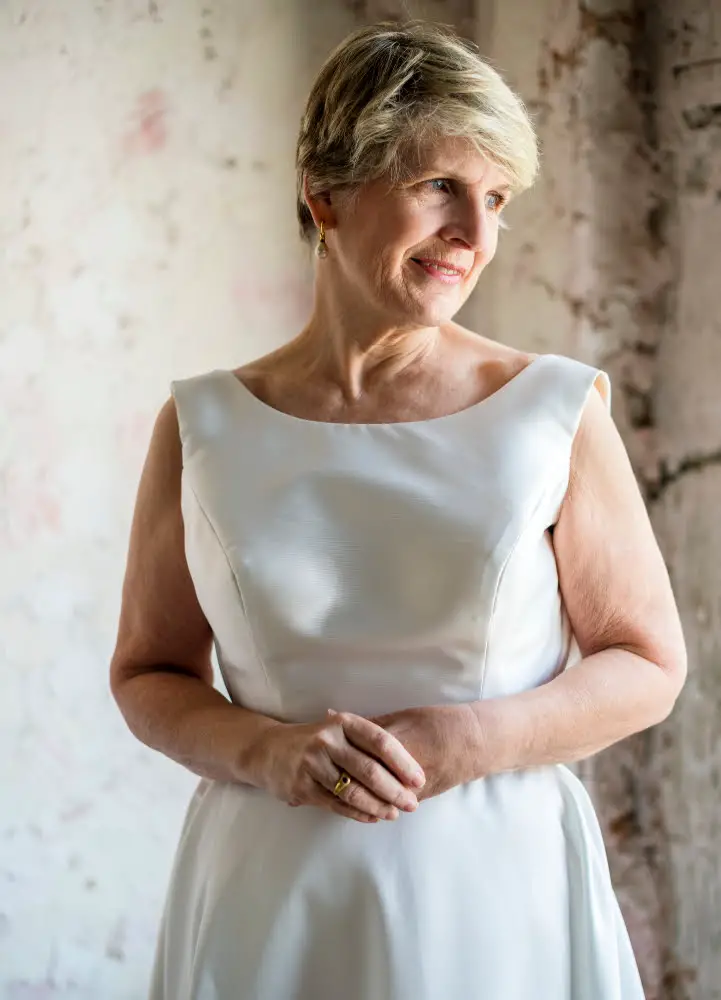 Honoring traditions and etiquette goes beyond manners; it adds depth and meaning to the event.
The mother of the groom is not just a spectator; she often plays a significant role in the ceremony. Her dress should reflect this importance without outshining the bride.
It's recommended that she discusses color, style, and length with the bride to ensure she complements the wedding party.
In terms of ordering and wearing the dress, tradition dictates that she picks her outfit after the mother of the bride, showing respect and right coordination.
Additionally, she should be dressed before any of the guests arrive, signaling her integral role in the proceedings.
Remember, her dress sets the tone for the family's attire following the bridal party.
So, careful consideration and adherence to these traditions and etiquette can truly enhance the beauty and harmony of the wedding day.
Mother of the Groom Dress Styles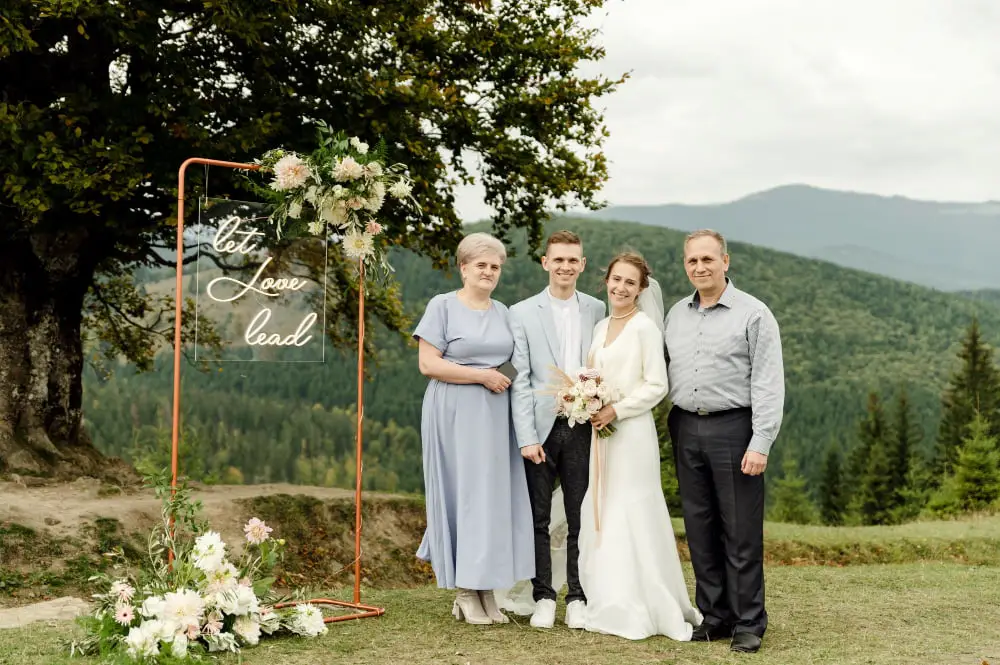 Embracing the rustic theme does not mean sacrificing elegance or style.
For a more traditional look, an A-Line dress or a sheath dress might be the right fit.
Conjure the woodland charm with lace detailing, floral prints, or even with an off-shoulder dress style.
If the wedding is leaning towards a casual setting, a midi or maxi dress with relaxed lines can offer a balance of comfort and style.
For a slightly formal touch, a classy cocktail dress, or a gow if you prefer with embellishments matching the color scheme, could also work wonders.
As you navigate through these options, remember that the key is to merge style with coherence to the rustic, outdoorsy theme of the wedding.
Understanding the Rustic Aesthetic for Proper Dress Choices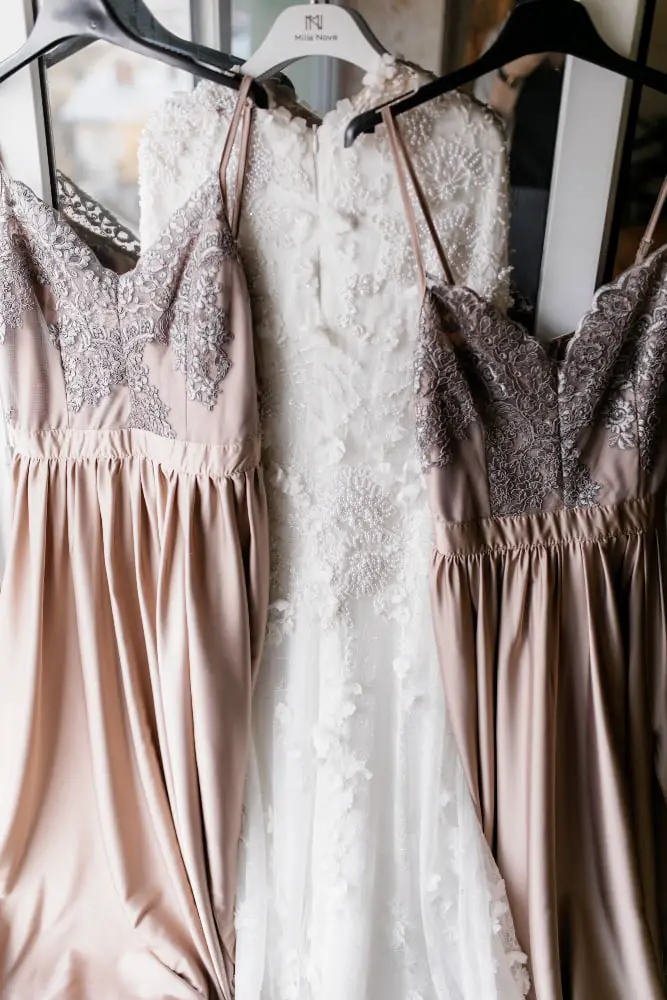 Delving into the crux of the rustic aesthetic, it's imperative to note its clear penchant for simplicity, nature, and old-world charm.
As it mingles beautifully with the outdoors, a rustic wedding theme usually leans towards earthy and neutral colors – think shades of brown, taupe, forest green, creams, and softer hues like blush or dusty blue. Imagine the cool, calming colors of a woodland forest.
Turning this aesthetic into a wearable piece can be achieved by embracing floral patterns, lacework, or choosing dresses made from organic fabrics like cotton, linen, or silk.
Elegant styles with a vintage twist, such as long tiered gowns, or those that exhibit artisanal craftsmanship with embroidery or delicate beading, fit seamlessly into this theme.
One must also account for the comfort – given the outdoor setting, your dress should allow easy movement without compromising on style.
That said, luxury and sophistication still have their place in rustic aesthetics. So, while embracing these elements, it's essential to find a balance that suits individual taste and meets the occasion's decorum.
Ideal Colors for Outdoor Rustic Wedding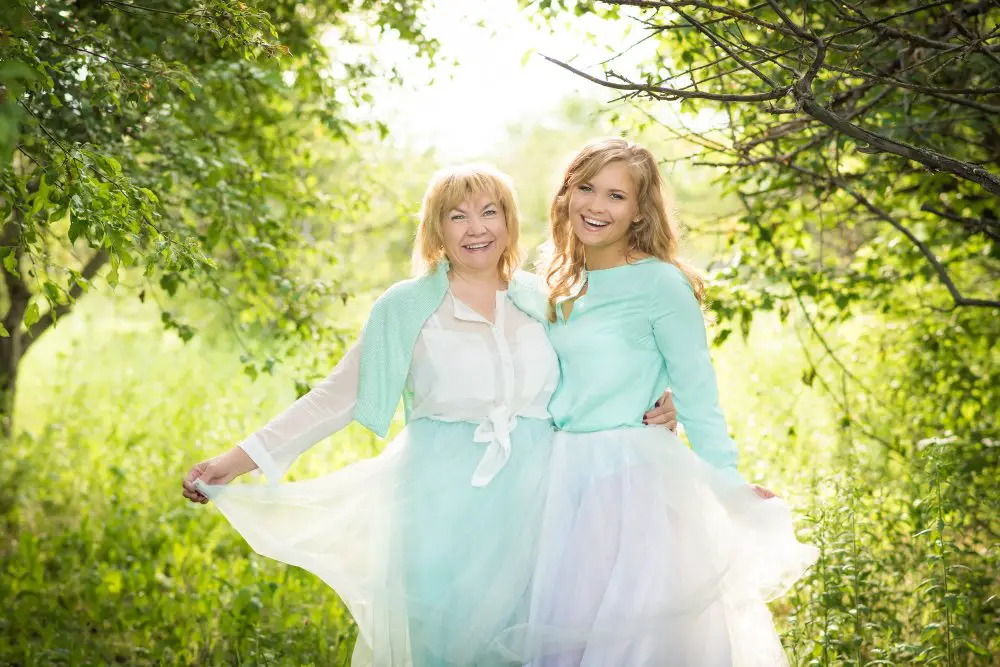 Rustic weddings often draw inspiration from nature, making earth tones a popular choice. Shades of green, like sage or olive, mimic the verdant outdoors and add an organic touch.
Browns and tans offer an understated elegance while echoing the countryside setting. Navy adds a classic, sophisticated note, blending well with the rustic atmosphere.
If you're looking to add a burst of color, consider rich, warm shades like burgundy, burnt orange, or mustard yellow. For softer options, pastels like blush pink or dusty blue can add a touch of whimsy while maintaining a chic feel. Metallics, like gold, copper, or bronze, bring in an element of luxury.
Make sure to select a color that not only suits the theme but also complements your skin tone and personal style. It's essential to strike a balance between fitting into the wedding's color scheme and letting your individuality shine through.
Fabrics Suitable for Rustic Wedding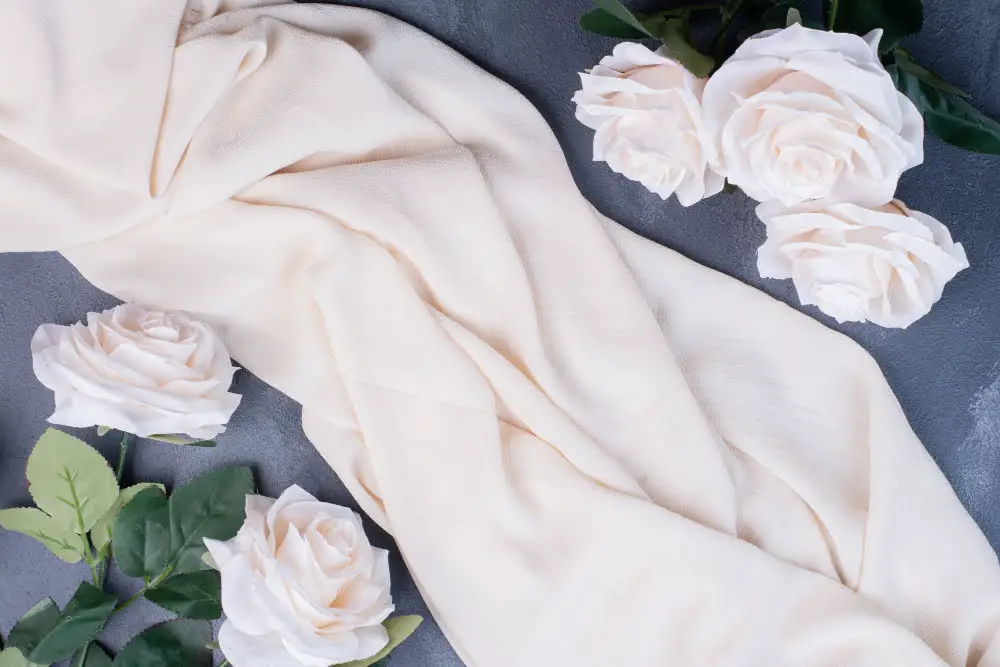 Natural fabrics generally align best with the rustic theme. Consider choosing linen for its earthy, natural vibe that syncs well with an outdoor setting. It's versatile, breathable, and screams casual elegance.
Chiffon could be another good choice, offering a dreamy, romantic flow that's perfect for a garden or woodland setting.
If the wedding is set in cooler weather, consider brocade or velvet. They add an element of richness and depth to your outfit while providing warmth.
Embroidered silk or cotton could also work well, lending a textured yet classic look, suitable for most rustic outdoor weddings. At the same time, these materials successfully balance sophistication with comfort, ensuring both aesthetics and convenience.
Steer clear of overly shiny or synthetic materials, which can conflict with the wedding's laid-back, naturalistic vibe. Ensure the fabric complements the rest of your outfit, aligns with the surrounding aesthetics and keeps you comfortable throughout the event.
Seasonal Considerations for Dress Selection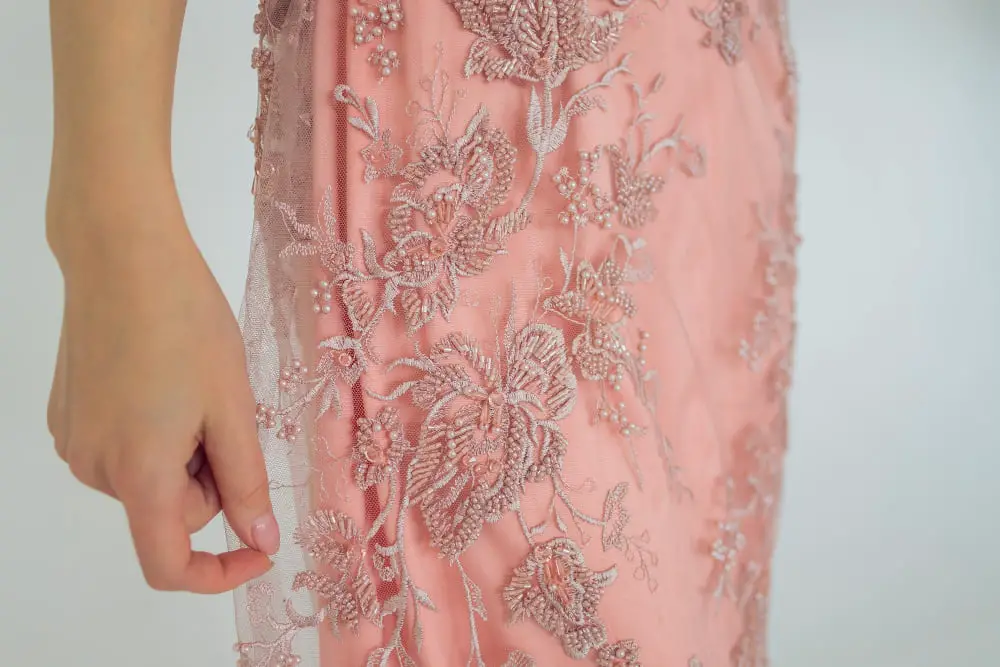 Having an outdoor rustic wedding means embracing the splendor of the season, and your attire should reflect this. In warmer months, choose lightweight and breathable fabrics like chiffon or silk to stay comfortable.
Consider a shawl or wrap for late summer evenings when the temperature might drop.
As the leaves transform in the fall, mimic the colors in a midi dress with an earthy palette.
Layer gracefully with a coordinating jacket or cardigan.
In the chill of winter, embrace fabrics such as velvet or satin, offering warmth without compromising elegance.
A faux fur stole could also be an ideal addition.
Remember, adjustment is key. Flexibility with hem lengths, sleeve styles, and layering pieces will ensure you're prepared for any weather the season may bring, allowing you to enjoy the wedding in comfort and style.
Lovely, practical clothing choices will help you embrace your attire as fully as you embrace the day.
Dress Lengths and Why They Matter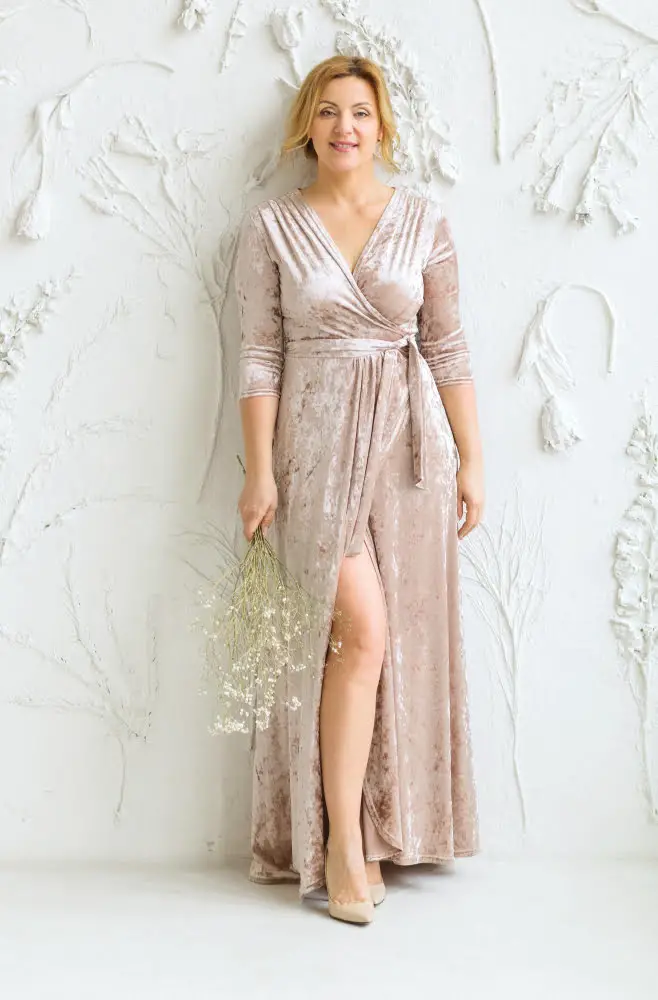 When it comes to outdoor rustic weddings, balance is crucial. Long, sweeping dresses may seem glamorous but can be impractical, catching twigs or tripping on uneven ground.
On the other hand, shorter lengths, such as tea-length or cocktail dresses, add a dash of charm and offer easier mobility. These lengths also allow for showing off those rustic-inspired shoes.
Maxi dresses, with their floor-grazing hemline, offer a middle ground – long enough to look elegant, yet less likely to trip you up. A subtle high-low hemline could be another fashionable and practical choice.
Each length has its pros and cons, it's all about finding the harmony between style, comfort, and the event's setting.
Choosing the Right Dress Pattern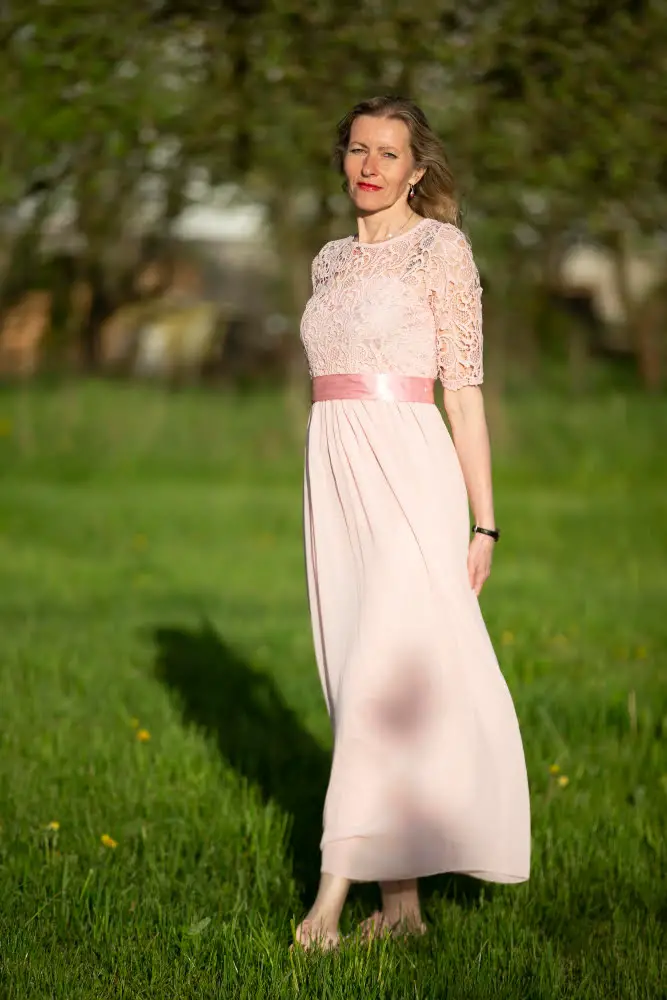 The pattern of your dress plays a crucial role in enhancing the rustic theme. Delicate floral patterns can be a lovely choice, giving a nod to the natural setting.
For a more subtle approach, consider subtle lacework or a dress with textured fabrics like ruching or tiered layers. Straying from heavily structured or geometric patterns can help maintain the harmonious blend with the natural, rustic environment. Instead, opt for patterns that flow and provide a whimsical touch.
Above all, select a pattern that you love and feel comfortable wearing.
Comfort and Fit: Mother of the Groom Dress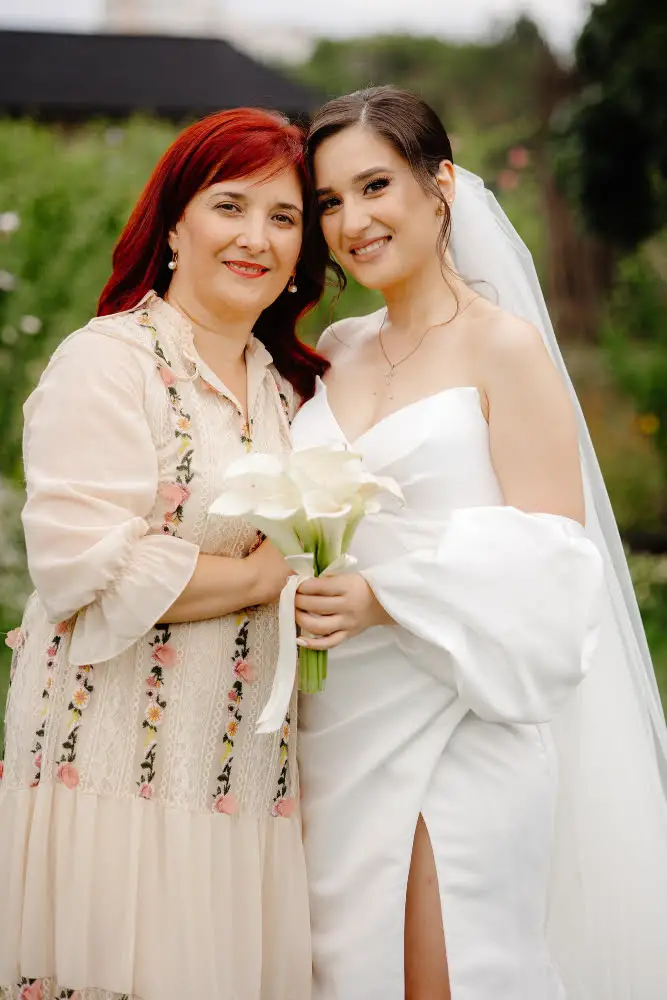 To feel at ease is just as important as looking fabulous. After all, the event might last for a few hours, and you'll be engaging in a fair amount of mingling, dancing, and celebrating.
Therefore, the fit of the dress should be priority number one. Choose a size that allows you to move freely, sit comfortably, and even have a slice of wedding cake without discomfort. The design shouldn't restrict your movements or make you feel conscious.
Test this by taking a few dance steps or sitting down in your potential dress.
Corsets and tight fittings might look flattering, but they can get uncomfortable over time. So, opt for silhouette-friendly dresses that highlight your best features but are not too tight around the waistline or bust area.
Consider adjustable features, like a lace-up back, for a better fit. In terms of materials, natural fabrics like cotton and silk blends allow for more breathability than synthetic ones. Remember, comfort is key to enjoying the celebratory spirit of the occasion.
Accessorizing for a Rustic Wedding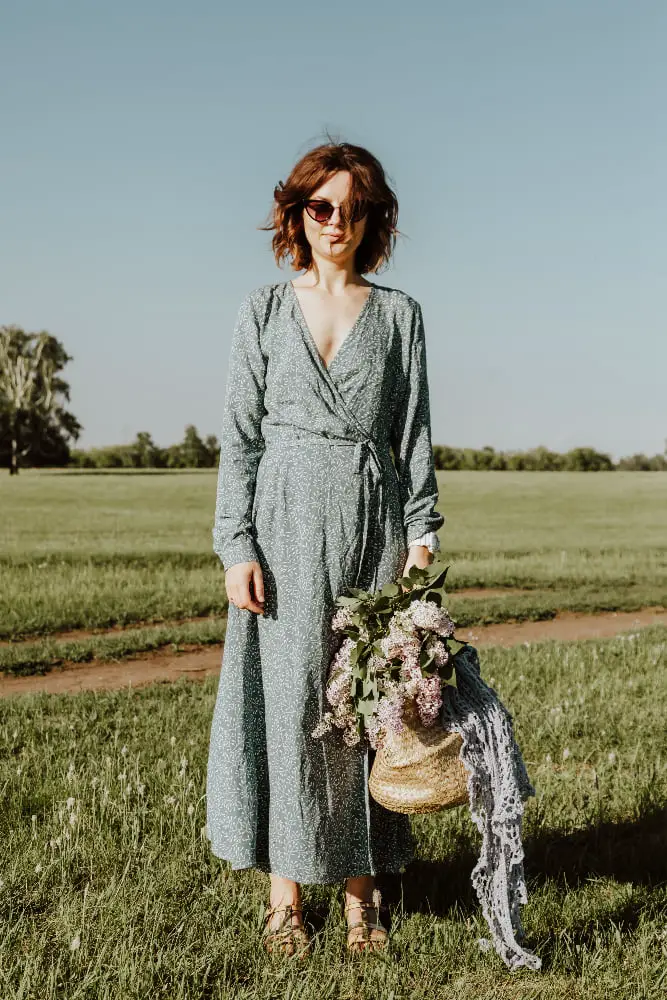 Choosing accessories often adds the final touches that truly bring your look together. Aim for pieces with a natural, antique, or vintage vibe.
For example, consider textured bracelets or necklaces with wood, semi-precious stones, or rustic metals.
Small pins or brooches with leafy designs or animal motifs can also accentuate the rustic theme. Pearls, a classic choice, blend well with any theme, including rustic.
Earrings should complement your hairstyle: understated studs if your hair is down, or dangly earrings if it's up.
Just remember, comfort is key. You don't want to be adjusting a heavy necklace or earrings all day.
A hat can be a stylish choice, particularly for sunny or windy conditions. Opt for fascinators or wide-brimmed hats finished with feathers or flowers.
Don't forget your shoes, either. These should be comfortable enough for outdoor terrain, styled to suit your dress, and weather-appropriate. Consider wedges, block heels, or elegant flats.
The finishing touch: a rustic floral corsage or wristlet, matching the wedding's flower arrangements.
Remember, accessories are a way to showcase your personal style.
Be scrupulous in choosing – aim to strike a balance, complementing your rustic theme without overpowering your dress.
Footwear for Outdoor Weddings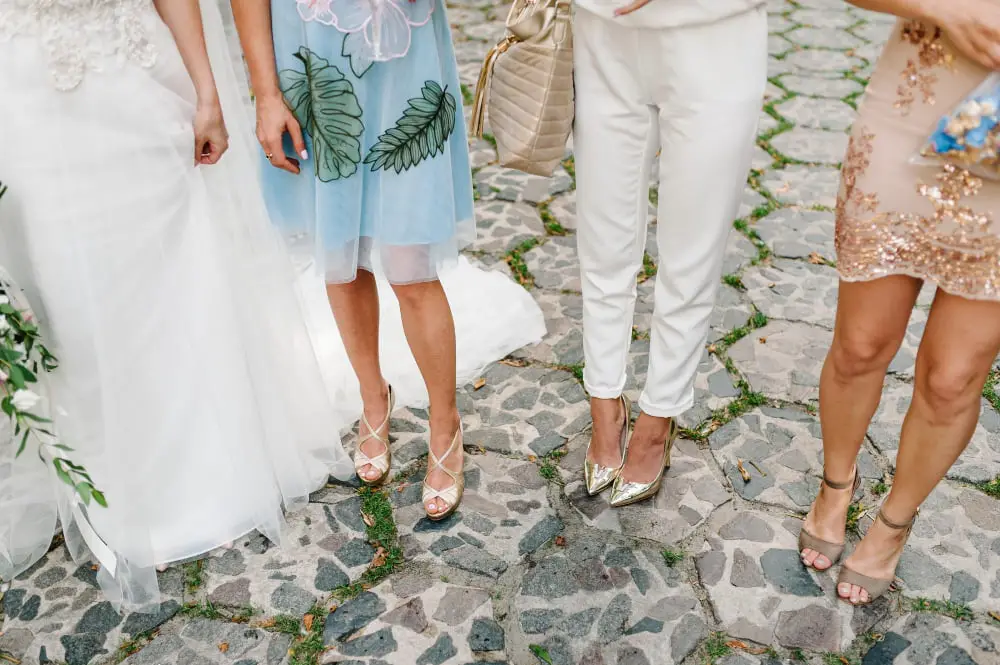 Navigating uneven terrain and soft grassy fields requires thoughtful shoe selection. Steer clear of sharp stiletto heels that can easily sink into the ground. Instead, go for block heels, wedges, ballet flats, or even dressy boots that offer more stability and are easier to walk in.
Comfort is key here, as you're likely to be on your feet a lot. Be sure to break in your shoes before the big day to avoid any unpleasant surprises. Opt for a color that matches your dress, yet maintains a harmony with the rustic theme.
For instance, a warm cream, a gentle gold accent, or even a daring metallic can often do the trick. And lastly, ensure your shoes complement, not outshine, your outfit. The right shoes will complete your look while blending seamlessly with the outdoor setting.
Hairstyle Ideas to Match Your Dress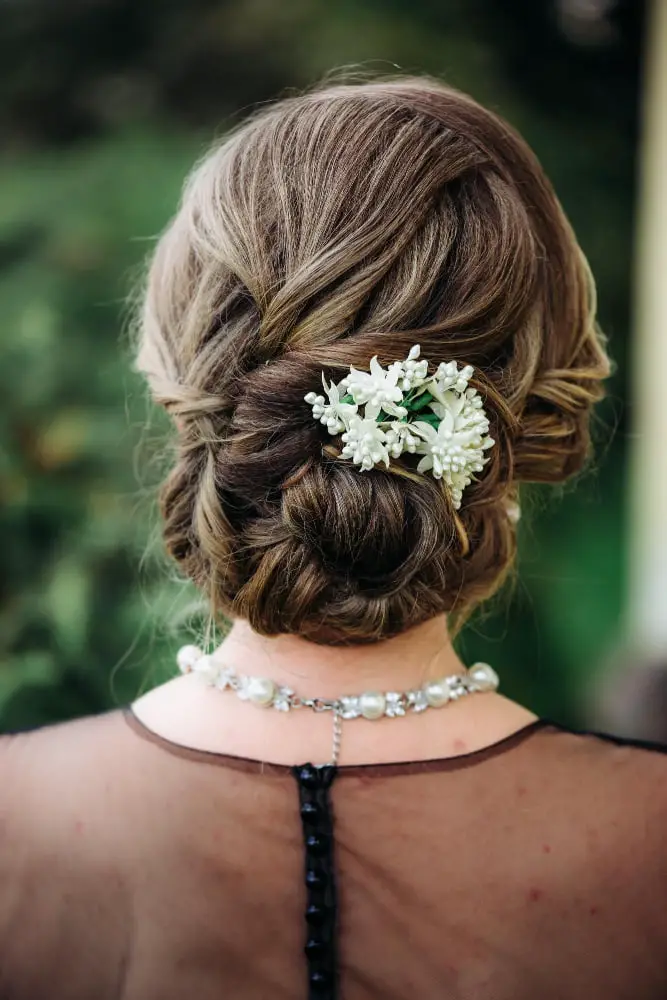 Drawing inspiration from nature's beauty, soft, loose waves or curls can mimic the gentle sway of leaves on trees. An elaborately braided updo, on the other hand, can echo the intertwined branches of rustic settings. Even a simple low bun adorned with tiny flowers or foliage can make a statement of elegance merging with the rural charm.
If you prefer a more polished look, a sleek chignon or French twist would be a classic choice. Don't forget to keep in mind your dress's neckline and any unique features when choosing your hairstyle; for instance, an off-the-shoulder dress pairs beautifully with a side-swept hairstyle. For a boat neck or high neckline, consider an updo to keep the focus on your stunning outfit.
A touch of natural or appropriate rustic bridal hair accessories can instantly amplify your look. However, restraint is key; the focus should be on enhancing your natural beauty, not overshadowing it.
Makeup Tips for the Mother of the Groom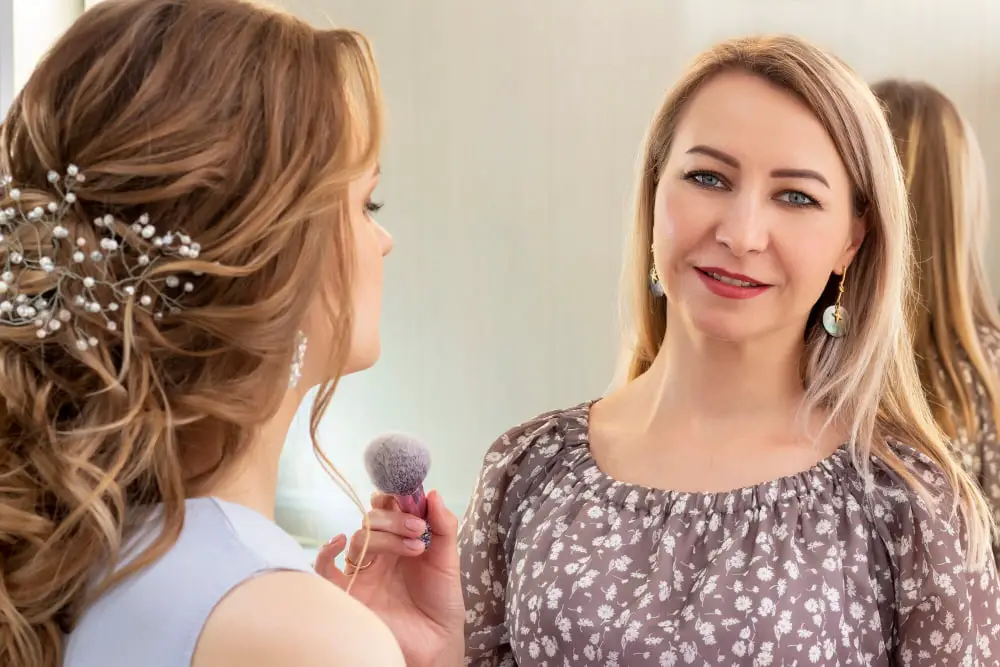 Steering towards a radiant and natural look, it's ideal to start with a base that highlights your features, without going overboard. Mineral-based foundations work well as they catch the natural light beautifully and offer a flawless finish.
For your eyes, neutral and earthy tones matched with a thin swipe of waterproof eyeliner and a touch of mascara can truly work wonders. It gives prominence to your eyes yet still align with the rustic aesthetic.
As for lips, go for a shade that is a bit brighter than your natural lip color. This provides a pop of color, but nothing too dramatic. Remember, a lip primer can help keep the lipstick in place during the entire event. All through, ensure you use waterproof and long-lasting products to keep you looking fresh.
Lasty, it's prudent to engage a professional makeup artist who specializes in natural and understated looks. They can provide guidance and the polished look that aligns with the overall ambiance of an outdoor rustic wedding. They hold the secret to achieving a stunning yet understated look that's perfect for capturing treasured moments.
Look Coordination With the Bridal Party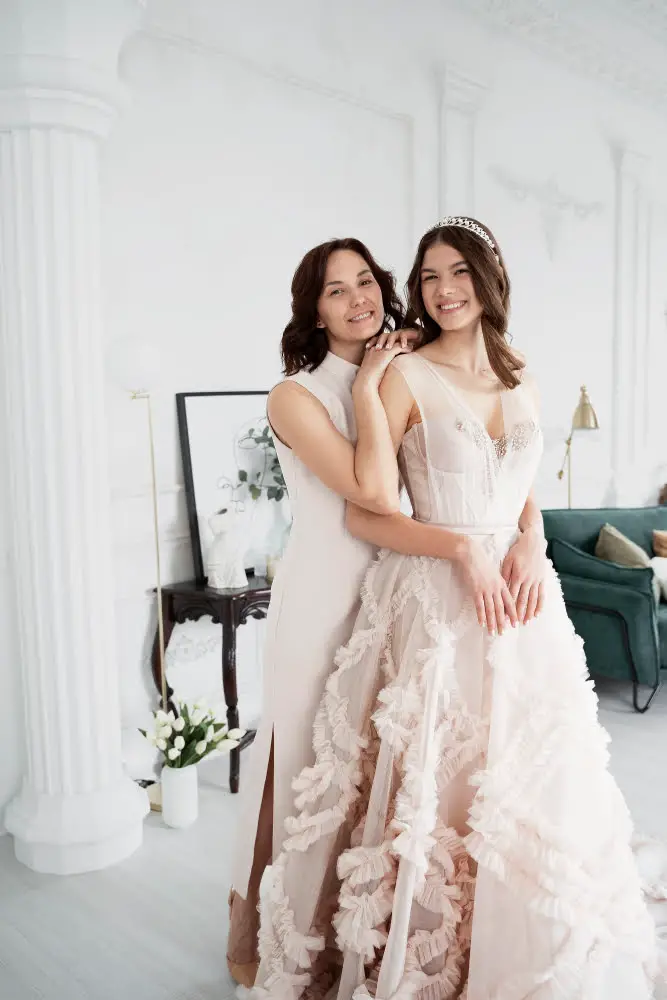 It's essential to strike a balance; your dress should not overly match nor heavily clash with the bridal party's attire.
You don't have to wear the exact hue as the bridesmaid dresses, but staying in the same color family or selecting a complementary shade can create a beautifully harmonious visual effect.
For example, if the bridal party is wearing soft blush tones, a rose gold, dusty rose, or a subdued champagne dress could be a fantastic choice.
As always, remember to communicate with the bride and/or groom to ensure your look fits seamlessly into their vision for the big day.
Dealing With Weather Elements At the Outdoor Wedding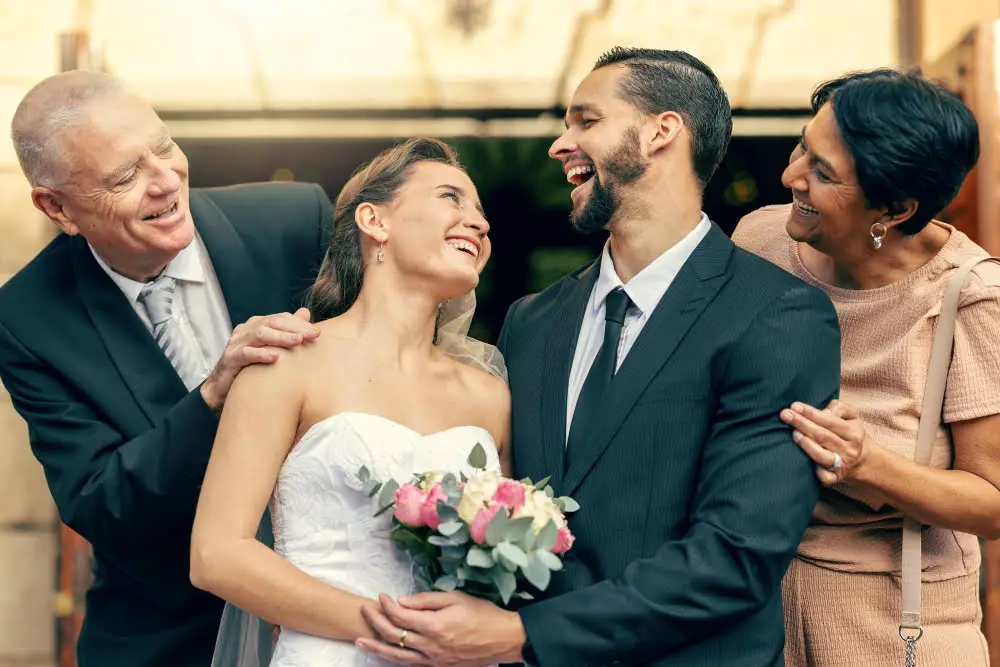 It's crucial to consider weather predictions when choosing a mother of the groom dress for an outdoor wedding.
For warm climates, focus on breathable fabrics like chiffon or silk. They provide an airy feel and remain comfortable throughout the ceremony.
Consider a dress with short sleeves or a wide-neck design for extra ventilation.
For cooler weather, consider a stylish wrap, shawl, or bolero jacket that complements the dress.
Choose thicker fabrics that help retain warmth like satin or velvet.
These can create an elegant and refined look, while also keeping you cozy.
Rain can be unpredictable.
A small, lightweight umbrella that matches your outfit can be a practical accessory, emphasizing preparedness while maintaining style.
Lastly, always have a suitable backup plan.
Pack a change of shoes and a few key outfit essentials to handle unexpected weather changes gracefully.
Tips On Timeline for Dress Purchase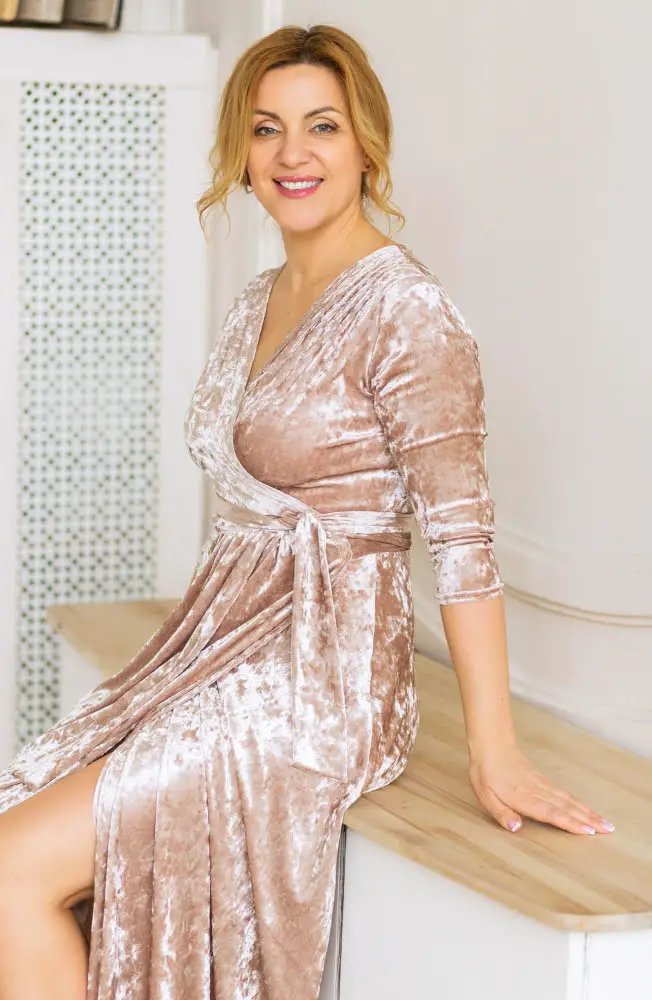 To ensure that you find the perfect outfit without rushing or making last-minute decisions, start your dress hunt early, ideally six to nine months before the wedding.
This timeline allows for plenty of time to explore different styles and stores, and ensure that the dress fits perfectly.
If you decide on a custom-made dress, this period will also provide enough time for creation and alterations.
Remember, your outfit's preparation should align with that of the bridal dress, avoiding any potential fashion clashes.
Throughout this process, keep in mind the importance of feeling comfortable and confident in your choice, as this is paramount in making the wedding day memorable.
Lasty, it is advisable to have the dress ready at least a month before the wedding, leaving ample time to focus on other aspects of preparing for the big day.
Custom Vs Off-the-Rack Dresses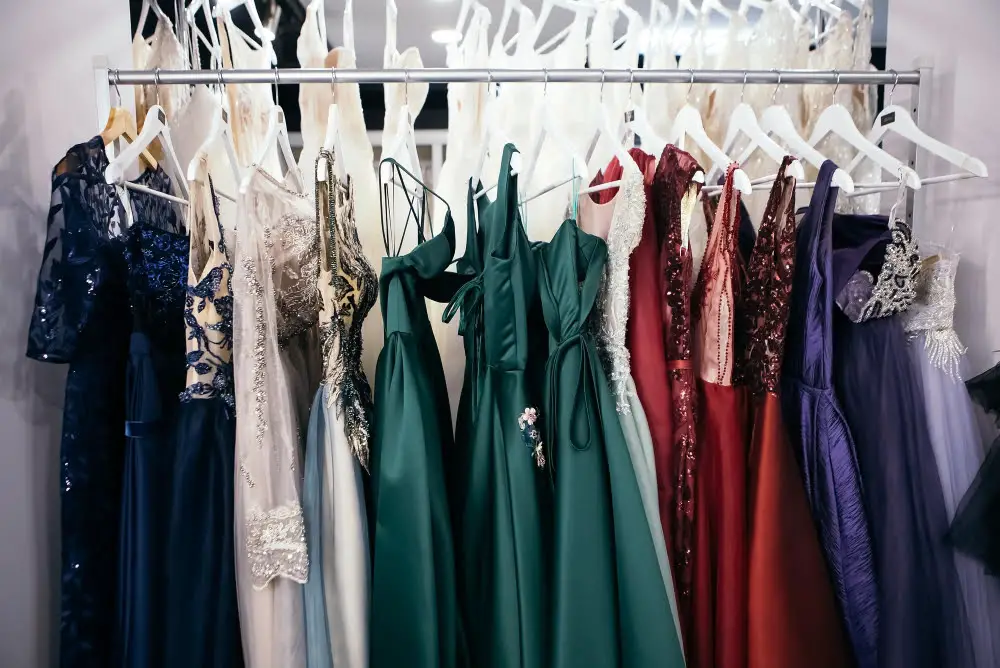 Venturing down the custom-made route offers numerous advantages, including a perfect fit and the ability to personalize every detail. It guarantees uniqueness and allows adjustments to match the dress perfectly with the rustic outdoor setting. However, keep in mind that this could mean a longer lead time and potential tweaks to ensure the ideal fit.
Conversely, choosing an off-the-rack option can be just as rewarding. With an array of styles available, there's a higher chance you'll find something that surprisingly resonates with your taste. This option is usually more budget-friendly and ideal for pressurized timelines. Just remember, alterations may still be necessary for a flawless fit. In the end, it's about the dress that makes you feel confident and fits the blissful, bucolic ambiance of the day.
Professional Tailoring: A Necessity?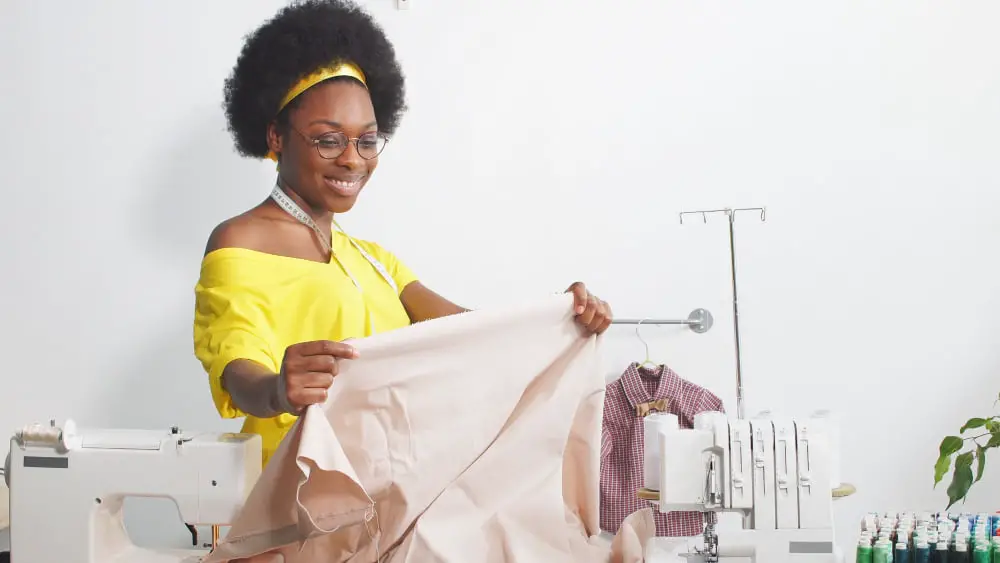 Securing the services of a professional tailor can significantly refine your choice of dress, contouring it precisely to your figure for an impeccable fit. It's not just about reducing a loose waist or lengthening a short hem, expert tailoring can wholly transform a garment, maximizing comfort and enhancing the aesthetic.
Even if the dress fits reasonably well off-the-rack, minor adjustments can pay major dividends, emphasizing the elegance of the dress and ultimately elevating your mien.
Therefore, investing in tailoring services is highly recommended, as it allows your attire to be truly unique and perfectly suited to you.
Stores to Consider for Rustic Wedding Dress Shopping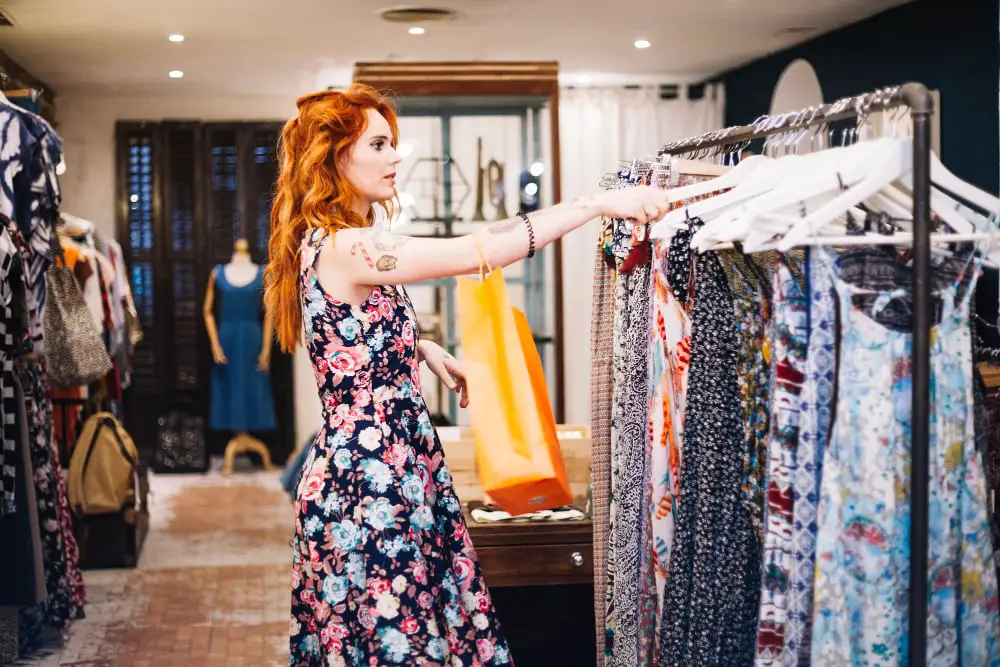 Respected retailers such as David's Bridal and Nordstrom offer an extensive selection of mother of the groom dresses suitable for rustic weddings.
More specialized boutiques like ModCloth have a more curated collection, prioritizing vintage and boho styles that are well-suited to outdoor settings.
If budget is not a constraint, consider high-end designer labels such as Monique Lhuillier or Carolina Herrera, known for their elegant, yet understated styles.
Online platforms like Etsy offer unique, handmade dresses where customization is usually an option.
Lastly, don't discount local stores in your area – they could have hidden gems perfect for the occasion.
FAQ
What does the mother of the groom wear to an outdoor summer wedding?
The mother of the groom should wear a light, bright, soft or neutral color dress that is not heavy for an outdoor summer wedding.
What should a mother wear to her son's wedding?
A mother should wear an elegant evening gown, a lace midi dress, or a chic jumpsuit to her son's wedding, following the wedding's dress code with an upscale dress or pantsuit for a formal event, or a more relaxed outfit for a casual one.
What do you wear to a rustic outdoor wedding?
For a rustic outdoor wedding, consider wearing medium-colored cotton, linen, or tweed jackets or suits, or a matching vest and pants in suiting material paired with a nice shirt.
What colour does the mother of the groom traditionally wear?
The mother of the groom traditionally wears colours such as silver, blue, purple, dark red, and brown.
How should the mother of the groom's attire complement the wedding's rustic theme?
The mother of the groom's attire for a rustic themed wedding should complement the overall aesthetic. Opt for a dress in earthy hues like forest green, rust, or taupe. Natural fabrics like linen or raw silk would match the theme beautifully. Her accessories can incorporate elements such as leather or wooden beads. It is also key to consider the location and weather conditions. A breathable fabric for outdoor summer weddings, or a warm shawl for cooler weather, could be practical yet in keeping with the rustic theme. As long as she is comfortable and feels beautiful, she will fit perfectly into the rustic wedding scene.
What are the best dress styles for the mother of the groom at an outdoor summer wedding?
For an outdoor summer wedding, the mother of the groom should opt for dresses that are both elegant and comfortable. The ideal choices include A-line dresses that flatter all body types, tea-length dresses which are a perfect mix of formal and comfortable, or chiffon gowns which are lightweight and offer an elegant look. Colors should match the wedding theme, but avoid whites, creams, or bridal colors. Light blues, blush pinks, and lavender tones are popular choices. Comfortable, non-restrictive garments will allow her to move freely, therefore, it's important that the dress isn't too tight. A shawl or pashmina might be a great accessory for cooler evenings.
Keep reading: