Discover the perfect selection of jackets that can add style and warmth to your outdoor wedding attire while keeping in tune with the romantic ambiance.
If you're planning an outdoor wedding, one essential item you can't overlook is the perfect jacket. Not only does it keep you warm in unpredictable weather, but it also adds a stylish touch to your wedding attire.
This article will delve into the various jacket options available for outdoor weddings, from chic boleros to cozy pashminas, and even glamorous faux fur stoles.
Whether you're the bride, groom, or a guest, you'll find a range of options that will complement your outfit and keep you comfortable throughout the event. Stay tuned for detailed insights on choosing the perfect jacket for your outdoor wedding.
Key takeaways:
Choosing season-appropriate jackets ensures comfort and thematic consistency.
Different fabric types offer varying levels of warmth and style.
Essential features like fastenings, collar style, and sleeve length contribute to the overall appeal of the jacket.
Depending on the weather, jackets can protect against sunshine or rain.
Formal or casual jackets should match the event's nature and color palette.
Choosing Season-Appropriate Jackets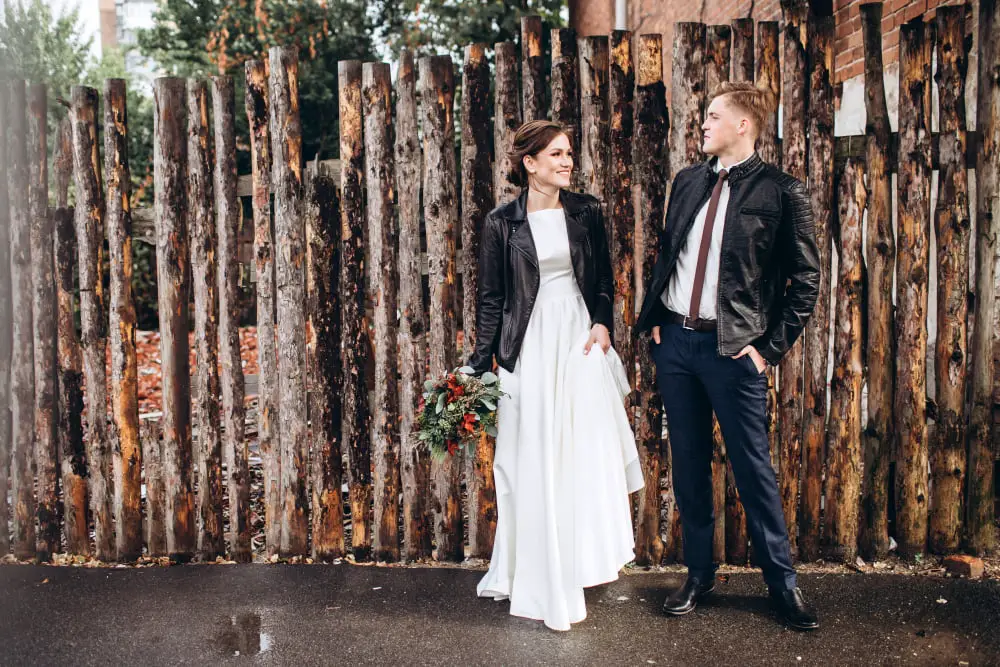 Selecting a jacket that complements the season of your wedding can truly enhance your overall ensemble. For warmer months, delicate lace or filmy chiffon jackets make excellent choices. These fabrics are light, breathable, and exude an airy charm.
On the flip side, if you're marrying during the colder months, consider jackets made from warmer fabrics such as faux fur, velvet or heavy satin. These materials offer elegant aesthetics while providing necessary warmth.
Adapting your jacket choice based on the season does not just ensure comfort, but enriches the thematic consistency of your attire.
Fabric Types for Outdoor Wedding Jackets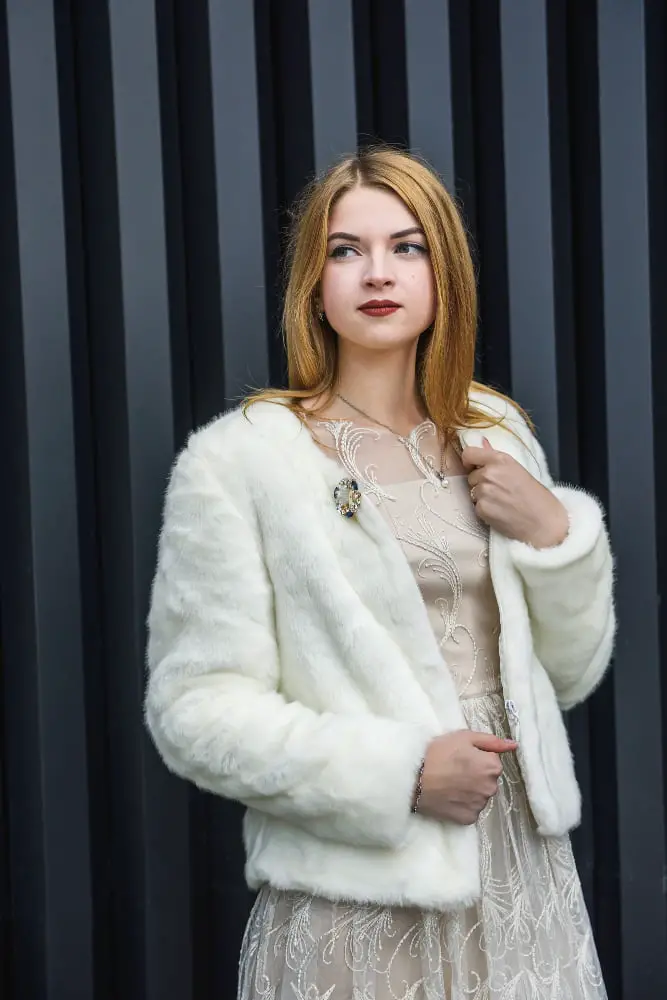 Cotton is a popular choice, known for its breathability and softness. It's perfect for spring or summer weddings when the temperature is comfortable but a slight breeze may necessitate some coverage.
Silk, with its luxury aesthetic and light feel, can also be a good option for warmer weather.
For those nippy autumn evenings, consider suede or velvet jackets. They provide substantial warmth while being fashionable.
Denim can offer a relaxed, chic look without compromising on comfort; ideal for casual weddings in the countryside.
When hosting a winter wonderland wedding, faux fur is a standout choice. It offers considerable warmth and channels a glamorous look.
Wool is another robust fabric that provides insulation while maintaining a clean, tailored silhouette.
Choosing the right fabric not only keeps you comfortable but it also enhances your attire, adding to the overall aesthetic of your special day.
Essential Features of Wedding Jackets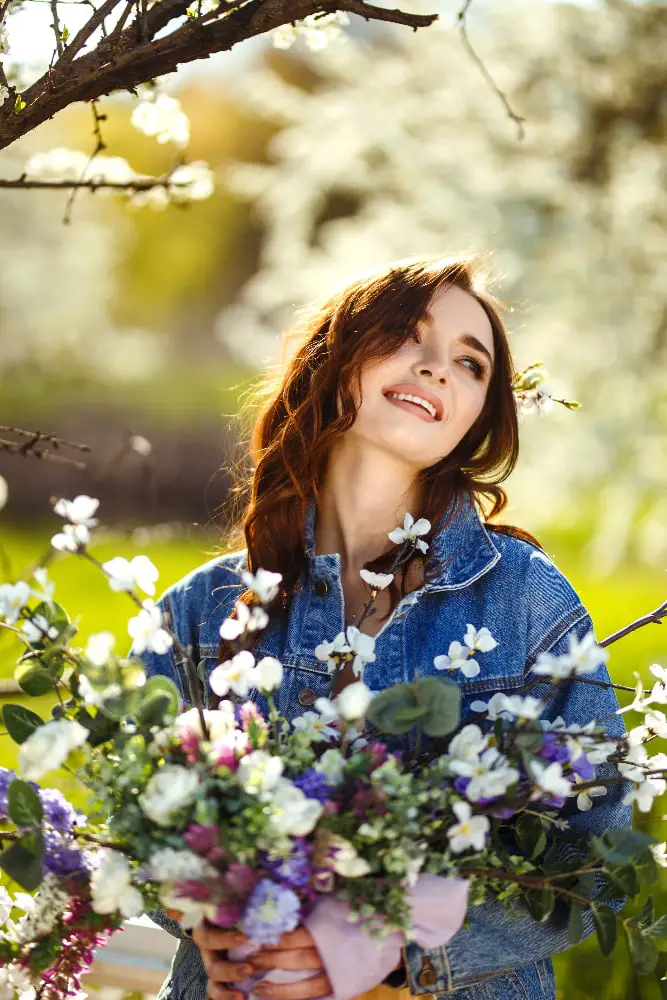 The ideal wedding jacket should exude a combination of style, functionality, and comfort.
Firstly, pay close attention to the fastenings – from buttons to zippers, these not only enhance the jacket's aesthetics but also offer practical comfort.
Secondly, consider the collar style. Traditional collars are always in vogue, but a shawl or funnel collar can also add a unique touch.
Finally, take time to consider the sleeve length. Full-length sleeves are perfect for cooler climates while three-quarter or half-length sleeves work well for warmer weather.
These tiny details greatly contribute to the jacket's overall appeal, ensuring it serves its purpose while accentuating your wedding attire.
Predicting Weather: Jackets for Sunshine or Rain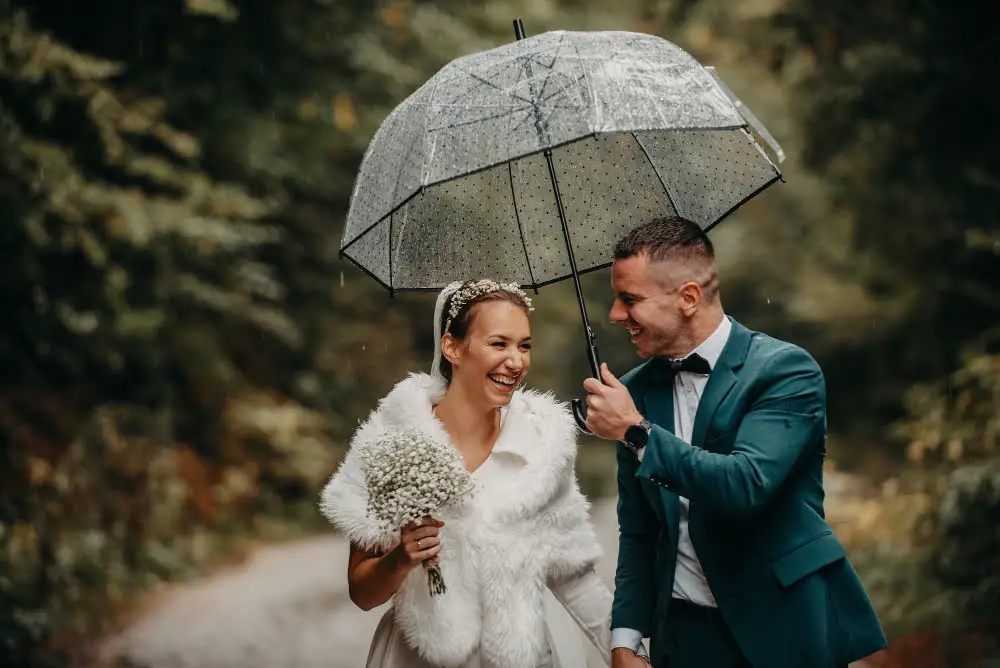 An outdoor wedding is always at the mercy of the elements, thus planning for the right jacket extends beyond style preferences. Take the time to research local climate trends for your wedding month, talk to your venue, or consult with a local wedding planner to gain a better understanding of what to expect.
If you are facing a sunny day, consider a light, breathable fabric like lace or silk to keep you cool while adding a layer of sophistication. With a chance of rain, a stylish waterproof trench or a classic tailored blazer in a water-resistant fabric will keep you dry without sacrificing style. For brides, consider an elegant shawl or a waterproof cape that won't distract from your dress.
Regardless, it's imperative to comfortably navigate whatever Mother Nature has in store without compromising on your look.
Formal Vs. Casual Outdoor Wedding Jackets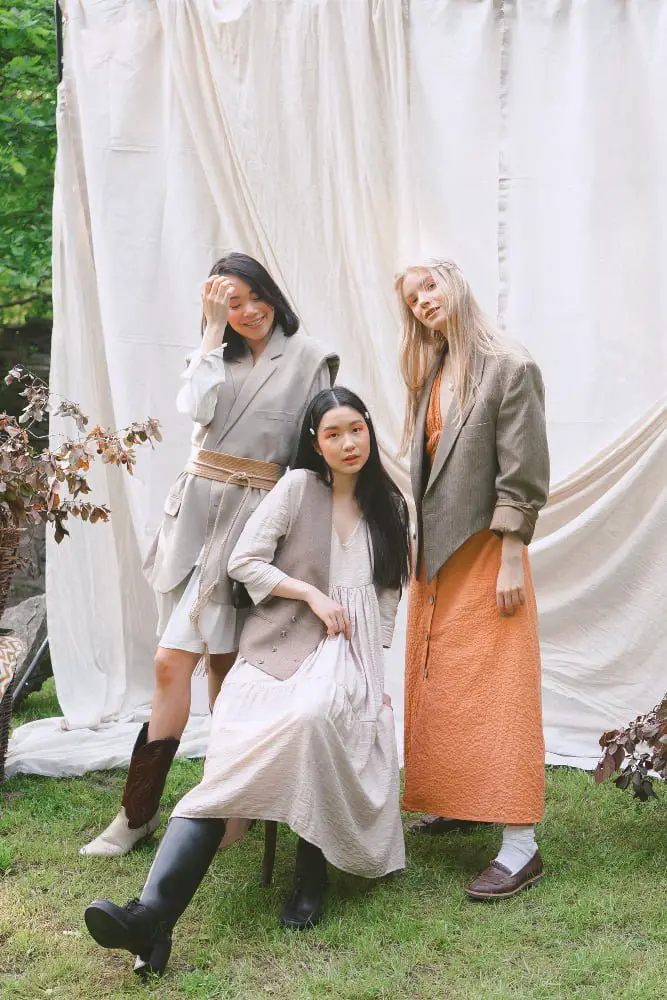 When selecting attire for your special day, the event's nature plays a crucial role.
Formal affairs often call for more structured, elegant jackets such as tailored blazers or embellished capes, which add a dash of sophistication.
Subtle shades like soft blush, champagne, or classic ivory usually dominate the color palette.
On the other hand, casual outdoor celebrations allow for more relaxed options.
You may opt for denim, leather, or cosy knitted jackets, providing comfort and charm with a laid-back vibe.
Striking colors and patterns can add a personal touch to your outfit, reflecting your personality and making a fashion statement.
It's essential to strike a balance between style, comfort, and context.
Ensure your jacket selection aligns with the overall event aesthetic, enhancing your outfit rather than clashing with it.
Color Choices for Wedding Jackets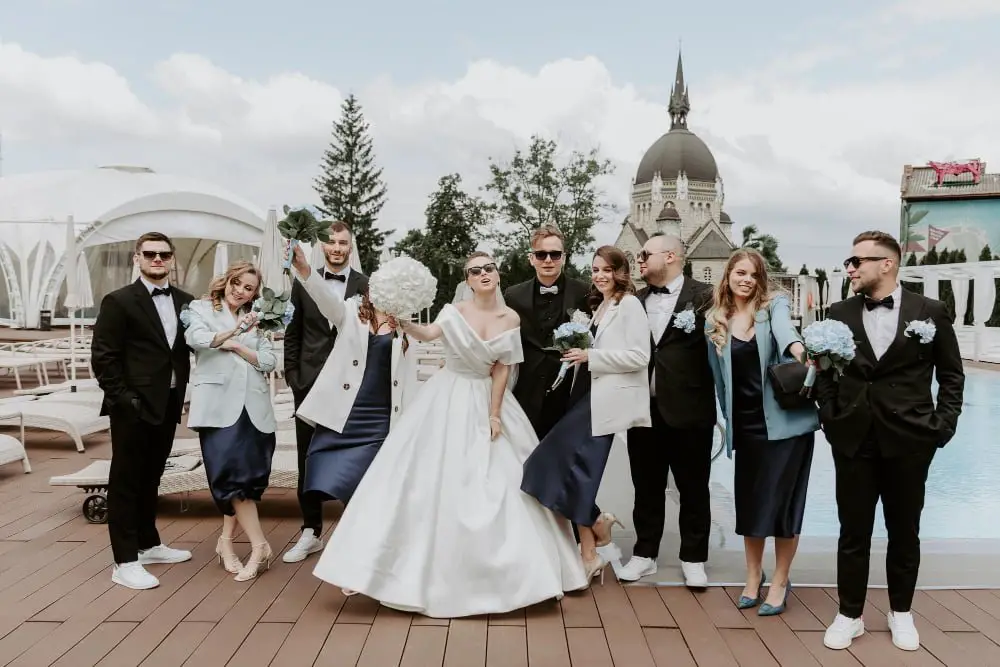 A well-chosen jacket color can either complement or accentuate your overall wedding style. Neutral colors like white, cream, and black are traditional and effortlessly blend with any color scheme.
For a pop of color, consider coordinating your jacket with your wedding's color palette or flowers.
Pastels can add a soft romantic touch, while bold hues can make a striking statement.
A touch of metallics like gold or silver introduces elegance without overshadowing the importance of the day.
For a cohesive look, ensure your chosen shade balances well with other elements of your outfit.
Choose wisely, as the correct hue can elevate your look, while an ill-suited one may throw off your desired aesthetic.
Summer Wedding: Light and Airy Jackets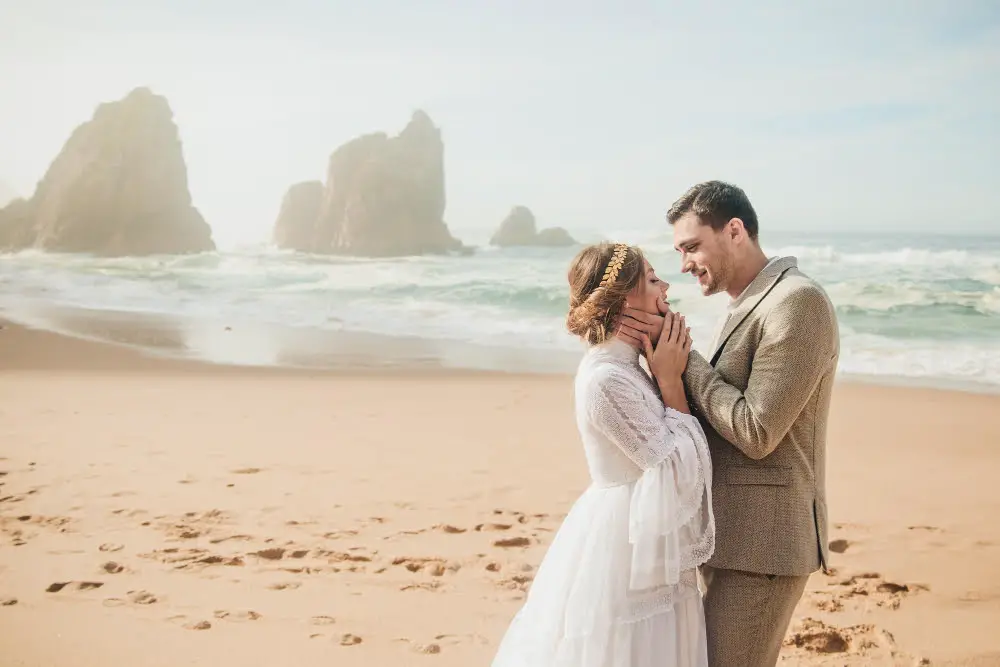 In the warmth of summer, light materials such as silk, chiffon, or linen are ideal to maintain comfort without compromising style.
Short bolero-style jackets or capes with decorative lacing or beading can provide a touch of refinement.
For a garden or beach-themed wedding, a light shawl in a pastel color can be a perfect match for your summer dress.
Always consider the humidity factor – materials like cotton and rayon are breathable and help in cooling down when the mercury soars.
Embrace these options for a cool yet chic look while celebrating under the summer sun.
Layering Options for Cold Weather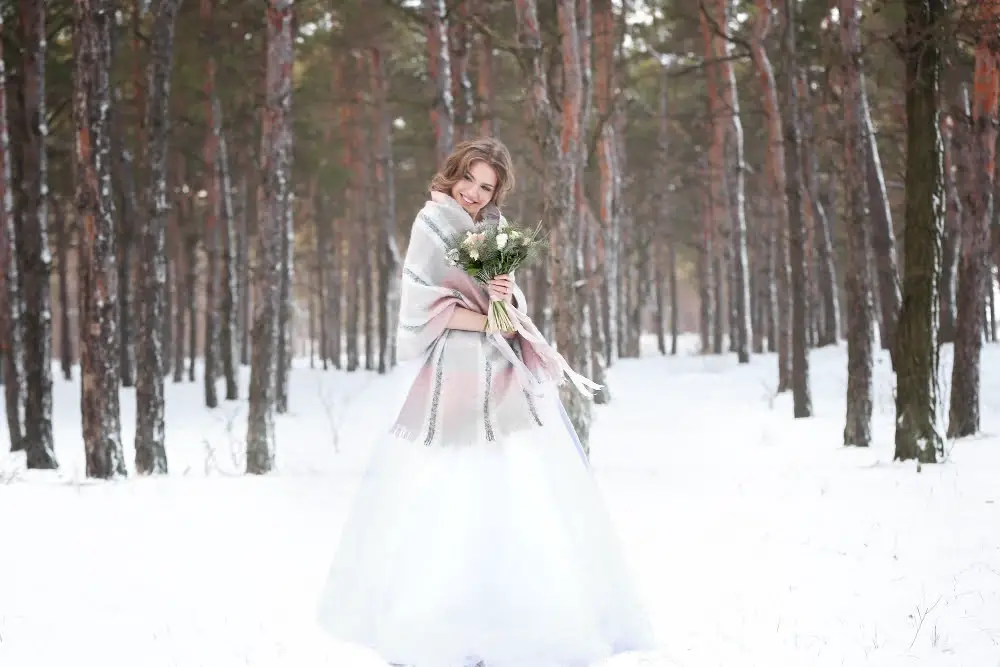 One valuable route to navigate the chill is to experiment with versatile layers. A soft pashmina, for instance, offers warmth, draped elegantly over your shoulders.
Additionally, consider pairing a structured jacket over a lightweight cashmere wrap for added insulation that can be easily removed or adjusted.
For the men, layering a formal overcoat with a warm undercoat could provide an impeccable blend of style and comfort.
Try to stick to wedding color palettes when choosing your layers to maintain a harmonious look with the overall wedding theme.
Maintaining Style in Cold Weather: Warm Jacket Options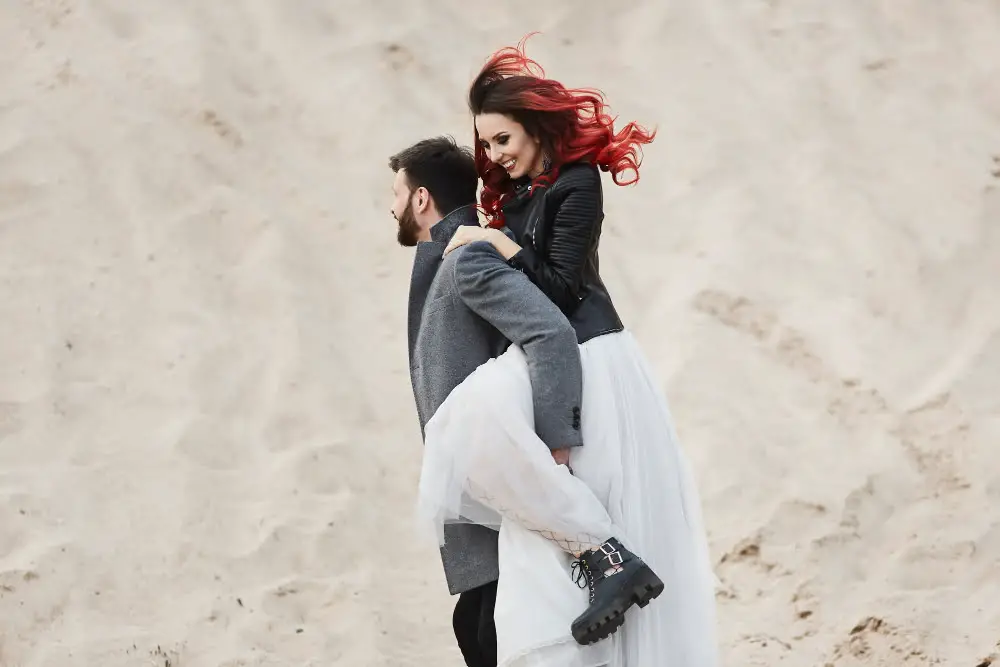 As temperatures drop, fending off the chill without compromising on style can seem challenging.
Opting for heavier materials like wool or velvet can provide extra comfort and add an elegant touch.
Wrap-style jackets with a belt offer a flattering silhouette and excellent thermal capabilities.
Alternatively, you can choose a stylish faux fur stole, adding a dash of glamor to your attire while serving as an excellent insulator.
A quilted winter coat with a satin finish can also look chic and provide the much-needed warmth for a winter ceremony.
Remember to factor in the coat's aesthetic alignment with your wedding theme and the overall look you aim to achieve.
Choosing Jacket Lengths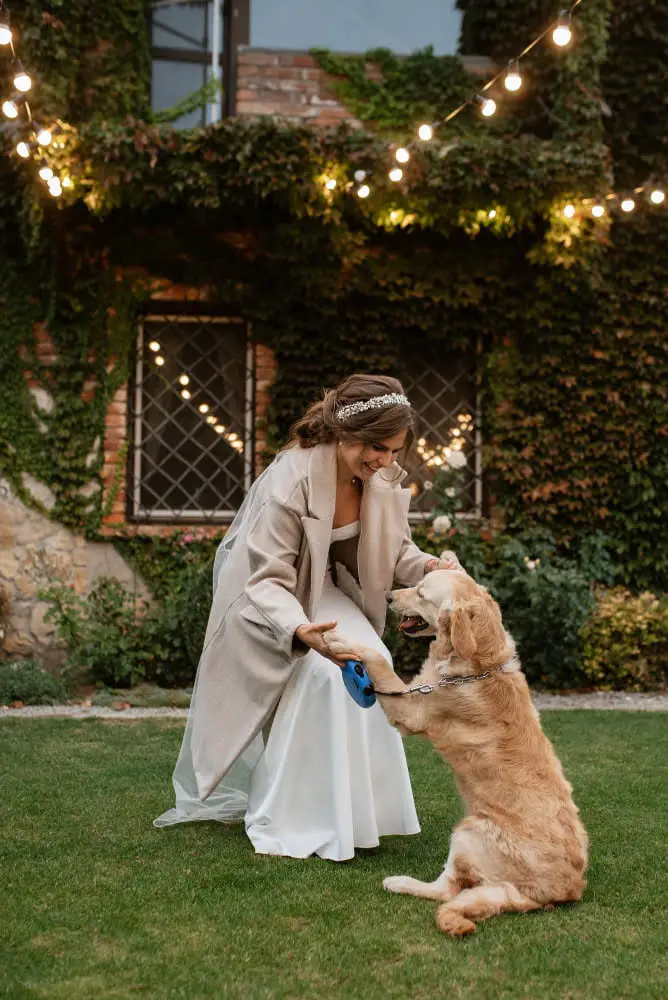 The length of your jacket plays a crucial role in harmonizing your entire look. A cropped or waist-length piece often complements shorter dresses, enhancing the silhouette without fuss.
Long, flowy jackets, on the other hand, work wonderfully with ball gowns or sheath dresses, accenting the dress's own lines and flow. It's vital to consider how the jacket's length will interact with your wedding dress—ensuring a cohesive look without compromising comfort.
Balance is key; a too-short jacket could appear abrupt, while a too-long jacket might disturb the dress's entity. Remember, the jacket should serve as an elegant accessory enhancing your outdoor wedding attire, not overshadowing it.
Fashion-forward Designer Wedding Jackets
High-end labels offer an array of jackets to amplify the grandeur of outdoor weddings.
From intricate embroidery to delicate lace and smooth satin, these pieces become focal points of your bridal attire.
Brands such as Vera Wang, Givenchy, and Pronovias are known for their unique, wedding-worthy jackets.
They skillfully merge traditional elements with avant-garde designs, offering something for every style-conscious bride or groom.
While these can be more expensive, their extraordinary craftsmanship and exclusivity make them worth considering.
Their collections feature a diverse range of cuts, colors, and detailing, providing something for every fashion-forward wedding attendee.
Children's Jackets for Outdoor Weddings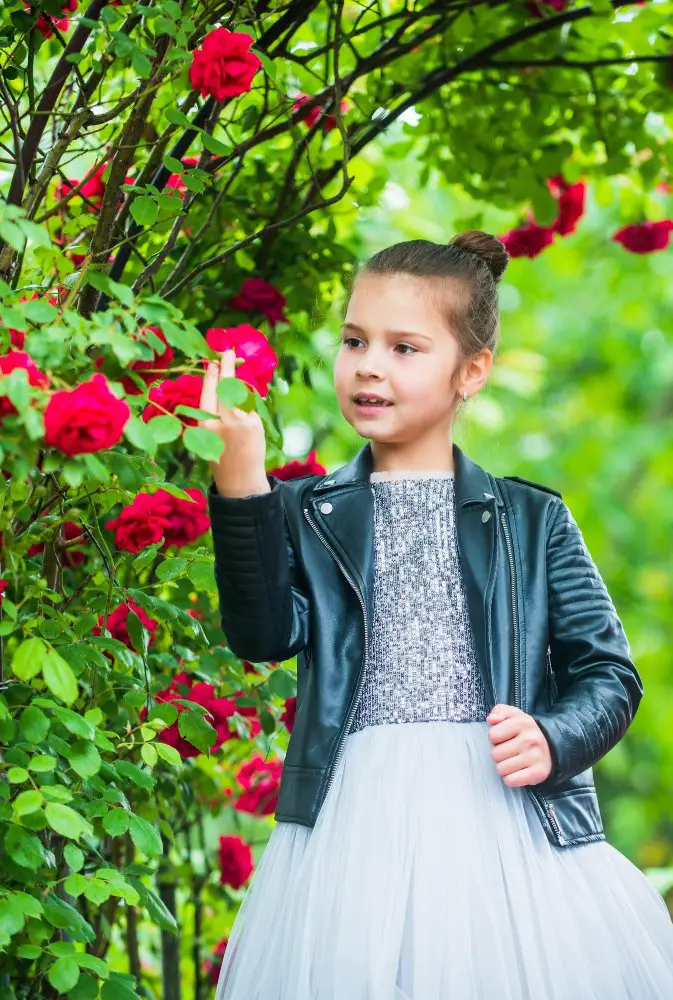 When it comes to selecting a jacket for younger attendees, comfort is paramount. Opt for lightweight materials like cotton, or a soft, breathable fleece for cooler weather.
Be mindful of any oversized embellishments or buttons that may cause discomfort.
For a sophisticated look that also prioritizes comfort, consider options like elegant shrugs or smart blazers in bright, joyous colors.
Remember to include a hooded option if weather might be unpredictable.
To Match or Not: Jacket and Dress Coordination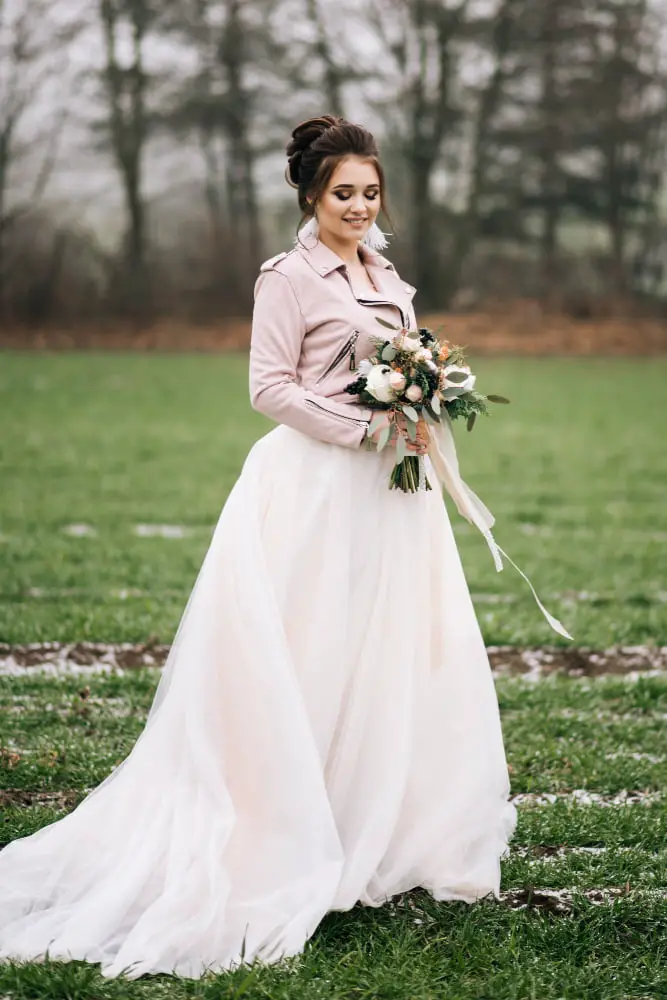 When it comes to coordination, there's no hard-and-fast rule.
One option is to opt for a jacket in a shade that matches your dress, creating a monochromatic, streamlined look.
An equally stylish approach is to choose a jacket in a contrasting color for a pop of interest and individual style.
Ultimately, the choice should be one that boosts your overall confidence and complements your fashion sense.
Remember, it's your special day, the jacket and dress combination should reflect your personal style while still keeping you comfortable.
Men's Jacket Styles for Outdoor Weddings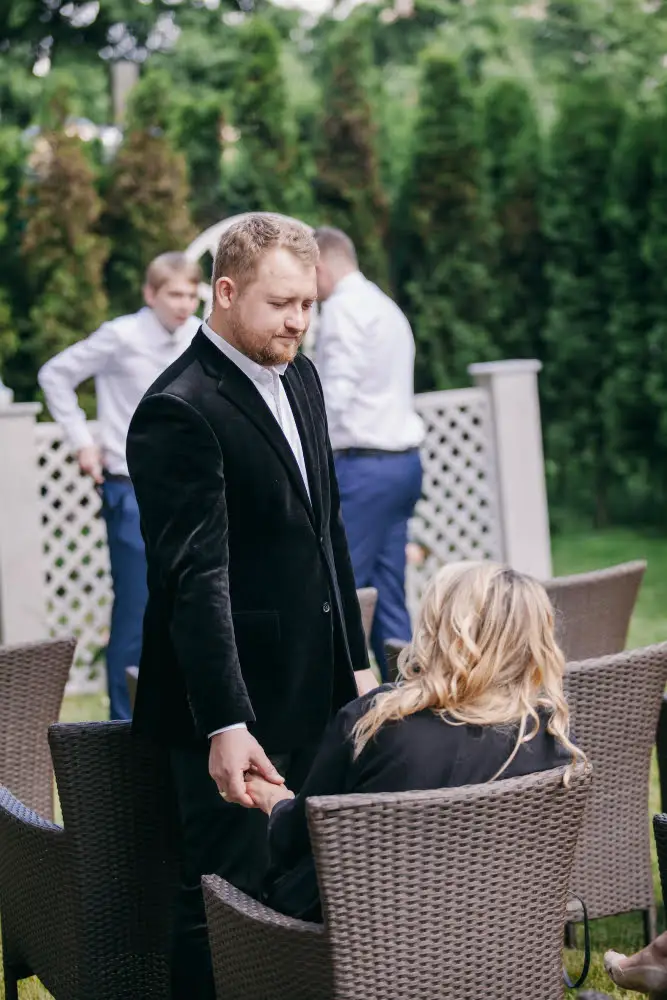 Well-tailored tweed suits offer a classic look and provide ample warmth for autumn or winter ceremonies. For a more relaxed, summery feel, linen or cotton blazers keep it formal while allowing breathability.
Styling with the season in mind is key. A velvet or corduroy jacket can provide an appealing texture while contributing to the overall warmth.
Colorwise, darker shades such as navy, grey, or hunter green often complement the natural surroundings. For the contemporary groom, incorporating patterns like checks or stripes adds a distinctive touch to the wedding attire.
Remember to choose jacket fits that reflect personal style and suit the occasion's overall theme. By doing so, the groom's outfit will harmoniously blend with the day's aesthetic.
Trending Wedding Jacket Styles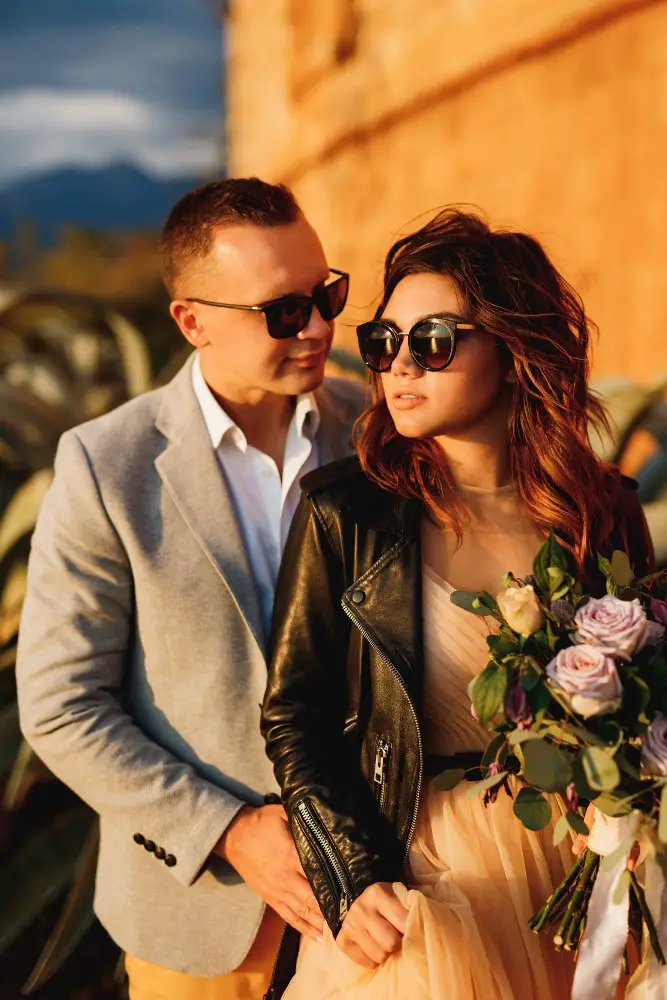 Currently, there's a delightful inclination towards vintage-inspired pieces.
Lace boleros serve both aesthetic appeal and practicality, providing a classy cover-up for both strapless and sleeveless dresses.
Velvet shrugs, meanwhile, are making waves in fall and winter weddings, offering a touch of luxury and warmth.
On the more unconventional side, bridal biker jackets, especially custom-painted ones, are gaining popularity, appealing to those who appreciate a modern twist.
Additionally, oversized blazers and tuxedo jackets are being increasingly embraced by brides aiming for an edgy yet refined look.
Consider these trends when you're on the hunt for your ideal wedding jacket.
Accessorizing Your Wedding Jacket
From dazzling brooches to delicate lace overlays, the right accessories can elevate your wedding jacket to a whole new level.
Consider a vintage-inspired pin for a classic look or a contemporary geometric pattern for a modern twist.
If your jacket is made from a bold, vibrant fabric, keep your accessories understated and let the material speak for itself.
On a more neutral jacket, splashes of color via beadwork, embroidery, or sewn-in jewels can really make a statement.
But remember: balance is key.
Overdoing accessories can draw attention away from the overall look.
Striking the right balance ensures that your wedding jacket is a key player in your stunning outdoor wedding ensemble.
Faux Fur Accents for a Luxurious Look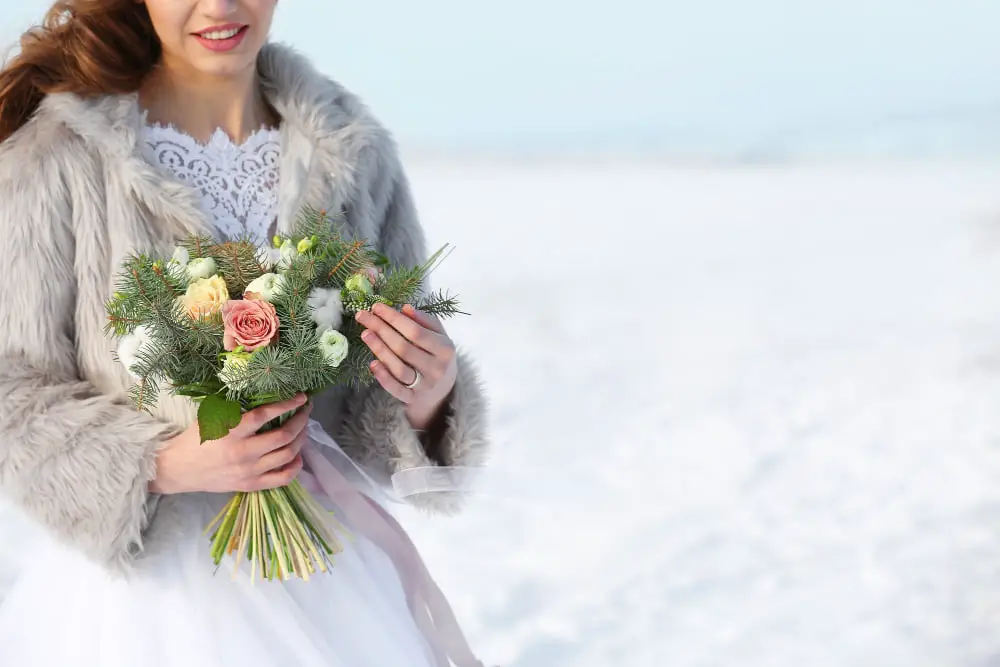 Incorporating faux fur into your wedding attire instantly elevates the chic factor of your look, making it an irresistible choice.
The plush and luxurious texture not only provides a high degree of warmth but also adds depth to your outfit, creating an exciting contrast, especially with sleek fabrics like satin or silk.
Opt for a stole for a classic and timeless touch or a fur-lined cape for a dramatic flair.
Remember, faux fur is available in many colors, so don't feel confined to traditional options. Explore shades that stand out or blend seamlessly with your wedding ensemble.
Ultimately, the goal is to achieve a blend of comfort, warmth, and a dash of luxury while maintaining personal style.
Cleaning and Preserving Wedding Jackets
Post-wedding care is as vital as the selection of the jacket itself. Dry cleaning is the preferred option for most wedding jackets, particularly those made of delicate materials like silk or lace. A professional cleaner with experience in bridal wear should be selected to avoid any damage.
For preservation, the jacket should ideally be stored in a breathable garment bag and kept in a cool and dry place. Never store your wedding jacket (or any bridal garments) in a damp basement or a hot attic.
If you're looking forward to passing down your wedding jacket as a family heirloom, consider having it professionally preserved. This process often includes cleaning, repairing any damage, and packaging the jacket in an acid-free box. This way, you're not just preserving a garment, but also a beautiful piece of personal history.
FAQ
What kind of jacket to wear to a wedding?
For a wedding, a long, formal wool coat in a dark shade like navy or black is an elegant choice that perfectly complements any dress.
What do you wear to an outdoor wedding warmth?
For an outdoor wedding in cool weather, consider wearing a single heavy jacket or layering lighter clothing such as a thin sweater or cardigan over a dress, topped with a jacket, a matching scarf, and gloves, appropriate for non-freezing temperatures.
What kind of coat do you wear to an outdoor wedding?
For an outdoor wedding, a structured blazer or wrap coat would be an exceptional choice to look formal and put together while also providing warmth.
How can you incorporate a shawl or wrap into an outdoor wedding ensemble?
Incorporating a shawl or wrap into an outdoor wedding ensemble can be done by selecting a piece that complements the wedding colors, adding a touch of elegance and warmth for a cooler or evening wedding.
Can you suggest fashionable yet warming accessories for a cool-weather outdoor wedding?
Opting for a faux fur stole, elegant gloves, thermal tights under a long dress, or an embellished wrap can offer a chic, winter-appropriate look while keeping you warm during a cool-weather outdoor wedding.
What are some stylish and comfortable footwear options for attending an outdoor wedding?
Stylish and comfortable footwear options for an outdoor wedding include wedge heels, fancy flats, sturdy kitten heels or embellished sandals.
Tips On Tailoring Wedding Jackets
A well-fitted jacket can greatly enhance the overall look of your wedding day attire. Working closely with a skilled tailor guarantees a perfect fit and allows for custom adjustments to meet your preferences.
Here are a few tips on tailoring wedding jackets.
When selecting a style, ensure it complements the overall wedding theme. From contemporary slim-fit to the classic tuxedo, there's a range of designs to choose from. Once you've selected a style, be clear about customization details such as button styles, pocket shapes, or personalized lining.
Early sizing is key. Visit the tailor at least 3-4 months before your wedding and be prepared for multiple fittings. Opting for a basted fitting, where the jacket is basted together with loose stitches, can provide an unprecedented level of precision.
Check the shoulder fit. This is the most challenging part to alter, so it's crucial to get right from the beginning. Lastly, get acquainted with the feel of your finished jacket before the wedding. This will ensure comfort and confidence on your big day.
Incorporating Cultural Styles Into Wedding Jackets
Drawing upon your cultural background or heritage can offer distinctive and meaningful elements to the overall design of your wedding attire.
Wedding jackets present a canvas for cultural expression, ranging from traditional embroidery to symbolic motifs.
For instance, a Celtic wedding may incorporate Irish wool jackets featuring Aran knitting patterns.
These intricate designs are steeped in history, adding a layer of depth to your wedding attire.
Asian-themed weddings, on the other hand, could include brocade jackets inspired by Japanese kimonos or Chinese Tangzhuang, encompassing vibrant colors and rich patterns.
Not only do these designs pay tribute to cultural heritage, but they can serve to inject a splash of color and texture to your ensemble.
Remember, these are simply suggestions, not rules.
The key is for your jacket to resonate with your style and heritage while providing comfort and warmth in your outdoor ceremony.
As it's your day, your satisfaction and comfort are all that truly matters.
Eco-friendly Materials for Wedding Jackets
Selecting eco-friendly materials not only contributes to the sustainable fashion movement but also adds a unique touch to your wedding ensemble.
Organic cotton is a popular choice, offering breathability and comfort. Its natural texture adds an element of rustic charm, perfect for an outdoor wedding. Linen, another eco-friendly material, is known for its lightweight nature and ability to keep you cool during seasons of warmth.
Hemp might be unconventional, but it is highly durable and has a superb natural finish. Additionally, BAMBOO fabrics are ideal for creating sleek and modern designs, being both sustainable and silky. Finally, consider reclaimed or recycled fabrics. They hold an appeal of their own, while adding a meaningful touch to your special day.
When opting for eco-friendly materials, remember to check their sources. Ethical manufacturing is as crucial as the material itself. Choose brands that prioritize fair trade and worker rights. This attention to detail will not only ensure your jacket's quality but will also reflect the mindful choices of your special day.
The Elegance of Satin Wedding Jackets
Satin reflects elegance and sophistication, making it an exquisite choice for outdoor wedding jackets.
This smooth, glossy fabric adds a hint of luxury to any bridal look, perfectly complementing a variety of styles, from exquisite ball gowns to minimalist sheath dresses.
Satin jackets can be tailored to your preference, allowing for personalized touches such as lace detailing, intricate embroidery, or sparkling embellishments.
Moreover, this fabric's lustrous surface tends to shimmer in natural light, enhancing the bride's glow during an outdoor wedding.
Not only attractive, satin also provides a lightweight yet effective barrier against cool breezes, ensuring comfort throughout the event.
Vintage Inspired Wedding Jackets
Channeling earlier times allows couples to infuse unique character into their outdoor wedding ceremony. For those inclined towards aesthetics from bygone eras, donning vintage-inspired jackets achieves just that. These attire elements come in numerous designs, from Victorian peplum cuts to cheeky bomber jackets of the 1950s, they provide an opportunity to express personal style while keeping comfortably warm.
Victorian style jackets often feature lace and intricate embroidery patterns, taking their inspiration from the late 19th century. These can perfectly complement a detailed wedding ensemble if chosen in lighter hues.
Bomber jackets, on the other hand, make a stylish statement from the mid-20th century. They could be customized with wedding monograms or the wedding date to make it truly one of a kind. Pair it with a classic dress or suit, and it merges seamlessly with both traditional and contemporary styles.
Wearing a vintage-style jacket not only adds a dash of nostalgia but also ensures guests remember the couple's unique wedding fashion choice long after the day passes. Remember, these jackets can be rented or purchased, they can be true vintage pieces or simply vintage-inspired, allowing various levels of commitment to authentic vintage while taking the weather conditions into account.
Keep reading: