In this blog post, I will share with you some stylish and practical outfit ideas for attending an outdoor wedding in the mountains.
As the wedding season approaches, it's time to start thinking about what to wear to the outdoor weddings that you've been invited to. While dressing up for a wedding is always exciting, outdoor weddings in the mountains present a unique challenge.
The breathtaking scenery and unpredictable weather can make it difficult to decide on an outfit that is both practical and stylish. But don't worry, I'm here to help! In this blog post, we'll explore some of the best outfit options for an outdoor mountain wedding that will have you looking and feeling your best while enjoying nature's beauty.
So grab a cup of coffee or tea and let's get started!
Mountain Wedding Attire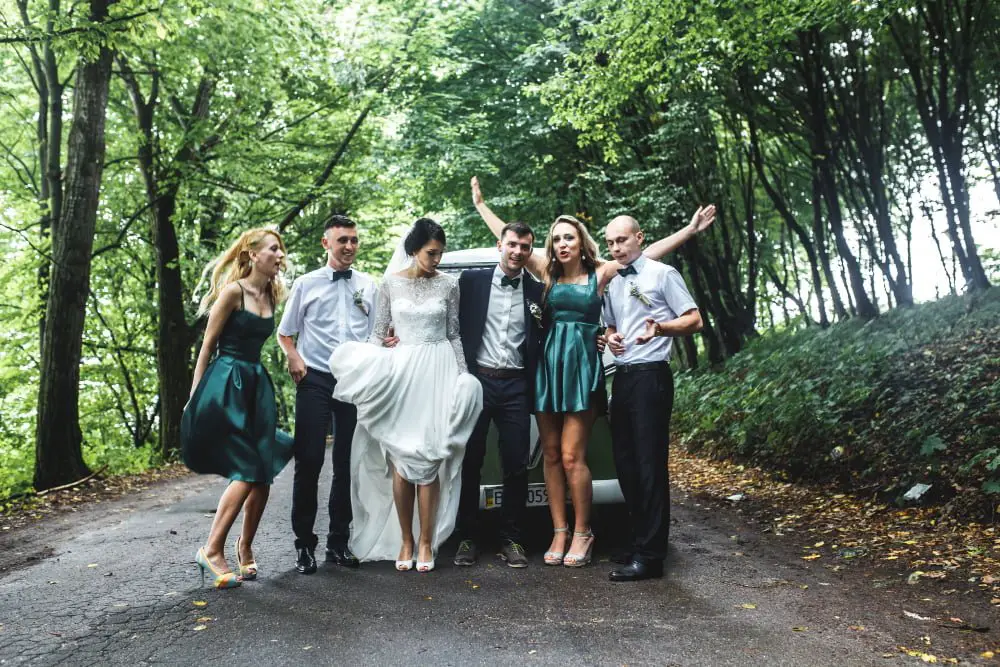 When it comes to mountain wedding attire, there are a few things to keep in mind. First and foremost, you want to make sure that your outfit is comfortable and practical for the outdoor setting.
This means opting for breathable fabrics that will keep you cool if the weather is warm or layering up with warmer materials if it's chilly.
In terms of style, think about incorporating earthy tones or muted colors into your outfit as they complement the natural surroundings of a mountain wedding perfectly. You can also add some texture by choosing outfits with lace details or embroidery.
For women attending an outdoor mountain wedding, consider wearing a flowy maxi dress paired with sandals or wedges for comfort while still looking chic. Men can opt for linen suits in light colors like beige or gray paired with loafers instead of traditional dress shoes.
Dress Code Guidelines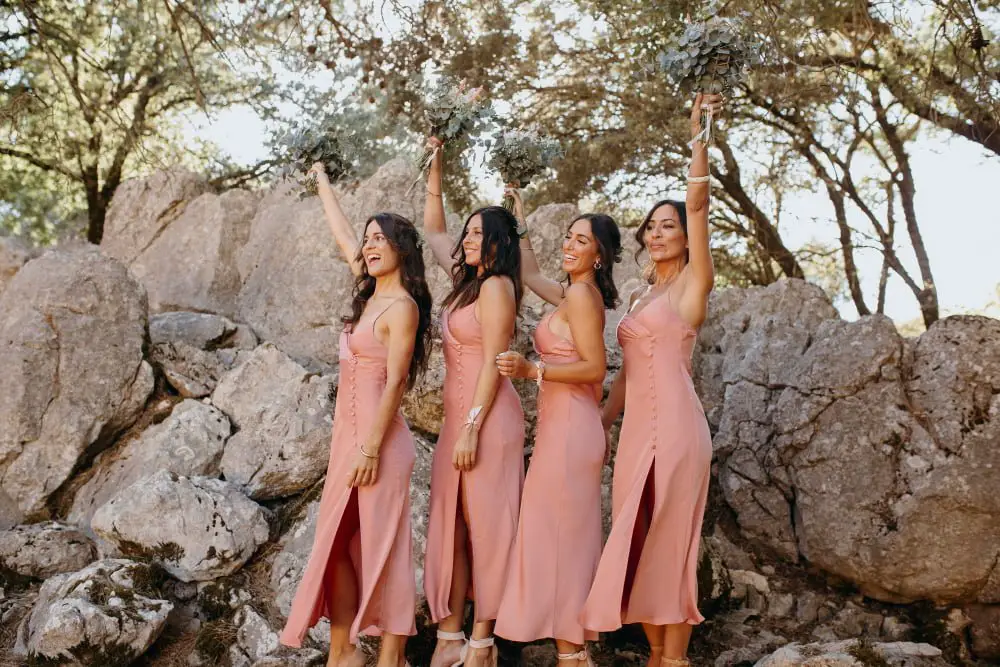 While some couples may opt for a more casual affair, others may request formal attire. It's always best to check with the couple or consult their wedding website for any specific dress code guidelines.
If there are no specific guidelines provided, use your best judgment based on the invitation and location of the wedding. For example, if you received a formal invitation and know that the ceremony will take place at a fancy mountain resort venue, then you should plan on wearing something more elegant like a long gown or suit.
On other hand if you're attending an intimate backyard ceremony with close friends and family members in attendance then opting for something less formal such as sundresses or khakis would be appropriate.
Weather Considerations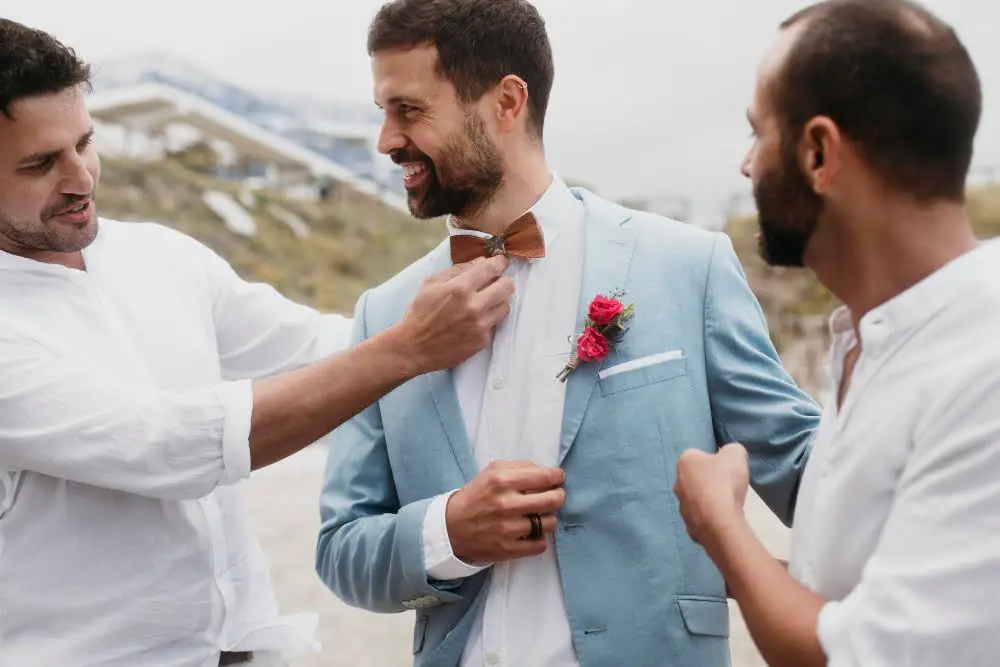 It's essential to consider the forecast when choosing your outfit for a mountain wedding. You don't want to be caught off guard by sudden rain or chilly winds.
If you're attending a summer mountain wedding, opt for lightweight fabrics such as cotton or linen that will keep you cool and comfortable throughout the day. However, it's always wise to bring along a light jacket or shawl in case of an unexpected drop in temperature.
For fall and winter weddings, layering is key! Start with warm base layers like thermal tops and leggings then add on heavier pieces like sweaters and jackets that can easily be removed if needed. Don't forget about accessories too! A cozy scarf or hat will not only keep you warm but also add some style points to your outfit.
Layering Options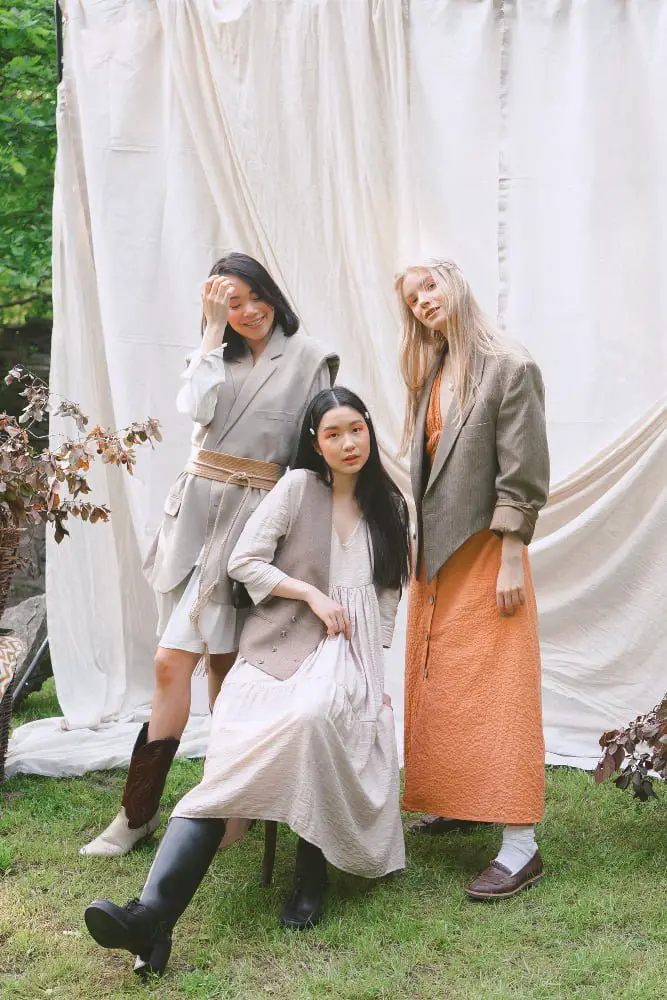 The weather can be unpredictable and temperatures can drop quickly as the sun sets. To ensure that you're comfortable throughout the day and into the evening, consider layering your outfit with a few key pieces.
Start with a lightweight base layer such as a silk camisole or cotton t-shirt. This will help keep you cool during warmer parts of the day while providing insulation when temperatures drop.
Next, add a light sweater or cardigan made from breathable materials like linen or cotton. These fabrics are perfect for mountain weddings because they allow air to circulate while still keeping you warm.
Bring along a jacket or coat that's appropriate for cooler weather conditions such as denim jackets, leather jackets or even puffer vests depending on how cold it gets in your location.
Footwear Choices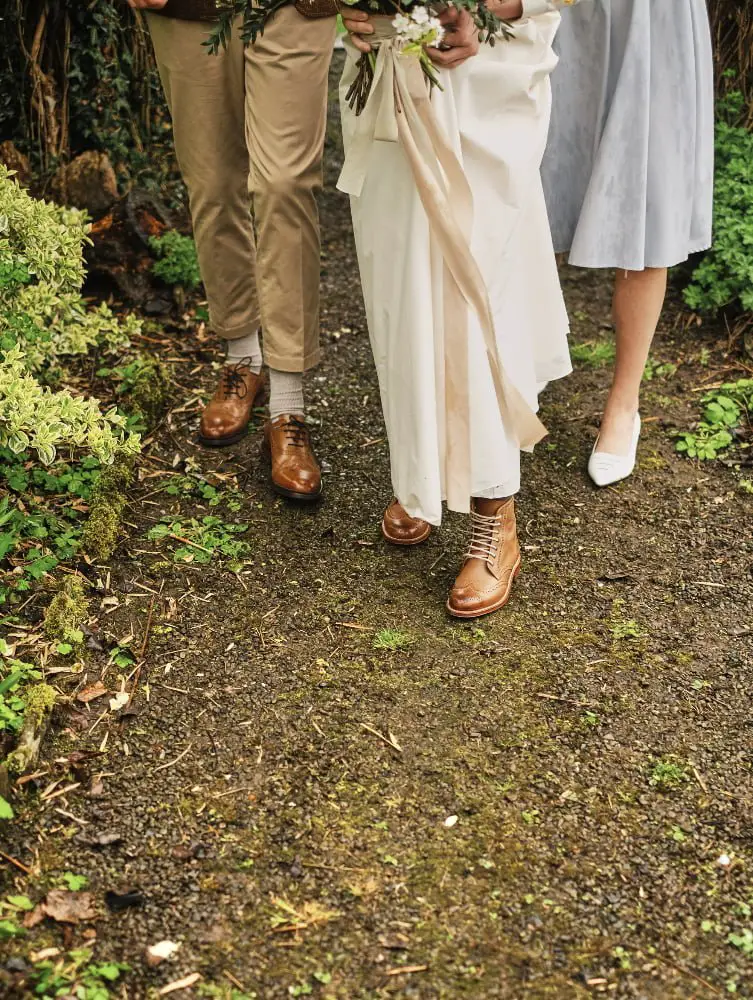 High heels may look great with your dress, but they are not the best option for walking on uneven terrain. Instead, opt for comfortable shoes that will allow you to move around freely without worrying about tripping or sinking into the ground.
One of my favorite options is a pair of stylish yet sturdy ankle boots. They provide excellent support and traction while still looking chic and fashionable.
If you prefer something more casual, consider wearing a pair of sneakers or flats that match your outfit.
Another important consideration when choosing footwear is weather conditions. If there's a chance of rain or snow on the day of the wedding, make sure to wear waterproof shoes that will keep your feet dry throughout the event.
Remember that comfort should always come first when selecting footwear for an outdoor mountain wedding. With so many stylish options available today, there's no need to sacrifice style for practicality!
Keep reading: