Use this checklist to plan your outdoor wedding completely. The PDF printable is included. Read on!
Are you dreaming of an idyllic outdoor wedding, with nature as your backdrop, and the open sky above? Outdoor weddings are undeniably enchanting, but they also come with their unique set of challenges.
That's why we've put together the ultimate checklist to help you plan your perfect outdoor wedding, down to the last detail. From venue selection to emergency kits, we've got you covered!
You can download the PDF version here.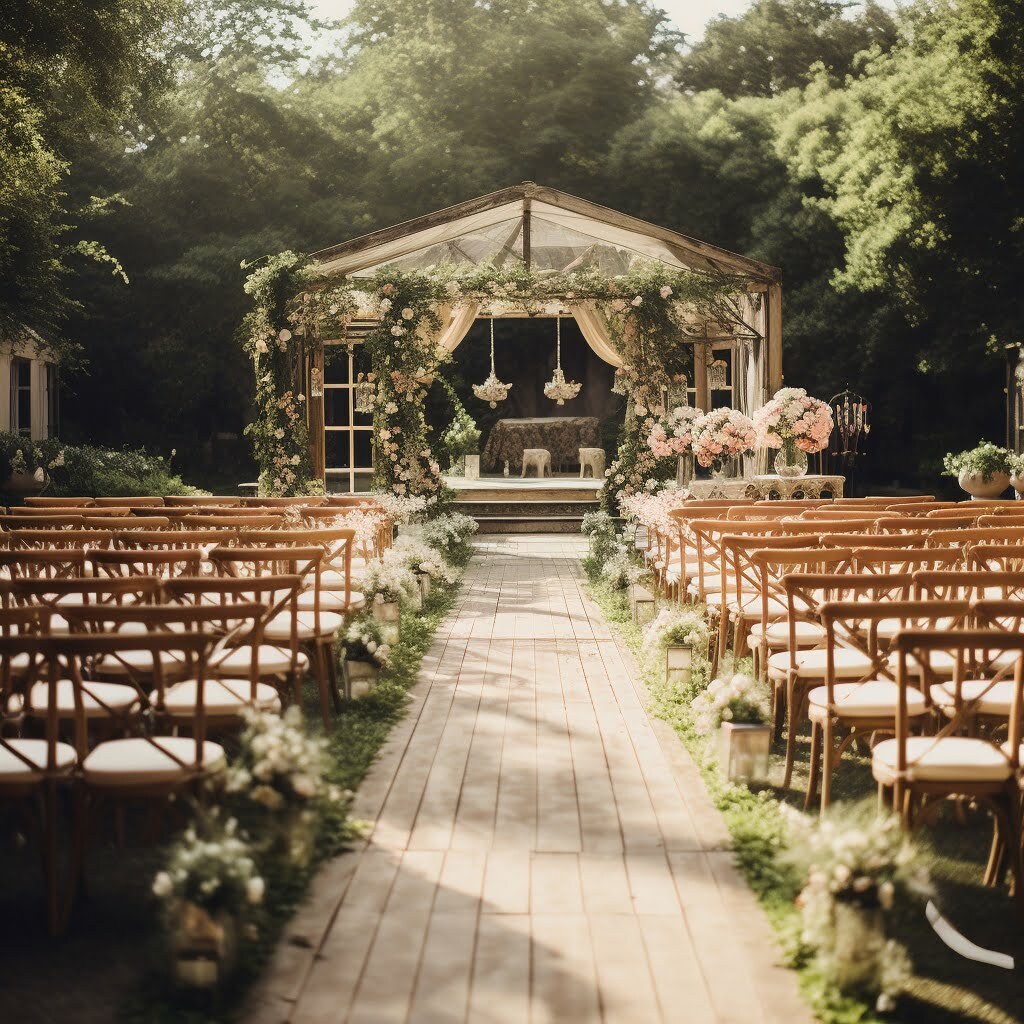 Venue Selection and Booking:
Research and select an outdoor venue.
Secure the venue by booking it for the date and time.
Check for availability of a backup indoor venue.
Permits and Insurance:
Check if any permits are required for the chosen location.
Secure event insurance if necessary.
Catering and Refreshments:
Choose a caterer that specializes in outdoor events.
Ensure there's access to clean water and other refreshments.
Decorations:
Select outdoor-friendly decorations.
Plan for lighting if the event will be held in the evening.
Seating:
Arrange for outdoor-friendly seating and tables.
Plan a layout for seating, catering, and other event aspects.
Comfort Considerations:
Arrange for suitable shading options (e.g., marquees, umbrellas).
Plan for heating or cooling solutions based on expected weather.
Sanitation:
Secure outdoor-friendly restrooms.
Arrange for garbage disposal.
Sound and Music:
Hire a DJ or band familiar with outdoor acoustics.
Check local noise regulations.
Photography and Videography:
Hire a photographer/videographer experienced with outdoor lighting.
Plan for drone photography if desired and allowed by local regulations.
Transportation:
Plan for guest transportation to and from the venue.
Ensure there's sufficient parking space or shuttle service.
Accommodation:
Arrange for nearby accommodation for guests if needed.
Weather Contingency Plan:
Have a contingency plan in place in case of bad weather.
Power and Electricity:
Ensure there's sufficient power supply for lights, sound system, catering, etc.
Invitations:
Send out invitations with clear directions to the outdoor venue.
Wedding Dress:
Choose a wedding dress suitable for the outdoor weather and terrain.
Footwear:
Advise guests on suitable footwear considering the outdoor setting.
Food Storage:
Ensure there are arrangements for safe outdoor food storage.
Bug and Pest Control:
Plan for bug and pest control to keep guests comfortable.
Signage:
Arrange for clear signage directing guests around the venue.
Accessibility:
Make sure the venue is accessible to people with mobility issues.
Rehearsal:
Plan a rehearsal to make sure everything runs smoothly on the actual day.
Legal Requirements:
Check if the venue meets all legal requirements for holding a wedding ceremony.
Flowers and Centerpieces:
Choose flowers and centerpieces that can withstand outdoor conditions.
Emergency Kit:
Have an emergency kit ready for any minor accidents or needs.
Planning an outdoor wedding can be as exciting as the big day itself. With this comprehensive checklist, you'll be well-prepared for every aspect of your outdoor wedding, leaving no stone unturned. Remember, the key to a successful outdoor wedding is planning for all possibilities while keeping the charm and beauty of nature at the heart of your celebration.
Remember, while a checklist is a great starting point, every wedding is unique. Be sure to consider your personal preferences and circumstances and adjust the checklist as needed. It's your day, make it one to remember!
Keep reading: