Discover stunning outdoor wedding entrance decoration ideas that will make your special day truly unforgettable as you embark on your journey towards marital bliss.
Imagine walking down a flower-lined aisle, surrounded by the beauty of nature, with the sun shining bright above you. That's the magic of an outdoor wedding entrance.
It sets the tone for your big day and creates a memorable first impression for your guests. But how do you make it truly special? How do you transform a simple walkway into an enchanting path that leads to your happily ever after? Fear not, my dear readers! In this article, I've compiled 20 stunning ideas for outdoor wedding entrance decorations that will take your breath away.
From whimsical arches to rustic lanterns and everything in between, get ready to be inspired and create a beautiful entrance that reflects your unique love story. Let's dive in!
Floral Archway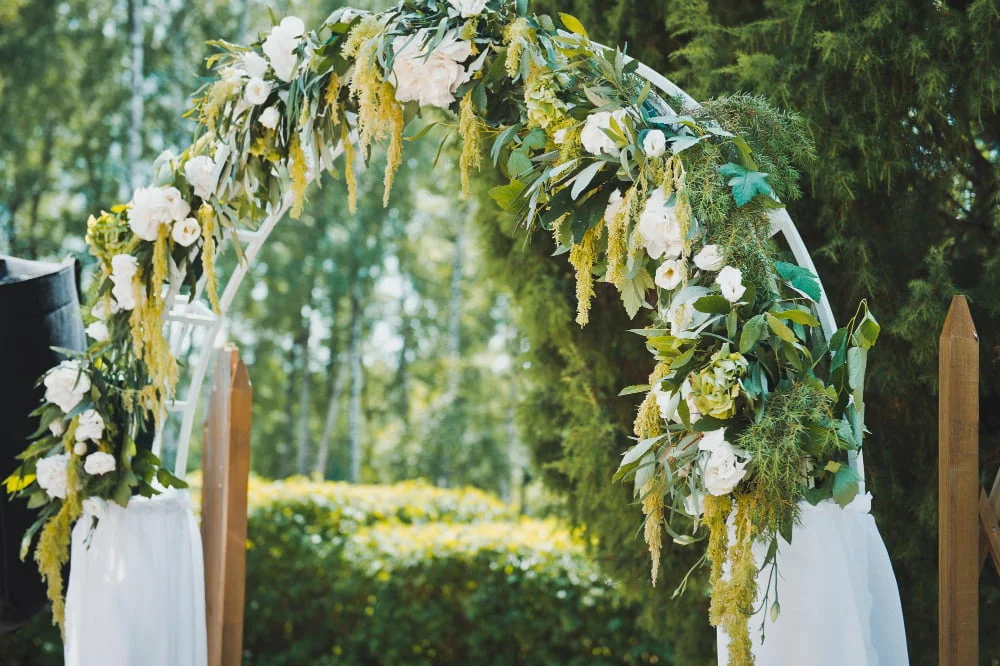 A floral archway is a classic and elegant way to decorate the entrance of your outdoor wedding. It creates a beautiful focal point for guests as they arrive, and it's perfect for framing the bride and groom during their ceremony.
You can use any type of flowers you like, but popular choices include roses, peonies, hydrangeas or even wildflowers if you're going for a more rustic look. The arch itself can be made from wood or metal and draped with greenery to give it an organic feel.
If you want to add some extra sparkle, consider adding fairy lights woven through the flowers or hanging crystals from the top of the archway – this will create an enchanting atmosphere that your guests won't forget!
Rustic Wooden Doors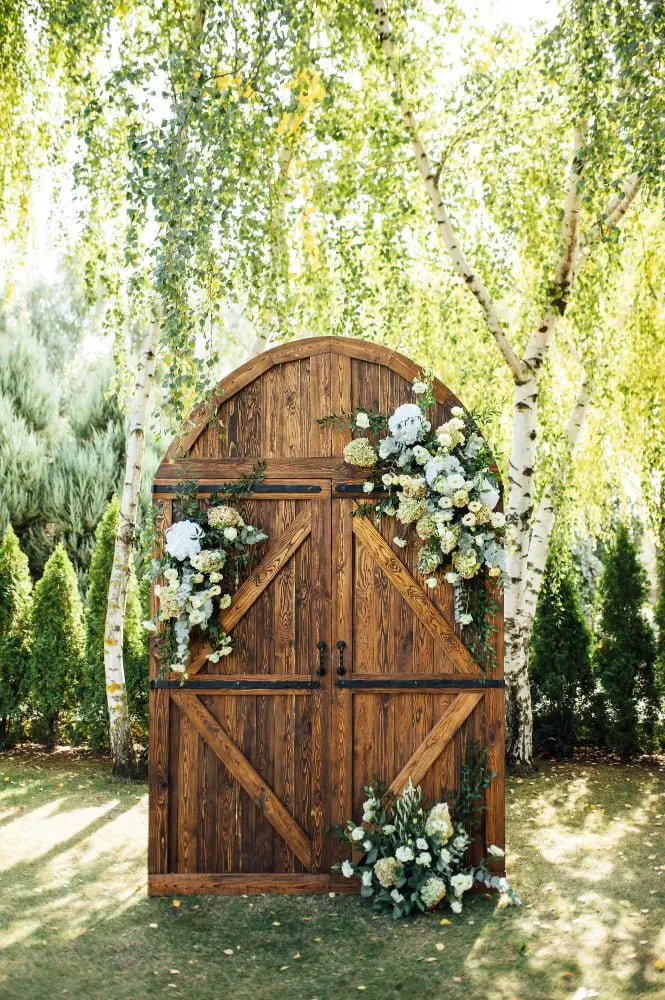 They add a touch of charm and elegance to any setting, whether it's in the countryside or by the beach. You can decorate them with flowers, greenery, or even hang vintage signs that say "Here Comes The Bride" or "Welcome To Our Wedding".
Wooden doors also make for great photo backdrops and can be used as part of your ceremony decor too. If you're going for a rustic theme, consider using old barn doors that have been repurposed into an entrance archway – this will give your wedding day an authentic country feel!
Lantern-lined Pathway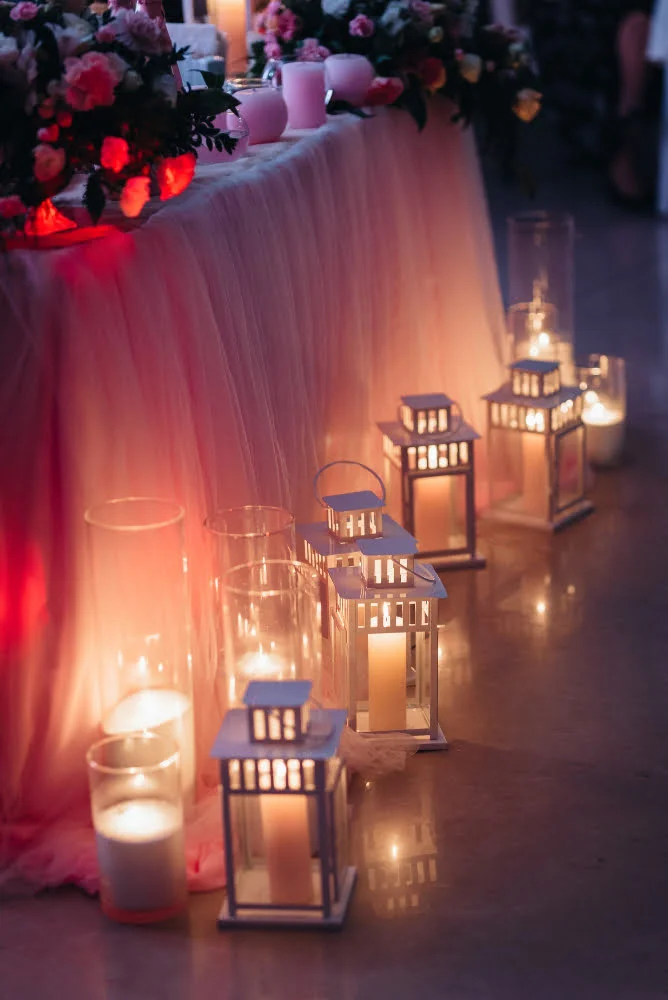 These lanterns can be hung from shepherd's hooks or tree branches, and they come in various sizes and styles to match the theme of your wedding. You can choose classic white lanterns for a timeless look, or colorful ones that add pops of color along the pathway.
For a rustic feel, you could use mason jar lanterns with tea lights inside them. Lantern-lined pathways not only provide light but also create an intimate atmosphere as guests make their way towards the ceremony site under twinkling lights.
Hanging Flower Baskets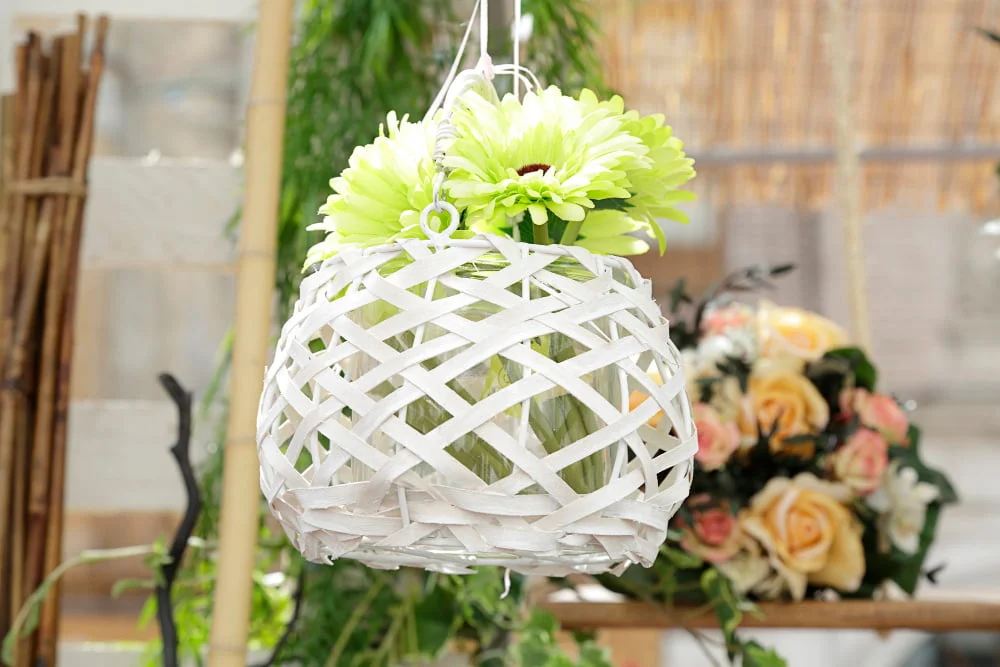 They can be hung from trees, archways or even shepherd's hooks. Choose flowers that match your wedding color scheme and theme, such as roses, peonies or wildflowers.
You can also add greenery like ivy or ferns for a more natural look.
To create a cohesive look throughout your wedding decor, consider using the same flowers in other areas such as centerpieces and bouquets.
Tulle-draped Entrance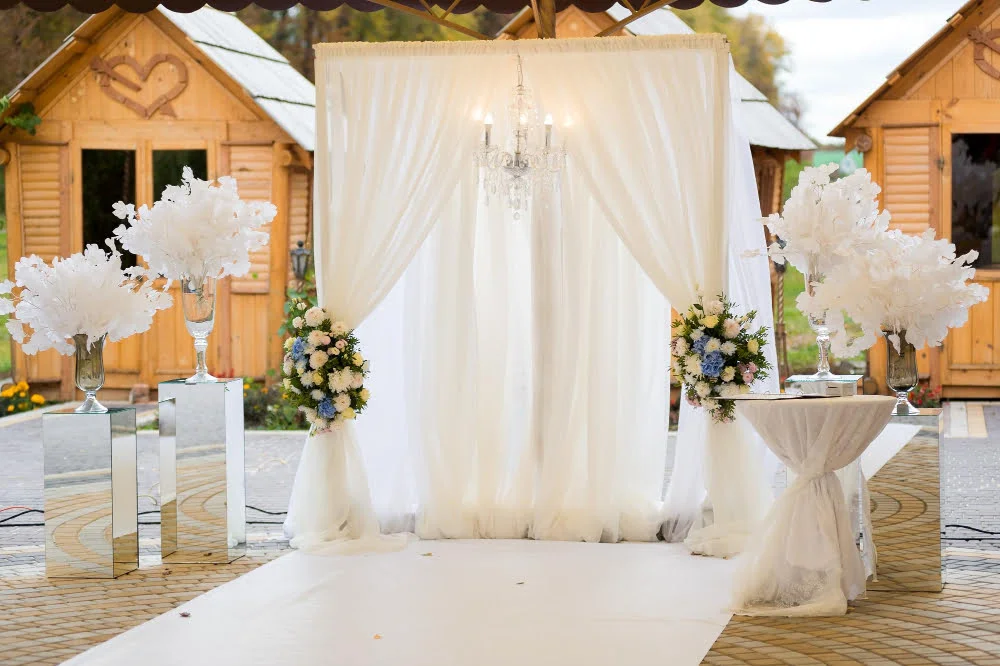 The soft, delicate fabric creates a romantic atmosphere that sets the tone for the rest of your special day. You can use tulle in various ways to create different effects, such as draping it over archways or wrapping it around trees.
For added sparkle, you can also add fairy lights or flowers to complement the tulle's ethereal quality. Tulle comes in many colors and textures so you can easily match it with your wedding theme and color scheme.
A tulle-draped entrance will make for stunning photos that capture all those magical moments on your big day!
Balloon Garland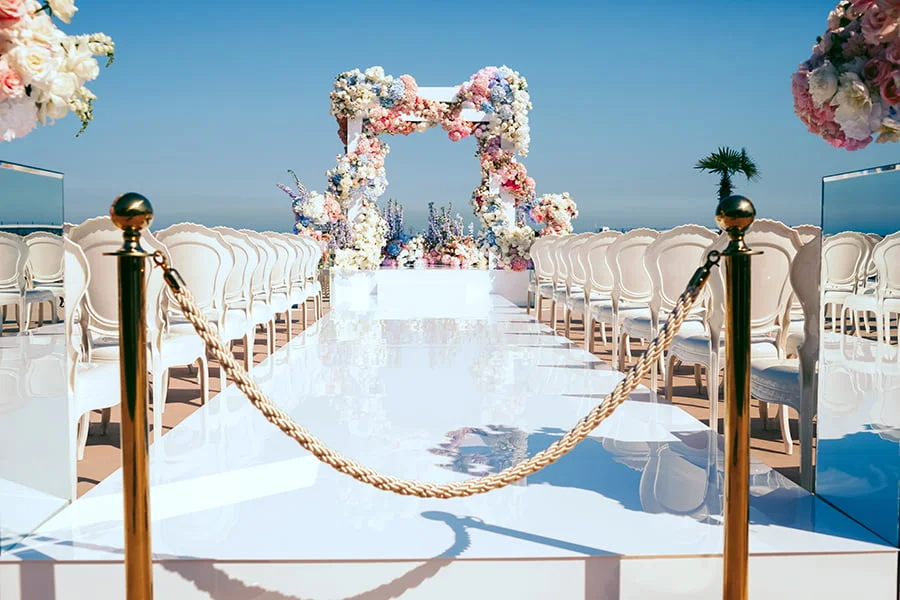 They can be customized to match your wedding colors or theme, and they add a whimsical touch that guests will love. Balloon garlands can be made with different sizes and shapes of balloons, as well as incorporating other elements such as flowers or greenery for added texture.
You could also use balloon garlands to create an archway over the entrance or drape them along the sides of a pathway leading up to the ceremony site. The possibilities are endless when it comes to creating unique balloon garland designs that will make your outdoor wedding entrance stand out!
String Lights Canopy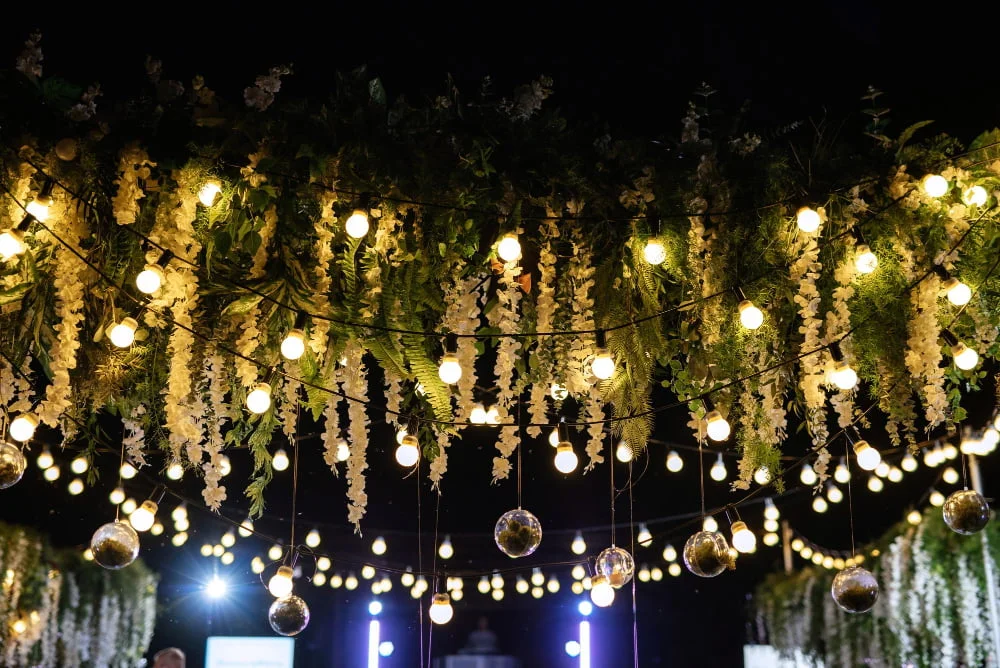 This decoration idea involves hanging strings of fairy lights from trees or poles above the entrance, creating a twinkling and magical effect. The soft glow of these lights will create an intimate atmosphere that will make your guests feel like they are walking into a fairytale setting.
You can choose warm white or colored bulbs depending on your theme, and you can even add some greenery or flowers for extra charm. A string light canopy is perfect for evening weddings as it creates beautiful photo opportunities while also providing functional lighting for guests entering after dark.
Welcome Chalkboard Sign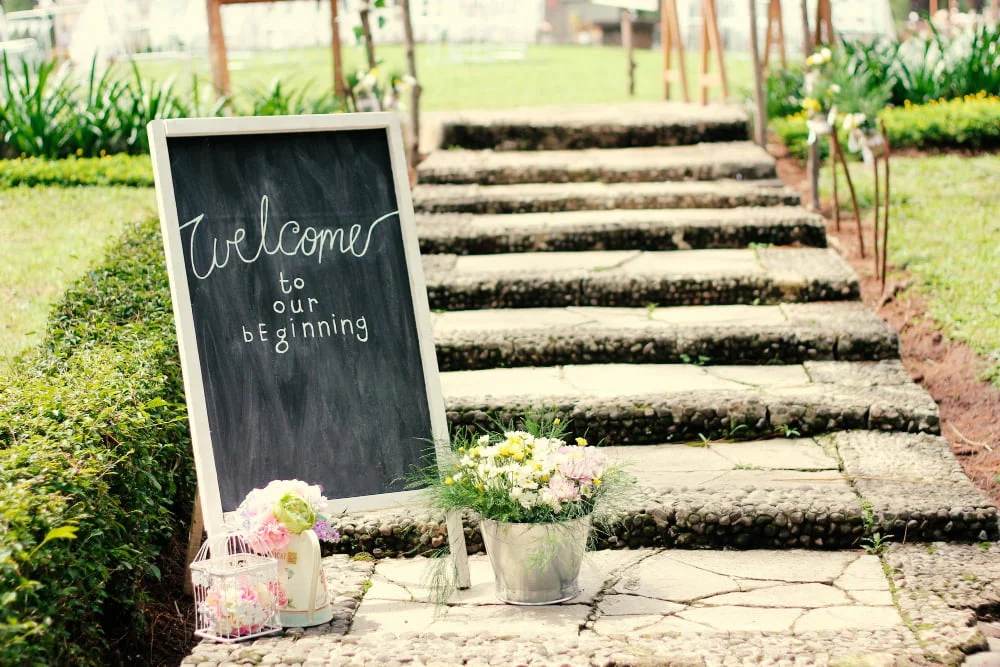 You can customize the message on the board to suit your theme or add a personal touch, such as including the names of the bride and groom or an inspiring quote. The sign can be placed at various locations, such as near the entrance, along with other decorations like flowers or lanterns.
It's also easy to DIY if you're feeling crafty! A welcome chalkboard sign is sure to make a great first impression on your guests and set an inviting tone for your special day.
Fairy Light Curtains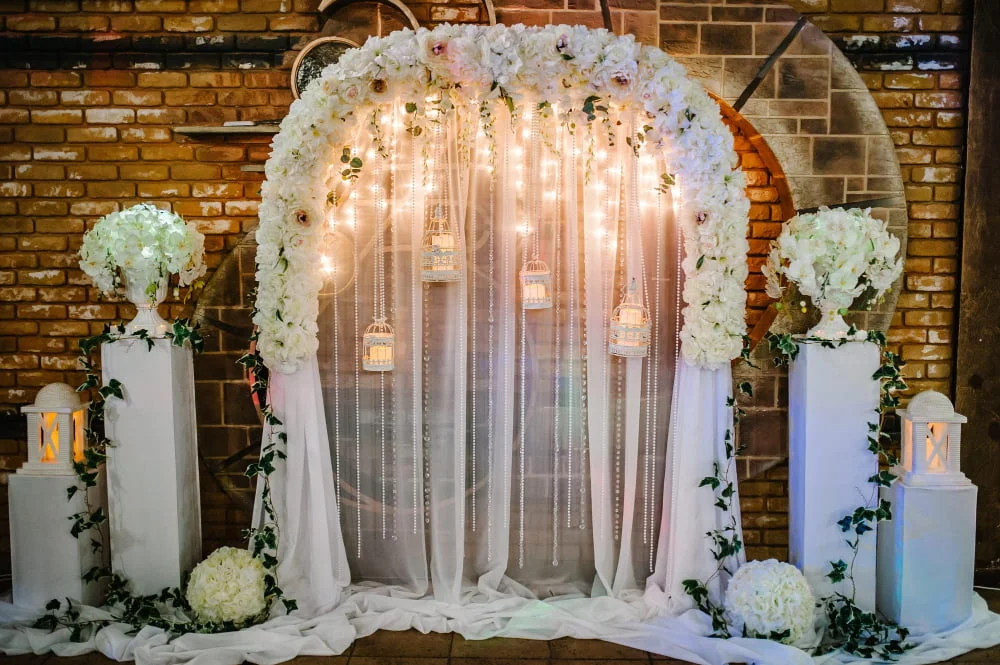 These delicate strands of lights can be hung from trees, draped over archways or used as a backdrop behind the bride and groom's table. The soft glow of the fairy lights creates a romantic ambiance that is perfect for evening weddings.
You can choose warm white or colored fairy lights depending on your theme and color scheme. Fairy light curtains are easy to install and require minimal effort but have maximum impact on creating an unforgettable entrance for you and your guests!
Vintage Bicycle Decor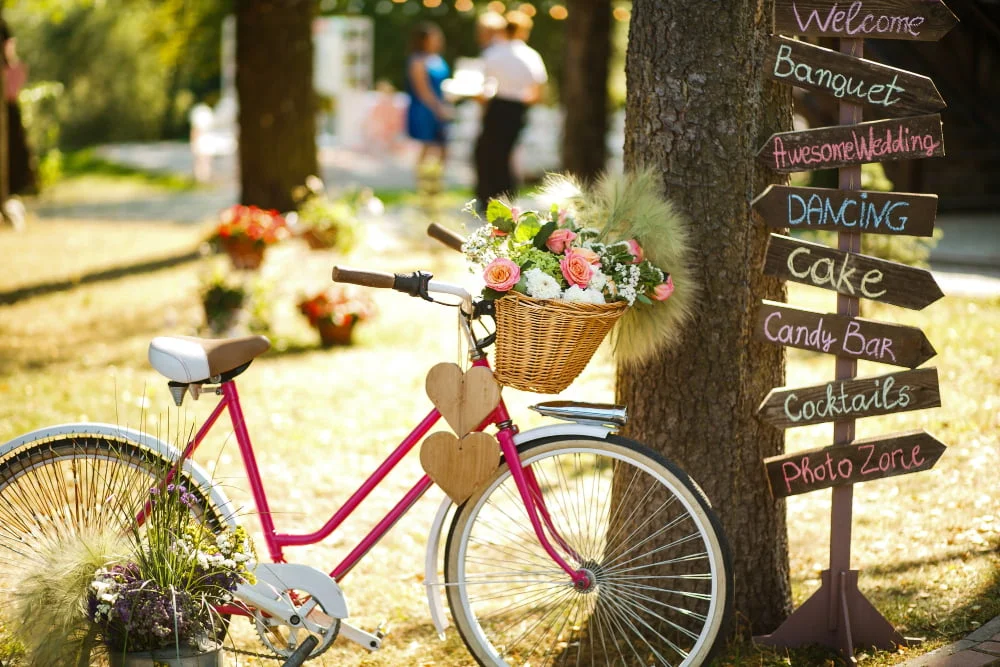 These can be used in many ways, such as leaning them against a tree or wall with flowers spilling out of the basket or attaching floral arrangements to the handlebars. You could also use them as photo props by placing them near your ceremony site with a sign that says "ride off into the sunset." For an extra touch of nostalgia, consider using bikes that have been passed down through generations in your family or renting some from local antique shops.
Vintage bicycle decor is sure to add character and whimsy to any outdoor wedding entrance!
Ribbon Streamers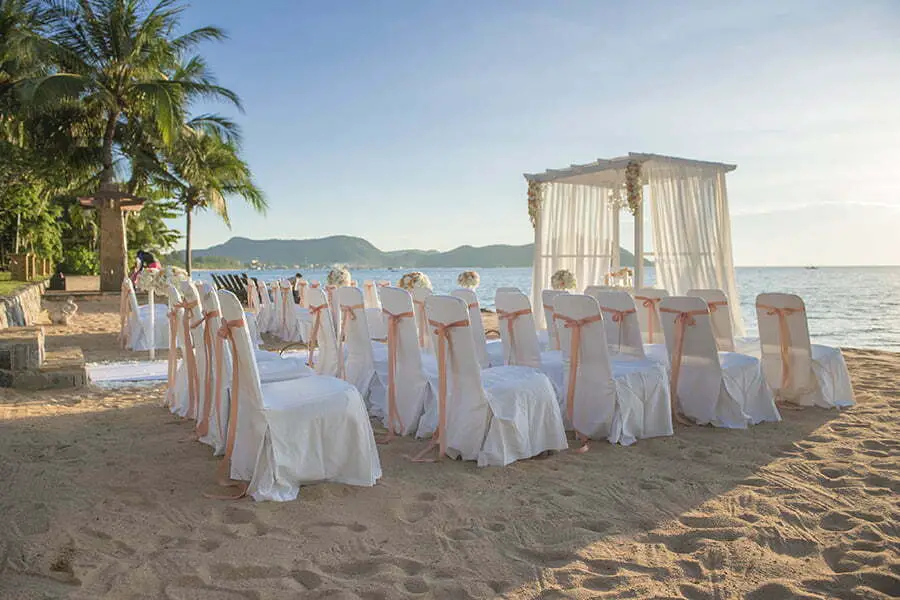 They add movement, color, and texture to any space. You can use ribbons in different colors or shades that match your wedding theme or go for a rainbow effect for an eye-catching display.
To create ribbon streamers, you will need long pieces of ribbon (around 6-8 feet) tied onto a wooden dowel or pole. You can hang them from trees, archways or even attach them to chairs lining the aisle.
For added charm and personality, consider using ribbons with patterns like polka dots or stripes instead of plain ones. Ribbon streamers are also perfect if you're on a budget as they're easy to make yourself with materials found at craft stores.
Burlap and Lace Banners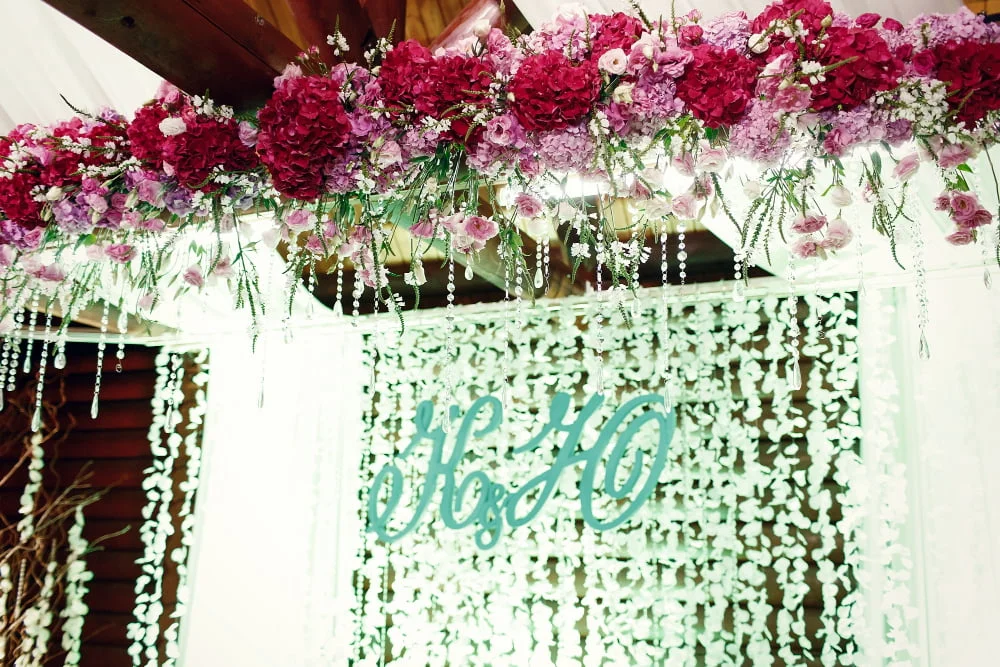 These banners can be easily made at home with some burlap fabric, lace trim, and twine. You can customize the banner by adding your initials or wedding date using stencils or iron-on letters.
To create an eye-catching display, hang the banner across two trees or posts at the entrance of your venue. The natural texture of burlap combined with delicate lace creates a beautiful contrast that will surely impress your guests as they arrive.
Sunflower Lined Walkway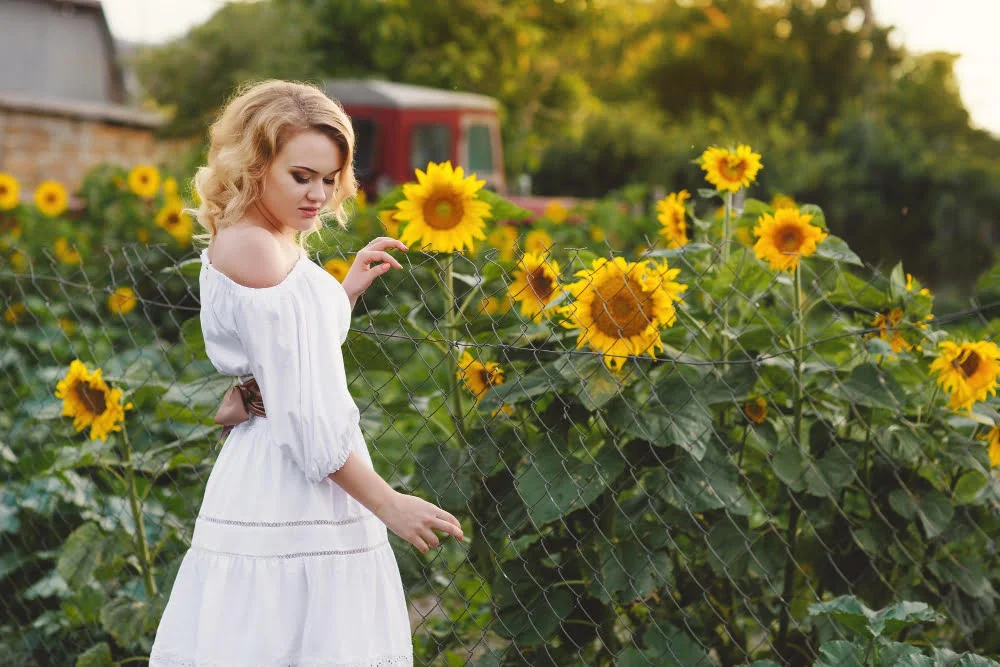 A sunflower-lined walkway is an excellent way to add color and charm to your wedding ceremony. You can use potted sunflowers or plant them directly in the ground along the aisle leading up to your altar or archway.
Sunflowers come in different sizes, so you can choose smaller ones for pots and larger ones for planting directly into the soil. The bright yellow petals of these flowers will create a cheerful atmosphere that will put everyone in high spirits as they walk down towards your ceremony area.
Paper Lanterns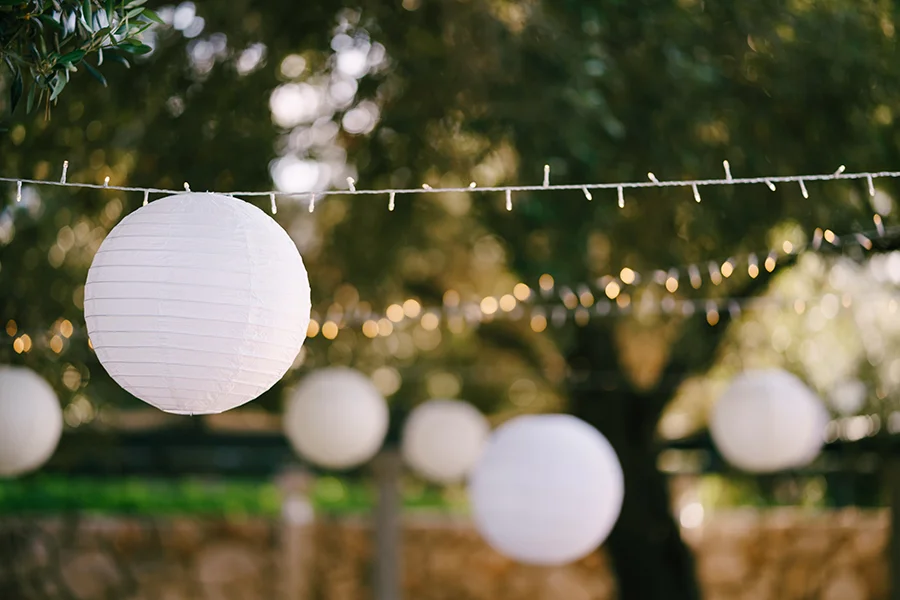 They come in various colors, shapes, and sizes to match any wedding theme. You can hang them from trees or string them along the pathway leading to the ceremony site.
Paper lanterns create a whimsical and romantic ambiance that will make your guests feel like they're walking into a fairytale setting. For an added touch of elegance, you can mix paper lanterns with string lights or floral arrangements to create an enchanting atmosphere that will leave your guests in awe as they enter your special day's celebration area!
Moss-covered Initials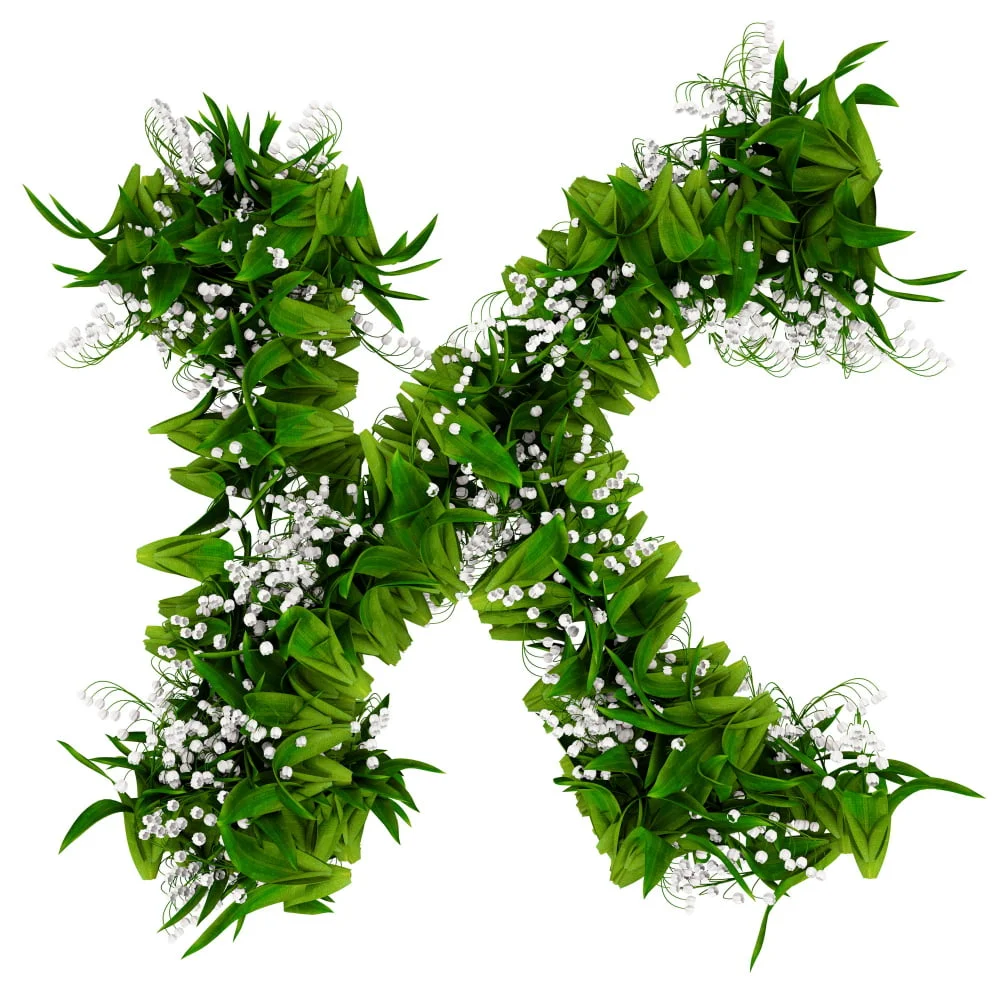 These can be made by purchasing large wooden or cardboard letters from a craft store, covering them in moss, and adding some floral accents for an extra touch of elegance. You could also use the initials of both the bride and groom to create a beautiful monogram display that will leave guests impressed as they enter your ceremony space.
Moss-covered initials work particularly well for rustic or woodland-themed weddings but can add charm to any outdoor setting.
Rustic Wagon Display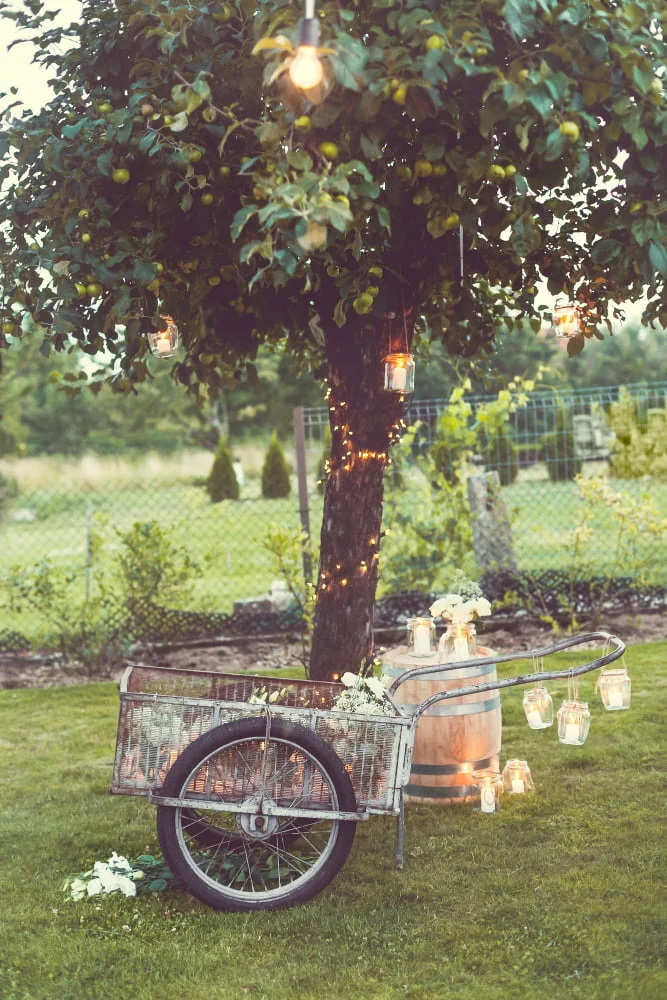 You can use an old wooden wagon as a base and fill it with flowers, greenery, or even vintage suitcases. This decoration idea works particularly well for country-themed weddings or those held on farms or ranches.
To add some personal touches, you could also include photos of the couple in frames hanging from the sides of the wagon or incorporate other sentimental items that reflect their personalities and interests. A rustic wagon display will surely impress your guests as they arrive at your wedding venue!
Candlelit Staircase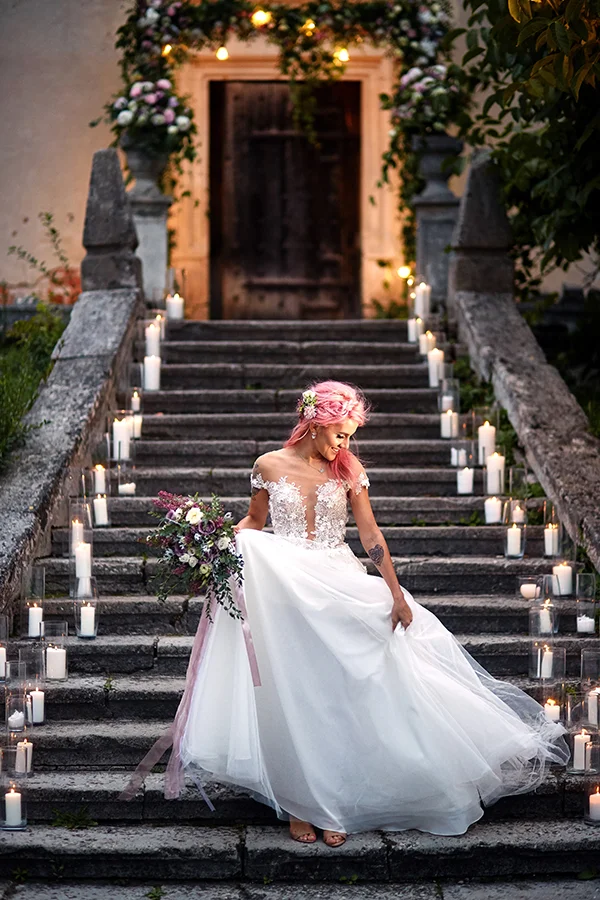 The soft glow of the candles creates a warm and inviting atmosphere, perfect for setting the tone for the rest of the celebration. You can line both sides of your staircase with candles in glass jars or lanterns, or use tall pillar candles on decorative stands placed at intervals along each step.
For added charm, consider adding floral arrangements or greenery garlands intertwined with fairy lights to complete this enchanting look. A candlelit staircase will not only make your entrance feel magical but also provide stunning photo opportunities that you'll cherish forever!
Garden Trellis Entrance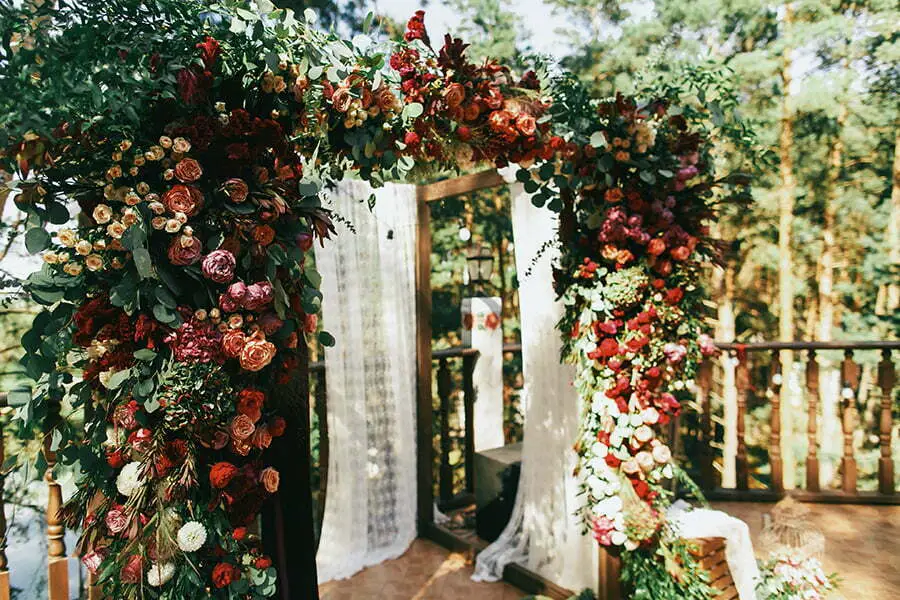 You can decorate the trellis with flowers, greenery or even hanging lanterns. The best part about this decoration idea is that it's versatile and can be customized according to your wedding theme and color scheme.
If you're having a rustic-themed wedding, consider using wooden trellises adorned with wildflowers for an earthy feel. For a more elegant look, use metal or wrought iron trellises decorated with white roses or other delicate blooms like peonies and hydrangeas.
A garden trellis entrance will create an enchanting atmosphere for you and your guests as they enter into the ceremony space surrounded by nature's beauty!
DIY Pallet Signs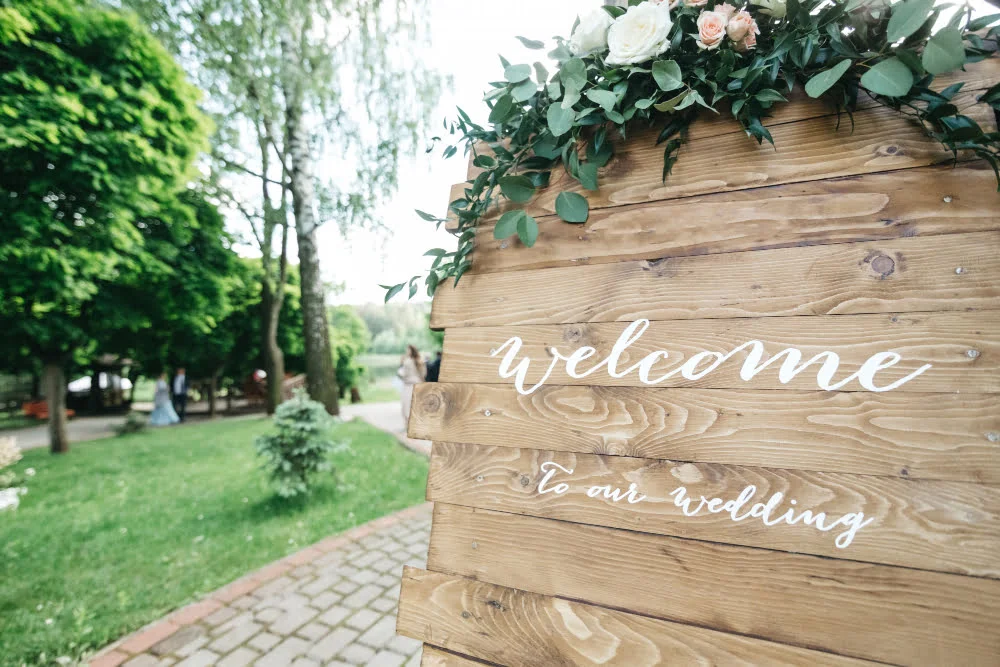 You can easily create these signs by using old wooden pallets and painting them with the message of your choice. Whether you want to welcome guests, direct them towards the ceremony or reception area, or simply display some romantic quotes, DIY pallet signs offer endless possibilities for customization.
To make it even more special, consider adding some floral arrangements or greenery around the sign for an extra pop of color and texture. Not only will this add charm and personality to your wedding decor but also save you money on expensive store-bought signage!
Sea-inspired Decorations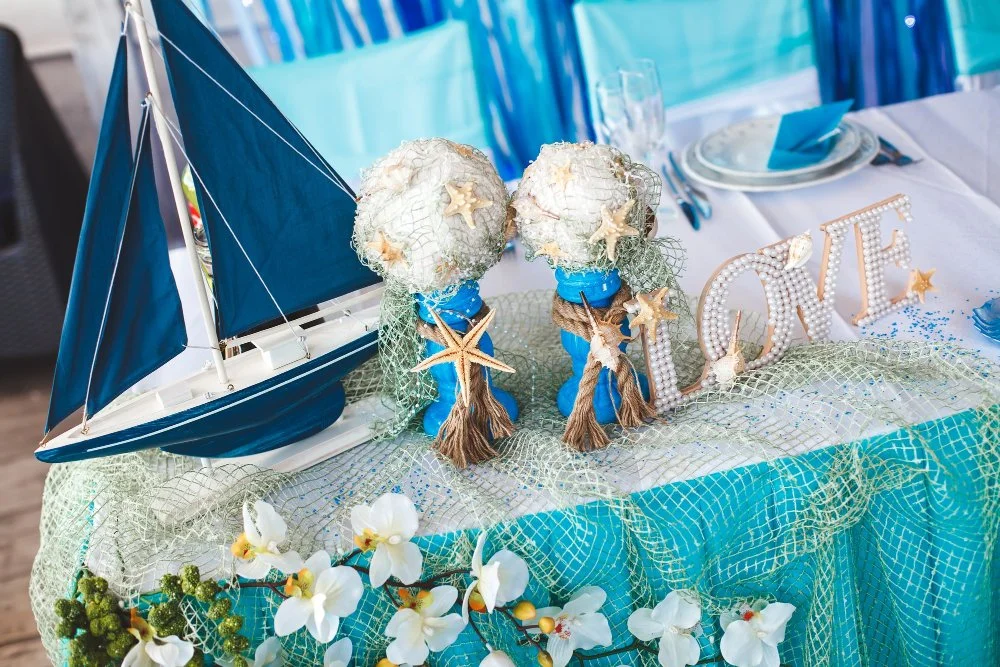 You could use seashells, starfish, driftwood or even fishing nets as part of the decor. A beach-themed archway made from bamboo poles wrapped in fishing netting with shells and starfish attached would make for an eye-catching entrance.
Alternatively, you could create centerpieces using glass jars filled with sand and seashells or hang lanterns adorned with nautical rope knots from nearby trees. These sea-inspired decorations will not only look beautiful but also bring a sense of calmness that is perfect for any outdoor wedding ceremony by the water!
Keep reading: