Discover stunning outdoor wedding pavilion decor ideas that will transform your special day into a breathtaking and unforgettable celebration.
As the sun sets and the stars come out, there's nothing more magical than an outdoor wedding. The fresh air, natural surroundings, and open skies create a romantic atmosphere that indoor venues just can't match.
And what better way to celebrate your love than surrounded by nature's beauty? But to make your outdoor wedding truly unforgettable, you need to pay attention to every detail – especially your wedding pavilion decor. From rustic chic to elegant glamor, we've compiled 20 stunning ideas that will take your outdoor wedding pavilion from ordinary to extraordinary.
So grab a cup of coffee and get ready for some serious inspiration!
Floral Archway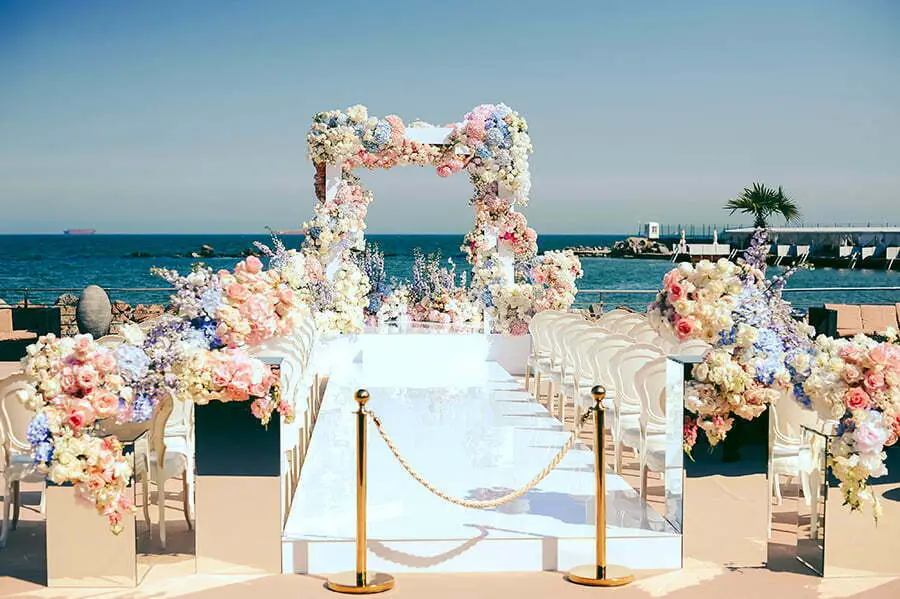 A floral archway is a classic and timeless choice for an outdoor wedding pavilion. It creates a stunning backdrop for the ceremony, adding color and texture to the natural surroundings.
The arch can be made with fresh flowers or artificial ones, depending on your preference and budget. You can choose from various types of blooms such as roses, peonies, hydrangeas or wildflowers to create a romantic atmosphere that will leave everyone in awe.
To make it even more special you could add some greenery like eucalyptus leaves or ivy vines which will give it an organic feel while also making it look fuller. A floral archway is perfect if you want to have your ceremony outdoors but still want something that feels intimate and cozy at the same time.
Hanging Lanterns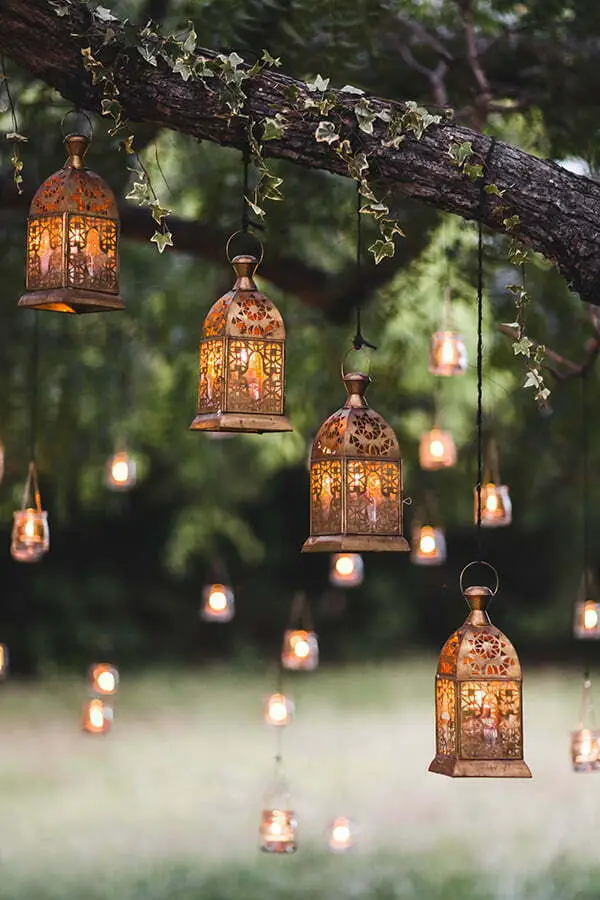 They can be used to create a romantic ambiance, add pops of color, or even serve as the main lighting source. Lanterns come in various shapes and sizes, from traditional paper lanterns to more modern metal designs.
You can hang them at different heights using string lights or ribbons for an ethereal effect that will leave your guests in awe. For a rustic touch, consider using mason jar lanterns with candles inside or hanging vintage-style wire baskets filled with flowers and greenery.
Whatever style you choose, hanging lanterns are sure to elevate the look of your outdoor wedding pavilion decor!
Rustic Chandeliers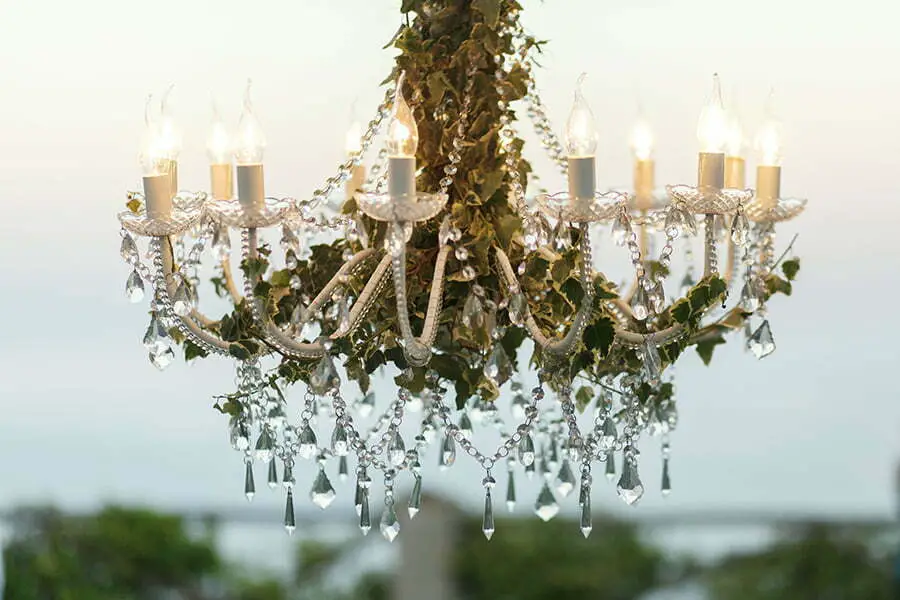 They add an elegant touch while still maintaining the natural and rustic feel of the outdoors. These chandeliers can be made from various materials such as wood, metal, or even antlers for a more unique look.
One idea is to hang multiple small rustic chandeliers throughout the pavilion for a warm and cozy atmosphere. Another option is to have one large centerpiece chandelier that will draw attention and create an intimate ambiance during dinner or dancing.
Rustic chandeliers also pair well with other decor elements such as greenery garlands, burlap table runners, and wooden chairs.
Draped Fabric Ceiling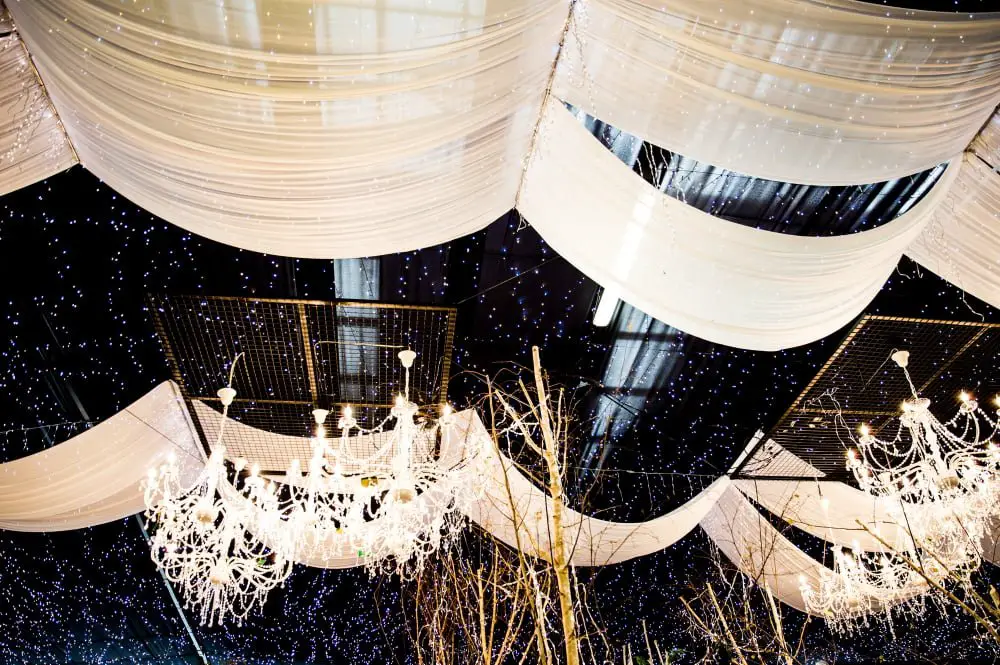 This decor idea adds a touch of sophistication and creates a cozy atmosphere for guests. You can choose any color or texture that matches your wedding theme, whether it's soft pastels or bold jewel tones.
The fabric can be hung in various styles such as swags, pleats, or even gathered at the center with chandeliers hanging down from it. To add more charm to this decor idea, you could also incorporate fairy lights into the draped fabric ceiling for a magical effect during nighttime weddings.
Greenery Garlands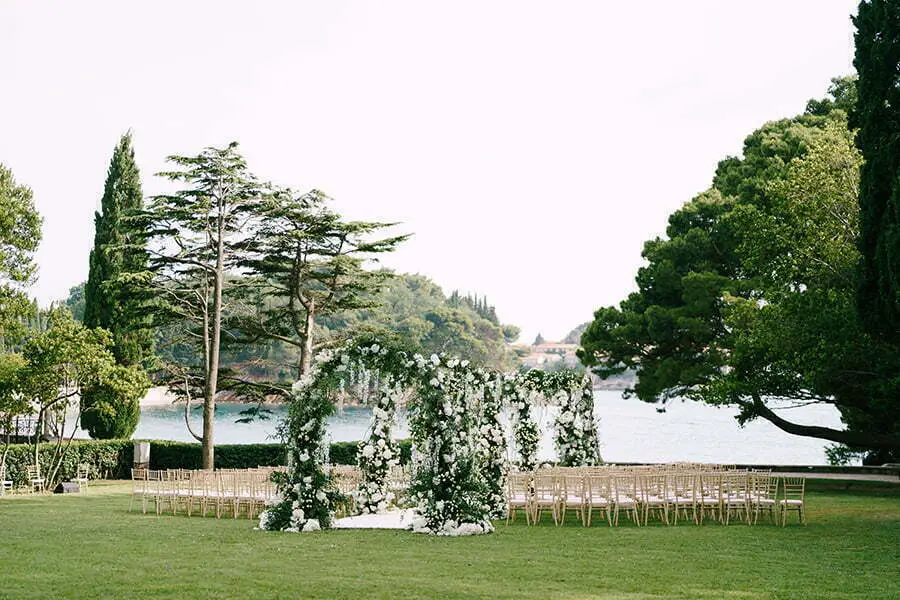 These garlands can be made from various types of foliage, such as eucalyptus, ivy, ferns or even succulents. They can be used in many ways: draped along the aisle chairs or hung above the reception tables for a natural and organic look.
Greenery garlands also work well with other decor elements like candles or fairy lights to create a romantic ambiance that will leave your guests enchanted. Whether you opt for lush green leaves or delicate vines, greenery garlands are sure to add an elegant touch to your outdoor wedding pavilion decor while bringing nature's beauty into your special day!
Fairy Lights Canopy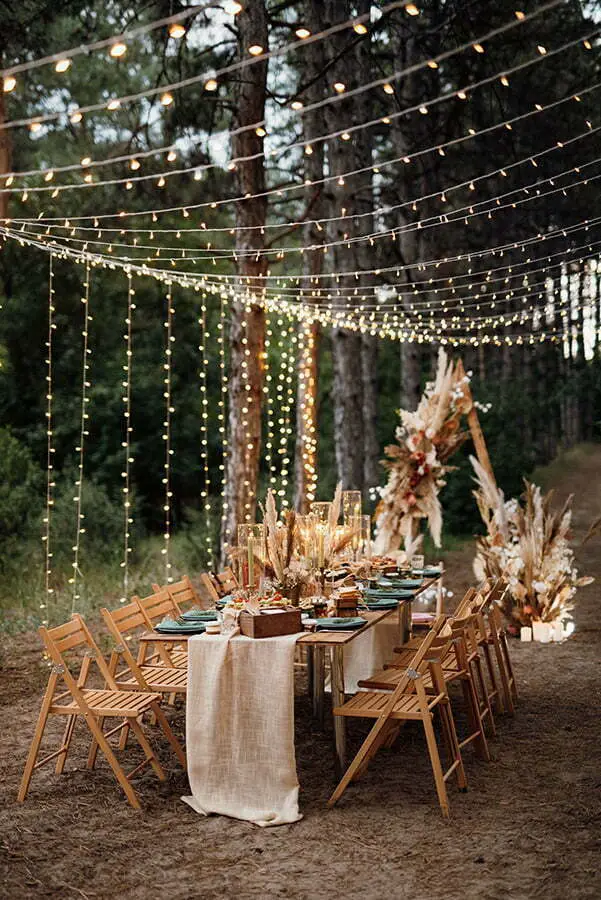 The twinkling lights create an enchanting ambiance that will leave your guests in awe. You can hang the fairy lights from the ceiling of the pavilion or drape them over tree branches for a whimsical effect.
To add more drama, you can mix and match different sizes and colors of fairy lights to create depth and texture. A fairy light canopy is perfect for evening weddings as it adds warmth and coziness to the atmosphere while still maintaining its romantic charm throughout the night.
Vintage Furniture Lounge Area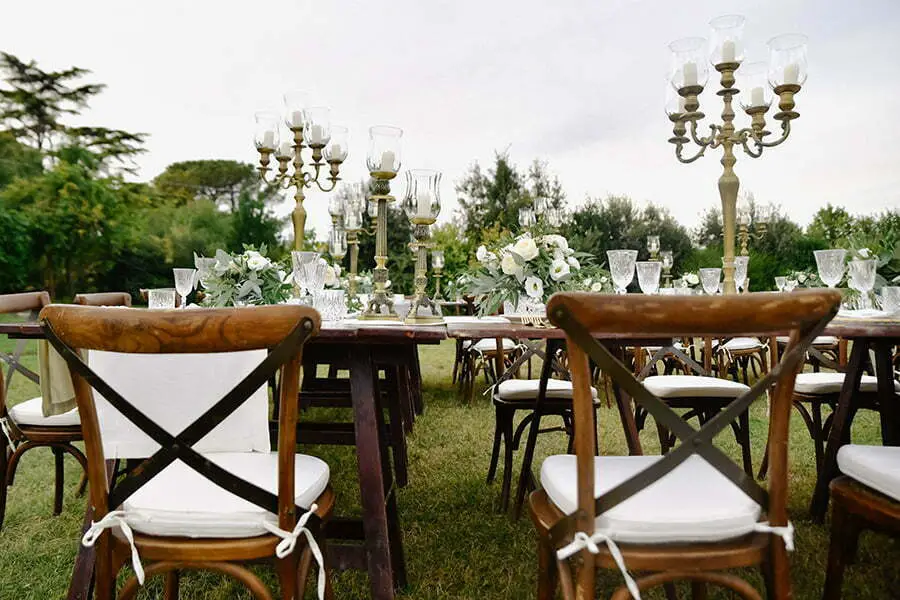 It creates a cozy and intimate atmosphere for guests to relax and socialize during the reception. You can mix and match different styles of vintage chairs, sofas, coffee tables, and rugs to create an eclectic look that complements your wedding theme.
Consider adding some throw pillows or blankets in coordinating colors or patterns for extra comfort. This type of decor also provides great photo opportunities for you and your guests!
Mason Jar Centerpieces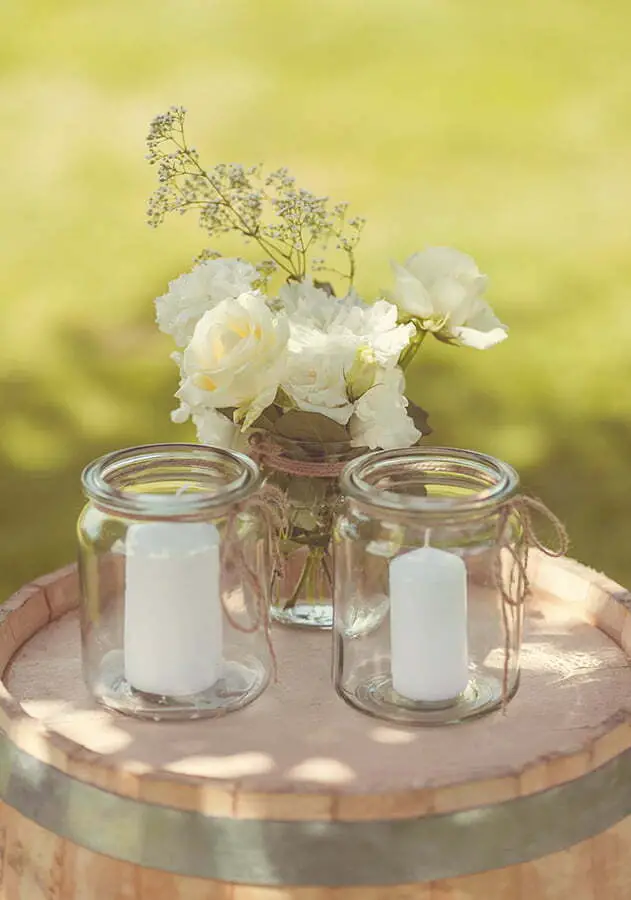 These versatile jars can be filled with flowers, candles, or even fairy lights to create a romantic ambiance. You can use different sizes of mason jars and arrange them in clusters on the tables or hang them from trees using twine for an added rustic touch.
To add some color to your centerpieces, you could tie ribbons around the necks of the jars that match your wedding theme colors. Mason jar centerpieces are not only beautiful but also budget-friendly and easy to make yourself if you're feeling crafty!
Personalized Signage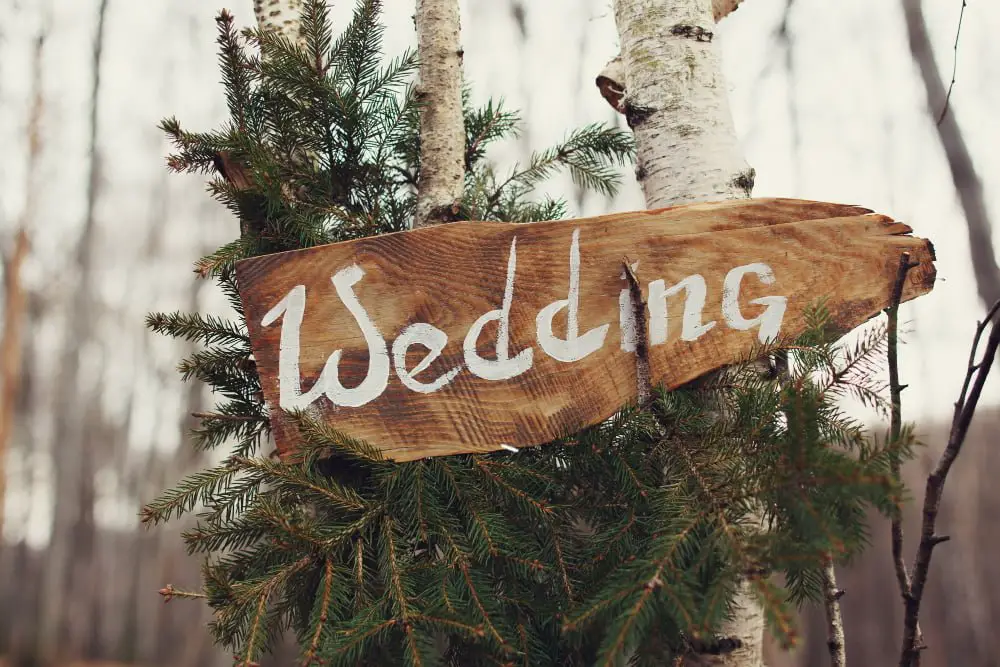 You can use signs to direct guests, display the menu or bar options, and even share fun facts about the couple. Consider using chalkboards for a rustic feel or acrylic signs for something more modern.
Hand-lettered calligraphy adds an elegant touch that will impress your guests and make them feel special as they navigate through your event space. Personalized signage also makes for great photo opportunities that you'll cherish forever!
Candlelit Walkways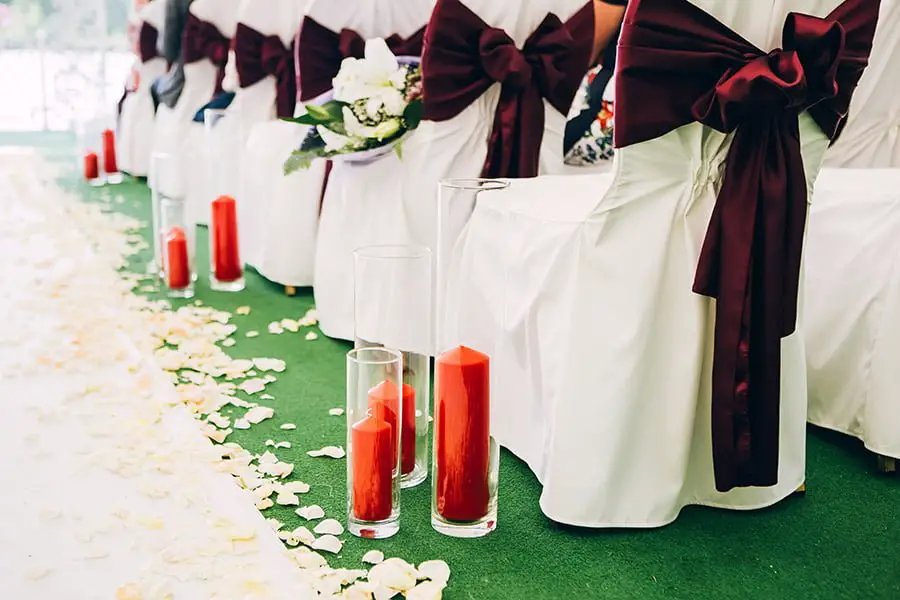 The soft glow of candlelight creates an intimate atmosphere that is perfect for evening weddings. You can use various types of candles, such as tea lights, pillar candles or lanterns, depending on your preference and style.
To create a cohesive look, you can line the walkway with flowers or greenery that match your wedding theme. Candlelit walkways not only add beauty but also provide practical lighting for guests who may be walking in dimly lit areas at night.
Natural Wood Benches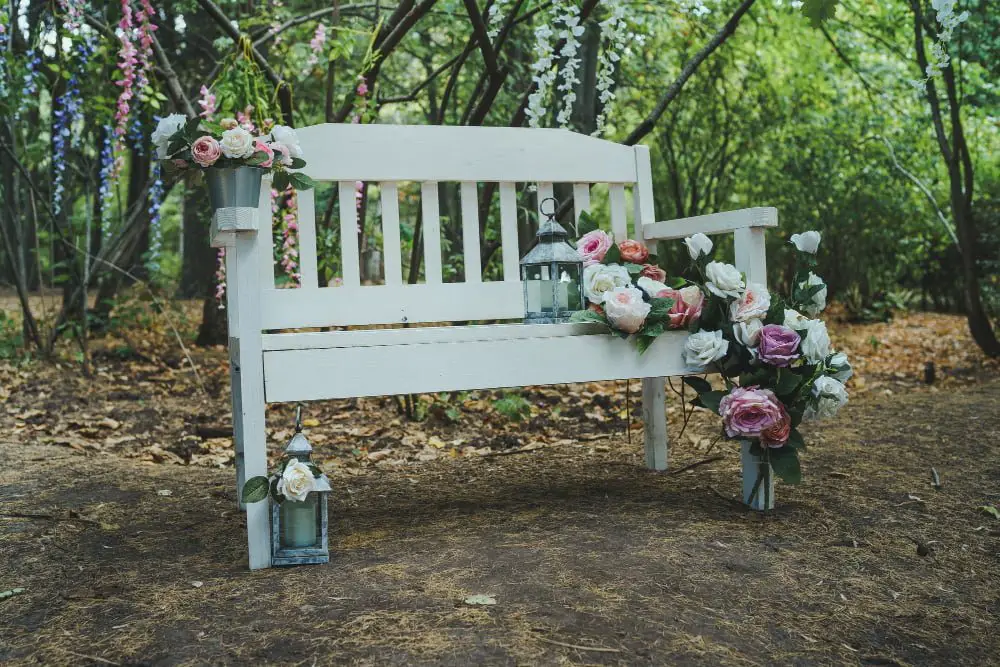 They can be used as seating during the ceremony or reception, and they add a touch of charm to any outdoor wedding pavilion. You can choose from different types of wood such as oak, pine or cedar depending on your preference.
To make them even more comfortable for guests, consider adding cushions in coordinating colors with your wedding theme. If you want to add some extra flair to these benches, decorate them with greenery garlands or floral arrangements that match your bouquet and centerpieces.
Boho Rugs and Cushions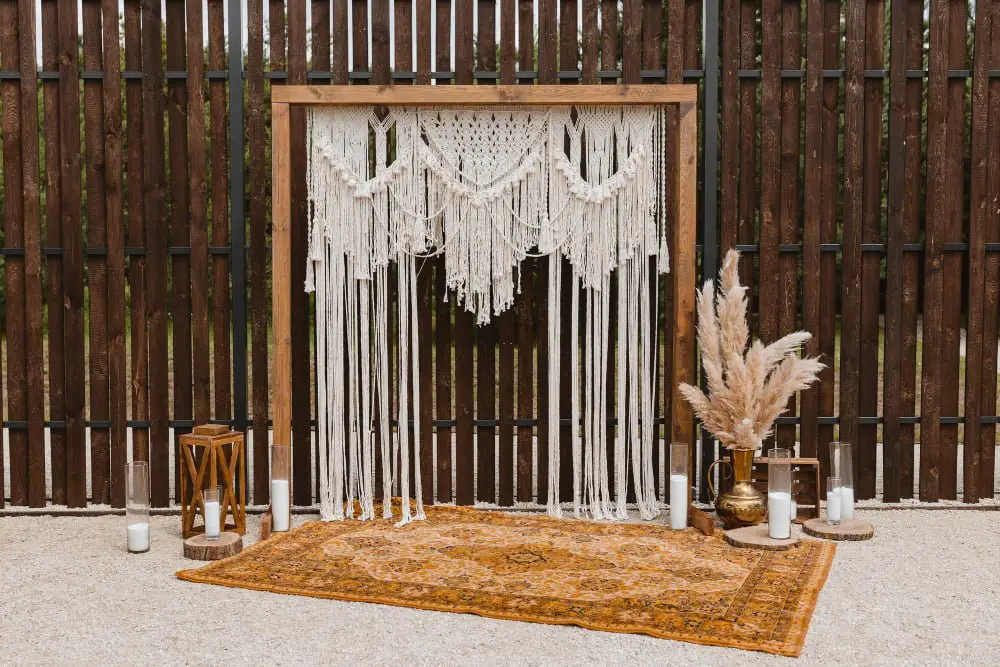 These elements can be used in various ways such as creating a cozy lounge area for guests or adding an extra layer of decor under the altar. Boho rugs come in different patterns, sizes, and colors that can match any theme you have chosen for your big day.
You can mix-and-match them with colorful cushions that will make the seating more comfortable while also adding pops of color throughout the space. The best part about using boho rugs and cushions is that they create a relaxed atmosphere where guests feel at ease while enjoying all aspects of your special day!
Antique Birdcages
These vintage pieces can be used in various ways, such as hanging them from the ceiling or placing them on tables as centerpieces. You can fill them with flowers, candles or even use them to hold cards and gifts for the newlyweds.
Antique birdcages come in different sizes and styles, so you can choose one that fits your wedding theme perfectly. They add a touch of whimsy and nostalgia to your special day while creating an unforgettable ambiance for you and your guests alike!
Wine Barrel Tables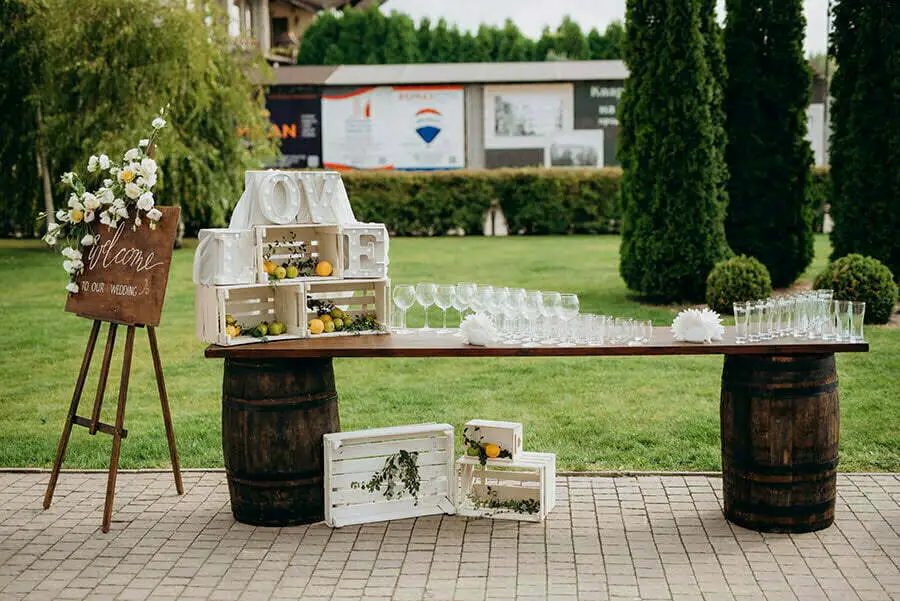 They add a rustic charm to the overall ambiance of the wedding pavilion. You can use them as cocktail tables or dining tables, depending on your preference.
To create wine barrel tables, you can either rent them from a local winery or purchase them online. Once you have your wine barrels ready, all you need is some wooden planks to place on top of each barrel.
You can decorate these wine barrel tables with floral arrangements in mason jars or lanterns placed at the center of each table. For an added touch of elegance and sophistication, consider adding lace runners over burlap tablecloths.
Potted Plant Aisle Markers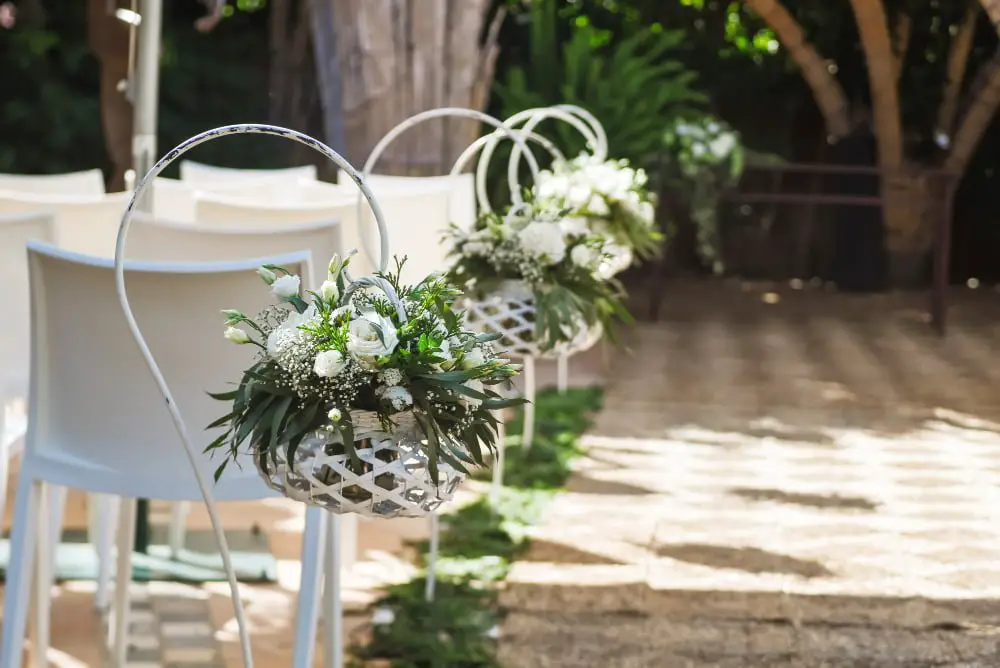 You can use any type of plants that match the theme of your wedding, such as succulents or wildflowers. Place them in decorative pots or baskets and line them up along the aisle to create a beautiful pathway for the bride's entrance.
Not only do they add color and texture to your decor, but they also provide fresh air and fragrance that will enhance the ambiance of your ceremony space. Plus, after the event is over, you can give away these potted plants as favors for guests to take home with them!
Macrame Backdrops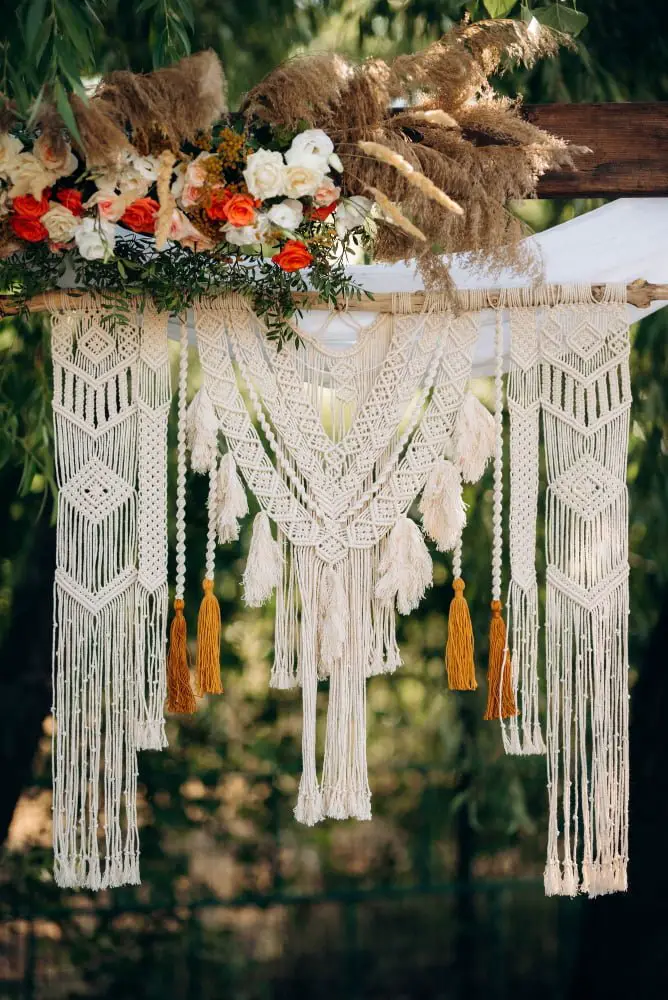 These intricate, handmade pieces can be used as a ceremony backdrop or photo booth background. They come in various sizes, shapes, and colors that can match any wedding theme or color scheme.
Macrame backdrops also provide an excellent opportunity for DIY enthusiasts who want to create their own personalized piece of art for their special day. Whether you choose a simple design with just one knot pattern or something more elaborate with multiple patterns intertwined together, macrame backdrops will undoubtedly make your outdoor wedding pavilion stand out from the rest!
Hand-painted Parasols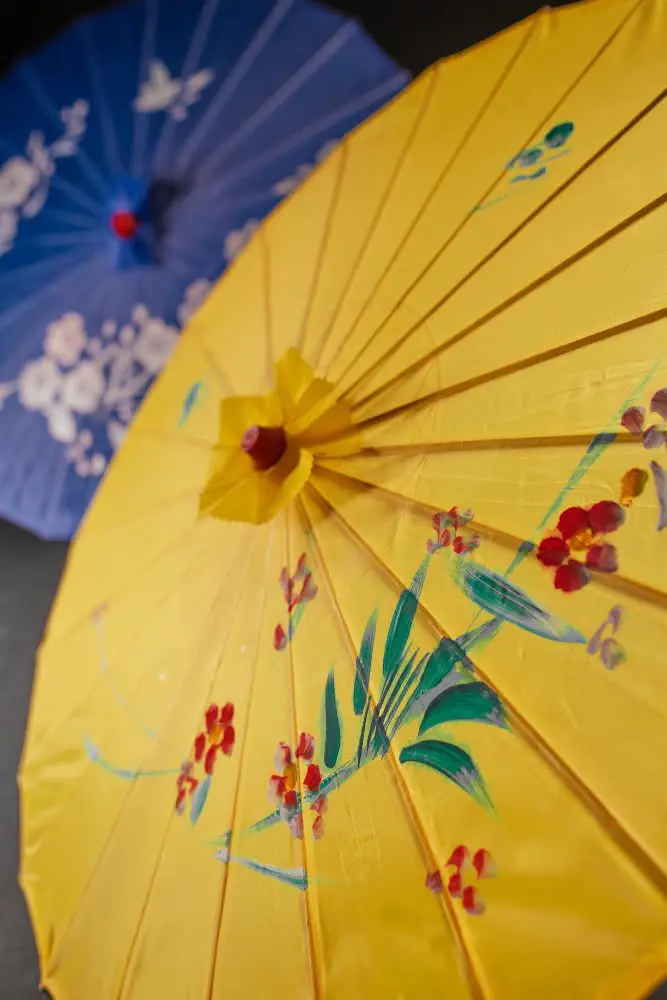 These beautiful parasols can be used as decor or given as favors for guests to use during the ceremony or reception. You can choose from a variety of designs, such as floral patterns, geometric shapes, or even personalized with your names and wedding date.
Hang them upside down from the ceiling for an eye-catching display or place them in vases along the aisle for a pop of color. Hand-painted parasols are not only functional but also make great photo props that will create stunning memories of your special day!
Wicker Basket Displays
You can use them in various ways, such as displaying flowers, holding favors or programs for guests, or even as part of the table settings. For example, you could fill small wicker baskets with fresh fruit and place them on each table for an organic centerpiece idea.
Alternatively, you could hang larger wicker baskets from the ceiling beams filled with greenery or flowers to create a whimsical garden feel. Woven textures like these will bring warmth and texture to your wedding decor while keeping things natural and effortless-looking – perfect for an outdoor celebration!
Custom Monogram Projections
You can project your initials or names onto the walls, ceiling, or even the dance floor. This is an elegant and unique way to make your wedding stand out from others.
The projection can be customized with different fonts and colors that match the overall theme of your wedding. It's also a great photo opportunity for you and your guests!
DIY Photo Booth Backdrop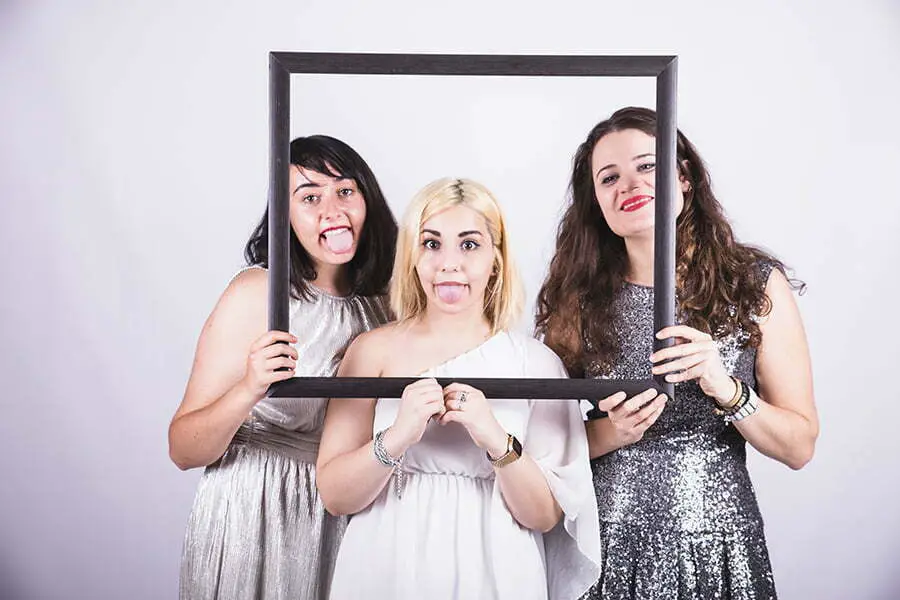 You can use anything from streamers to balloons or even create your own custom design using fabric or paper. One idea is to make a giant polaroid frame out of foam board and decorate it with flowers, greenery, or other props that match the theme of your wedding.
Another option is to hang up an old door as the backdrop and decorate it with garlands made from artificial flowers or leaves for an elegant look. Whatever you choose, make sure there's plenty of space for guests to pose in front of the camera!
Keep reading: