Dive into the world of outdoor wedding tents as we explore their charm, utility and how they can transform your special day into a magical open-air celebration.
When you're planning an outdoor wedding, a tent can be a game-changer. This article is your one-stop solution for everything you need to know about outdoor wedding tents.
From choosing the right size and style to decorating ideas and practical tips, we've got you covered.
Whether you're worried about unexpected weather or just want to create a unique atmosphere, a wedding tent can provide the perfect solution.
Keep reading to find all the details you need to make an informed decision and create a magical outdoor wedding under a tent.
Benefits of Using a Wedding Tent
Wedding tents offer flexibility in venue choice — you can set up in your backyard, a local park, or even a beach.
They protect you and your guests from unpredictable elements like rain or intense sun rays, providing comfort throughout the event.
Moreover, a well-picked tent can add to your decor, helping create a unique ambiance that spells your style.
They allow easier control over lighting, temperature, and noise levels.
Finally, they can contribute to the intimacy of the event, providing a defined area for your gathering.
How to Choose the Right Tent Size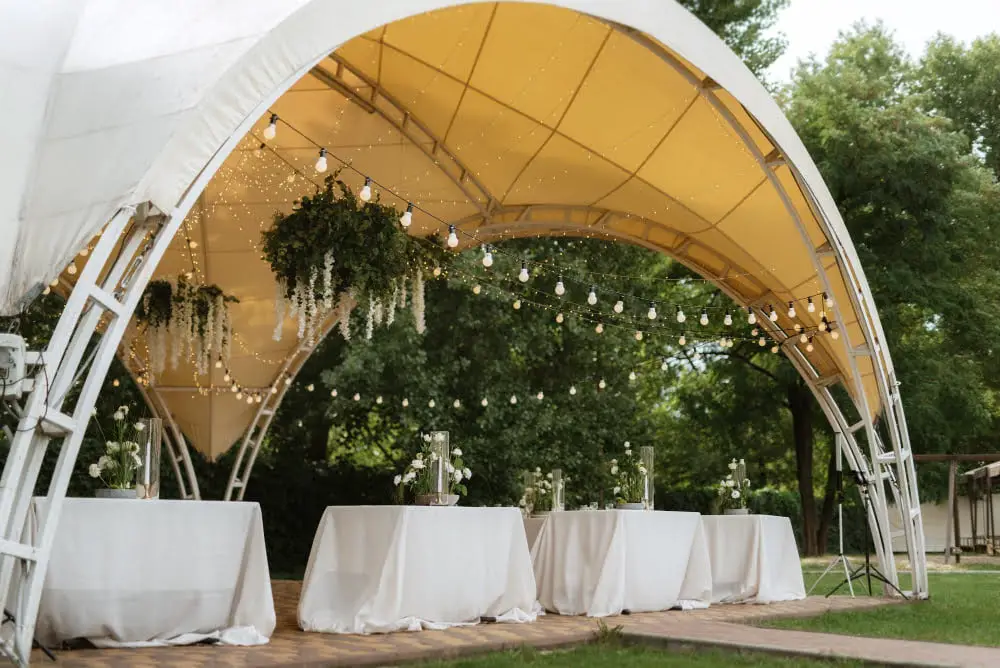 Consider the number of guests, the layout of the decor, seating arrangements, and space for a dance floor or band while deciding the tent size.
If you're planning a sit-down dinner, you will require approximately 10-12 square feet per person.
For cocktail-style receptions, about 8 square feet per person is sufficient.
Don't forget to add extra space for aisles, buffet tables, the bar, and the DJ setup.
Remember, going a bit larger than your calculations suggests is usually a wise choice — it's better to have a little extra room than not enough.
Opt for professional guidance to ensure a perfect fit.
Types of Wedding Tents
There are three main categories to consider: pole tents, frame tents, and clear span tents.
Pole tents utilize tall poles in the center to support the weight of the tent and are often identified by the characteristic peaks they form.
For weddings, they lend a traditional and elegant feel with their draped fabric.
Frame tents, with their clear, unobstructed interiors and adjustable heights, are a versatile choice.
They use a metal frame, are free-standing which allows them to be installed on nearly any surface.
Clear span tents, the largest of the group, are great for bigger guest lists.
These structures resist wind well and don't require any interior poles, offering uninterrupted space and crucial weather protection.
Choosing among these depends on factors like guest count, site restrictions, and your personal preference of style.
Each type offers unique benefits that can enhance the overall aesthetic and function of your outdoor wedding set-up.
Deciding On a Tent Style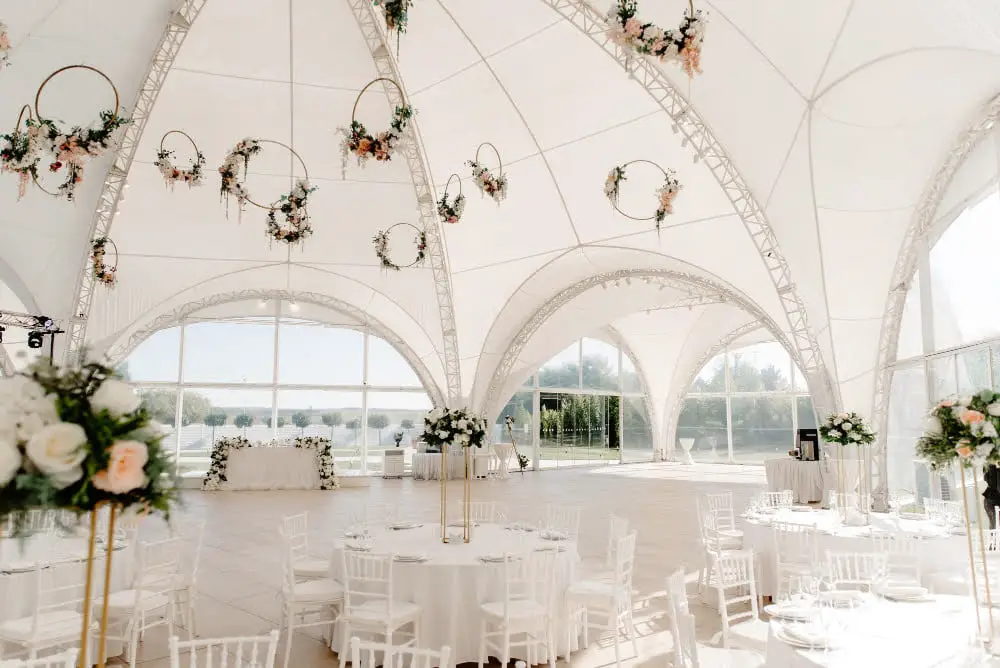 Drawing from the rich variety at your disposal, selecting a style that resonates with your event aesthetic is essential. If formality is at the heart of your day, consider a pole tent, marked by high peaks and elegant dips.
Frame tents work splendidly for a modern, streamlined look and offer unobstructed space inside due to the absence of center poles.
Alternatively, sailcloth tents, which are typically crafted from translucent material, allow for natural light during daytime and glow beautifully when lit in the evening.
For an extra touch of whimsy, a teepee or yurt might align with your distinctive theme. Every option has inherent charm, so it's all about capturing your particular vision for the day.
Considerations for Setting Up in a Beautiful Location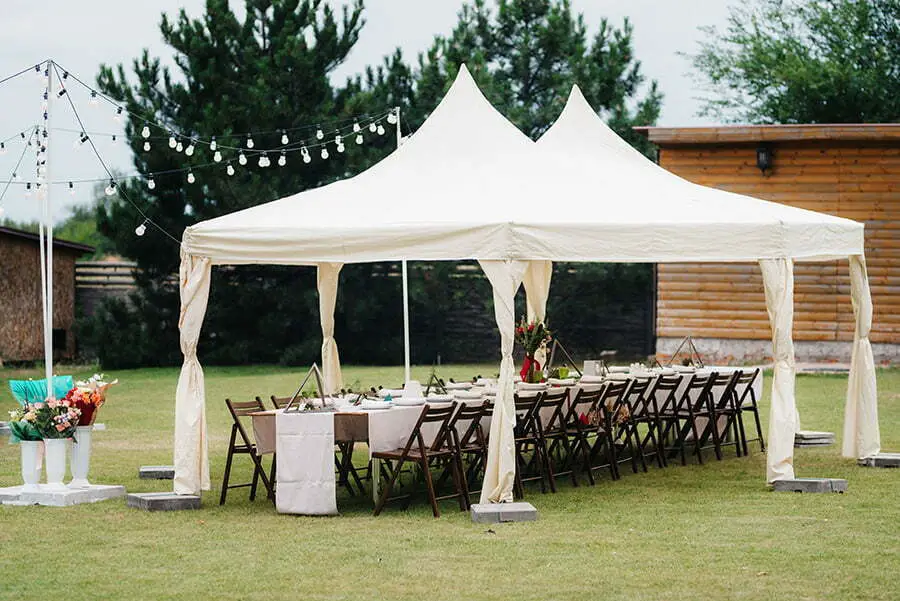 To guarantee stunning photos and an unforgettable ceremony, the site should complement your tent. Look for remarkable, natural features to incorporate, such as lakes, trees, or mountain views.
Ensure the ground is level enough for comfortable dining and dancing. Keep in mind the need for access to utilities, running water, and restrooms. Also, remember to consider local noise regulations and how close the nearest accommodations are for your guests.
The scenic beauty merged with the practicality of your chosen location will create an ideal setting for your wedding.
Planning the Tent Layout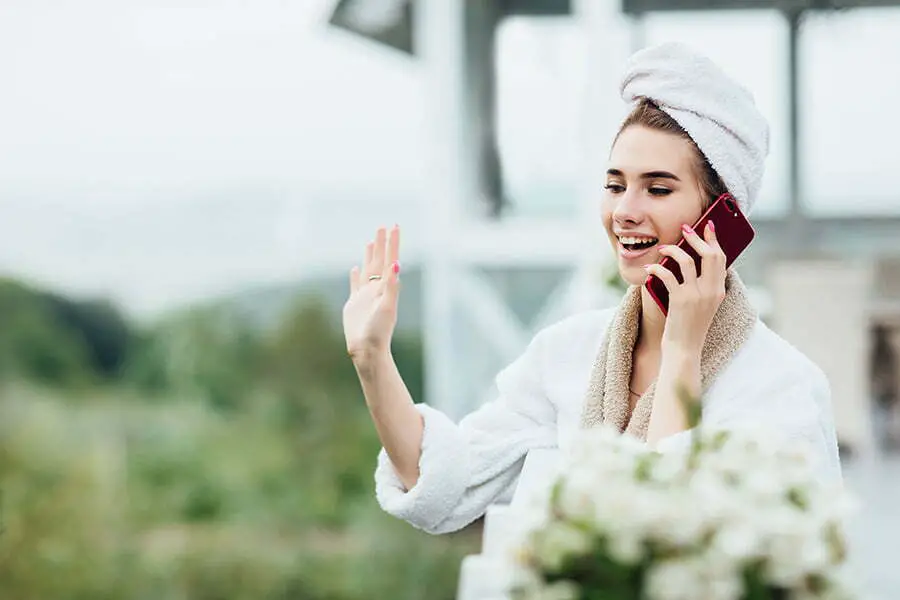 When it comes to your tent layout, it's important to consider the flow and function of the space. Start by determining where the entrance and exit points will be and always ensure easy access.
Next, think about venue highlights, such as a scenic view, and orient the dining area towards it.
The dance floor should be centrally located, being careful not to place it too close to the serving area to avoid congestion. Arrange tables and chairs to provide ample room for your guests to move around comfortably.
Remember, a well-planned layout aids in smooth function flow and contributes to a better guest experience.
Always leave room for key features such as a stage for the band or DJ, a dessert or gift table, and a space for the bar if you're having one. Don't forget to account for essential elements like restrooms and catering spaces while planning.
A well-structured layout will ensure your day proceeds as smoothly as possible without any logistical hiccups.
Weather Considerations for Tents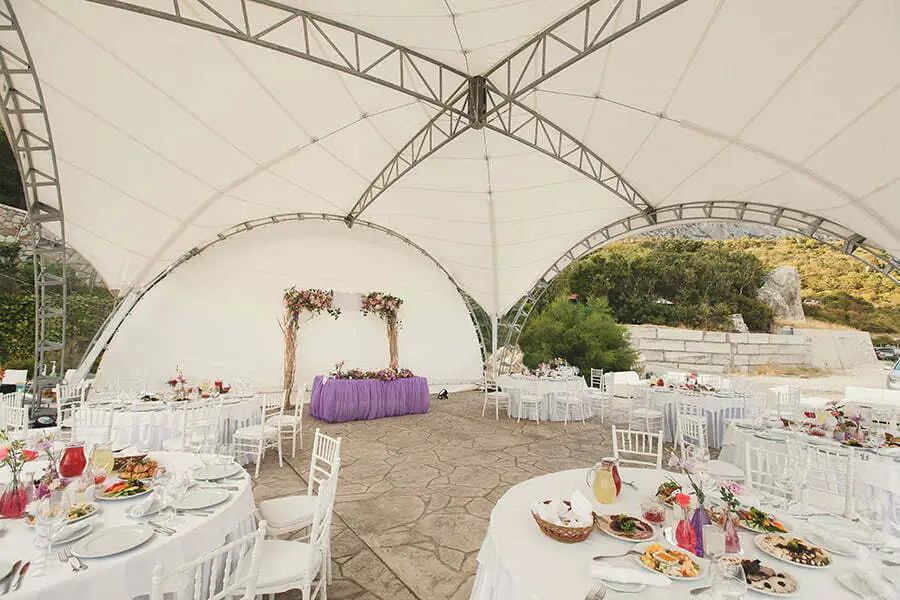 It's vital to account for the possibility of weather changes. Outdoor weddings come with an unpredictable guest, Mother Nature.
In cases of sun, a tent can provide shade and keep your guests cool. For breezier days, sidewalls, which are optional add-ons for most tents, can protect against wind.
In terms of rain, selecting a tent with rain gutters will help divert water away. Additionally, consider the climate of the location.
If you're in a high humidity area, portable air conditioners or fans could increase the comfort of your attendees.
Always have a plan B in place for severe weather conditions. Planning ahead will ensure that no weather will ruin your big day.
Remember, the goal is to ensure comfort for everyone while protecting your wedding setup.
Anticipating Unforeseen Weather Conditions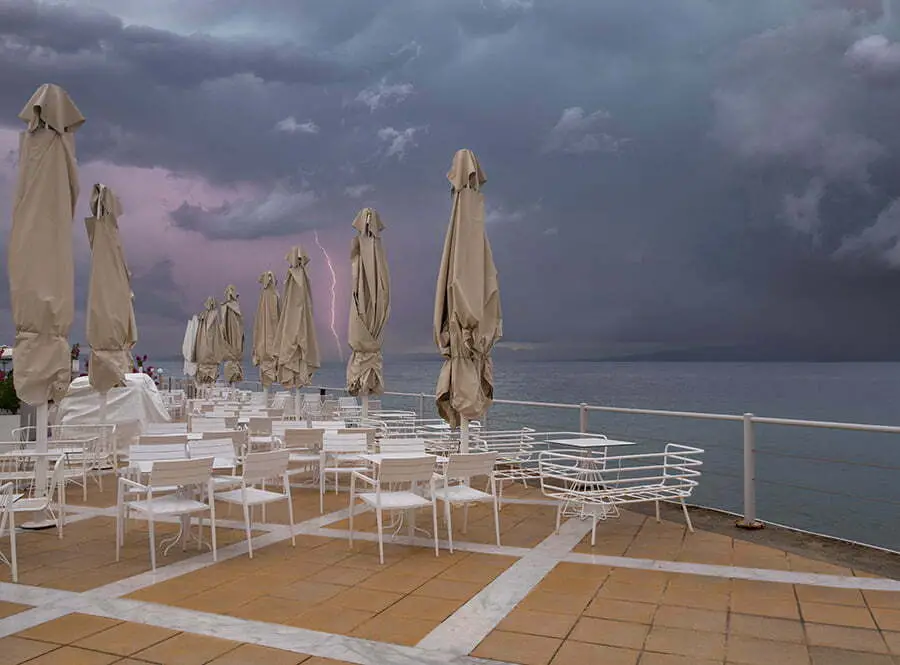 In an unpredictable climate, it's wise to make contingency plans.
Rain, wind, or excessive heat can pose challenges on the day of the event.
Always coordinate with the tent rental company to ensure they have robust solutions and support in the event of inclement weather.
Options like sidewalls can help ward off wind and rain, while heaters or fans can provide temperature control.
Being well-prepared will ensure weather hiccups won't dampen your wedding day festivities.
Always remember to communicate these plans with your guests beforehand so they can come prepared as well.
Flooring Options for Tents
Whether you want to dance the night away or simply have a sturdy surface for your guests to walk on, flooring is an aspect that merits careful thought. The most common types are carpet, plywood, and AstroTurf, all of which provide a comfortable and stable platform.
Carpet adds a touch of elegance and can be matched with your color scheme, while plywood offers a rustic charm ideal for country or woodland themes.
AstroTurf is an economical choice, especially if you're looking to go green. It can perfectly blend with any outdoor space, and offers excellent shock absorption for those high-heeled shoes.
On uneven terrains, consider a leveled floor to avoid tripping hazards. Regardless of your choice, ensure that your choice of flooring complements your tent and overall wedding theme.
Lighting Ideas for Tent Weddings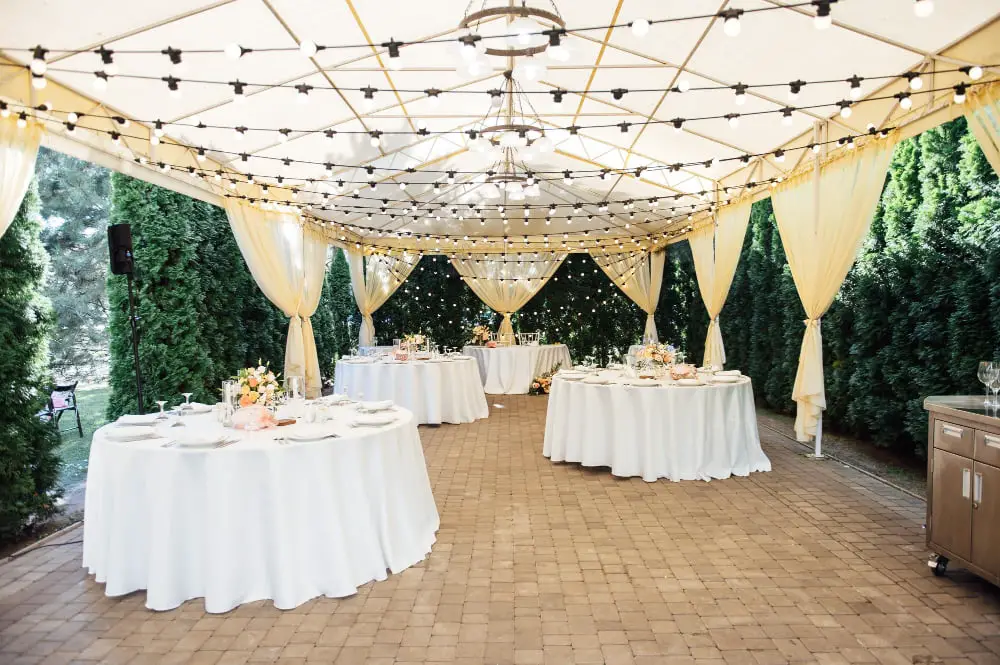 Taking your decor from ordinary to extraordinary, lighting creates the perfect ambiance in a tented wedding.
Start with fairy lights draped across the ceiling to replicate a starry night.
Use varying shapes and types of lanterns as the centerpiece attractions.
Ambient lighting options like floor lamps or uplighting can highlight the tent's architecture.
Tea lights and chandeliers can also provide both illumination and an added elegance.
For a unique addition, consider a personalized monogram spotlight or even a disco ball for later in the evening.
Remember that light placement is key – it can enhance your wedding's photography by casting a delicate glow on the subjects.
Setting Up a Tent for Ceremony and Reception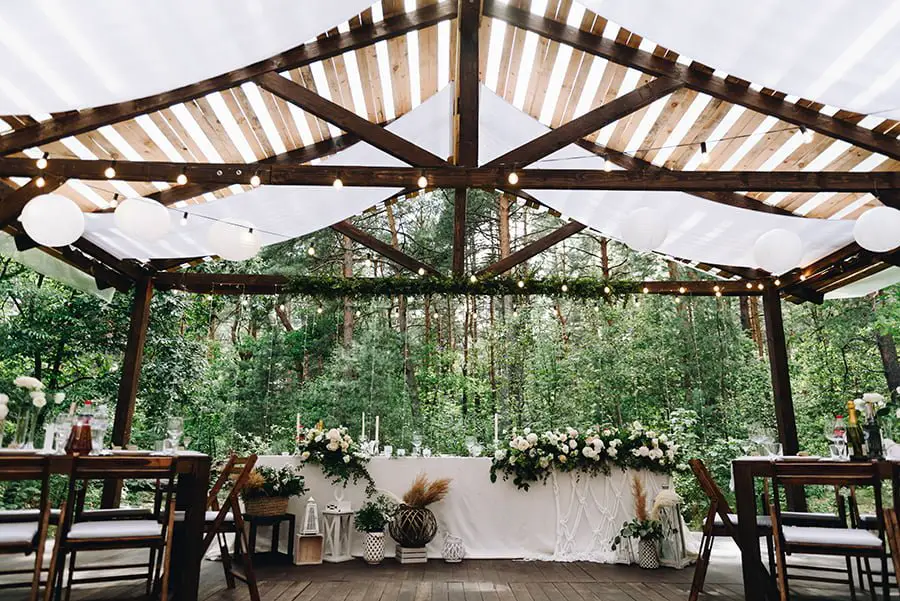 To begin, consider the nature of your ceremony and reception, and how many guests you expect.
An intimate gathering might only need a small canopy, while larger groups may require multiple tents.
Be sure to account for space for a dance floor, tables for dining, and a separate area for the ceremony if having both in the same location.
Take the time to sketch out a plan, or use online tools for event layouts to ensure you maximize the tent space efficiently.
Always consult with your tent rental company during this process as they can offer professional advice based on their experience, ensuring a smooth and successful setup.
Choosing Tent Accessories
As you finalize your tent setup, consider incorporating accessories to elevate the occasion.
A dance floor in the center can instantly generate a party atmosphere.
Chandeliers or lanterns can create a soft, ambient glow after dusk and ensure that the festivities can carry on into the evening.
Consider the comfort of your guests too, heated or cooled tent options may be available depending on the season.
Remember to take into account lighting for functional areas such as the food and drink stations and restrooms.
Lastly, think about exit signs and fire safety equipment for an added layer of safety.
Each accessory should complement your wedding theme, making everything feel cohesive and thoughtfully planned.
Food and Drink Arrangements in Tents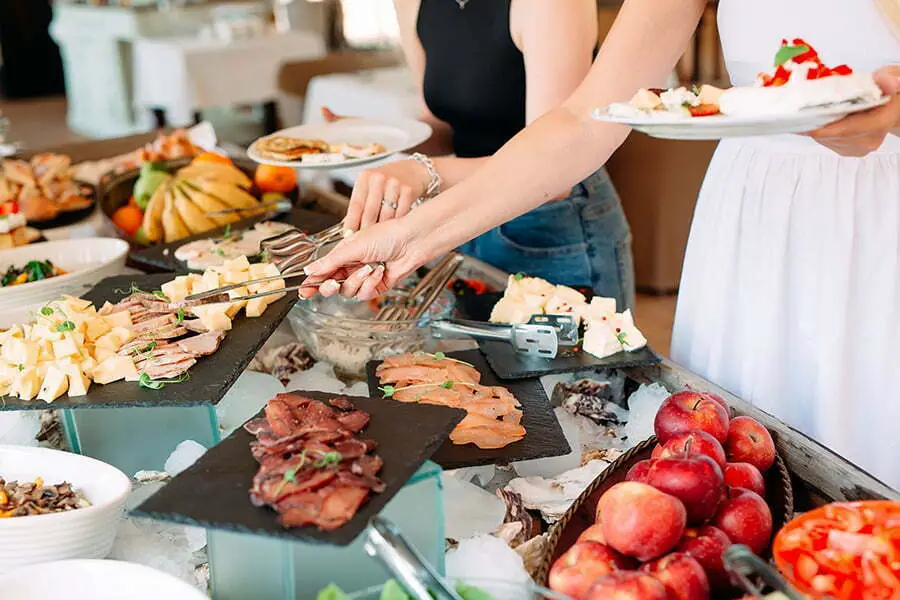 Careful planning is required when setting up for catering and beverages. It's crucial to allocate a specific area within the space to avoid congestion.
Buffet style works best in a tent environment, enabling guests to move around freely. Provide ample space for a bar, preferably at a corner, to efficiently serve drinks.
Also, ensure your caterers have the necessary facilities to keep food at the right temperature, and strong weatherproofing is in place for potential changes in weather. Lastly, consider the use of sturdy furniture that won't wobble on the grass or outdoor surface.
Planning these elements in advance will result in smoother operations and a more relaxed, enjoyable reception.
Wedding Tent Decorations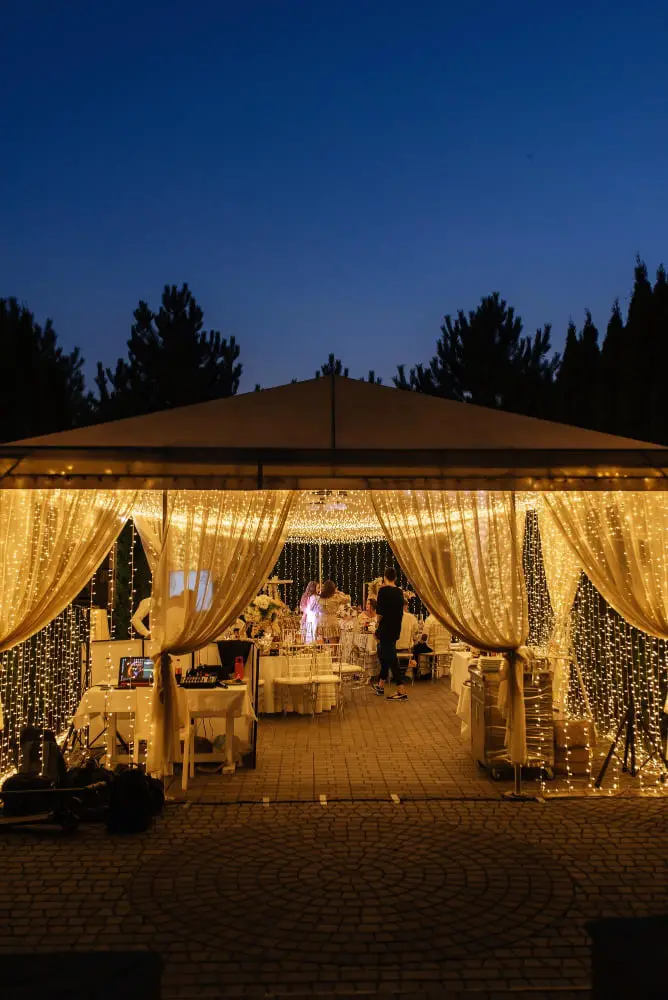 To transform your wedding tent into a dreamlike space, consider incorporating hanging decorations. Chandeliers, lanterns, or fairie lights can create an enchanted atmosphere when the sun sets.
Drapery is another splendid touch that can add elegance and a romantic feel to the interior. For a cohesive look, make sure to match the colors of your drapes to your wedding theme.
Tables can be adorned with centerpieces, including charming florals or candles. Consider placing greenery, like vines or garlands, around the poles or on the ceiling of the tent to bring in a touch of nature.
Remember, less is often more. Keeping it simple can still make a big impact, allowing the beauty of the outdoor setting to shine.
Ensuring Tent Safety Precautions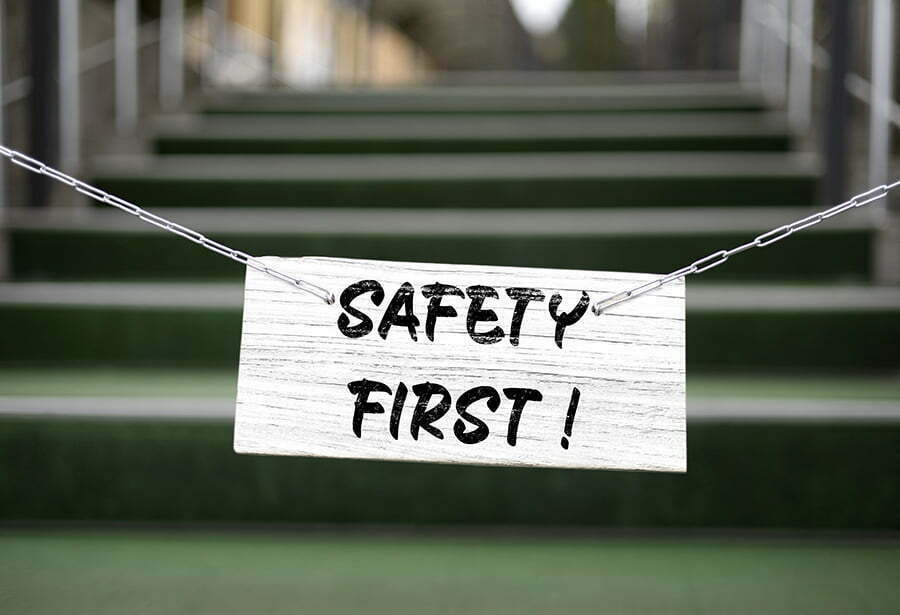 First off, anchor the tent properly. This serves as your main defense against wind-related incidents. Usage of weight bags or sandbags specifically designed for tents provides stability.
Remember to maintain a clear path for entrances and exits. This path should be easy to navigate even in dark.
Consider installing flame-retardant tents to enhance safety. Always keep a fire extinguisher on hand, even if it's not visible to guests but within easy reach for the event staff.
Also, don't overlook comfort in lieu of safety. If it's a summer wedding, consider fans or air conditioning units for heat, or hire patio heaters if it's a cool spring or autumn event.
Lastly, make sure to hire a professional for the tent installation. They're trained in safe and secure tent assembly, keeping both structural integrity and safety in mind.
FAQ
How do I keep my wedding tent cool in the summer?
To keep your wedding tent cool in the summer, strategically place fans around the area, hang them if using a pole tent, or position large stand-up fans at the corners if necessary.
How do you power an outdoor wedding?
To power an outdoor wedding effectively, an industrial-style inverter unit can be used, typically having multi-circuits, a breakout panel, and the capacity to run continuously for between 8 to 12 hours uninterrupted.
What are the best lighting options for an outdoor wedding tent?
Best lighting options for an outdoor wedding tent include string lights, paper lanterns, chandeliers, fairy lights, and LED candles for a blend of function and aesthetics.
How can you incorporate a theme into an outdoor wedding venue?
Incorporating a theme into an outdoor wedding venue can be achieved through consistent use of colors, decor, floral arrangements, and stylish elements that align with the theme throughout the event space.
How can weather conditions be prepared for in an outdoor wedding?
Preparing for weather conditions in an outdoor wedding can be achieved through tents, marquees, cozy blankets for colder weather, parasols for sun protection, and having a backup indoor location.
Keep reading: