Planning your dream outdoor wedding in Indiana? Look no further as we unveil the top picturesque venues that will make your special day absolutely unforgettable.
Imagine saying your vows under a clear blue sky, surrounded by lush greenery and the gentle hum of nature. Indiana's picturesque landscapes offer an enchanting backdrop for couples seeking a memorable wedding celebration in the great outdoors.
Whether it's rustic barns nestled in rolling hills or elegant gardens brimming with vibrant blooms, the Hoosier State is home to an array of stunning outdoor wedding venues that will make your special day truly unforgettable. In this blog post, we'll take you on a journey through some of Indiana's most captivating settings, highlighting the hidden gems and charming locations that will turn your dream wedding into a reality.
So grab a cup of tea, sit back, and let us guide you through the delightful world of outdoor weddings in Indiana!
Indiana Outdoor Weddings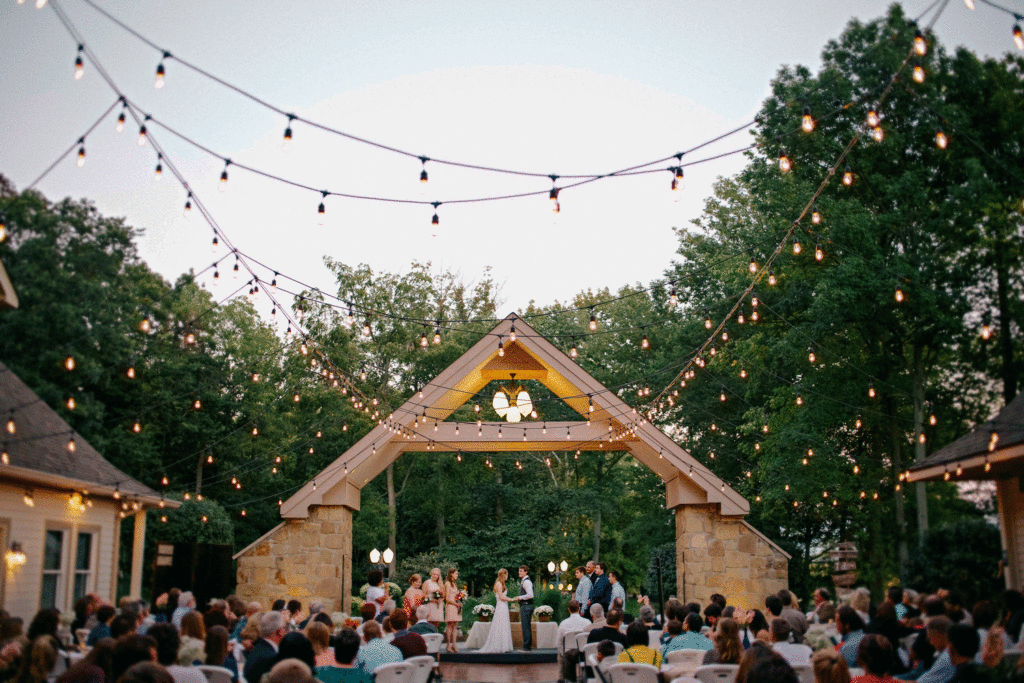 Venue: outdoorweddings.us
What is so great about this venue:
Beautiful natural setting in the forest of Southern Indiana
Magical ambiance at sunrise or sunset with torches and lights
Relaxed and romantic environment for couples and guests
Indiana Outdoor Weddings offers a picturesque and enchanting venue nestled in the forest of southern Indiana. With its magical ambiance, torches, and lights, this outdoor wedding venue creates a truly romantic atmosphere for couples dreaming of a perfect country wedding.
Whether it's a sunrise or sunset ceremony, this natural sanctuary provides an unforgettable backdrop for sacred marriages in nature's embrace.
The Pavilion at Sandy Pines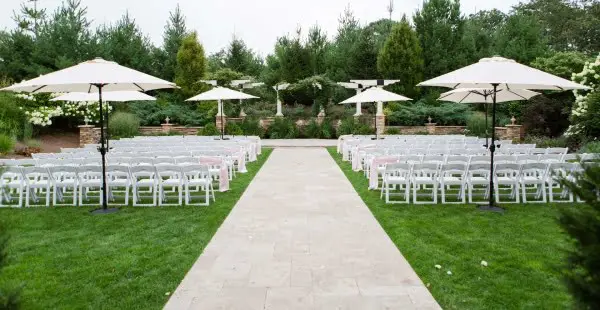 Facebook page: Facebook
What is so great about this venue:
Beautiful outdoor atmosphere for wedding ceremonies
Fantastic outdoor atmosphere for wedding receptions
Provides a unique and memorable experience compared to traditional reception halls
Located in Northwest Indiana, "The Pavilion" is a highly sought-after wedding and event venue. Offering both indoor and outdoor spaces, it provides an idyllic setting for weddings, parties, business gatherings, and more.
With its stunning atmosphere and versatile options, "The Pavilion" ensures that every experience will be unforgettable.
Valle Vista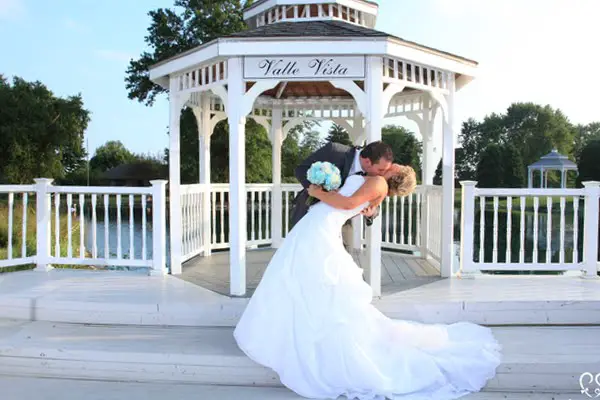 Venue: vallevista.com
Facebook page: Facebook
What is so great about this venue:
All-inclusive, stress-free, and affordable wedding packages
Year-round outdoor ceremonies with no weather worries
Fabulous ballrooms with panoramic views for the reception of your dreams
Valle Vista Country Club is an exceptional wedding venue in Indianapolis, Indiana. With breathtaking grounds perfect for wedding photography and year-round outdoor ceremonies without worry of inclement weather, Valle Vista provides a magical setting for couples' vows.
Their fabulous ballrooms offer panoramic views and the receptions are tailored to create the celebration of your dreams. Thanks to their commitment to providing beautiful and affordable options for both ceremonies and receptions, Valle Vista has become a trusted choice among couples planning their special day.
The Wilds Venue
Contact phone: (228) 560-4438
Facebook page: Facebook
What is so great about this venue:
Stunning natural surroundings: The Wilds venue is located in the Hills of Brown County, providing a picturesque backdrop for outdoor wedding ceremonies. The beautiful scenery adds to the romantic and enchanting atmosphere of the wedding.
Versatile outdoor space: The venue offers ample outdoor space, allowing couples to customize their wedding ceremony and reception according to their preferences. This flexibility allows for creative and unique wedding ideas to come to life.
Relationship building with photographers: The Wilds venue provides opportunities for engagement sessions, which are important for couples to build a rapport with their photographers. This ensures that the photographers can capture the couple's vision and create beautiful memories of their special day.
The Wilds venue in Brown County provided the perfect backdrop for Emma and Jake's outdoor wedding ceremony. Inspired by their engagement at Brown County State Park, they chose The Wilds for its scenic beauty and romantic atmosphere.
Stacey Harting, their photographer, emphasized the value of engagement sessions in fostering a strong relationship between photographers and couples.
Avon Gardens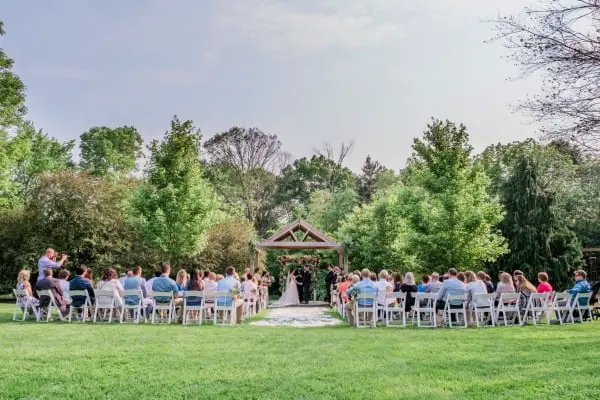 Facebook page: Facebook
What is so great about this venue:
Intimate and romantic setting nestled amidst beautifully landscaped gardens and water features
Breathtaking evening receptions with hundreds of candles and festive lighting scattered through the gardens
Tranquility and peacefulness of nature, creating a unique and memorable wedding event for guests
Avon Gardens, located near Indianapolis, is a premier wedding venue known for its stunning outdoor setting. With five acres of beautifully landscaped gardens and water features, the venue offers a romantic and intimate atmosphere for weddings and receptions.
Guests can enjoy the tranquility of nature as they stroll through shaded gardens from the ceremony area to the reception space, which includes a shaded deck overlooking wooded ravines, ponds, and waterfalls. Whether exchanging vows under a maple tree or on a secluded lawn with decorative arbors in your chosen colors, Avon Gardens is an enchanting backdrop for unforgettable wedding events accommodating up to 250 guests.
White Pine Manor of Brazil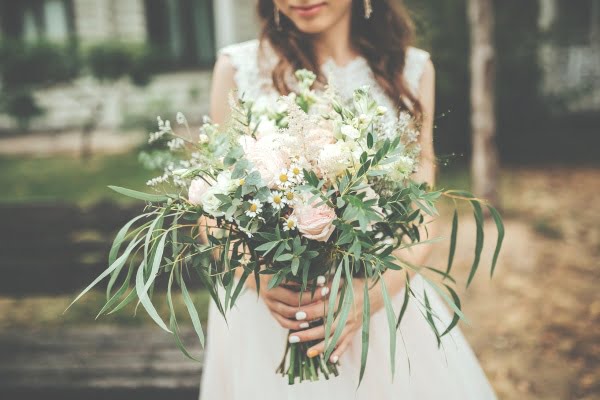 Facebook page: Facebook
What is so great about this venue:
Beautiful outdoor setting for weddings
Convenient location in Indiana
Contact information provided for easy communication
White Pine Manor is a stunning outdoor wedding venue located in Brazil, Indiana. Nestled in the picturesque countryside, this charming venue offers couples a perfect setting to exchange their vows and celebrate their love amidst nature's beauty.
With its serene ambiance and scenic views, White Pine Manor guarantees an unforgettable wedding experience for every couple. For more information or to schedule a visit, contact them at joann@whitepinemanor.com or 812-264-4306.
Tree Top Brown County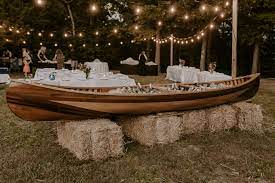 Facebook page: Facebook
What is so great about this venue:
Unspoiled beauty of nature: The venue offers a picturesque and intimate setting surrounded by the unspoiled beauty of nature in Brown County, Indiana.
Stunning view: Treetop Retreat provides a breathtaking 7-mile view of the rolling hills of Brown County, which is considered so stunning that the Brown County Leaf Cam is installed on top of their lodge.
Accommodation options: The venue offers suites, cabins, and a lodge, allowing couples and their guests to spend the night or even the entire weekend together in comfortable accommodations, all while being protected by nature.
Treetop Retreat is a boutique wedding venue nestled in the scenic beauty of Brown County, Indiana. Located just minutes from downtown Nashville, this private and secluded venue offers an intimate setting for couples looking to celebrate their special day amidst nature's splendor.
With breathtaking views of the rolling hills and the option to accommodate overnight stays, Treetop Retreat promises an unforgettable experience for weddings of all sizes.
Whippoorwill Hill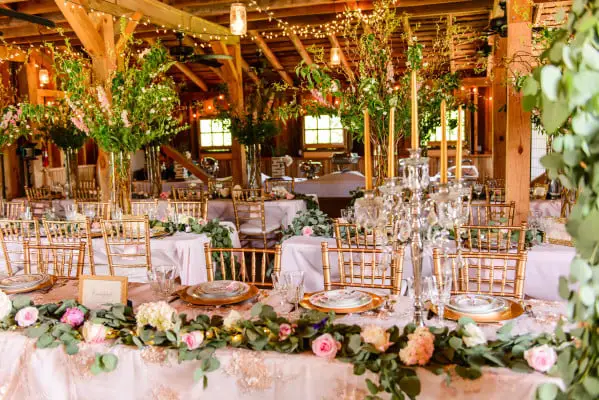 Venue: whippoorwill-hill.com
Facebook page: Facebook
What is so great about this venue:
Ample character and authentic historic charm
Complete seclusion and breathtaking vistas
Family-owned and operated with genuine care for customers and events
Whippoorwill Hill is a renowned outdoor wedding and event venue located in Southern Indiana. Situated on 156 acres of rolling countryside, it offers complete seclusion and breathtaking vistas for intimate celebrations.
With its multiple historic structures, including two barns and a log cabin dating back to 1822, Whippoorwill Hill exudes authentic charm while providing modern amenities. As a family-owned and operated establishment, the venue prides itself on its exceptional service and commitment to creating a memorable experience for every guest.
Owl Ridge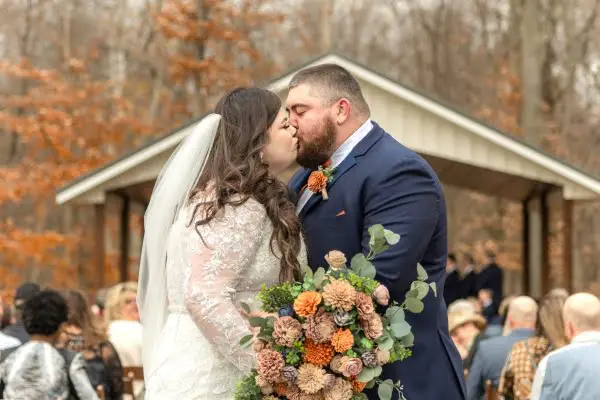 Facebook page: Facebook
What is so great about this venue:
Private setting: Owl Ridge Wedding Venue offers a private setting, allowing the couple and their guests to enjoy their special day without any unwanted interruptions or distractions.
Scenic landscape: The venue's picturesque surroundings, including fall foliage and evergreens, provide a stunning backdrop for the ceremony, creating beautiful and memorable moments for the couple and their guests.
Natural lighting and energy: Cloudy skies and the wind add a unique touch to the wedding photos and video, creating a natural lightbox and bringing energy to the captured moments.
Owl Ridge Wedding Venue in Greencastle, Indiana, provided Alex and Neil with the ideal location for their fall wedding. The picturesque setting boasted a private atmosphere and stunning scenery, with vibrant fall foliage contrasting against the evergreen backdrop.
Despite unpredictable weather conditions, including intermittent showers and gusty winds, the couple's unwavering spirit and enthusiasm shone through as they embraced whatever Mother Nature presented on their special day.
The Willows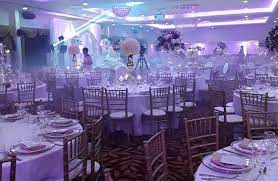 Venue: willowsevents.com
Facebook page: Facebook
What is so great about this venue:
Beautiful and picturesque outdoor settings for weddings
Variety of event spaces to choose from, including The Ballroom, The Lodge, The Terrace Garden, and Lakefront Garden
Expert catering and culinary options available for a memorable dining experience
The Willows is a versatile outdoor wedding venue that offers picturesque settings for various events. From elegant wedding receptions and corporate events to charity fundraisers and social parties, The Willows has the perfect spaces to create memorable experiences.
With options such as The Ballroom, The Lodge, Terrace Garden, and Lakefront Garden, guests can enjoy beautiful views while indulging in delightful catering options inspired by culinary trends. Visit their blog for event ideas and inspiration, as well as tips on planning weddings and creating unforgettable moments.
The Lighthouse Lodge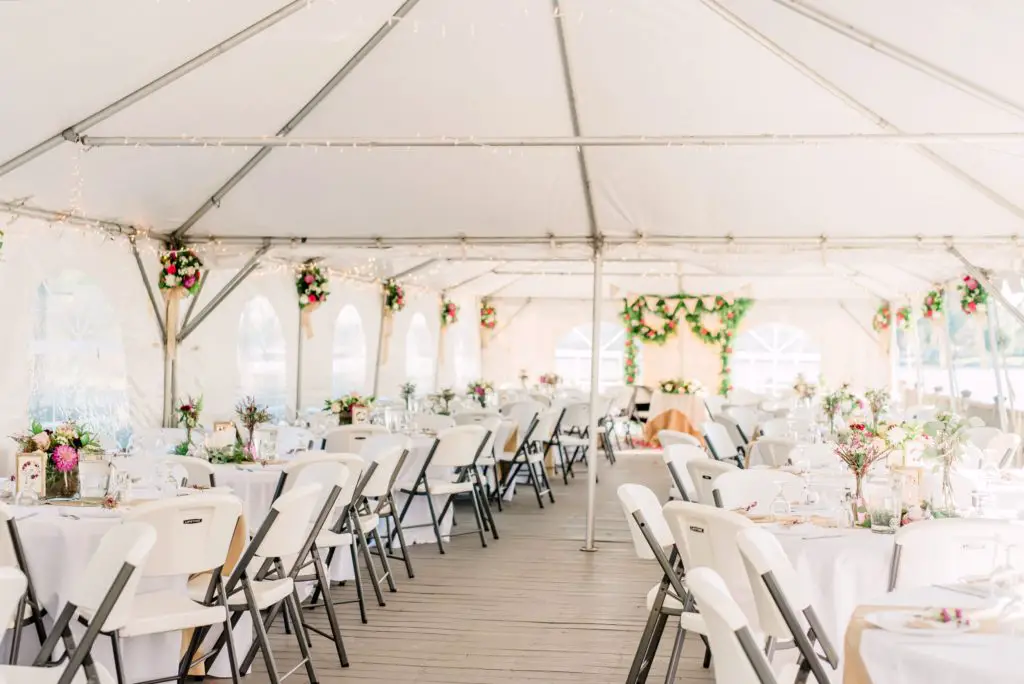 Contact phone: (202) 305-1909
What is so great about this venue:
Ample seating and table options for guests, including chairs, round tables, banquet tables, and sweetheart tables.
Provision of necessary equipment and supplies such as linens, plates, flatware, drink dispensers, coolers, ice machine, chafing servers, and utensils.
Availability of table and tent decorations to enhance the ambiance of the wedding venue.
The outdoor wedding venue offers a picturesque setting for couples to exchange their vows. With seating for up to 150 guests and various table options including round and banquet tables, the venue ensures ample space for dining and socializing.
They provide essential amenities such as linens, plates, flatware, drink dispensers, coolers, a portable bar, chafing servers, utensils, and various table and tent decorations.
The Westin Indianapolis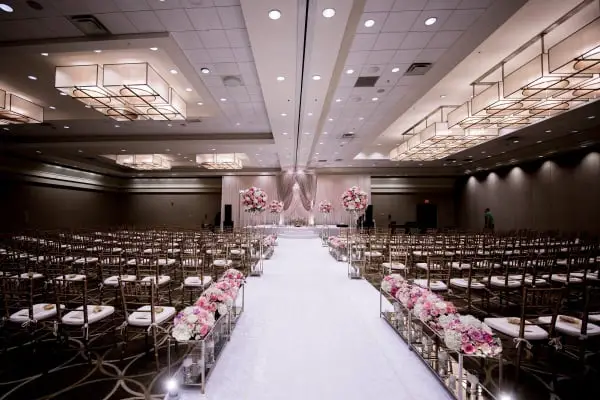 Facebook page: Facebook
What is so great about this venue:
Luxurious and upscale wedding venue
Variety of event spaces to choose from
Impeccable care and service tailored to each unique wedding ceremony and reception
The Westin Indianapolis offers a range of event spaces, making it one of the most luxurious wedding venues in Indiana. Their enchantingly upscale atmosphere and attention to detail create the perfect backdrop for wedding ceremonies and receptions.
From traditional to modern or whimsical, any wedding decor will shine alongside the venue's romantic glow. The Westin Indianapolis is dedicated to providing impeccable care and service, understanding that each couple's special day is unique.
Located at 1239 Peterson Drive in Wheeling, IL and 140 East Walton Place in Chicago, IL. For more information or to view their wedding photo gallery, please visit their website or contact them at (847) 419-9999 or (312) 335-9999 respectively.
Indianapolis Zoo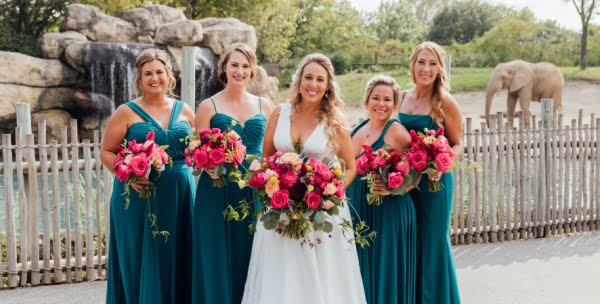 Facebook page: Facebook
What is so great about this venue:
Breathtaking views: The outdoor wedding venues at the Indianapolis Zoo offer stunning views of the surrounding gardens, the White River, and even the downtown skyline. These picturesque backdrops create a beautiful and memorable setting for wedding ceremonies and receptions.
Memorable venues: The Indianapolis Zoo provides a choice of unique and memorable venues for wedding-related events. From the Ascension St. Vincent Dolphin Gallery, where guests can celebrate with dolphins, to the Bicentennial Pavilion with its natural elements, couples have a variety of options to choose from based on their preferences and style.
Animal encounters and conservation support: Incorporating an animal encounter into the wedding event adds an extra special touch. Additionally, by hosting their wedding at the Indianapolis Zoo, couples contribute to the zoo's animal conservation mission, supporting the important work of protecting and preserving wildlife.
Located at the Indianapolis Zoo, this outdoor wedding venue offers stunning views, picturesque gardens, and a variety of memorable spaces for your special day. Whether you choose the Ascension St.
Vincent Dolphin Gallery with private access to the underwater dolphin viewing dome, the Bicentennial Pavilion with its natural accents, or the Efroymson Wedding Garden within the beautiful White River Gardens, each venue provides a unique backdrop for ceremonies and receptions. The Hulman Riverhouse boasts an exceptional view of the downtown skyline through its wall of windows and can accommodate up to 160 guests.
By choosing this venue, you also support their animal conservation mission.
Indiana Memorial Union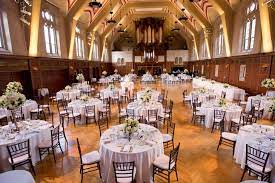 Contact phone: (812) 855-1777
Facebook page: Facebook
What is so great about this venue:
Elegant venues like Beck Chapel and Alumni Hall
Gourmet menus prepared by expert chefs
Full bar service and on-site hotel
The Indiana Memorial Union offers a picturesque setting for your dream wedding. With stunning venues, exquisite catering, and a dedicated team of professionals, they will ensure that every detail is taken care of from start to finish.
From the ceremony to the reception, the IMU Weddings team will work closely with you to create a memorable event that reflects your unique vision and style. Contact their wedding specialists today to begin planning your special day.
New Journey Farms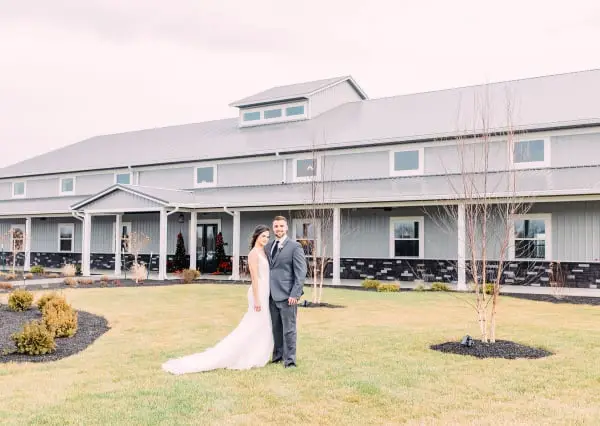 Facebook page: Facebook
What is so great about this venue:
Modern venue with an open canvas to fit your personality and style
Private bridal suites and the ability to host up to 350 guests
Conveniently located near I-65 and close to major hotels and restaurants
Located in Greater Lafayette, our modern outdoor wedding venue provides a blank canvas to bring your vision to life. With private bridal suites and the capacity to accommodate up to 350 guests, this venue offers convenience and comfort.
The landscaped grounds feature an outdoor pergola while the interior is climate-controlled, making it suitable for year-round use.
White Willow Farms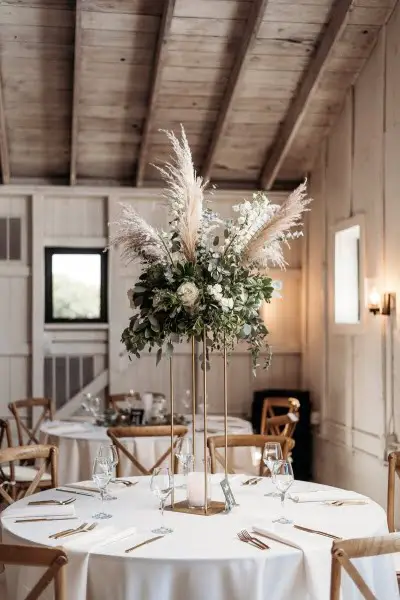 Facebook page: Facebook
What is so great about this venue:
Unique and historic venue: White Willow Farms is a rare gem that dates back to the 1940s, making it one of the first functioning granaries in the state. This adds a unique charm and character to any special occasion held there.
Spacious and chic event space: The grand event space at White Willow Farms is an impressive 5,400 square feet, providing ample room for larger guest lists. The natural concrete floors and whitewashed walls and ceilings add an old-world elegance to the venue.
Beautiful outdoor setting: With 14 acres of charm, including mature trees, flower fields, and picturesque photo spots, White Willow Farms offers a stunning backdrop for outdoor weddings. The outdoor chapel adds to the romantic and swoon-worthy atmosphere of the venue.
Introducing White Willow Farms, a unique and charming outdoor wedding venue that combines rustic elegance with modern style. With its historic granary dating back to the 1940s and a grand event space spanning over 5,400 square feet, this venue is perfect for any special occasion.
The 14-acre property boasts stunning photo spots, mature trees, and flower fields, creating a picturesque backdrop for your big day. Escape the hustle and bustle of city life and experience countryside hospitality at White Willow Farms – where beautiful memories are made to last a lifetime.
Crane Bay Event Center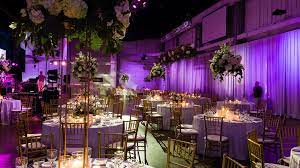 Facebook page: Facebook
What is so great about this venue:
Unique and contemporary venue with stunning views of the Downtown Indianapolis skyline
Fully equipped in-house sound and lighting system for a seamless event experience
Customizable draping system and LED lighted ambiance to create a memorable atmosphere
The Crane Bay Event Center is a contemporary and versatile venue located in Downtown Indianapolis, offering stunning views of the city skyline. With a fully equipped in-house sound and lighting system, customizable draping, private patio, indoor and outdoor fireplaces, and LED lighted ambiance, this one-of-a-kind space sets the perfect tone for weddings, receptions, corporate events and more.
Operating under Crystal Catering's expertise, they provide full-service support to handle layout coordination, timelines, linens, rentals, food & beverage options crafted by their award-winning chefs and mixologists. Offering an unforgettable experience tailored to reflect the uniqueness of their venue.
Folktale Wedding & Events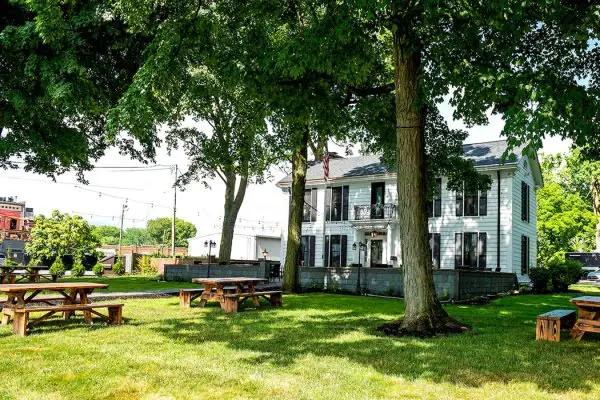 What is so great about this venue:
Charming and historic location in downtown Greenwood, Indiana
Perfect setting for elopements and micro weddings
Nearly two acres of outdoor space for large outdoor weddings
Folktale Event Center, nestled in downtown Greenwood, Indiana, is a picturesque venue steeped in local history. With its two-acre property and charming home, it sets the stage for intimate elopements and micro weddings while also providing a stunning backdrop for wedding photos.
From its beautiful surroundings to meticulous attention to detail by the knowledgeable staff, Folktale creates an enchanting experience for couples looking to exchange vows in a romantic outdoor setting.
Keep reading: