Embrace the enchanting allure of twilight as we delve into the magical world of outdoor twilight weddings.
Outdoor twilight weddings are a magical experience, with the soft glow of the setting sun providing a romantic backdrop for your special day. This article will guide you through every aspect of planning your dream twilight ceremony, from selecting the perfect venue to choosing the right decorations to enhance the natural beauty of the setting.
Whether you're envisioning a rustic countryside celebration or a sophisticated beachfront affair, we've got you covered. Stay tuned for a comprehensive guide filled with practical tips and creative ideas to make your twilight wedding truly unforgettable.
Understanding an Outdoor Twilight Wedding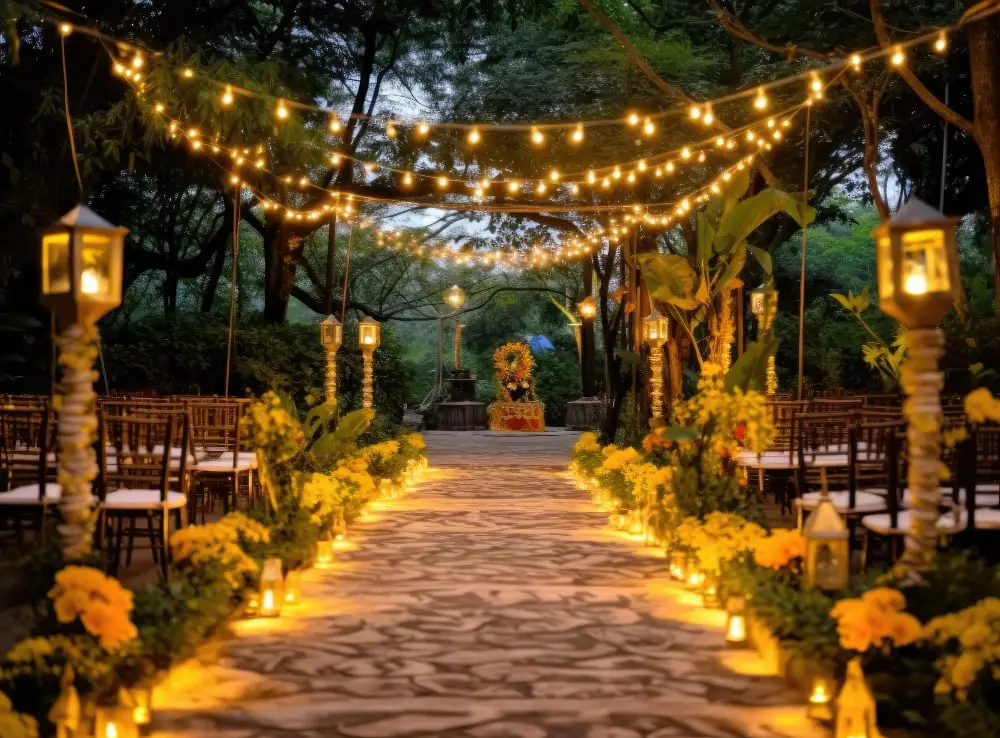 The captivating allure of twilight, the period just before sunset when natural light softens, creates intimate and enchanting scenery.
This ambiance delivers a unique feeling of warmth and love, setting the stage for a magical celebration of unity.
There's an air of calmness and surreal beauty that envelops the environment, leaving everyone in awe.
Remember, the timing of a twilight wedding is critical.
Having the ceremony at the sweet-spot moment impacts the ambiance, photographs, and even the guests' experience.
A well-executed twilight wedding offers an environment few other settings can replicate.
Whether under a heavenly streak of colors or a star-lit sky, the enchantment of an outdoor twilight wedding becomes one of its essential features.
From the dress code to the decoration, every detail should match the mesmerizing aura of the evening, further enhancing this unique experience.
All these aspects merge to produce a wedding that leaves an indelible impression on everyone present.
Therefore, prior planning and understanding of what goes into a twilight wedding becomes crucial to ensure its success.
Selecting the Perfect Twilight Hour
Conventional wisdom dictates timing your ceremony to coincide with the golden hour – right before sunset when the sun casts a warm, soft light. However, consider your geographic location, time of year, and local weather patterns.
A wedding planner or photographer with experience in sunset timing can also provide valuable guidance. Remember, the goal is to maximize natural light for both the ceremony and the initial part of the reception, creating that magical ambience everyone adores.
Choosing the Perfect Venue for a Twilight Wedding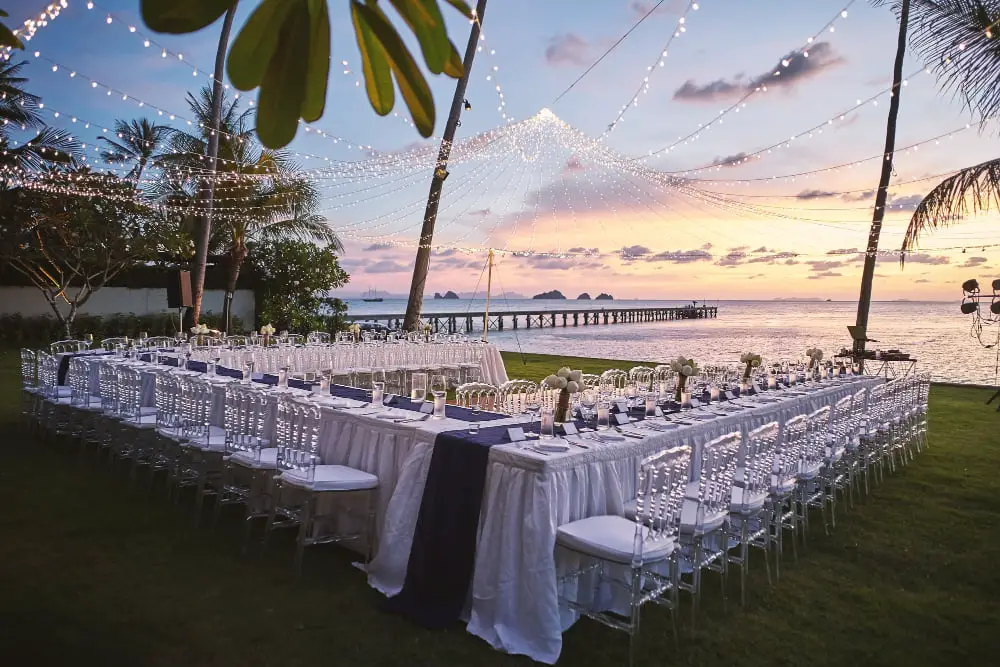 When determining your ideal location, consider the direction of the sunset; the best vistas will incorporate the beautiful hues as a natural backdrop. Outdoor venues such as vineyards, parks, or beachfront properties can offer unobstructed sunset views.
Keep in mind the layout of the venue as well. Spaces with open areas can accommodate sundown cocktails and facilitate a transition towards a starlit dance floor. In addition, ensure that the locale has the necessary logistics such as sufficient power outlets for lighting and sound, and practical parking or transportation options for guests.
Most importantly, your selected locale should align with your envisioned theme and ambiance for your special day. Your venue is not just a location, but the stage on which your twilight romance unfolds.
Magical Theme Ideas for Twilight Weddings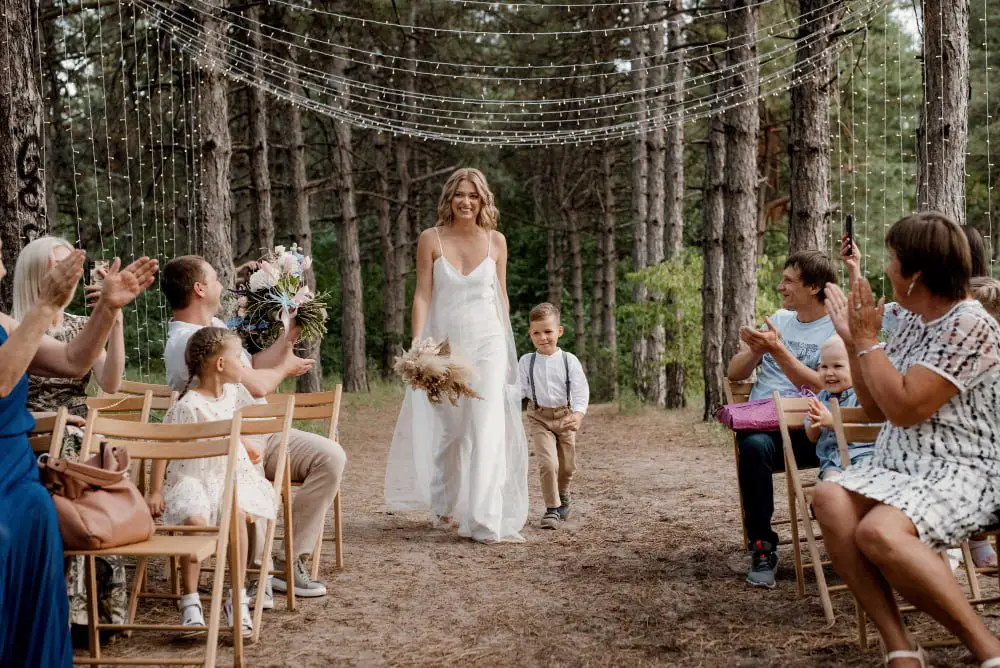 Opt for a whimsical fairy tale motif with floating lanterns, or a boho-chic style filled with lush greenery and dream catchers.
If you're taken by the allure of vintage elements, consider an old-world inspired setup featuring antique candelabras and lace linens.
For nature lovers, a "forest enchantment" theme with moss-covered chairs, birdcage decor, and rustic wood signage could be an exceptional choice.
Finally, a themed twilight wedding could play off the celestial with moon and stars as focal design points, using delicate hanging lights, night sky projectors, and midnight blue touches for a captivating cosmic effect.
Match the theme to your shared passions as a couple to ensure the event is a true reflection of your mutual love and interests.
Ideal Decorations for Outdoor Twilight Wedding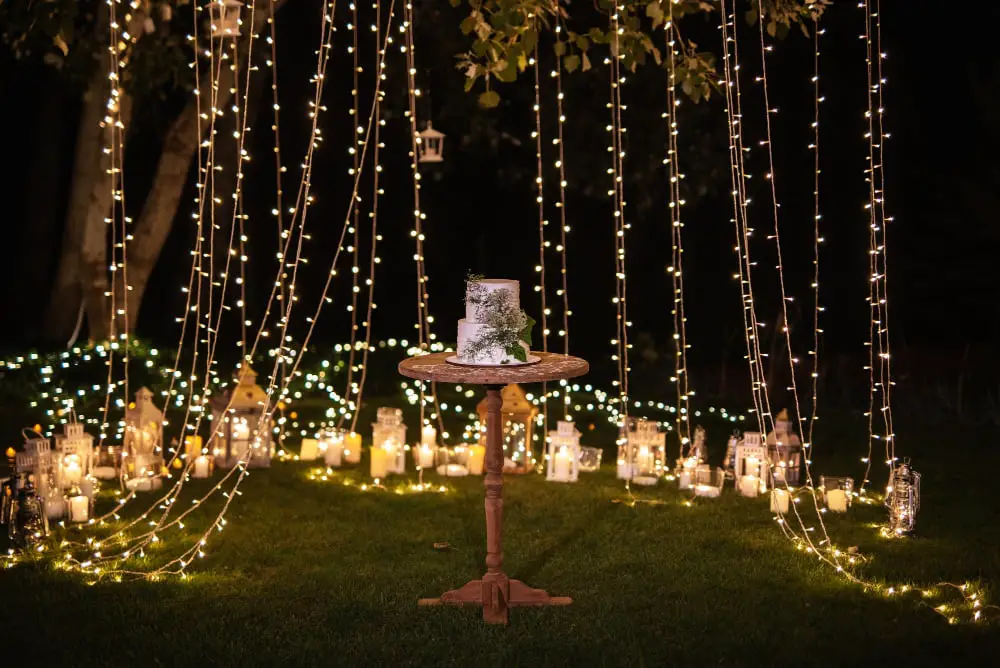 Utilizing the unique features of the natural scene is essential. Consider using delicate fairy lights to create an enchanting atmosphere, while also providing adequate illumination as dusk settles.
Lanterns can also add to the romantic ambiance as they cast soft, flickering light on your guests. Consider drapes in soft, muted shades for a dash of whimsy.
For table centrepieces, intertwine flowers and candles in glass casings for an ethereal glow. Do not forget, your decorations should complement the venue's natural beauty rather than outshine it. Staying in sync with the surroundings adds to the allure of the ceremony.
Always remember, less is more when it comes to decorating for a twilight wedding. Simplicity can have a significant impact. It's all about creating an intimate, magical mood for you and your guests.
Designing a Beautiful Altar for Twilight Wedding
To capture the perfect blend of natural beauty and romantic ambiance, consider a minimalistic approach.
A simple, wooden arch can serve as an elegant base that complements the dual tones of the sky.
Adorn it with flowing sheer drapery, and use soft, pastel flowers to add a touch of freshness.
When choosing lighting, consider hanging string lights or lanterns, which will create a magical glow as the day turns to night.
For a unique twist, hang a chandelier from the center of the arch.
An altar designed in harmony with the natural setting will create a visual focus that guests will remember long after the vows have been said.
Incorporating Sunset Hues Into Your Wedding Color Palette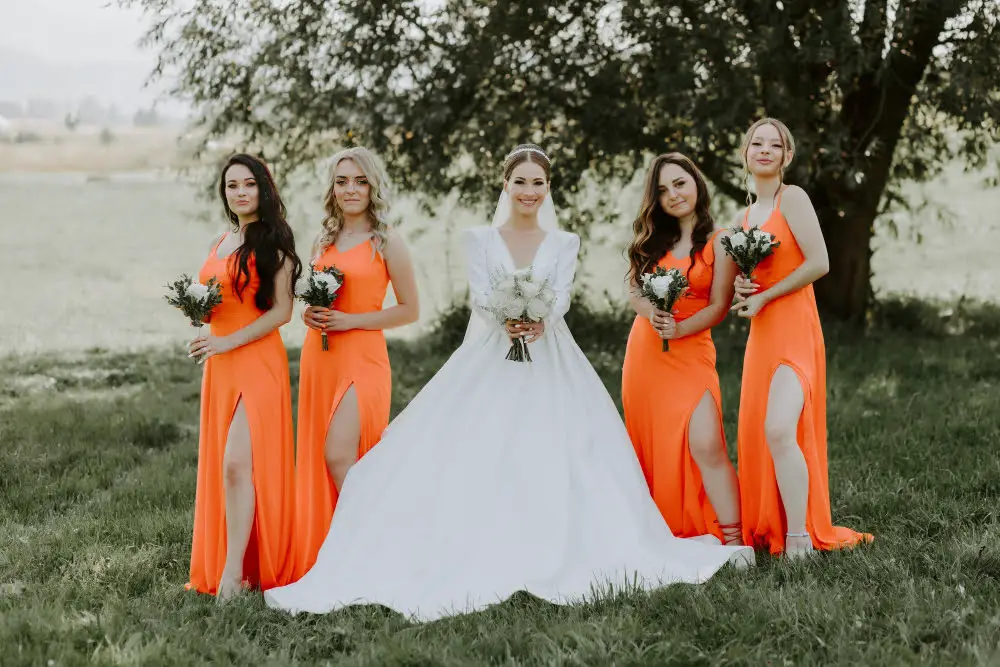 Sunset hues offer an array of warm and earthy tones, making them an ideal choice to exude an aura of romance and tranquility.
Start with a deep burnt orange and pale pink, the epitome of twilight sky colors. These can be complemented beautifully by using shades of lavenders and purples, mimicking the moments of dusk.
Incorporate these colors into elements like your invitations, bridesmaid dresses, and table linens.
Floral arrangements also act as an attractive canvas. Consider a mix of blush roses, purple orchids, and marigold pops.
Balance these tones with neutral shades like a soft beige or gray to not overpower the overall color scheme.
Don't shy away from experimenting with these colors in your wedding cake, by asking your baker to create an ombre design effect, fading from deep sunset hues at the bottom to lighter tones at the top.
Also, consider these hues for wedding favors, place cards, and even the groomsmen's ties to bring cohesiveness and a consistent theme to your wedding.
Floral Arrangements for Twilight Weddings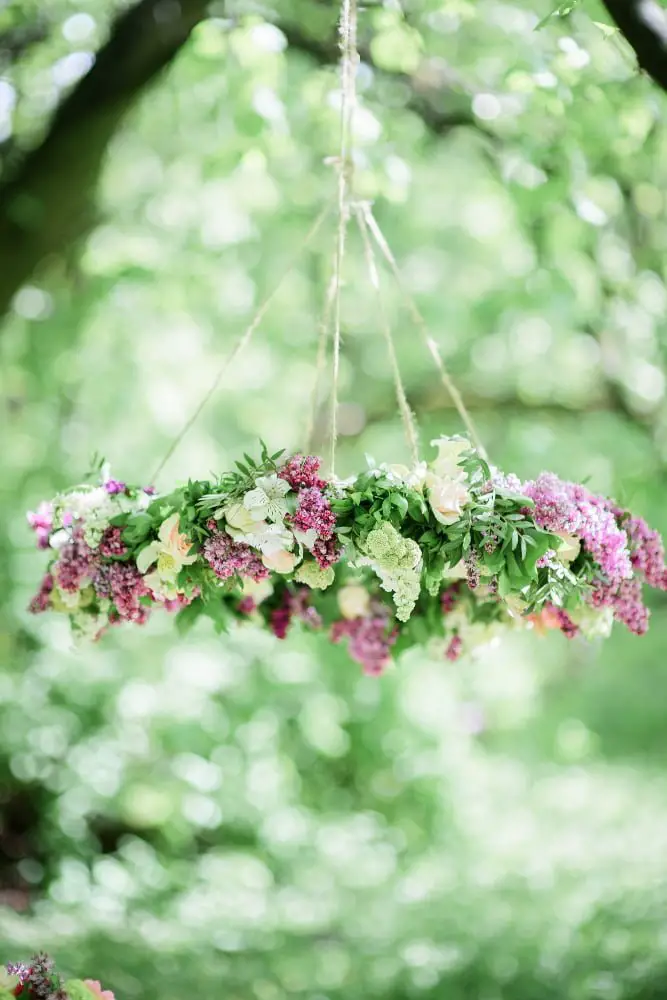 Select flowers that enhance the romantic twilight atmosphere. Lush, full blooms such as peonies, hydrangeas, and garden roses are excellent choices.
To catch the decreasing light beautifully, consider adding delicate sparkles to your flower arrangements or few glow-in-the-dark fillers.
Also, take into account the hue of the sunset; for smoother transitions, pick colors that merge well with the evening sky.
Don't forget your wedding bouquet – a dash of twilight charm can make it even more special. For instance, you can weave twigs of fairy lights in it to add a touch of twilight magic.
Stunning and unique twilight-inspired floral arrangements can contribute significantly to the dream-like aura of your outdoor evening celebration.
Clever use of blossoms not only beautifies the evening affair but also adds a memorable boldness that will stand out in everyone's mind long after the celebrations.
Remember, flowers are more than decorations; they help communicate the mood and theme of your wedding.
Get creative and let nature be your canvas.
Dress Code for Outdoor Twilight Wedding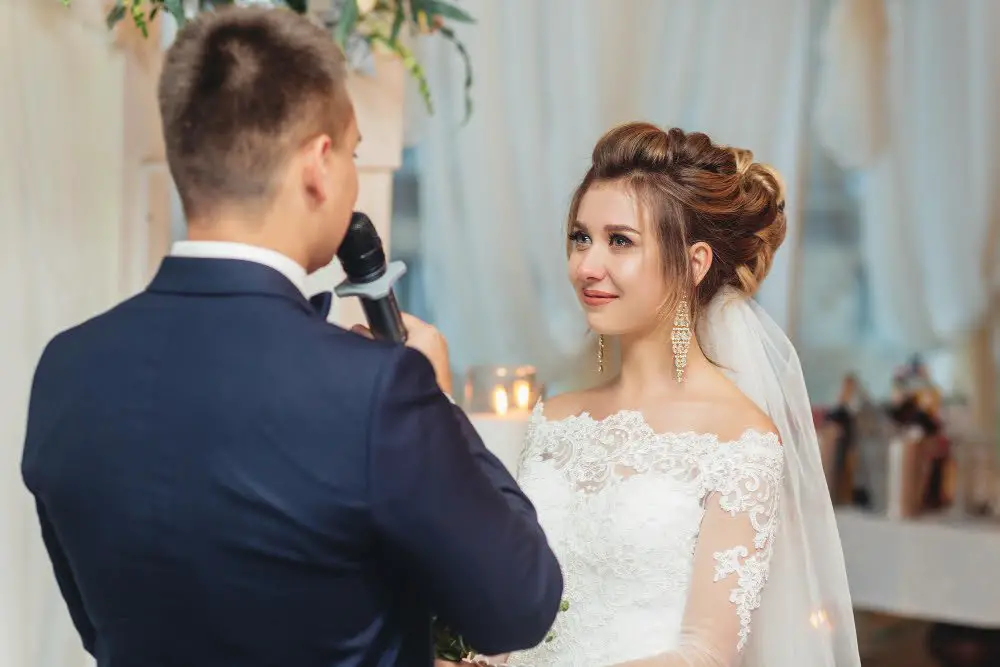 As the sun begins to set, it will cast a romantic glow, making your chosen dressing style potentially one of the most beautiful parts of the ceremony.
First off, it's essential for the bride and groom to decide how formal they want their twilight wedding to be. A semi-formal or casual dress code could allow for a more relaxed atmosphere, while a formal or black-tie event presents an air of elegance.
For brides, think ethereal elegance, gowns with gentle shimmer or soft pastels will work brilliantly. You might consider materials that catch the light or colors that reflect the sunset hues. Accessories can include subtle sparkles or glam details.
As for the groom, suits in darker tones complement the twilight theme well. Shades of navy, charcoal, or even deep burgundies could be ideal choices. Textured fabrics like tweed or herringbone, which will provide depth when photographed against the sunset, could be a consideration.
Guests should also aim to mirror the wedding's theme and elegance. Ladies could opt for cocktail dresses in rich, earthy colors or metallic shades, while gents can don semi-formal suits in dark hues.
Remember, though comfort is important at all times, particularly for outdoor settings. Consideration towards weather conditions, terrain, and temperature will add to the overall pleasant experience.
Hair and Makeup Inspiration for a Twilight Wedding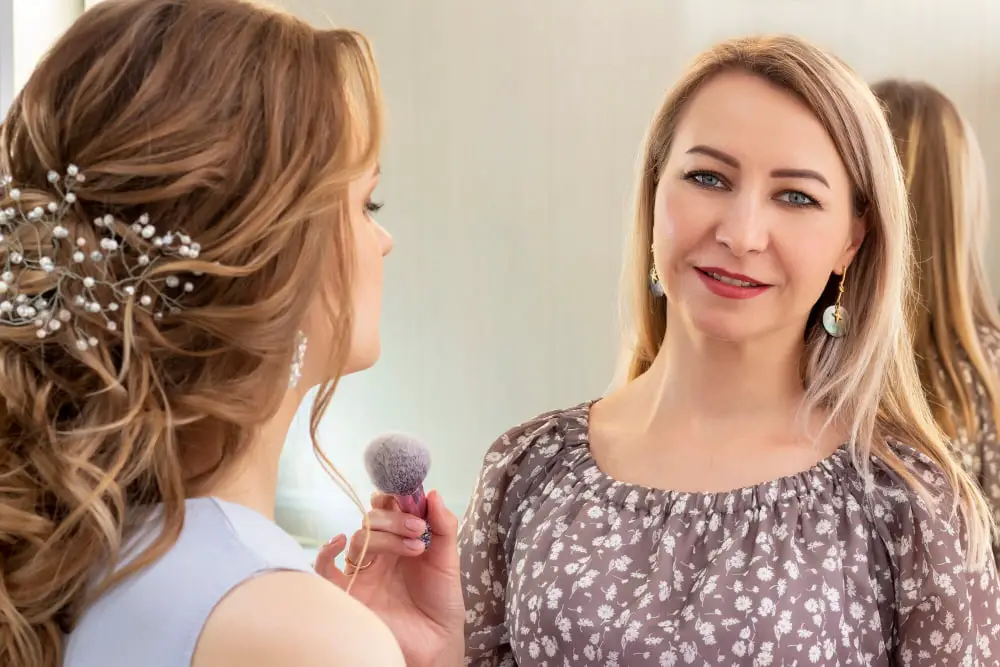 For a truly ethereal look, blend smoky eyeshadows in hues of sunset, complemented with a soft, glowing complexion and a hint of bronzer to accentuate your facial features beautifully in the dusky light.
Matte lipstick in a neutral shade can provide the perfect finish.
An updo adorned with fresh flowers or decorative pins can add a touch of romantic whimsy, while loose, cascading waves can create a more relaxed, bohemian vibe.
Reflecting the relaxed yet enchanting atmosphere of a twilight wedding, these makeup and hair inspirations will help you shine as dusk descends on your outdoor ceremony.
Invitations Designs & Wording for Twilight Weddings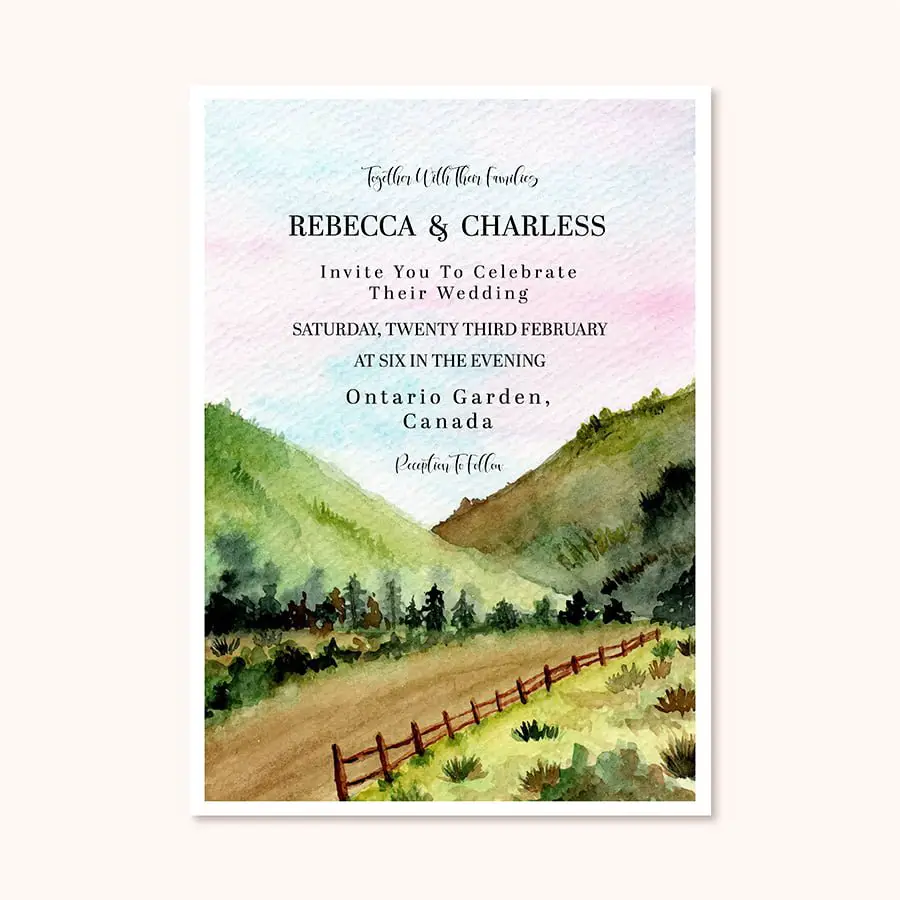 When it comes to invoking the enchanting mood of your planned celestial event, place importance on the design and wording of your invites. Consider incorporating twilight colors – dusky purples, deep blues, and soft pinks – in the invitation layout.
A design of a serene landscape with a gentle sunset or a moonlit night can perfectly capture the outdoor wedding concept.
The choice of typography also plays a significant role in setting the tone. Romantic and elegant fonts blend well with the theme.
For the wording, keep it poetic and romantic. A phrase like, "Join us under the twilight sky" can pique the interest of your guests and give them a hint of what to expect.
For a more personalized touch, you can include your favorite love quote or a short romantic poem. This adds depth to your invite and makes it feel more intimate and special.
This careful attention to detail will not only aesthetically please your guests but will also set the mood for your unique twilight nuptials.
Seating Arrangement Tips for Twilight Weddings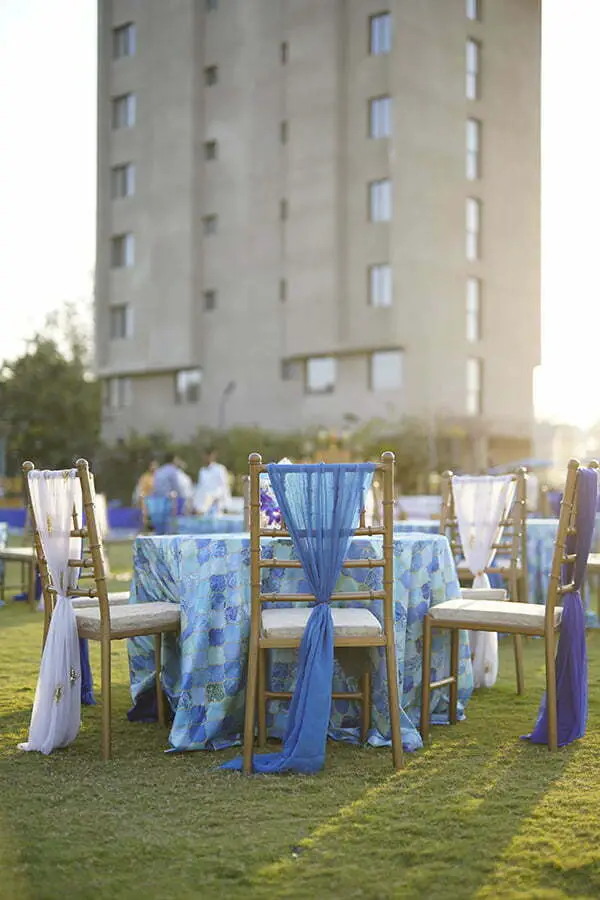 The arrangement of seats at your twilight wedding requires careful consideration. Plan for chairs to face away from the setting sun to avoid discomfort for your guests.
Strategic seating can also optimize your photographs, ensuring that lighting works in your favour and doesn't unintentionally backlight attendees.
Opt for comfortable seating with cushions or covers if the weather turnschilly.
An intimate layout to encourage social interaction amplifies the warmth and camaraderie essential in the lantern-lit hours of your celebration!
Comfort Factors for Guests At Twilight Wedding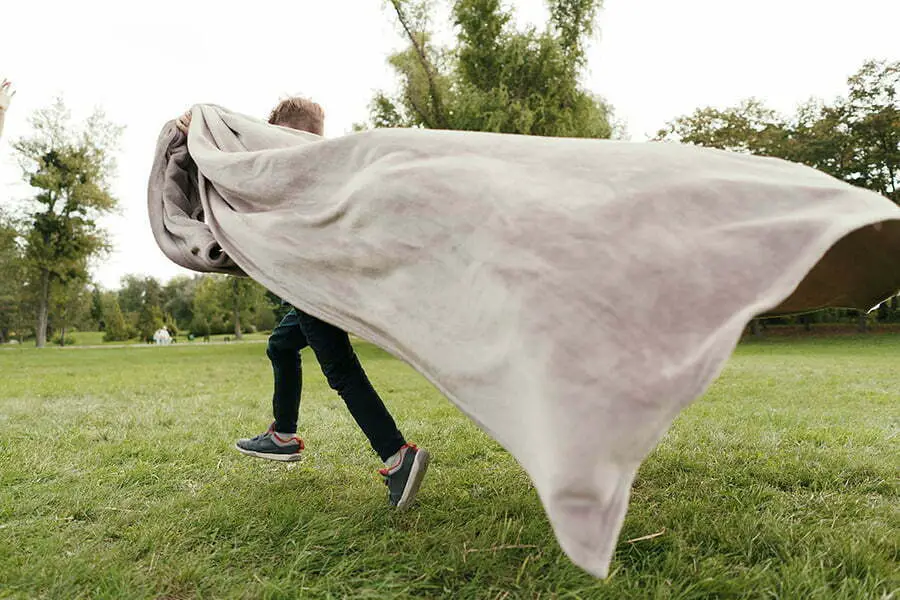 When the sun dips below the horizon, temperatures can change dramatically. To ensure your guests' comfort, consider offering lace shawls or light blankets for when the night air turns chillier.
Insect repellant stations are also a must to keep bugs at bay. On summer evenings, oscillating fans can provide a cool breeze. Additionally, secure ample seating where people can rest.
Small gestures of thoughtfulness promoting guests' comfort will make your twilight wedding a more enjoyable and memorable experience for everyone.
Illumination: Perfect Lighting for Twilight Ceremony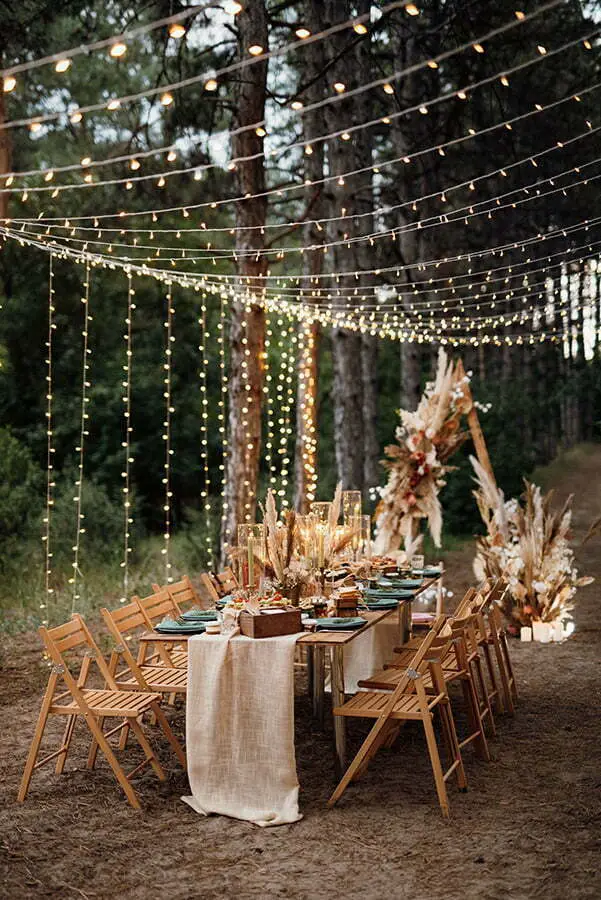 As the sun dips below the horizon, your carefully chosen lights will take the stage. Fairy lights strung from trees or wrapped around branches create enchanting constellations in your outdoor space.
For a touch of rustic charm, consider lanterns with flickering LED candles, or festoon lighting for a more festive atmosphere.
Light up the paths with luminaries and strategic spotlights to ensure guests move safely. Floating LED lights in the pool or pond create a fantastical effect, especially as darkness descends.
Finally, for a wow factor, nothing beats the soft, warm glow of numerous chandeliers hanging from an old majestic tree. Remember, the goal is to enhance the charm of twilight, not overwhelm it; moderation is key.
Music Selection for a Twilight Wedding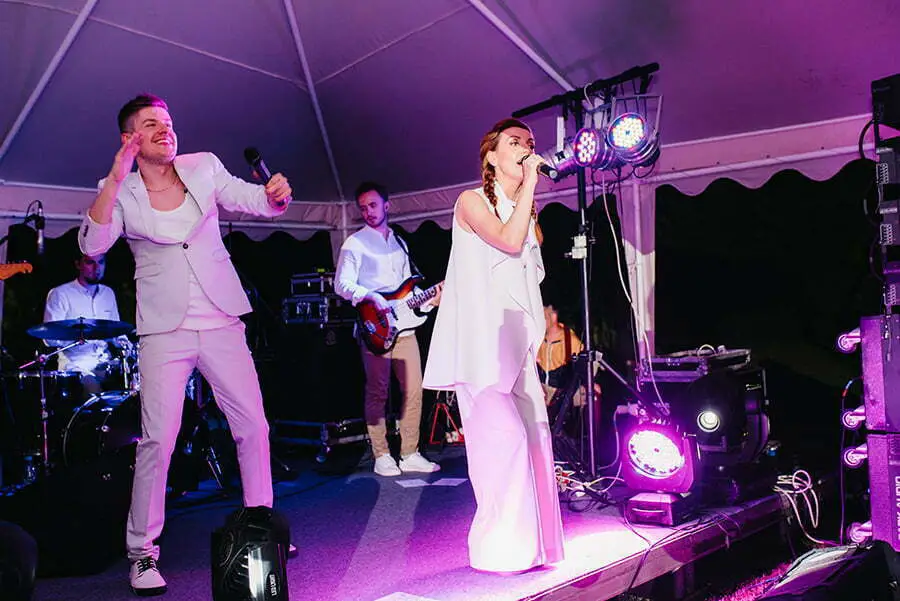 Careful selection of melodies can create a captivating spell as the day turns into a dusk. The first step is to choose a genre that mirrors the desired atmosphere.
Acoustic live music, be it a trio or a solo vocalist, adds to the raw allure of nature.
Instrumental pieces might be ideal for the ceremony, with string quartet or harp offering a touch of elegance.
As night draws closer, energetic tunes will be inclined to lift the mood, ensuring your guests are drawn to the dance floor.
Consider hiring a proficient DJ who can smoothly transition between genres as the evening unfolds.
Timing is key; soft music can announce the setting sun, while up-tempo beat can welcome the stars.
Selecting a Caterer for an Outdoor Twilight Wedding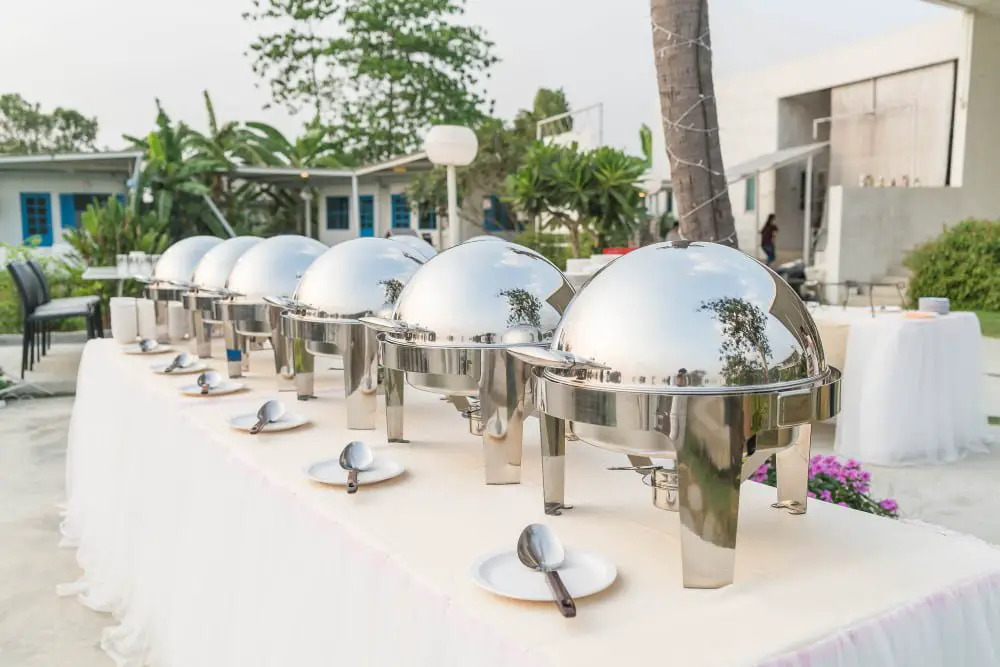 When it comes to dining, leverage the magical atmosphere of twilight to heighten the overall experience.
Caterers who specialize in outdoor events can guide you through menu options that complement the enchanting setting.
Consider incorporating dishes that can be beautifully presented under the ambient lighting. Also, keep in mind the cooling evening temperatures while choosing your culinary delights; warmer dishes or an open fire pit for food preparation may score extra points.
Discuss the opportunity of tastings to ensure that the food not only fits the twilight theme but also satisfies your palate.
Lastly, check if your caterer can provide functional and aesthetic options for serving setups that seamlessly blend with your wedding aesthetics.
Outdoor Twilight Wedding Photography Tips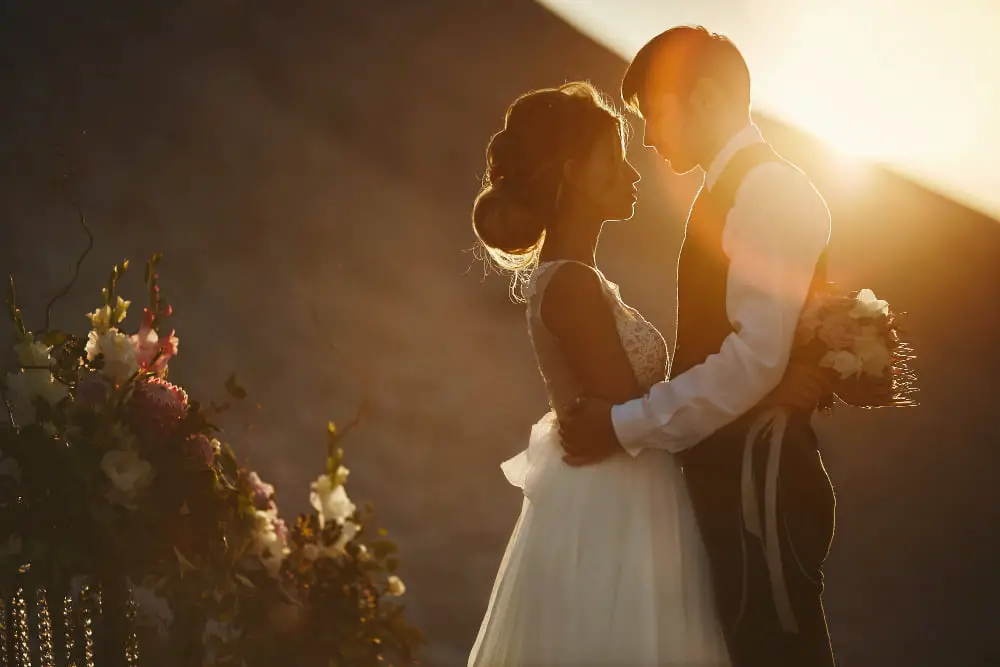 Achieving stellar photography at a twilight wedding requires careful planning and expertise. Natural lighting plays a crucial role. Have your photographer scout the location beforehand to understand how the lighting changes and at which points the best shots can be captured.
It's advisable to batch major photographs like group and couple shots when there is still ample natural light. Using additional light sources such as LED lights or softboxes can also keep your pictures consistent, balancing shadow and clarity.
When it comes to post-sunset shots, long-exposure photography can create enchanting images that harness the romance of twilight. Remember, twilight is fleeting, so plan ahead to make sure you seize the moment.
Lastly, ensure your photographer is experienced in low-light photography. Skill and experience will translate into stunning photographs that encapsulate the magic of your twilight wedding.
Emergency Preparation for Outdoor Evening Events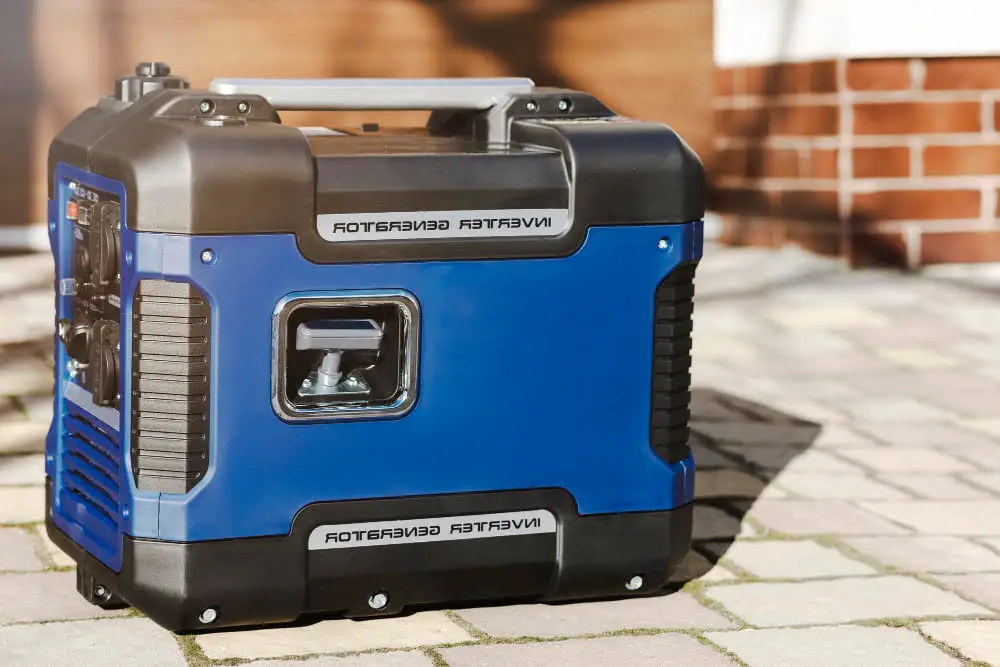 Proper preparation is vital to ensure the smooth running of your event, especially considering variances of weather and light conditions in an evening setting.
Firstly, ensure to have adequate lighting around all essential areas like pathways, restrooms, and exits for safety purposes.
A generator can serve as a reliable source of backup power. Temperature changes could also be significant, so have heat lamps or blankets available for colder nights.
In terms of weather preparations, renting a marquee or tent can provide an essential cover to protect against unexpected rain. It can also add to the ambience if appropriately decorated.
Always have a professional emergency plan in place, including quick access to a first aid kit.
Additionally, ensure all vendors have an emergency plan, for example, what happens if the food or cake is spoiled or the photographer's camera fails.
Lastly, think about bugs and insects that often come out in the evening. Citronella candles or a bug zapper can help keep these unwelcome guests at bay while also adding a quaint lighting element to your twilight event.
Budgeting for Your Twilight Wedding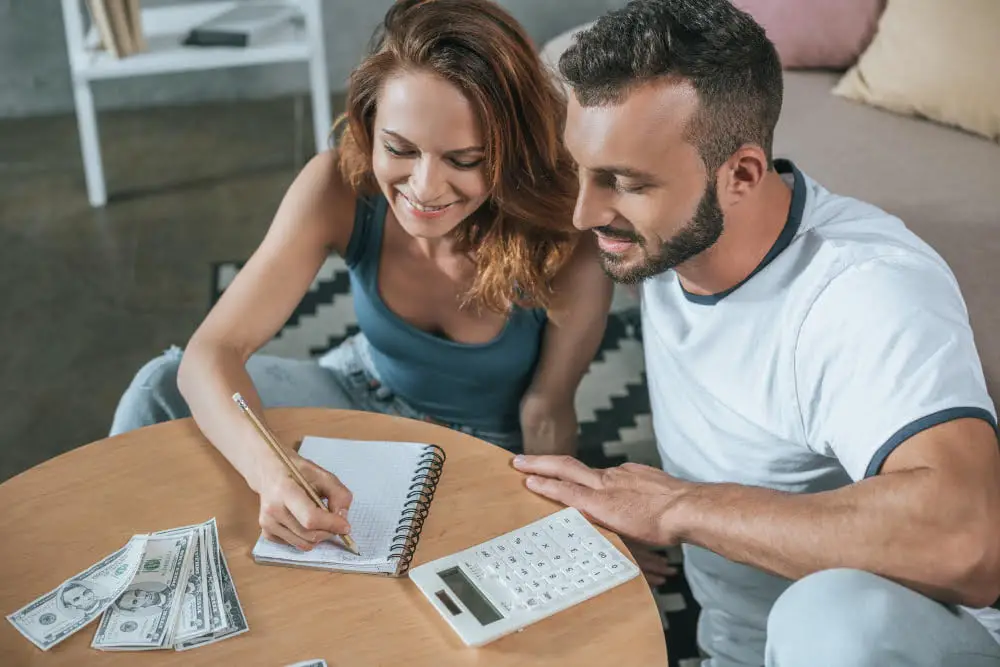 When planning for the financial aspects, consider the additional costs that may come with a twilight event. Illumination, for instance, is a key element that often requires a larger budget for enhanced lighting installations.
Prioritize your expenses according to their pivotal role in creating your desired ambiance. Allocating finances wisely for venue, decor, catering, and photography will ensure a beautiful ceremony without any financial stress.
Remember to keep an allowance for contingency expenses for a seamless twilight wedding experience. An experienced wedding planner could be invaluable in helping you make the best budget decisions.
After-Party Ideas for Outdoor Twilight Wedding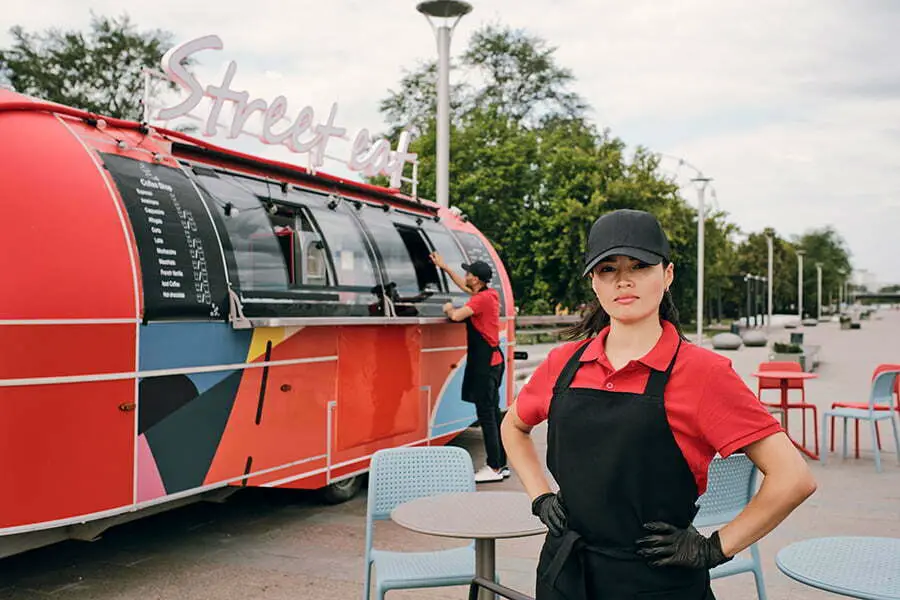 To carry on the magic of your twilight wedding into the night, consider planning an outdoor reception under the stars.
An enchanting bonfire party on a beach or a countryside barn dance could create the right ambiance.
Add string lights, lanterns, or fairy lights to enhance the twilight theme and keep the area well-lit.
Food trucks serving late-night snacks and an open bar can add a fun spin to the celebration.
Hiring a live band or a DJ for the after-party would surely bring everyone to their feet.
Lastly, a firework display or a lantern releasing ceremony could provide a beautiful ending to your big day.
FAQ
How to have a twilight wedding?
To have a twilight wedding, simply schedule the ceremony to start after 5pm and proceed directly into the reception, eliminating the traditional wedding breakfast, thereby creating a relaxed and romantic atmosphere without the tension or expense of entertaining guests throughout the day.
What happens at a twilight wedding?
A twilight wedding is a ceremony that usually begins post 3:30 PM, offering an intimate wedding breakfast as it smoothly transitions into the reception, alleviating the need for an evening buffet, thus easing the pressure on hosts and lessening costs associated with additional meal provisions.
How much did the Twilight wedding cost?
The wedding of Bella and Edward in the Twilight Saga: Breaking Dawn Part 1 cost approximately $36,000.
Where was the wedding scene from Twilight filmed?
The wedding scene from Twilight was filmed outdoors in Vancouver, portrayed as the Cullen family's backyard.
What are the best locations for a twilight wedding?
The best locations for a twilight wedding include picturesque landscapes such as beachfronts, vineyards, botanical gardens, and historical mansions with lush gardens.
How to organize lighting for a twilight wedding?
Organize lighting for a twilight wedding by incorporating string lights, lanterns, candles, and ambient spotlights.
What attire is suitable for guests at a twilight wedding?
For a twilight outdoor wedding, guests should typically go for semi-formal attire such as cocktail dresses for women and suits and ties for men, while keeping in mind the evening temperatures and possible need for warmer layers.
Keep reading: