Some unique ideas for an outdoor wedding ceremony include having a picnic-style reception, setting up a teepee or tent, incorporating natural elements like trees and flowers into the decorations, and having an outdoor movie night under the stars.
If you're planning an outdoor wedding ceremony, you want it to be unique and memorable. But coming up with ideas for an outdoor wedding ceremony can be a challenge.
In this blog post, we'll share some unique ideas for an outdoor wedding ceremony to make your special day stand out. Read on to learn more!
Having the Ceremony in a Garden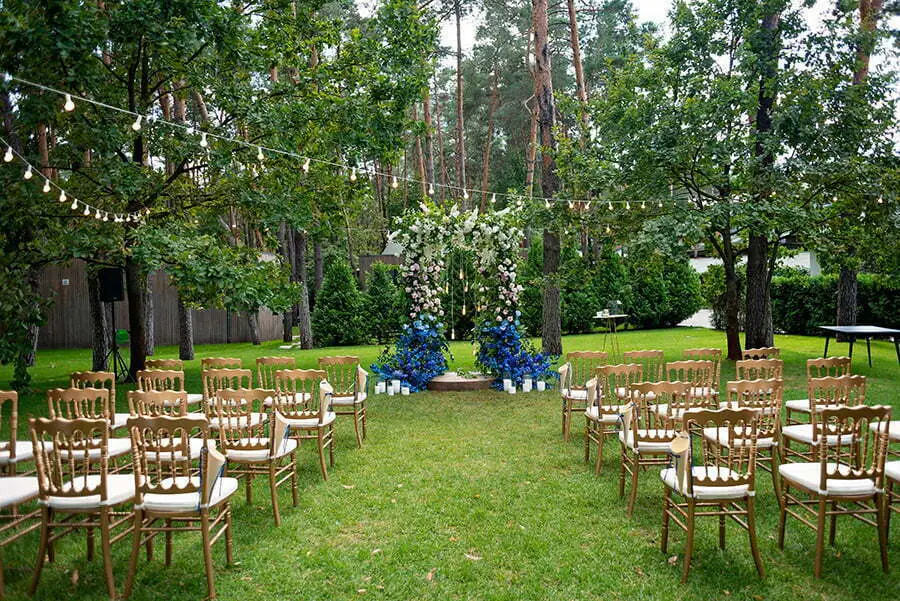 A garden provides the perfect backdrop for exchanging vows with lush greenery, vibrant flowers, and natural beauty. Depending on the size of the garden, you can have a small intimate gathering or invite many guests to witness your union.
You can also choose from different types of gardens, such as English, Japanese, or Mediterranean-style, that will add charm to your ceremony. To make it even more special, you could incorporate twinkling lights or candles into the decor for a romantic atmosphere.
With careful planning and attention to detail, an outdoor wedding ceremony in a garden will surely be unforgettable!
Having an Outdoor Movie Night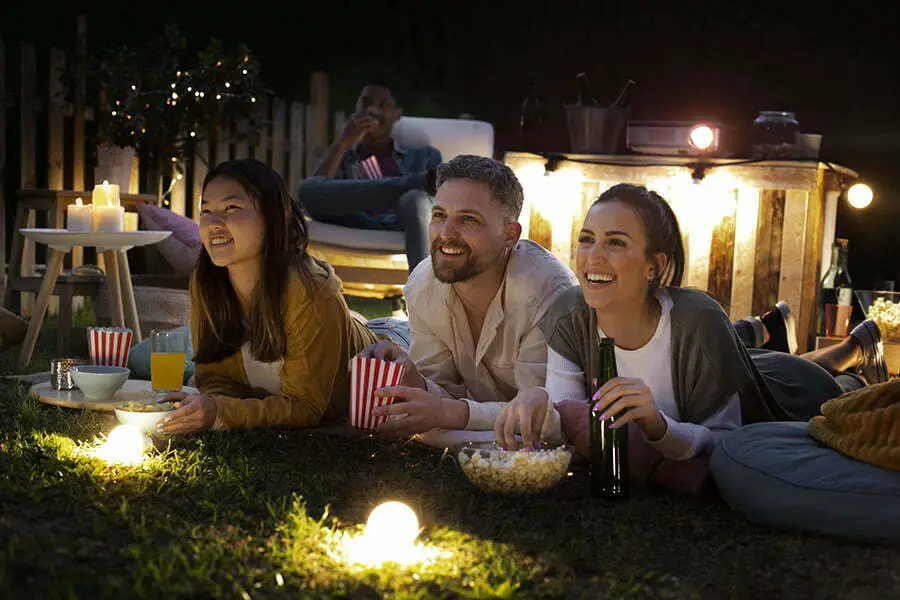 This event can be held in any outdoor space, such as a backyard or park. To make it extra special, you could rent a projector and screen so everyone can watch the movie together.
You could also provide blankets and pillows for guests to get cozy while they watch the film. You could set up snacks like popcorn or candy for people to enjoy during the movie.
This wedding ceremony will create lasting memories that your guests will never forget!
Exchanging Vows on a Beach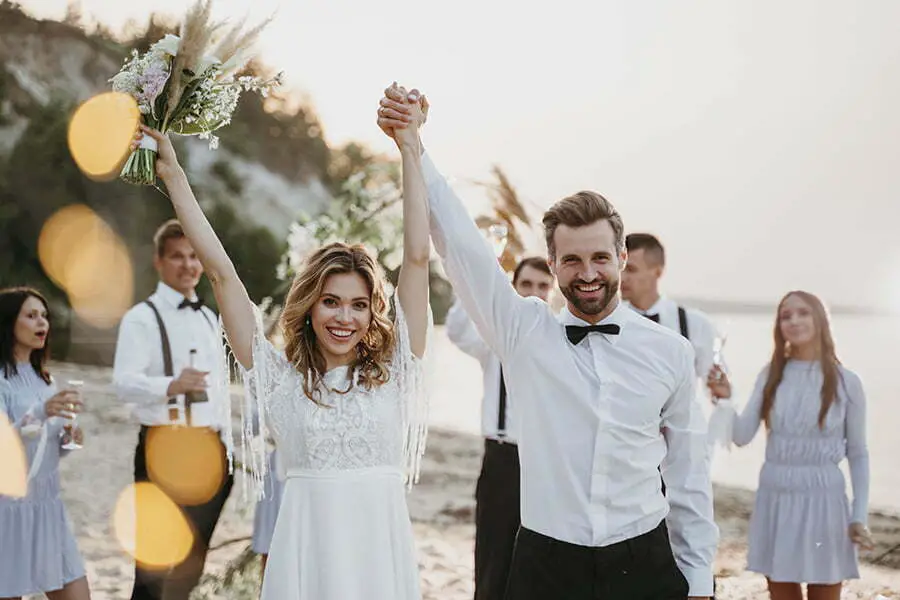 This type of ceremony allows couples to take advantage of the beach's natural beauty while providing them with a peaceful and intimate setting for their special day. Couples can exchange their vows in front of the ocean or on the sand itself, depending on their preference.
They can incorporate elements such as seashells or starfish into their decorations to make them even more special. Couples may opt for a sunset ceremony to share this beautiful moment as the sun sets over the horizon.
Getting Married Under a Tree Canopy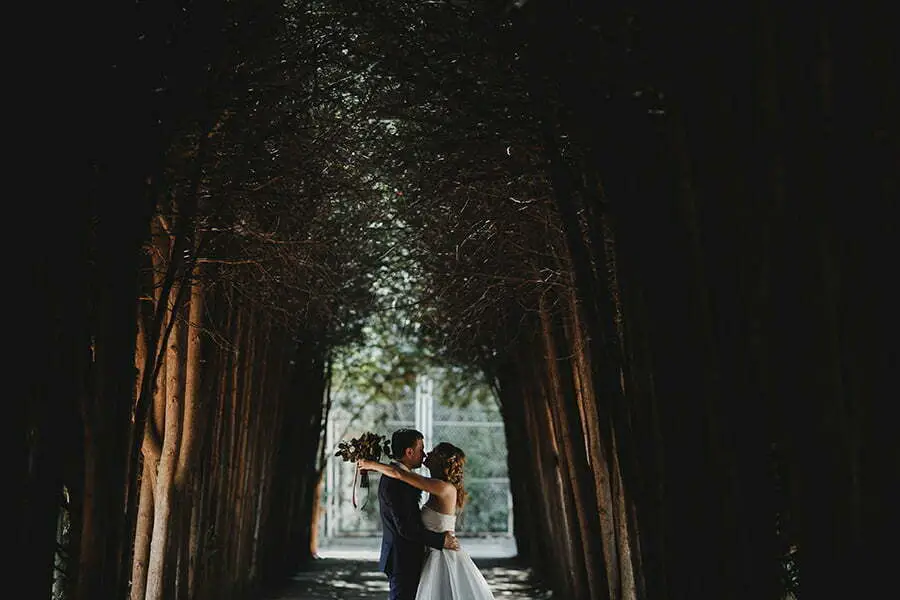 This type of setting creates a natural, romantic atmosphere that can be enhanced with decorations such as lanterns or twinkling lights. You can also use the branches of the trees to hang fabric or flowers for added decoration.
The canopy will provide shade from the sun and shelter from any rain, making it an excellent option for couples who want to get married outdoors but don't want their guests exposed to harsh weather conditions. Having your ceremony under a tree canopy gives you more privacy than other outdoor venues, allowing you and your guests to enjoy an intimate celebration without interruption.
Having the Ceremony at a Park or Nature Preserve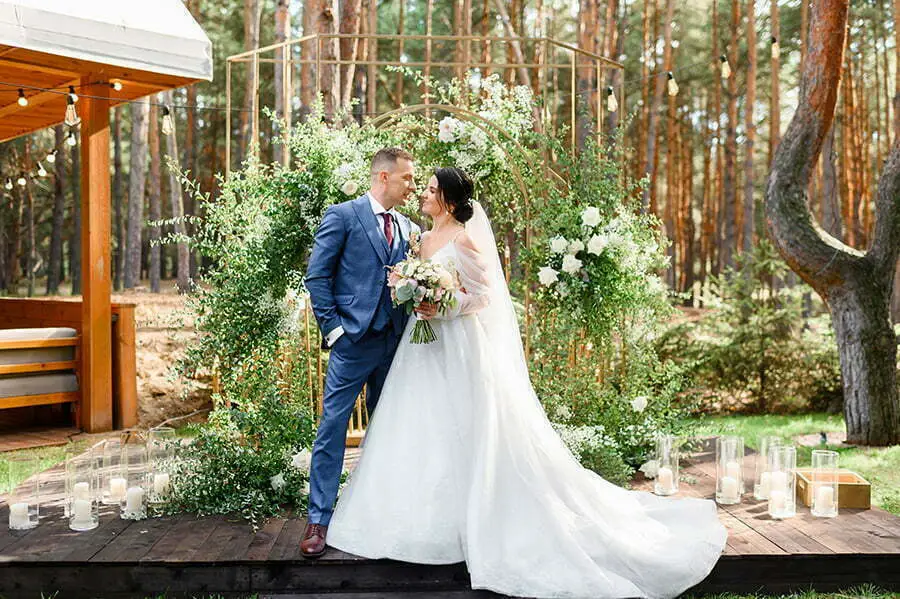 It allows you to be surrounded by the beauty of nature while still having all the amenities of a traditional wedding venue. Parks and nature preserves often have plenty of space for guests to spread out and areas for seating or standing during the ceremony.
Many parks and preserves offer stunning views that can serve as a backdrop for your photos. Depending on the location, there may also be options for renting tents or other structures in case of inclement weather.
When planning an outdoor wedding ceremony at a park or nature preserve, it's essential to consider any restrictions that may apply regarding noise levels and decorations. You should also check with local authorities about permits that may be required if you plan on having amplified music or serving alcohol at your event.
Make sure you are aware of any wildlife in the area so that you can take appropriate precautions when setting up decorations and seating arrangements.
Renting Out an Outdoor Venue with Beautiful Views of Nature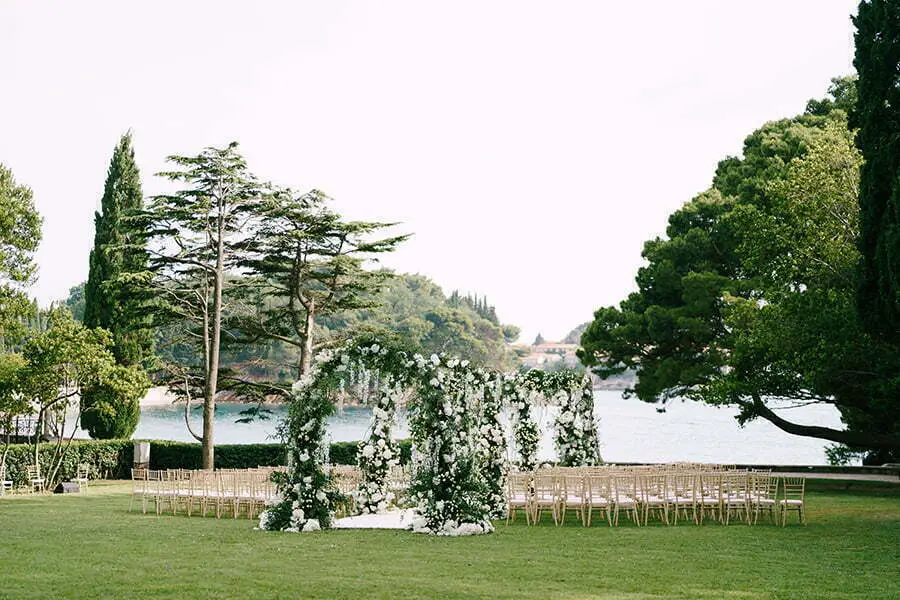 This venue allows couples to take advantage of the natural beauty surrounding them, creating a romantic and memorable atmosphere for their special day. The couple can choose from various locations, such as parks, beaches, gardens, or private estates.
Depending on the chosen location, they may enjoy stunning sunsets or breathtaking mountain views during their ceremony. Renting out an outdoor venue provides more flexibility in decorations and seating arrangements than traditional indoor venues.
Couples can create a unique experience by incorporating elements from nature into their decor and choosing seating arrangements that best suit the landscape.
Incorporating Elements of Nature Into the Decor, Such As Flowers and Plants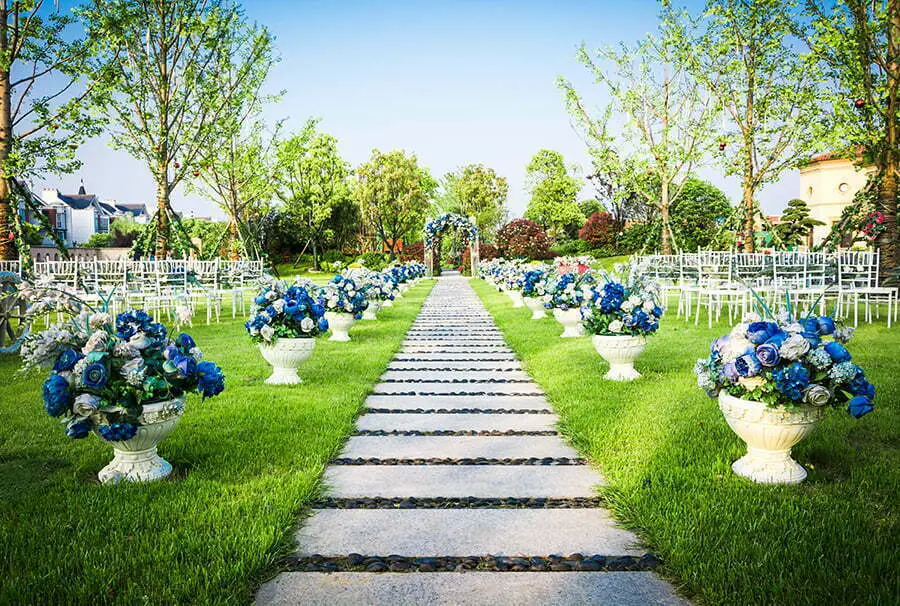 Flowers and plants can be used in many ways to add beauty, color, and texture to the event. For example, they can be used as centerpieces on tables or hung from trees as decorations.
They can also be arranged around the altar or aisle for a beautiful backdrop during the ceremony. Flowers and plants can be incorporated into bouquets for bridesmaids or boutonnieres for groomsmen.
This will help bring nature's beauty into your special day!
Using Lanterns to Light Up the Area for Evening Ceremonies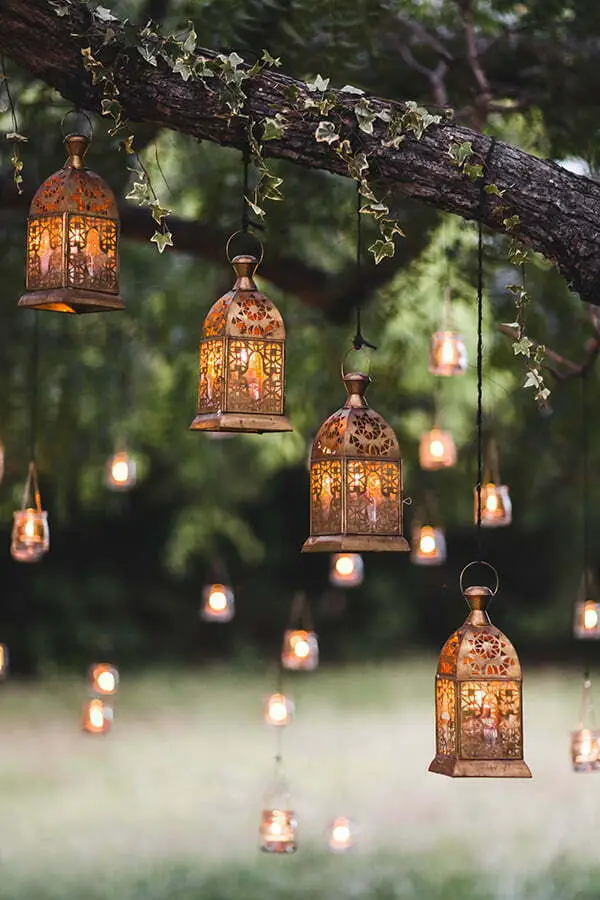 Lanterns can be hung from trees, posts, or other structures. They can also be placed on tables or pathways for guests to enjoy.
The soft glow of the lanterns will provide a warm and inviting ambiance that will make your special day even more memorable. Depending on the size of your venue, you may need several dozen lanterns to light up the area for evening ceremonies adequately.
You can choose from various sizes and colors of paper lanterns and battery-powered LED lights available in many different shapes and colors. With careful planning and creative placement, you can create an enchanting setting with these simple yet elegant decorations!
Setting Up Chairs Around a Fire Pit for Guests to Gather Around During the Ceremony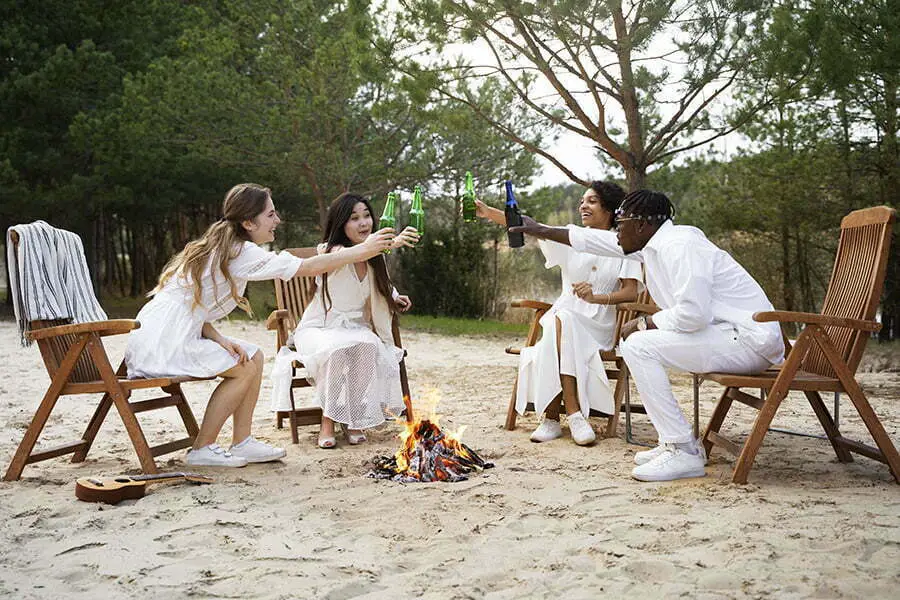 This idea allows guests to gather in a cozy, intimate setting while still enjoying the beauty of nature. The fire pit can be decorated with flowers, candles, or other decorations to create an inviting atmosphere.
Guests can sit in comfortable chairs around the fire pit while watching the bride and groom exchange their vows. The warmth of the flames will provide a romantic backdrop for this special moment that will be remembered by all who attend.
Keep reading: