Discover the picturesque charm of Rhode Island as we unveil a curated list of enchanting outdoor wedding venues perfect for couples seeking to exchange vows amidst nature's beauty.
Are you dreaming of a wedding day that is infused with natural beauty, lush landscapes, and an enchanting ambience? Look no further than Rhode Island, the hidden gem of the New England region. With its picturesque coastline and charming countryside, this small but mighty state offers an array of outdoor wedding venues that are sure to make your special day an unforgettable experience.
From seaside ceremonies overlooking sparkling waters to garden receptions amidst blooming flowers, join us as we explore the top outdoor wedding venues in Rhode Island, where nature becomes your backdrop for happily ever after.
Belle Mer
Facebook page: Facebook
What is so great about this venue:
Glamorous and contemporary aura
Seven acres of manicured green lawns on the edge of Narragansett Bay
Largest un-tented, four-season event space in Newport with unobstructed views of the ocean
Belle Mer is the ultimate venue for a glamorous and contemporary outdoor wedding. With its manicured lawns, breathtaking ocean views, and luxurious event spaces, Belle Mer provides an unforgettable experience for any occasion.
Whether it's a large gala or an intimate ceremony, this Newport gem offers sophistication and beauty at every turn.
Preston Ridge Vineyard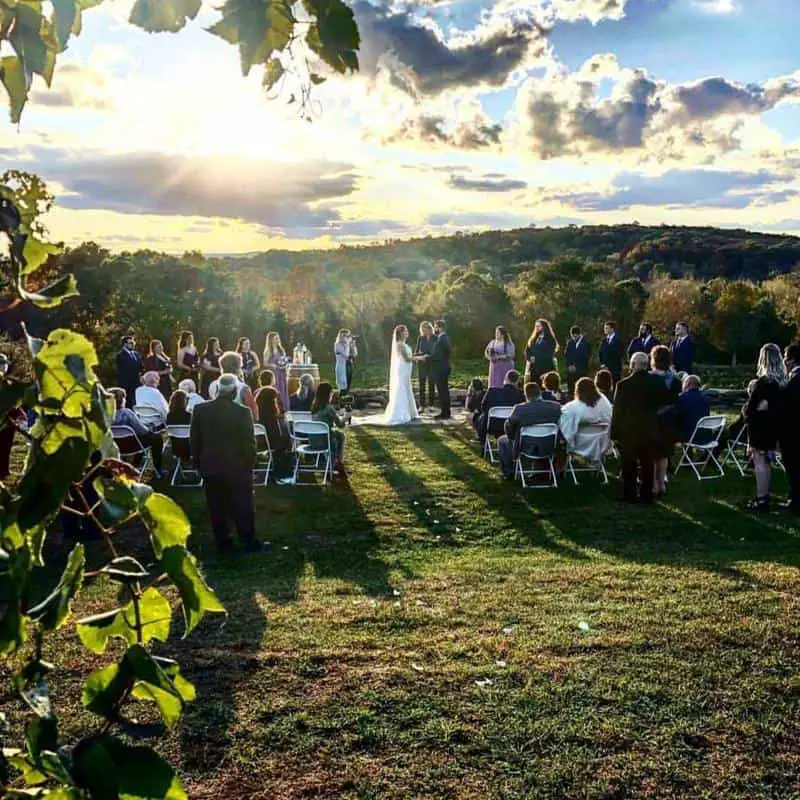 Facebook page: Facebook
What is so great about this venue:
Gorgeous location for outdoor weddings
Stunning scenery for memorable wedding photos
Outstanding selection of wines for wedding receptions
Located in Preston, CT, Preston Ridge Vineyard offers a stunning location for vineyard weddings and private/corporate events. In addition to their picturesque venue, they also have a wine tasting room where guests can enjoy sampling delicious wines while learning something new.
Whether you're looking to expand your palette or relax with friends, Preston Ridge Vineyard is the perfect destination for wine tastings and other special occasions.
Twelve Acres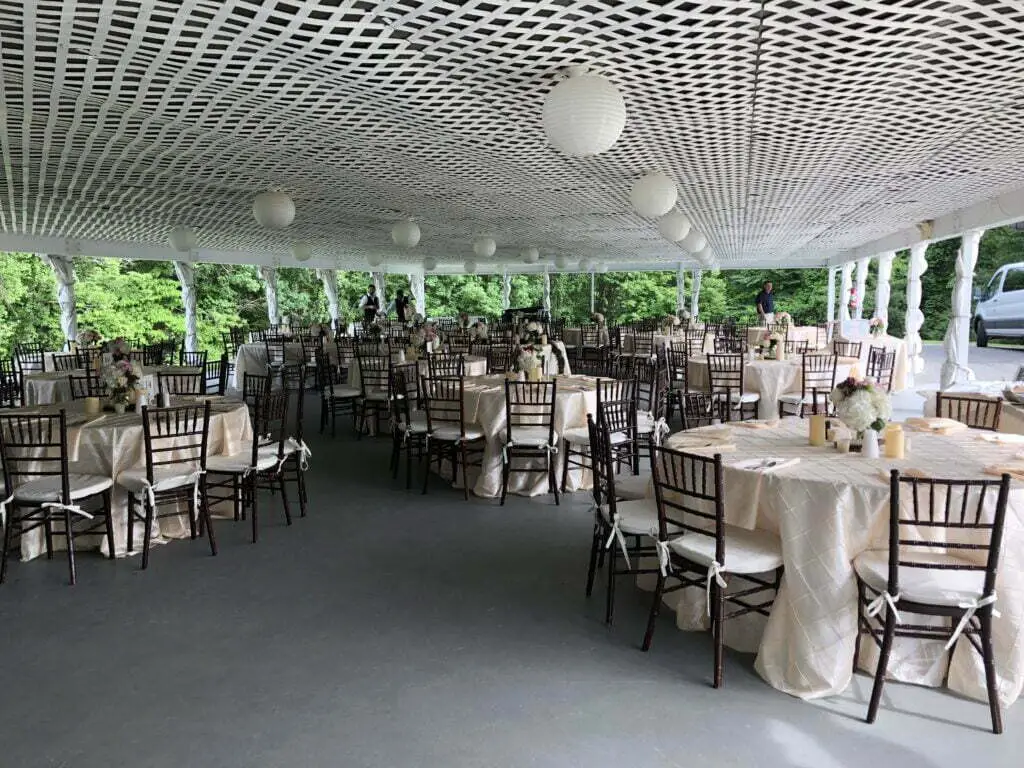 Venue: twelveacresbanquet.com
Facebook page: Facebook
What is so great about this venue:
Customizable menus to fit the needs of the event
Accommodates up to 450 guests
Private and comfortable setting on Twelve Acres of land
Located on Twelve Acres of picturesque land in Smithfield, Rhode Island, Twelve Acres is a premier outdoor wedding venue offering exceptional service and customizable menus. With options for both indoor and outdoor events, their spacious Pavilion can accommodate up to 450 guests and provides the perfect backdrop for weddings, corporate events, reunions, or BBQs.
Nestled just ten minutes away from Providence and easily accessible from major routes, Twelve Acres offers a private and beautiful setting for any special occasion.
A Rhode Island Beach Wedding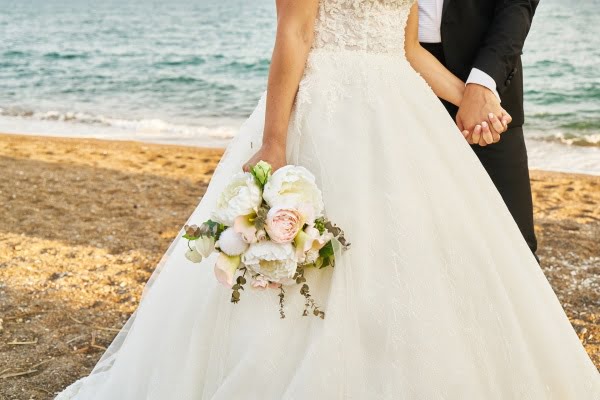 Facebook page: Facebook
What is so great about this venue:
Rhode Island offers over 400 miles of picturesque beaches, making it an ideal location for a beach wedding ceremony.
The state manages some of the best beaches in Rhode Island, ensuring that they are well-maintained and provide amenities for wedding events.
To host an event at one of the state beaches, you need to obtain an approved permit, ensuring that your wedding ceremony will be organized and regulated.
Rhode Island is a dream destination for beach weddings, with its stunning coastline and picturesque beaches. With over 400 miles of shoreline, couples can choose from a variety of breathtaking locations to exchange their vows.
To host a beach wedding ceremony at one of Rhode Island's state ocean beaches, couples must obtain an approved permit from the state. New England Ceremonies can help guide couples through the process and provide more information on making their dream beach wedding a reality.
Newport Mansions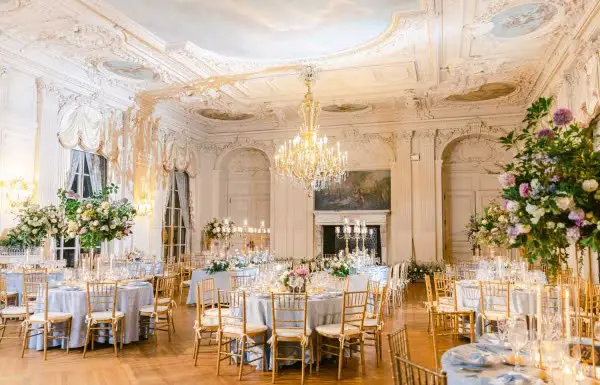 Facebook page: Facebook
What is so great about this venue:
Spectacular ocean views and lush landscaped gardens provide a stunning backdrop for wedding ceremonies and receptions.
The historic architecture of the Newport Mansions, particularly Rosecliff, adds a touch of elegance and grandeur to any special event.
The exclusive rental experience ensures that the event details can be given the highest priority, with the museum hosting only one event each evening.
The Newport Mansions, one of America's most historic venues, offers a picturesque setting for special events. With breathtaking ocean views, lush gardens, and stunning architecture, it is the perfect location for both intimate family gatherings and grand celebrations.
The venue features exclusive rental experiences at Rosecliff, complete with a ballroom accommodating up to 160 guests for dinner and dancing. Guests can also enjoy the Salon for additional seating or use it as a ceremony space.
With over 8 acres of manicured landscape and ADA accessibility, the Newport Mansions provide an unforgettable experience for any occasion. On-site ceremonies are available in both indoor and outdoor spaces based on season and guest count.
Dedicated museum personnel ensure that every event receives personalized attention while complimentary parking further adds to the convenience of hosting your special day at this extraordinary venue.
Please note that the list provided after "Will & D Photography" does not seem relevant to the venue description text but appears to be possibly related information about photographers or wedding vendors associated with weddings held at Rosecliff.
Newport Harbor Island Resort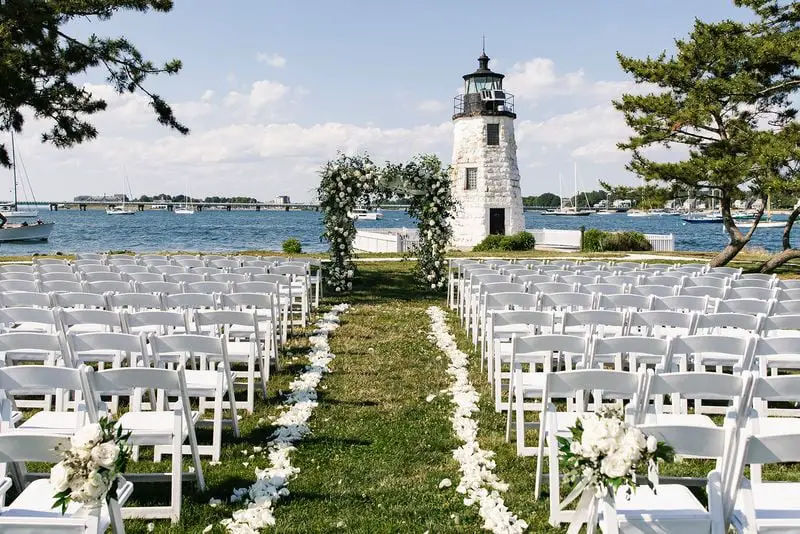 Venue: newportharborisland.com
Facebook page: Facebook
What is so great about this venue:
Breathtaking views: The historic Goat Island Lighthouse offers a stunning backdrop for weddings, with the magical light of golden hour and sailboats silhouetting against the sunset sky.
Unique ambiance: The outdoor setting of the venue provides a romantic and enchanting atmosphere for couples to begin their happily ever after.
Versatile event spaces: The venue offers a range of ballrooms with different dimensions, accommodating various sizes of wedding parties and social events.
Nestled within the historic Goat Island Lighthouse, this outdoor wedding venue offers a picturesque setting for couples embarking on their journey to marital bliss. With breathtaking views of sailboats against the backdrop of a sunset sky, it is an idyllic location for your special day.
This versatile venue can also accommodate various social events such as holiday parties, birthdays, and family reunions with its range of elegantly designed ballrooms. For more information or to begin planning your event, reach out to their experienced event planners.
Harbor Lights Rhode Island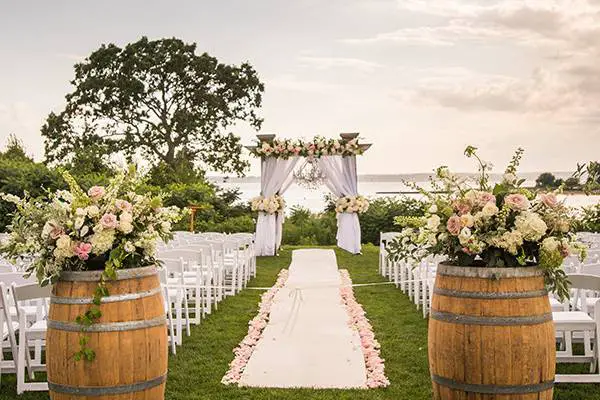 What is so great about this venue:
Unforgettable wedding experience with professional wedding planners dedicated to every detail
Breathtaking setting combining land and sea for romantic and memorable ceremonies and photographs
Unrivaled amenities including a combination of natural beauty, boating, swimming, golf, and award-winning dining for a complete weekend of festivities
Harbor Lights is a stunning outdoor wedding venue that offers a unique and unforgettable experience. Their professional wedding planners ensure that every detail is taken care of, allowing couples to create their own personalized celebration.
With its picturesque setting combining land and sea, Harbor Lights provides the perfect backdrop for ceremonies, celebrations, and photographs. Offering unrivaled amenities beyond just a banquet hall, this venue allows couples to think outside the box and create their dream wedding experience.
Sweet Berry Farm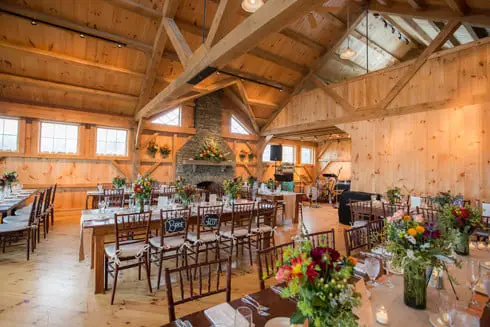 Venue: sweetberryfarmri.com
Contact phone: (469) 725-2600
Facebook page: Facebook
What is so great about this venue:
Scenic backdrop on 100 acres of rolling, conserved farmland
Two customizable ceremony and reception locations: The Orchard Field and the Post-and-Beam Barn
Rustic and romantic atmosphere for an elegant and unforgettable wedding experience
Located in Middletown, RI, Sweet Berry Farm is a picturesque outdoor wedding venue set on 100 acres of conserved farmland. With two customizable ceremony and reception locations – The Orchard Field and the Post-and-Beam Barn – couples can create their dream rustic and romantic wedding.
Couples who have tied the knot at Sweet Berry Farm have raved about the stunning venue, which offers amazing photo opportunities and a memorable experience for all.
Castle Hill Inn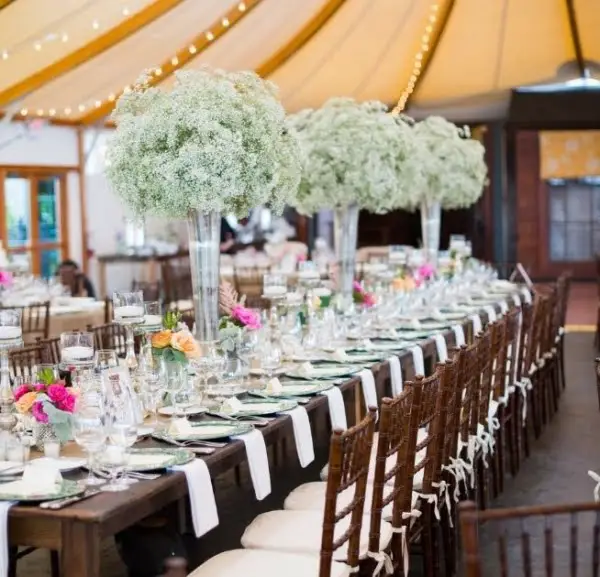 Facebook page: Facebook
What is so great about this venue:
Stunning natural backdrop: The outdoor wedding venue at Castle Hill Inn offers a picturesque setting with glistening Narragansett Bay and the Atlantic Ocean as a stunning backdrop for your special day.
Versatile event spaces: With a lantern-lit garden for saying your vows, alfresco dining and dancing under a custom sailcloth tent, and cozy indoor spaces with fireplaces, Castle Hill Inn provides a variety of versatile event spaces to suit your preferences and accommodate different weather conditions.
Exquisite ambiance and amenities: The estate offers a romantic ambiance with couches heaped with pillows, fine wines, comforting fare, and golden candlelight. Additionally, the venue provides various amenities such as professional services and hotel accommodations to ensure a seamless and enjoyable wedding experience.
At Castle Hill Inn, we provide the perfect backdrop for your dream wedding or special event. With stunning views of Narragansett Bay and the Atlantic Ocean, you can say your vows in a romantic lantern-lit garden before enjoying an unforgettable celebration under a beautiful sailcloth tent.
Whether you choose to celebrate indoors by cozy fireplaces or dine al fresco on our lawn, our dedicated team will ensure that every detail is taken care of, leaving you free to enjoy this magical occasion with loved ones.
Kirkbrae Country Club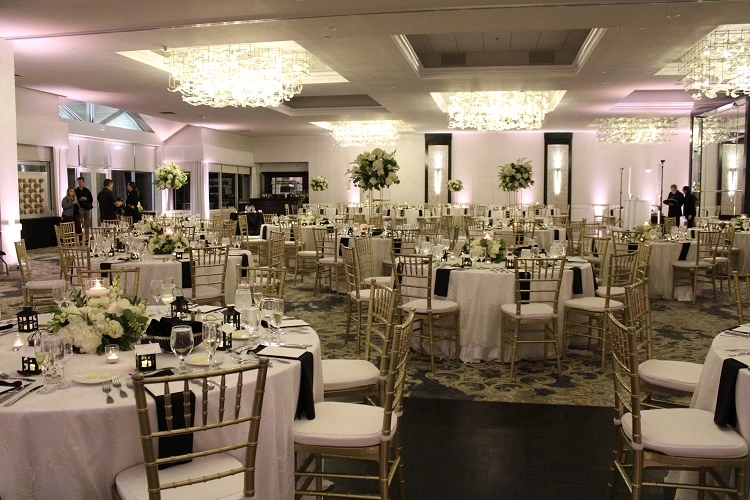 Contact phone: (401) 333-1300
Facebook page: Facebook
What is so great about this venue:
Contemporary elegance and timeless style
All-inclusive wedding packages with customizable options
Experienced wedding coordinators to assist with every detail
Located in the New England area, Kirkbrae is a premier all-inclusive wedding venue that exudes contemporary elegance and timeless style. With over 20 years of excellence as Rhode Island's Best Venue, the experienced wedding coordinators at Kirkbrae are dedicated to making your special day perfect.
Their range of services includes assistance with floral arrangements, photographers, cuisine choices and even wedding reception ideas. Whether you're seeking a classic or modern celebration, Kirkbrae offers customizable packages to meet your specific needs and desires.
With their impeccable attention to detail and passion for weddings, the team at Kirkbrae ensures that every aspect of your big day is carefully planned and executed flawlessly.
Wannamoisett Country Club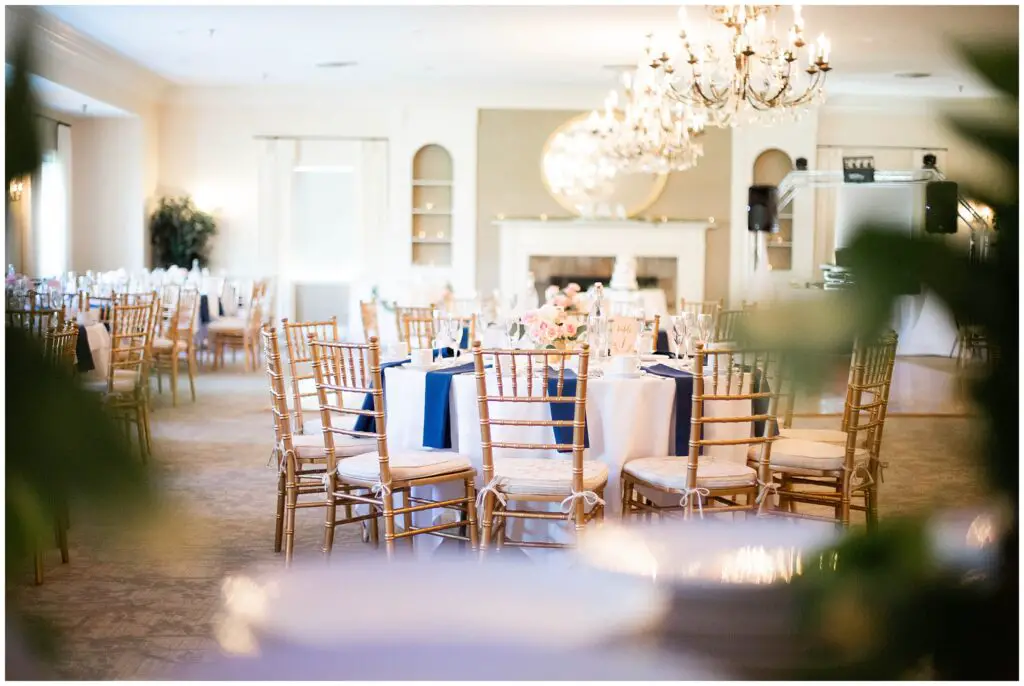 Facebook page: Facebook
What is so great about this venue:
Award-winning food
Impeccable service
Warm, intimate, and romantic atmosphere
Wannamoisett Weddings is Rhode Island's premier wedding venue, offering a warm, intimate, and romantic setting for couples to exchange their vows. With award-winning food and impeccable service, this outdoor venue promises an unforgettable experience for any couple looking for unique wedding ideas.
Keep reading: