Popular outdoor wedding styles include bohemian, rustic, vintage, beach, garden-inspired, and country.
Are you looking for some inspiring ideas for your outdoor wedding? Outdoor weddings can be a beautiful way to celebrate your special day, but deciding on a style that suits the occasion can also be challenging.
Whether you're considering a bohemian, rustic, or another popular outdoor wedding style, this blog post will provide great ideas and tips to make your event unforgettable.
Read on to learn more about the most popular outdoor wedding styles and how to make them work for your big day!
Bohemian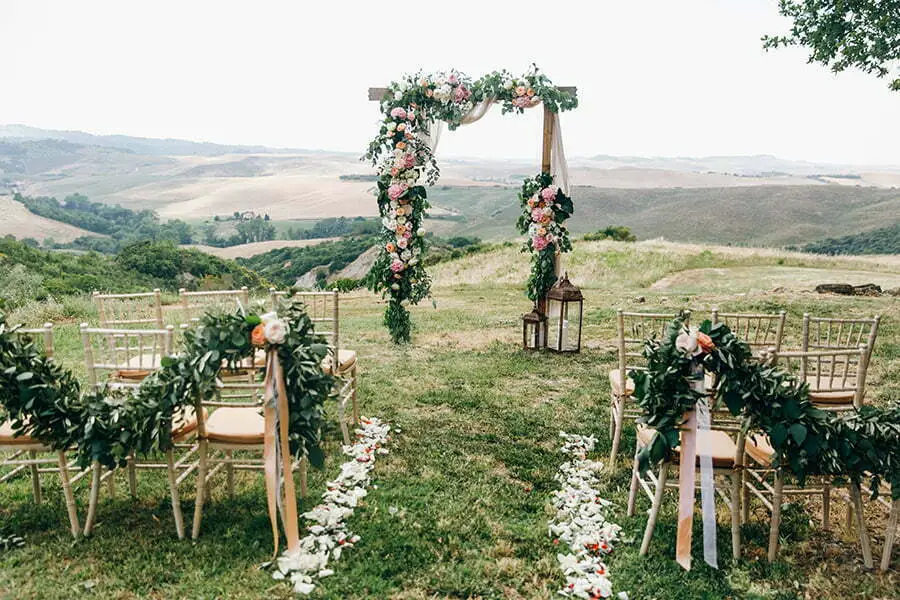 This style creates a relaxed atmosphere with natural elements and vibrant colors. To create an organic feel, bohemian weddings typically feature lots of greenery, such as potted plants or hanging vines.
They also often incorporate bright colors like pink, orange, and yellow into the decor to add vibrancy and life to the event. To complete the look, couples may use vintage furniture pieces or macrame decorations for a unique touch.
Bohemian weddings are perfect for couples who want their special day full of fun and personality!
Rustic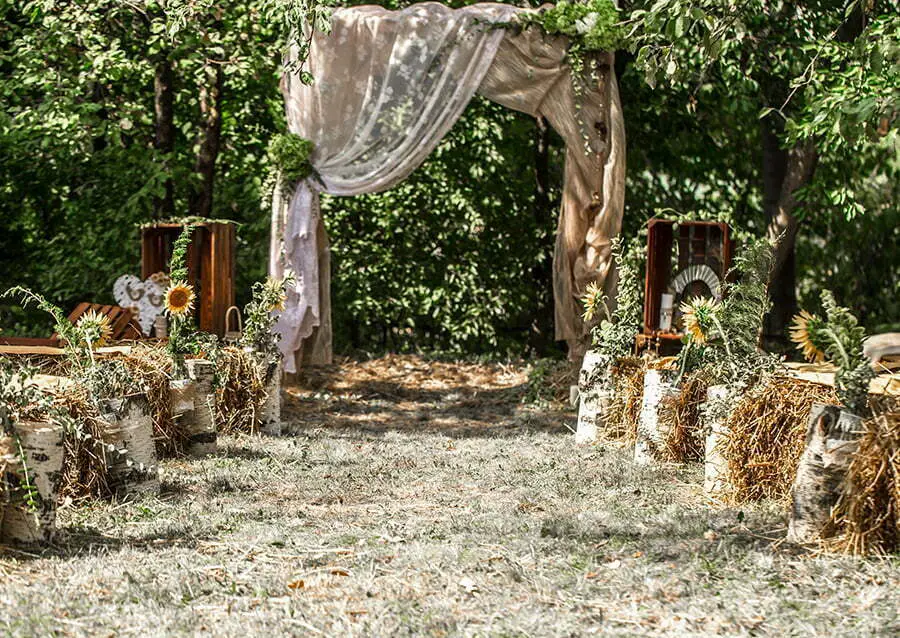 This style is characterized by natural elements such as wood, burlap, and lace. Couples often have their ceremony outdoors in an open field or garden with a wooden arch decorated with wildflowers and greenery.
The reception can be held in a barn or other rustic building decorated with string lights and mason jars filled with candles for lighting. Tables are usually covered in burlap tablecloths and adorned with centerpieces made from wildflowers, branches, pinecones, and other natural elements.
Guests can enjoy country-style food served on platters made of wood or metal for an authentic rustic feel.
Vintage
This style typically incorporates elements from the past, such as antique furniture, vintage decorations, and classic attire. Couples can use old-fashioned decors like lace tablecloths or mason jars filled with flowers to create a vintage-inspired outdoor wedding.
They can also opt for timeless bridal gowns and suits in muted colors like ivory or champagne. Couples may incorporate family heirlooms into their ceremony or reception decor for extra nostalgia.
They can add music from the era they're trying to emulate—swing music from the 1940s or Motown hits from the 1960s—to complete their vintage look.
Garden Party
This wedding typically takes place in a lush, green garden setting and features natural elements such as flowers, trees, and foliage. The decor often includes bright colors and floral patterns to create an inviting atmosphere for guests.
Garden party weddings are usually casual affairs with plenty of seating areas for guests to relax and mingle. Music can range from acoustic guitar or string quartets to live bands playing upbeat tunes.
Food options may include light snacks like finger foods or more substantial fare like barbecues or buffets. Drinks can be served in glassware or Mason jars for a rustic touch, while decorations might include lanterns, garlands, and twinkling lights strung up around the venue.
Beachside
This type of wedding is perfect for those who want an intimate ceremony with a relaxed atmosphere. Beachside weddings typically feature natural elements such as driftwood, shells, and starfish as decorations.
Couples can also incorporate beach-inspired colors like blues and whites into their decor. Couples often opt for light fabrics such as chiffon or linen for their bridal party attire to complete the look.
Couples may include tiki torches or lanterns along the aisle or around the reception area for added romance.
Country Chic
It typically features natural elements such as wood, burlap, and lace to create an inviting atmosphere. The bride and groom often wear cowboy boots or other western-style clothing for a unique touch.
Decorations can include mason jars filled with wildflowers, hay bales draped in fabric, and twinkle lights strung from trees. A Country Chic wedding is perfect for couples who want to celebrate their love in an intimate setting surrounded by nature's beauty.
Woodland Fairytale
This style combines elements of nature with romantic and whimsical touches to create an atmosphere that is both enchanting and intimate. Couples can incorporate natural elements such as twinkling lights, lush greenery, and rustic wood accents into their decor to achieve this look.
To complete the look, they can also add fairytale-inspired details like delicate lace fabrics, dreamy floral arrangements, and vintage furniture pieces. The overall effect should be enchantment and romance – perfect for any outdoor wedding!
Barnyard Bash
This type of wedding typically features natural elements such as hay bales, wooden barrels, and mason jars to create an inviting atmosphere. Couples often choose to decorate with wildflowers and greenery for a romantic touch.
The reception area can be decorated with string lights or lanterns for a unique ambiance. For entertainment, couples may opt for live music or even square dancing! A Barnyard Bash is perfect for those who want to embrace the beauty of nature while uniquely celebrating their love.
Festival-Inspired
This wedding style is characterized by a vibrant, fun atmosphere that celebrates the joy of being outdoors and surrounded by nature. The decorations often include bright colors, lanterns, and other festive elements such as flags or banners.
Music is also essential to this type of wedding; live bands or DJs can entertain guests throughout the day. Couples may have food trucks onsite to serve delicious treats like tacos or ice cream sandwiches.
Couples should consider incorporating activities into their festival-inspired outdoor weddings, such as lawn games like cornhole or giant Jenga for guests to enjoy during cocktail hour or between events.
Keep reading: