Yes, it is possible to have a formal wedding outside. Outdoor weddings can be just as elegant and sophisticated as indoor weddings, with the right decor and planning.
As a little girl, I always dreamed of having a grand and formal wedding. You know the kind – a beautiful white dress, a fancy venue with chandeliers and crystal glasses, and all of your friends and family dressed to the nines.
But as I grew older, my love for nature also grew stronger. I found myself daydreaming about getting married under the stars, surrounded by lush greenery and blooming flowers.
And that's when it hit me – can you have a formal wedding outside?
The idea seemed contradictory at first. Formal weddings were meant to be held in ballrooms or elegant venues with strict dress codes and etiquette rules.
But as I delved deeper into the world of outdoor weddings, I realized that you can absolutely have a formal affair outside – it just takes some planning and creativity! So if you're like me and torn between your love for glamourous events and your desire to be one with nature on your big day, keep reading because this blog post is for you!
Enchanting Outdoor Venues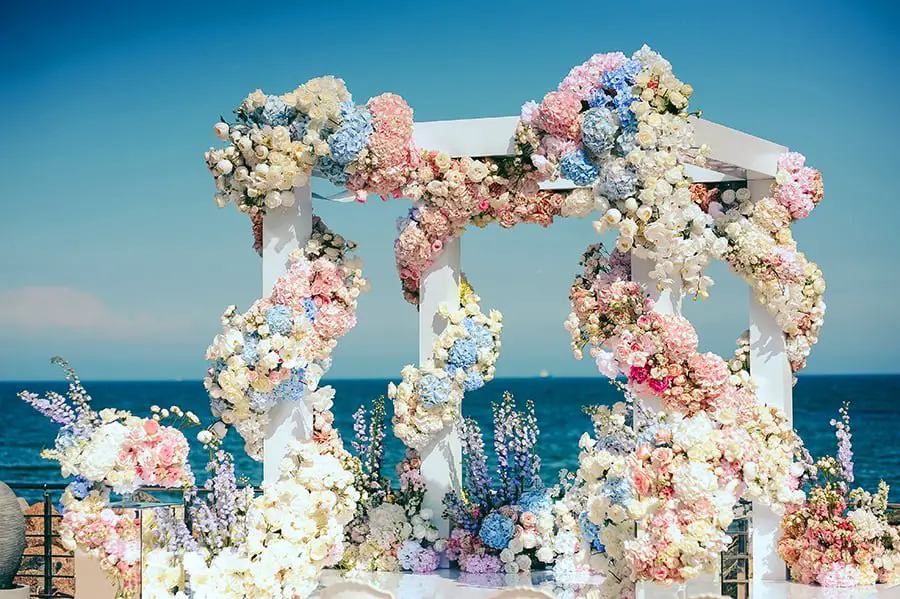 When it comes to outdoor weddings, the venue plays a crucial role in setting the tone for your big day. While some may think that outdoor venues are limited to rustic barns or beachside ceremonies, there are actually plenty of enchanting options for those looking to have a formal affair.
Picture this: you're walking down an aisle lined with blooming flowers and towering trees as soft music fills the air. You reach an elegant gazebo adorned with twinkling lights and billowing drapes – your ceremony site.
As you exchange vows under a canopy of greenery, your guests sit on chiavari chairs arranged in perfect rows on lush grass.
This is just one example of how an outdoor venue can be transformed into a formal wedding wonderland. From botanical gardens and vineyards to historic estates and even city rooftops, there's no shortage of breathtaking locations that can accommodate black-tie affairs.
Of course, hosting a formal wedding outside does come with its challenges – weather being one of them! But by choosing the right location (with indoor backup options if needed) and working closely with experienced vendors who know how to handle any curveballs Mother Nature throws their way, you can create an unforgettable event that seamlessly blends elegance with nature's beauty.
Elegant Nature-Inspired Decor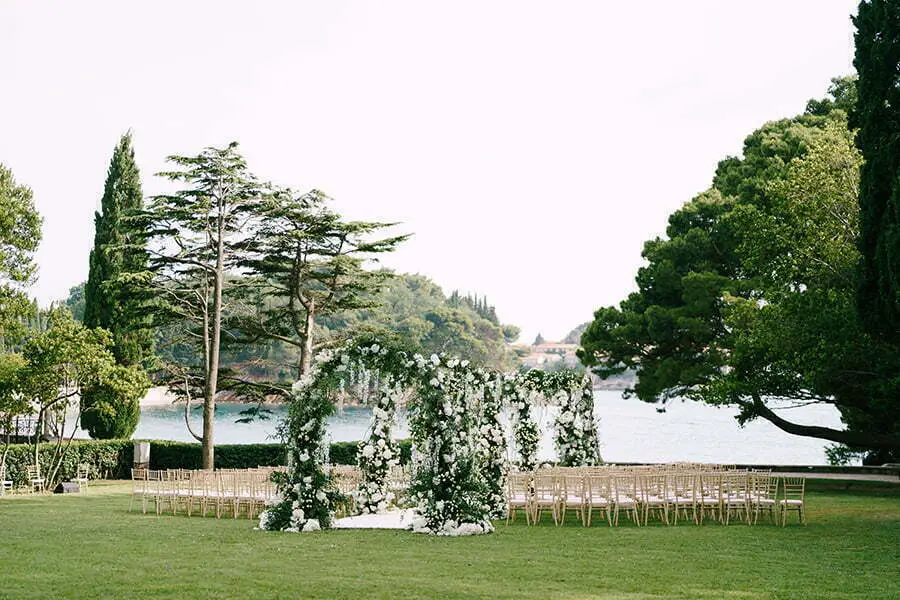 One of the biggest concerns when it comes to having a formal wedding outside is how to create an elegant atmosphere in a natural setting. But fear not, because nature-inspired decor can be just as glamorous and sophisticated as any ballroom or banquet hall.
Think lush greenery, blooming flowers, and earthy tones mixed with metallic accents like gold or silver.
For my own outdoor wedding, I opted for long wooden tables adorned with garlands of eucalyptus leaves and white roses. The centerpieces were tall glass vases filled with branches covered in twinkling fairy lights – giving off that magical forest vibe without sacrificing elegance.
Another great way to incorporate nature into your decor is by using natural materials like wood slices for place cards or incorporating moss-covered elements into your table settings. And don't forget about lighting! String lights hung from trees overhead can add a romantic touch while also providing practical illumination once the sun sets.
There are endless ways to infuse nature-inspired decor into your outdoor formal wedding while still maintaining an air of sophistication and glamour. So embrace the beauty around you and let it inspire every aspect of your special day!
Sophisticated Attire Choices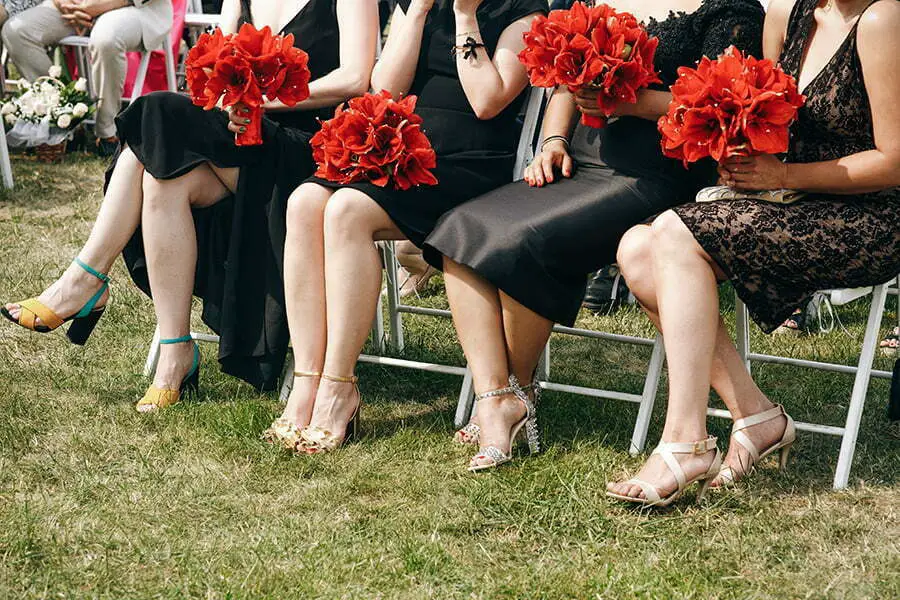 When it comes to having a formal wedding outside, one of the biggest concerns is what to wear. After all, you don't want your guests showing up in flip flops and shorts when you're trying to create an elegant atmosphere! But fear not – there are plenty of sophisticated attire choices that will keep your outdoor wedding looking just as glamorous as any indoor affair.
For starters, consider choosing fabrics that are lightweight and breathable. This will help keep everyone comfortable in the warm weather while still looking chic.
Think flowy chiffon dresses for bridesmaids or linen suits for groomsmen.
Another option is to provide dress code guidelines on your invitations so guests know exactly what's expected of them. You can even get creative with this by suggesting specific colors or styles that fit with your outdoor theme.
Ultimately, the key is finding a balance between formality and practicality. You want everyone dressed appropriately for the occasion without sacrificing comfort or style.
With some careful planning and communication, you can have a formal wedding outside that looks just as stunning as any ballroom affair!
Refined Alfresco Dining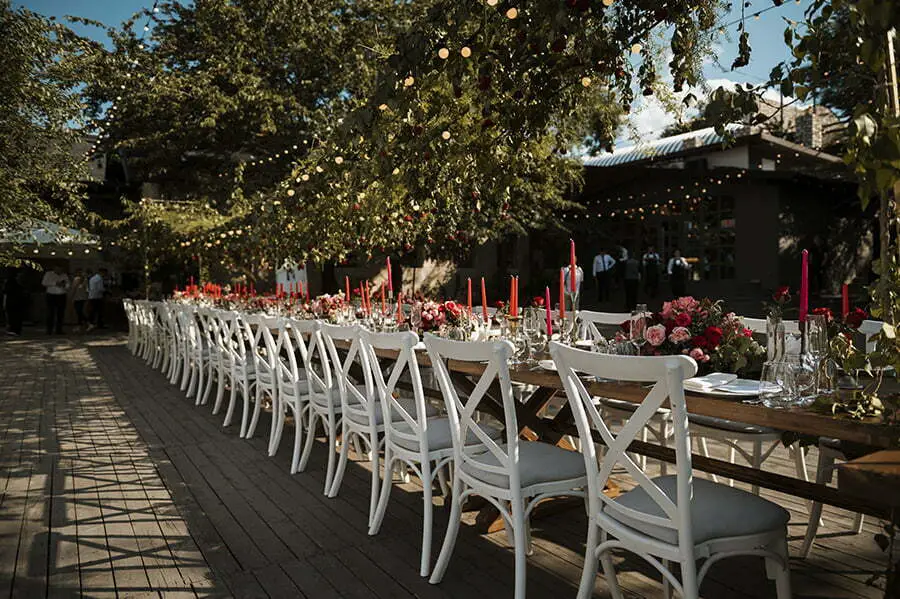 One of the biggest concerns when it comes to having a formal wedding outside is how to create an elegant dining experience. After all, outdoor weddings are often associated with casual barbecues and picnic-style meals.
But fear not, my fellow nature-loving brides! Refined alfresco dining is absolutely possible.
Picture this: long wooden tables adorned with crisp white linens and delicate floral centerpieces set against a backdrop of towering trees or rolling hills. Soft candlelight flickers in the breeze as guests sip on champagne and indulge in gourmet dishes served family-style.
To achieve this look, consider renting high-quality tableware such as gold-rimmed plates or crystal glasses that will elevate your outdoor tablescape instantly. You can also incorporate luxurious textures like velvet napkins or silk runners for added elegance.
And don't forget about lighting – string lights draped overhead add a magical touch while still providing enough illumination for guests to see their food (and each other!). With some thoughtful planning and attention to detail, you can have the refined alfresco dining experience of your dreams at your formal outdoor wedding.
Classy Lighting Ideas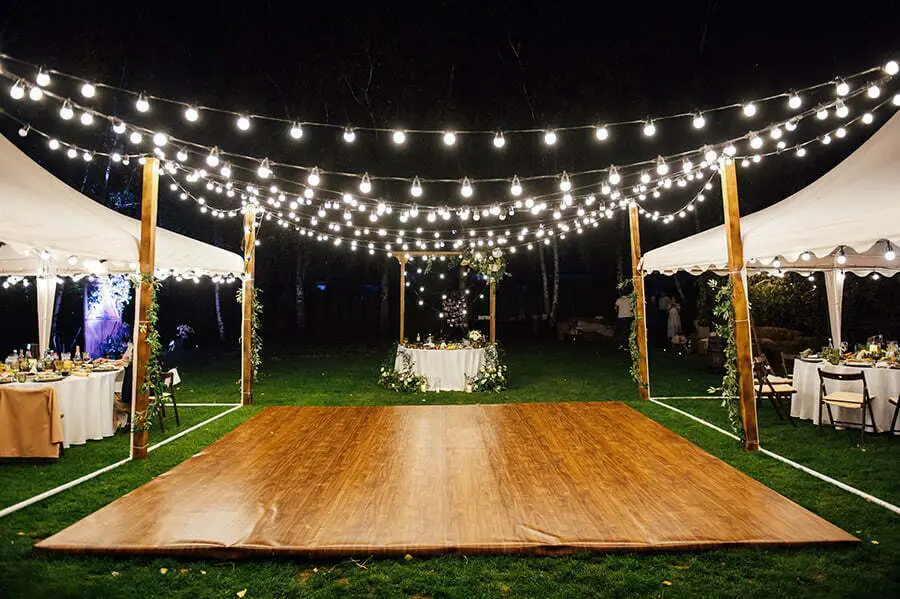 One of the biggest concerns when it comes to having a formal wedding outside is lighting. How do you create an elegant and sophisticated atmosphere without relying on harsh floodlights or tacky string lights? The answer lies in classy lighting ideas that will elevate your outdoor wedding to new heights.
As I planned my own outdoor wedding, I knew that lighting would be crucial in setting the mood for our evening affair. We opted for soft, warm-toned uplighting around the perimeter of our reception area, which created a romantic glow and highlighted the natural beauty of our surroundings.
Another idea we incorporated was hanging chandeliers from tree branches above each table. This added an element of glamour and sophistication while still keeping with our nature-inspired theme.
For those who want something more unique, consider using lanterns or candles as centerpieces on each table. Not only does this provide intimate lighting but also adds a touch of whimsy to your decor.
There are plenty of ways to achieve classy lighting at your outdoor wedding – just remember to keep it soft and subtle rather than overpowering!
Weather-Proof Plans
As I started planning my own outdoor wedding, one of the biggest concerns that kept me up at night was the weather. What if it rained? What if it was too hot or too cold? How could I ensure that my guests would be comfortable and dry no matter what Mother Nature had in store for us?
That's when I learned about weather-proof plans. These are backup options you can put in place to make sure your wedding goes smoothly even if the weather doesn't cooperate.
For example, you could rent a tent to provide shade or shelter from rain, heaters for chilly evenings, or fans and misters for hot summer days.
Another option is to choose a venue with indoor spaces available as well as outdoor areas so that you have flexibility depending on how the day unfolds. And don't forget about having plenty of umbrellas on hand – not only do they look cute in photos but they'll also keep your guests dry during any unexpected showers.
By having these plans in place ahead of time, you can rest easy knowing that no matter what happens with the weather on your big day, everything will still go off without a hitch!
Keep reading: