Discover the perfect soundtrack for your outdoor wedding. Explore this guide on selecting the right type of music to suit each part of your special day.
Picture this: you're standing under a beautiful archway, surrounded by lush greenery and the sweet scent of flowers. Your partner is standing beside you, beaming with love and excitement.
The sun is shining down on you both, and your guests are seated in anticipation. Suddenly, the music starts playing – but it's not quite right for the moment.
Don't let this happen to you! Choosing the right type of music for different parts of your outdoor wedding can make all the difference in creating a magical atmosphere that will be remembered for years to come. In this article, we'll explore some tips and tricks for selecting music that perfectly complements each part of your special day.
So sit back, relax, and let's dive into the world of wedding music!
Ceremony Music Selection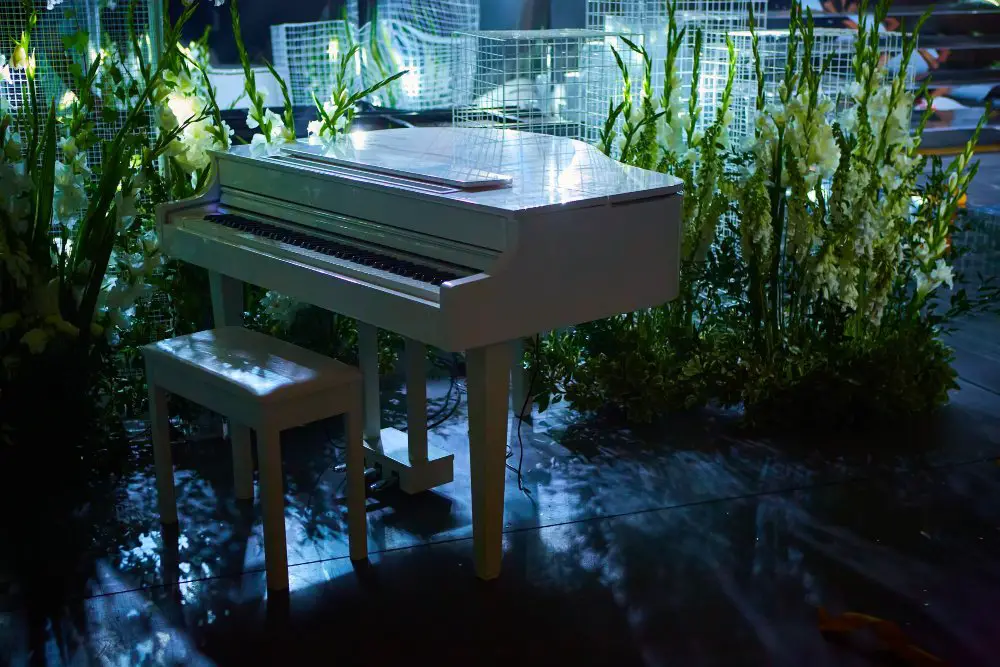 The ceremony is the most important part of your wedding day, and choosing the right music can help set the tone for this special moment. When selecting ceremony music, consider what type of atmosphere you want to create.
Do you envision a traditional or modern feel? Are there any songs that hold special meaning to you and your partner? Some popular choices for processional music include classical pieces like Pachelbel's Canon in D or contemporary love songs like "Marry Me" by Train.
For recessional music, upbeat tunes such as "Signed Sealed Delivered" by Stevie Wonder or "You Are The Best Thing" by Ray LaMontagne are great options to get guests excited for what's next! Remember that it's okay to think outside of the box when it comes to ceremony music – after all, this is your day!
Cocktail Hour Tunes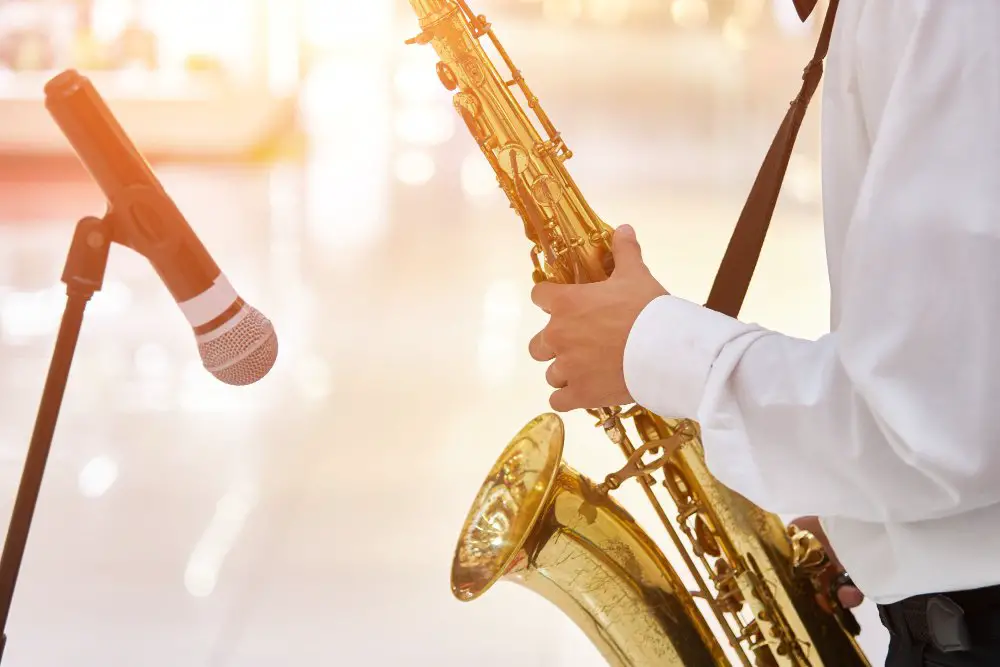 This is a great opportunity to set the tone for your reception with some upbeat and lively music that will get everyone in a celebratory mood. Consider playing jazz or swing music, which are classic choices that never go out of style.
If you're looking for something more modern, try incorporating indie or acoustic covers of popular songs – this can add an unexpected twist while still keeping things light and fun.
Remember to keep the volume at a comfortable level so guests can mingle without having to shout over each other. You want them to be able to chat comfortably while enjoying their drinks and appetizers.
Pro tip: Don't forget about any special requests from family members or close friends who may have specific song preferences! Incorporating these personal touches into your playlist will make everyone feel included in this special day.
Reception Playlist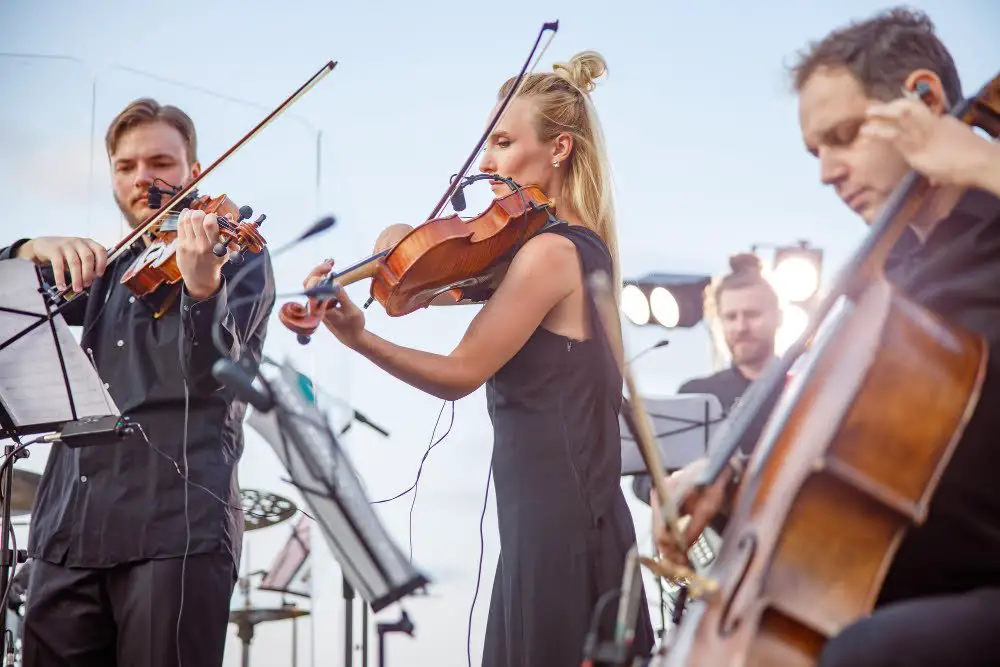 When selecting music for this part of your wedding, consider including a mix of genres that will appeal to everyone. From classic hits to modern pop songs, there are plenty of options out there.
One idea is to create a playlist that includes some throwback tunes from different decades. This can be especially fun if you have guests attending who span multiple generations – they'll love hearing songs from their youth! Another option is to include some current chart-toppers that are surefire crowd-pleasers.
Don't forget about special moments like first dances or parent dances – choose meaningful songs that hold significance for you and your loved ones. And when it comes time for open dancing, don't be afraid to let loose with upbeat tracks!
Dance Floor Hits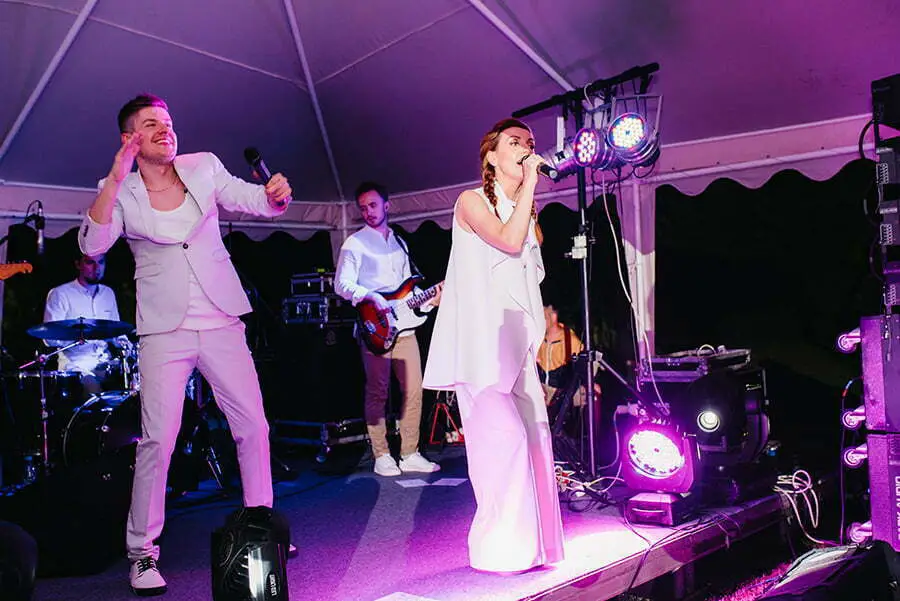 When selecting music for this part of your outdoor wedding, consider choosing upbeat songs that will keep everyone on their feet. Think about including a mix of classic hits as well as current chart-toppers to cater to all ages.
It's also important to communicate with your DJ or band beforehand about any specific songs or genres you want played during this portion of the evening. Whether it's an old favorite from high school or a new song that has special meaning for you and your partner – make sure they know what will get everyone moving!
Remember that while dance floor hits are important in creating a lively atmosphere at weddings; don't forget those slow dances too! These romantic moments give couples an opportunity to share intimate moments together amidst all the excitement.
Romantic Slow Dances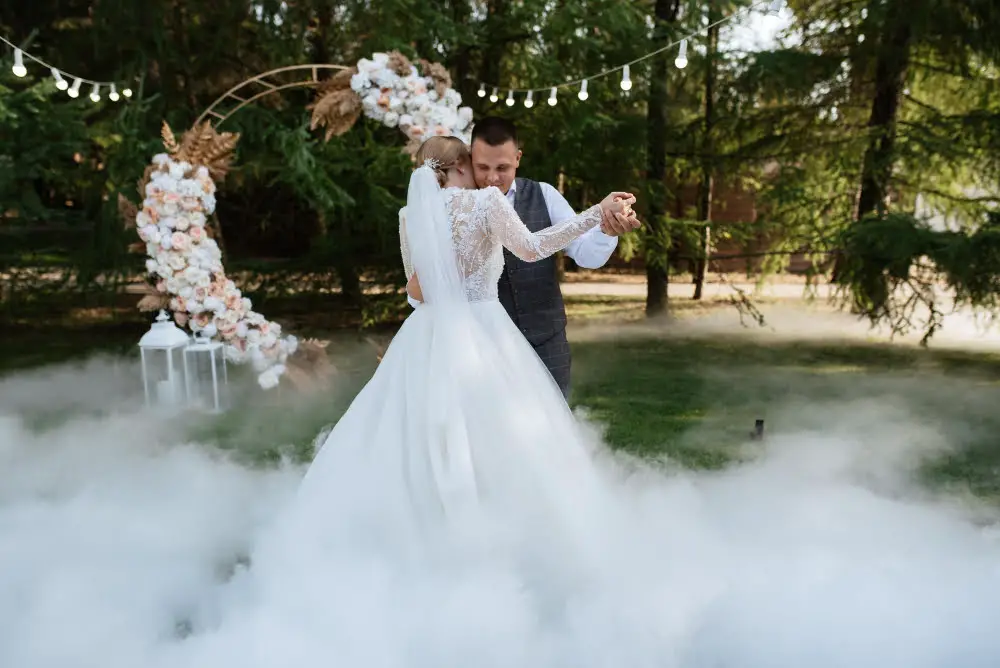 As you and your partner take to the dance floor for your first dance as a married couple, all eyes are on you. This is a moment that will be remembered forever – so make sure you choose a song that truly speaks to your love story.
When selecting romantic slow dances, consider songs with meaningful lyrics or melodies that hold special significance for both of you. Whether it's an old classic or something more modern, choose music that reflects who you are as individuals and as a couple.
Some popular choices include "At Last" by Etta James, "Can't Help Falling in Love" by Elvis Presley or even Ed Sheeran's hit song "Perfect". Whatever song resonates with both of you can become part of this magical moment.
As other guests join in on the dancing later in the evening, keep up momentum with some upbeat tunes while still incorporating slower songs throughout different parts of night.
By curating an eclectic mix tailored specifically to suit each part of your outdoor wedding day celebration through music selection; from ceremony processional pieces down through dinner background tracks into party hits – every guest will feel included while also enjoying their own personal favorites!
Keep reading: