Discover stunning night outdoor wedding decoration ideas that will turn your special day into a magical and unforgettable starlit celebration.
Picture this: a warm summer night, twinkling lights illuminating the trees overhead, and the sound of crickets chirping in the background. There's something truly magical about outdoor weddings at night.
And while planning an outdoor wedding can be a bit daunting, decorating for one is pure bliss. From rustic to elegant, there are endless possibilities when it comes to creating a dreamy ambiance under the stars.
In this article, I've compiled 20 enchanting ideas for night outdoor wedding decorations that will make your special day unforgettable. So grab a cup of tea and let's dive into some inspiration!
Fairy Lights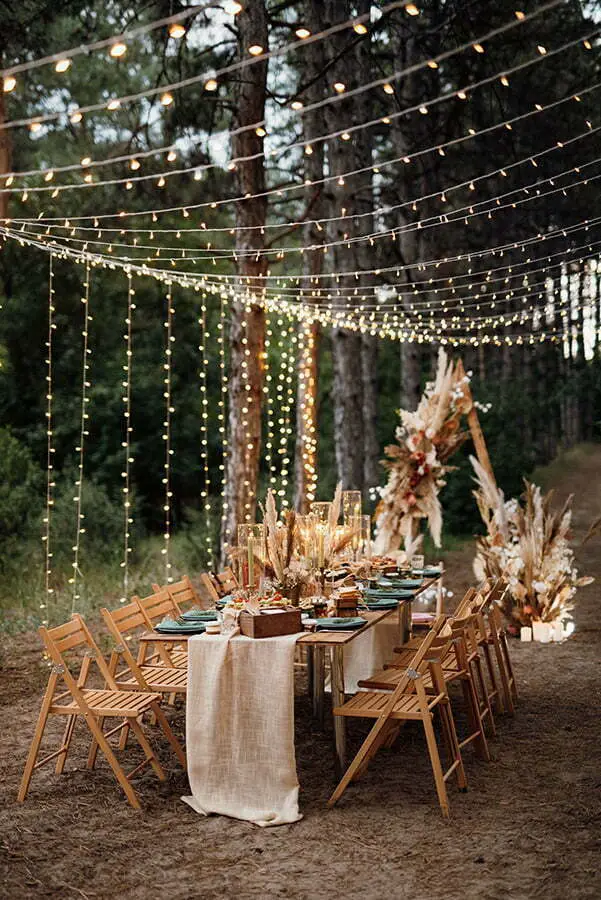 Fairy lights are a popular choice for night outdoor wedding decorations. They create a magical and romantic atmosphere that is perfect for the occasion.
You can use them to decorate trees, bushes, or hang them from the ceiling of your tent or reception area. Fairy lights come in different colors and shapes, so you can choose ones that match your wedding theme or color scheme.
You can also wrap them around pillars, arches, and other structures to add some sparkle to your decor. Whether you want a subtle glow or an all-out twinkle fest, fairy lights are sure to make your outdoor wedding unforgettable!
Lanterns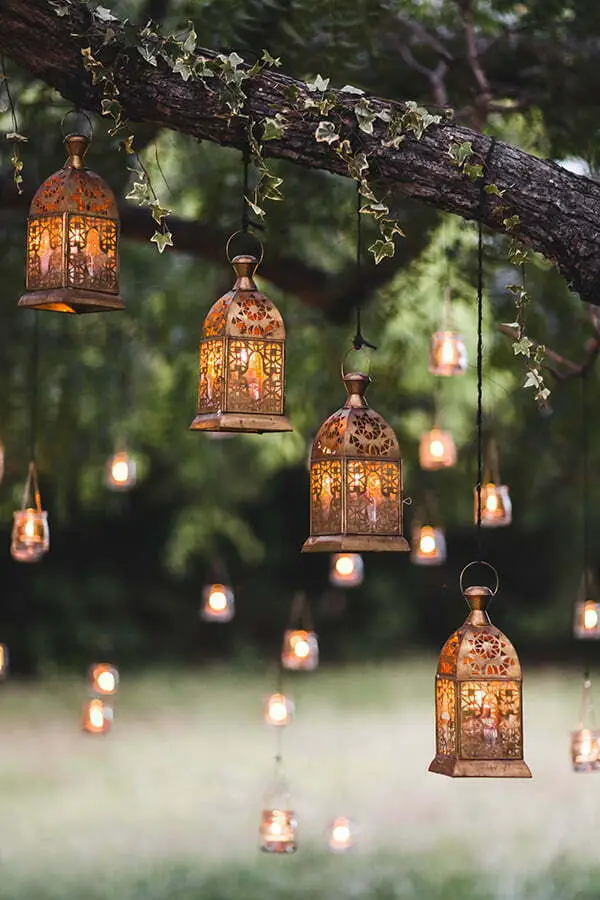 They come in various sizes, shapes, and colors to match any wedding theme. You can hang them from trees or shepherd hooks to create an enchanting ambiance along the aisle or reception area.
Alternatively, you can place them on tables as centerpieces or use them as pathway markers for guests' convenience.
For a rustic wedding vibe, consider using lanterns made of wood or metal with distressed finishes. For a beachy feel, opt for lanterns with nautical elements like ropes and anchors.
You can also mix-and-match different types of lanterns to add visual interest while maintaining cohesiveness in your decor scheme. Don't forget that you can customize the lighting inside each lantern by choosing candles (real ones if allowed) or battery-operated LED lights depending on your preference.
Candlelit Pathways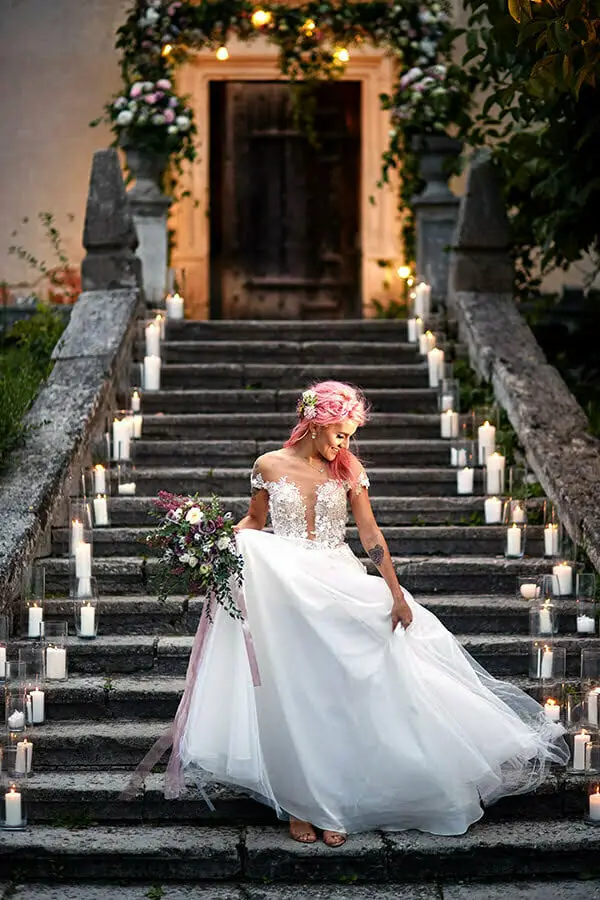 Whether you choose traditional white candles or opt for colorful ones that match your wedding theme, they will add a touch of magic to the atmosphere. You can place them in lanterns, mason jars, or even directly on the ground surrounded by flower petals.
Candlelit pathways work particularly well if your ceremony is taking place at dusk or after dark when natural light is scarce. They also create beautiful photo opportunities for you and your guests as they walk down the aisle towards love and happiness under twinkling lights!
Lighted Trees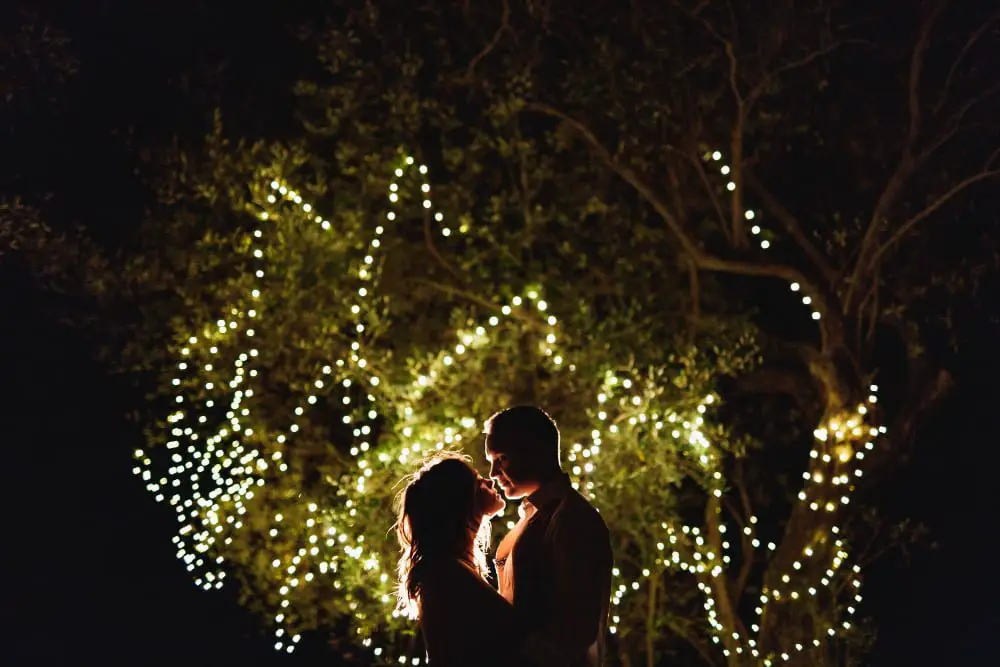 These can be real or artificial, and they add a magical touch to any setting. You can wrap them with string lights, hang lanterns from their branches, or even use LED cherry blossom trees for an ethereal look.
Lighted trees are perfect for creating a romantic ambiance and will make your guests feel like they're in a fairytale forest. They also provide excellent photo opportunities that you'll cherish forever!
Moon and Stars Decor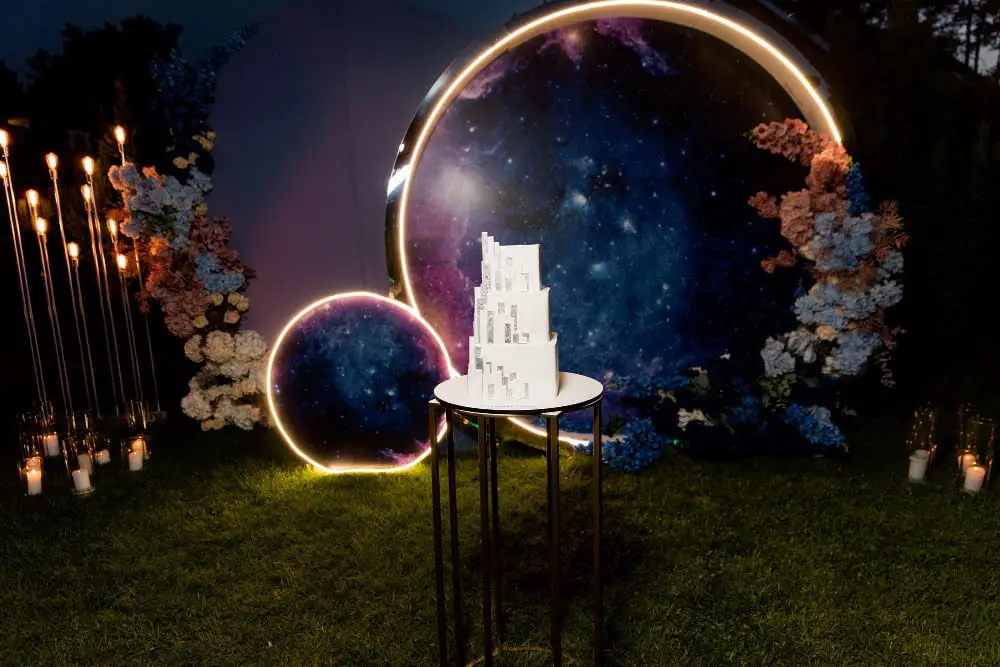 You can incorporate this theme in various ways, such as hanging star-shaped lanterns or using moon-shaped backdrops for the ceremony or photo booth area. For an even more enchanting effect, consider projecting images of the moon and stars onto a white tent ceiling or nearby trees.
This will create an ethereal atmosphere that your guests won't soon forget!
Floral Chandeliers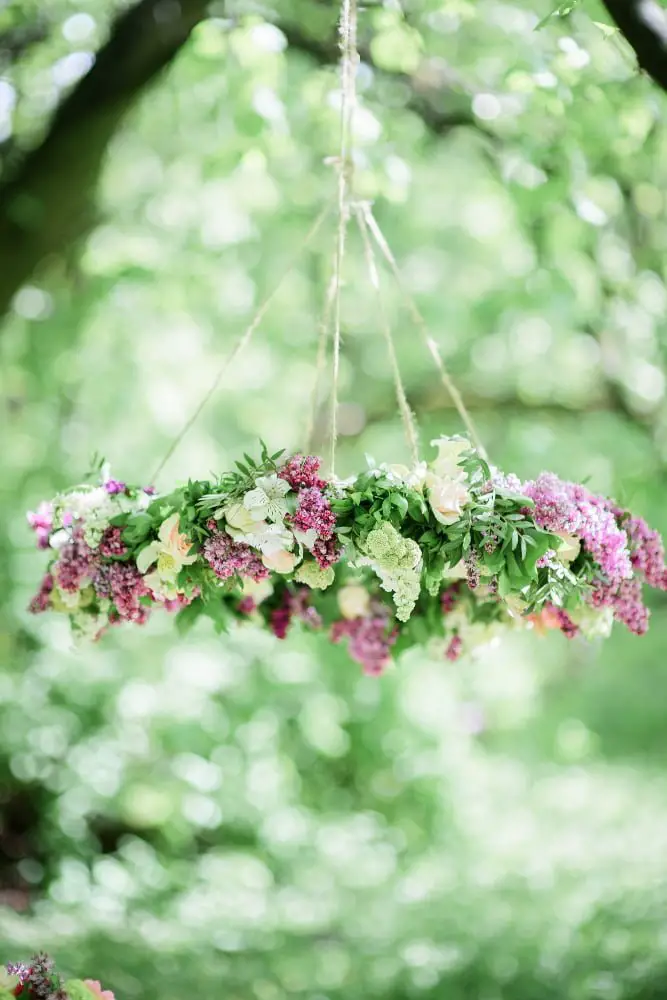 These beautiful arrangements can be made with fresh flowers, greenery, or even artificial blooms for those who want something that lasts longer. They can be hung from trees or other structures above the reception area, creating an enchanting atmosphere that will leave your guests in awe.
You could also choose to have smaller floral chandeliers hanging over each table as centerpieces for an intimate feel. The possibilities are endless when it comes to designing these breathtaking pieces of decor!
Fire Pits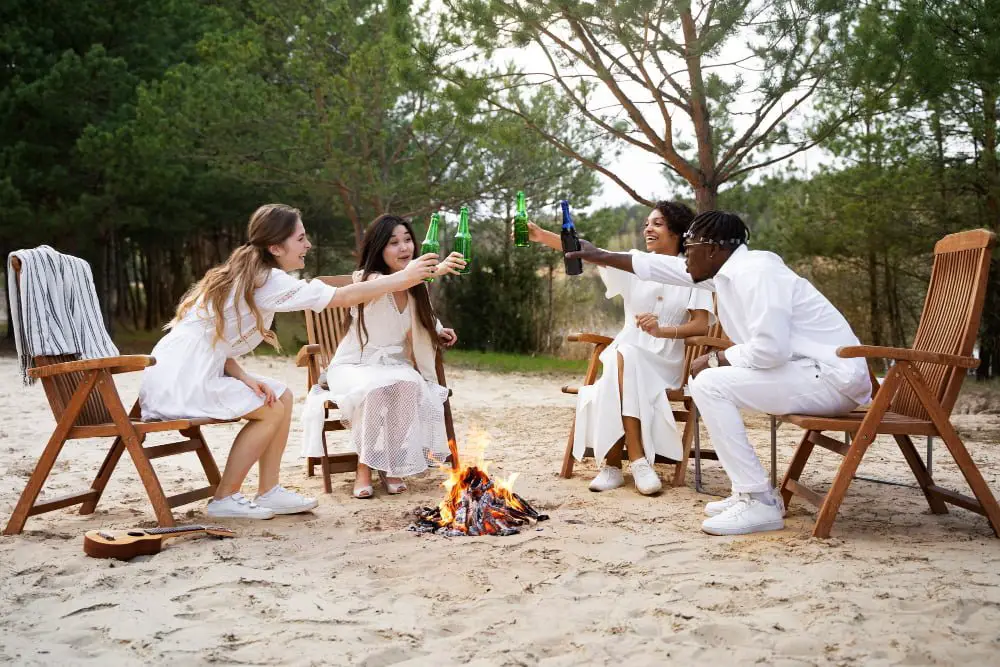 They not only provide warmth but also create a cozy and intimate atmosphere. You can choose from various styles of fire pits, such as rustic or modern designs that match your wedding theme.
Place them in strategic locations around the venue where guests can gather and enjoy the flames while sipping on cocktails or roasting marshmallows. Fire pits also make for stunning photo opportunities with their warm glow illuminating the faces of newlyweds and guests alike.
Just be sure to follow safety guidelines when using them!
Glow-in-the-dark Tableware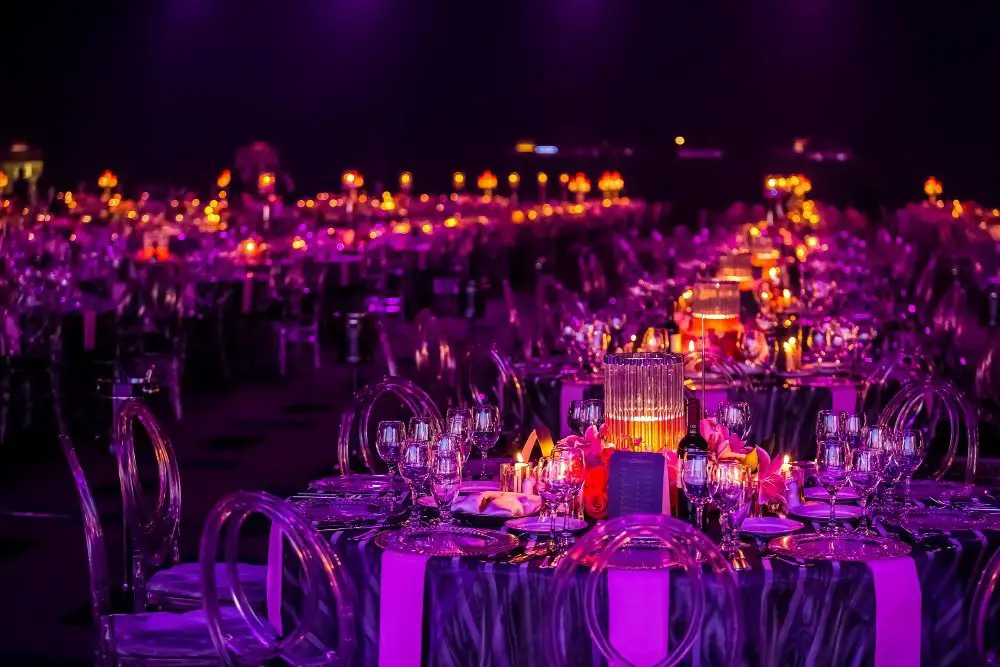 These items are perfect for an evening reception, as they will light up the tables and create a magical atmosphere. You can find glow-in-the-dark plates, cups, utensils, and even straws that will make your guests feel like they're dining under the stars.
Not only do these items look great during dinner service but also provide practicality when it comes time for dessert or late-night snacks! Your guests won't have any trouble finding their way back to their seats with these glowing accents on each table. Plus, you'll be able to keep track of all of your dishes in low-light conditions without having to worry about losing anything in the dark!
Light-up Dance Floor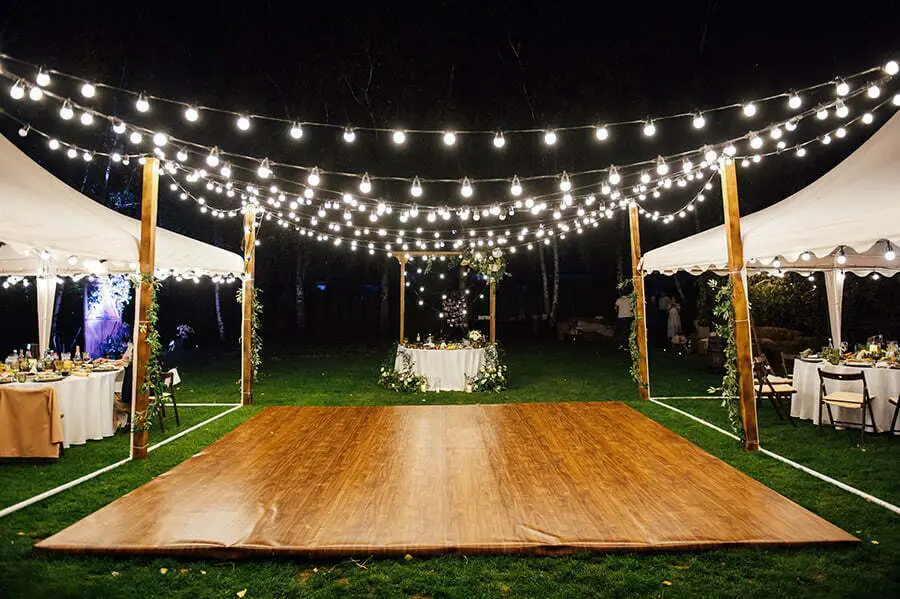 It adds an extra element of fun and excitement for guests, especially when the sun goes down. The LED lights can be programmed to change colors or patterns, creating a unique atmosphere that matches your wedding theme or color scheme.
A light-up dance floor also provides great photo opportunities for you and your guests! You can choose from different sizes depending on the number of attendees at your event, but make sure it's big enough so everyone has room to bust some moves!
Hanging Mason Jars With Candles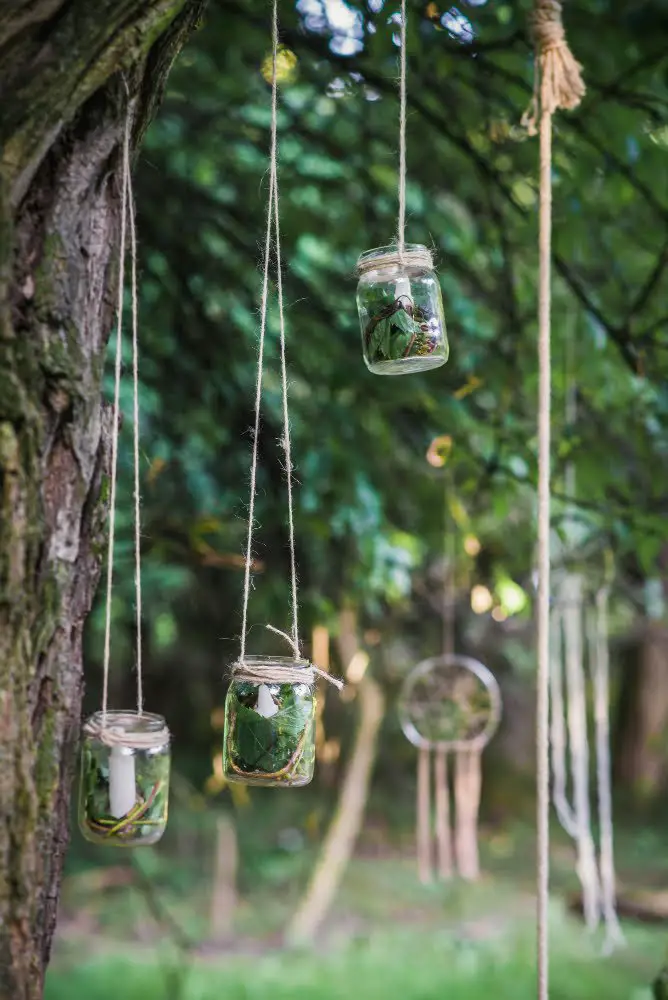 You can hang them from trees, pergolas or even shepherd hooks. Fill the jars with sand, pebbles or flowers for added decoration and stability.
The soft glow of the candles will create an intimate atmosphere that is perfect for exchanging vows under the stars or dancing the night away with your loved ones. Mason jar candle holders also make great DIY projects that you can personalize by painting them in your wedding colors or adding ribbons and lace to match your theme.
Twinkling Backdrop Curtains
These curtains can be made of sheer fabric or tulle, and they come in various colors that you can choose from depending on your wedding theme. The twinkling lights behind the curtain will create a magical effect that will make your guests feel like they're in a fairy tale.
You can use these curtains as backdrops for the ceremony, photo booth area or even behind the head table at reception dinner. They also look stunning when paired with other lighting elements such as string lights or lanterns!
Rustic Wooden Signs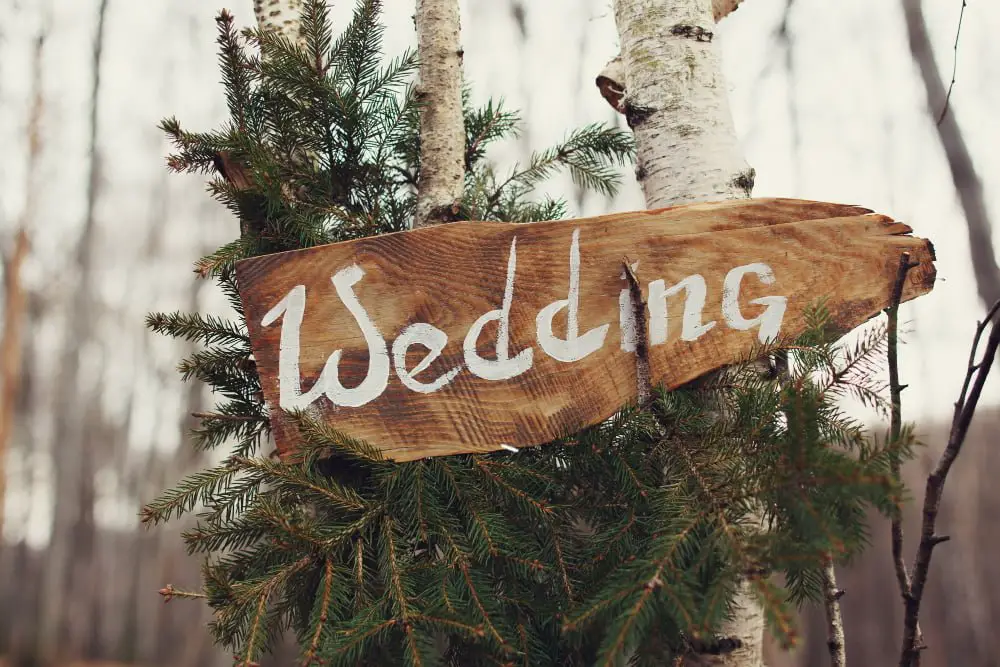 These signs can be used in various ways, such as directing guests towards the ceremony or reception area, displaying quotes or song lyrics that hold special meaning for the couple, and even as photo booth props. The natural texture of wood adds warmth and charm to any setting while also complementing other rustic decor elements like burlap table runners and wildflower centerpieces.
You can either purchase pre-made wooden signs from craft stores or create your own DIY versions using reclaimed wood planks and stencils with paint pens for lettering.
Moon-shaped Seating Chart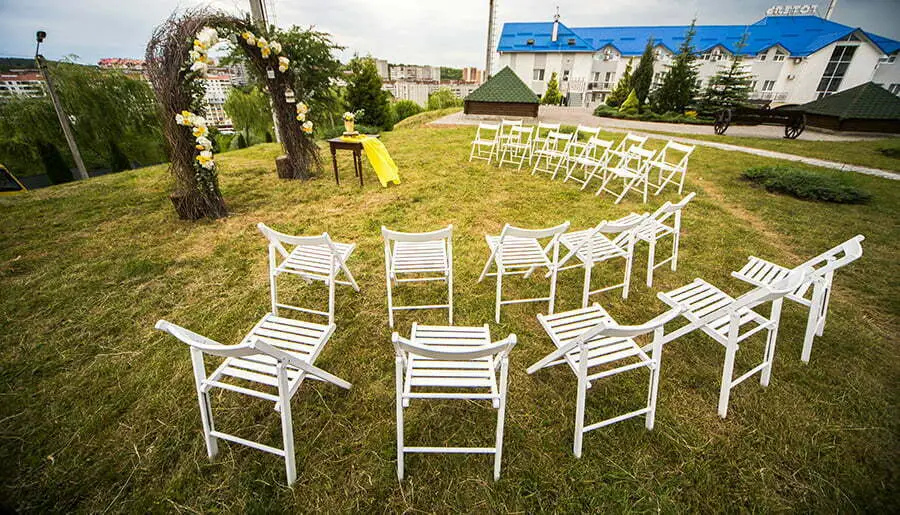 This idea works best for night outdoor weddings, where the moon can be seen in its full glory. The seating chart can be designed on a circular board with the names of guests written on it in alphabetical order or by table number.
You could also add some floral arrangements around it to make it look more appealing and match your wedding theme. Your guests will surely appreciate this thoughtful touch that adds an extra element of charm and elegance to your special day!
Starry Night Ceiling Canopy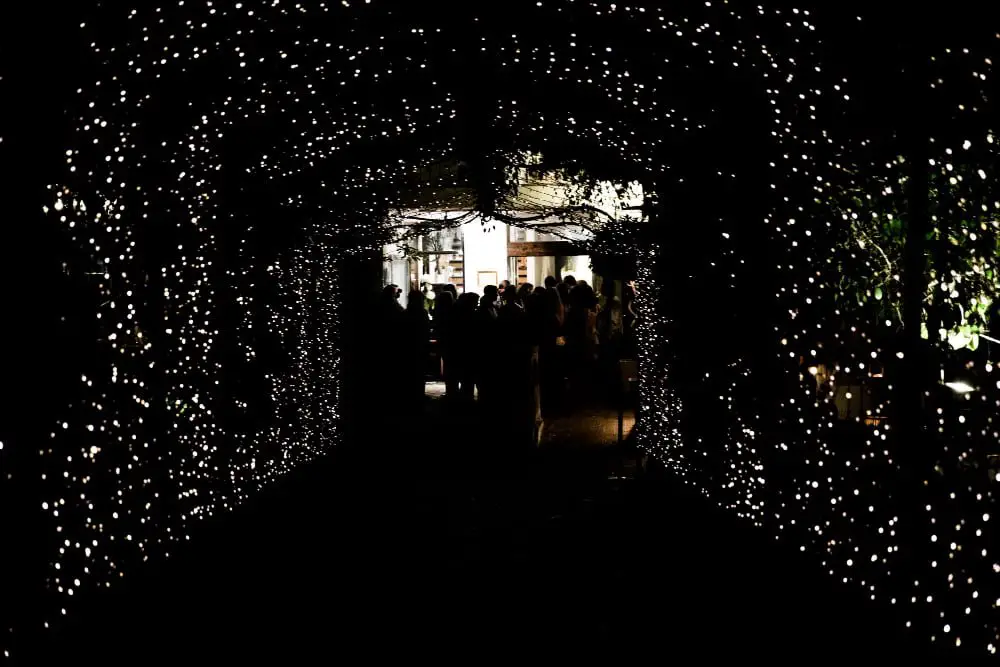 This decoration idea involves hanging strings of fairy lights or LED lights from tree branches, poles, or other structures above the reception area. The result is a magical atmosphere that mimics the look of stars twinkling in the sky.
To create this effect, you can use white string lights for a classic look or opt for colored ones to match your wedding theme. You can also add some greenery such as ivy vines intertwined with light strands to give it more texture and depth.
The starry night ceiling canopy works best when combined with other lighting elements such as candles on tables and lanterns along pathways.
Illuminated LOVE Letters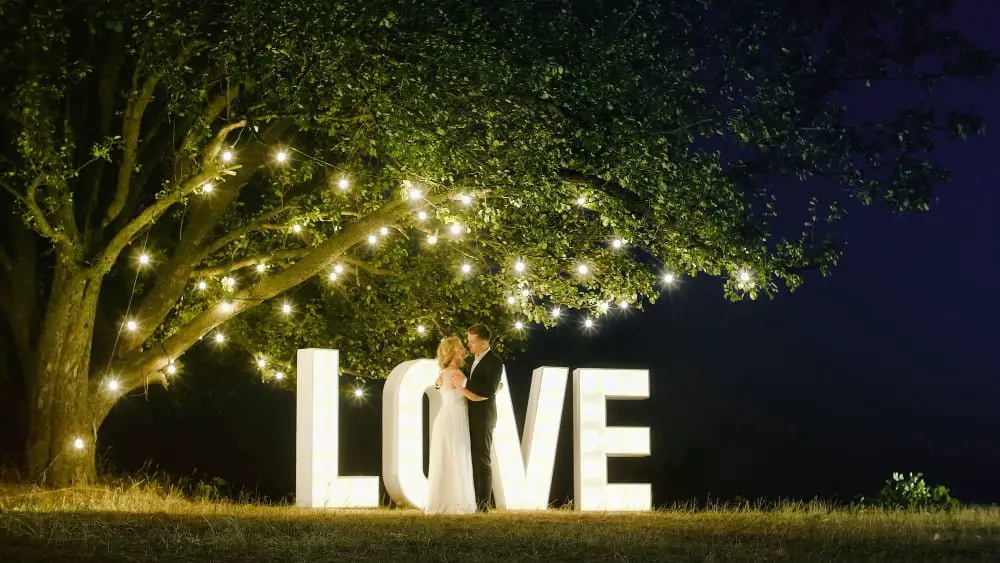 These large light-up letters can be placed at the entrance of the venue or near the dance floor to create a romantic ambiance. They come in different sizes and styles, from rustic wooden ones to modern metal designs.
You can choose warm white lights for a soft glow or colorful LED lights that change with music beats for an energetic vibe. Illuminated LOVE letters make great photo backdrops too, adding an extra touch of magic to your special day!
Outdoor String Light Poles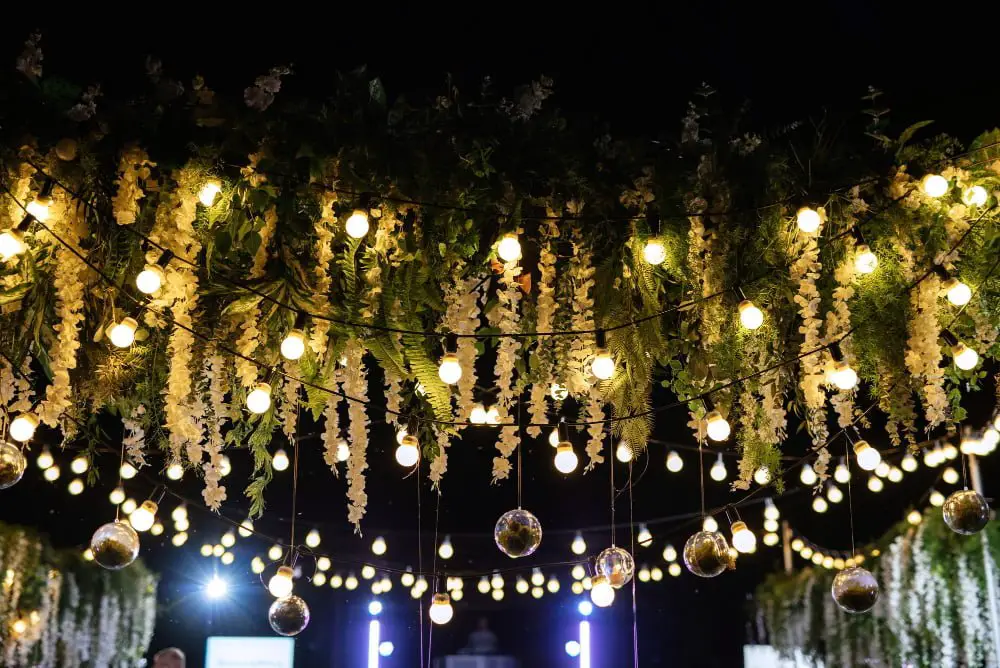 These poles can be placed strategically around the reception area, creating an enchanting atmosphere that will leave your guests in awe. You can wrap the string lights around the pole or hang them from it, depending on how you want them to look.
The best part about using these poles is that they're versatile and easy to install – all you need is a sturdy base for each pole, such as concrete blocks or sandbags. With outdoor string light poles at your wedding venue, you'll have beautiful lighting that's both functional and stylish!
Floating Candle Centerpieces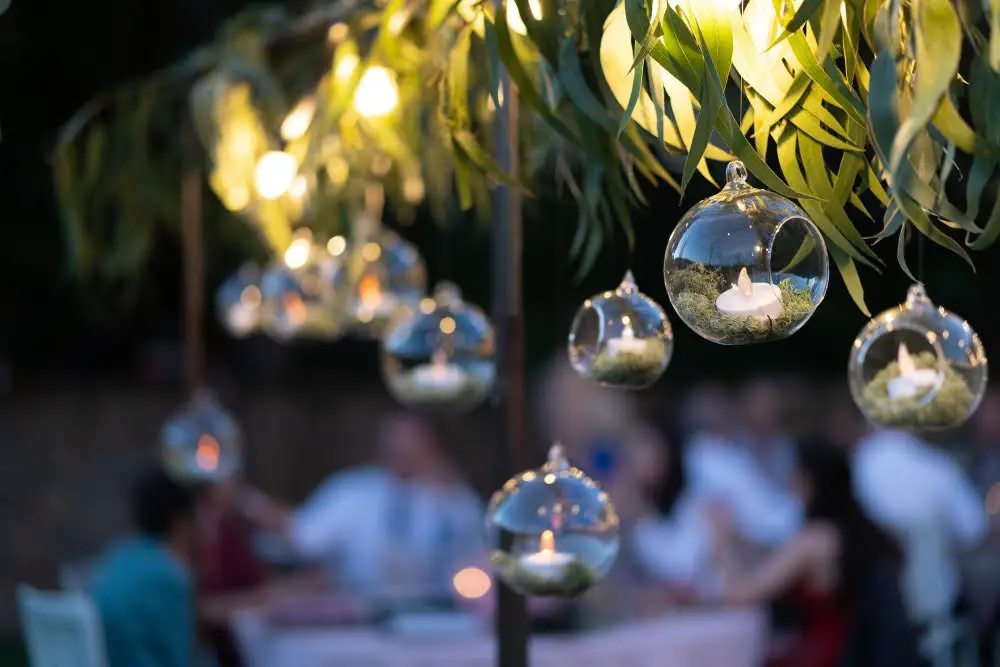 These centerpieces can be created using any type of clear glass container, such as vases or bowls, filled with water and topped with floating candles. You can also add some flower petals or greenery for an extra touch of elegance.
To make them even more unique, consider adding some LED lights underneath the containers for a subtle glow effect that will surely impress your guests! Floating candle centerpieces are not only easy to create but they also provide a stunning visual display that will enhance the overall atmosphere of your special day.
Sparkler Send-off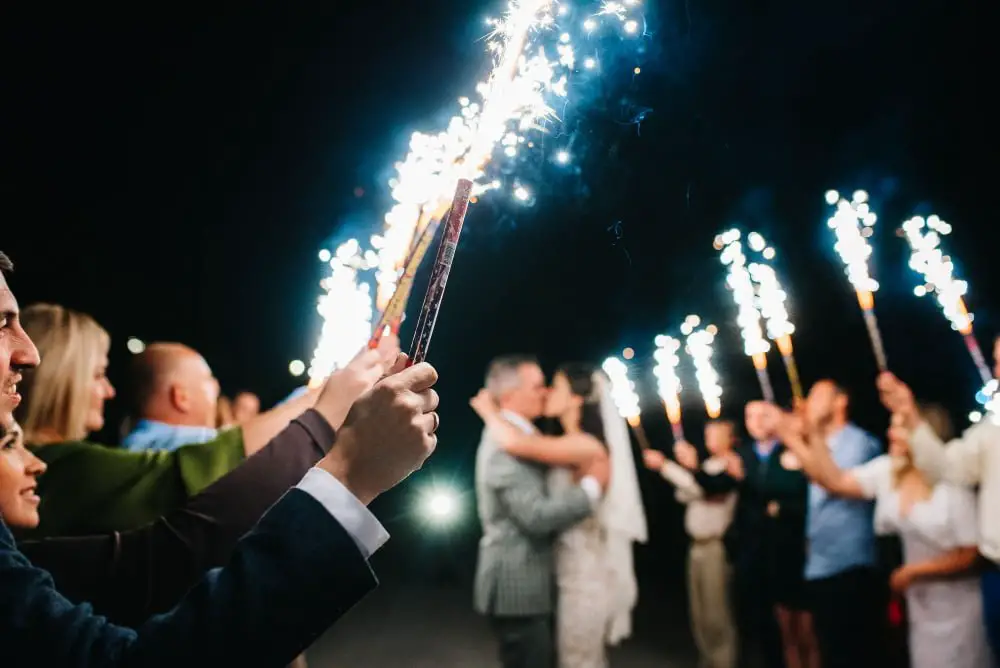 It creates an enchanting atmosphere and makes for stunning photos. As the newlyweds make their grand exit, guests light sparklers and form two lines creating a sparkling pathway for the couple to walk through.
The sparklers add an extra touch of romance and excitement as they twinkle in the dark sky, making it feel like you are walking through a fairytale ending. Make sure to provide enough long-lasting sparklers so that everyone can participate in this memorable moment!
Luminous Garden Orbs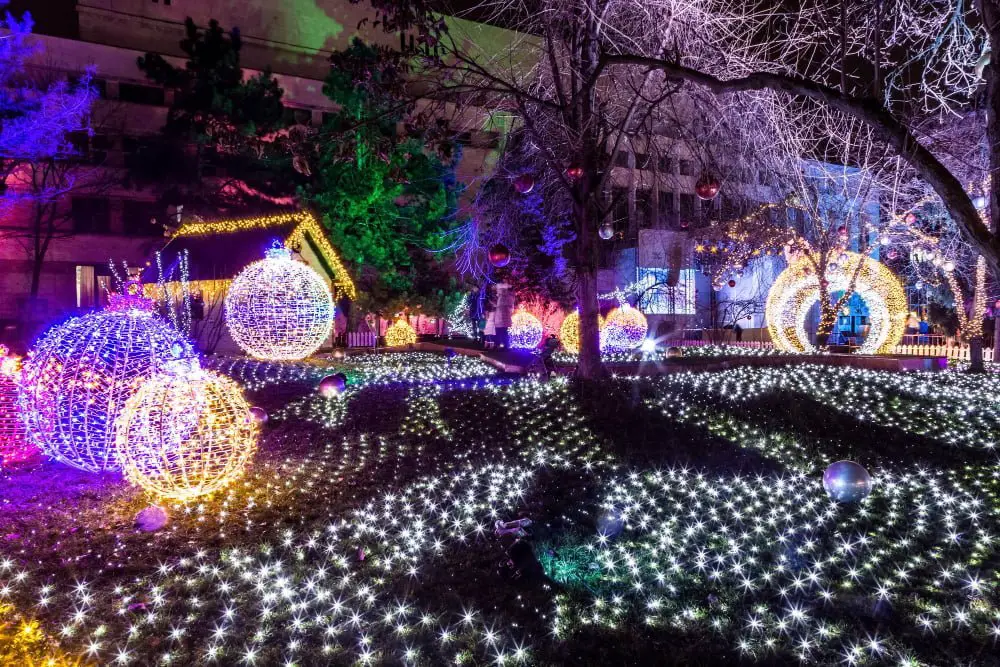 These glowing spheres come in various sizes, colors, and designs that can be placed throughout the venue for an enchanting effect. You can choose from solar-powered or battery-operated options depending on your preference.
Luminous garden orbs look stunning when placed along pathways or nestled among greenery as they create a magical ambiance that will leave guests in awe. They also make great centerpieces for tables or floating decorations in water features such as ponds or fountains.
Incorporating luminous garden orbs into your night outdoor wedding decor is sure to impress everyone attending the event!
Wine Bottle Torches
These torches can be made by upcycling empty wine bottles, which not only saves money but also reduces waste. To make these torches, you will need some tiki fuel and wicks that fit into the neck of the wine bottle.
Simply fill the bottle with tiki fuel, insert the wick into it, light it up and enjoy! You can place these wine bottle torches along pathways or around seating areas for a warm glow that adds an intimate touch to your special day.
Keep reading: