Explore creative and picturesque outdoor wedding aisle runner ideas that seamlessly blend with the natural charm of your chosen venue.
Creating a captivating outdoor wedding aisle is an art that can transform a simple walkway into a picturesque path leading to your forever.
Whether you're planning a beach wedding or a woodland ceremony, the aisle runner plays a pivotal role in setting the stage for your big day.
From floral designs to rustic wooden planks, and from intricate lace runners to personalized messages, this article will guide you through a plethora of creative and eye-catching ideas for outdoor wedding aisle runners.
Let's dive into the world of unique aisle runners that are sure to leave your guests in awe and make your wedding day even more enchanting.
Key takeaways:
White petal-lined runner adds classic, romantic tone.
Beach-style aisle with seashells for coastal charm.
Vintage rug runner adds bohemian, antique feel.
Rustic burlap runner blends with outdoor landscape.
Wood planks runner for raw elegance and sturdiness.
White Petal-lined Runner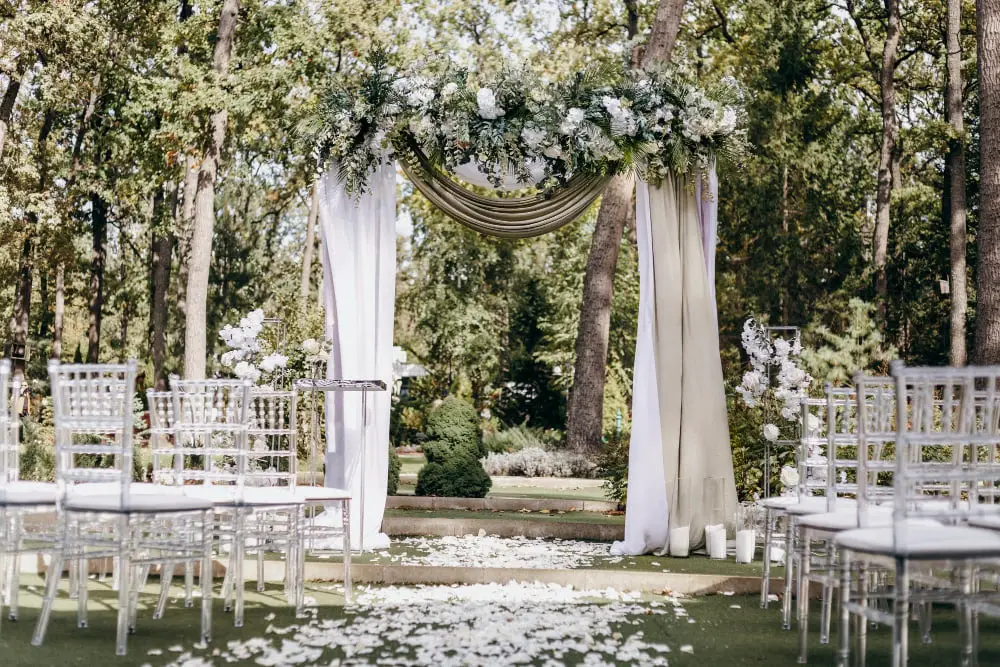 A white petal-lined runner sets a classic, romantic tone for an outdoor wedding ceremony. It's an effortless yet visually striking choice.
Consider coordinating the petal colors with your wedding theme for a harmonious look.
Whether you opt for roses, lilies, or carnations, the impact is pure elegance.
Furthermore, petals can either line the path leading to the altar or cover the entire walkway. Both options create a stunning visual effect that will make your wedding photos memorable.
Beach-style Aisle With Seashells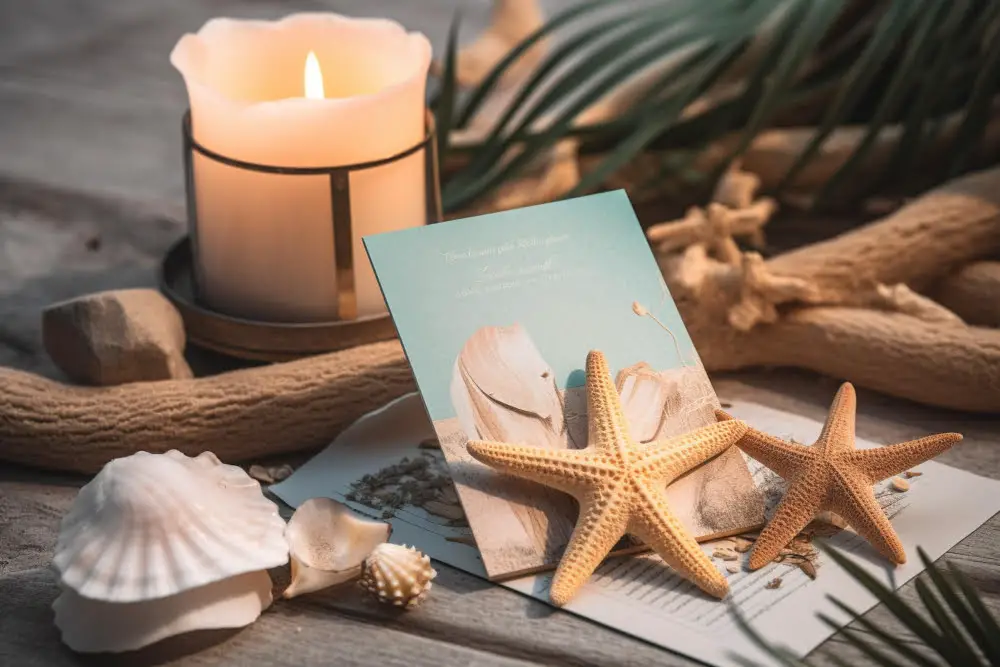 Inviting the sandy shores to your wedding, a beach-style aisle can seamlessly blend both elegance and natural beauty.
Imagine this: a runner crafted from delicate, smooth sand, edged tastefully with an assortment of sea shells, starfish, and small pebbles creating a mesmerizing fusion of colors.
The varied shapes and sizes of the sea elements contribute to a breathtaking visual. The crunch underfoot adds a unique aspect to the sensory experience.
A sea-inspired runner is perfect for a shoreline celebration or for those who simply wish to inject a touch of coastal, romantic charm to their ceremony.
Weathered driftwood markers could further enhance the nautical theme, marking the starting and ending points of the aisle.
This approach is not solely aesthetic; it's eco-friendly too, helping to preserve the environment while creating your idyllic beach setting away from the shore.
Vintage Rug Aisle Runner
Embracing a bohemian theme, a vintage rug can serve as an unconventional yet visually striking aisle runner. These rugs often feature intricate patterns and a medley of warm, earthy tones, lending a comfortable, antique feel to the ceremony.
Ranging from Persian to Kilim styles, each rug is unique, enhancing the distinctive quality of your wedding. Plus, using several smaller rugs stitched together not only allows customization of the aisle's length but also offers a patchwork look, boosting the eclectic charm.
These rugs work exceptionally well on both grassy and sandy terrains, providing a flat surface for a comfortable walk towards your mate for life.
Rustic Burlap Aisle Runner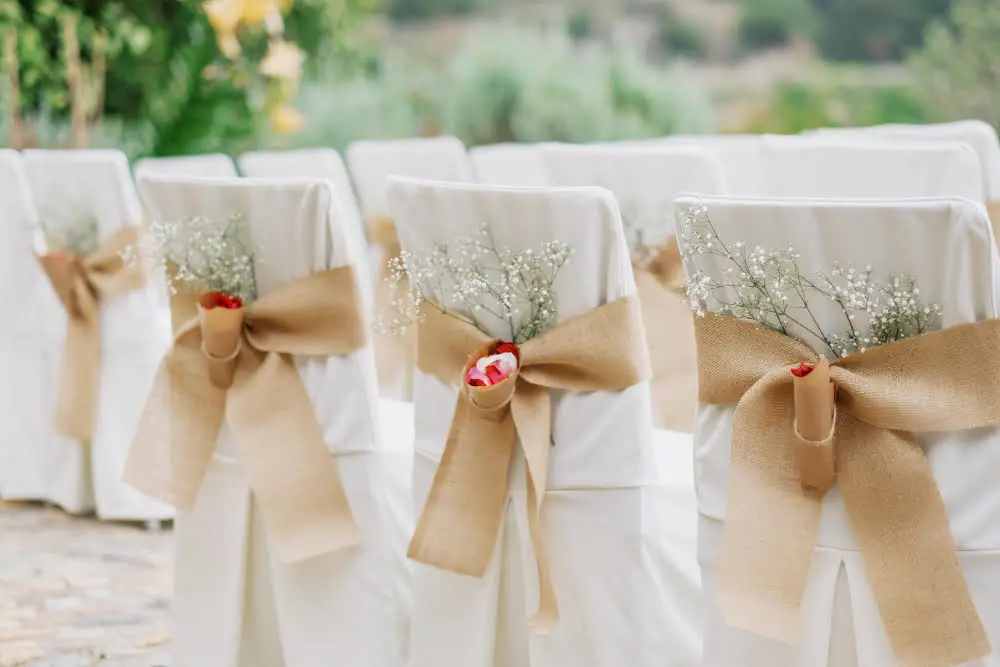 Offering a characteristic earthy charm, a rustic burlap aisle runner captivates the imagination by melding seamlessly with the outdoor landscape. It is an ideal choice for couples looking to incorporate eco-friendly elements into their nuptials.
Sturdy and affordable, this runner withstands various surface types and weather conditions.
Details such as lace lining or floral accents can embellish the straightforward design, adding a soft, romantic flair.
A burlap runner paired with wooden benches, alongside wildflower arrangements, completes a picturesque country-style wedding scene.
Wood Planks Aisle Runner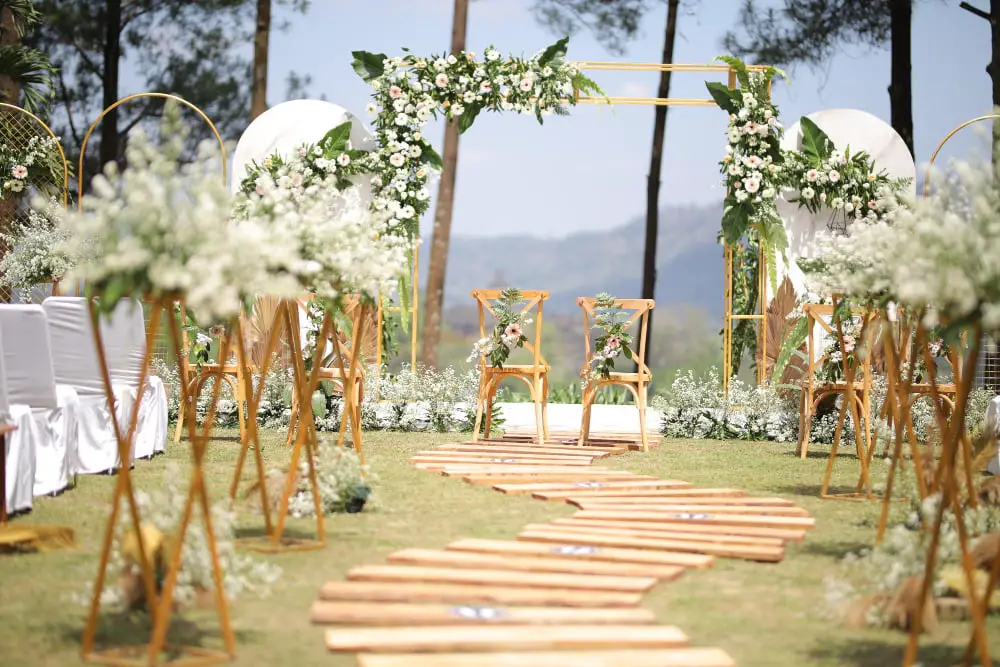 Raw elegance is perfectly exemplified by wood planks — an outstanding and unorthodox choice for an outdoor wedding aisle runner.
When paired with a grassy track, the authentic appeal of timber can bring a fresh yet rustic aesthetic to any ceremony.
Moreover, this type of runner ensures a sturdy ground for the couple and guests alike, reducing worries connected to heels sinking into grass or uneven surfaces.
The planks can be left natural, stained, or finished depending on the desired look.
They can even be adorned with decorative lanterns or flowers at the side to enhance the overall aisle decór.
Lace and White Linen Runner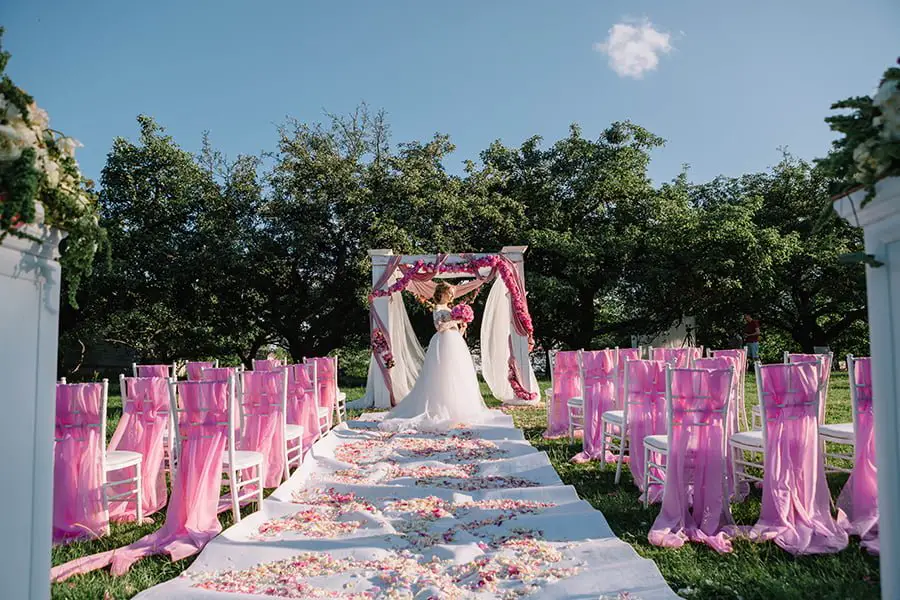 Embellishing your wedding aisle with a lace and white linen runner creates a delicate and elegant atmosphere for your outdoor ceremony. Opting for intricate lace patterns enhances demure sophistication while white linen serves as a pristine pathway guiding you to your future spouse.
Suited to various themes – from rustic to romantic, this runner choice is highly versatile. With the added benefit of providing clean footing, your entrance will be smooth and grand. Include floral arrangements alongside for an enhanced visual appeal.
This runner makes for a picture-pereferct setup that your guests will remember.
Grassy Aisle With Wildflowers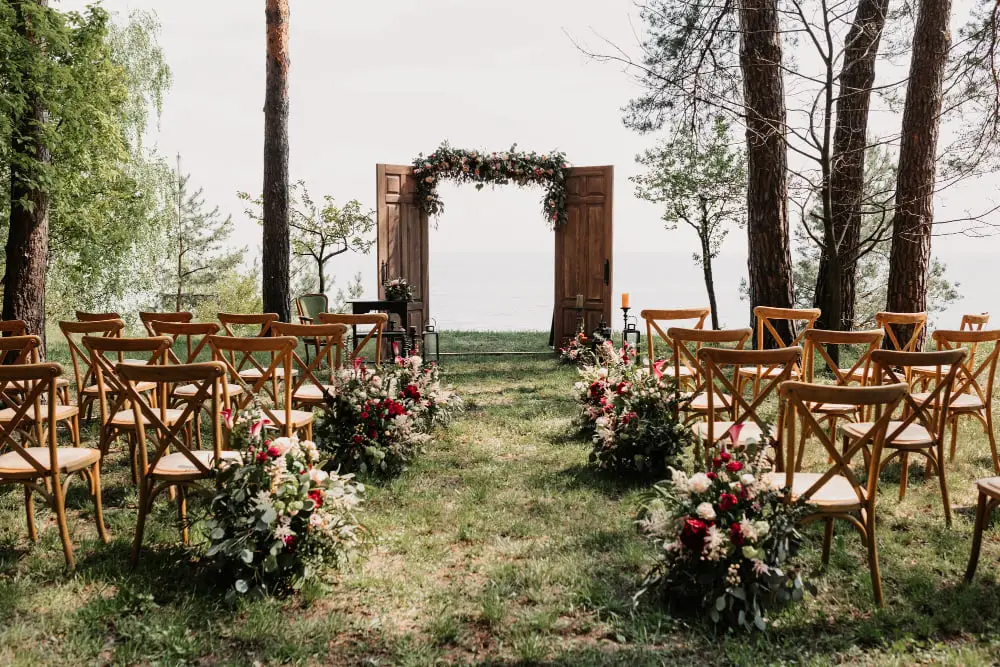 A grassy aisle adorned with wildflowers creates a picture-perfect, lush path that breathes life into outdoor weddings. This approach requires minimal effort, leveraging the beauty of nature to radiate rustic charm and whimsical elegance.
The key is selecting seasonally appropriate wildflowers, scattering them loosely to create an enchanting, casually strewn effect. For an extra touch of magic, consider incorporating some flower petals leading up to the altar.
This runner idea seamlessly blends charm and simplicity, naturally encouraging guests' focus toward the main event.
Monogrammed Cloth Runner
Customizing a cloth runner with your initials is an excellent choice for adding a personal touch.
Opt for bold or soft colors, depending on your theme.
Materials can range from delicate lace to rustic burlap.
Incorporating your wedding palette into the monogram can create a cohesive aesthetic.
Renowned for its elegance, this runner style can make your aisle truly unique and memorable.
Remember to choose a durable material to withstand outdoor conditions.
Red Carpet Runner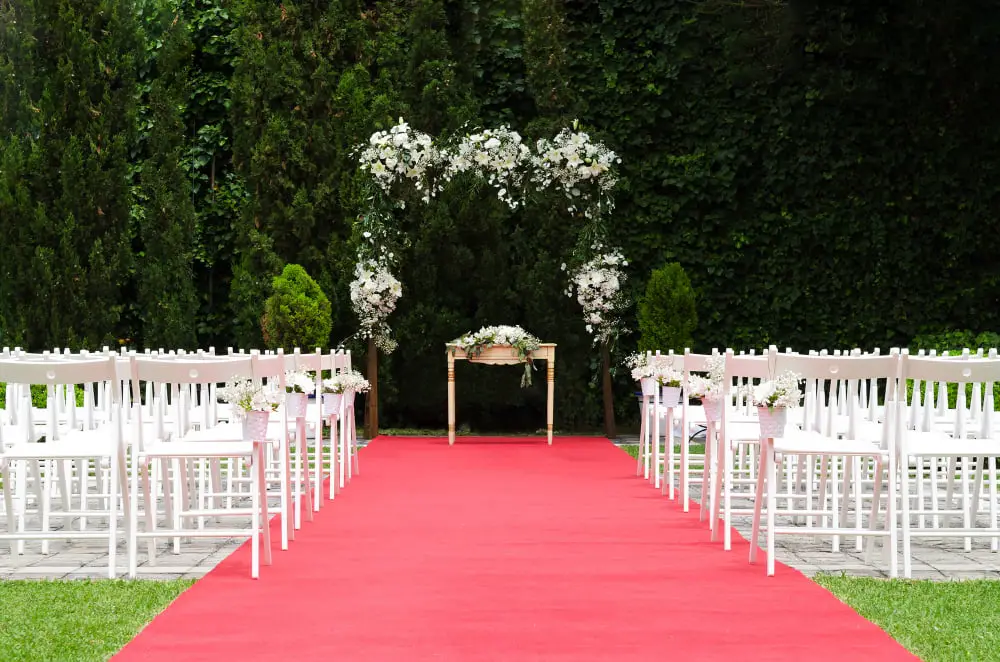 Unleashing an air of Hollywood glamour, this choice is perfect for the couple seeking grandiose flair.
The saturation of color contrasts beautifully with most natural backdrops, making the wedding party pop, turning every bridal procession into a showstopper.
Opt for plush options to provide comfort to the walking guests.
Classic yet dramatic, it's an unmissable tool to add a bold touch to your special day.
Sequin Sparkle Aisle Runner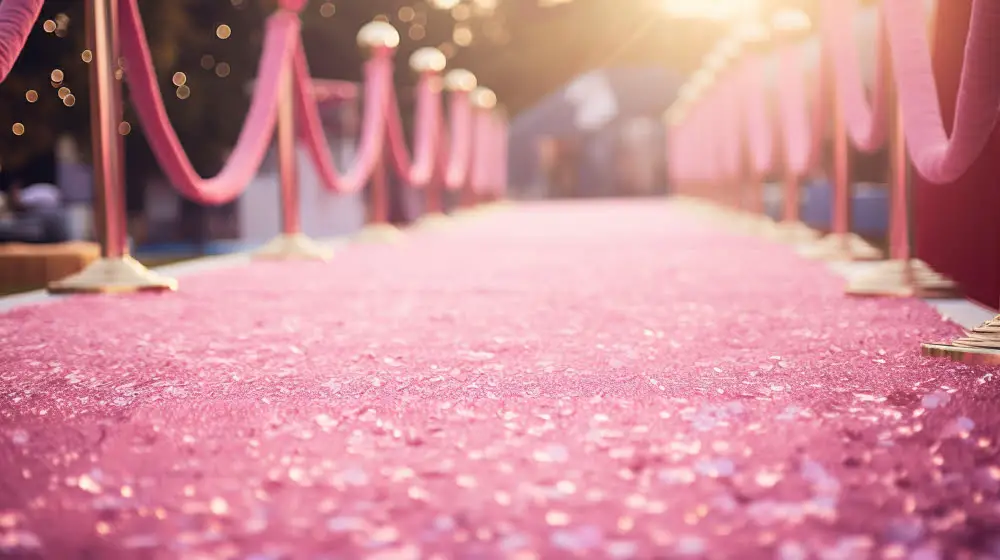 Adding a glitz and glam touch to your outdoor ceremony, a sequin aisle runner shines brilliantly under the open sky.
This idea perfectly suits those who want to instill a bit of luxury into their nuptials.
Not only does it provide a sparkling path to the altar, but also stuns in photos, creating a dazzling backdrop for your 'walking down the aisle' moment.
For a dreamy effect, opt for silver or gold sequins.
Remember, it's your day to shine!
Hessian and Lace Runner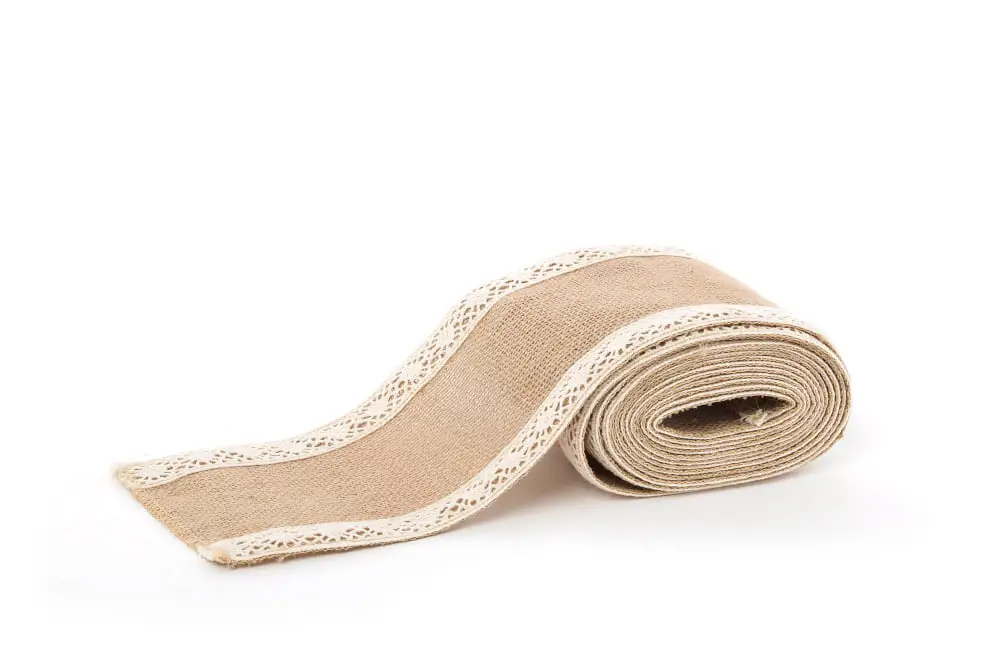 Exuding a sense of rustic charm, this option involves intertwining hessian, also known as burlap, with delicate strands of lace.
The resultant blend of rough and smooth textures provides an aesthetic that's both tactile and visually impressive.
This choice can complement a wide range of themes, from country to vintage.
With the potential for customization, you might choose to incorporate personal touches like the couple's initials, wedding date, or other select elements for infused sentimentality.
It's durable too, handling high-heeled traffic with aplomb.
All in all, it provides a charming tactile experience underfoot for the procession.
Fairy Light-lined Runner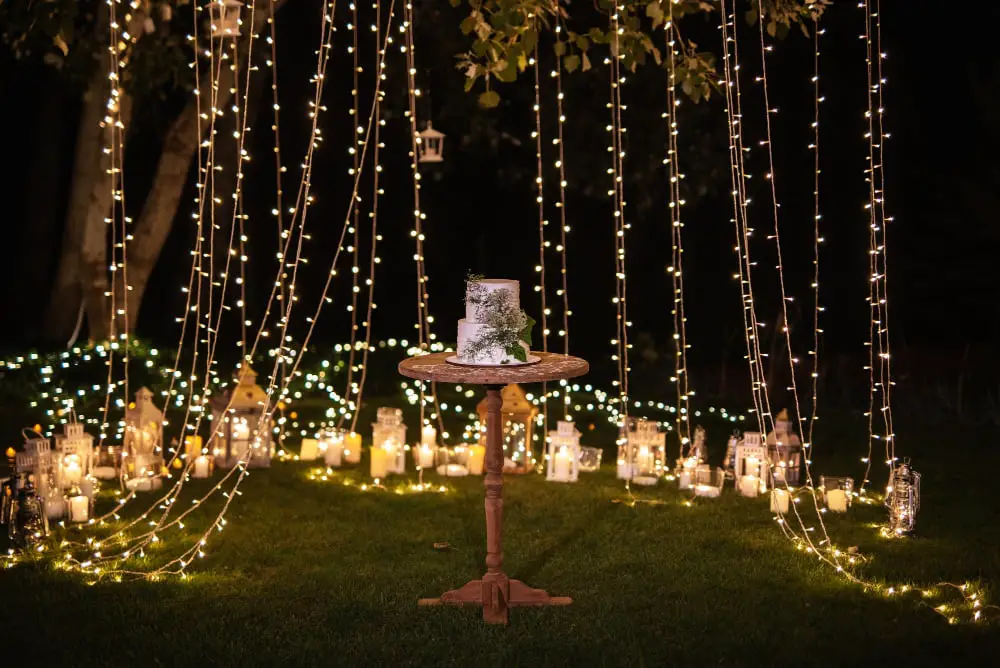 With an enchanting mix of romance and magic, the illumination from a fairy light-lined runner turns any nighttime outdoor wedding into a twinkling dreamscape.
The gentle glow offers functional ambient lighting, guiding the bride's path while creating a picturesque moment.
Using a mix of sizes can add depth and interest, while soft white lights woven into greenery provide a subtler, organic aesthetic.
The runner need not be solely light-strung; combining with soft sheer fabrics or scattering delicate petals could enhance the visual impact.
It's a stunning option that makes the ceremony feel lifted straight from a storybook.
Straw Runner for Farmhouse Style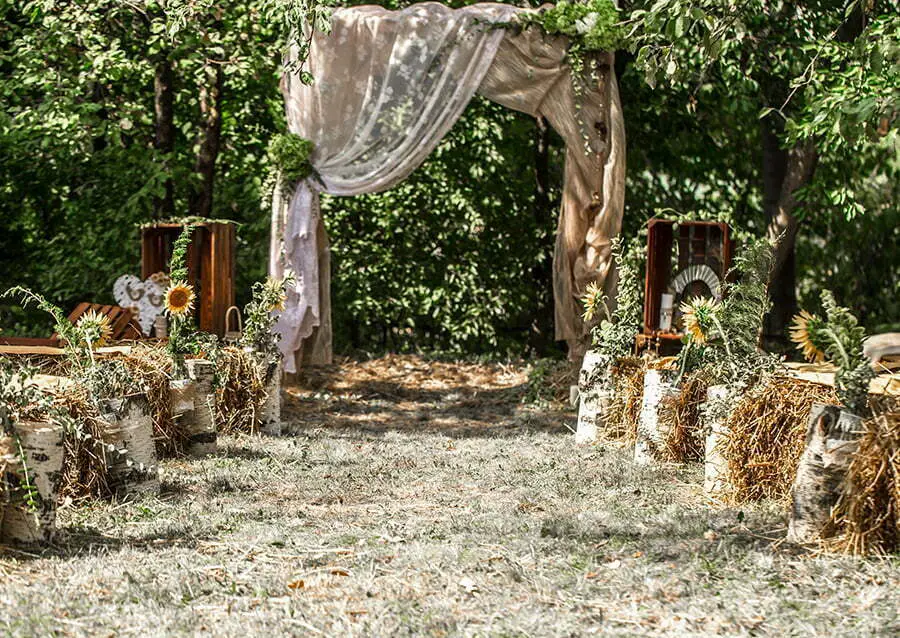 Opting for a straw runner brings a rustic charm that's fitting for a farmhouse-style wedding. It's a simple yet visually stunning option that can instantly transform any outdoor space into a rural haven.
The straw texture creates a pleasing contrast to formal wear, resulting in an extraordinary photographic opportunity. Don't forget, it's also an eco-friendly and cost-effective choice.
Enhancing the runner with an array of wildflowers or burlap decorations can give it a personalized touch. Go ahead and let your aisle runner echo the bucolic charm of your farmhouse theme.
Chevron Wooden Aisle Runner
A fantastic way to enrich the rustic tone of your outdoor nuptials, while adding a hint of contemporary edge, is through the usage of a chevron wooden aisle runner.
Fashioned from salvaged wood, this type of runner offers a sturdy walkway for the bride and the procession.
Yet, it's the distinct pattern of the chevron design that provides an unexpected visual twist; zig-zag lines draw the eye down the aisle and create an inviting path to your matrimonial moment.
For a pop of color, consider integrating flowers, ferns, or leaves into the design.
Simply, it's a tasteful blend of natural charm and modern design.
Natural Moss Aisle Runner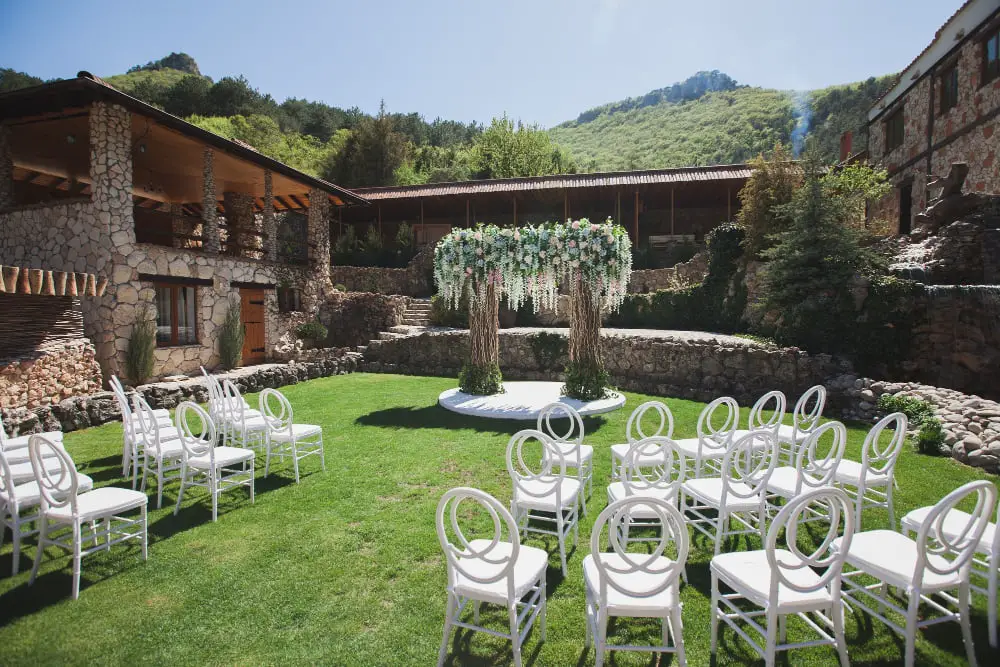 Opting for a natural moss aisle runner transforms your ceremony space into a lush, green fairytale pathway.
This is an excellent choice especially for forest or garden-themed outdoor weddings as it seamlessly blends with the surroundings.
Moss is comfortable to walk on and adds a cool, soft textured touch underfoot, providing an earthy appeal.
While moss itself is often enough, adding flower petals, ferns, or personalized items can amp up the aesthetic.
Remember, use of natural moss is eco-friendly, an added bonus for environmentally conscious couples.
It's a unique way to dazzle your guests while making your green wedding dreams come true.
Leaf-patterned Aisle Runner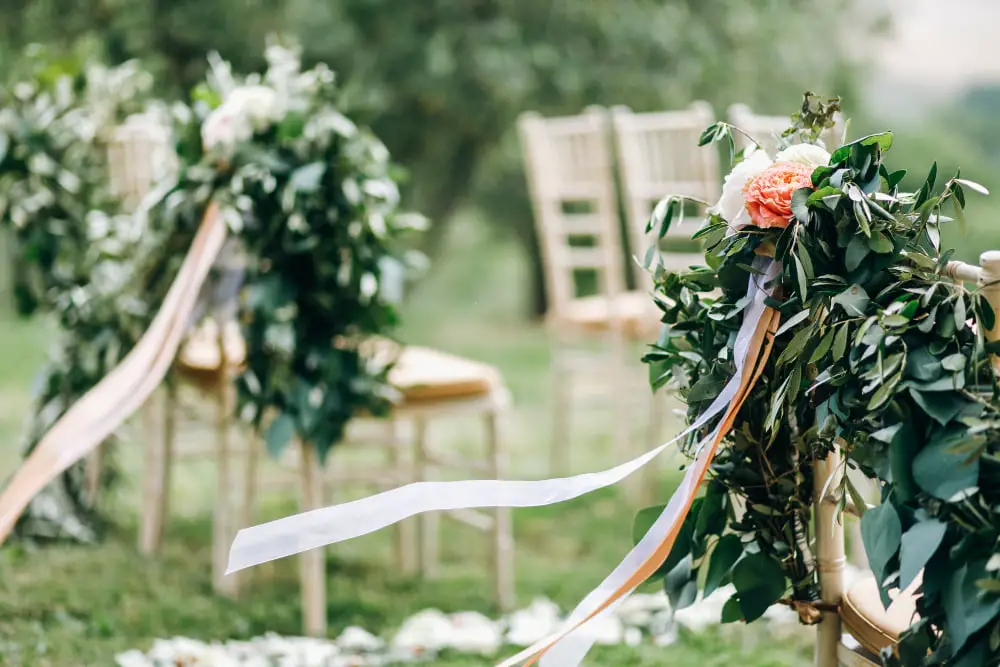 Choosing an aisle runner adorned with a leaf pattern serves as an instant connection to the beauty of the outdoors. This option works best in a picturesque park or lush garden venue where surrounding nature mirrors the design.
As the bride walks towards her future, the delicate swirls of foliage beneath her feet will subtly highlight the unison of love and nature. For an added touch, real leaves can be scattered on top to enhance the visual effect, blending seamlessly with the beautiful surroundings.
Prompting elegance and understated sophistication, the leaf-patterned runner works harmoniously with an outdoor wedding aesthetic.
Circular Cloth Runner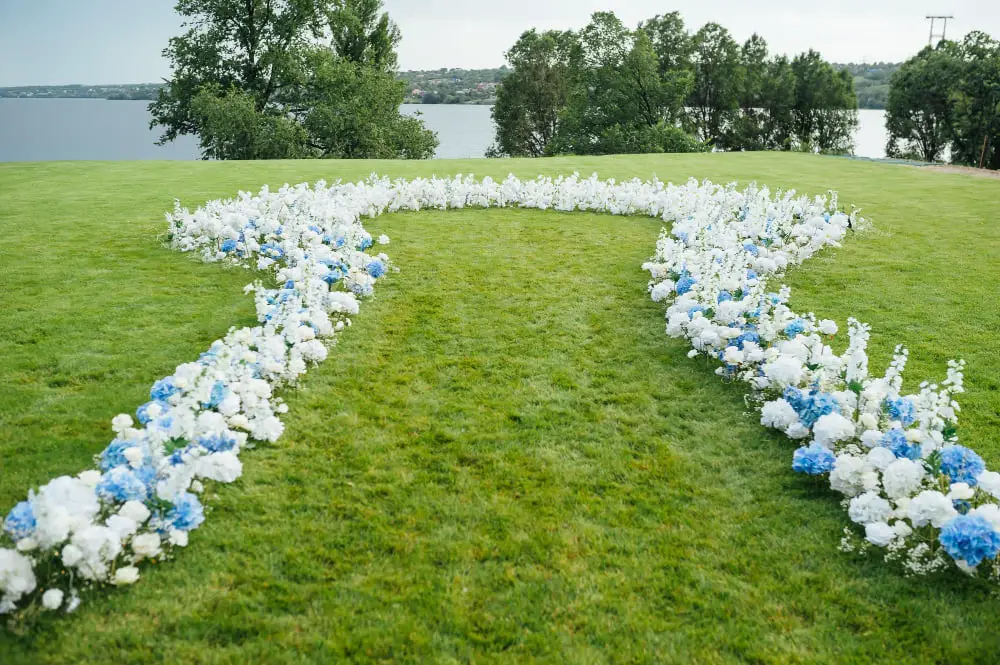 A unique, artistic choice, the circular cloth aisle runner creates a visually mesmerizing walkway.
Instead of being a simple straight line to the altar, it offers an engaging spiraling path.
Ideal for creative couples seeking a departure from traditional straight runners, this configuration can elevate an outdoor ceremony's aesthetic.
Its charm lies in the symbolism of the journey, as the couple walks the concentric circles together.
Cloth options can range from sleek satin to rustic burlap, allowing customization to match any wedding theme.
Whether filled with petals, lined with candles, or left elegantly unadorned, this aisle runner introduces a sense of movement and individuality to the outdoor matrimonial setup.
Custom Painted Canvas Runner
The unique nature of this runner allows full artistic liberty; let it tell your love story through imagery. Connecting with an artist to transcribe the depth of your bond onto a canvas runner can leave your guests in awe.
They could include meaningful symbols, favorite flowers, or even depict your journey together. The result is a personalized piece of art, adding a dash of sophistication and elegance to your ceremony while making a sentimental keepsake for your home post-wedding.
The possibilities are endless with this creative and personal touch to your wedding aisle.
Pebble and Stone Pathway Runner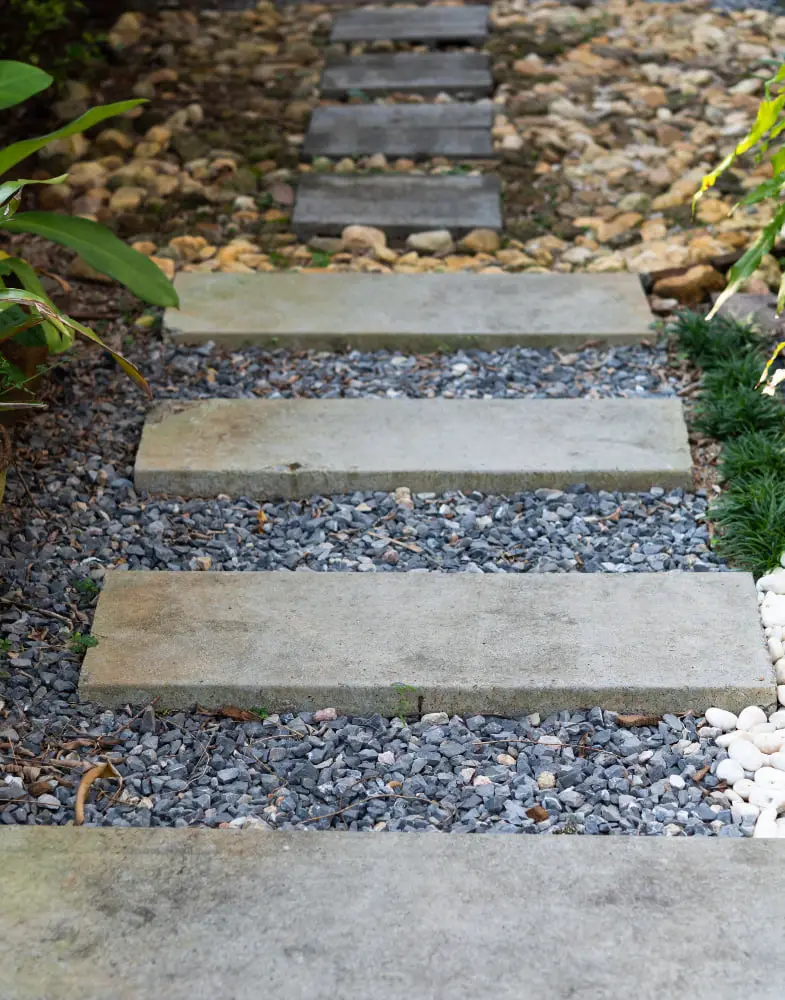 In lieu of a traditional fabric aisle, why not consider a pebble and stone pathway runner?
Beginning your journey with a crunch underfoot could be a unique touch, particularly for a ceremony located within nature or a beautiful garden setting.
This is the ideal option for those looking to stray from convention and embrace an earth-friendly approach.
Not only is this choice aesthetically pleasing, it also directs guests' attention to the natural beauty of the outdoors, creating a more intimate connection with your surroundings.
The organic allure of a pebble and stone pathway might be just the captivating detail your wedding needs.
It provides texture, highlights the theme and creates beautiful and memorable visuals.
Remember to ensure it's comfortable to walk on for all guests, especially those with heels.
Glamorous Gold Sequin Runner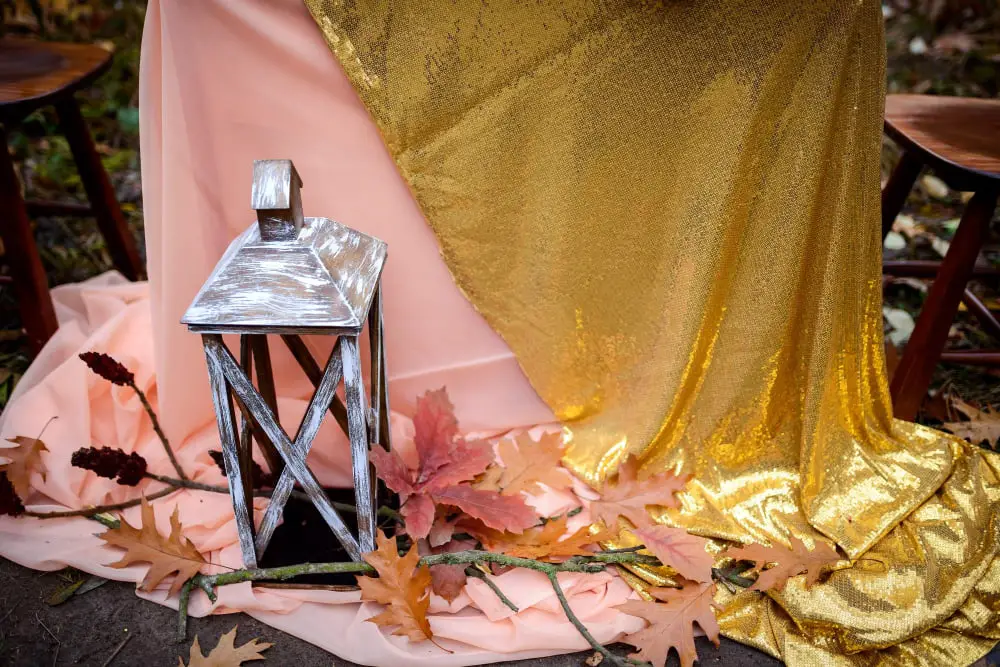 As the epitome of luxury, a gold sequin runner delivers pop and pizazz on your special day, turning the aisle into a glittering catwalk.
Perfect for evening ceremonies, it reflects the ambient lighting, ensuring each step you take sparkles.
The lustrous sheen complements both darker, traditional themes and lighter, contemporary motifs.
Furthermore, the reflective nature of sequins is fantastic for photographers, creating evocative, timeless shots to cherish.
Crafted meticulously, this runner is durable, holds up in various weather conditions, and provides a secure surface for footwear.
It doubles as an impressive decorative element during the reception, drawn over tables or chairs.
Grass Runner With Flower Petals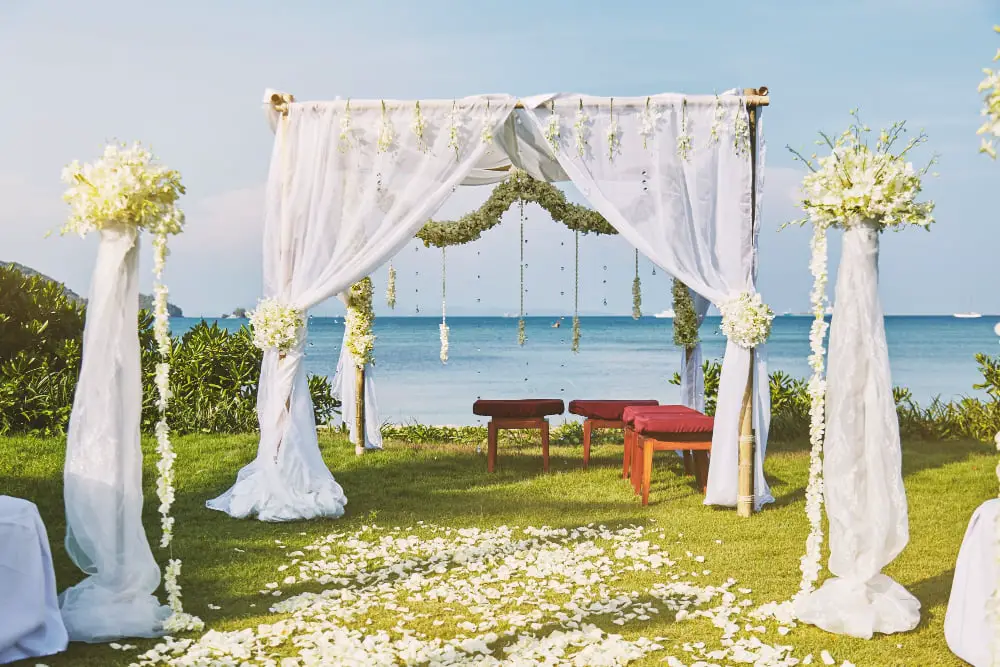 Scattering flower petals along a natural grass walkway provides a strikingly simple yet incredibly romantic aisle. The beauty lies in the radiant blossoms, contrasting against the vivid green, creating a picturesque frame.
Opt for petals that match your color scheme or create a dazzling ombre effect with a blend of hues. The freshness of the grass pairs wonderfully with the florals' delicate fragrance, invoking the very essence of an outdoor wedding.
This idea is perfect for summer or spring nuptials, harnessing the season's beauty for a breathtaking backdrop.
Clear Acrylic Runner for Modern Look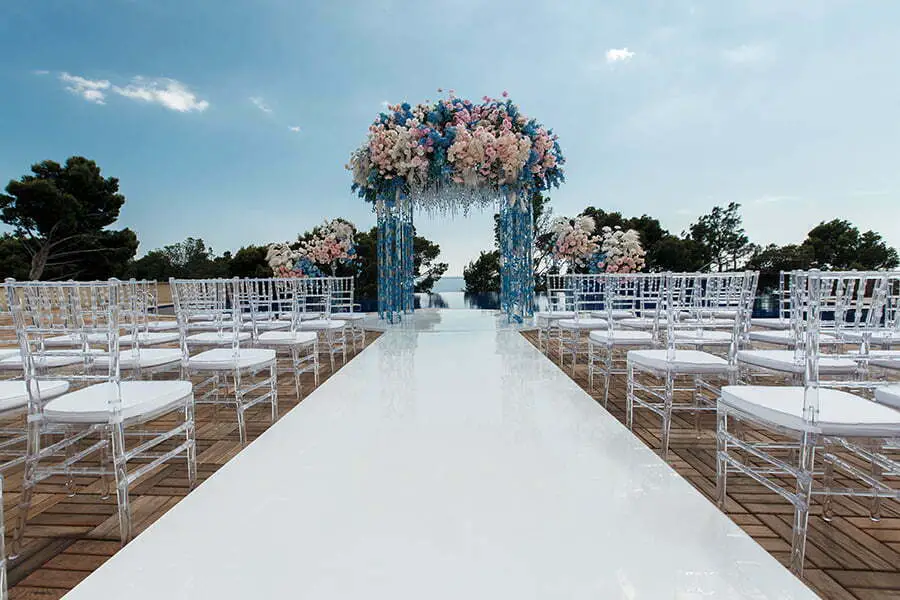 Achieve an über-chic appearance with the use of a clear acrylic runner. Its see-through nature provides an illusion of walking on air, toying with aesthetics in a fascinating way.
Particularly striking on grass or a naturally textured surface, it draws eyes straight to the newlyweds. The translucent appearance also allows the beauty of the surrounding landscapes to shine through without obstruction.
Furthermore, opting for an acrylic runner offers flexibility for any theme. This design works exceptionally well for modern weddings, giving a clean, sleek look that complements minimalist decor.
Moreover, it offers room for creative twists; consider adding underneath lighting or scattered petals for a unique touch.
Easy to clean and weather-resistant, this choice is as practical as it is stylish. The firm yet unobtrusive aspect makes it a safe selection for brides concerned about tripping on a fabric runner.
It's a fun, forward-thinking twist on traditional aisle décor. Going for a clear acrylic runner ensures a memorable walk down the aisle, eliciting awe from your guests as you make your grand entrance.
Pallet Wood Runner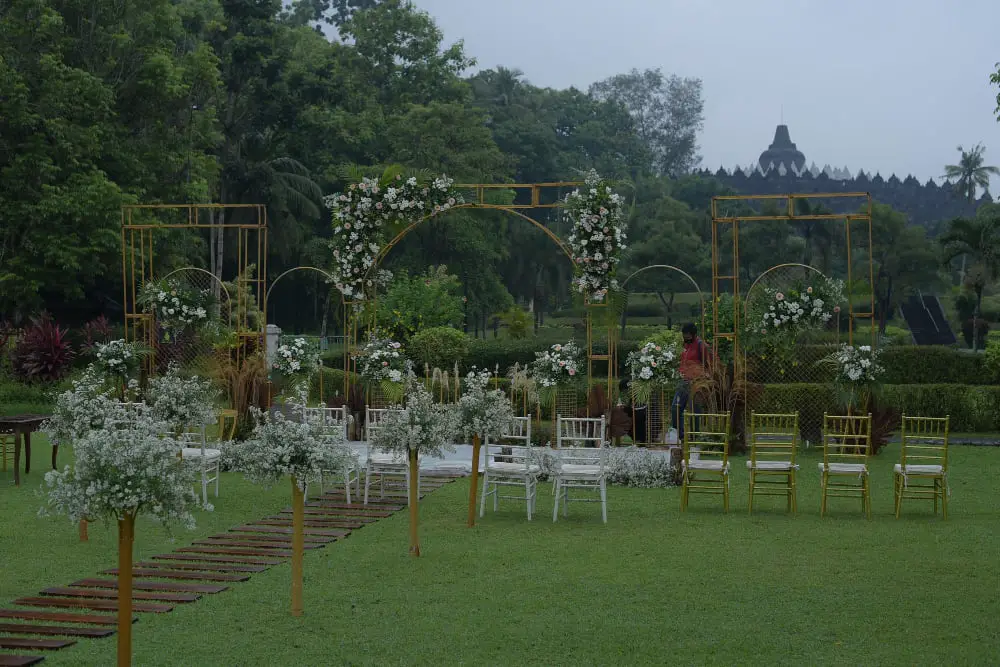 Displaying an unbeatable charm of rusticity, the pallet wood runner blends seamlessly with nature's beauty at an outdoor wedding. Its rough and organic texture brings an earthy look to the aisle while ensuring a sturdy walking surface.
One could even personalize it with initials or dates etched at intervals for a unique touch. Particularly perfect for barn or backyard weddings, it offers a budget-friendly option without compromising style.
Enhance with fairy lights or petals for an enchanting evening ceremony.
Lighted Tulle Aisle Runner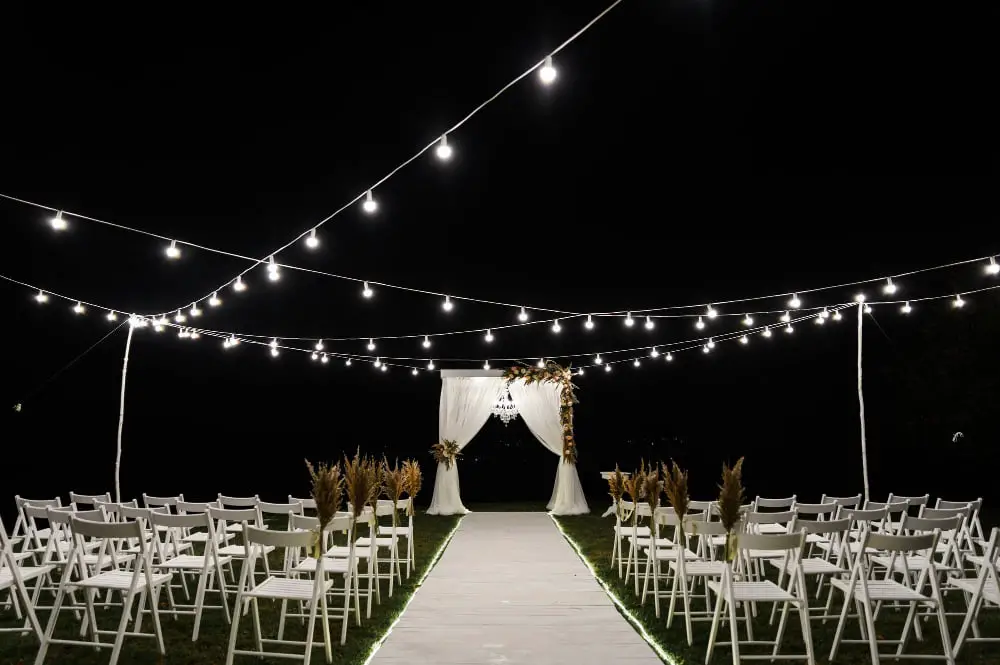 This unique and enchanting idea can turn any outdoor location into a touch of romantic magic.
The tulle's lightness and translucency create a whimsical look, while the small LED lights incorporated within emit a soft, warm glow, perfectly reflecting the ambience of love and joy.
Not only does it pave a beautifully lit pathway for the bride, but it also elevates the overall aesthetic of the wedding venue once the sun sets.
Choose to use twinkle lights, fairy lights, or even battery-powered lanterns interwoven into the fabric.
It's important to ensure the lights are weather-proof, especially if the forecast predicts any rain.
This runner is a stunning choice for those considering an evening ceremony.
Floating Fabric Runner for Beach Wedding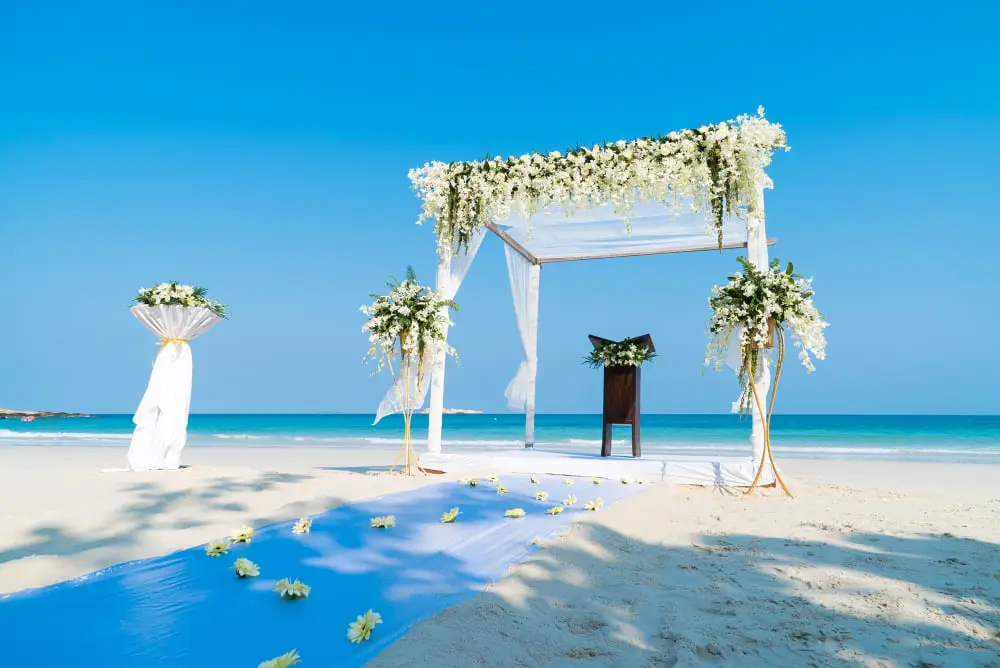 Crafting an ethereal and dreamy atmosphere is effortless with a floating fabric runner. Chiffon is an ideal choice, its softness and transparency allowing it to gently move with the ocean breezes.
Hemmed pure white, pastel-toned or even with ombre hues, it can easily complement the beach palette.
Anchor the corners lightly with stones or beach glass, so it tugs slightly with the wind, creating the floating effect.
This runner style introduces an element of refined elegance to the natural beach habitat. It's a stunning and unique way to walk down the proverbial outdoor aisle.
Glass Aisle Runner Ideas for a Luxury Feel
Opting for a glass aisle runner can immediately elevate the overall ambience of an outdoor wedding, lending it an air of elegance and sophistication. These are sturdy platforms, often made of acrylic or tempered glass, which can be decorated in various ways to match the wedding theme.
Consider enhancing the glass runner with underlying fabric or flowers, giving an illusion of the bride 'walking on' the chosen detail. This can create a stunning visual effect, especially for aerial photographs. For a more minimalist touch, just leave the runner clear to showcase the natural beauty of grass or sand beneath.
Keep in mind, however, that safety should be of prime importance. Make sure the surface isn't slippery, especially if it's a rainy or dewy day. Also, ensure that the runner is securely installed to withstand the weight without any risk of cracking or shifting.
In conclusion, although it requires a bit more planning and investment, the dazzling aesthetic of a glass aisle runner can transform your outdoor wedding into a magnificent spectacle, worth every penny spent.
Eco-friendly Aisle Runner Options
Opting for eco-friendly aisle runners provides a chance to underscore sustainability. Use of materials like jute or sisal offers a rustic look and durability.Burlap, with a softer feel but equally appealing aesthetic, presents another great choice. Incorporating natural or dried florals as accents grant a nod to Mother Nature. An inventive option can also be creating a 'runner' using locally sourced leaves or petals – a splendid way to leave no trace.As a side note, ensure they're non-slip to prevent any mishaps.
Navigating Weather Challenges With Aisle Runners
Depending on prevailing climatic conditions, outdoor weddings may present certain challenges. A well-chosen aisle runner can serve as a solution to weather-related complications.
For instances of forecasted rain, selecting a weather-resistant material like vinyl will prevent the runner from turning soggy and spoiling the ceremony. Not only is a vinyl runner water-resistant, but it's also easy to clean and less prone to retain stains.
In contrast, for sun-drenched ceremonies, consider natural materials like jute or sisal. These materials are heat-resistant, providing a cool walkway for the bridal party under hot conditions.
Another crucial factor is wind. For wind-prone locations, secure the aisle runner with pins or weights at the corners to prevent it from flapping in the strong gusts and disturbing the ceremony.
By considering weather challenges when choosing an aisle runner, you can ensure an uninterrupted ceremony, come rain or shine.
Illuminated Aisle Runner Ideas for Evening Ceremonies
Using lights strategically can add a magical touch to evening outdoor wedding ceremonies. Many brides consider opt for fairy-tale inspired strands of lights woven into the aisle runner fabric.
LED lit runners, too, have gained popularity for their subtle luminescence. A fantastic twist would be glow-in-the-dark paints that can be applied to the runners for an enchanting walk down the aisle.
However, remember to choose warm, soft lighting tones to maintain the solemnity of the event. Consider options that are both safe and easily removable for after the event.
Single-Colour Vs Multi-Colour Aisle Runners: Selecting the Best Option
The choice between single-colour and multi-colour aisle runners can be one of personal preference or event theme alignment. For a minimalist, elegant effect, single-colour options are ideal. They offer a sophisticated touch and can be matched with ceremonial decor effortlessly.
On the other hand, multi-colour runners bring vibrancy and light-hearted charm to the ceremony. When used strategically, they can complement an array of colour palettes in the floral arrangements, bridal party dresses, or overall theme, infusing the occasion with dynamic visual interest.
Bear in mind, the selection should harmonize with the outdoor setting. The surroundings can influence the color choice, as some hues may blend in too much, becoming indistinguishable from the natural environment, while others might clash.
FAQ
Should I have an aisle runner for outdoor wedding?
Having an aisle runner for an outdoor wedding is beneficial if it is appropriate for the specific environment, even though some professionals suggest they can be more of a hindrance.
What can I use instead of an aisle runner?
Vintage rugs can serve as an excellent alternative to traditional aisle runners, particularly for outdoor boho themes or trendy loft weddings.
Can you use an aisle runner on grass?
Yes, you can use an aisle runner on grass, but it's not recommended if it's made of fabric due to the uneven surface and potential tripping hazards, especially for guests wearing heels.
What are the benefits of using chairs over hay bales for an outdoor wedding seating?
Chairs for outdoor wedding seating are often more comfortable, versatile in design, and may evoke a more formal ambiance than hay bales.
Do you need a backup plan for weather changes in an outdoor wedding?
Yes, it is advisable to have a backup plan for weather changes in an outdoor wedding to ensure continuity and comfort.
What are the best lighting options for a nighttime outdoor wedding?
For a nighttime outdoor wedding, the best lighting options include festoon lights, fairy lights, lanterns, and candles to create a warm, romantically lit ambiance.
Keep reading: