Immerse yourself in the enchanting allure of an outdoor forest wedding, a magical occasion that truly brings your fairy-tale dreams to life.
Embarking on the journey of planning an outdoor enchanted forest wedding is indeed magical, filled with whimsical charm and ethereal beauty.
This article will serve as your guide to create a mesmerizing event that captures the essence of an enchanted forest, from the venue selection, decor elements, to the perfect fairy-tale dress.
We will explore unique ideas for an unforgettable ceremony under the canopy of towering trees, delve into captivating themes, and suggest enchanting forest-friendly details.
Stay with us as we unfold the secrets to transforming your wedding into a magical woodland wonderland.
Choosing the Perfect Forest Location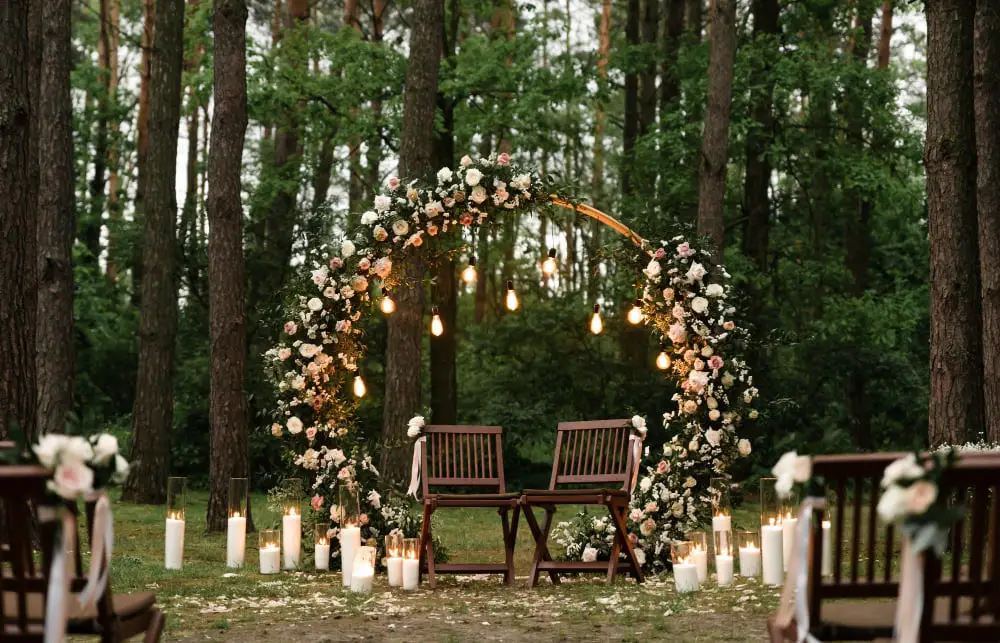 When selecting your ideal location, prioritize accessibility for guests. The area should be relatively easy to find and navigate. Take note if it can accommodate the necessary amenities such as seating, lighting, and restrooms.
Furthermore, also consider the aesthetics. Tall, mature trees, lush greenery, and serene sound of rustling leaves make for stunning photography. However, don't overlook potential challenges such as bugs, weather, temperature and ground stability when scouting for the perfect forest spot.
Also remember to inquire about permits and restrictions beforehand to ensure a seamless ceremony.
Legal Considerations for a Forest Wedding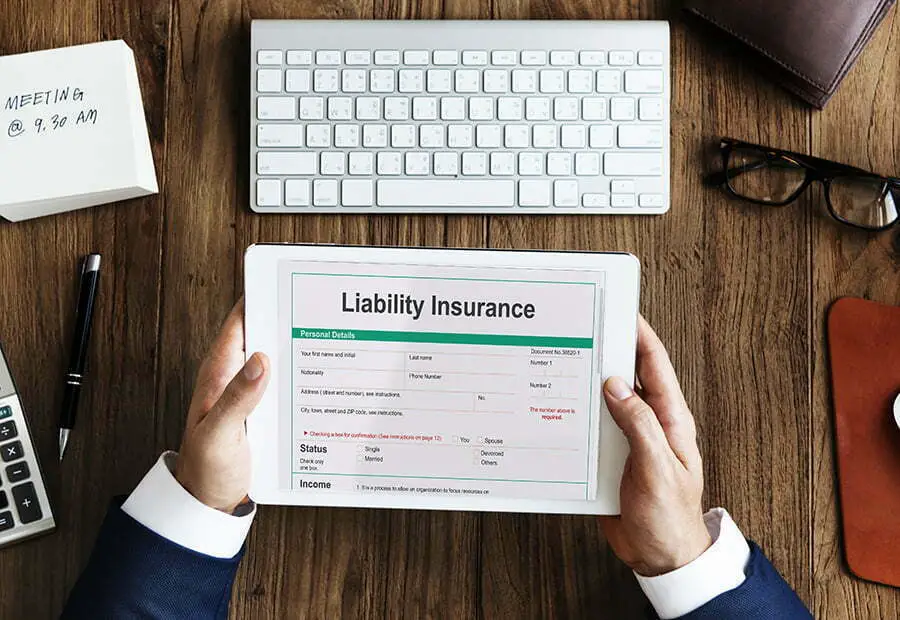 To organize your magical event, you must first secure the necessary permissions, as forested areas often fall under specific environmental protections to preserve their natural beauty.
If your chosen location is a public area, permits are usually required, so contact the local council early to understand the specific by-laws and restrictions.
If you're considering private land, ensure you have formal agreement from the landowner.
Furthermore, noise restrictions may apply, and these vary greatly in different districts.
Ensuring you have understood and complied with these legalities is crucial for a serene, hassle-free celebration.
Also, it's worth considering wedding insurance to safeguard against any unforeseen circumstances that could disrupt your big day.
Best Time of the Year for an Enchanted Forest Wedding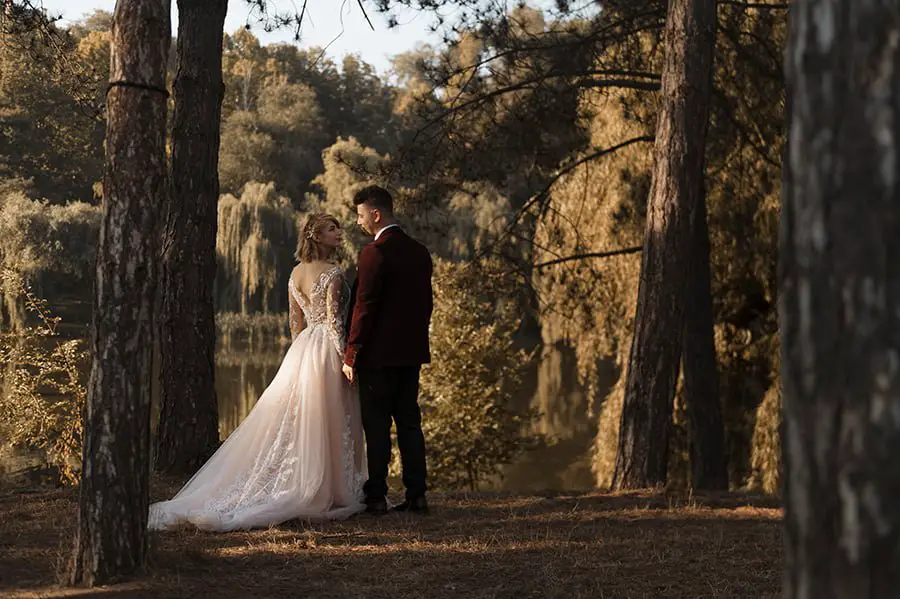 Evolving seasons significantly influence the ambiance of an outdoor forest wedding. Typically, late spring to early fall is considered ideal.
This period offers a comfortable climate and abundant natural beauty; spring blooms or autumnal colors add a stunning backdrop to your ceremony.
However, if you dream of a winter wonderland with snow-clad trees, ensure you have provisions for warm tents and heating arrangements for your guests.
Always remember to check local weather patterns to avoid unexpected surprises.
Creating Your Forest Wedding Budget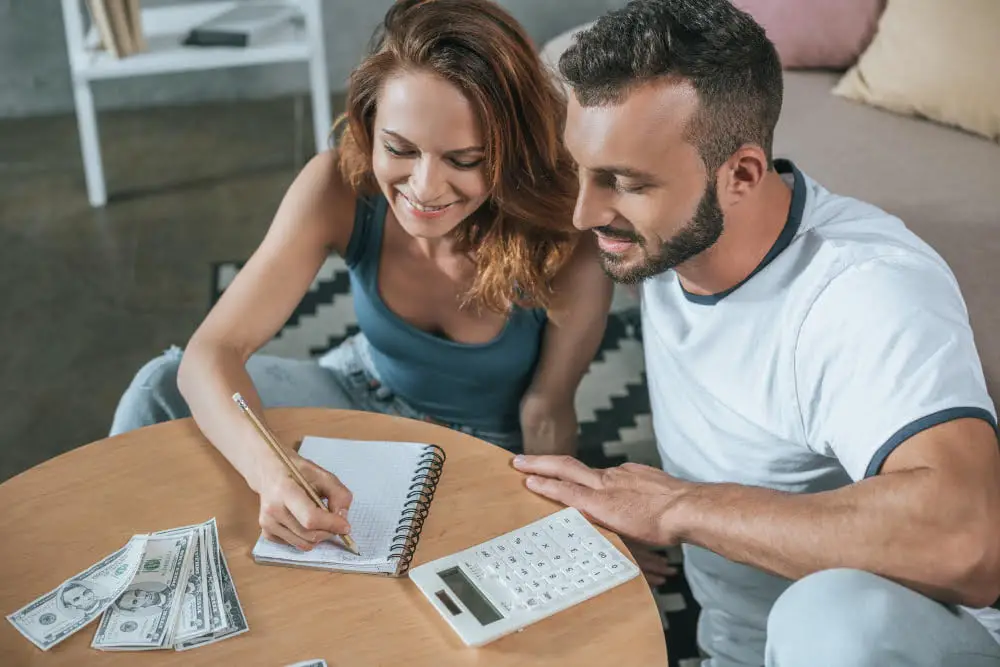 Achieving a magical ambiance doesn't have to break the bank. First and foremost, ascertain how much you can afford to spend on the event.
Ensure to factor in the cost of rental items, like tables, chairs, portable restrooms, and tents if needed.
Understand that an outdoor venue might require additional logistics for electricity and lighting. Costs for these necessities can add up quickly.
Next, consider decor expenses. The beauty of a forest setting is that nature provides a magnificent backdrop.
Choose affordable accents, such as locally sourced flowers or wood pieces for centerpieces, to enhance the natural setting rather than transform it.
Invest wisely in a professional photographer experienced in outdoor settings, to capture the enchanting ambiance.
Similarly, allot a portion of your budget for a skilled caterer familiar with outdoor events, who can handle potential weather-related challenges.
Lastly, put money aside for unexpected expenses; consider it your financial safety net.
With careful planning and thoughtful decisions, your enchanting forest wedding can be beautiful and budget-friendly.
Theme and Decor Inspiration for an Enchanted Forest Wedding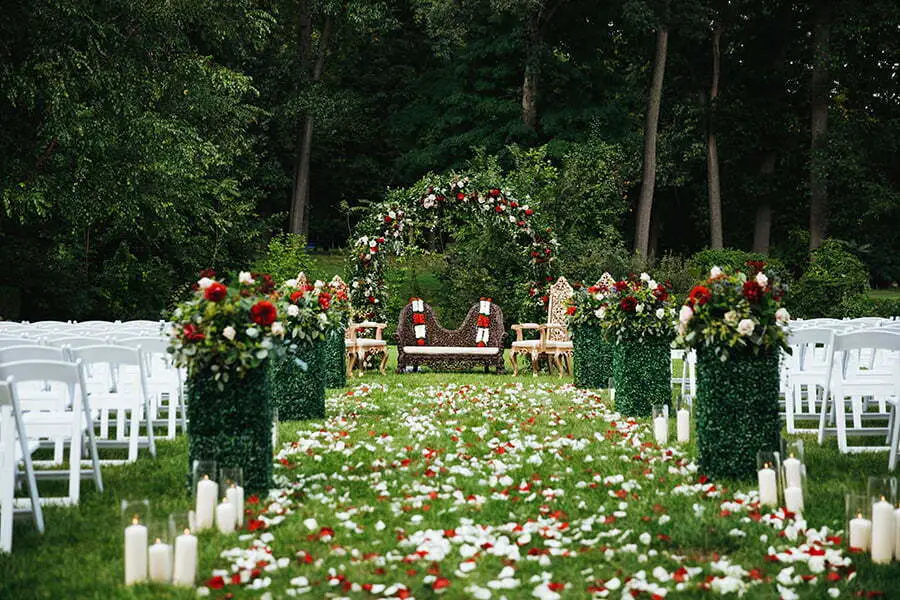 Featuring natural elements like moss, ferns, and wooden accents can add authenticity and depth to your chosen theme.
Incorporate whimsical fairy lights in your decor to illuminate the venue. Hanging lanterns scattered across tree branches can further enhance the enchanted feeling.
Create an alter with a wooden arbor draped in vines, flowers, and earth-toned fabrics, which would be harmonious with the surrounding greenscape.
Using mismatched, vintage furniture as part of your seating arrangement or dessert table setup will add a rustic charm.
Consider incorporating thematic elements in your wedding stationery such as invitations and placeholders to create a unified look.
Always remember, the key is to compliment the forest's natural beauty, not compete with it.
Selection of Wedding Invitations for an Enchanted Forest Wedding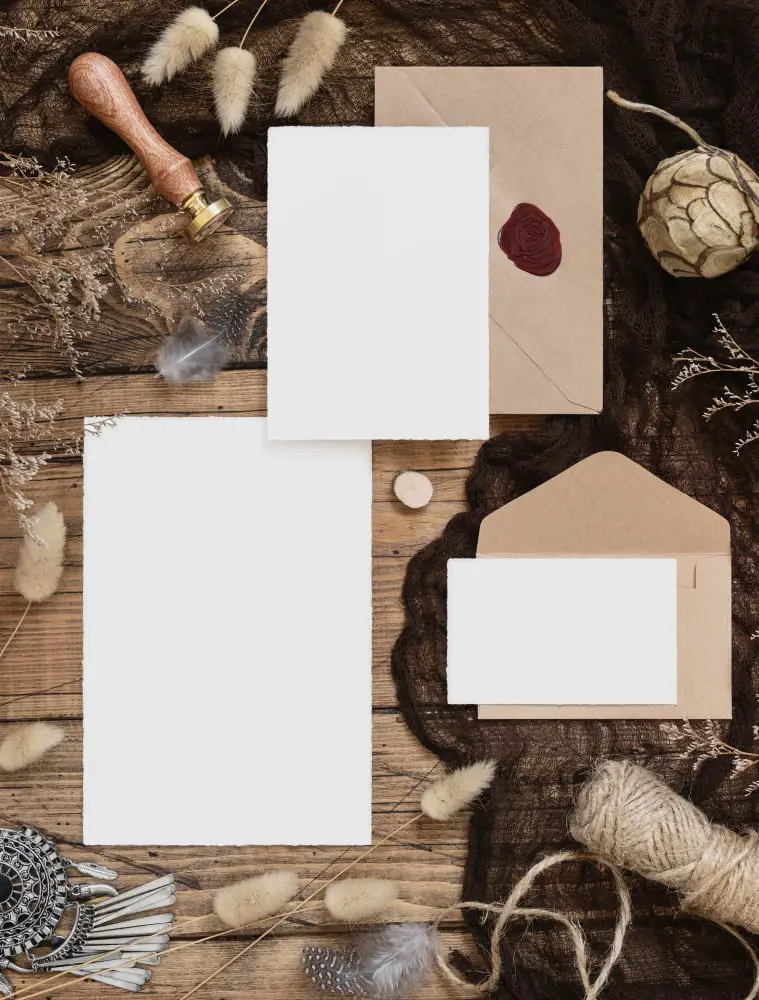 When selecting wedding invitations, it's essential to give a sneak peek of what guests can expect from your enchanted forest-themed wedding.
Opt for options that incorporate elements of the forest.
Think rich, earthy tones, illustrations of beautiful trees, and even touches of whimsy like fairytale fonts or gold foiling.
Materials such as recycled paper or wood veneer cards can create an eco-friendly, rustic appearance that perfectly aligns with your theme.
Don't forget to elaborate on the style of your wedding—whether it's whimsical, rustic, elegant or a blend of all.
This will help your guests plan their attire and overall expectations for the event.
Remember to match the rest of your stationery with the chosen invitation design, maintaining the same aesthetic throughout.
Selecting the Right Wedding Attire for a Forest Wedding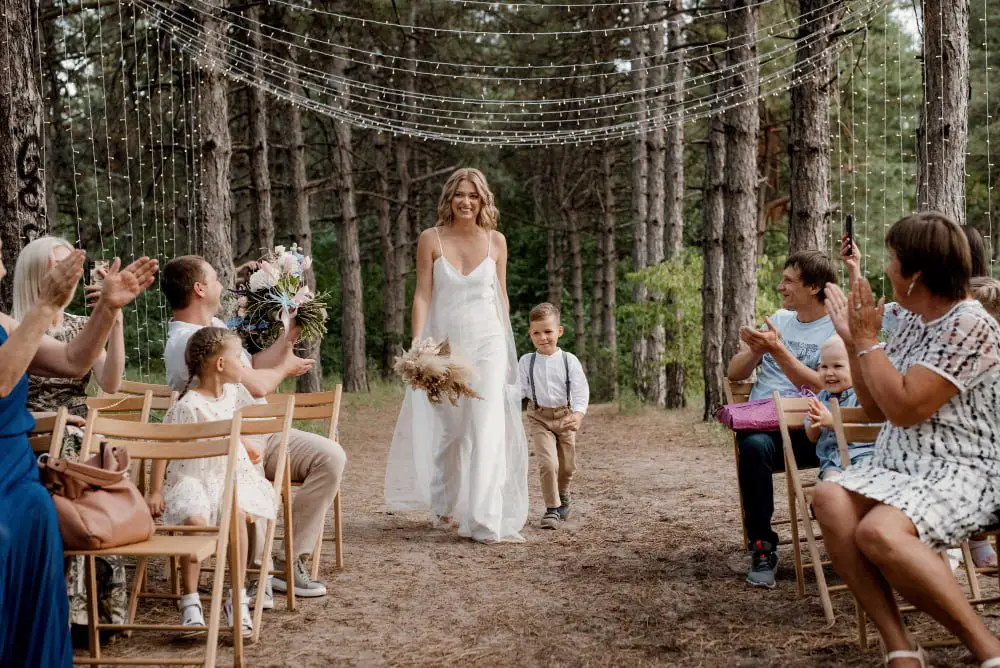 When considering your wedding attire, being mindful of the outdoor, unpredictable elements is key. Materials that breathe are the right choice for such settings. Throw expectation to the wind and opt for dresses and suits made of light, flowy materials such as chiffon or silk blends which move with the breeze, enhancing the enchanted aesthetic of the setting.
One may also choose to incorporate floral or leaf printed fabrics that complement well with the woodsy surroundings.
Footwear should also be suited to a forest venue. For brides, instead of traditional heels, consider beautiful flats, wedges, or even adorned sandals to tackle the uneven ground. Groomsmen might opt for comfortable leather boots that blend seamlessly with the environment. Ultimately, comfort should not be overlooked for style, and fortunately in a setting as beautiful as a forest, naturalness becomes the most fashionable element. Make sure to advise your guests as well of footwear choice, to ensure their comfort throughout the ceremony.
Accessories should also harmonize with the theme. Tiaras crafted from twigs, crowns of leaves, or jewelry incorporating forest-inspired elements can bring an additional, charming touch to the wardrobe. While remaining true to your personal style, allow the magic and allure of the forest to inform your attire decisions and add a touch of whimsical beauty to your special day.
Photography Tips for an Enchanted Forest Wedding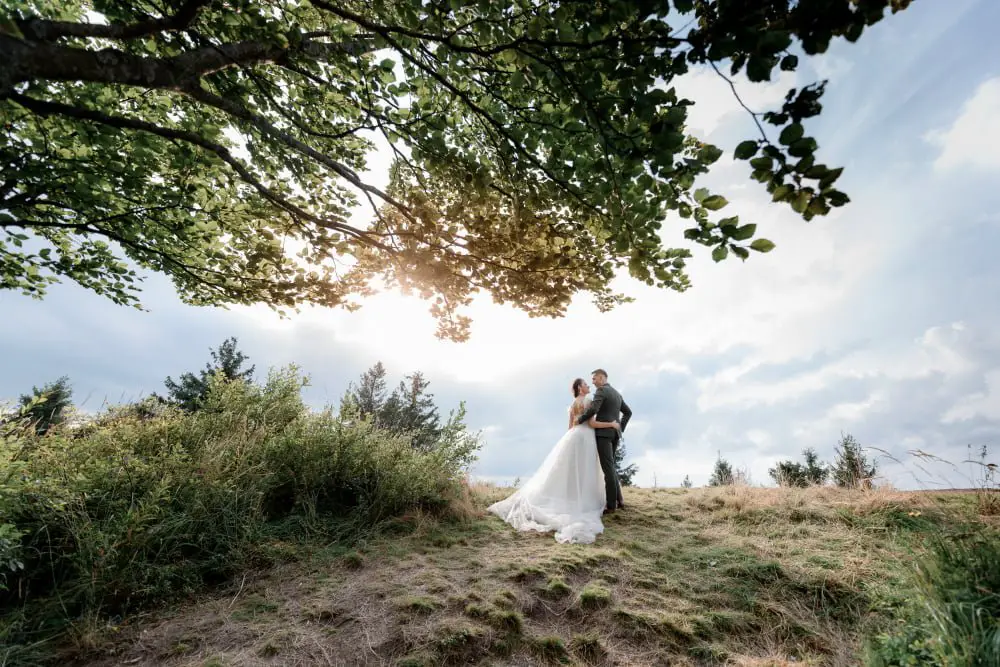 Capturing the beauty of your forest wedding requires careful planning. A skilled photographer familiar with outdoor settings is a crucial selection. They can leverage the natural light, enhancing the ethereal elements you've worked so hard to create.
For the ceremony, time it right to capture the golden hour, when the soft, low-angle sunlight provides a warm hue. Unpredictable weather calls for quick adjustments from your photographer, varying between sun, shadows, and overcast conditions.
Creative shots are essential to capturing the magic. Think reflections in water, framing with trees and foliage, twinkling lights caught just so. Request your photographer to highlight intricate decor details and the stunning greenery around.
An engagement shoot in the same location can be beneficial. This gives your photographer an opportunity to explore angles and lighting conditions ahead of time. Above all, invest in a professional who can capture the enchanting forest vibes that you will treasure for a lifetime.
Incorporating Flowers and Natural Elements in Your Forest Wedding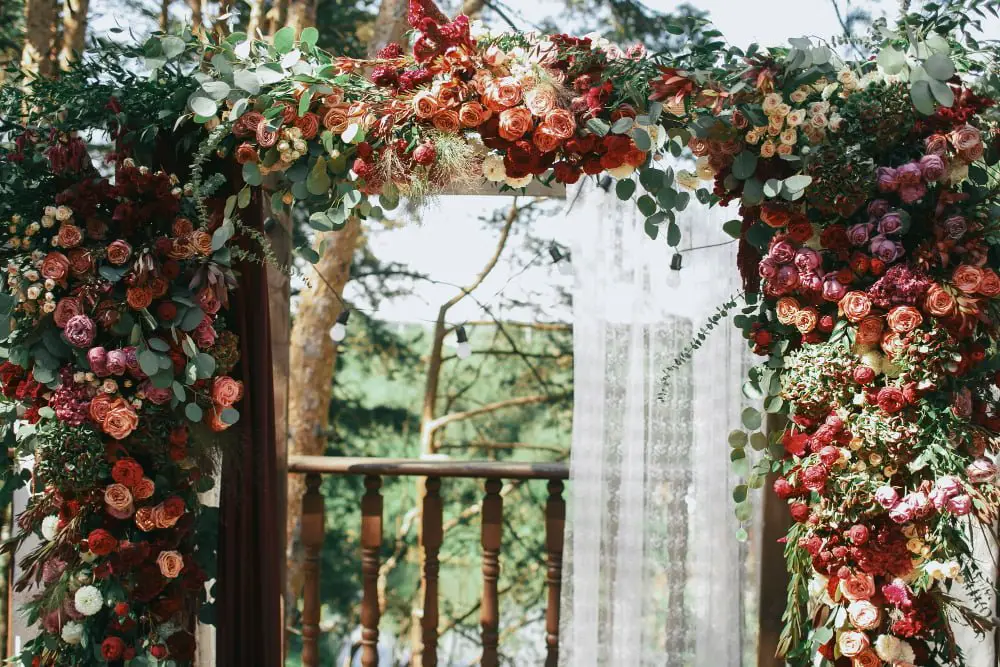 Utilizing the array of gifts nature offers can create an organically beautiful setting that stays true to the ambience of an enchanted forest. Consider seasonal blossoms in earthy hues to mimic the diverse color palette of a forest. These can be used throughout, from your bridal bouquet to table decors and archways.
Garlands of greenery can breathe life into minimalistic wooden tables with their rustic charm. Meanwhile, flower petals can serve as a delicate pathway leading you to your 'I Do's,' beneath a canopy of trees. Potted plants and arboreal elements like branches, pine cones, or even autumnal leaves create authentic decor pieces, merging seamlessly with your woodland surroundings, contributing to a sustainable wedding.
Remember, the charm lies in the subtlety. Don't overdo it; let the natural beauty of the forest be your primary backdrop.
Creating DIY Enchanted Forest Wedding Centerpieces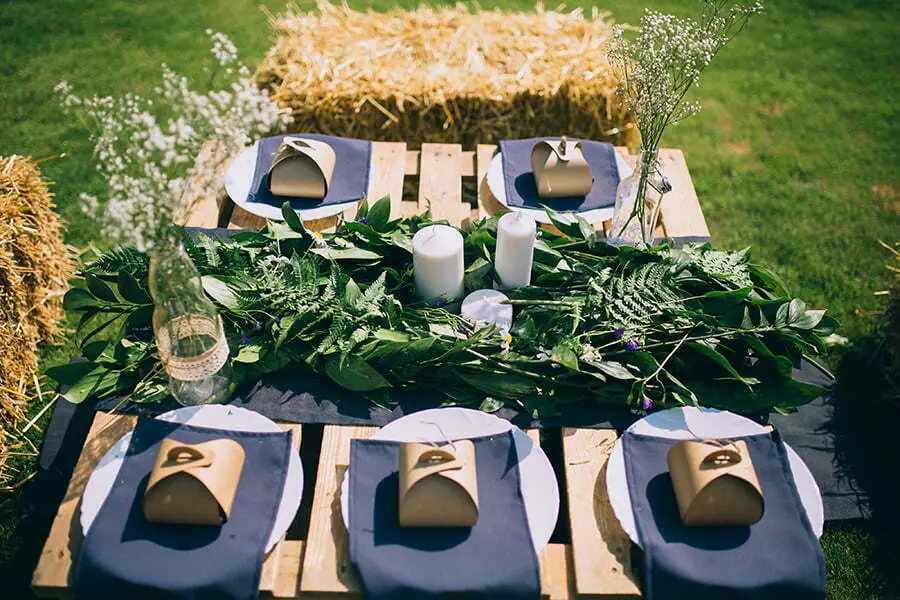 Gathering items from nature itself – twigs, moss, fallen leaves, pine cones, or wildflowers, can be the starting point for your DIY centerpieces.
Consider complementing these natural elements with fairy lights and candles, to evoke a charming twilight glow.
When placed in glass vessels, they add an ethereal touch to your tables.
If you're leaning towards a more rustic feel, consider wooden log slices as bases; they serve as stunning contrasts to delicate florals or lush greenery.
Remember to keep the arrangements low for easy conversation across the table.
With these elements combined, your centerpieces will exude the enchanting aura of the forest, pleasing the eye and making your wedding an unforgettable experience.
Setting Up the Enchanted Forest Ceremony Space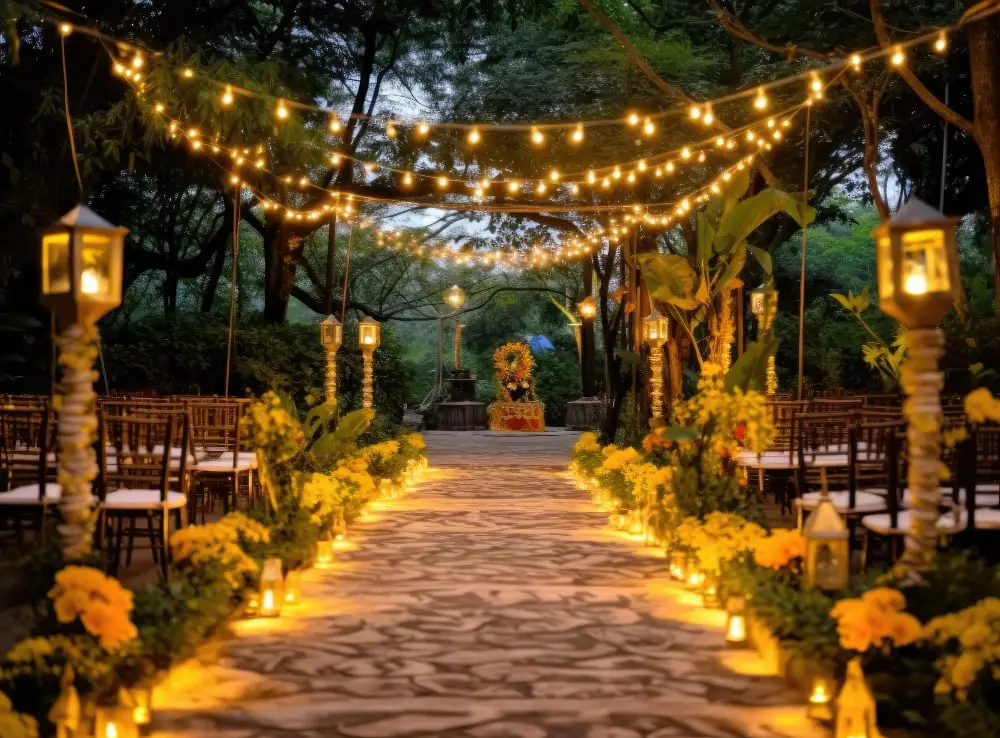 Begin with the focal point of the ceremony – the altar. Opt for a simple design to let nature be the star. Use a rustic arch laden with lush, native greenery and a smattering of wildflowers.
Birchwood poles or reclaimed barn wood are excellent for creating an authentic and organic look.
Seating should also compliment the natural surroundings. Vintage benches or mismatched wooden chairs add quirky charm. Consider arranging seating in a circular, half circle, or spiral pattern for an intimate, inclusive feel.
Don't forget the aisle. A carpet of soft moss, a scatter of fresh flower petals, or a simple burlap runner can lead the way. Enhance this magical walk with tall shepherd's hooks, suspending floral arrangements, lanterns or whimsically tied ribbons.
Just remember to balance out decor extravagance with the pristine beauty of your enchanted forest.
Lastly, create magical 'enclosed' feel by stringing delicate fairy lights overhead or draping subtle fabric from the trees. This not only defines your ceremony space but also provides soft illumination for an evening event.
Planning for Seating Arrangements At a Forest Wedding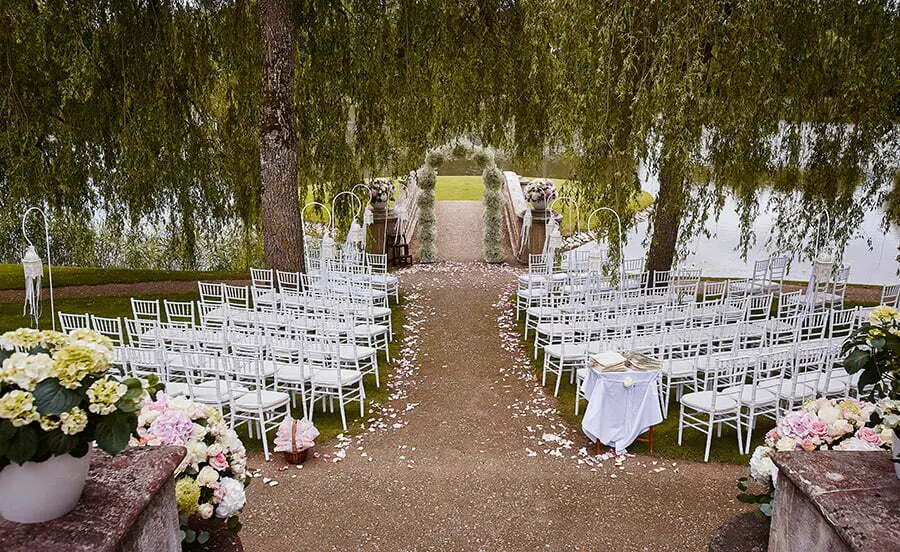 With the gusty winds of the forest and uneven terrain, traditional seating arrangements may prove challenging. However, capitalize on this unique outdoor setting by ensuring your guests are comfortable and enjoy a pristine view of the ceremony.
One popular choice involves positioning white or pastel-colored chairs in a semi-circle around the altar. This configuration not only maximizes visibility but enhances the intimate atmosphere.
Utilizing hay bales, adorned with blankets or vintage quilts, can also evoke a rustic, whimsical charm. More adventurous couples might consider a few tree stumps for seating, mixed with comfortable cushions.
For safety and comfort, remember to smooth out the ground or lay down a pathway to allow easy access for all guests. Whichever seating style you choose, ensure it harmoniously complements the forest décor and respects the natural environment.
Picking a Wedding Reception Menu for an Enchanted Forest Wedding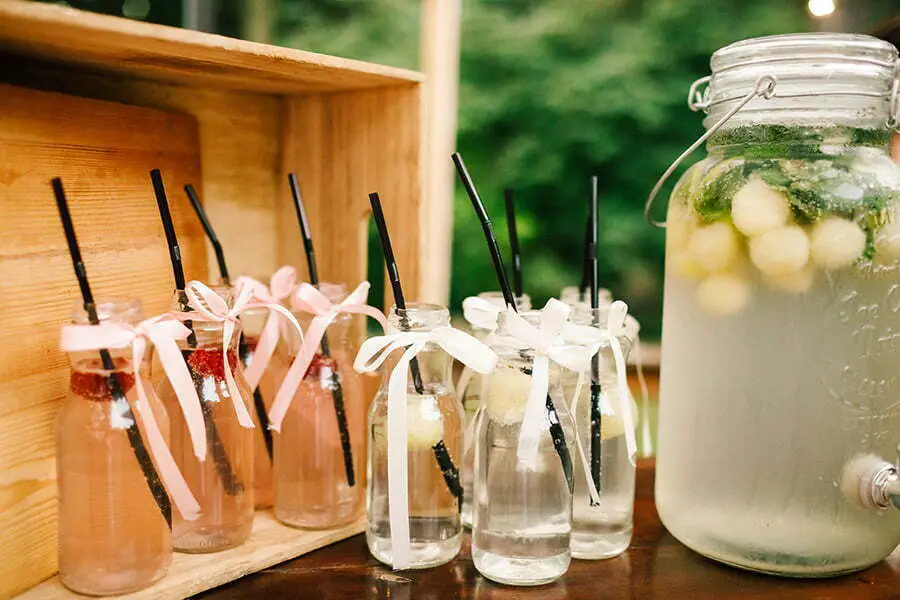 Your reception menu can echo the enchanting forest milieu. Local farm-to-table catering services can deliver both a sustainable option and a fantastic way to celebrate the locale's produce.
Opt for dishes that incorporate herbs, wild berries, or local meats.
Forest-themed desserts such as woodland berry pies or rustic apple tarts can dazzle the party.
If your reception extends into the evening, consider heartwarming fare like a soup station or a s'mores bar to keep guests cozy.
For drinks, incorporate a signature cocktail utilizing local distilleries or vineyards or a custom herbal tea blend.
Remember to provide vegetarian and non-alcoholic options to cater for all guests.
It's about crafting a menu that reflects your theme while ensuring it's delectable and memorable.
Creating an Enchanting Lighting Scheme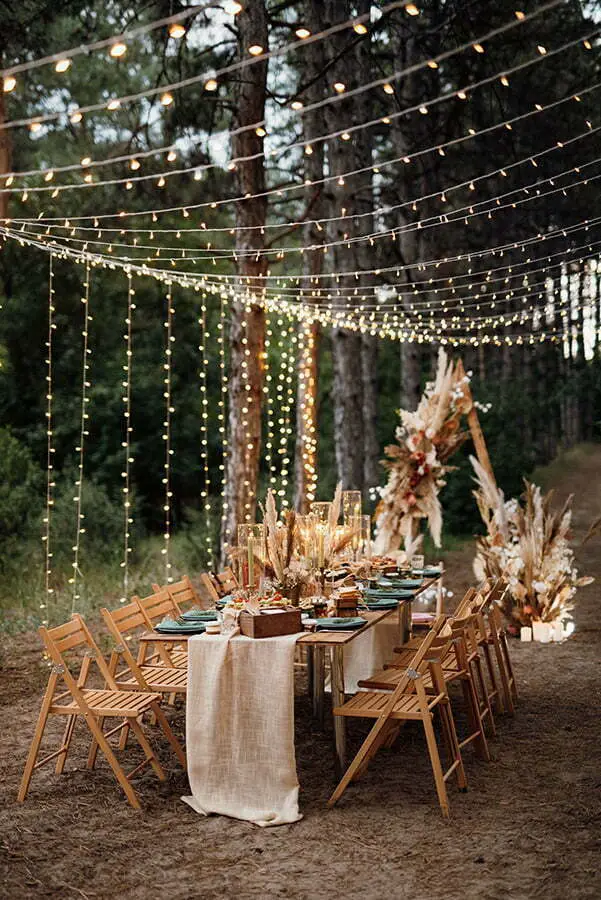 To bring an element of magic to your event, lighting will play an essential role. Imagine twinkling fairy lights draped over branches, casting a soft, warm glow on your guests as the sun starts to set. Opt for LED candles placed in lanterns along the pathway and around the venue, providing a safe and delightful luminescence.
For a pop of color, consider hanging paper lanterns or colored lights. It's essential to ensure all areas are adequately lit for safety, including pathways and restrooms. For a late-night dance, a spotlight could add drama and fun. Don't forget about functional lighting for areas like the food service and parking spots. Always check with your venue about power sources for lighting and rules about open flames before making your final plan.
Forest Accented Wedding Favors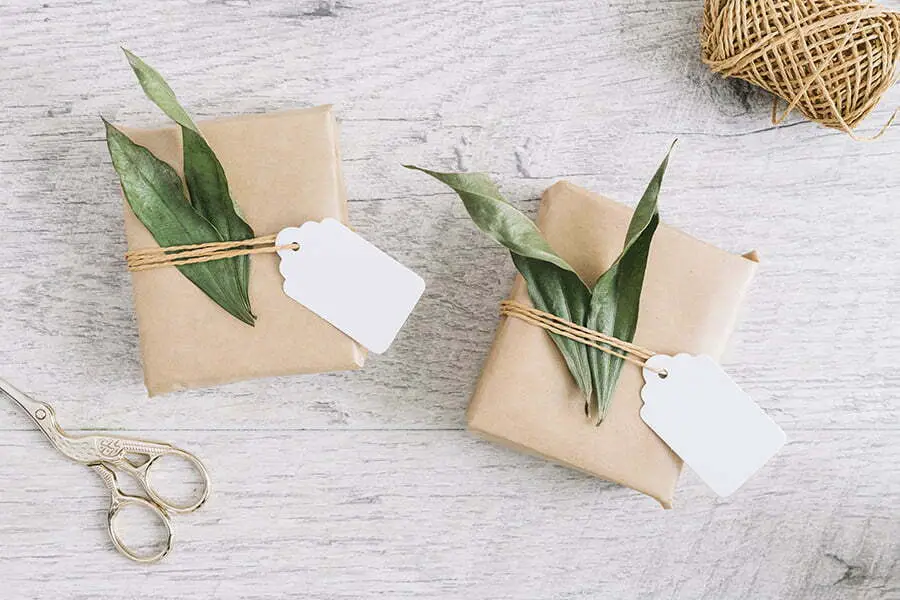 With a nod to your unique nuptials, consider presenting guests with naturally-inspired keepsakes.
Edible treats like jars of locally sourced honey or homemade jams echo the forest's bounty.
Miniature potted plants, like succulents, can add a green touch, or opt for personalized seed packets to let love grow beyond the celebration.
For a more rustic touch, consider engraved wooden coasters or ornaments.
Whichever favor you choose, ensure it encapsulates the enchantment of the forest and your gratitude towards your guests in a meaningful and delightful way.
Weather Contingency Plan for an Outdoor Wedding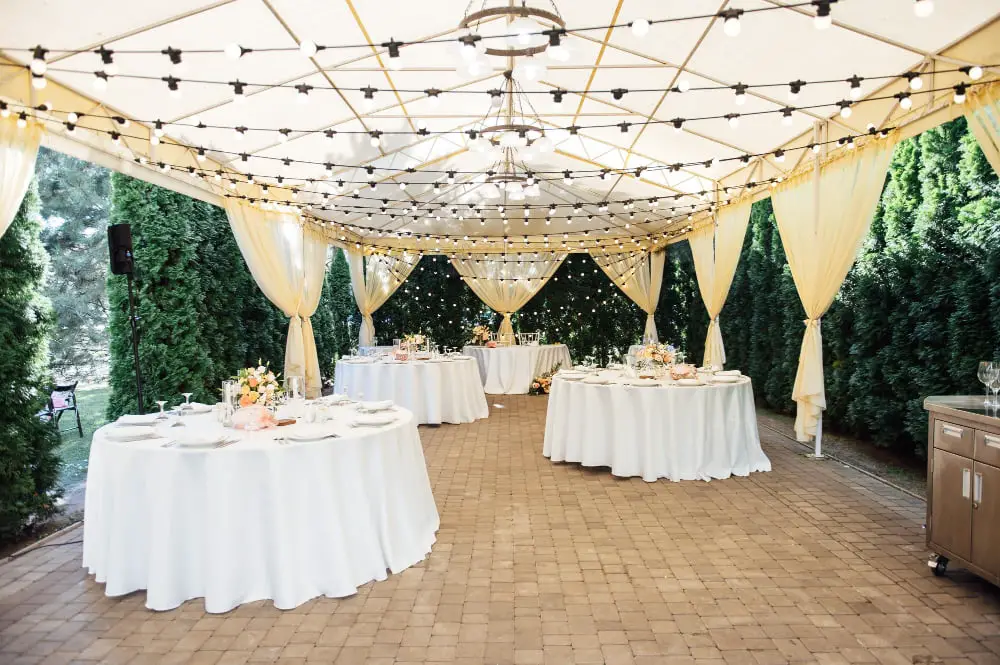 Having a backup plan is crucial, as mother nature can be unpredictably charming.
A tent or marquee provides a practical solution, shielding your guests and service providers from potential adverse weather conditions without sacrificing the forest's mystique.
Additionally, consider renting portable heating or cooling units to make sure your guests are comfortable.
When choosing a venue, opt for one that offers an indoor alternative, which can serve as your plan B.
Lastly, discuss the possibility of rescheduling with your vendors ahead of time, as this flexibility could prove vital if severe weather strikes.
Safety Measures for a Forest Wedding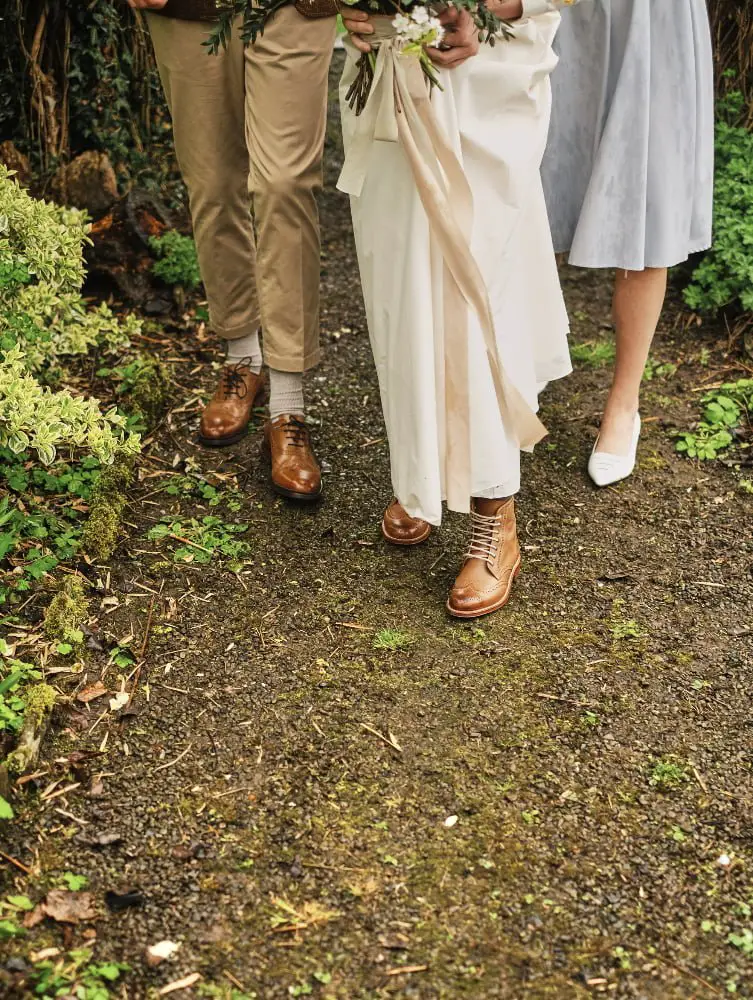 Prioritizing safety is instrumental to ensure a smooth celebration. Start by assessing the site for uneven terrain, dangerous dips, or potential trip hazards. Clearing walkways and seating areas of twigs, rocks, and other obstacles is also essential.
Communicate all possible natural hazards, like poison ivy or insect nests, to your guests in advance, and if needed, organize a pest control visit prior to the wedding.
Additionally, it's essential to have clear, lit pathways from parking areas to the wedding site, especially if your festivities extend into the evening. Allocate a space for a first aid kit, fire extinguisher, and emergency contact list.
Lastly, remember to brief your guests about the wildlife they might encounter and instruct them regarding appropriate behavior to reduce disturbance and potential threats. It's essential to remember that the goal is a memorable day, not a wild adventure.
Choosing Wedding Vendors for Your Enchanted Forest Wedding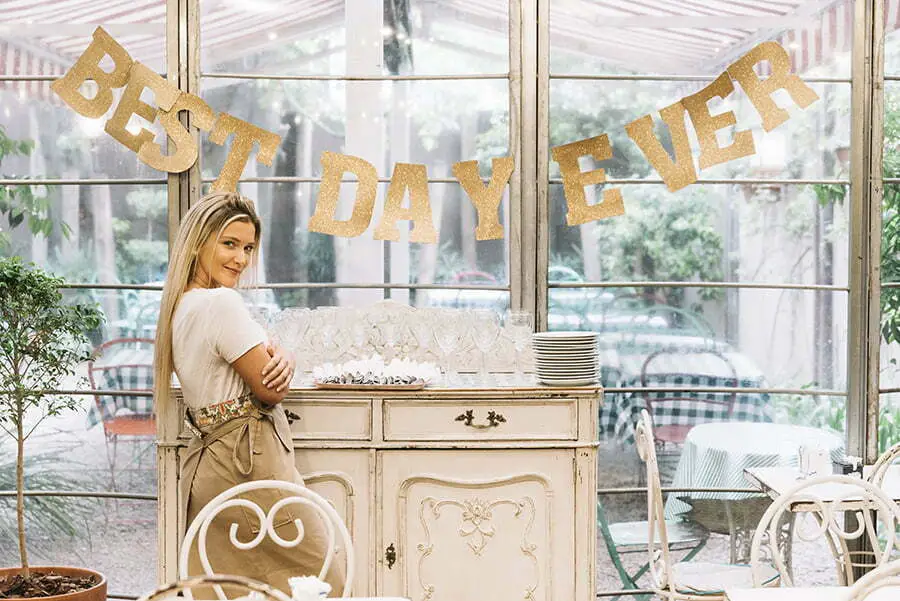 Carefully selected vendors can undoubtedly elevate your event and transform your vision of an enchanted forest wedding into a reality.
While considering photographers, look for those familiar with shooting in outdoor settings, as the play of natural light against the ethereal forestscape can be challenging to capture.
For caterers, seek those offering locally sourced, seasonal foods – this not only complements the theme but also supports the local economy.
An experienced florist can blend fresh blooms with natural elements, creating arrangements that harmonize with the surroundings.
DJs or musicians with outdoor experience will know how to handle their equipment against weather variations.
Integrating professionals who specialize in outdoor and particularly forest events will ensure each aspect of your wedding seamlessly merges with the enchanting woodland environment.
Don't underestimate the role that experienced, themed vendors play in perfecting your dream day. They can skillfully uphold the balance between preserving nature and delivering a magical celebration, embodying the soul of the forest throughout the wedding festivities.
Ensuring Access and Transportation for a Forest Wedding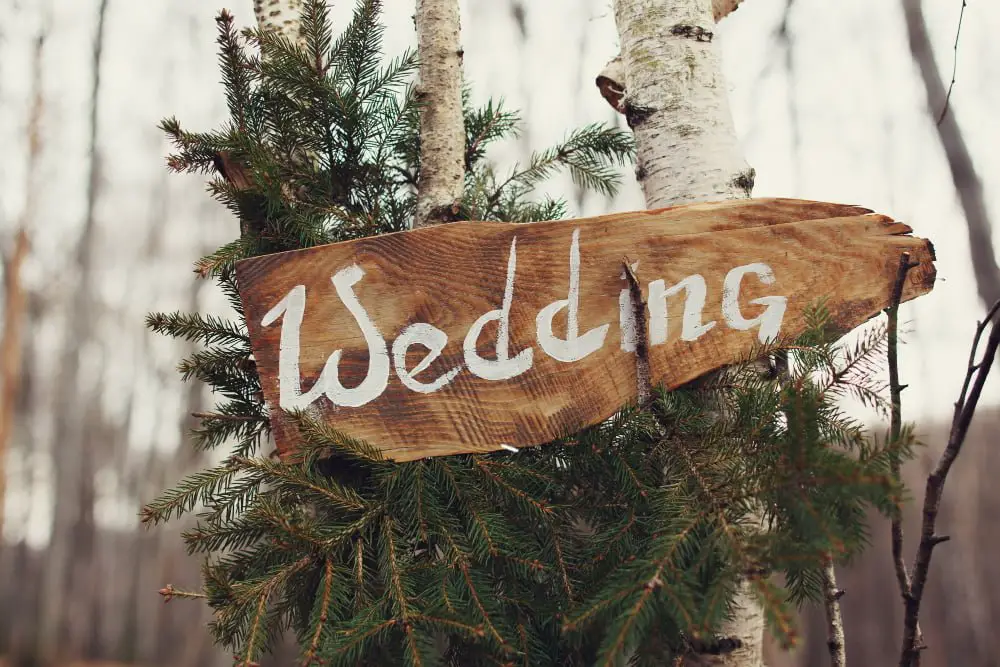 When planning an outdoor celebration in an enchanting woodland setting, transportation and access should be on top of your checklist. Consider the accessibility of the location, especially for guests with limited mobility. Select a scenic yet convenient location with good driveway or walking paths.
An essential element not to be overlooked is parking. Make sure there's ample space for vehicles, or arrange a shuttle service from a nearby parking lot to the wedding location. Coordinating the logistics with your venue manager or wedding planner will help ensure all guests can easily and safely reach your fairy-tale location.
Lastly, always consider signage. Effective, visible signage directing guests to the ceremony and reception areas will be beneficial in preventing confusion. Signage will guide your guests through the experience and contribute to a seamless celebration.
Cleanup Strategy for Post-Wedding in a Forest
Abiding by the 'leave no trace' principle is crucial when hosting a forest wedding to protect the environment.
Prioritize keeping the venue exactly as it was before your event.
Contract a professional cleaning service experienced in outdoor events to ensure all trash is removed, decorations are taken down, and any paths created for the wedding are covered up.
Also, consider assigning a cleanup committee from your guest list who can assist the morning after.
Revisit the area yourself to verify it has been respectfully returned to its natural state.
Doing so allows others to enjoy the beauty of the forest and keeps it safe for the local wildlife.
FAQ
Can you get married in the forest in Colorado?
Yes, you can get married in the forests in Colorado, as these beautiful and scenic national forests serve as affordable wedding venues with magnificent views and are ideal locations for intimate elopements.
What is a whimsical wedding theme?
A whimsical wedding theme is characterized by quirky details, bold color choices, and non-traditional elements, manifesting in various aspects such as colorful invitations, unique wedding cakes, and fun favors.
What are the legal requirements for organizing a forest wedding in Oregon?
In Oregon, to have a forest wedding, one must apply for a special use permit from the U.S. Forest Service, as well as fulfilling standard state marriage requirements such as getting a valid marriage license.
How can you incorporate greenery and florals into an enchanted forest wedding decor?
Incorporate greenery and florals in an enchanted forest wedding decor by using them in arrangements for the altar, aisle runners, place settings, hanging cieling installations, and bridal bouquets, highlighting the natural beauty of the forest setting.
What are some unique seating arrangements for an outdoor forest ceremony?
Consider circular, spiral, or curving rows that mimic natural lines of the forest, facilitating a closer and more intimate setup, or utilizing existing tree stumps and logs for a rustic touch.
Keep reading: