Dive into the world of October outdoor weddings, where autumns' vibrant colors become a beautiful backdrop for your special day.
October outdoor weddings are a magical affair, with the rich hues of autumn leaves serving as a natural backdrop. From selecting the perfect venue, choosing the right decor, to picking season-appropriate attire, and planning a delightful menu, this article offers a comprehensive guide.
It's brimming with tips and ideas to help you plan an unforgettable October outdoor wedding. With every detail meticulously covered, you'll find everything you need to create a celebration that is as vibrant and enchanting as the season itself.
So, let's dive into the world of fall weddings and discover the charm of tying the knot amidst October's splendor.
Choosing the Perfect October Date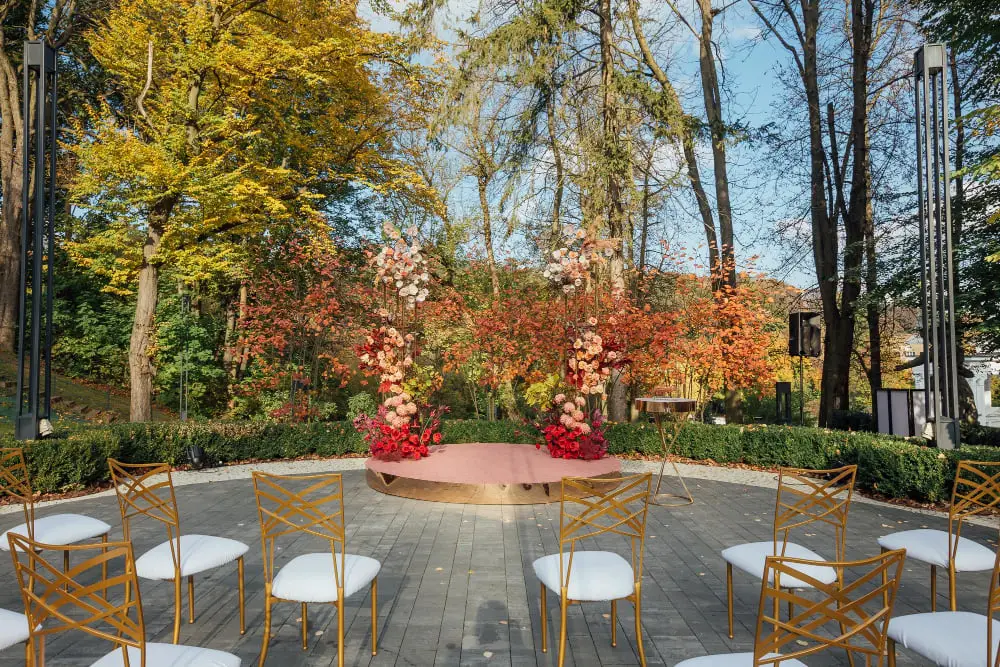 Select a date that reflects the full bloom of the foliage in your chosen locale. Verify the area's typical weather patterns. For instance, some regions might still be in transition between seasons early October, whereas others might be nearing winter chills by the end of the month.
Ensure the selected date aligns with significant other events; it will be more convenient for your guests if it doesn't clash with popular public holidays or school vacations. Lastly, confirm that your dream venue is available on your chosen date.
Balancing nature's aesthetic, weather practicality, and guest convenience will guide you to an ideal October day for your wedding.
Weather Considerations for Outdoor Fall Weddings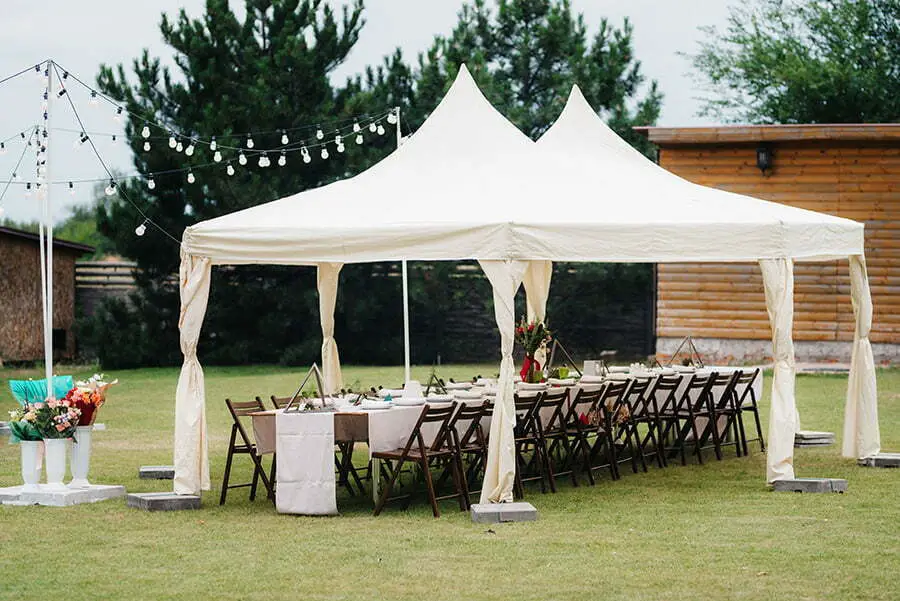 Contingency planning for weather changes is crucial. Being the transitional season, October can bring unpredictable weather patterns.
It could be a sunny day with a crisp autumn breeze or a chilly day with light drizzles. Research the typical weather for your chosen date in your specific location to anticipate potential issues.
Offer comfort items to your guests such as blankets for cold weather or umbrellas for rain. A tent or marquee is an excellent option, ensuring protection from unexpected weather while keeping the charm of the outdoor setting intact.
It's essential to stay updated with the weather forecast leading up to your wedding. Communication with your vendor about possible weather-induced changes is equally important.
Dealing With Potential Weather Challenges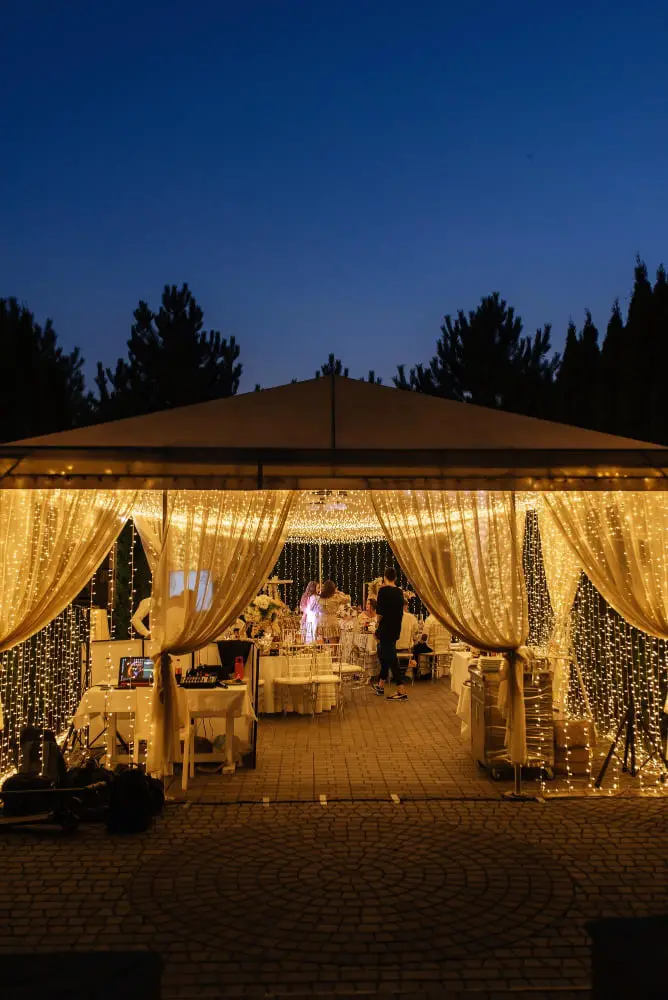 As the beauty of October unfolds, it also brings unpredictable weather changes. Being prepared for sudden weather shifts will ensure your day goes off without a hitch.
Consider offering cozy blankets or pashminas for your guests, especially during late evening ceremonies when temperatures can dip.
Another tip you may want to consider is having a contingency plan, such as a rented tent or an indoor venue, in case of unwelcome showers.
Space heaters spread strategically around the venue can help you beat the cold effectively.
Offering warm beverages like hot cocoa or mulled cider not only complements the season but adds an extra layer of warmth for your guests.
Effective communication about weather possibilities in your invitations will keep everyone comfortably prepared and ready to enjoy the celebrations.
Choosing Colors for October Nuptials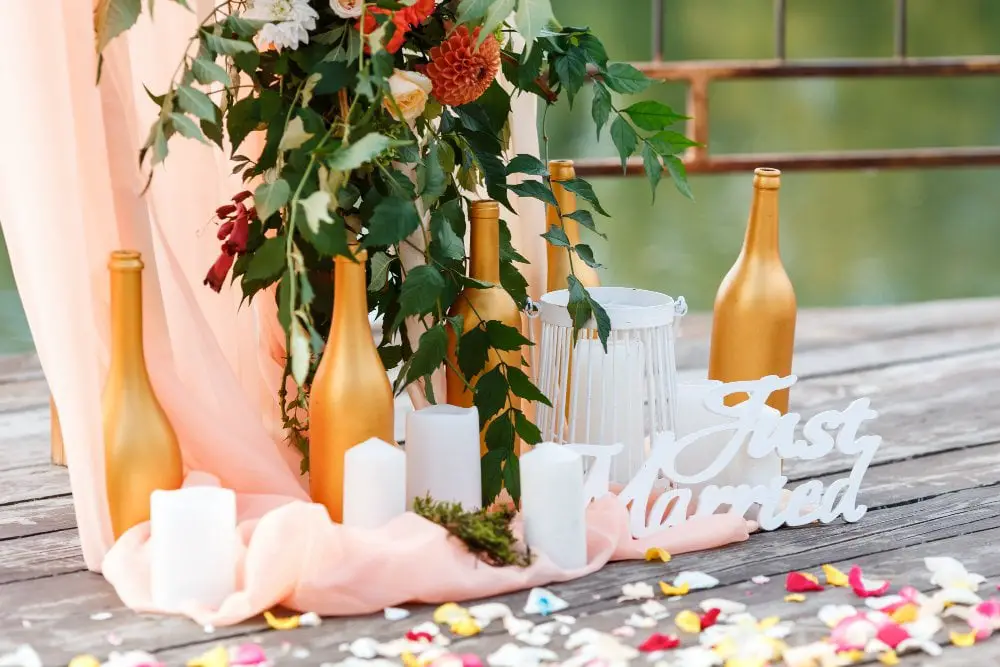 Celebrate the season's rich palette with a thoughtful color scheme for your wedding decor.
Consider combining deep plum, burnt orange, and golden tones, which beautifully reflect the autumn landscape.
For a softer look, perhaps choose hues of dusty rose and sage green, accented by gold or copper metallics for added elegance.
Remember to use these colors throughout your wedding decor, from your centerpieces to your bridal party outfits and invitations.
Experiment with swatches and samples to find the perfect blend of hues that are both seasonal and align with your personal style preferences.
It's all about creating a harmonious visual experience that will leave a lasting impression on your guests.
Outdoor October Wedding Themes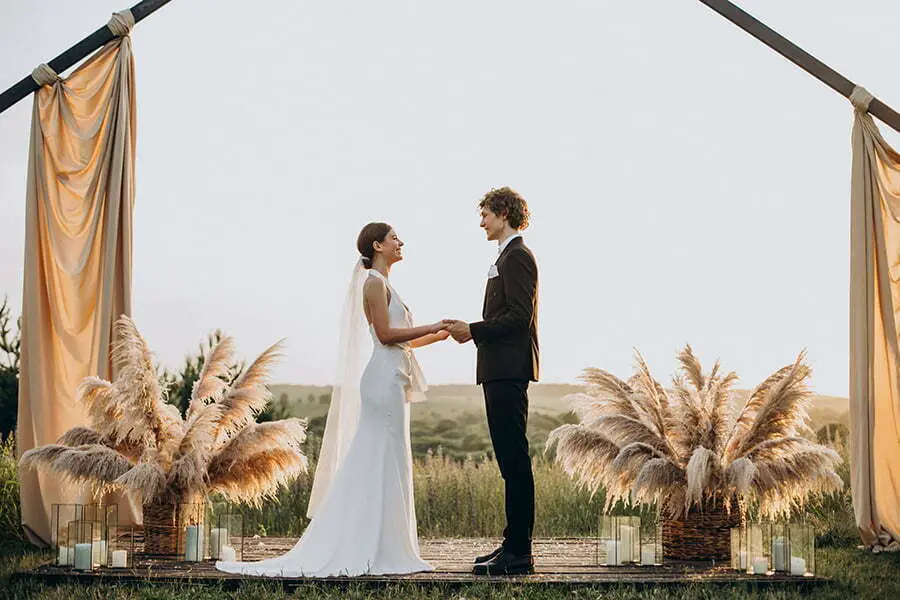 When it comes to themes, the season offers a wonderful selection. There's the classic fall harvest theme, which incorporates elements such as pumpkins, hay bales, and cornstalks.
More luxurious themes can take inspiration from autumn vineyards or woodland settings.
Even Halloween, with its festive and mysterious allure, can serve as a unique motif when done tastefully. Remember, a theme is there to guide your decisions, helping to harmonize your decorations, invitations, colors, and even attire.
Let your creativity flow and express your personality while embracing the abundance of the season.
Embracing Autumn in Wedding Decor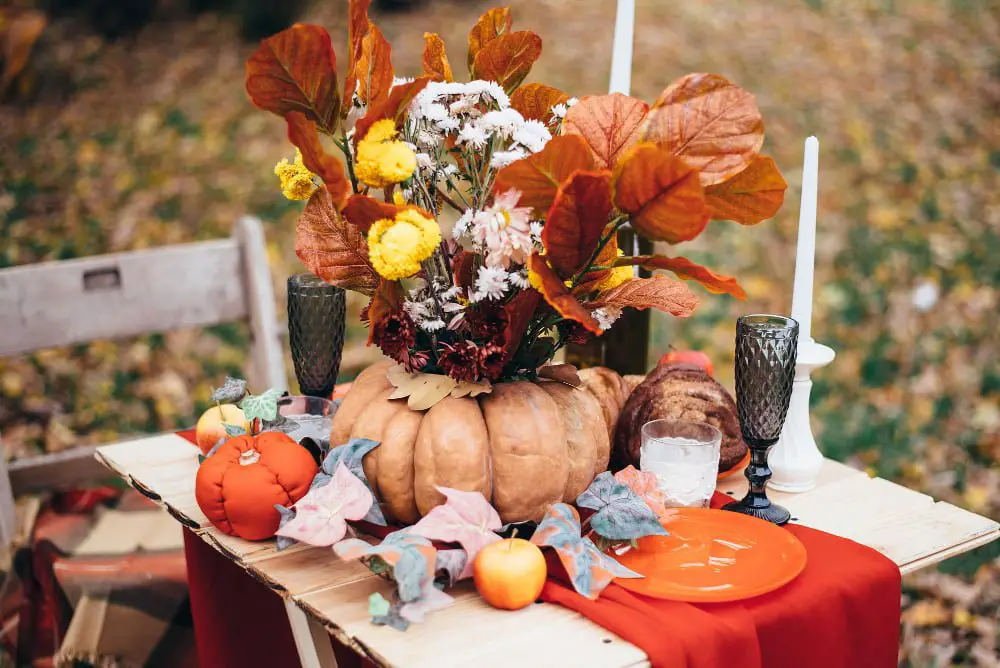 Leverage the natural beauty autumn offers by incorporating elements like pumpkins, gourds, cornstalks, and hay bales into your decor.
Use fallen leaves as confetti, for a more eco-friendly option.
Set the mood with warm outdoor lighting such as candles or string lights, which can enhance the space and create a cozy atmosphere.
Go for earthy, muted hues or bold, rich color schemes to reflect the season.
Remember, an outdoor venue is a canvas; utilize its beauty while integrating the essence of autumn seamlessly.
For tables, consider centerpieces of autumnal foliage, pinecones, or even miniature pumpkins.
All these touches will add to the charm of an October wedding.
Choosing the Right Outdoor Decorations for Your Fall Wedding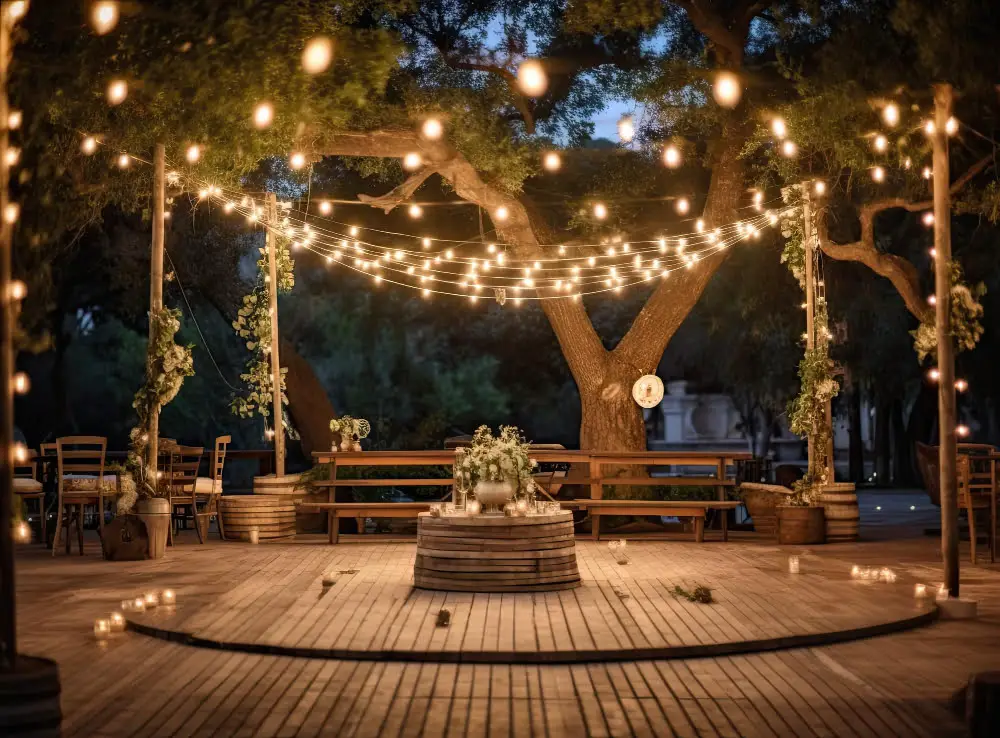 When considering decorations, think about incorporating elements such as pumpkins, gourds, and hay bales to reflect the harvest season.
Marquee letters can give a warm, illuminating glow as the sun sets while draped fairy lights can create a romantic atmosphere.
Table arrangements adorned with autumn leaves, rustic wooden touches, and twine accents can bring in a cozy, seasonal feel.
For seating, consider wooden furniture or hay bales decorated artistically with cozy throws and cushions.
Keep in mind the sunset timings during October. You might want to include some beautiful lanterns and string lights to add an enchanting touch to your evening reception.
Outdoor heaters or cozy fire pits can also be a nice addition, adding warmth and creating a cozy environment for your guests to mingle and celebrate well into the night.
Floral Arrangements for Autumn Weddings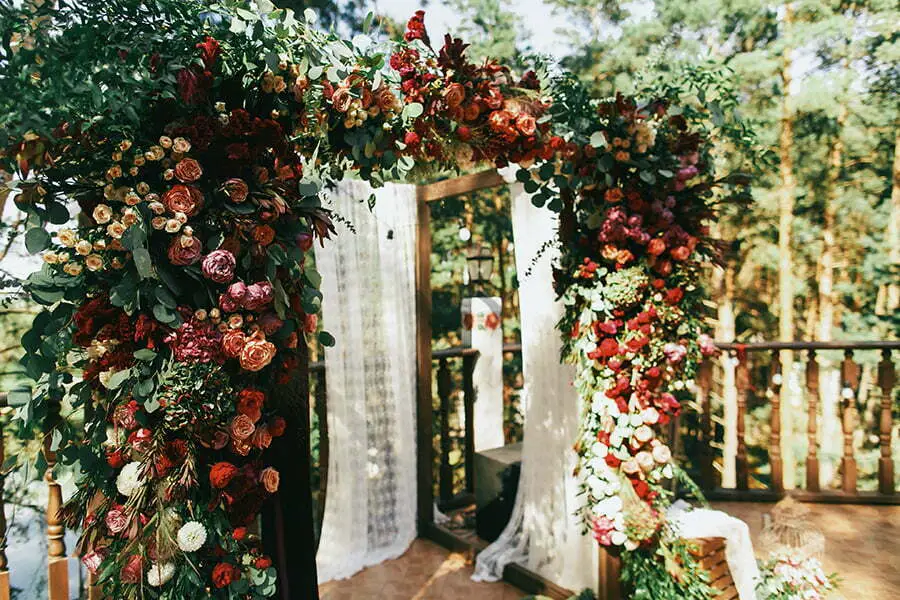 Embrace autumn's color palette with your floral choices to add charm to your wedding. Chrysanthemums, dahlias, and marigolds which come in rich hues offer a nod to the season.
For an elegant touch, consider adding roses, asters and even sprigs of seasonal berries.
Don't forget about incorporating foliage such as oak leaves or ferns, which can add texture and depth to the display.
Opting for seasonal blooms not only harmonizes with the outdoor setting but also is typically more cost-effective.
Whether you desire a rustic or sophisticated look, the versatility of fall flowers enables endless creative possibilities.
Choosing the Best Autumn Florals for Your Wedding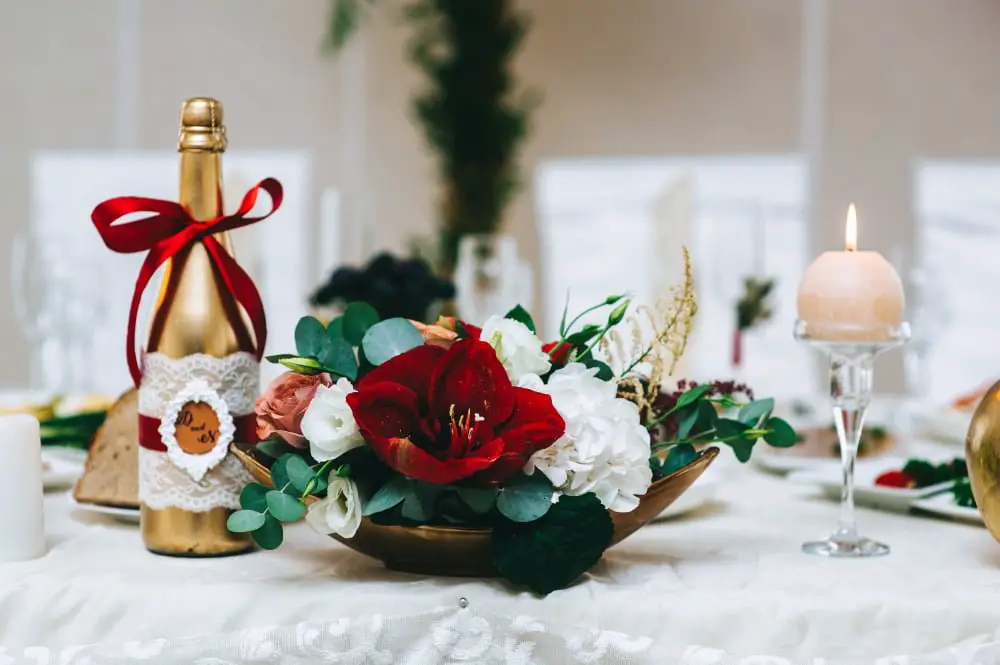 First, consider which flowers are in season during your chosen wedding month. In October, roses, sunflowers, dahlias, and anemones are plentiful, and their robust hues fit flawlessly into an autumnal scheme. Mix and match the fall foliage with these flowers for a seasonal podium.
If your heart is set on a flower that's not in season, speak to your florist about realistic artificial alternatives to stay within your palette.
If you're seeking to create a visual statement, consider arrangements that incorporate autumnal branches, berries, ornamental grasses, or succulents. Adding these unique elements can lend a textured, dimensional appeal to your floral arrangements.
Ultimately, your flower choices should reflect the overall theme and aesthetic of your wedding. So, communicate openly with your floral designer about your vision, preferences, and budget. Their expertise and creativity can bring your October wedding to life with stunning floral compositions that fit perfectly within the season.
Dress Ideas for a Chilly October Evening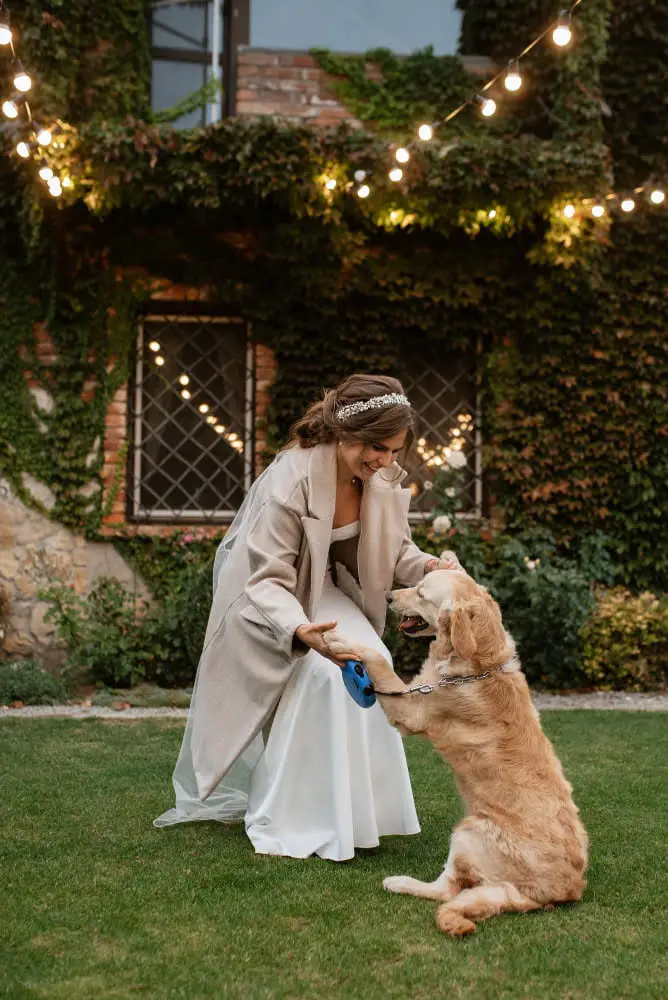 When it comes to attire, staying warm without sacrificing style is essential. Consider fabrics like velvet or silk to provide warmth, elegance, and comfort.
A lace overlay can also add a romantic touch while providing a little extra insulation.
Long sleeves, high-neck designs, and fuller skirts can be charming stylish elements that also keep away the chill.
For men, heavier fabrics like wool or tweed can be great choices.
Consider wraparound shawls, fur lined cloaks or boleros for brides and bridesmaids as stylish, practical add-ons.
Remember, comfort should always be the cornerstone when finalizing attire for a fall wedding.
It is possible to combine fashion with functionality to create a stunning bridal look that suits the season perfectly.
October Wedding Apparel: Dressing Your Bridesmaids and Groomsmen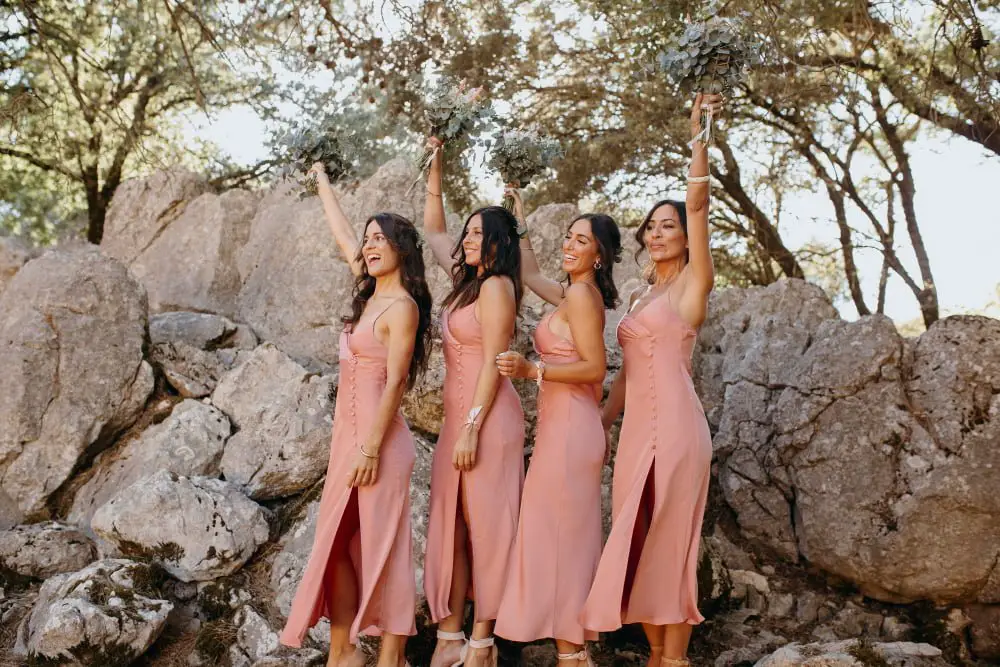 Delightfully mild temperatures that October brings along are a canvas to play with varied clothing options. Consider embracing a warm, jewel-toned palette and thicker fabrics for bridesmaids. Long gowns in fabrics such as velvet can add an element of elegance while keeping them comfortable during outdoor ceremonies and receptions.
On the contrary, groomsmen can opt for three-piece suits, possibly with tweed or wool blends, that are perfect for capturing that classic autumn aesthetic. Remember, comfort equals confidence, so ensure each party member feels at ease in their ensemble.
Consider outdoorsy touches like floral boutonnieres and crowns with autumnal foliage, which can be added to emphasize the season.
Menu Suggestions for Fall Weddings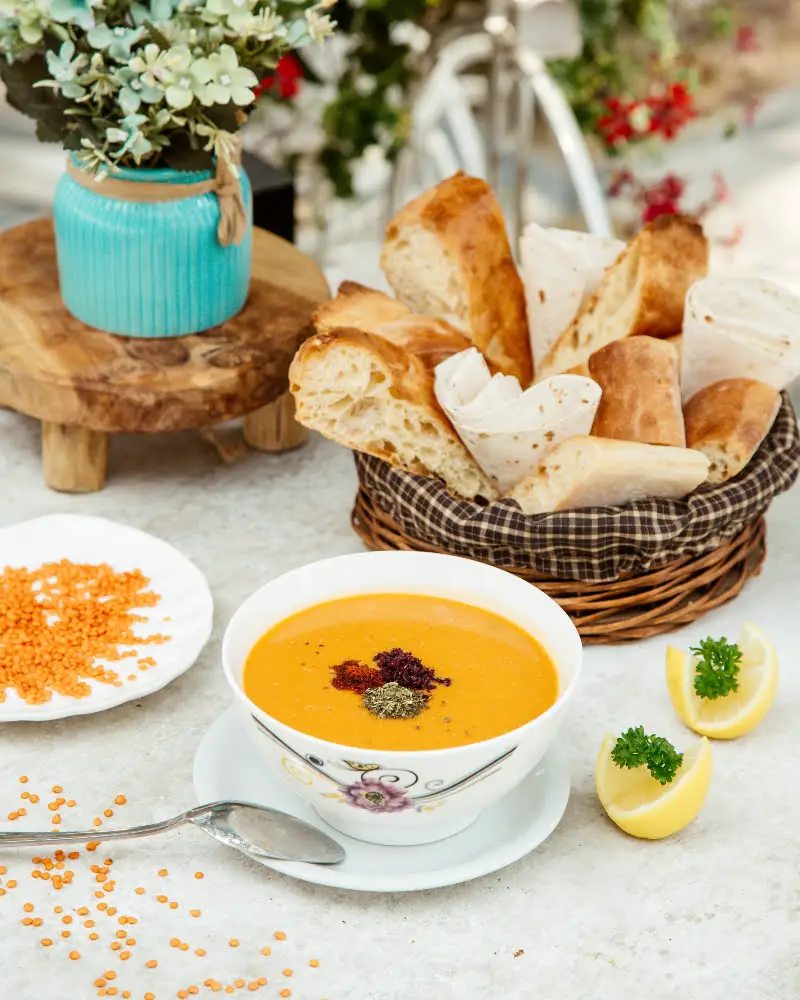 Seasonal foods are the heart of an autumn wedding menu. Start with a hearty soup, like squash or pumpkin, served in rustic bread bowls.
For the main course, consider hearty meat dishes, such as roast beef or chicken pot pie. Vegetarian options could include a quinoa-stuffed bell pepper or mushroom risotto, capturing the warmth and richness of fall flavors.
Side dishes should include seasonally appropriate vegetables like roasted root veggies or Brussels sprouts.
End the meal on a sweet note with classic fall desserts; think apple tarts, pumpkin pies, or pecan brownies.
Don't forget the warm beverage station with options like hot chocolate, apple cider, and a variety of coffees and teas. Incorporating these seasonal flavors can make your menu a memorable part of your big day.
Choosing Seasonal Desserts for Your October Wedding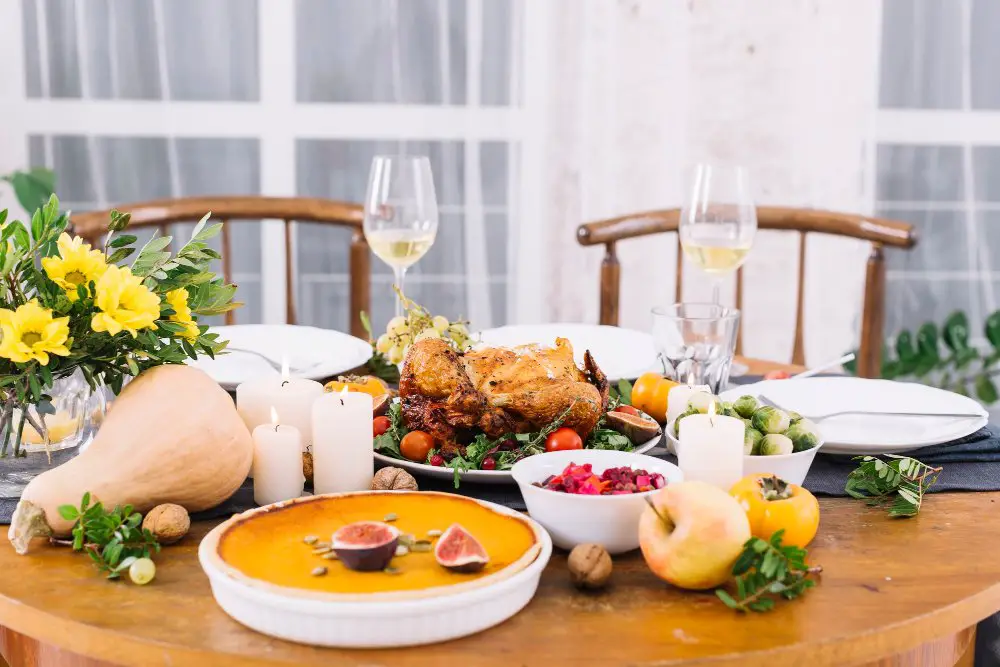 Delighting your guests with a dessert that captures the essence of the season is among the highlights of a fall wedding.
Integrate fall flavors like pumpkin, apple, and cinnamon into your dessert line-up for an authentic October culinary experience.
Consider a pumpkin spice cake, an apple pie, or a caramel-dipped pear station.
Warm beverages like apple cider or hot chocolate can serve as a complementary treat.
For a truly memorable experience, opt for a s'mores bar, ensuring your guests enjoy a cozy and delicious end to the celebration under the autumn stars.
Don't forget, many top bakeries create beautiful and delectable seasonal-themed treats that are bound to leave your guests impressed.
Budgeting for an October Outdoor Wedding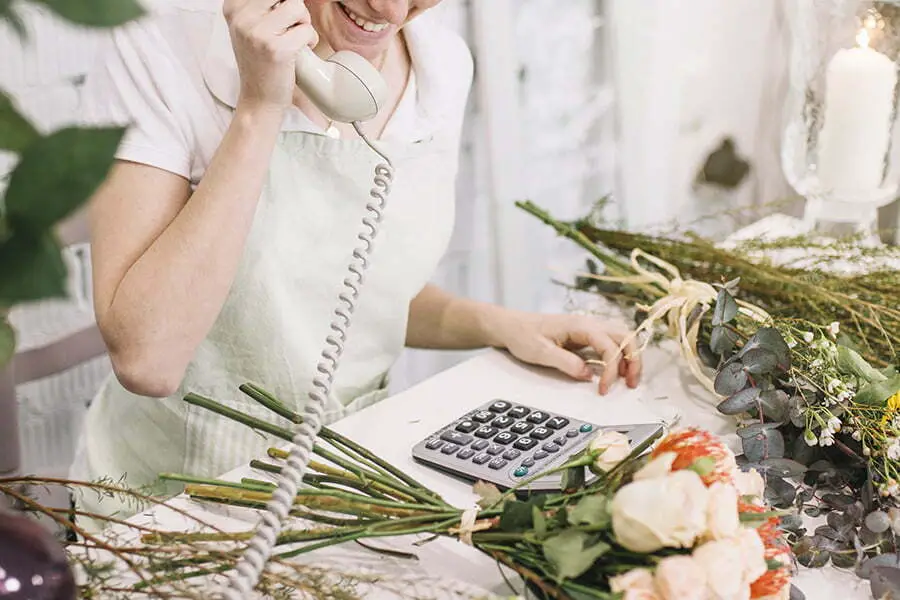 Consider the costs associated with a fall event like renting a tent to shelter guests from weather elements, or heaters to keep the temperature comfortable during chilly evenings.
Remember to factor in potential additional expenses such as rental lights for shorter autumn days or special transportation should your venue be off the beaten path.
Catering options can be less expensive during this period, owing to a wide array of cheap, seasonal produce available.
Finally, being off-peak season, vendors might be willing to negotiate prices, which could lead to significant savings.
Thus, astute planning and budgeting should include these dynamics specific to October outdoor weddings while ensuring the grandeur remains uncompromised.
Mistakes to Avoid in Planning an October Wedding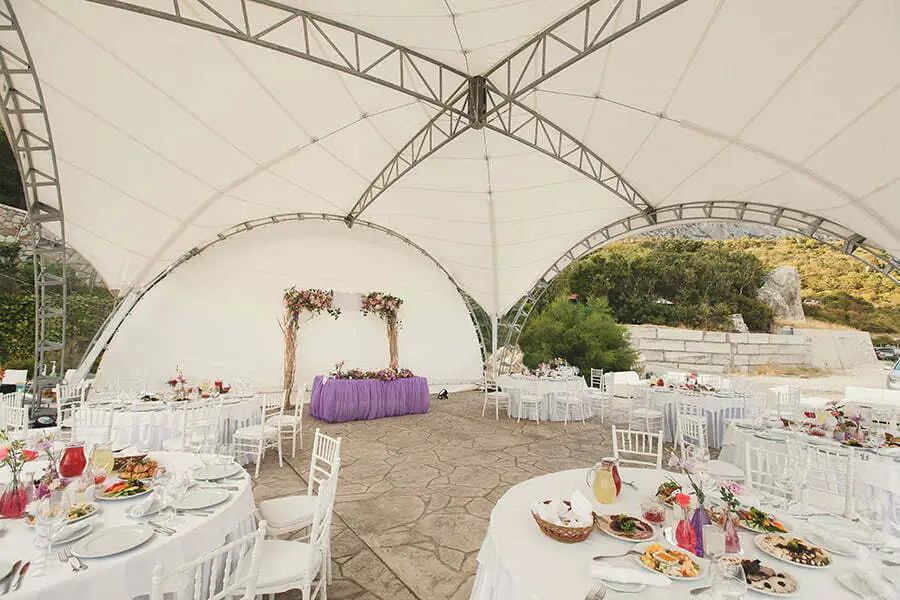 The lure of a beautiful outdoor wedding in October can sometimes overshadow practical considerations, leading to unforeseen pitfalls. First and foremost, always have a robust backup plan in case of unexpected weather changes. Don't assume that Mother Nature will cooperate with your plans.
Next, be mindful not to overdo autumn-themed decor. While it's easy to get carried away with pumpkin centerpieces and hay bales, excessive theming can feel overwhelming and clichéd. Aim for a balanced scheme that complements rather than overshadows your setting.
Lastly, be aware of your guests' comfort, particularly as nighttime temperatures can drop dramatically. Adequate heating options, including fire pits or patio heaters, and cozy blanket favors can ensure a comfortable experience for all your guests.
By sidestepping these common missteps, your October outdoor wedding can truly encapsulate the magic of the season without any undue hassle.
Incorporating Seasonal Elements in Photographs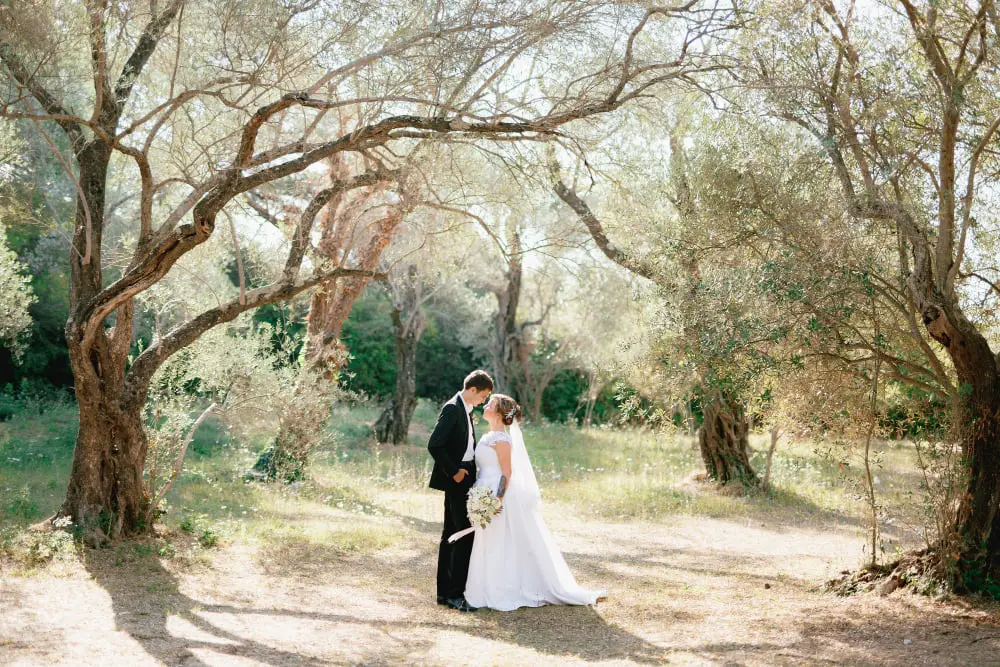 One beautiful aspect of October weddings is the natural spectacle of changing leaves, pumpkins, and gourds, all offering vibrant color palettes.
Utilize these as photo props, or backgrounds for brilliant, season-inspired pictures.
Direct your photographer to capture photos amidst leaf-strewn pathways or under canopies of colorful trees.
Include close-up shots of your rings on fall foliage or pumpkins to add a distinctive touch.
Also, don't miss the golden hour photos, when the autumn sun casts a soft, warm glow, creating a romantic atmosphere perfect for couples' portraits.
FAQ
Is October too cold for an outdoor wedding?
No, October is not too cold for an outdoor wedding, considering the cooler weather and falling leaves in the Midwest and East Coast, as well as the cooler temperate weather in the Southwest.
Is October a fall wedding?
Yes, October is indeed considered a perfect month for a fall wedding due to its temperate weather and beautiful changing leaves.
What is a good time to start a wedding in October?
A good time to start a wedding in October would be around 5-6 pm due to the setting sun around 6:30 pm.
What is the best month to get married outside?
The best months to get married outside are June, September, and October due to their typically mild, temperate weather and lower risk of extreme conditions.
What are the best outdoor wedding venues for October?
In October, the best outdoor wedding venues include the vividly hued botanical gardens, rustic vineyards in full harvest, apple orchards draped in autumn colors, and beachfront locations offering temperate weather.
How can one effectively utilize October's natural scenery for an outdoor wedding?
One can effectively utilize October's natural scenery for an outdoor wedding by incorporating vibrant fall foliage, pumpkins, and warm-toned floral arrangements for a rustic autumn aesthetic.
What are some fitting color schemes for an October outdoor wedding?
For an October outdoor wedding, consider color schemes that embrace the autumn season such as deep reds and oranges, soft peaches and creams, or rich burgundy and navy tones.
Keep reading: