Explore the charm and romance of outdoor pre-wedding poses that beautifully capture your love story against Mother Nature's breathtaking canvas.
Outdoor pre-wedding photo sessions are a fantastic opportunity to capture the essence of your relationship in a relaxed and natural setting. The right poses can truly elevate the quality of your pictures, making them memorable keepsakes of your pre-wedding phase.
This article provides you with a comprehensive guide on the most stunning and romantic outdoor pre-wedding poses. From playful and candid to intimate and serene, we cover a wide spectrum of poses that resonate with diverse couple dynamics.
As you navigate through this guide, you'll find detailed descriptions, expert tips, and visual references that will help you and your partner strike the perfect pose with ease and confidence. So, whether you're looking for inspiration or guidance, this article is your go-to resource for all things related to outdoor pre-wedding poses.
Choosing the Perfect Outdoor Location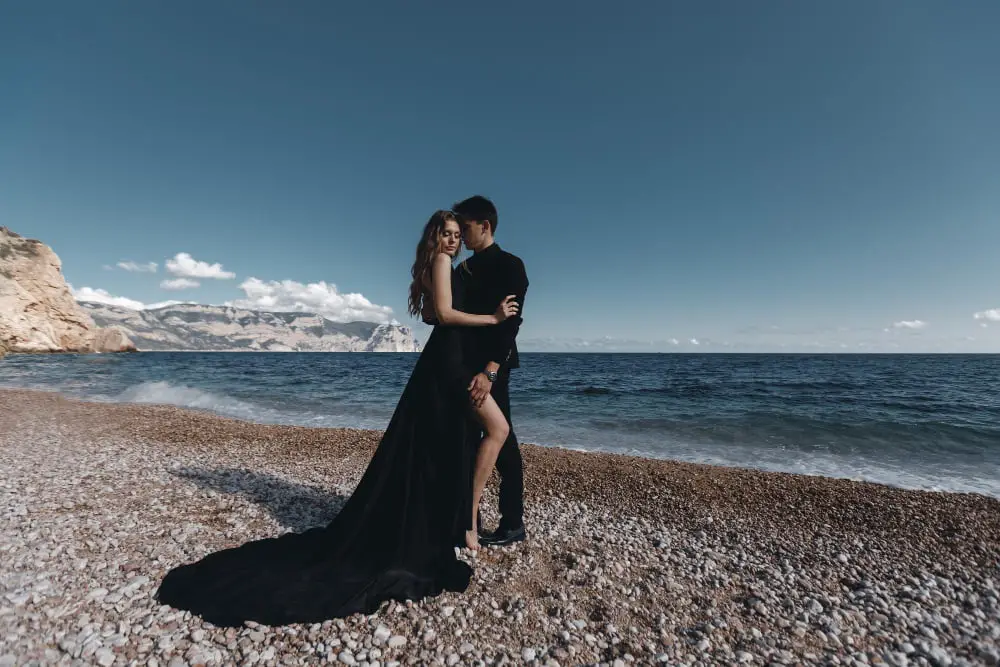 Your location choice significantly impacts the overall aesthetic of your photos, so ensure it has sentimental value or aligns with your personal style. Natural landscapes like beaches, forests, or mountains offer a serene and timeless backdrop while urban settings like city streets or architectural landmarks give an edgier, modern vibe. If you prefer a more whimsical theme, blossom orchards, lavender farms, or vineyards might be your go-to.
Remember, the ideal place needs to be a harmonious blend of your attire, your preferred pose style, and lighting conditions. It's an intricate ballet of elements that, when perfectly coordinated, can produce truly magical results. Explore multiple options, scout in advance, and consider logistical aspects like permissions, crowd, or time of the day to ensure a smooth, memorable pre-wedding photo session.
Stunning Locations for Outdoor Pre-Wedding Shoots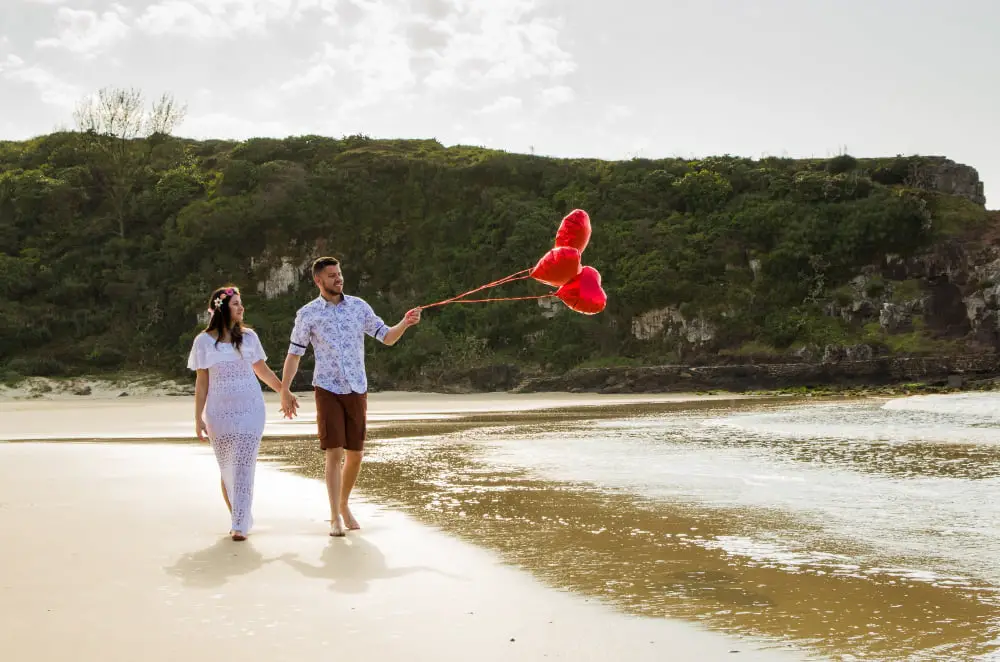 Scenic beaches offer the perfect blend of tranquility and drama for a passionate photo. The crashing waves, golden sands, and spectacular sunsets provide a stunning backdrop.
Botanical gardens and parks, with their lush greenery and floral blooms, create a serene and picturesque setting. They offer multiple locations within one venue, making for a varied and vibrant photo album.
Urban landscapes, combining architecture and city lights, appeal to modern couples seeking a more edgy and contemporary vibe.
Lastly, consider historic sites. Grand castles or rustic barns emanate a timeless elegance and rich texture, providing depth and interest to your photos. Whether it's a mountainous landscape or a quiet lakeside, the location you choose should reflect your personal story and style.
Classic Pre-Wedding Poses to Try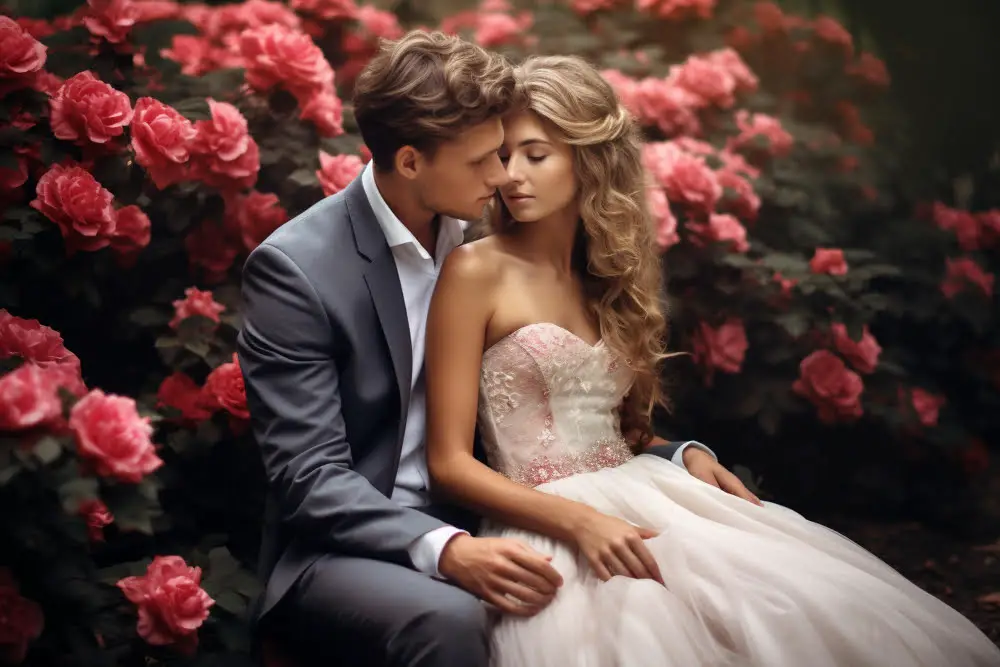 Embracing the timelessness, there are several pre-wedding poses that have remained popular throughout the years. The candid walking pose is one such classic, capturing the couple strolling arm-in-arm, lost in their conversations.
Another endearing pick is the back-to-back pose where both partners lean against each other, symbolic of the support they provide one another.
Keeping it simple yet full of emotion, the forehead touch or the serene gaze into each other's eyes is another classic. Much more than just poses, these moments hint at the intimacy and depth of the couple's relationship.
It's essential to ensure any such poses feel natural and relaxed to effectively portray authenticity and raw emotion.
Unique Poses for Pre-Wedding Shoots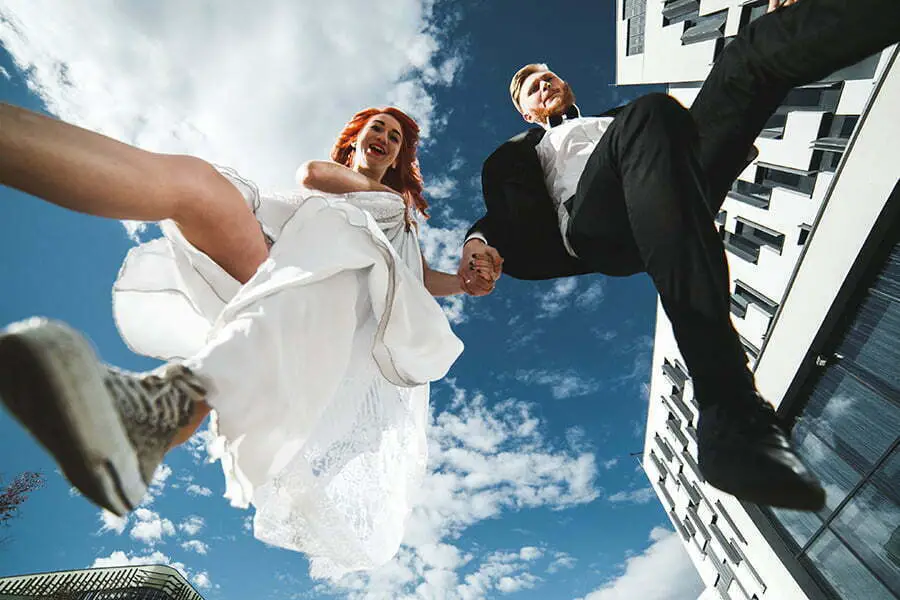 Take a step beyond the conventional to give your session a truly distinctive touch. Try out 'playful chase', where one of you runs while the other chases; it's not only unique but also adds a fun element to the click.
'Mirror reflection' might be another mesmerizing option, where the couple's reflection on serene lake water adds depth to the shoot.
'Silhouette shots' at dusk can give an intimate edge ensuring a perfect balance between drama and elegance.
Capturing a 'stolen moment', such as a surprise kiss or a secret whisper, can add candid magic to your album.
Such extraordinary styles guarantee refreshing visuals that stand out.
Incorporating Props in Your Poses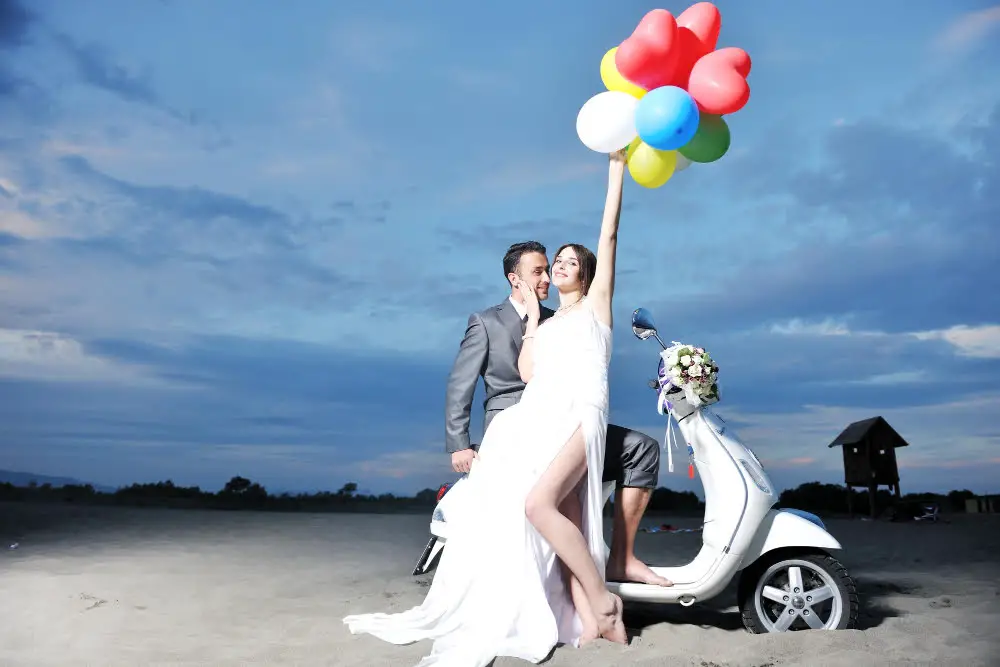 Carefully selected props can add a personalized touch to your photos, making them more representative of your unique relationship. Think about your interests as a couple.
Do you both love reading? A pair of books can make for a charming photo. If music is your shared passion, including a guitar or a vintage record player can create a remarkable shot.
For nature lovers, simple elements from your surroundings like flowers, leaves or a pretty parasol can amplify the outdoor vibe. Floaty fabrics can create dynamic photos, especially if there's a little wind. Balloons also can add an element of fun and whimsy.
Wedding-related props like the save-the-date sign can give a relevant twist. If you are comfortable with larger props, an elegantly decorated bicycle, a vintage car or a calming canoe can provide myriad beautiful posing opportunities.
Just remember, the purpose of props is to enhance your images and showcase your personalities, not to overshadow the love and connection between the two of you.
How to Pose With Outdoor Lighting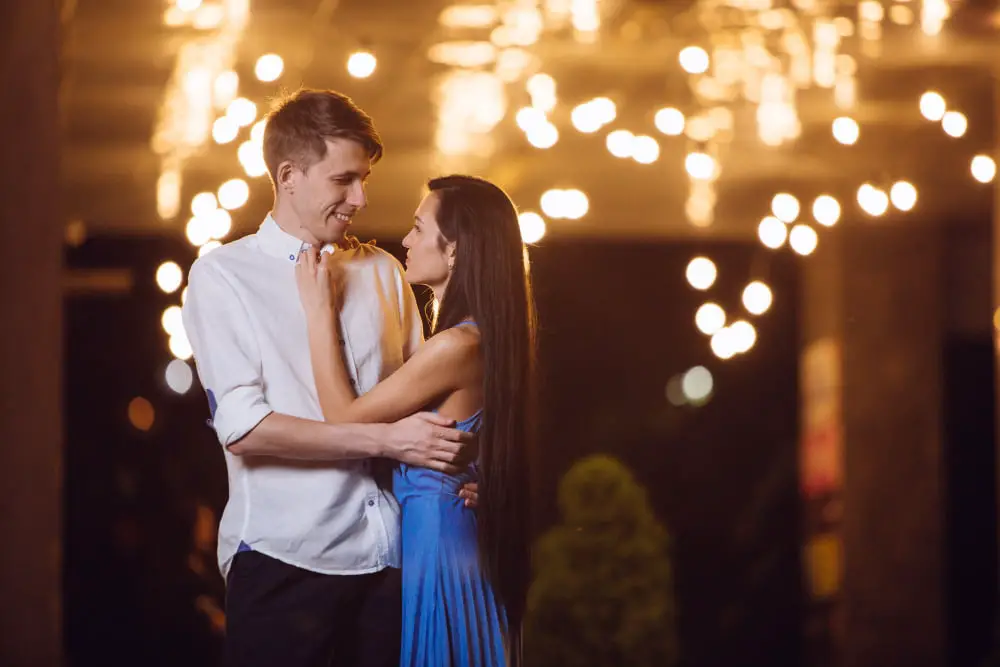 When using the sun as your light source, timing is key. Opt for the golden hours, early morning or late afternoon, where the sun offers a warm, flattering glow.
Proceed with direct sunlight with caution; while it can add dramatic shadows, it may also lead to squinting or overexposed shots.
With cloudy skies, you're blessed with soft, diffused light, eliminating harsh shadows. But remember to adjust your camera settings for white balance as it tends to cool down the color temperature.
When it comes to artificial outdoor lighting, pose near a softly lit lantern or string lights for an enchanted, fairy-tale effect.
Regardless of the light source, ensure it's in front or at a 45-degree angle in relation to you, focusing on your face to avoid backlit photos.
Shooting Pre-Wedding Photos in Natural Light
Understanding the nuances of natural light is crucial to ensure your photo-shoot's success. You should consider scheduling your shoot either in the golden hour, that is, right after sunrise or just before sunset, when the light is beautifully diffused and warm. Such lighting conditions inject soft, dreamy tones into your images and make you and your partner look radiant.
Consider experimenting with sunflares for a whimsical and fairy-tale impression. It's the photo effect that you get when the sun sits just at or within the edge of the camera frame. For photographing silhouettes, shooting against the sunlight is your best bet. Remember to position yourselves between the camera and the light source for the perfect silhouette shot.
To harness the potential of natural sunlight, definitely communicate your objectives with your professional photographer. Their technical expertise paired with your creative ideas can result in some unforgettable pre-wedding photographs!
FAQ
When should you post pre wedding photos?
Pre-wedding photos should ideally be taken at least two months prior to the wedding date to allow ample time for post-processing and potential use in wedding invitations.
What is a pre wedding photoshoot called?
A pre-wedding photoshoot is also commonly referred to as an engagement shoot.
How should I pose for a flattering wedding photo?
For a flattering wedding photo, ensure to stand up straight, roll your shoulders back and bring your chin forward.
What are some creative theme ideas for a pre-wedding photoshoot outdoors?
Some creative outdoor theme ideas for a pre-wedding photoshoot include a whimsical forest fairy-tale, a rustic countryside, a relaxed beach setting, a quintessential vineyard, a bohemian desert landscape, a sophisticated cityscape, a vibrant floral garden, or a stunning mountain backdrop.
How can the natural surroundings be incorporated into pre-wedding photography?
Natural surroundings can be incorporated into pre-wedding photography by using the elements, like water bodies, flowers, sunsets, mountains or greenery, as backgrounds or props, thereby enhancing the romantic essence of the photos.
Can weather conditions influence the outcome of an outdoor pre-wedding photoshoot?
Yes, weather conditions, including sun, rain, wind, and temperature, can greatly influence the outcome of an outdoor pre-wedding photoshoot.
Keep reading: