Discover the secrets to planning a captivating surprise element for guests at an outdoor wedding. Leave them in awe and create unforgettable memories.
Picture this: the sun is shining, birds are chirping, and the scent of fresh flowers fills the air. You're at a beautiful outdoor wedding, surrounded by loved ones and celebrating a special couple's love.
Everything seems perfect until – Wait, what's that? Suddenly, there's an unexpected twist that leaves everyone surprised and delighted.
Adding a surprise element to your outdoor wedding can take it from beautiful to unforgettable. As someone who has attended many weddings and written extensively about them, I know just how much guests appreciate those little moments of unexpected joy.
In this post, I'll share some creative ideas for incorporating surprise elements into your outdoor wedding. Whether you're looking for something fun or sentimental (or both!), these suggestions will help you create a truly memorable event for everyone involved.
So grab a notebook and pen – it's time to start planning!
Choose a Theme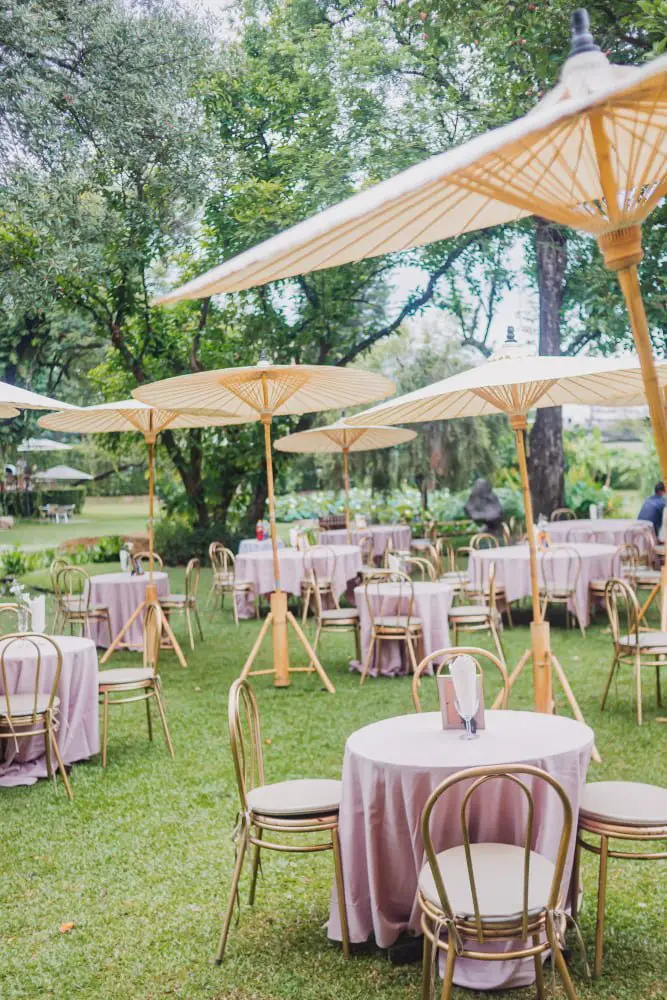 When it comes to planning a surprise element for your outdoor wedding, choosing a theme can be an excellent starting point. A well-executed theme can create an immersive experience that will leave guests talking about your wedding for years to come.
Think about the couple's interests and personalities when selecting a theme. For example, if they love traveling, you could incorporate elements from different countries into the decor or have guests sign in with passports instead of traditional guest books.
Another idea is to choose something unexpected like a carnival or circus-themed event. You could set up games and activities such as ring tosses or balloon darts that will keep everyone entertained throughout the day.
Unique Venue Selection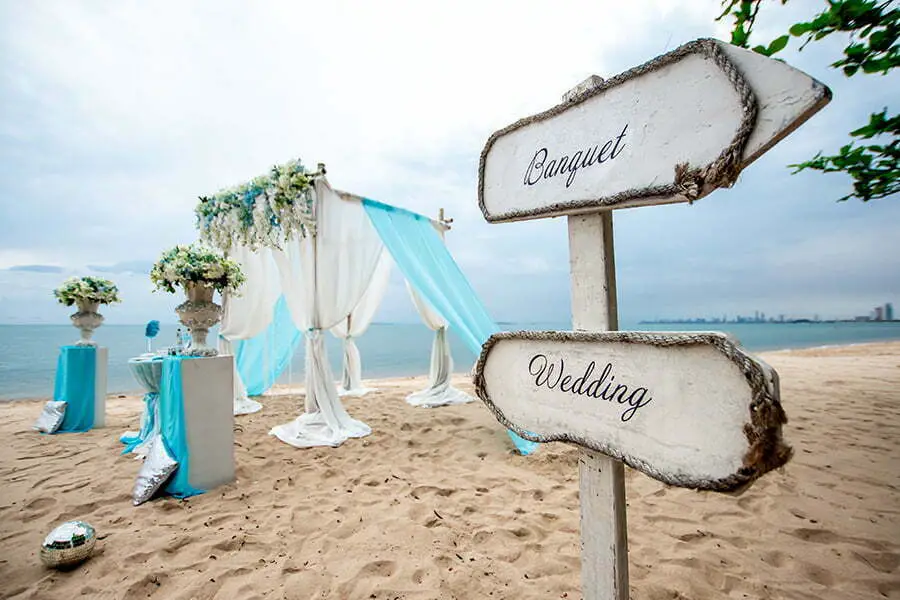 Choosing a unique location can add an element of surprise and excitement for your guests. Instead of opting for a traditional ballroom or garden setting, consider something out-of-the-box like a vineyard, beachfront property or even on top of a mountain!
A unique venue will not only provide stunning views but also create lasting memories that you and your guests will cherish forever.
Plus, it's sure to be the talk of the town long after your big day has passed. Before selecting any unconventional location though make sure that they have all necessary amenities such as restrooms and electricity supply so that everything runs smoothly on your special day.
Unexpected Entertainment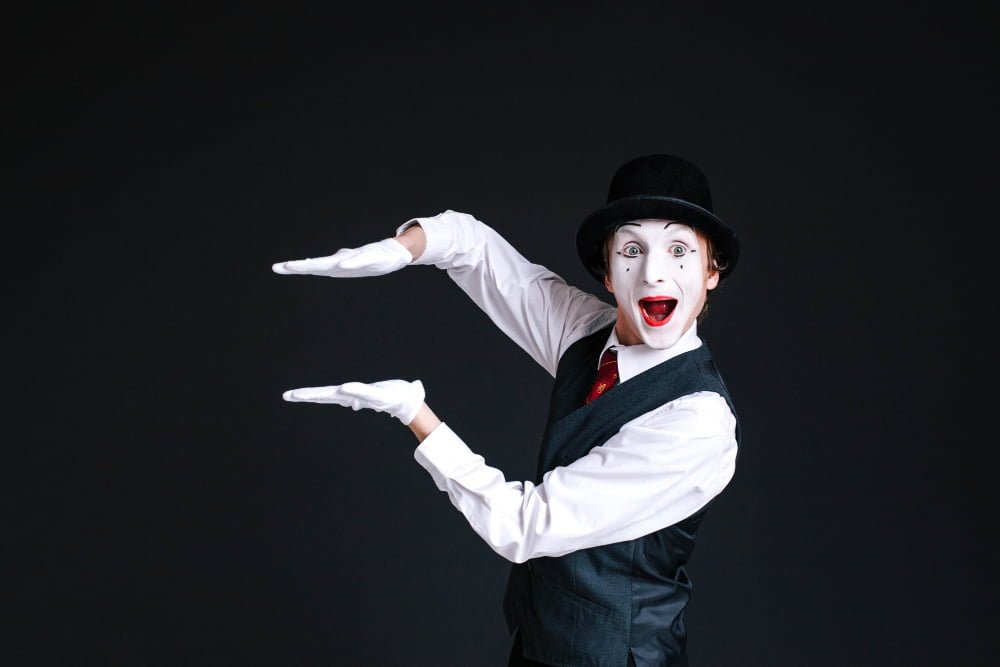 From lawn games to live music, the possibilities are endless. But if you really want to surprise your guests and create a memorable experience, consider adding unexpected entertainment.
One idea is hiring a magician or illusionist who can perform during cocktail hour or dinner service. Guests will be amazed by their tricks and illusions while they mingle and enjoy drinks.
Another option is bringing in an aerialist or acrobat for a stunning performance that will leave everyone in awe. This type of entertainment works particularly well for outdoor weddings with high ceilings such as tents or open-air venues.
If you're looking for something more interactive, consider setting up a photo booth with fun props like oversized sunglasses and hats that guests can use throughout the night. Or hire caricature artists who can draw portraits of your guests on-site as keepsakes from the wedding day.
Whatever form of unexpected entertainment you choose, make sure it fits within your overall theme and adds value to the guest experience without overshadowing other important elements like food and drink service.
Creative Food Stations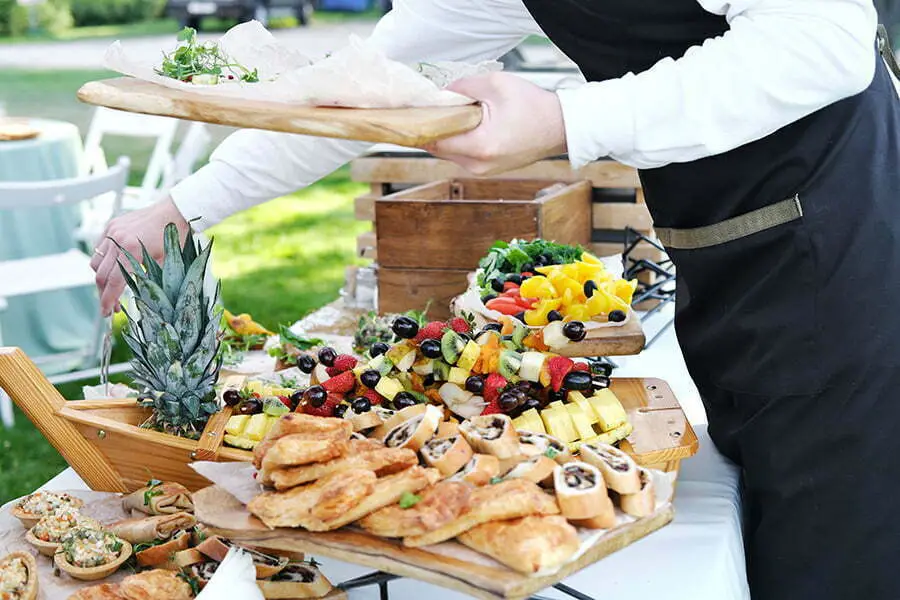 Instead of the traditional sit-down dinner, consider setting up creative food stations that will leave everyone talking about your wedding long after it's over.
Think outside the box when planning these stations – you could have a DIY taco bar with all the fixings, or perhaps a gourmet popcorn station with unique flavors like truffle oil or cinnamon sugar. You could even set up an ice cream sundae bar complete with toppings galore!
Not only do these creative food stations provide delicious options for guests to enjoy throughout the night, but they also serve as interactive experiences that can bring people together and create lasting memories.
As you plan your outdoor wedding menu, don't be afraid to get creative and think beyond traditional catering options.
Personalized Favors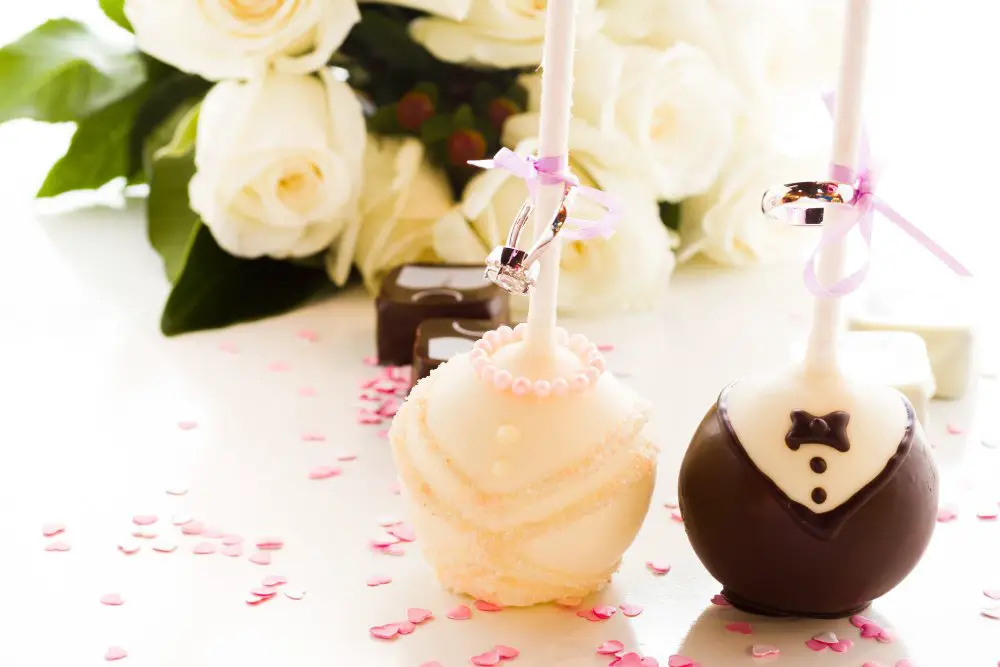 These small tokens of appreciation can be customized to fit the theme and style of your wedding, making them not only practical but also memorable keepsakes for your guests.
Consider giving out personalized sunglasses with the couple's names or initials on them for an outdoor summer wedding. Or, if you're having a rustic-themed wedding, give out mini jars filled with homemade jam or honey that have custom labels featuring the date and location of your special day.
Another idea is to create personalized photo frames that match the color scheme of your wedding. You could even include photos from throughout the day as parting gifts for each guest.
Whatever favor you choose, make sure it reflects both you and your partner's personalities while also being useful in some way.
Interactive Activities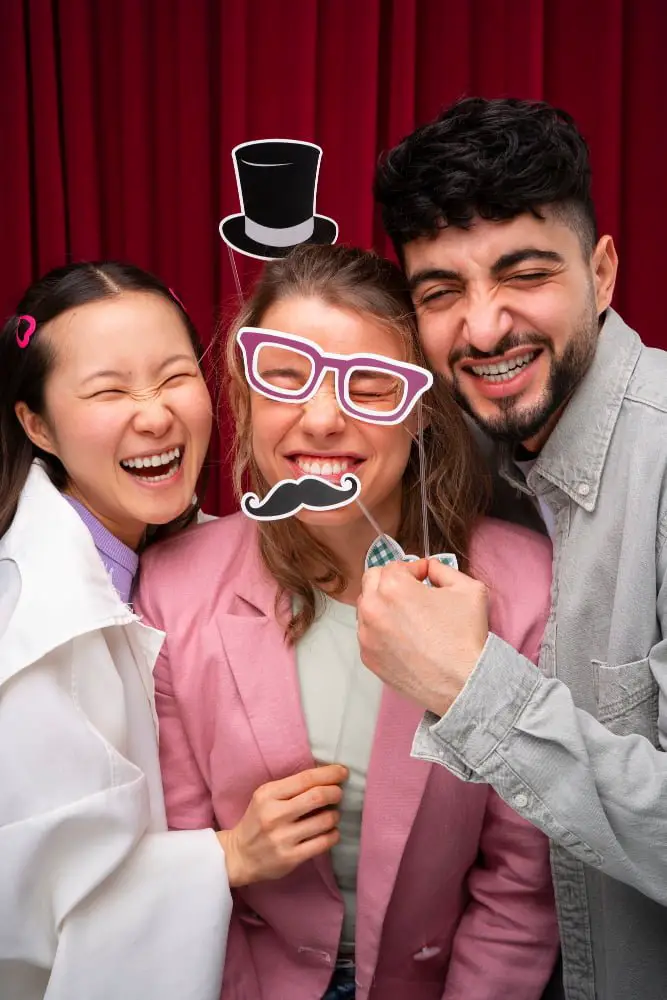 These can be anything from lawn games like giant Jenga or cornhole, to photo booths with fun props, or even a DIY cocktail station where guests can mix their own drinks.
Not only do these activities provide entertainment for your guests during downtime, but they also encourage interaction between different groups of people who may not know each other well. This helps create a more relaxed and enjoyable atmosphere overall.
When planning interactive activities for your outdoor wedding, consider the space you have available and choose options that fit with the overall theme and vibe of the event. You want to make sure everything feels cohesive while still being unique and unexpected.
Surprise Performances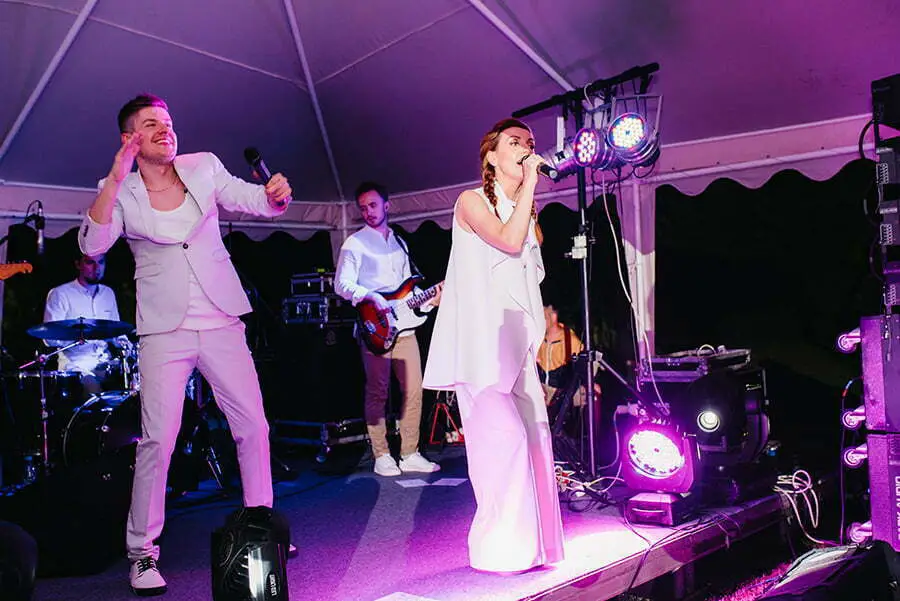 This could be anything from a flash mob dance routine to an unexpected musical act. Imagine the look on your guests' faces when they suddenly hear live music coming from behind them, or see dancers emerge from different corners of the venue.
To make this work, you'll need to plan ahead and keep it under wraps until showtime. Work with performers who are experienced in surprise performances and can help you create something truly unique for your wedding day.
If you're not sure where to start, think about what kind of performance would best fit your wedding theme or personal style as a couple. Maybe there's a song that holds special meaning for both of you that could be performed by someone close to you? Or perhaps there's an artist whose music always gets everyone dancing?
Whatever route you choose, just remember: surprises like these are all about creating unforgettable moments that will stay with your guests long after the last dance has ended!
Keep reading: