Explore the boundless beauty of outdoor pavilions as we delve into creative ideas to transform them into enchanting wedding venues.
Decorating an outdoor pavilion for a wedding is a unique opportunity to create a stunning, memorable setting for your special day.
Whether you're envisioning a rustic charm or a chic elegance, the right décor can transform any pavilion into a beautiful wedding venue.
From twinkling lights and lush florals to personalized touches and creative seating arrangements, this article will guide you through a variety of ideas and tips to make your pavilion wedding truly unforgettable.
Read on to discover how to bring your vision to life and create a captivating atmosphere for your guests.
Choosing the Right Pavilion for Your Wedding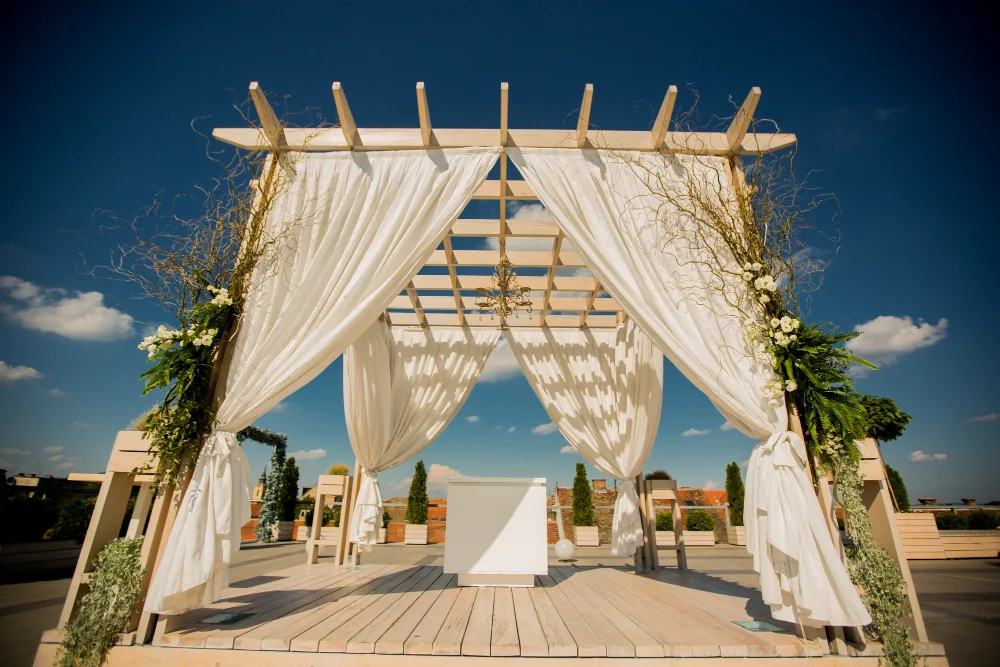 Consider the setting and practical elements when making your pavilion choice. Size, location, and the natural surroundings play a vital role.
Should you dream of a beachfront occasion or love the idea of a serene forest backdrop, each setting influences your decoration decisions.
Moreover, gauge the pavilion's capacity, ensuring it accommodates your guest list comfortably. Confirm the availability of essential outdoor utility connections and its accessibility for vendors.
Make sure that the chosen pavilion indulges not only your aesthetic predilections but also logistical requirements.
Deciding On a Wedding Color Scheme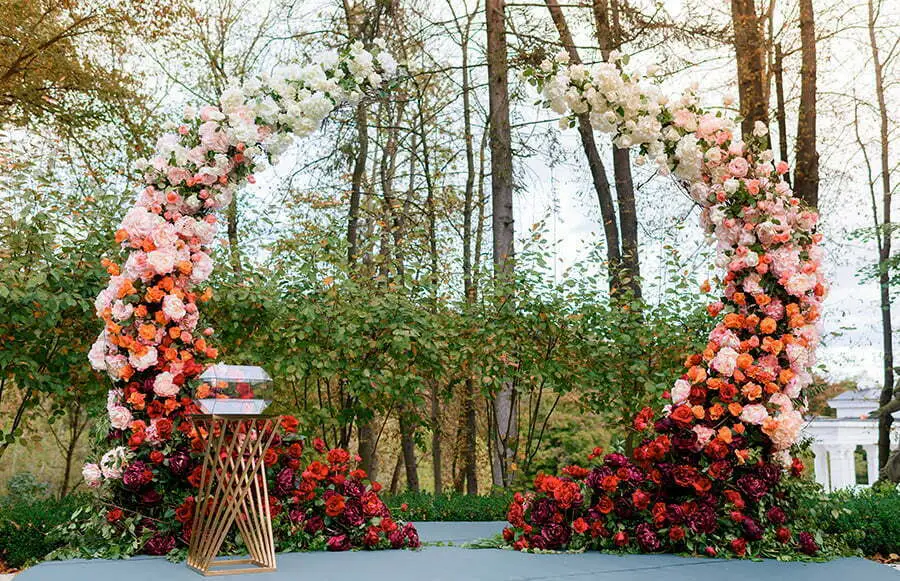 When selecting colors, consider the pavilion's natural surroundings. Aim to complement, not compete with, the existing palette of the landscape.
Soft pastels, neutral tones, or rich jewel colors can each add a distinct feel to your wedding, depending on the season and environment.
Metallic touches, like gold or silver accents, can bring a layer of sophistication and contrast nicely against the earthy pavilion backdrop.
Remember to be consistent with these hues in everything from your invitations to your centerpieces. This cohesive approach will help set a harmonious mood for your special day.
Incorporating Pavillion Theme Into Your Decorations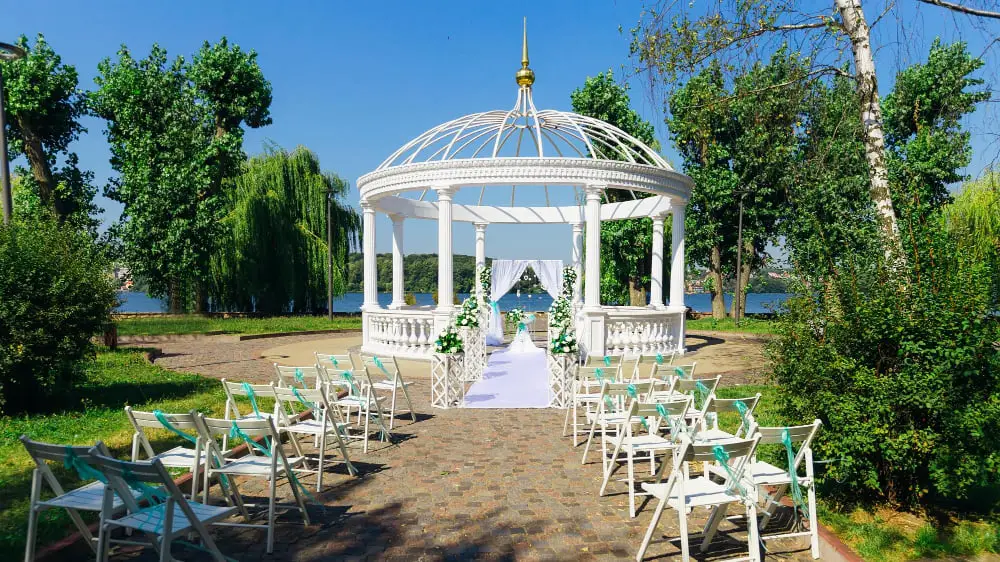 To synchronize your décor with the architectural charm of a pavilion, contemplating its structural highlights is key.
A gazebo-styled pavilion might benefit from hanging floral arrangements or fairy lights for an added touch of whimsy.
Conversely, a wooden, barn-style pavilion could be complemented with rustic elements such as burlap runners, lanterns or barrels.
Understanding the style of your pavilion can assist in achieving a cohesive wedding design, making the venue and decorations truly harmonise.
Keep in mind, less can be more, and allowing the innate beauty of the pavilion to shine can be a decoration in itself.
Selecting the Ideal Wedding Floral Arrangements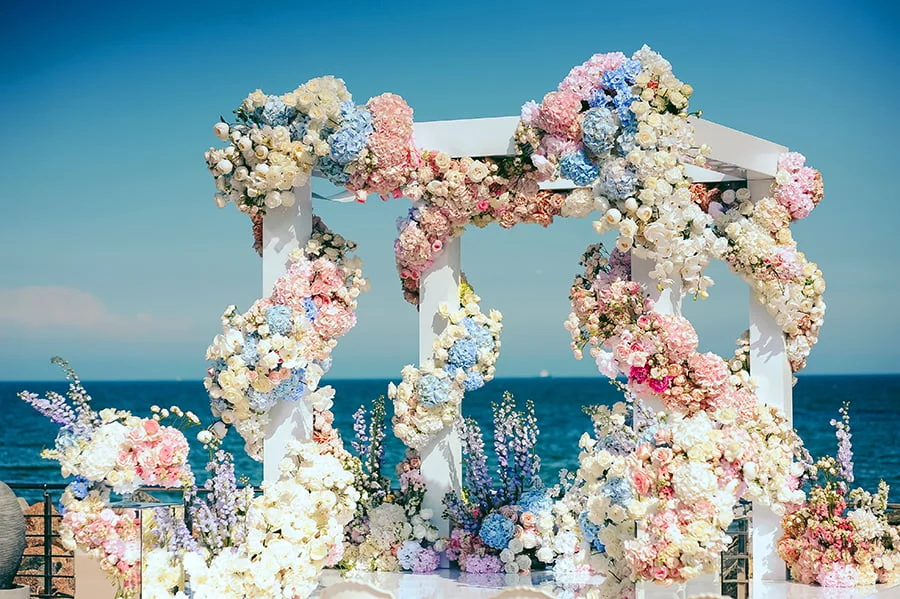 The visual appeal and aroma of flowers play an integral role in conveying the wedding theme and creating an aesthetic ambiance. Cherry-pick blooms that blend well with the overall color scheme and surroundings of the pavilion. Think of roses for classical elegance or wildflowers for a rustic charm.
Don't shy away from using non-traditional arrangements like succulents or pampas grass for a modern, unique touch.
To create harmony, consider repeating certain elements throughout- use the same greens in your garlands, bouquets, and table arrangements. This will tie the whole space together visually.
And lastly, remember to balance your florals with the size of the pavilion. Large spaces may need grand inflorescence, while small spots can benefit from minimal but strategic placements. The goal is to create an inviting, cohesive environment without overwhelming the space or underdoing it.
Creating a Romantic Ambiance With Lighting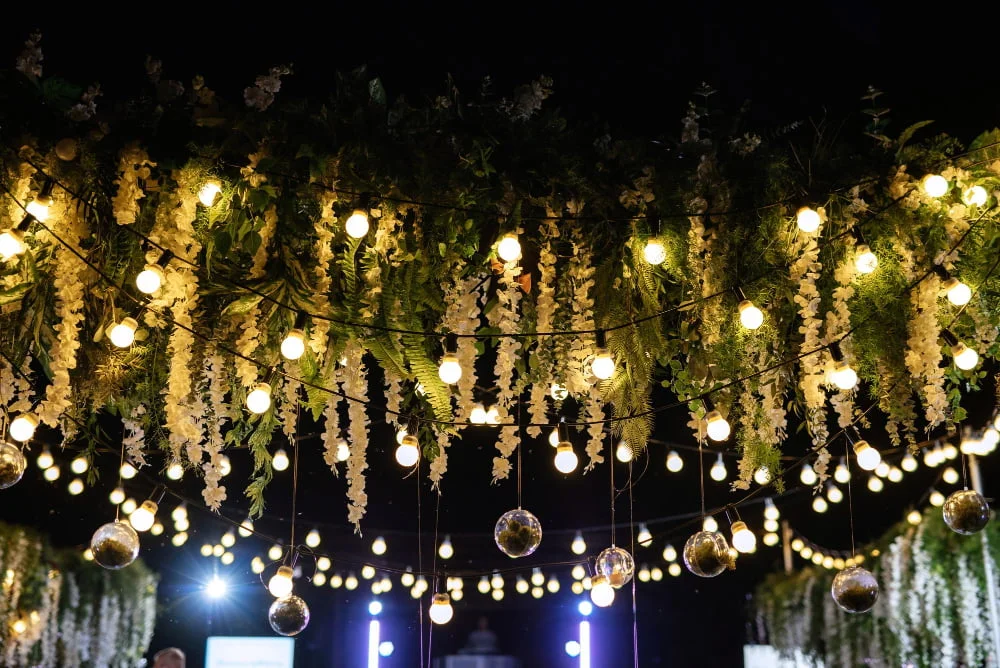 To infuse the space with a burst of magic, consider a variety of lighting options. String lights, wrapped elegantly around posts or dangling from the roof, cast a warm and inviting glow.
Chandeliers or lanterns can further accent a rustic pavilion, offering a sense of grandeur. For an ethereal feel, fairy lights coupled with organza curtains lend a soft, alluring light. Candles placed strategically on tables and along pathways can add a layer of intimacy.
Remember to include functional lighting for safety in areas such as the bar, buffet, and restrooms. The right lighting is crucial as it not only illuminates but also creates an atmosphere of romance and charm.
FAQ
How to decorate a park shelter for a wedding?
To decorate a park shelter for a wedding, adorn the ceiling with tulle swags, streamers, and buntings, tie ribbons, bows, and bouquets around supporting columns, and enhance any available fireplace mantel with candles, photos, and other decorative elements.
What are the most popular trends for decorating a pavilion for a wedding?
The most popular trends for decorating a pavilion for a wedding include rustic elements like wood and lace, floral arrangements, fairy lights, and draped fabrics in soft, neutral colors.
How can you effectively incorporate lighting into a pavilion wedding decoration plan?
Integrating lighting into a pavilion wedding can be effectively achieved through the strategic use of fairy lights draped over beams, lanterns for added warmth, illumined centerpieces and spotlights for key locations, enhancing the romantic ambiance and aesthetics of the venue.
How can seasonal elements be incorporated into the decoration of a wedding pavilion?
Seasonal elements can be incorporated into the decoration of a wedding pavilion by using seasonal blooms, selecting corresponding color schemes, and incorporating local seasonal elements such as autumn leaves or seashells.
Keep reading: