Arrange tents and seating for an outdoor wedding by determining the size of the wedding party, then choosing a suitable location with enough space to accommodate the guests.
Next, select tents and seating that provide adequate shade and comfort for your guests. Arrange the tents and seating in an aesthetically pleasing manner to create a beautiful atmosphere for your special day.
Planning an outdoor wedding can be a lot of fun, but it also comes with unique challenges. One of the most critical tasks is to figure out how to arrange tents and seating for your guests.
With careful planning and attention to detail, you can create an inviting atmosphere that will make your wedding day even more special. In this blog post, we'll explore some tips for arranging tents and seating for an outdoor wedding so you can get the most out of your big day!
Location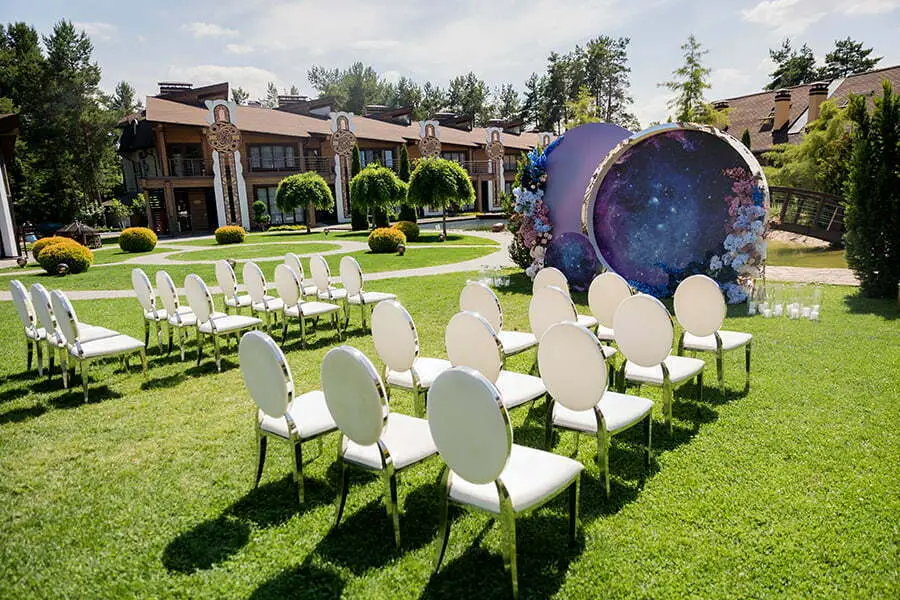 It should be chosen carefully, considering the size of the event, weather conditions, and any other factors that may affect guests' comfort. The location should also provide enough space for all tents and seating arrangements without overcrowding or blocking views.
It should be easily accessible to guests to arrive quickly at the event. When selecting a location for an outdoor wedding, it is essential to ensure no safety hazards, such as uneven ground or sharp objects in the area.
If possible, choose a spot with natural beauty that will add to the atmosphere of your special day.
Size of Tents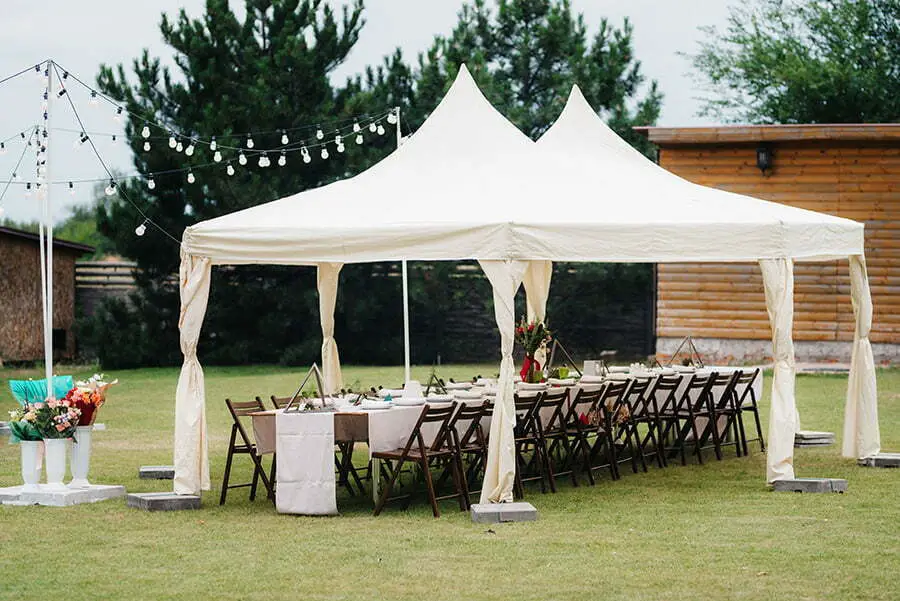 The tent size should be based on the number of guests attending and any additional items that need to fit inside. If there are more than 100 guests, a large tent may be necessary to accommodate everyone comfortably.
If tables and chairs are used for seating or catering services are provided, then a giant tent may also be required to fit all these items inside. Measuring the space available before deciding on a specific size is essential to ensure everything fits properly and there is enough room for everyone.
Seating Capacity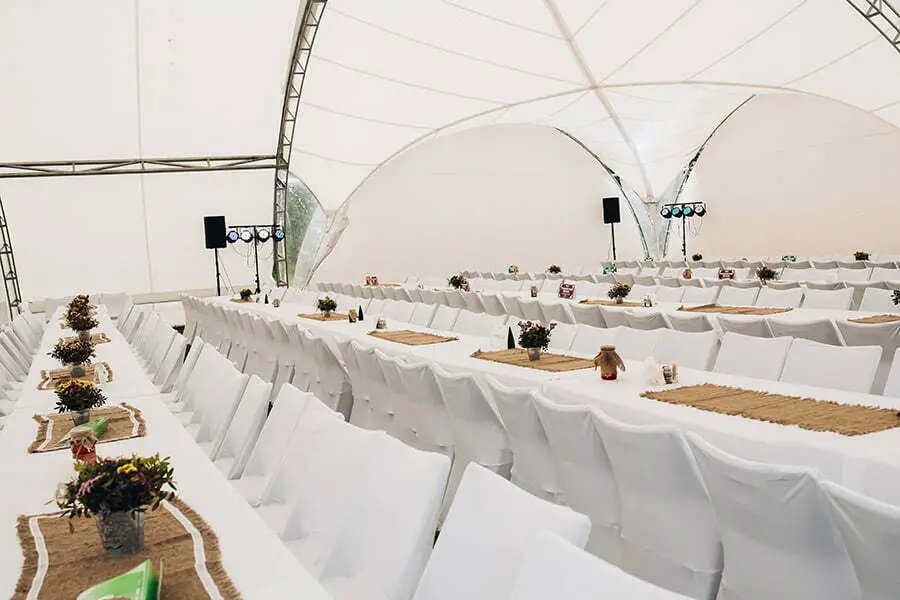 It is essential to ensure that there are enough chairs and tables available for all of the guests attending the wedding. The number of chairs needed will depend on the tent's size and how many people are expected to attend.
It is essential to ensure enough space between each chair so guests can move around comfortably without feeling cramped or crowded. When determining seating capacity, it is also essential to consider any additional furniture, such as benches or couches, that may be needed to accommodate more guests.
It may be necessary to rent additional tents if the number of attendees exceeds what can fit in one tent.
Type of Chairs and Tables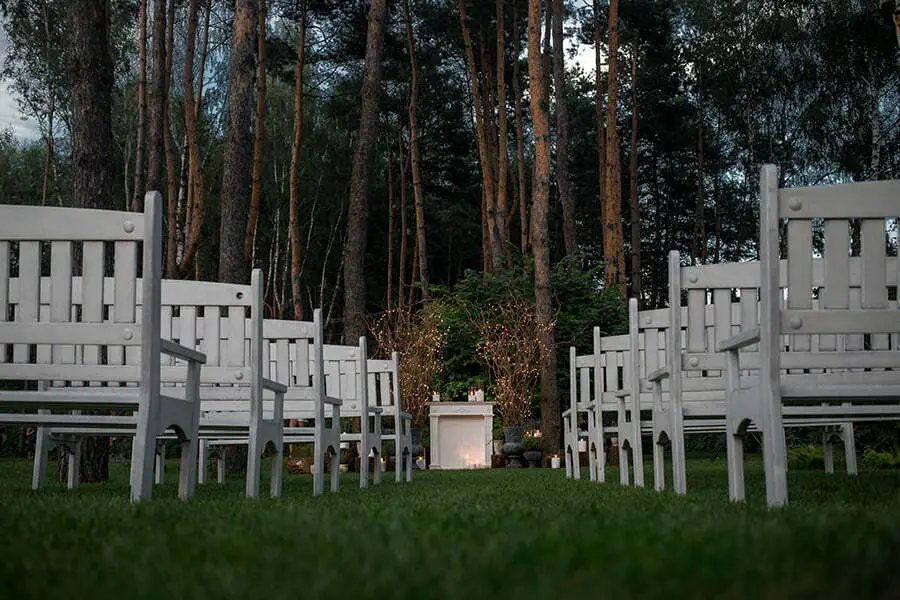 Depending on the size of the wedding, there are several options available. For smaller weddings, folding chairs or benches may be a good option as they can easily be moved around and stored away when unused.
More sturdy chairs, such as plastic or metal folding chairs, may be necessary for larger weddings to accommodate all guests comfortably. Tables should also match the style of the event; round tables are often used for formal events, while rectangular tables work better for casual gatherings.
Tablecloths should also match the event's theme to create a cohesive look throughout your venue.
Decorations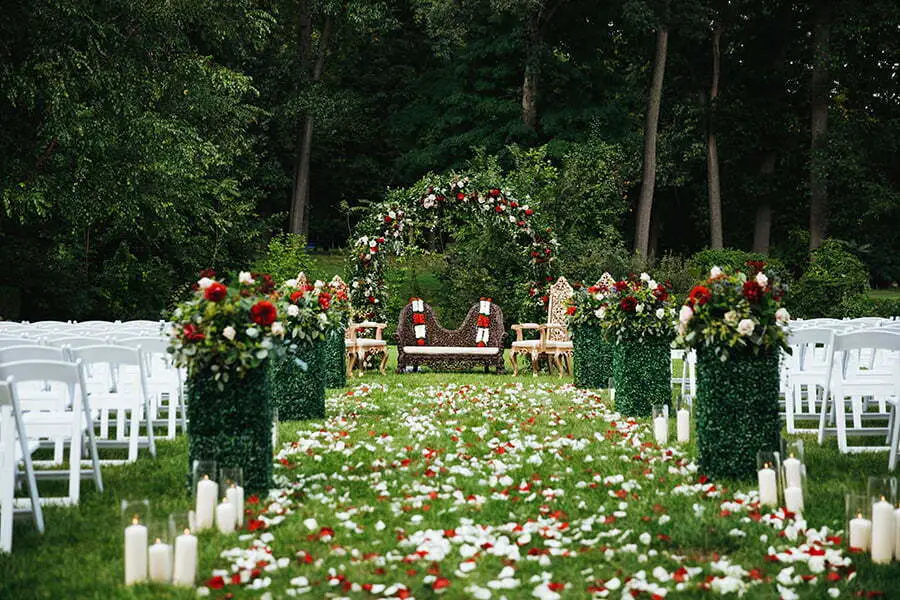 They can help to create a beautiful and memorable atmosphere for the special day. When arranging tents and seating for an outdoor wedding, decorations should be used to enhance the overall look and feel of the event.
This could include hanging lights or lanterns from tent poles, adding colorful fabric drapes around the tent's perimeter, or using floral arrangements as table centerpieces. Chairs and benches can be decorated with ribbons or bows in coordinating colors to match other elements of your decorating scheme.
Don't forget about lighting; string lights hung from trees or poles will add a romantic touch while providing illumination when night falls.
Lighting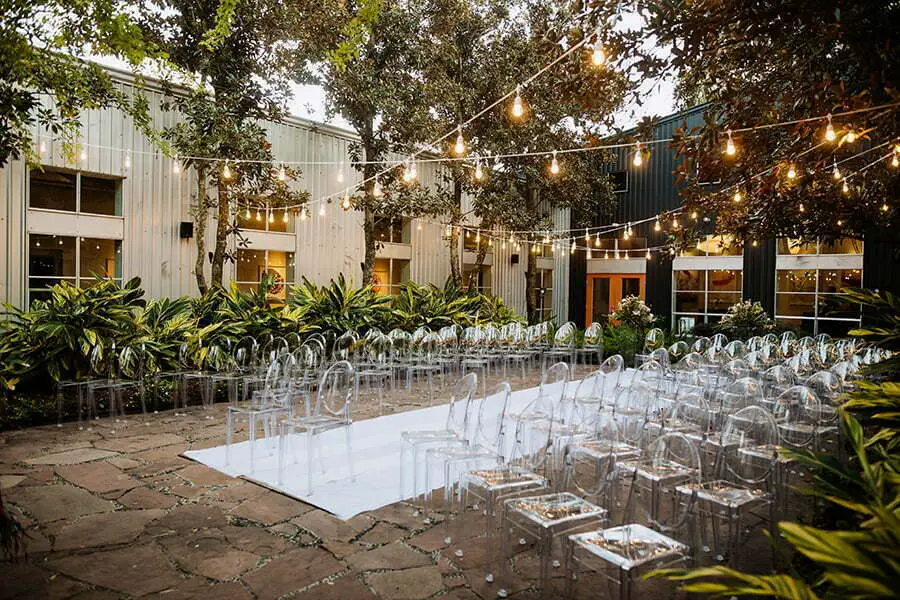 It can help create a romantic atmosphere and provide safety and visibility for guests. Planning and choosing the right type of lights for the event is essential to ensure the best lighting possible.
String lights are popular for outdoor weddings because they are easy to install and come in many colors. Lanterns or candles can also add a warm glow to the area.
If electricity is available, spotlights or floodlights may illuminate larger areas or highlight certain venue features, such as trees or pathways. All lighting sources must be appropriately secured, so they do not pose any risk of fire hazards during the event.
Sound System/music Setup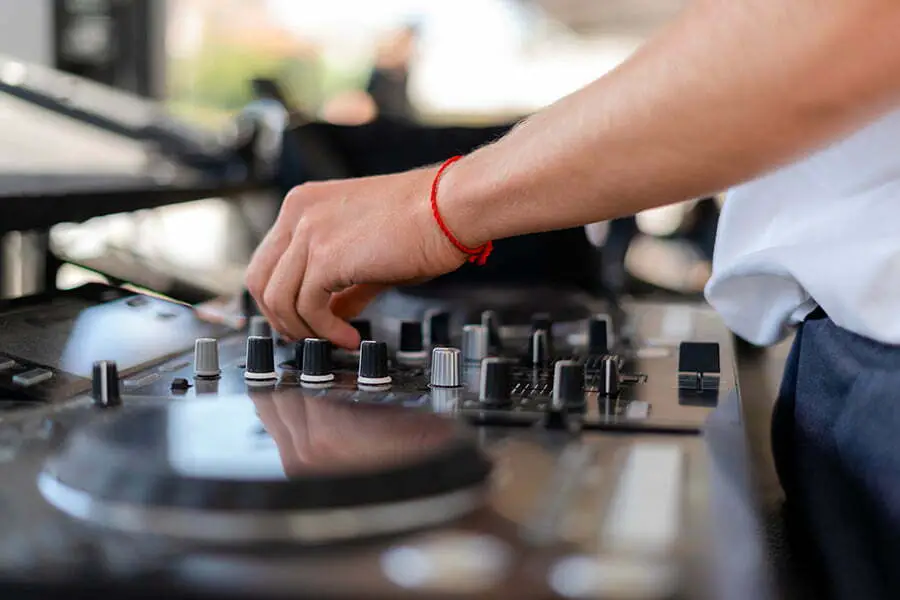 It is essential to consider the size of the area and how many people will be attending when selecting a sound system. The type of speakers, amplifiers, and other equipment needed will depend on the space size and the number of guests.
It is essential to consider any potential noise restrictions in your area before setting up a sound system. When arranging tents and seating for an outdoor wedding, it is essential to place speakers strategically, so they are not obstructed by furniture or other objects.
If possible, try to set up multiple speakers around the perimeter of the tent or seating area so that everyone can hear clearly from any location within it. Ensure there are no obstructions between each speaker and its intended audience, as this could cause distortion or interference with sound quality.
If you plan on using wireless microphones during your event, ensure they have enough range to reach all areas where guests may be seated or standing during your ceremony or reception.
Catering Setup and Equipment Needs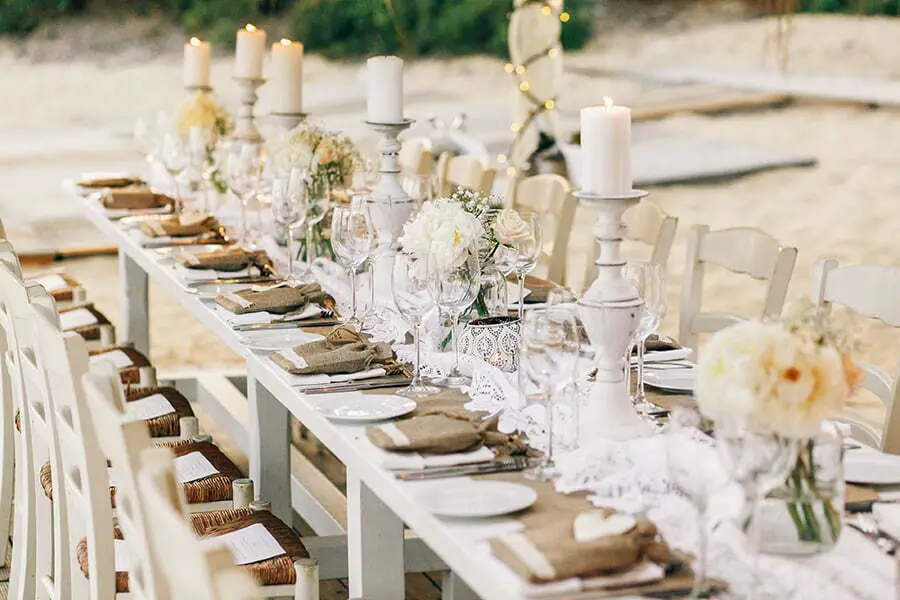 This involves ensuring that the necessary catering equipment is available to serve food and drinks to guests. This includes tables, chairs, serving dishes, utensils, napkins, tablecloths, chafing dishes, or warming trays for hot food items.
Additional items, such as a buffet line or bar, may be needed depending on the size of the wedding party and the type of cuisine being served. It is also essential to consider guests' special dietary requirements when selecting catering supplies.
It may be necessary to rent additional tents if there are not enough existing ones onsite for all guests to be seated comfortably during mealtime.
Keep reading: