Immerse yourself in the charm of November's crisp air and vibrant colors as we explore the allure of an outdoor wedding during this enchanting month.
November outdoor weddings can be magical, with the rich, warm hues of fall creating a stunning backdrop.
This article will guide you through everything you need to know to plan a successful November outdoor wedding.
From choosing the perfect venue to selecting the right décor, attire, and menu to suit the season, you'll find comprehensive details here.
With careful planning and the right choices, your November outdoor wedding can be a memorable event that perfectly encapsulates the beauty of autumn.
Planning an Outdoor Wedding in November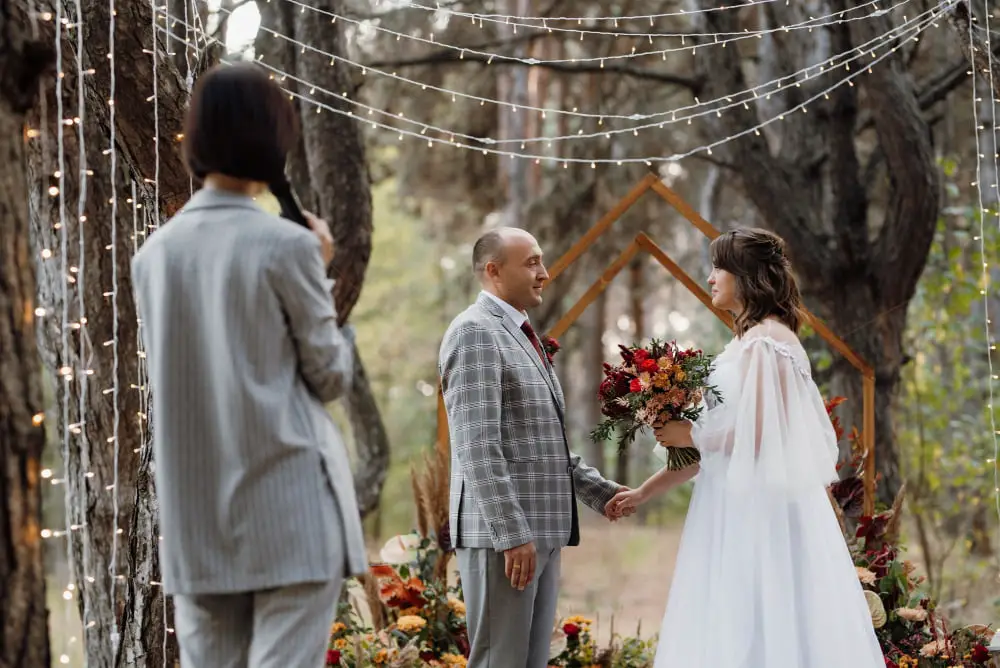 To start, carefully consider the date and time. The days are shorter in November, so an early afternoon ceremony ensures you make the most of the natural light for photography sessions.
Also, work with a wedding planner specializing in outdoor events. They'll have invaluable experience to help foresee and mitigate potential fall-related issues.
Further, it's essential to have a contingency plan in place. Unpredictable weather is a part of November charm, so plan for wind or rain just in case.
Consider the comfort of your guests too. Offering cozy blankets or heaters can help create a warm atmosphere.
While location scouting for possible venues, keep in mind logistic concerns like accessibility, parking, and restrooms.
With these considerations, your planning process should go smoothly, setting a solid foundation for your special day.
Choosing the Ideal November Outdoor Venue
When selecting your venue, consider locations that naturally capture the essence of fall.
Vineyards, barns, or parks can provide an array of colorful leaves and evergreens as your backdrop.
Keep in mind accessibility and comfort for your guests.
Features like paved pathways, adequate lighting, and room for heaters or tents are all factors to consider.
While an open-air ceremony might be desirable, ensuring there is a sheltered area or indoor option on-site is crucial in case of unpredictable November weather.
Finding a venue that combines these elements will enhance the beauty of your day while also providing practical solutions.
Attire Selection for a November Wedding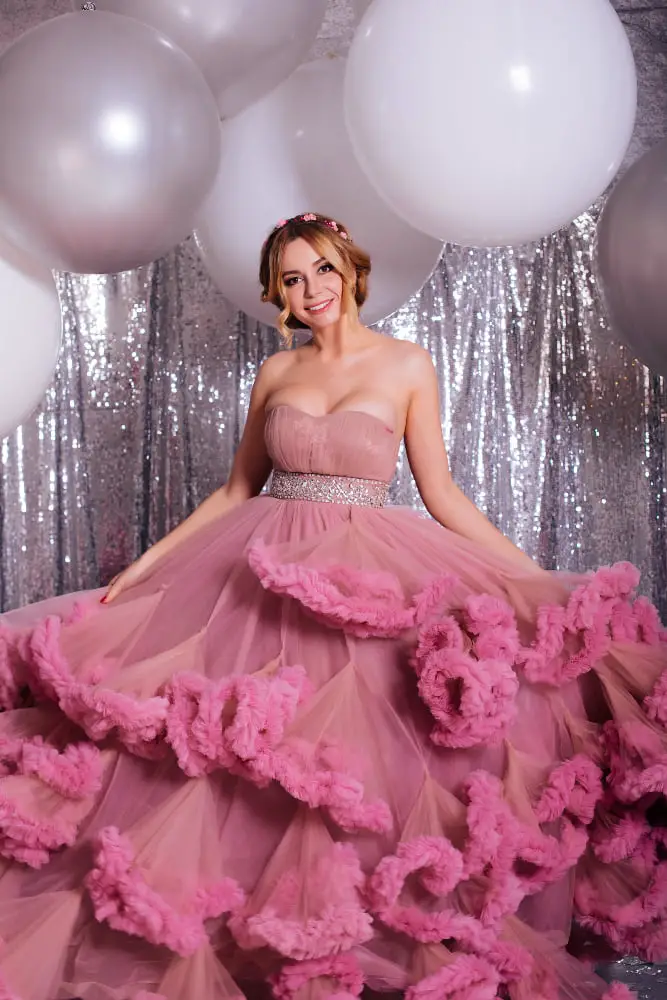 Brisk winds and cooler temperatures characteristic of November require careful consideration when selecting clothing for the bridal party.
Elements such as layered dresses, shawls, and tasteful faux furs can add elegance and warmth.
Men can consider fabrics like tweed or heavier blends to bring style and comfort together.
Remember, comfort is key, so be sure to consider the weather forecast when making final clothing decisions.
You want your guests, as well as the bridal party, to be warm and comfortable throughout the event.
Outfitting Your Outdoor Venue for the Season
Adding warmth to the venue is important in November as temperatures begin to drop. Consider cozy throw blankets, heat lamps, or even a fire pit area for your guests to huddle around.
Although it's cooler, this doesn't mean you can't have a twilight reception; use string lights, lanterns, and candles for a romantic, warm glow.
Outdoor tents are also great for providing some shelter from the elements, while still allowing you to enjoy the stunning surroundings.
Seasonal foliage, such as fall leaves, pinecones, and pumpkins, can serve as beautiful, natural decoration.
Menu Ideas for a November Outdoor Wedding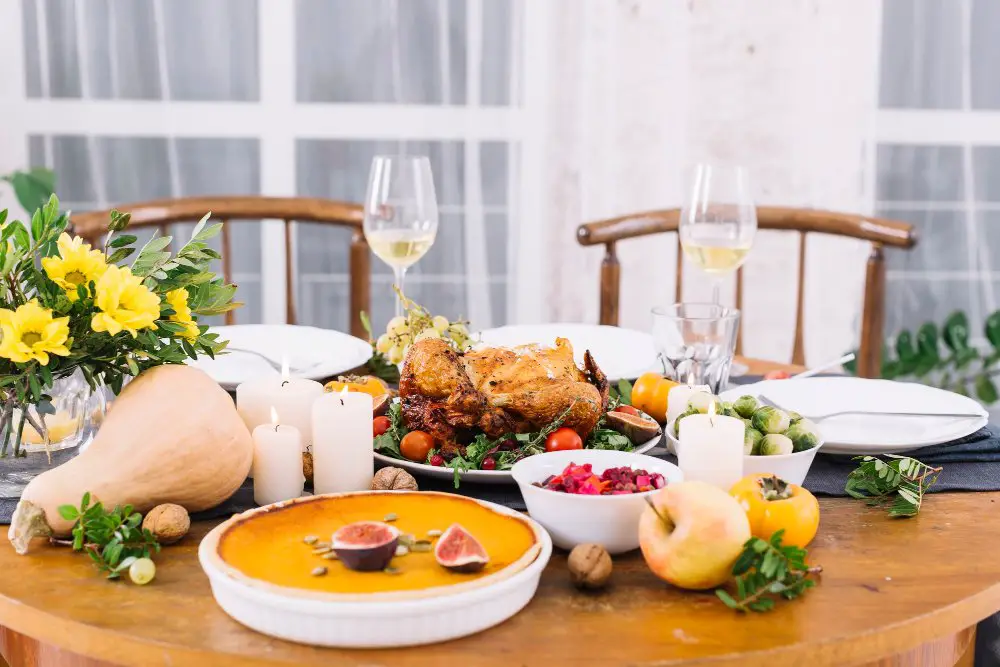 Seasonal ingredients can offer a rich array of flavors and textures that are sure to tantalize your guests' taste buds.
Consider a hearty entree like roasted turkey or vegetarian stuffed butternut squash, both of which are fitting for the season.
Complement your main course with delectable sides, such as cranberry sauce, root vegetables, or quinoa salad.
For dessert, sweet treats such as pumpkin pie or apple tart are the epitome of fall indulgence.
Offering hot beverages, like spiced cider and hot cocoa, will not only warm your guests but also add a cozy touch to your outdoor November wedding.
Incorporating Fall Elements in November Outdoor Wedding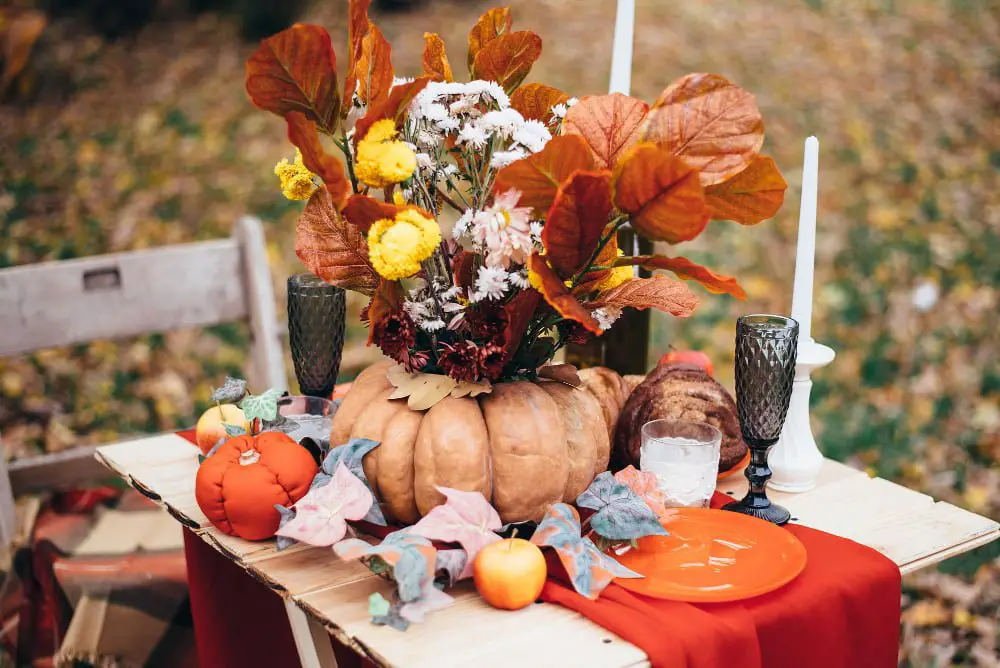 In embracing this time of year, consider incorporating autumnal elements into your décor. Think about using vibrant fall leaves as part of your centerpieces or even as confetti.
Warm-colored flowers like marigold, carnations, or roses, can add rich and luscious vibes to your floral decor.
Candlelight adds a flair of romantic warmth that complements the season perfectly. Select scented candles with fall fragrances such as cinnamon, pumpkin, or apple to elevate the ambiance. Using pumpkins and squashes for table centerpieces also adds a unique touch.
For your wedding invitations and other stationery, opt for styles with tones of burnt orange, deep reds, and golden yellows. Rustic elements such as wood and hessian can lend an earthy touch, resonating beautifully with November's charm.
Remember, incorporating autumn decor in natural and subtle ways captures the essence of November without overwhelming your guests. The beauty of outdoor fall weddings is in their elegant simplicity, and a gentle nod to the season can create a beautiful, memorable event.
Tips for Battling Potential November Weather Challenges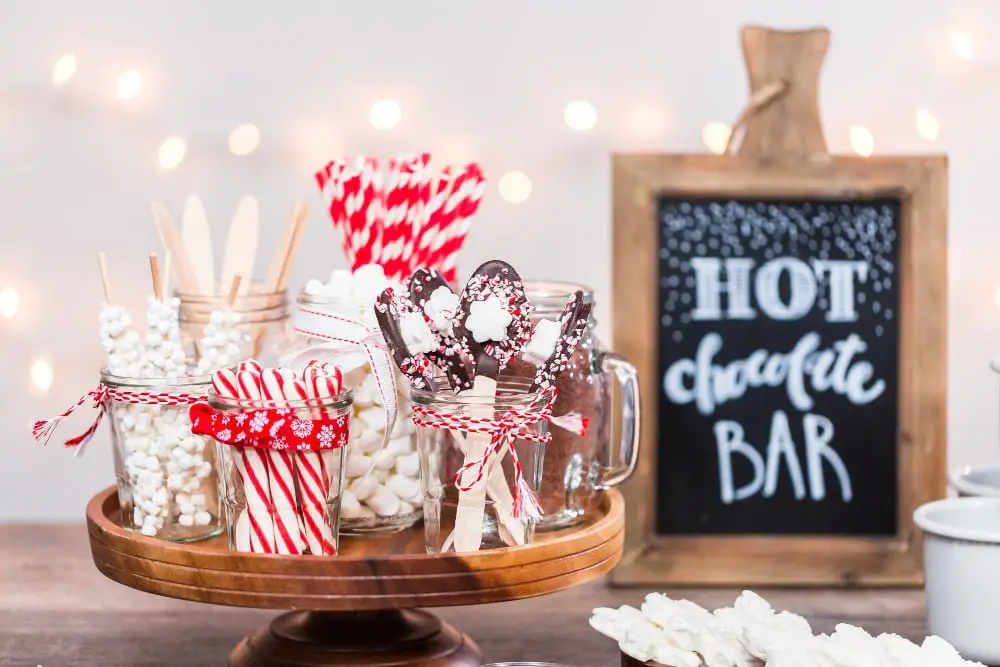 To mitigate weather-related issues, ensure there's a heated marquee on standby. It will not only provide a cozy atmosphere but also solve any sudden rain challenges.
Offering warm beverages like hot cocoa or mulled wine can keep guests comfortable while adding a festive touch.
Provide blankets and patio heaters for extra warmth during the reception.
Finally, consider having an indoor location on hand as an alternative, just in case.
Clear communication about the outdoor venue and potential weather changes in the invitations enables guests to prepare adequately, contributing to a more comfortable and enjoyable experience for all.
FAQ
Is November a good time for an outdoor wedding?
Yes, November can be a good time for an outdoor wedding, especially in the southern parts of the United States where the weather can be ideal.
Is November good for a wedding?
Yes, November can be a good month for a wedding, especially if you're looking for a beautiful fall wedding that avoids the most popular weekends of the year.
What temp is too cold for outdoor wedding?
For an outdoor wedding, it is generally considered too cold if the temperature drops below 60°F.
What type of attire should guests wear for a November outdoor wedding?
Guests should opt for warm, casual-elegant attire such as long dresses, formal pants and shirts, layered with cardigans or jackets for a November outdoor wedding.
Which are the best flowers to complement a November outdoor wedding theme?
For a November outdoor wedding, consider incorporating flowers such as chrysanthemums, roses, and sunflowers which are in season during this month.
How can couples weatherproof their November outdoor wedding?
Couples can weatherproof their November outdoor wedding by utilizing marquees with sides, providing warm blankets for guests, having indoor backup plans, and using weather-proof decor.
Keep reading: