Embrace the serene and picturesque beauty of a lakeside location as we delve into exploring the enchanting charm of an outdoor lake wedding.
Planning an outdoor lake wedding can be an enchanting experience, offering a backdrop of serene waters and stunning natural beauty.
This article will guide you through the process, from selecting the perfect lakeside location to coordinating decor that complements the surroundings.
We'll delve into important considerations like weather, permits, and guest comfort to ensure your big day goes off without a hitch.
Whether you're dreaming of a sunset ceremony or a starlit reception, you'll find all the information you need to pull off your dream lakeside wedding right here.
So, get ready to be inspired by the tranquil beauty of nature and make your outdoor lake wedding a memorable event.
Key takeaways:
Choose the perfect lakeside location
Consider venue options that maximize the surrounding scenery
Plan the ceremony details to enhance the natural setting
Select attire that is both comfortable and elegant
Incorporate lake-themed decor and catering ideas
Choosing the Perfect Lake Location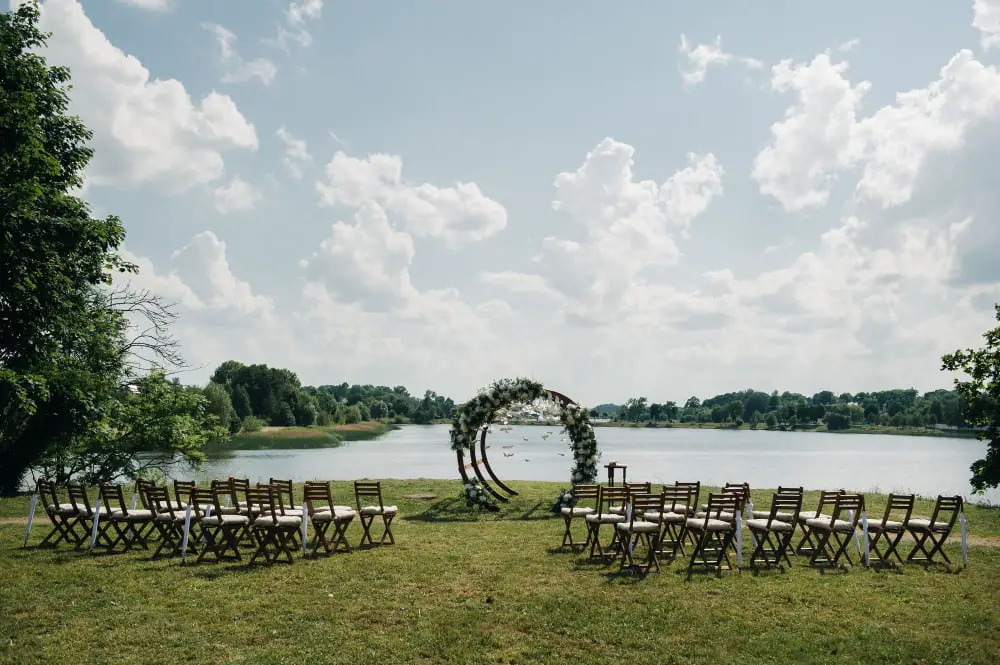 Finding the ideal lakeside spot is a critical first step. Keep in mind factors such as the property's privacy level, accessibility for guests, available amenities, and noise restrictions.
Take into consideration the direction of the sun at different times, to ensure optimal lighting for photographs and guest comfort. Lastly, consider if the location has a plan B indoor option or space for a marquee, in case of unfavorable weather.
Cooperation with local authorities may also be required, so evaluate the ease in acquiring necessary permits and regulations compliance. These considerations will guide you towards a location that is both visually stunning and practical for your needs.
Top Venue Choices for a Lake Wedding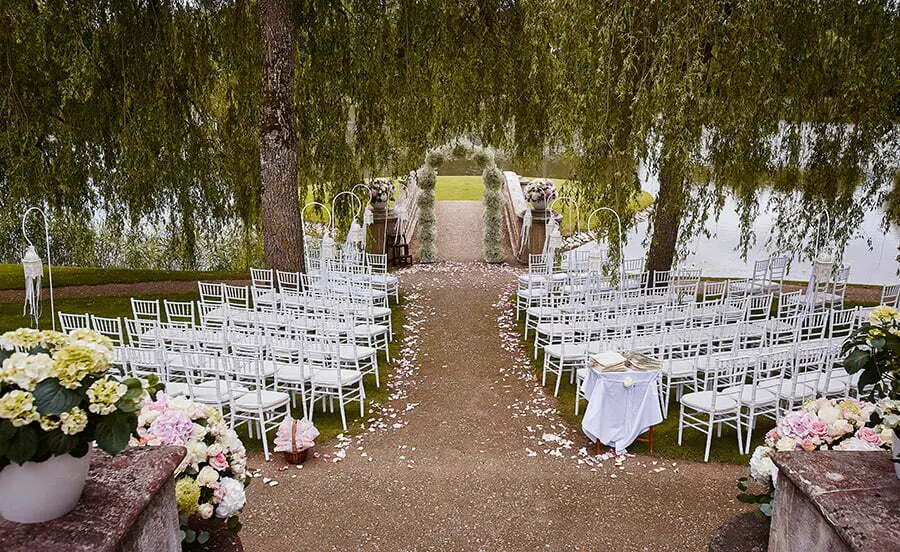 When it comes to selecting a venue, look for options that maximize the beauty of the surrounding scenery.
For a breathtaking, scenic view, consider lakefront hotels and resorts that include not only accommodation but also equipped outdoor areas for events.
Public parks can offer expansive lake views for a more budget-friendly price.
For couples seeking a more intimate setting, renting a private property, such as a spacious lake house, might be ideal.
Remember to keep guest accessibility and comfort in mind as well, ensuring amenities are readily available.
Planning the Lake Wedding Ceremony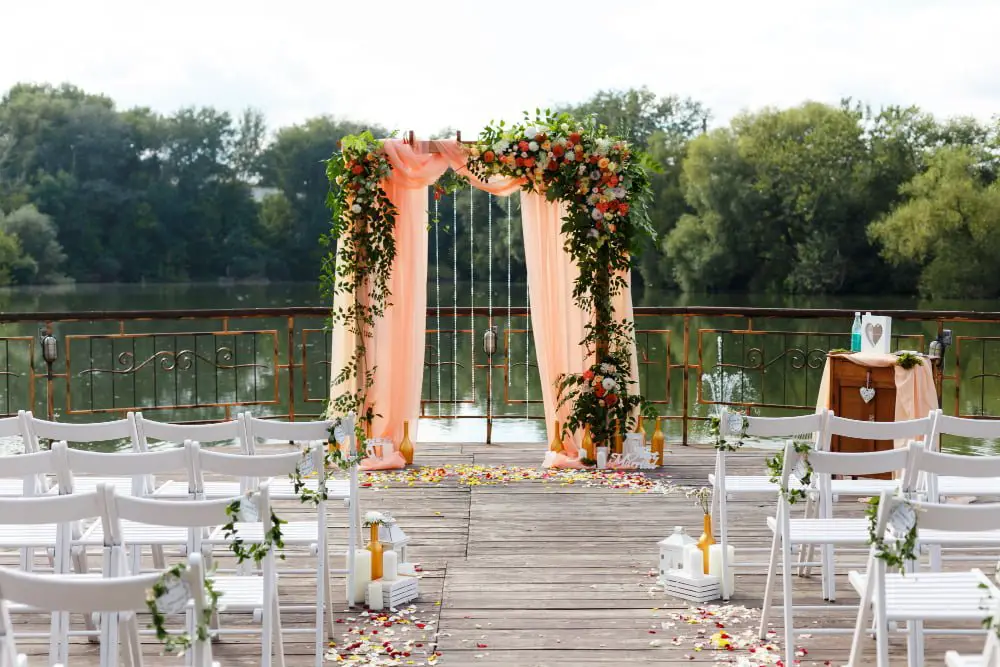 A crucial element to ensure a smooth ceremony is sorting out legal requirements, such as obtaining the required permits for outdoor public spaces. Once this is clear, you can focus on orchestrating the ceremony itself.
Consider the sun's position at the time of your vows; you wouldn't want your guests squinting into the sunlight or the couple to be in shadows during the pictures. Also, make sure to arrange some shade for guests, especially during hot summer afternoons.
Decide whether you'd like a 'sound of the waves' backdrop or to bring in a professional audio setup. Remember, open spaces can distort sound, and you'll want your vows to be heard by everyone present.
Finally, plan a comfortable aisle to walk down, keeping in mind the bride's dress and footwear. A wooden pathway can be an elegant choice to combat sandy or grassy terrains.
The goal is to seamlessly blend the beauty of the natural setting with your ceremony details to create an unforgettable canvas for your special day.
Outdoor Wedding Attire Tips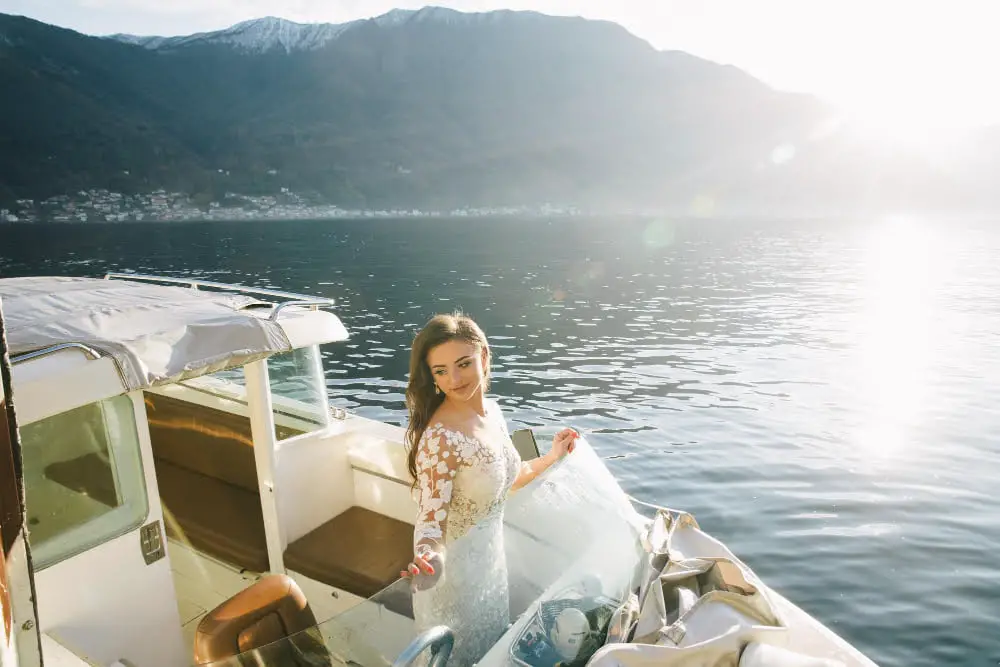 While the idea of breezy lakeside nuptials sounds incredibly romantic, the attire needs to be thought through carefully to ensure everyone's comfort.
For brides, opt for light, flowing fabrics that won't get ruined by a soft lakeside breeze. A tea-length gown or one with a bustle that can be pulled up can prevent dragging the dress along the sandy or grassy areas.
Grooms can choose linen or lightweight wool suits, which can be comfortable yet elegant.
Bridesmaids' and groomsmen's outfits should follow the same rule of thumb – comfort coupled with elegance. Look for breathable fabric and soothing color schemes.
As for guests, it would be helpful to note on your invitations that the wedding will be held outdoors, allowing them to dress accordingly.
Remind them to accessorize with sunglasses, hats, or parasols for the daytime, and perhaps a light shawl for cooler evenings.
Consider providing flip flops or a shoe check service for those who would like to switch their formal footwear for something more sand-friendly.
Your well-thought-out attire tips will ensure that everyone is comfortable and able to fully enjoy your beautiful lakeside celebration.
Decor Inspirations for a Lake Wedding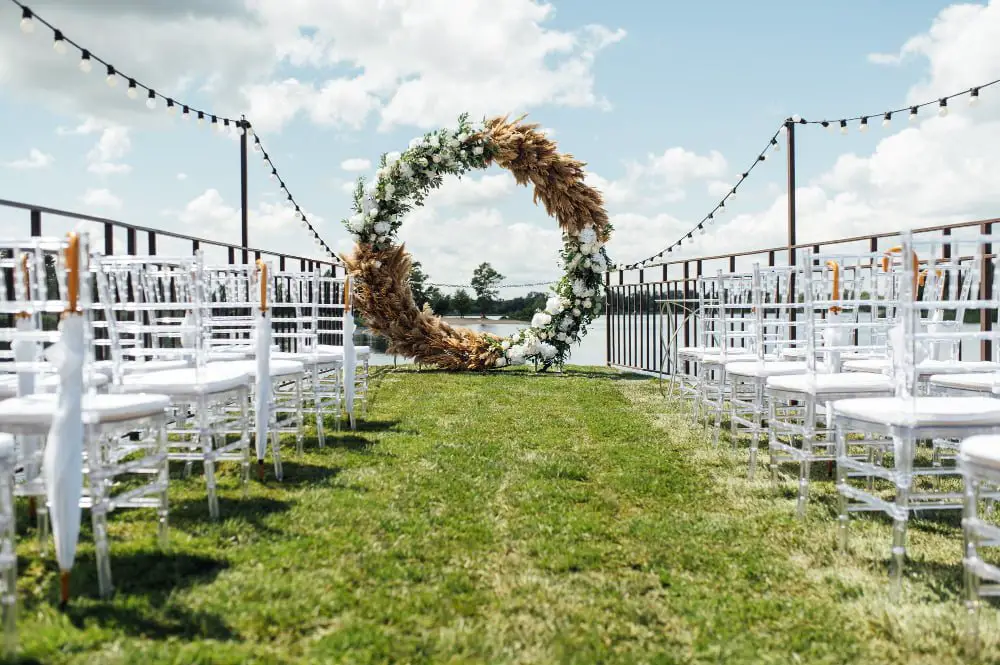 Natural elements serve as brilliant decor pieces, adding beautifully to the overall settings.
Use raw wood signage to direct guests to various locations around the venue, or repurpose vintage paddles as row signs for ceremony seating.
Opt for floral arrangements with water lilies, lotuses, or reeds for authentic lake ambiance.
Lanterns and fairy lights add a charming glow as dusk falls, while floating decorations on the lake can provide a striking view.
Consider utilizing local materials from the area such as stones or driftwood to further enhance the connection to the environment.
Complement your vision with the gentle, soothing vibe of a lake wedding décor.
Lake-inspired Wedding Catering Ideas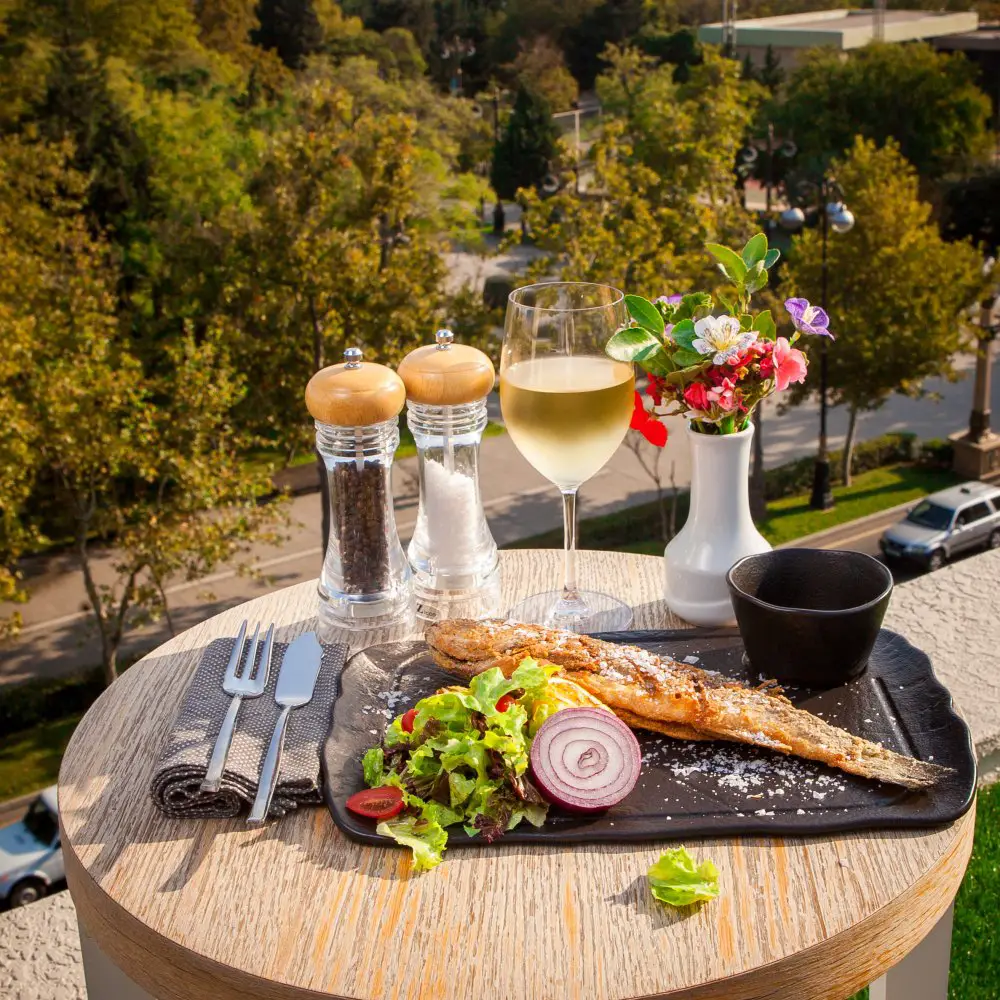 For an authentic touch, think local. Feature a menu that highlights regional cuisine and fresh, locally-sourced produce. Lake fish, for instance, can be the star of your seafood menu.
Lakeside fruits like wild berries can be used as toppings for desserts or in signature cocktails. Consider working with your caterers to develop a buffet inspired by the local palette, or opt for a gourmet barbecue for a more relaxed, picnic-style vibe.
To round off the experience, serve craft beers, local wines, or specialty cocktails inspired by colors of the lake. Remember, the goal is to create a menu that complements your location, adding richness to the overall wedding experience.
Innovative Lake Wedding Photo Ideas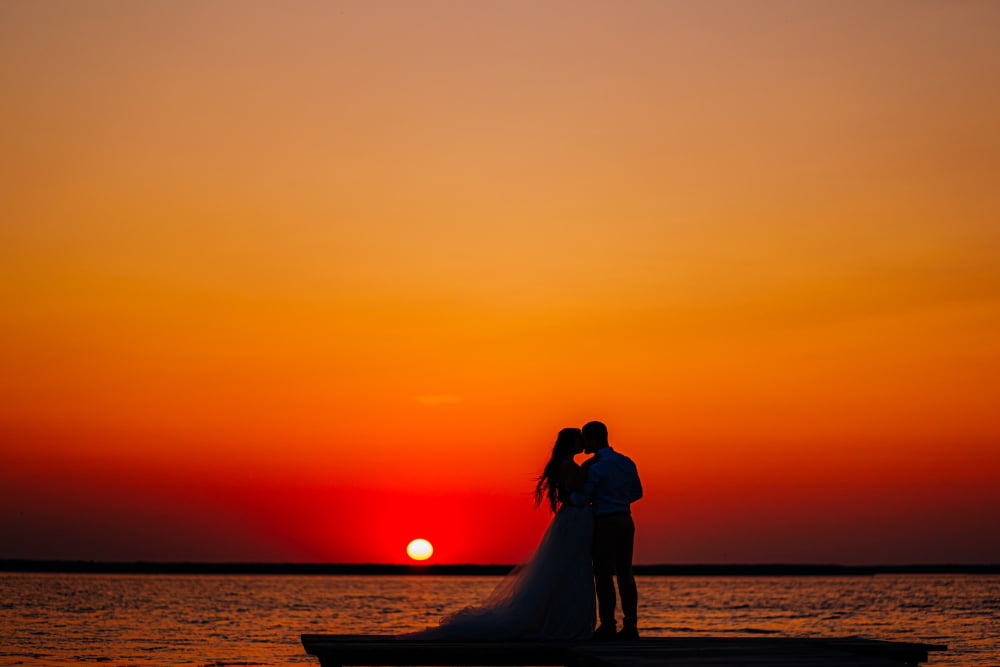 Capturing your special day in an impressive backdrop like a lake calls for creativity and innovation. Begin by finding a photographer experienced in outdoor settings. They can advise on the natural light impact on your shots at different times of the day.
One must-have shot is during the 'Golden Hour'– that period shortly after sunrise or just before sunset. This lighting casts a soft, warm glow, and the calm lake surface acts as a stunning reflective mirror.
Consider using the dock or jetty, if available, for some romantic couple shots. Capture images in different settings around the lake, encapsulating its different moods and landscapes.
A clever way of incorporating the lake into your photographs is to have a bird's eye view shot taken from a drone, ensuring the expansiveness of the lake is made visible.
Lastly, remember to capture the transformation of the lake from daylight to dusk and into the night under a sky full of stars.
FAQ
Can you have a wedding on Lake Michigan?
Yes, you can have a wedding on Lake Michigan, with many spectacular and elegant venues and accommodations available within the surrounding towns, cities, and countryside.
What is the best season for outdoor wedding?
The best season for an outdoor wedding in the U.S. is either early summer or early fall, notably May, June, September, and October due to their mild weather and minimal risk of disruptive weather conditions.
What are the best color schemes for a lake-side wedding?
For a lakeside wedding, the best color schemes include cool, natural tones such as shades of blue, green, Beige, along with soft whites and grays, evoking the serenity of water and the surrounding nature.
How to ensure effective weather backup plans for lakeside weddings?
To ensure effective weather backup plans for lakeside weddings, always secure a nearby indoor venue and have a tent on standby in case of unforeseen weather changes.
What creative themes can be incorporated for an outdoor wedding by a lake?
A lakeside outdoor wedding could embrace a nautical theme, rustic elegance, enchanted forest, or a serene beach setting depending on the surrounding landscape and the couple's personal preferences.
Dealing With Weather: Planning for Unpredictables At a Lake Wedding
The fickleness of weather can turn any majestic lakeside setting into a tempest in a teapot. Therefore, it's crucial to consider several precautionary measures.
Begin by studying local weather trends to select the most stable period. Although it's not bulletproof, historical data often provide a reliable prediction of potential weather conditions during your desired wedding period. The wedding planner or local residents can be invaluable sources for this information.
Having a backup plan is essential for any unpredictable changes. Look into renting tents to shield your guests, or check if your venue provides indoor options in case of a sudden downpour. If the location is prone to high winds, think about wind-resistant decorations and secure all loose items ahead of time.
Comfort of your guests should also be at the forefront. If heat is a factor, providing handheld fans or shade options can provide necessary relief. Conversely, for colder climates, consider offering blankets or arranging for outdoor heaters.
Lasty, solidifying cancellation policies with your venue and suppliers, and considering wedding insurance, can provide assurance against any unexpected weather-related changes. It may seem overwhelming, but with the right precautions, weather woes can smoothly be navigated, resulting in a lake wedding as breathtaking as you envisioned.
Incorporating Lake Themes Into Wedding Invitations and Stationery
Harness the natural beauty of a lakeside setting from the get-go by incorporating it into your wedding stationeries. Begin with the invitations where you can feature watercolor illustrations of the serene lake where you'll say your vows. Reflect elements like waving cattails, delicate wildflowers, or a sunset over the water.
For the seating chart and place cards at the reception, consider attaching the cards to sea glass or smooth stones found by the lake. This could add an authentic touch subtly reminding guests of your unique venue.
Envelop liners are another place where you can underline the lake theme. A calming water image or lively fish patterns could evoke the lake's character.
Finally, for thank you notes, consider featuring a beautiful photograph from the wedding day, capturing the lake in the background. It's a nice way to tie together the whole experience while expressing gratitude. Remember, consistency in theme raises the charm of any event and keeps the memory alive amongst your guests.
Unique Entertainment Ideas for a Lakeside Reception
An unrivaled ambiance calls for unparalleled amusement. Encourage guests to delight in the natural tranquility with gentle acoustic music, or perhaps a violinist perched on a nearby dock.
For an adventurous spin, consider hiring a group of local folk dancers for an inspiring performance.
Charter a small fleet of canoes or paddle boats for the more adventurous attendees. Games, too, can seamlessly blend into the environment; setting up lakeside Cornhole or a Volleyball net would provide ample fun.
As night falls, the entertainment can adapt with the setting. Organize a roving storyteller to captivate guests with local lore or ghost stories. A fire-dancer or well-choreographed LED light show can illuminate the twilight, creating a visual spectacle across the water.
Lastly, end the night with a breathtaking display of fireworks that reflect off the lake's surface, a finale to ensnare the senses.
Remember, the ultimate goal is to offer ventures that enhance the natural beauty of a lakeside wedding, ensuring a memorable, entertaining and delightful event.
How to Manage Bugs and Wildlife At an Outdoor Lake Wedding
Adding elements of nature to your big day can indeed elevate the whole experience. However, an outdoor lake wedding may invite some uninvited guests – bugs and wildlife. It's crucial to manage these challenges without causing harm to these natural inhabitants.
One effective method is to use citronella candles or torches. These not only keep bugs at bay but also provide beautiful, soft lighting for your event. In addition to this, offering bug spray for guests can add an extra layer of protection.
Naturally, food and drinks will attract a variety of critters. Hiring professional caterers who are experienced in outdoor events will ensure food is covered and trash is properly disposed of. This helps significantly in minimizing wildlife attraction.
Lastly, consult with your chosen venue. They can impart knowledge about local wildlife habits and potential solutions. This vital information aids in early preparation, ensuring your day goes off as smoothly as possible.
Remember, the goal is to merge with nature harmoniously, not disrupt it. Thus, preparation is key to managing bugs and wildlife. Handling this issue tactfully ensures your lakeside wedding won't leave a negative impact on the ecosystem.
Essential Lakeside Wedding Emergency Kit: What to Include
Having an appropriately stocked emergency kit is vitrally important for any lakeside wedding.Firstly, you'll want to include insect repellent. Lakes often come with an array of bugs and insects, so keeping them at bay is crucial. Next, pack a first-aid kit. Accidents can happen so having band-aids, disinfectant wipes, and painkillers on hand is a must.Also consider the weather; a lake environment could mean sudden winds or rain. Small, handheld umbrellas and blankets for guests can be a great addition to your emergency kit. High SPF sunscreen is also important. Even a mildly sunny day by the lake can lead to sunburns.Lastly, add personal items such as hair ties, safety pins, a compact mirror, and makeup for touch-ups. Remember, it's always better to be over-prepared than under-prepared. A well-stocked wedding emergency kit will ensure that you are ready for any situation that may arise during your special day by the lake.
Keep reading: