Explore an array of breathtaking outdoor wedding backdrop ideas that can turn a simple ceremony into an unforgettable event.
Outdoor weddings are a dreamy canvas for romance, and the backdrop plays a significant role in setting the scene. Whether you're considering a serene beach, a lush garden, or a rustic barn, the backdrop can transform your wedding venue into a breathtaking panorama.
This article is your go-to guide for unique and creative outdoor wedding backdrop ideas. Here, you'll find a variety of options, from DIY projects to professional installations, that cater to every style and budget.
So, let's dive in and explore these fantastic ideas to make your special day even more memorable.
Flower Wall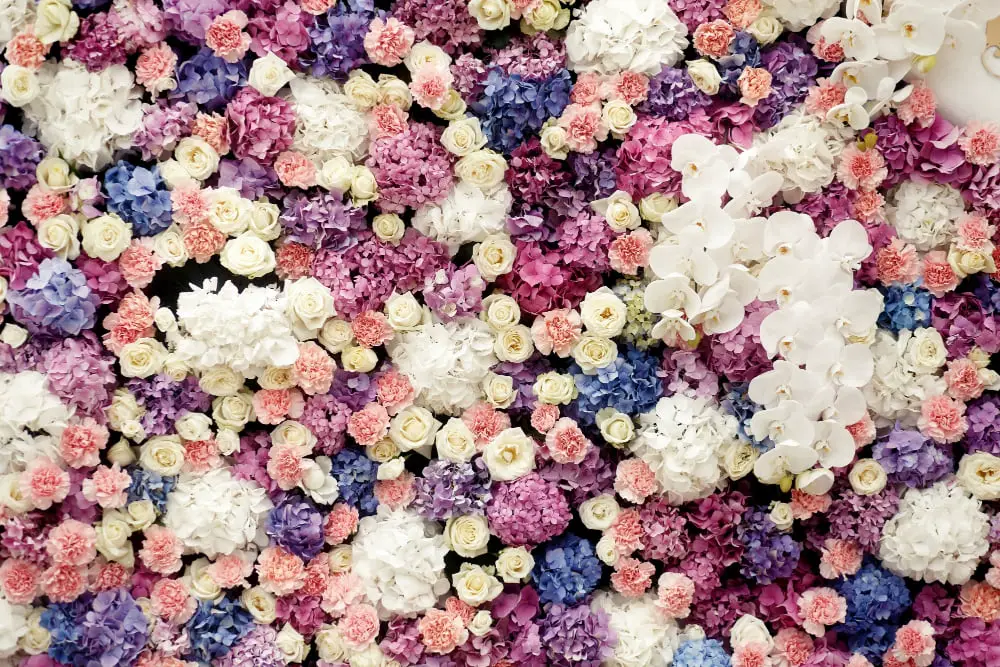 Blooming with vibrant colors, a flower wall provides a visual feast for the eyes. The versatility of this decor option allows for a tailored approach, ensuring that the backdrop matches perfectly with the chosen wedding theme.
Roses, peonies, or even sunflowers can be used to create a stunning backdrop for saying "I do". Plus, floral scent wafting in the open air adds an unforgettable sensory experience to the ceremony.
For a more sustainable option, silk flowers can serve as a great alternative, appearing just as beautiful as their real counterparts. Ultimately, a flower wall is not only a captivating backdrop but also an expression of the couples' style and personality.
Wooden Arch
Crafted from your choice of lumber – stripped and varnished, or left aged for a more rustic appeal – this style of backdrop offers a perfect balance between effortless natural beauty and tailored design.
You can remain simplistic in your adornments or weave a range of flowers and greenery between the woodwork for a pop of color.
The wooden arch serves as an excellent frame for your ceremony, capturing the essence of the occasion in your photos.
Notably, it complements woodland, garden, and beach settings exceptionally well.
Customize it according to your aesthetics and you'll be surprised how it heightens the overall charm of your outdoor wedding.
Rustic Doors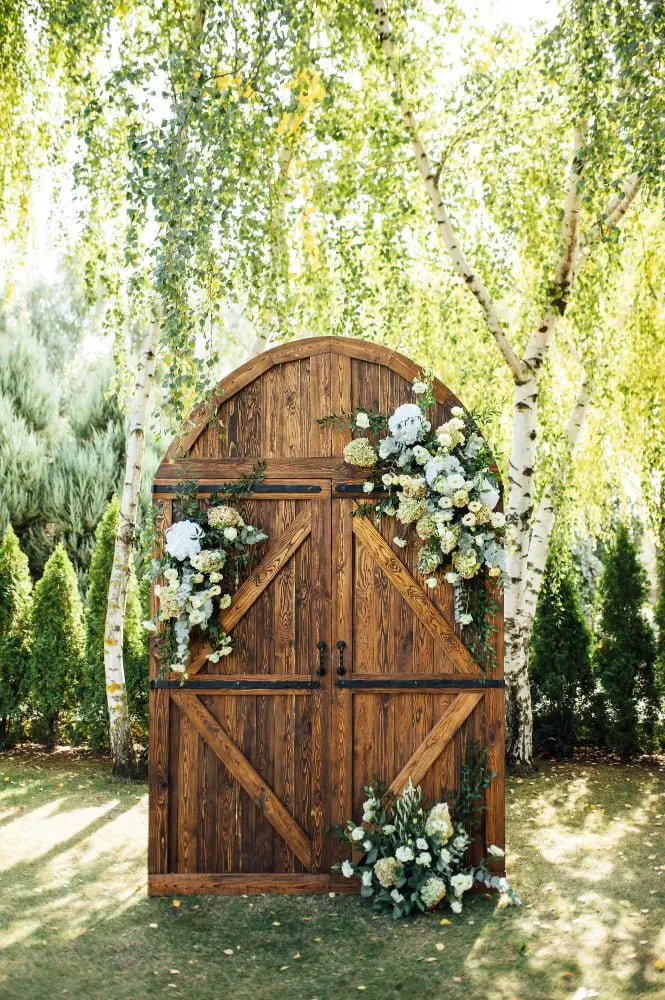 Defined by their unworn, antique appeal, rustic doors can serve as a simple yet astounding backdrop. Ideal for country or barn-style weddings, their vintage allure complements floral arrangements and greenery perfectly.
Either lean them against a wall or fasten them upright in the ground.
For an added touch, paint a heartwarming quote or the couple's initials onto the doors.
This backdrop is not only charming but an easy DIY project.
Fabric Drapery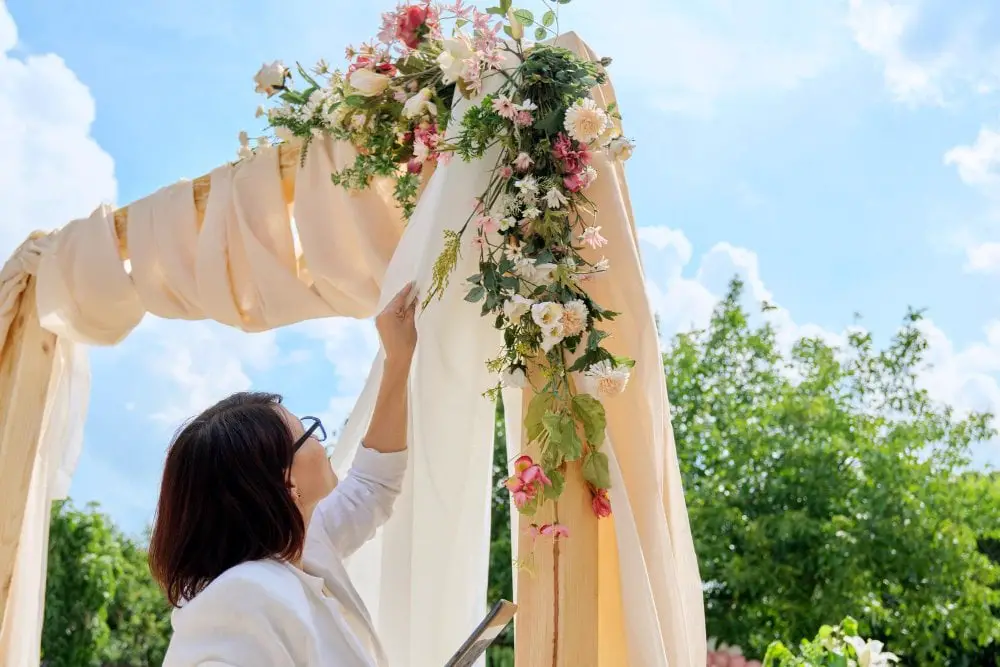 Fabric drapery offers a canvas of versatility, elegance, and charm. A variety of materials can be utilized, from airy tulle to rich velvet, and colors can be selected to match any wedding theme.
Balanced between trees or across an archway, it creates a soft, billowy effect that adds an ethereal touch. Enhancements like fairy lights or floral garlands intertwined can impart an additional dreamy vibe.
Moreover, drapery can serve not just as a standalone backdrop, it also has the potential to enclose the entire wedding space, creating a romantic, secluded environment. This option combines simplicity and sophistication, and is a cost-effective solution for couples seeking style without the extravagant spending.
Waterfall Backdrop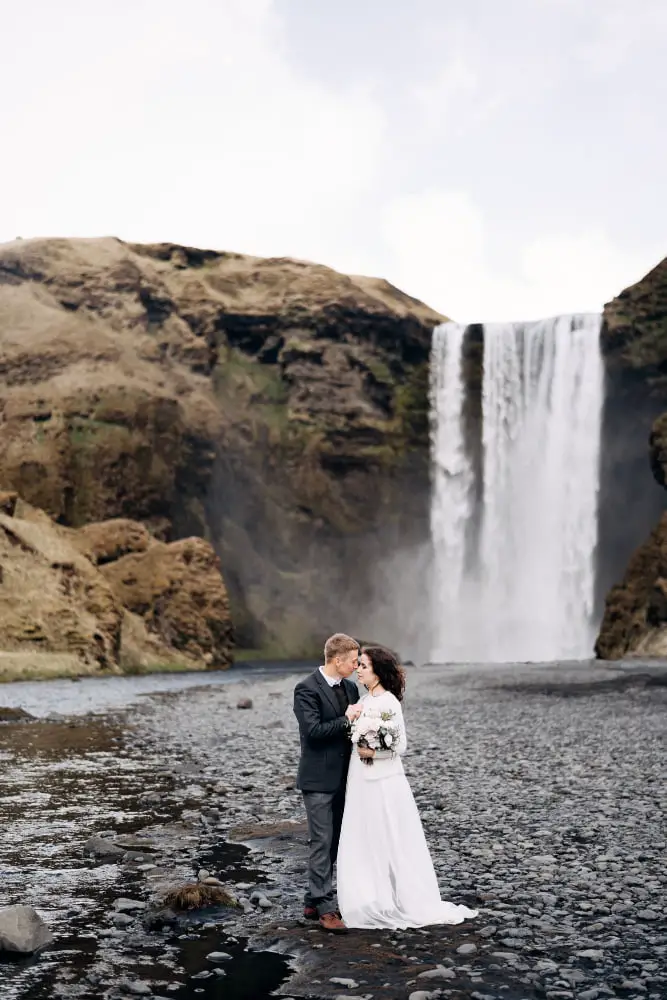 Bridal elegance effortlessly intertwines with the raw, natural beauty of a cascading waterfall. This phenomenal backdrop guarantees attention and awe from every member of the wedding party.
No two waterfalls are the same, offering unparalleled uniqueness for your outdoor ceremony. For those seeking an element of movement and sound, enhancing the mood while tying the knot, the continual flow of water serves as the perfect backdrop.
While it's essential to consider safety and accessibility, with the correct planning, the majestic allure of a waterfall can turn any wedding into a fairy-tale. Be sure to hire a photographer skilled in capturing water's motion for truly stunning photos.
Chalkboard Signage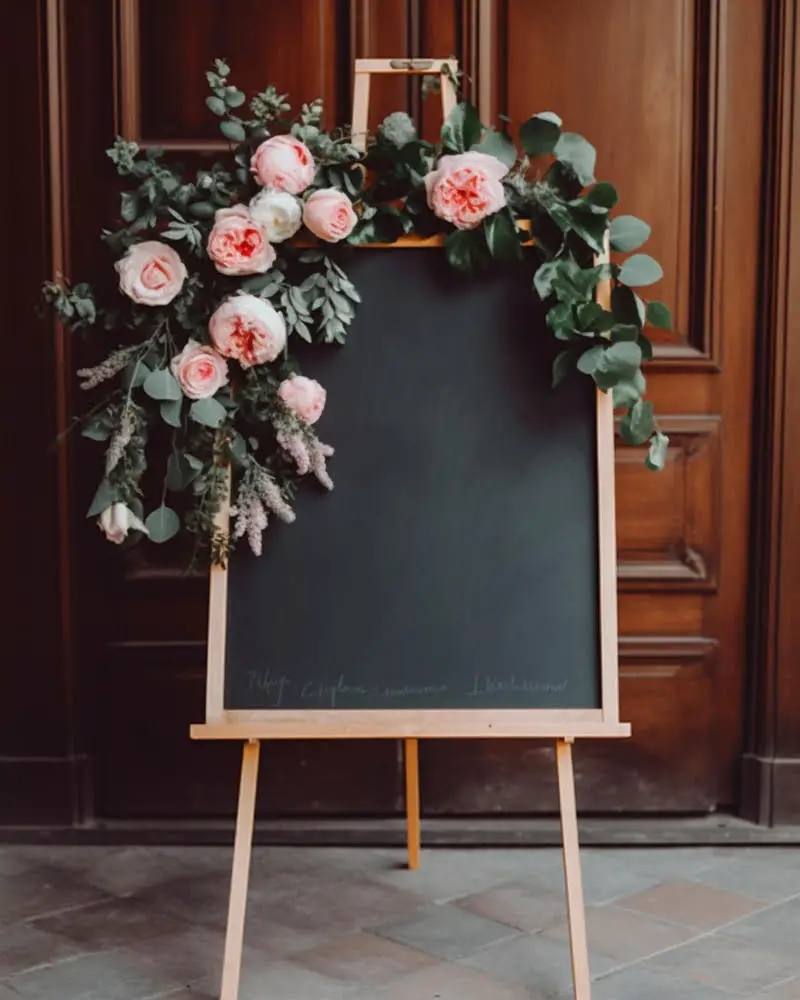 Chalkboard signage stands as an innovative and personalizable choice. This versatile backdrop idea allows couples to express their love stories, favorite quotes, or even the event schedule in a unique and creative way.
Add an extra touch with colorful chalk to get a pop-art look, or stick with classic white for a more traditional vibe.
Beyond being a backdrop, it serves a functional purpose, guiding guests throughout the day.
The beauty of chalkboard signage lies in its simplicity and it's easy to fit into any wedding theme, from rustic to modern.
Plus, it's an economical option for DIY-lovers as it can be easily created and tailored to your preferred size and shape.
Hanging Lanterns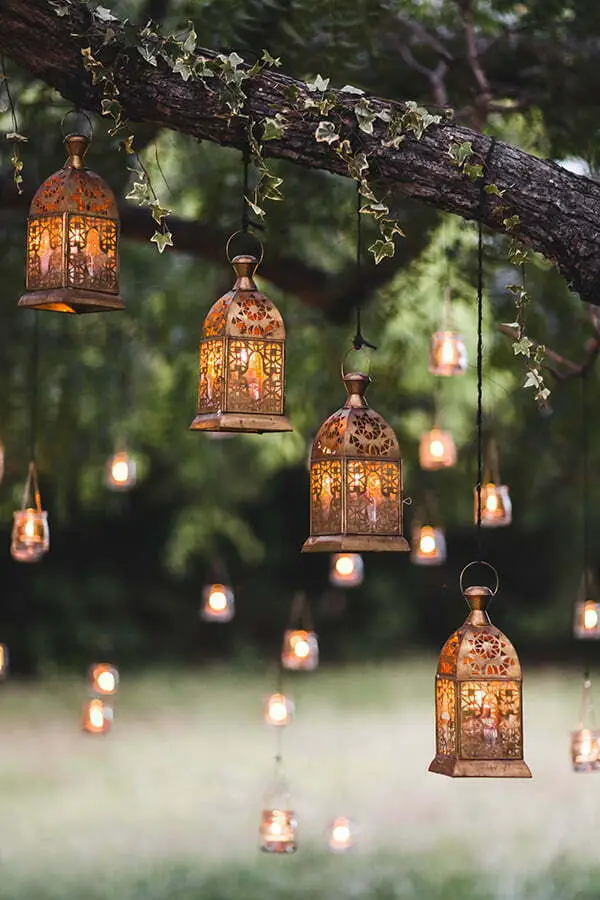 A simple yet charming option is using lanterns. Depending on the style chosen, they can enhance a rustic, boho, or even classic theme.
To make the most out of this decoration, they can be hung at various heights, creating visual interest and depth. An array of lantern sizes further adds to this effect.
Lit or unlit, these can be paired with twinkling fairy lights or blossoming flowers for an evening event, offering a magical glow. For daytime celebrations, consider brightly colored paper lanterns for a playful touch.
Lanterns are a versatile addition, adapting seamlessly to the overall style and aesthetic of your nuptials.
Vintage Window Frames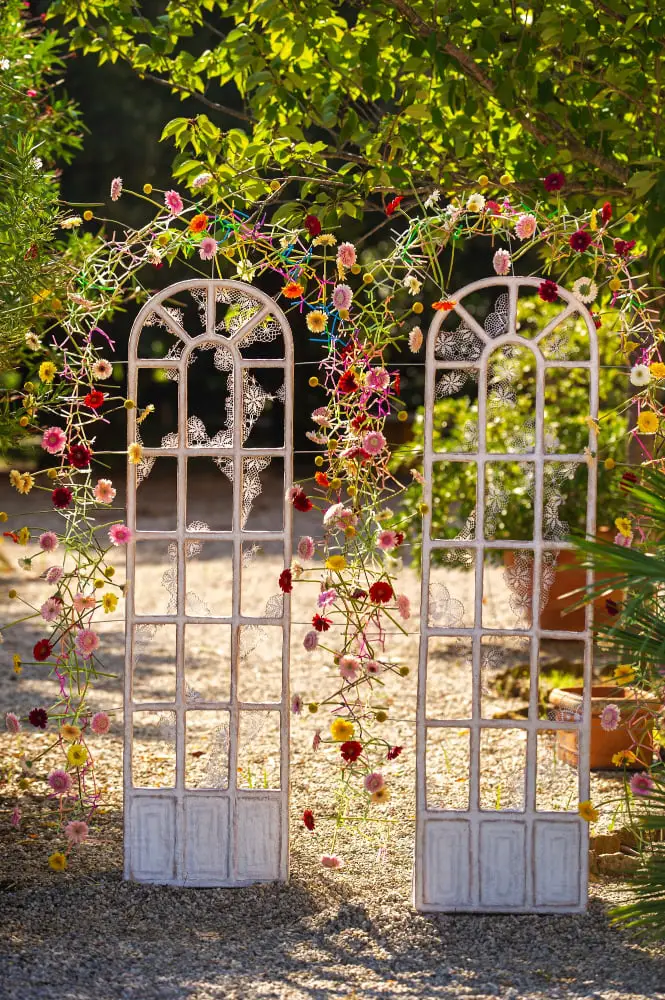 Displaying vintage window frames as a wedding backdrop is a brilliant way to incorporate whimsy into your outdoor ceremony.
You can find these antique pieces in thrift shops or flea markets.
Pair them with vibrant flowers or fairy lights to enhance their charm.
An array of frames, varying in size, color, and age, provokes visual intrigue and offers a nostalgic atmosphere.
Lace or sheer fabric draped across the frames can serve as a softening element.
A tip to remember: ensure they are safely secured, especially if in an area susceptible to wind.
Tree Twinkle Lights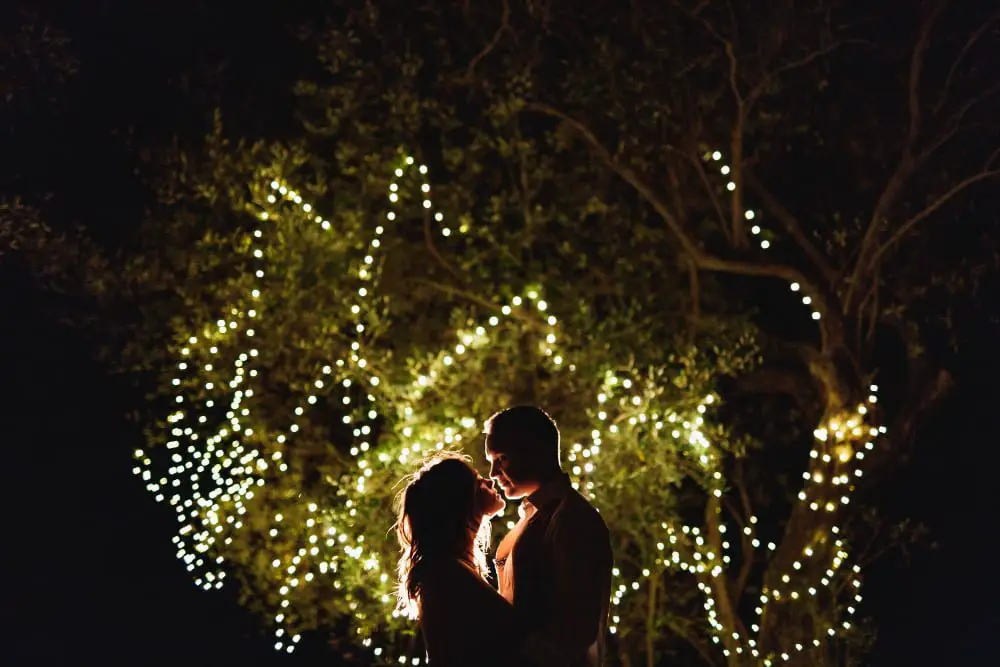 An enchanting option, this idea involves wrapping strands of twinkle lights around the branches and trunk of a sturdy and significant tree.
The gentle glow of these lights creates a whimsical, starry night effect.
It's simple, yet dramatically transforms the space into a magical setting.
Moreover, this budget-friendly backdrop can easily complement any wedding theme, from rustic to elegant.
Just remember, the more lights, the more spellbinding the result.
Paper Lantern Arrays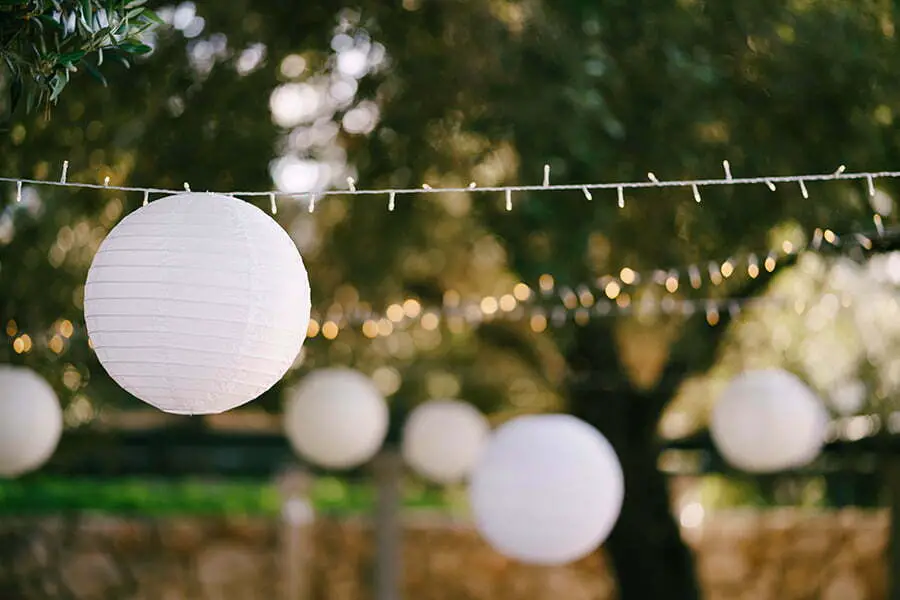 Harnessing the charm of paper lanterns can elevate your decor to a new height. Their delicate shapes, coupled with a dazzling array of possibilities in terms of color and size, can convert a simple open space into a fairytale setting.
Hang them from tree branches to create an enchanting canopy or create arrays at varying heights to give a staggering visual drama.
Illuminate them with soft LED lights to evoke a warm and welcoming atmosphere.
This approach provides not only an enticing backdrop but also a cost-effective solution to outdoor wedding decor.
Seashell Cascade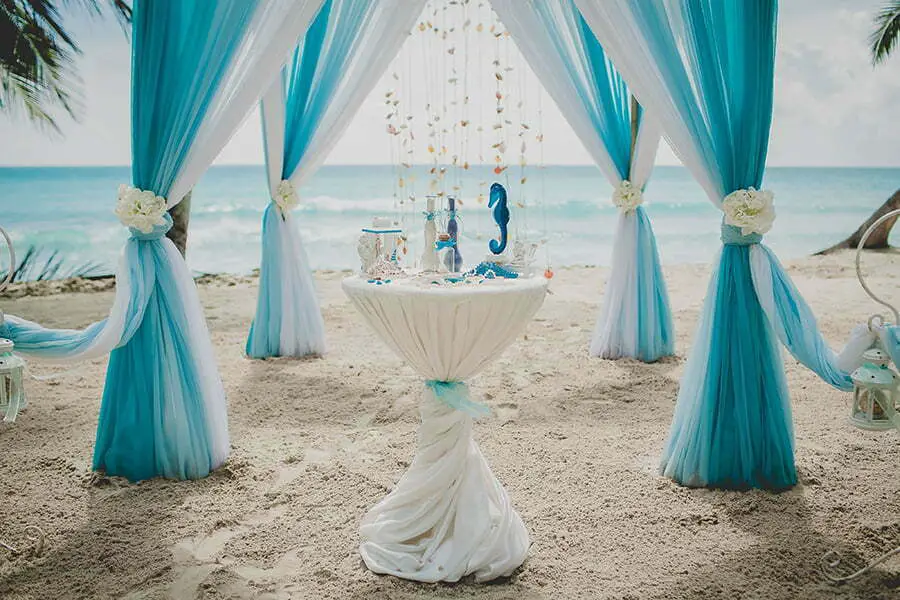 Drawing inspiration from the ocean, a Seashell Cascade creates a serene and beautiful setting.
This idea works exceptionally well for beach-themed celebrations or coastal weddings.
Small to large shells, starfish, and even bits of coral strung together form an alluring backdrop.
Depending on the couple's preference, the cascade can be elegant or more casual, possibly incorporating strands of pearls for added luster or colorful sea glass for a pop of color.
The gentle clinking of the shells stirred by a breeze also adds a unique auditory dimension, enhancing the outdoor environment's ambient charm.
Ensure the cascade is securely anchored to withstand potential gusts.
This backdrop idea effortlessly infuses a touch of nature's beauty – a perfect pairing with a beach-side, outdoor wedding.
Ivy-Covered Stone Wall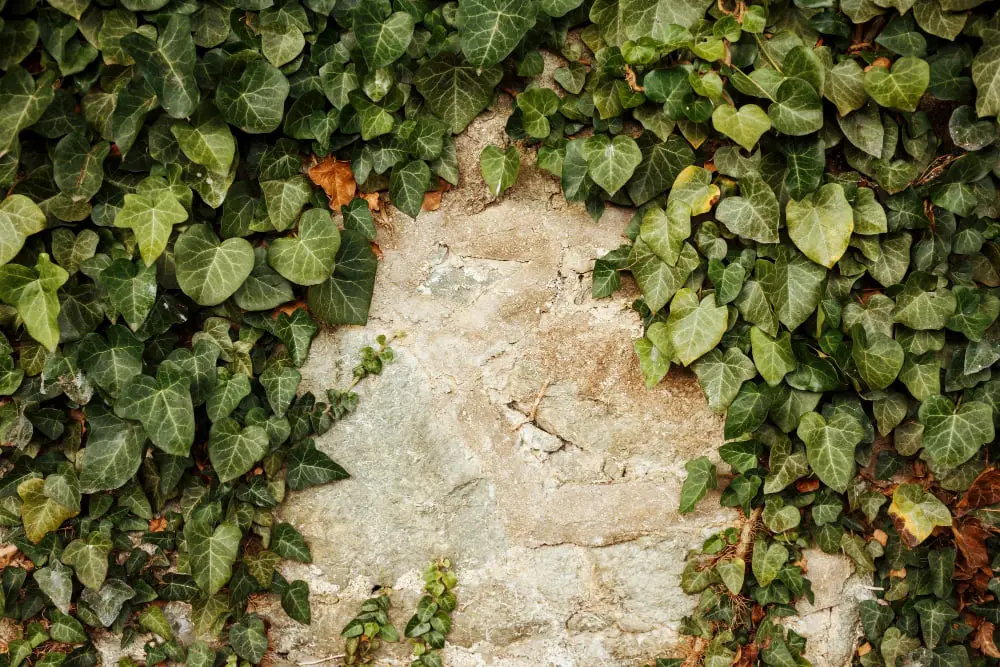 An enchanting choice for a garden-themed ceremony, this backdrop brings a touch of old-world charm.
Ivy, with its rich green hues and cascading tendrils, pairs perfectly with textured stone walls.
The contrast not only adds a visual element to your wedding photographs but also brings a dash of natural beauty into urban venues.
Extra greenery can be added on the stone surfaces, or you can let the natural pattern of the stone and ivy be the star.
This eco-friendly backdrop is perfect for couples seeking an elegant yet inviting atmosphere.
Lace Curtain and Lights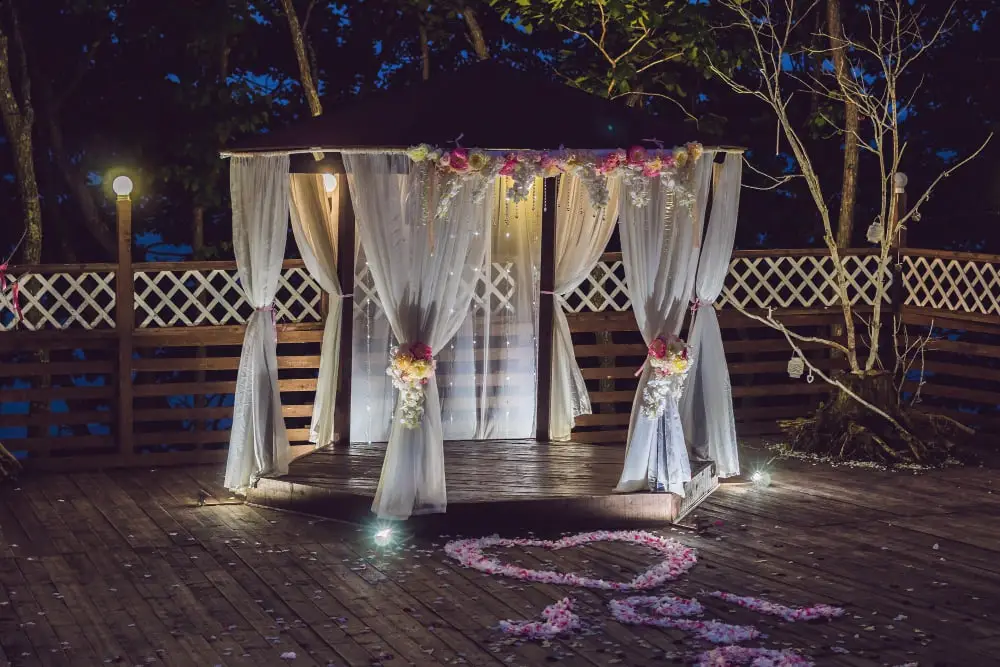 Dainty and ethereal, a backdrop featuring lace curtains and lights adds a touch of romantic allure to any outdoor wedding setting. Ideal for evening events, the twinkling lights intertwined with delicate lace promise a captivating photoscape.
Finding lace with intricate patterns can add a unique touch. Wrap or drape the lights to create depth and interest, taking care to ensure they are safely secured to avoid any mishaps. Matching soft, warm lighting with white or cream lace yields best results.
For an added dose of charm, include touches like flowers or greenery. This backdrop design is wonderfully versatile and fits well within most themes, making it a favorite for outdoor nuptials.
Bohemian Macramé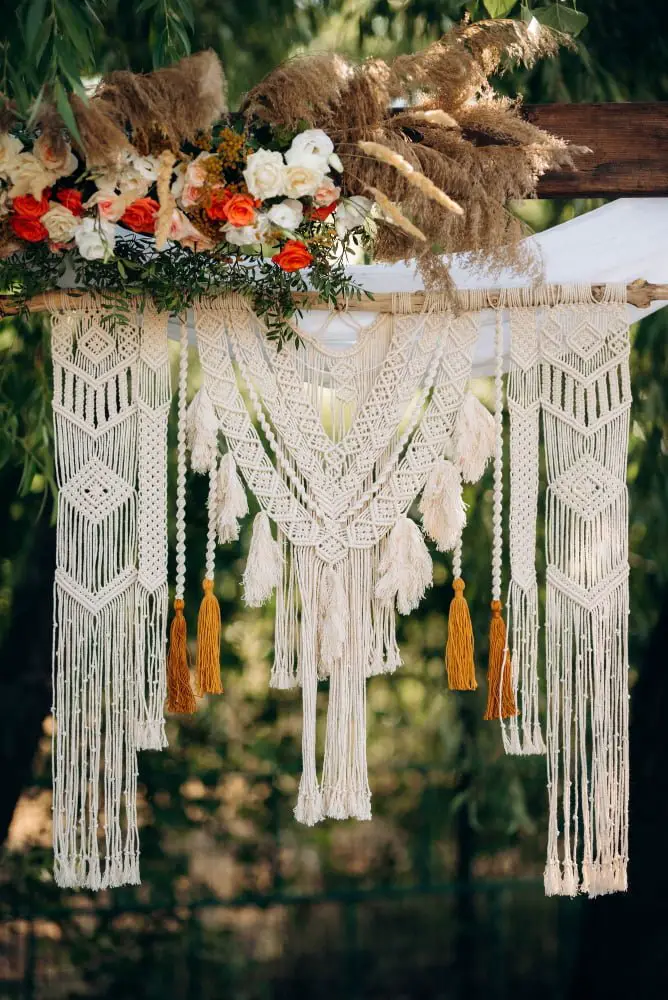 Bohemian Macramé serves as a beautiful, yet unconventional backdrop for an outdoor wedding. Draped artfully behind the altar or reception area, it blends seamlessly with nature, bringing together modern aesthetic and old-world charm.
Knotting patterns and textures can be chosen to match the wedding theme. Best of all, the Macramé can be a DIY project for a personal touch, or it can be sourced from various talented craftspeople. Adorned with colorful flowers, green foliage, or eye-catching feathers, this backdrop can stand out as a unique centerpiece for your wedding.
Plus, you can keep it as a decoration for your home, serving as a fond memory of your special day.
Hanging Flower Vines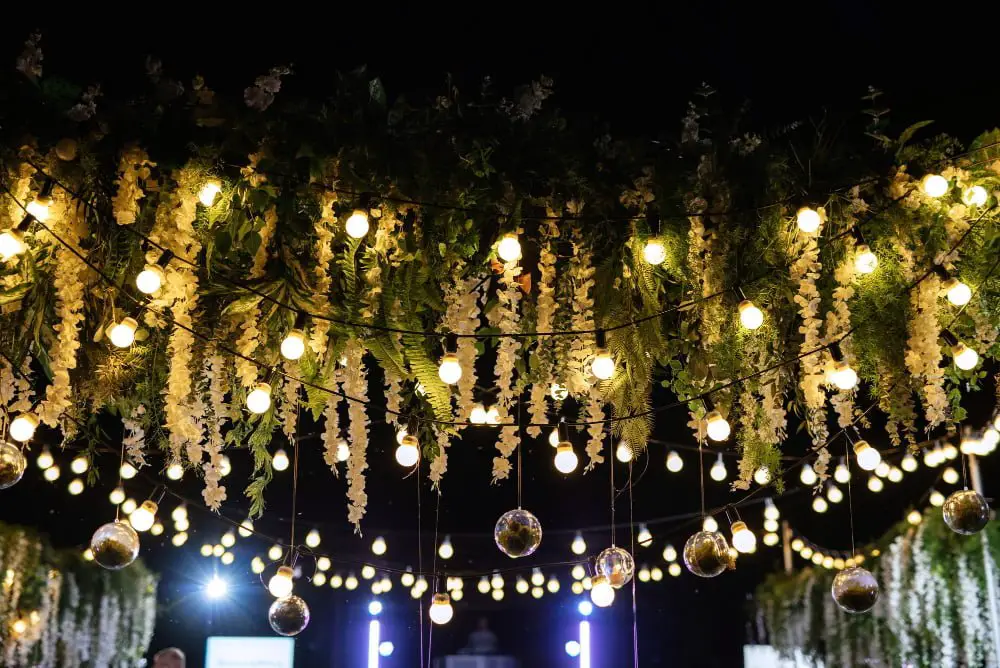 Positioned perfectly above the bride and groom, hanging flower vines instill an ethereal aura amidst the wedding ceremony. Appealing to a softer, romantic aesthetic, these floral ornaments are available in a variety of species – from lush roses to delicate wisteria, creating an enchanting feel that mirrors the beauty of a traditional archway.
With adjustable heights, they provide flexibility, perfect for outdoor settings with natural elements like large trees, archways, or pergolas. The vines can be interspersed with subtle fairy lights or draped fabric for a night-time glow or borrowed elegance. It's worth considering the season, which directly affects the availability and cost of specific flowers. Use locally sourced flowers emphasizing vibrant seasonal colours for a sustainable choice that will also tie the wedding to its location.
This backdrop idea is versatile and can be customized to suit various wedding themes, be it classic white, pastel spring, or vibrant summer fiesta. With the right combination, hanging flower vines truly have the power to transform an outdoor wedding into an unforgettable visual spectacle.
Natural Forest Backdrop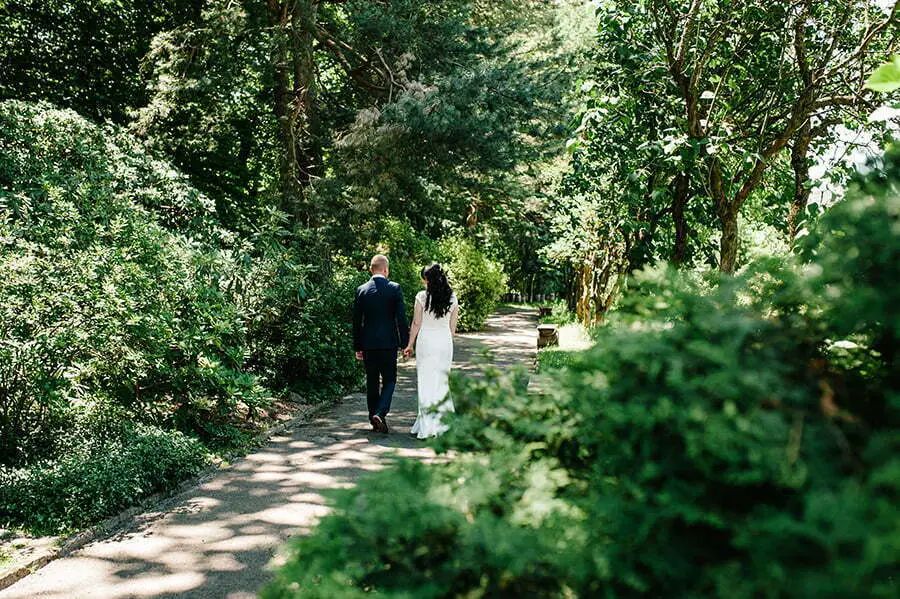 Choosing a forest as your wedding backdrop effortlessly provides a spectacular and ethereal setting. Enchanting green foliage draws in the wild grandeur of nature, adding depth and drama without the need for any additional decor. This choice offers a naturally splendid landscape with diverse color schemes depending on the season.
From vibrant summer greens and autumnal hues to bare winter branches or spring blossoms, each season brings its own unique charm. To make the most of this setting, consider positioning the ceremony area by a distinctive tree or woodland feature. Finally, remember to check if permission or permits are required for using forest spaces to ensure a smooth event.
Burlap and Barn Wood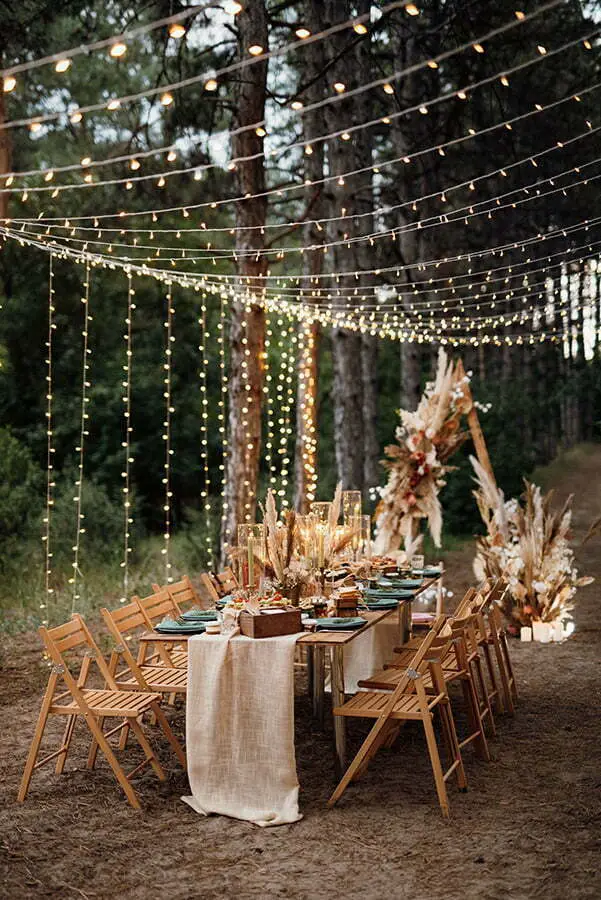 This rustic theme brings forth a charming countryside feel to your ceremony. Picture a rugged barn wood framework, embellished with swathes of earthy burlap cloth.
The wood provides a hardy and traditional foundation, while the burlap adds texture and warmth.
A scattering of wildflowers or any floral arrangements that pair well with your theme can enhance the allure.
This idea is perfect for those dreaming of a country-inspired wedding.
Trying different lighting elements, like fairy lights or vintage lanterns, could create a captivating twilight glow during evening nuptials.
Wrought Iron Gate
With their intricate patterns and antique charm, wrought iron gates make a captivating focal point for an outdoor wedding.
They can be adorned with soft, flowing fabrics, intertwined with green ivy, or garnished with an array of vibrant blossoms to create a picture-perfect backdrop.
The timeless elegance of wrought iron combines splendidly with both classic and modern themes, offering versatility and style.
Whether nestled in a garden ceremony or perched on a hilltop, these ornate structures add an understated sophistication that's hard to match.
DIY Pallet Wall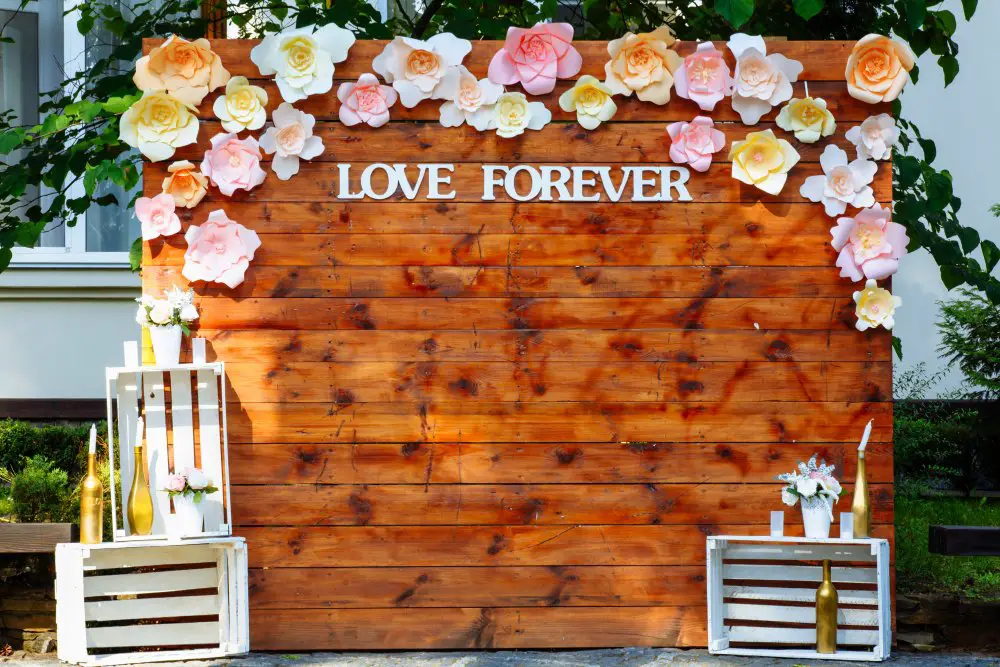 Sourcing a few old pallets can lead to a charming, rustic touch.
Smooth and paint the pallets in a shade matching your wedding theme.
Join them together vertically to match your desired height and secure them on a sturdy base.
This straightforward method provides a stunning backdrop within a practical budget, allowing for additional decorations like floral arrangements or fairy lights.
Creatively arranging photos or small ornament items enhances the individuality, making each DIY pallet wall truly unique.
Wine Barrel and Flower Combo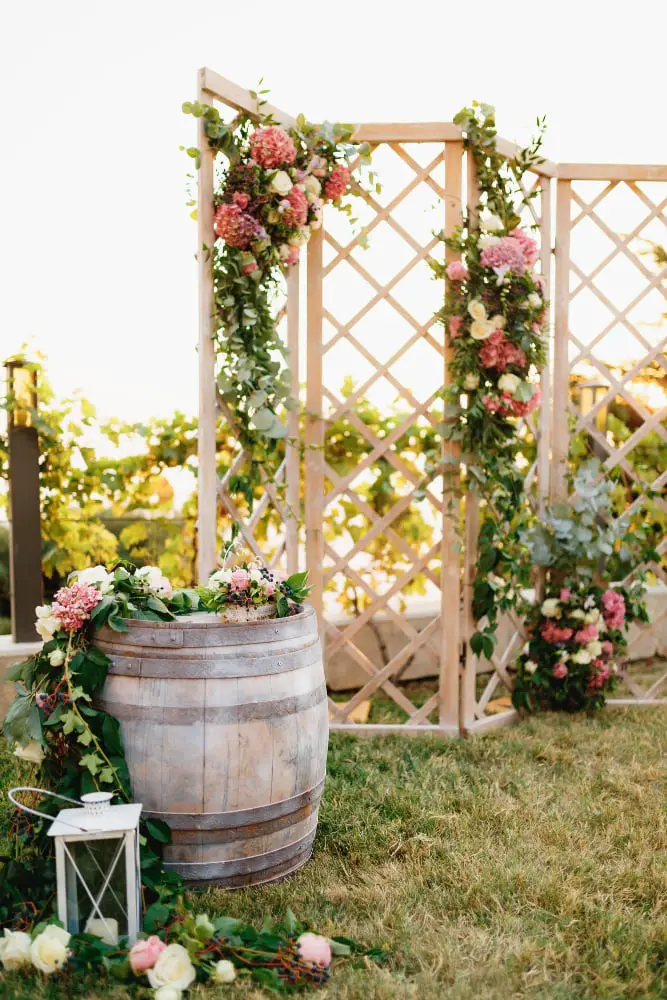 This offbeat backdrop idea can deliver a rustic touch. Use two upright wine barrels to form a base.
Arrange a stunning floral arrangement on top. Combining vivid blooms with greenery leads to a captivating display.
For a romantic touch, drape a soft, billowing fabric over the barrels. Remember that focusing on seasonal flowers can keep costs down and uphold a cohesive wedding theme.
An old-world charm exudes from this setup, making it an ideal pick for vineyard weddings or country themes.
Consider complementing the look with wine-related accessories like corks or empty wine bottles incorporated subtly into the design.
Keep reading: