Discover 20 enchanting outdoor Tuscan wedding ideas. Elevate your special day into a magical and unforgettable experience in Italy's picturesque countryside.
If you're planning a wedding and dreaming of a gorgeous outdoor celebration, then you're in the right place. Today's post is all about Tuscan-inspired weddings that will leave you feeling inspired and excited to start planning your own special day.
From stunning vineyard backdrops to rustic farmhouses, the Tuscan countryside offers endless possibilities for creating an unforgettable wedding experience. In this article, I'll be sharing 20 unique ideas for incorporating Tuscan charm into your outdoor wedding celebrations.
So grab a cup of coffee or tea, sit back and get ready to be swept away by these enchanting ideas!
Vineyard Venue
A vineyard venue is a perfect choice for an outdoor Tuscan wedding. The rolling hills and lush grapevines create a stunning backdrop for your ceremony and reception.
Many vineyards offer picturesque locations, such as hilltops or terraces, where you can exchange vows with panoramic views of the countryside. Plus, what's more romantic than saying "I do" surrounded by rows of vines? You can also incorporate wine into your wedding theme by offering tastings during cocktail hour or giving bottles as favors to guests.
A vineyard venue truly captures the essence of Tuscany and will make your special day unforgettable.
Olive Grove Ceremony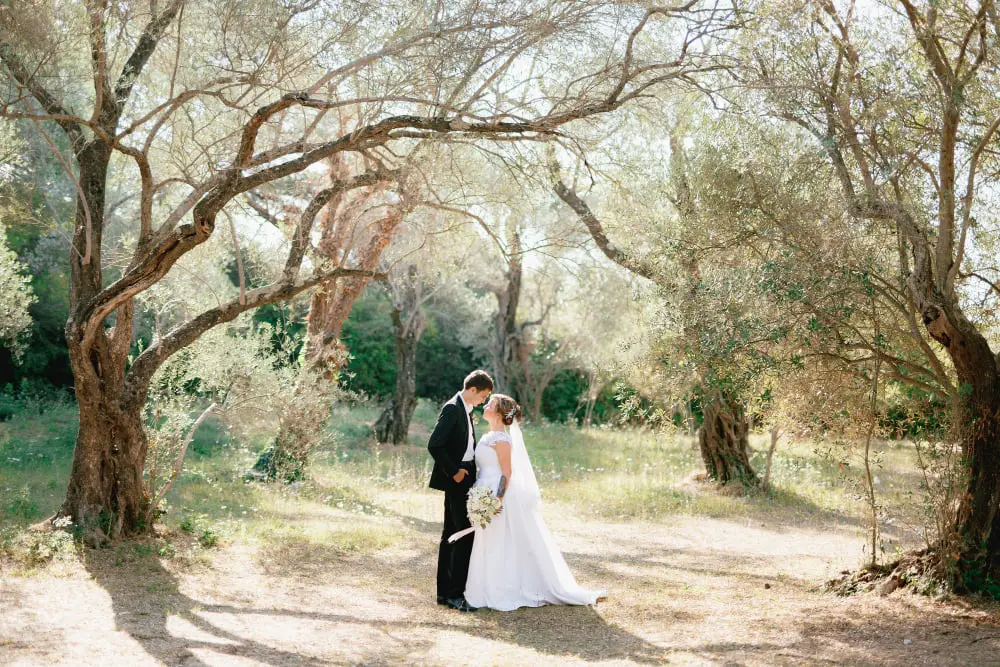 The lush greenery and fragrant trees create a serene atmosphere that will leave you and your guests in awe. You can set up an aisle between the rows of olive trees, or even have your altar under one of them for a truly unique experience.
Decorate with simple floral arrangements or let nature speak for itself – either way, it's sure to be breathtakingly beautiful. Don't forget to take advantage of this stunning backdrop by having plenty of photo opportunities after the ceremony!
Rustic Farmhouse Reception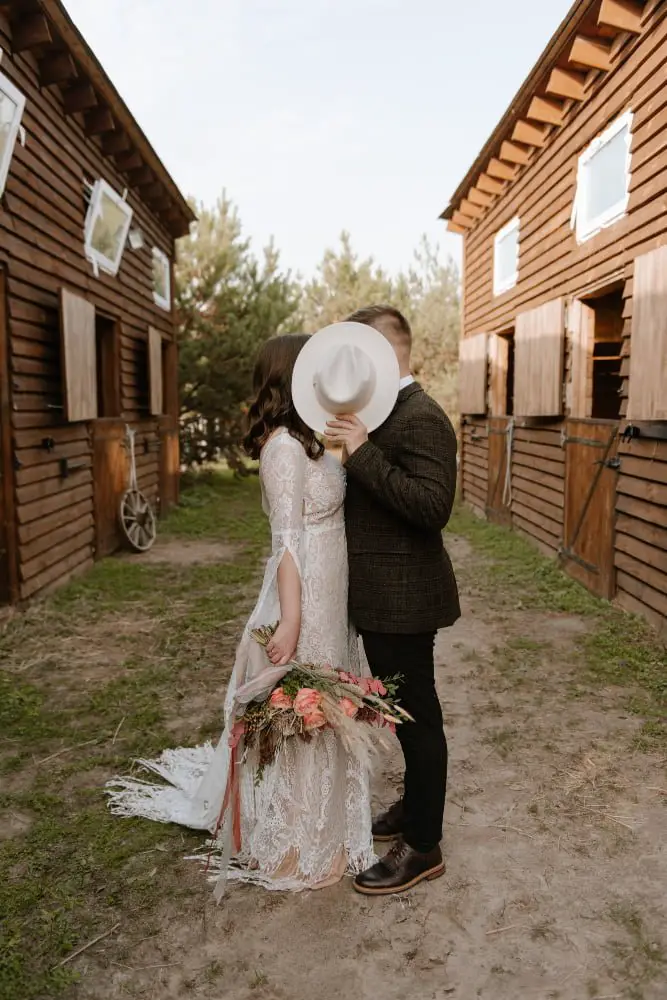 The warm and cozy atmosphere of a farmhouse will make your guests feel right at home. You can decorate the space with burlap table runners, wooden centerpieces, and wildflower arrangements for an authentic rustic look.
Add some vintage touches like mismatched chairs or antique lanterns for extra character. Serve family-style dishes made from fresh local ingredients that will delight everyone's taste buds while creating an intimate dining experience reminiscent of Italian family gatherings.
End the night with dancing under twinkling lights strung across the ceiling or outside in a courtyard surrounded by olive trees – it'll be unforgettable!
Lavender Accents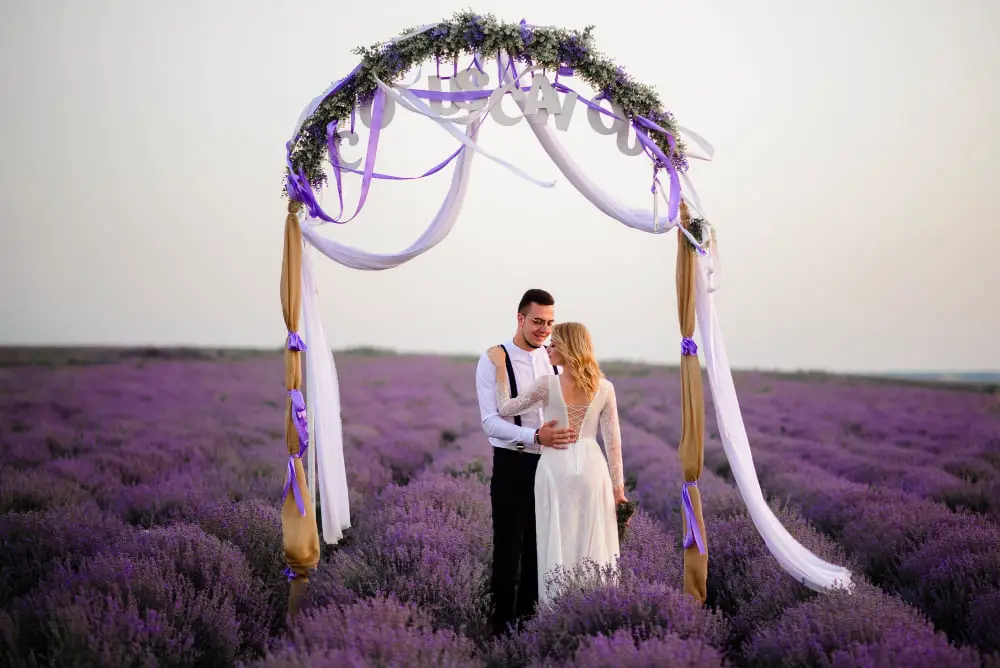 This fragrant herb can be incorporated into the decor in many ways, such as using lavender sprigs in the centerpieces or adding dried lavender to your wedding favors. You could also consider having a lavender-inspired signature cocktail for guests to enjoy during cocktail hour.
Lavender is not only visually stunning but also has calming properties, making it an ideal choice for creating a serene and romantic atmosphere at your outdoor Tuscan wedding.
String Lights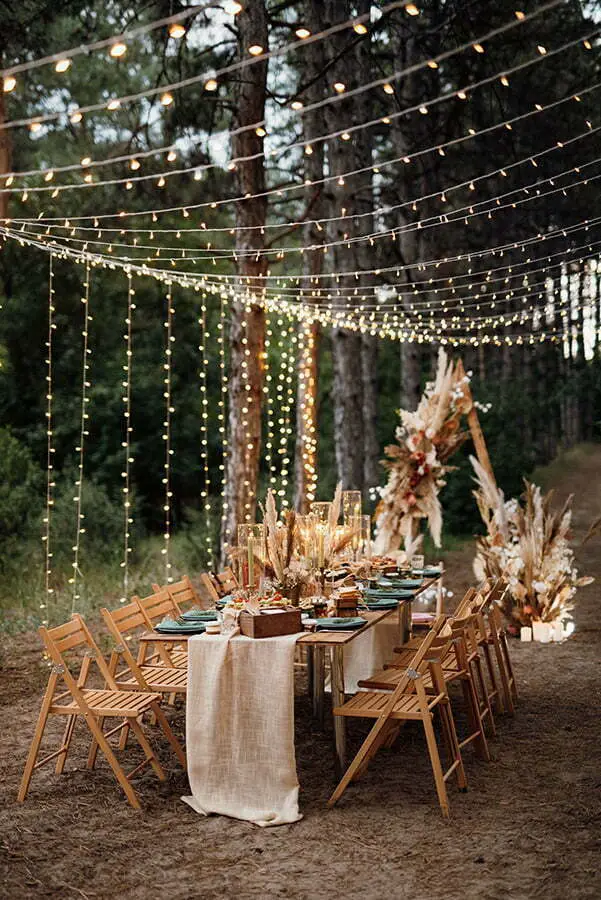 They add a romantic and magical touch to the atmosphere, especially when the sun sets. You can hang them above your reception tables or drape them around trees to create an enchanting ambiance.
String lights come in different shapes and sizes, so you can choose ones that fit your theme perfectly. Whether you opt for classic white bulbs or colorful lanterns, string lights will make your Tuscan wedding unforgettable!
Al Fresco Dining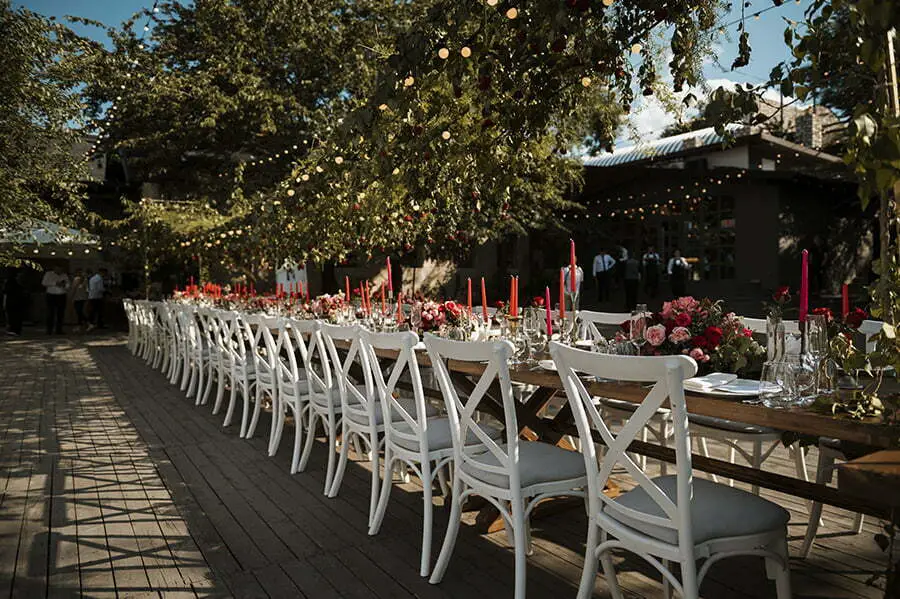 The warm weather and stunning scenery make it the perfect setting for an outdoor reception. Long wooden tables adorned with linen runners, candles, and fresh flowers create an intimate atmosphere that encourages guests to linger over their meals.
Traditional Italian cuisine such as pasta dishes, antipasti platters, and wood-fired pizzas are popular choices for al fresco dining at Tuscan weddings. To add a touch of elegance to the meal service, consider using gold or silver flatware paired with vintage-inspired glassware on each table setting.
Italian Cuisine
From antipasti platters to pasta dishes, Italian food is known for its simplicity and delicious flavors. Some popular options include bruschetta, caprese salad, risotto with porcini mushrooms or truffles, lasagna alla bolognese and tiramisu for dessert.
Don't forget to pair your meal with some of the region's famous wines such as Chianti or Brunello di Montalcino!
Gelato Cart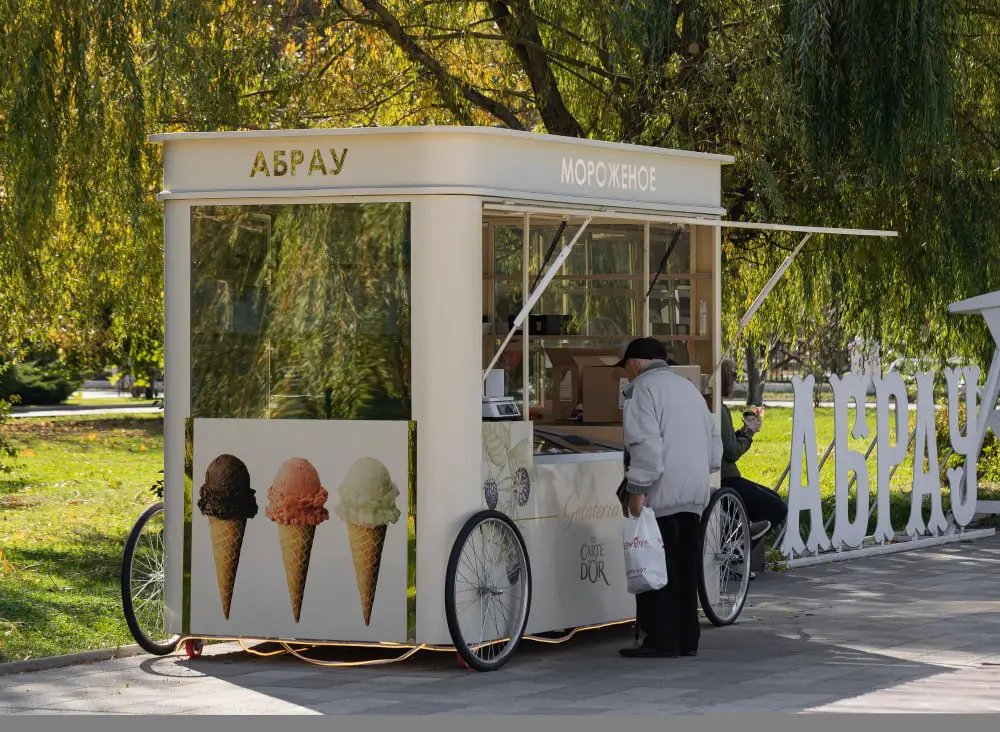 Guests will love indulging in this classic Italian treat, especially on a warm summer day. You can choose from various flavors and toppings to create the perfect dessert station for your guests.
A gelato cart also adds an element of entertainment as guests can watch the gelato being scooped right in front of them. It's sure to be a hit with both kids and adults alike!
Wine Barrel Decor
Wine barrels can be used in a variety of ways, from cocktail tables to cake stands. They also make great bases for floral arrangements or as decorative accents throughout the venue.
For an extra special touch, consider using personalized wine barrel signs with your names and wedding date on them. The possibilities are endless when it comes to incorporating these versatile pieces into your Tuscan wedding decor!
Floral Archway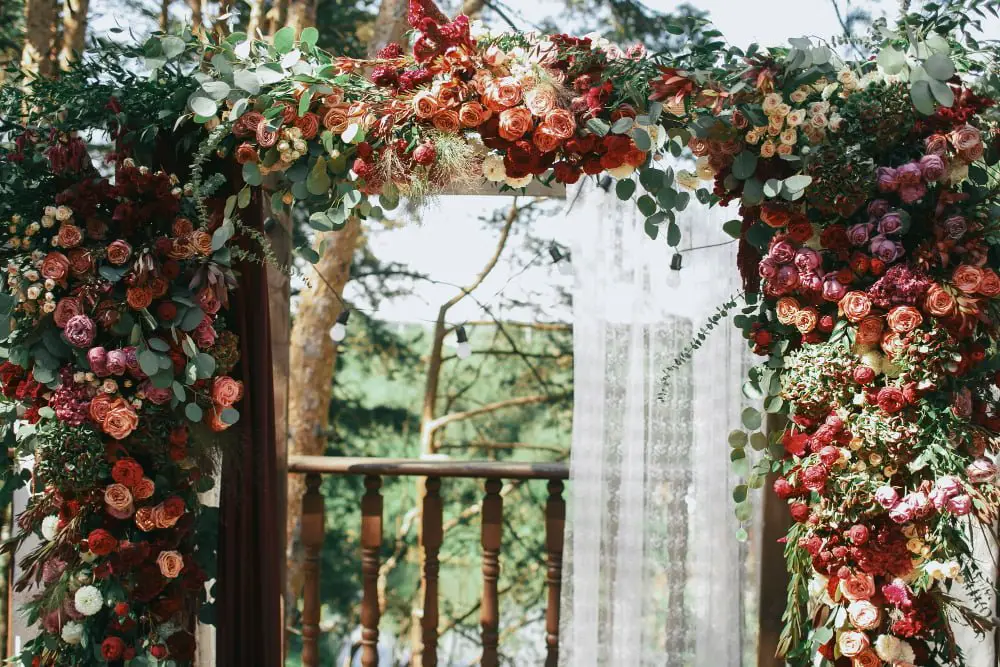 It creates a stunning backdrop for the ceremony, adding color and texture to the natural surroundings. You can choose from a variety of flowers such as roses, peonies, hydrangeas or even wildflowers that are in season during your wedding date.
The archway can be decorated with greenery like eucalyptus or ivy for an organic look. A floral archway not only adds beauty but also serves as an excellent photo opportunity for you and your guests!
Cypress Tree Aisle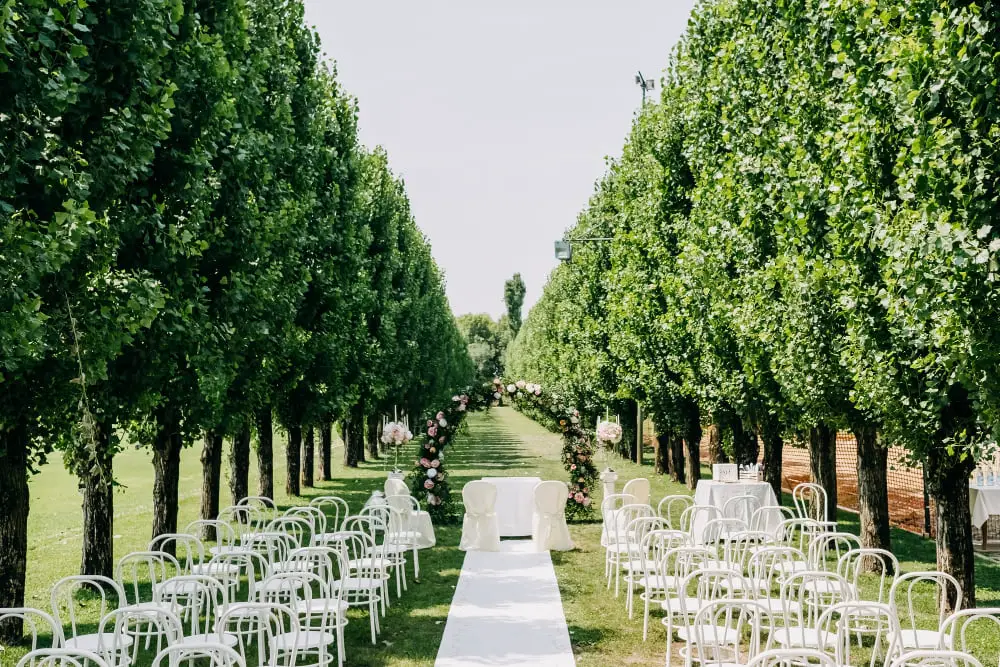 One way to do this is by creating a cypress tree aisle for the ceremony. Imagine walking down an aisle lined with tall, slender cypress trees that sway gently in the breeze as you make your way towards your partner.
It's a beautiful and unique way to incorporate nature into your wedding day while also paying homage to Tuscany's stunning scenery. Plus, it makes for some truly breathtaking photos!
Lemon Centerpieces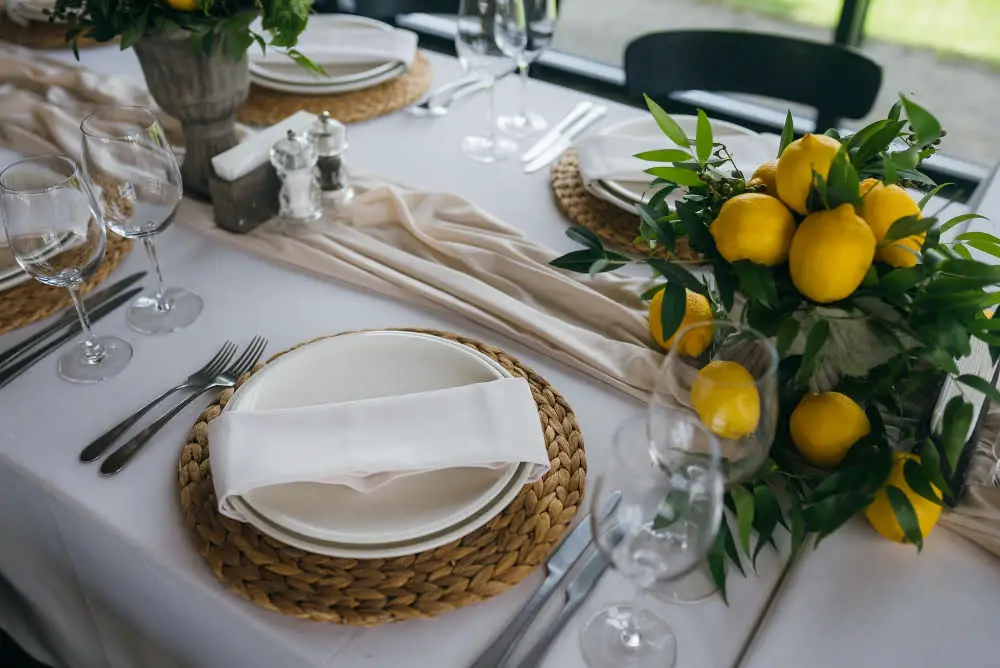 They add a pop of color and freshness to the table decor, while also providing a subtle citrus scent. You can use lemons in various ways, such as placing them in glass vases with flowers or using them as place card holders by attaching name cards with twine.
For an extra touch of elegance, consider adding olive branches or rosemary sprigs to the arrangement for an authentic Italian feel. Lemon centerpieces are not only beautiful but also affordable and easy to create on your own!
Terracotta Pot Favors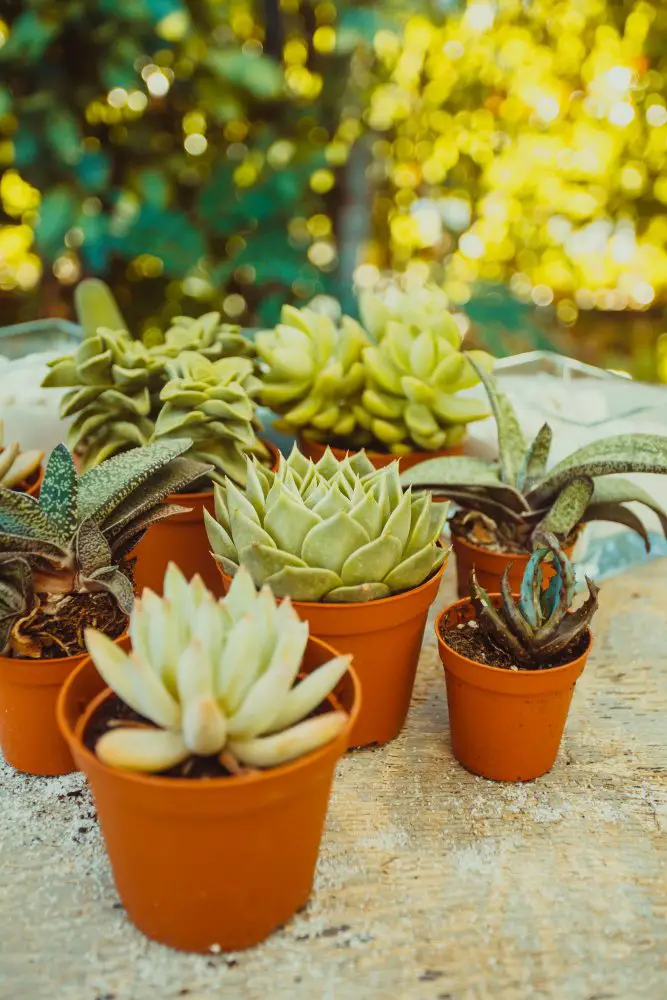 These small pots can be filled with anything from succulents to herbs, or even Italian candies. You can personalize them by painting the pots in colors that match your wedding theme or adding a tag with each guest's name on it.
Not only will they serve as lovely keepsakes for your guests, but they'll also add an authentic touch of Tuscany to their homes long after the celebration is over.
Sunflower Bouquets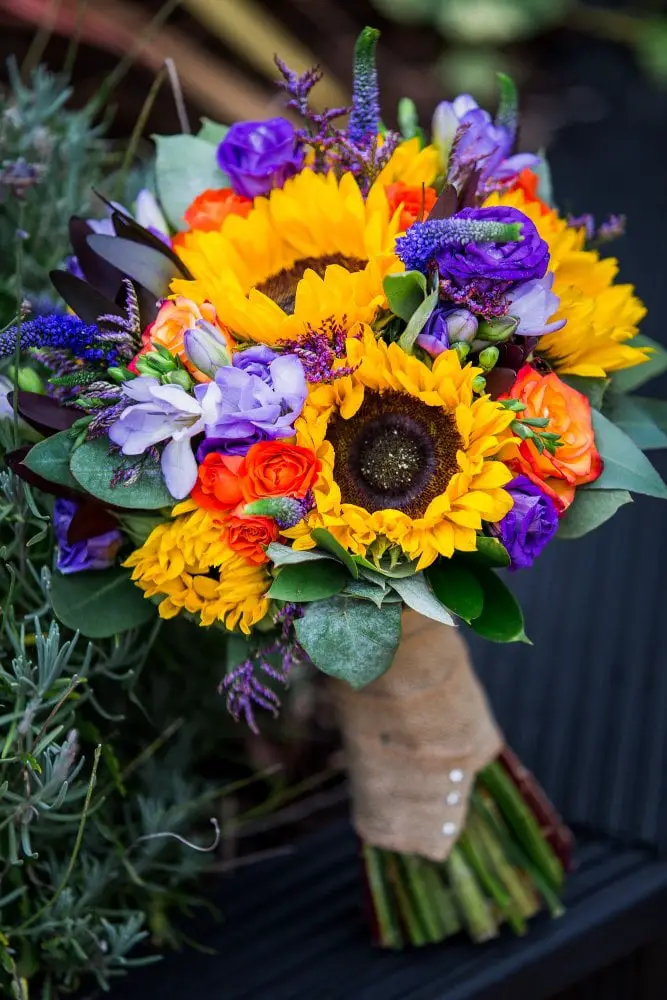 These bright and cheerful flowers are the perfect addition to any outdoor celebration, adding a touch of rustic charm to your special day. Sunflowers can be paired with other wildflowers or greenery for an even more natural look, or they can stand alone as the star of the show.
Whether you choose small bouquets for your bridesmaids or larger arrangements for yourself and your partner, sunflowers are sure to bring joy and warmth to everyone in attendance at your Tuscan wedding.
Linen Table Runners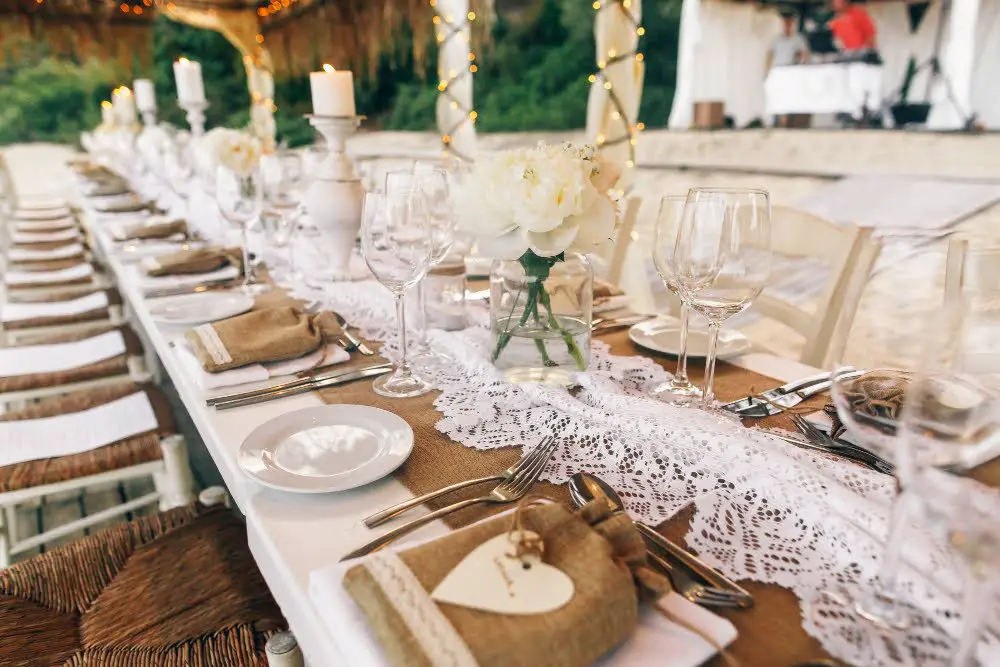 They can be used on long banquet tables or round tables, and come in a variety of colors such as ivory, beige, or light grey. Linen runners pair well with rustic centerpieces like olive branches or sunflowers for an authentic Tuscan feel.
Plus, they're easy to clean and reuse for future events! Consider renting linen table runners from a local vendor to save money while still achieving the look you desire.
Live Music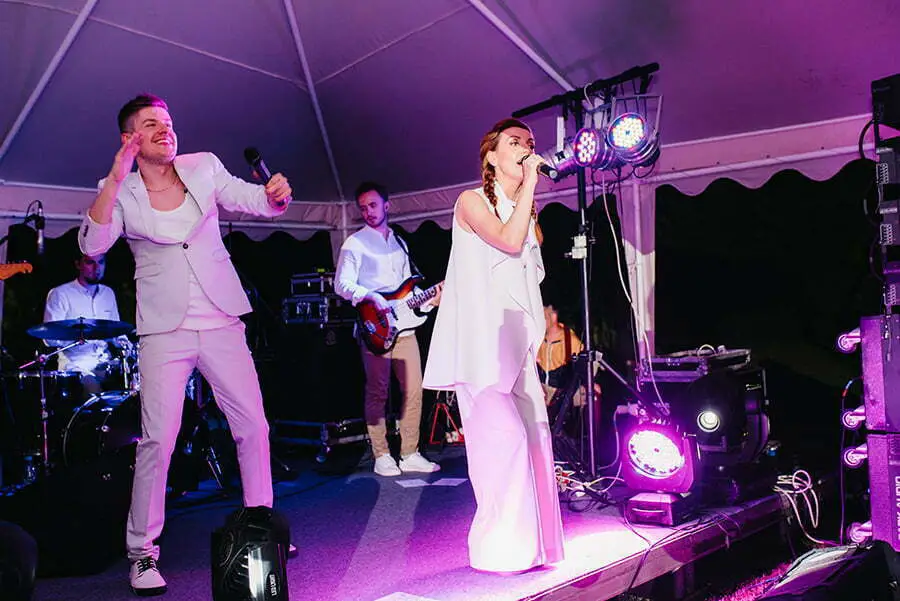 Consider hiring local musicians who can play traditional Italian instruments such as the mandolin or accordion. You could also opt for a classical string quartet or jazz band, depending on your personal taste and style of wedding.
Live music creates a romantic ambiance that will make your guests feel like they are part of something truly special and memorable.
Bike Rental Station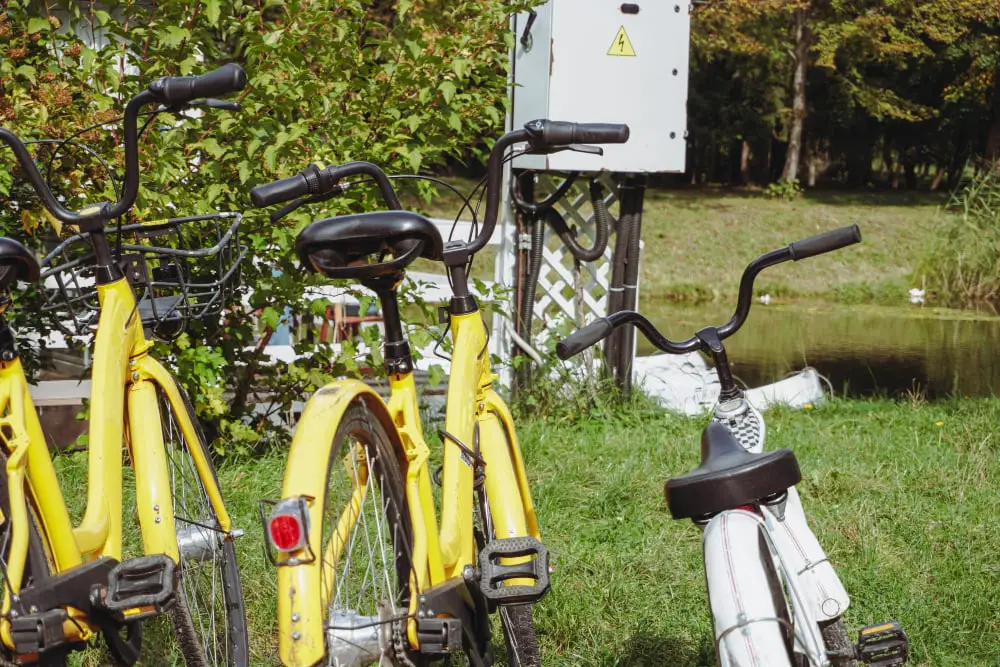 Guests can explore the beautiful countryside on two wheels, taking in the stunning scenery at their own pace. It's also an eco-friendly option that aligns with many couples' values of sustainability and reducing their carbon footprint.
Bike rentals can be set up near the venue or even incorporated into a pre-wedding activity for guests to enjoy before the big day. With helmets, maps, and suggested routes provided by vendors, it's easy for guests of all ages to participate in this exciting adventure!
Piazza Cocktail Hour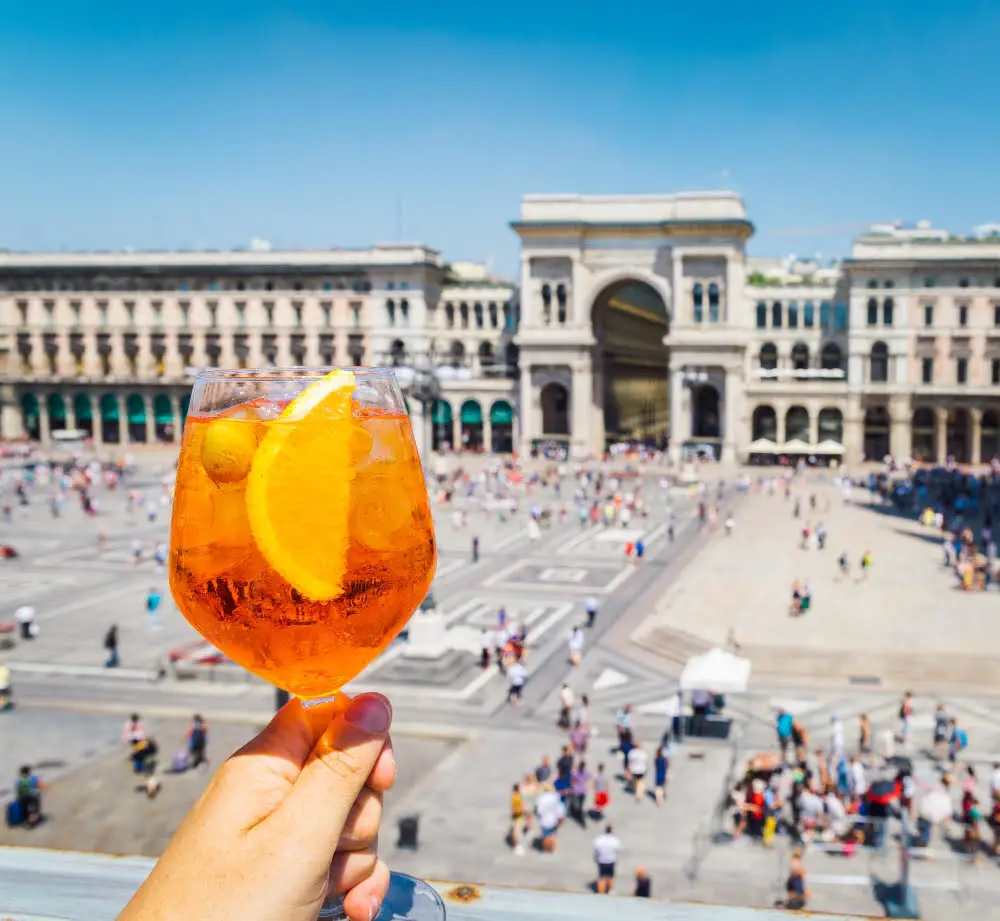 Imagine sipping on Aperol Spritz or Negroni while enjoying the beautiful scenery of Italy's piazzas. You can set up a small bar with signature cocktails and appetizers for guests to enjoy before the reception begins.
This will give them time to mingle, take photos, and soak in the atmosphere of your outdoor wedding venue. Piazza cocktail hour is perfect for couples who want their guests to experience true Italian hospitality and culture during their special day!
Vintage Vespas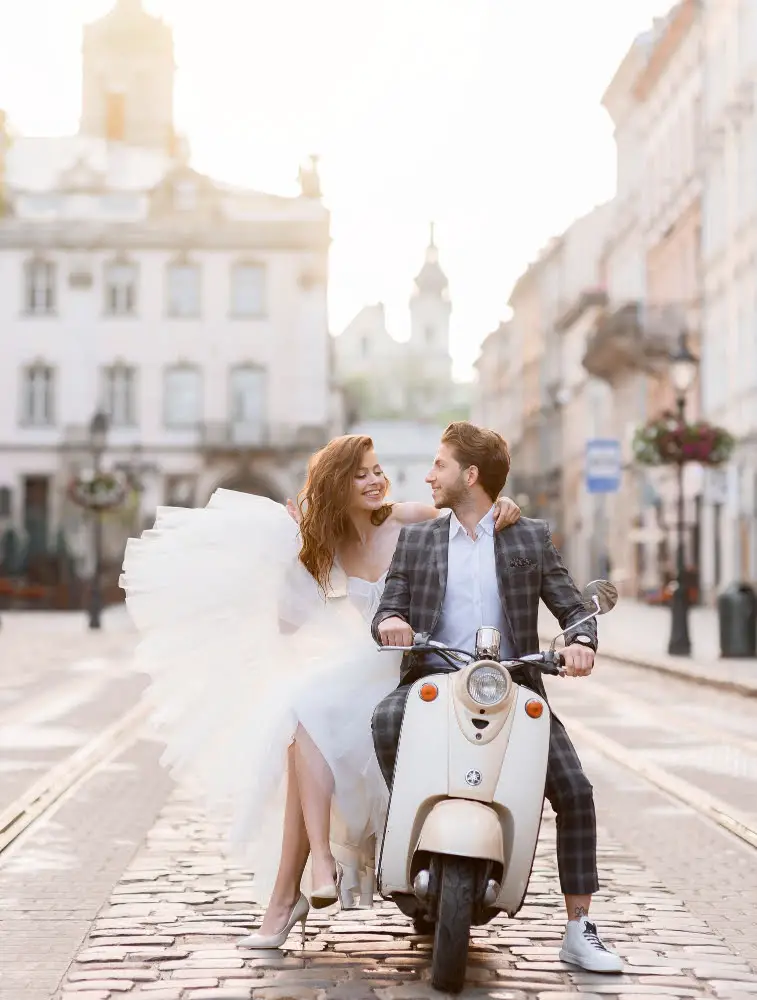 These iconic Italian scooters can be used as decor or even transportation for the bride and groom. Imagine riding off into the sunset on a Vespa with your new spouse! You can also use them as photo props, creating fun and unique shots that will make your wedding album stand out.
Vintage Vespas come in various colors, so you can choose one that matches your color scheme or go for a classic red or white model. They add an element of nostalgia to any outdoor Tuscan wedding and are sure to impress guests with their timeless style.
Fireworks Display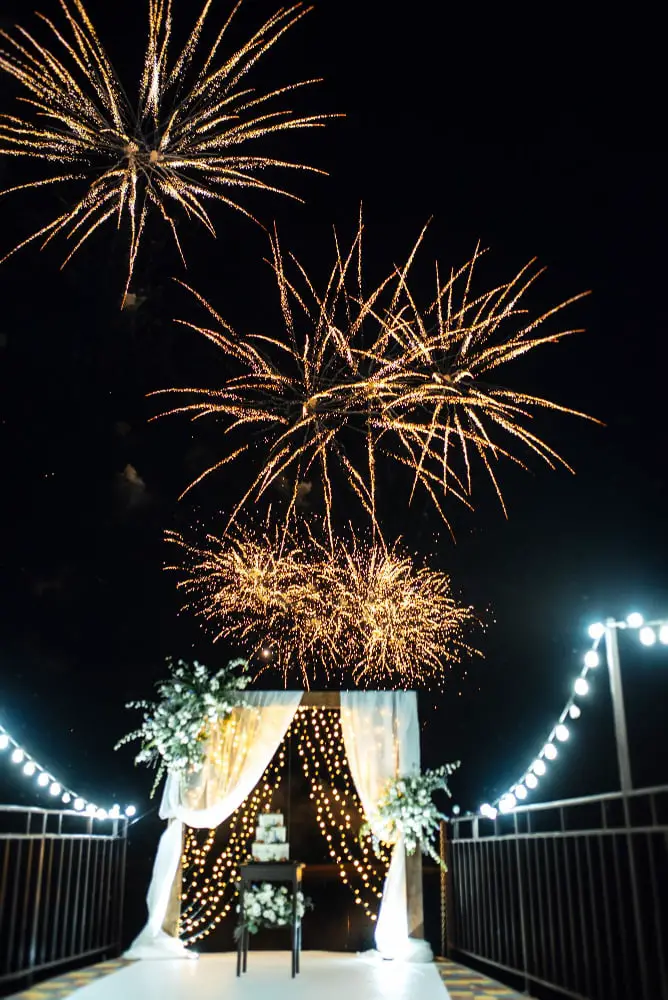 It adds a touch of magic and romance to the celebration, leaving guests in awe. The colorful explosions against the night sky create an unforgettable moment that will be cherished forever by both the couple and their guests.
To ensure safety, it's important to hire professionals who are experienced in handling fireworks displays for weddings. Couples can choose from various types of fireworks such as sparklers, fountains or aerial shells depending on their preference and budget.
A well-planned fireworks display can truly make a lasting impression on everyone present at the wedding reception!
Keep reading: