Discover the beauty and charm of selecting the perfect flowers for your outdoor wedding ceremony.
Choosing the right flowers for an outdoor wedding ceremony can be a delightful yet challenging task due to the myriad of options available.
This article will guide you through the process, from understanding the impact of season and location on flower choice, to exploring popular and unique floral options for outdoor weddings.
Whether you're looking for a rustic, boho, classic, or modern floral theme, we've got you covered.
We'll also delve into practical tips on how to ensure your blooms withstand the elements and remain fresh throughout your special day.
So, if you're ready to transform your outdoor wedding ceremony into a floral paradise, let's dive in!
Choosing Seasonal Blooms for Outdoor Weddings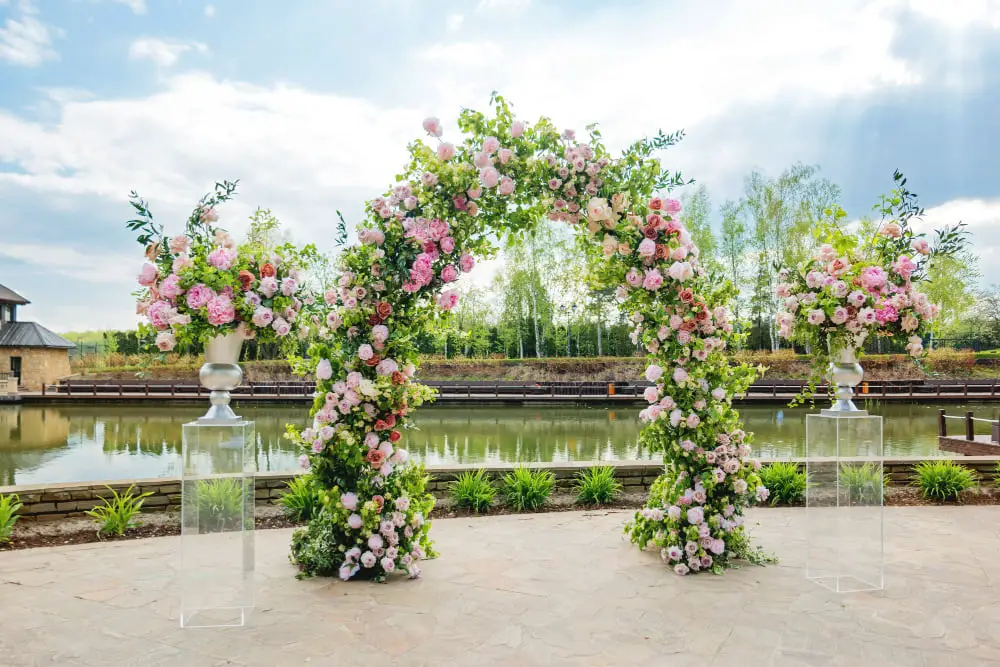 Embracing the seasons is key in choosing the perfect blooms for your big day.
Consider the time of year you plan to hold your wedding as different flowers bloom in different seasons.
For spring, peonies and cherry blossoms are abundant.
Summer offers a vibrant palette with sunflowers, roses, and hydrangeas, while autumn brings unique hues with chrysanthemums and dahlias.
For winter weddings, amaryllis and camellias are wonderful options.
Seasonal flowers not only reflect the time of year, but they're also easier to source and often more budget-friendly.
Always consult with a florist to understand what flowers are in season to make the best choice.
Incorporating Wildflowers in the Ceremony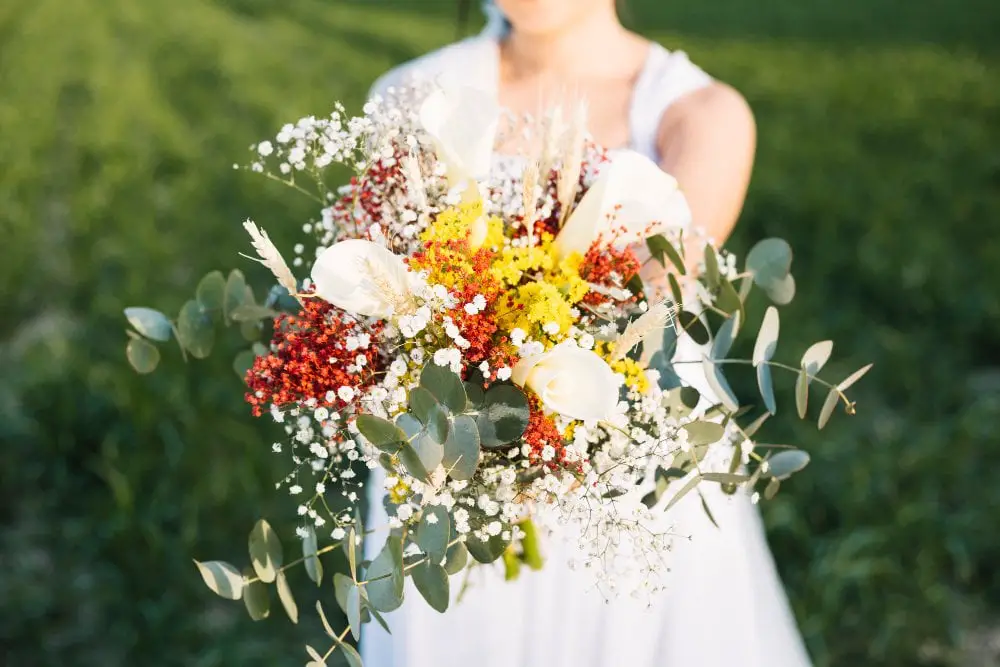 For an authentically rustic touch, wildflowers offer a veritable palette of colors, textures, and heights to play with.
More relaxed and whimsical than traditional wedding flowers, they add an element of surprise to the décor.
Use them to create an eye-catching centerpiece, or mix with other flowers for the wedding arch and bouquets.
Keep in mind, wildflowers can be delicate, so it's important they are kept hydrated and in shaded areas until needed.
Plus, they often attract butterflies, which could be a lovely bonus for any outdoor ceremony!
Flower Arrangements for Outdoor Altars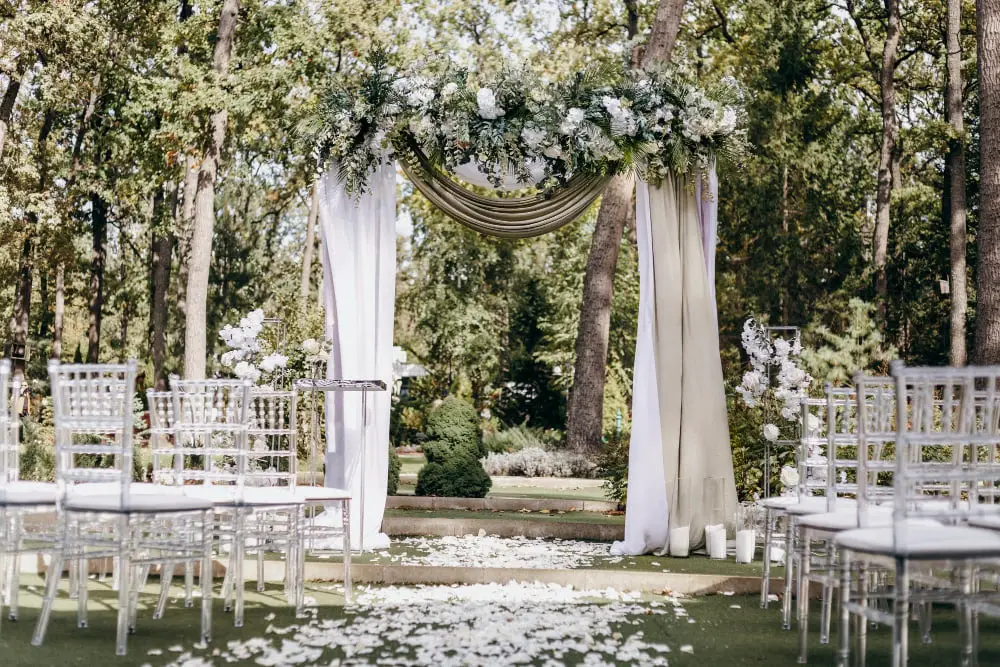 Creating a stunning visual centerpiece is vital for any wedding ceremony, and the altar is no exception. Large arrangements on either side can frame the space, adding depth and creating a vibrant backdrop.
Consider tall urns filled with lush, cascading blooms or rustic crates with overflowing wildflowers for a more relaxed vibe.
Garlands are another elegant design option. Draped over the altar or around the ceremonial arch, they provide a romantic, whimsical touch.
Include flowers like delphiniums, spray roses, or peonies that can withstand outdoor conditions.
Remember to balance the volume and color of the altar flowers with those used in other ceremony spaces. This harmony will create a captivating visual flow that guides attendees' eyes throughout the event.
And most importantly, the altar arrangements should reflect the couple's personality and wedding theme. After all, it's where they'll share their vows and promises for the future.
Creating a Natural Aisle With Flowers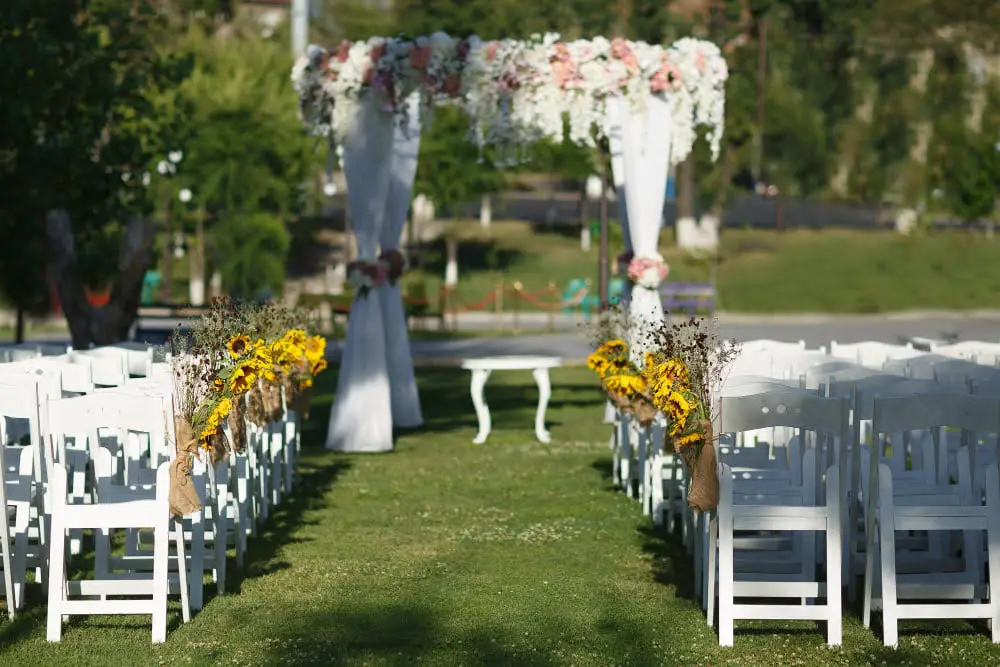 Designing an alluring floral walkway involves selecting flowers that complement the overall theme and style of the wedding. Balance is key; opt for a combination of large, visually striking flowers and smaller, subtle ones to add texture and variety.
Consider integrating verdant foliage, such as ferns or ivy, for a lush and enchanting vibe. Try adding roses for a classic twist, sunflowers for a rustic feel, or lavender for a touch of romance.
Keep in mind the fragility of the blossoms. They should be sturdy enough to withstand potential foot traffic. Alternatively, lining only the sides of the aisle, leaving the central walkway clear, solves this issue.
Finally, consider petals. Scattering petals of a contrasting color to the aisle or matching them to the chosen theme will add an extra layer of luxe to your natural aisle. Remember, the goal is to create a breathtaking path that leads to a lifetime of happiness.
Maintaining Flowers Fresh in Outdoor Settings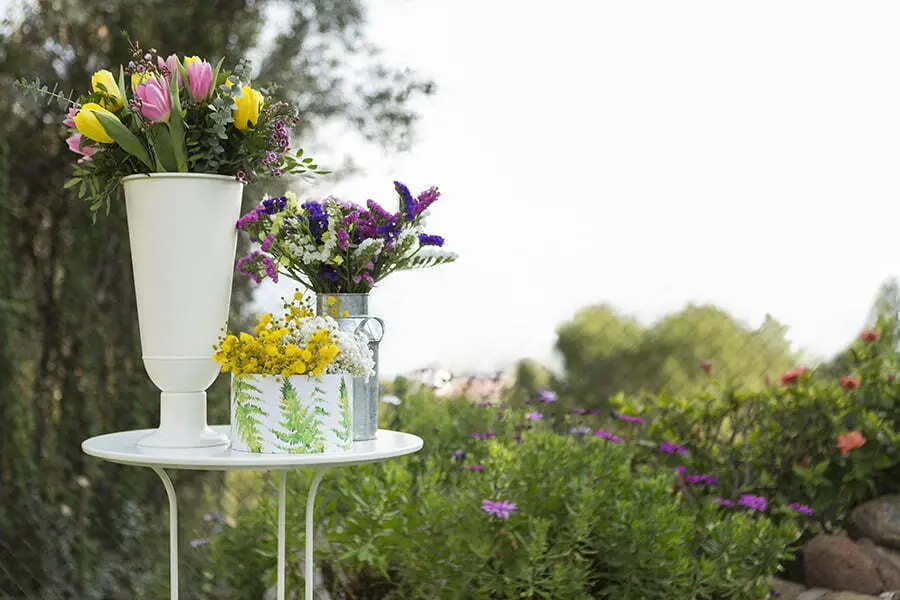 Taking a few precautionary steps can ensure your beautiful blooms stay fresh throughout the event.
Firstly, keep the flowers in a cool place before the ceremony begins to avoid wilting.
While arranging, consider using floral foam to provide continuous water supply to the blooms.
Certain flowers are naturally hardier, like roses or sunflowers, and can withstand the outdoor elements better.
Lastly, a quick spray of water can keep them hydrated and vibrant.
Remember, the goal is to keep your wedding blossoms looking lush and lovely all day long.
Floral Accessories for Brides and Guests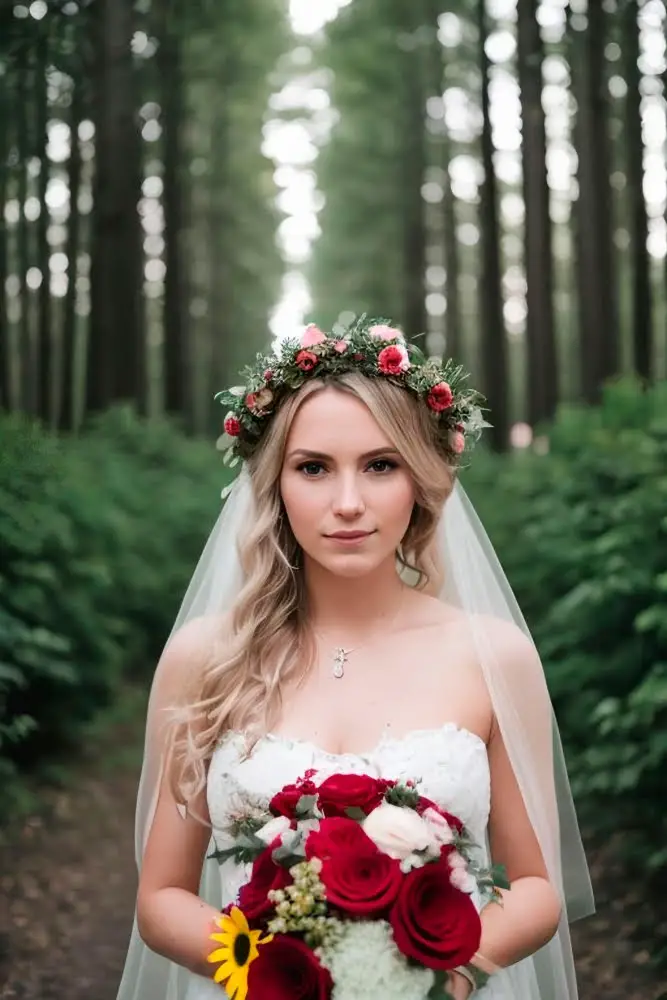 Dressing up with floral accessories can add an extra touch of natural beauty and elegance to the overall theme. For brides, consider floral crowns woven with your chosen wedding flowers for a whimsical touch.
Remember, the crown needs to be light and comfortable to wear. Intricately designed corsages make great accessories for bridesmaids, while boutonnieres with a small cluster of flowers can elevate the look of groomsmen and male guests.
Flower wands or bracelets can be a charming addition for flower girls. Experimenting with floral accessories can not only enhance the visual appeal but also create a deeper bond with the floral theme of your outdoor wedding ceremony.
Advantages of Using Locally Sourced Flowers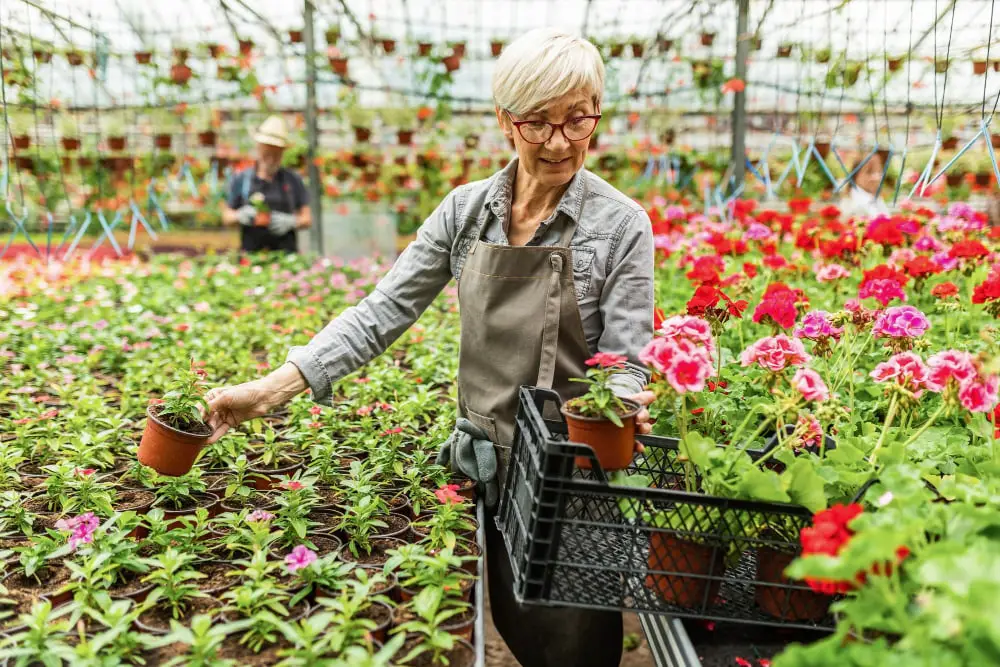 Opting for locally sourced flowers presents several perks that can make a world of difference on your big day.
First, these blooms will be fresher, having avoided the stress of long-distance shipping.
Their vibrant colors and longevity can add a dynamic touch to your outdoor ceremony.
Furthermore, utilizing local flowers can contribute to a sustainable wedding by reducing your carbon footprint, a factor increasingly important to many couples.
Finally, this choice can also benefit your local economy by supporting growers in your community, giving your nuptials an extra karma boost!
FAQ
Does the bride walk down the aisle with flowers?
Yes, the bride carries a bouquet of flowers as she walks down the aisle during a wedding ceremony.
How many days before wedding should you get flowers?
You should get your wedding flowers generally 2 days before the event to have ample time for preparation, rehydration, and design; however, an extra day may be beneficial in case of possible shipping delays around holiday weekends.
How do you keep flowers fresh the day before your wedding?
To keep flowers fresh the day before your wedding, store them in a cool, dark area, minimizing exposure to air drafts and sunlight.
What types of flowers are most resilient for outdoor weddings?
Roses, carnations, and alstroemerias are among the most resilient flower types for outdoor weddings due to their sturdy nature and resistance to variety of weather conditions.
Can you use wildflowers for an outdoor wedding bouquet?
Yes, wildflowers can definitely be used for an outdoor wedding bouquet, bringing a natural, rustic, and versatile aesthetic to the occasion.
How can one protect floral arrangements from the elements in an outdoor ceremony?
To protect floral arrangements at an outdoor wedding, consider placing them under umbrellas, canopies, or cloches, or use hearty, weather-resistant flowers.
Keep reading: